3 Best Lightweight Tennis Shoes in 2023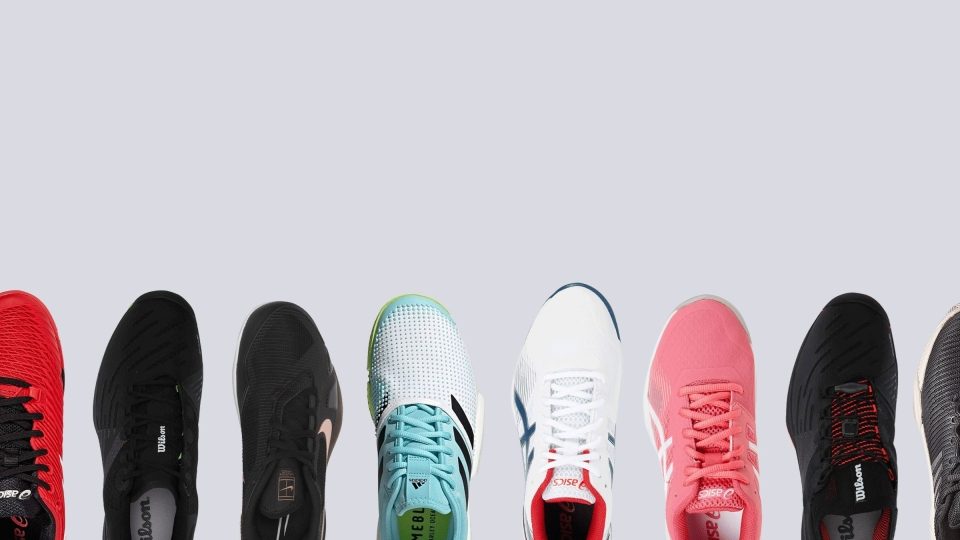 We earn affiliate commissions at no extra cost to you when you buy through us. Why trust us
Step up your game with any of these best-rated lightweight tennis shoes. We are a team of experts who scrutinized airy shoes and put together an impressive list of the best kicks that weigh less than 400 grams. These pairs are an excellent choice for players who are inclined to play aggressively on the court.
Known for top-notch quality footwear, giant brands like K-Swiss, Adidas, Asics, Head, and Wilson offer their latest high-performance shoes that enhance the agility and flexibility of players. They understandably come with minimal design and cutting-edge synthetic materials.
With over 70+ pairs of the best lightweight tennis shoes in this selection, you've plenty of amazing options to select from. To help you narrow down the top choices, we've tested and reviewed all of them for faster browsing.
Best lightweight tennis shoes overall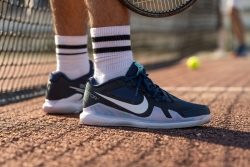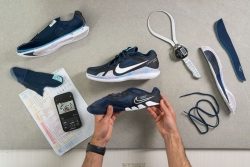 What makes it the best?
NikeCourt Air Zoom Vapor Pro is the most exceptional lightweight tennis shoe we tested and played in. We are literally zooming while in the pair because of how light it is. But don't think for a second that light means less protection because, in Vapor Pro, it really isn't! The best part is, that we can fiercely propel in the court with our feet fully supported and ankles fully secure.
Vapor Pro carries a weight of 12.10 oz (343g) as shown by our digital scale. In the court, this corresponded to lag-free motions, as well as a weightless feel. The underfoot ride of Vapor Pro surprised us because, for a lightweight shoe, it fantastically attenuated the impact from repeatedly smashing our feet on the court. We discovered from the 26.4 mm and 17.6 mm heel and forefoot stacks that the shoe has a drop of 8.8 mm. While this is a good amount for heel protection, we found that the Zoom Air unit is what really dampens impact.
While Vapor Pro is super light, it won't fly off the foot. We recorded zero heel slippage in our actual games, plus we rated the heel counter stiffness a 4/5 based on our subjective assessment in the lab, confirming how strong the heel clasps onto our ankles.
The downside is that the outsole is easily eaten away by the friction from the constant slides. We measured an outsole hardness and thickness of 84.8 HC and 4.4 mm. This makes Vapor Pro vulnerable to quickly wearing out. If you consider this a red flag, we suggest picking up other pairs.
Pros
Extremely light
Breathable upper
Responsive cushioning
Stable platform
Glove-like fit
Comfortable in-shoe feel
Grippy outsole
Cons
Constricting plastic wall
Lacks durability
Break-in needed
Full review of NikeCourt Air Zoom Vapor Pro
Lightweight tennis shoes with the best cushioning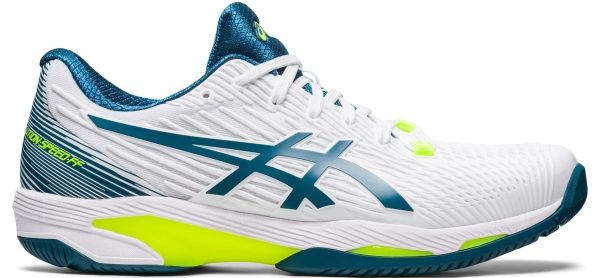 What makes it the best?
ASICS Solution Speed FF 2 is the most awesome tennis shoe we have tried when light construction and phenomenal cushioning are the categories at hand. This shoe made it simple to stay in the groove while on the court and it also afforded us a softer and springier experience.
We found the Solution Speed FF 2 lightweight and we thought it manifested well in our fast pace and strainless feet while playing. Maintaining our momentum is absolutely effortless with this shoe, not only because of its ultra-lightness but also because of its flexibility which allows us to move smoothly.
We discovered that the cushioning is plush without losing its bounce. This made our footwork livelier.
However, we are not happy that our heels often detached from this pair of tennis shoes during our rapid motions. Due to this, we suggest experimenting with a more secure method of lace tying or wearing thicker socks as simple solutions. Or, more preferably, pick other shoes with better lockdown.
Pros
Grippy
Spongy cushioning
Reinforced toe
Durable cover
Flexible
Supportive
Full review of ASICS Solution Speed FF 2
Lightweight tennis shoes with the best comfort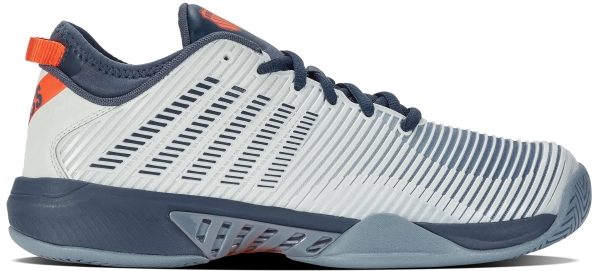 What makes it the best?
K-Swiss Hypercourt Supreme claimed victory in the comfort realm of lightweight tennis shoes. It is our top pick because it transported us to euphoria with its perfect union of weightless feel, excellent breathability, and impact-deadening cushion!
We are more than pleased with the barely-there sensation that the Hypercourt Supreme brought, allowing us to cover the court while exerting the least amount of effort. Complementing the lightness of this shoe is the refreshing feeling encouraged by the smooth air circulation through its breathable upper.
We also found our feet undisturbed from our high-impact landings as its cushioning, not only coddled us in pleasure but also buffered any impact. This shoe also hugged our toes, which we discovered to be both positive and negative depending on the wearer's feet.
With that said, wide-footers, beware because Hypercourt Supreme might be borderline snug and restricting for you. We recommend either checking out your size in this shoe in person or settling for other wide alternatives if you have broad feet.
Pros
Lightweight
Excellent ankle support
Solid traction
Comfortable cushioning
Extremely durable
Visually-appealing
Full review of K-Swiss Hypercourt Supreme
Comparison of the 3 best lightweight tennis shoes
| | | | | |
| --- | --- | --- | --- | --- |
| Best | | | | |
| CoreScore | | | | |
| Users rating | | | | |
| Experts | | | | |
| Best price | | | | |
| Ranking | | | | |
| Popularity | | | | |
| # of colorways | | | | |
When playing tennis, being light on your feet is a crucial element of your game. In terms of footwear, the quest for the right balance in comfort, support and agility often leads to a crucial factor: weight.
In this guide we'll explore what makes lightweight tennis shoes the go-to choice for many players, including a focus on the essential features that set the best lightweight tennis shoes apart. Because an informed player means a smart player, and that might just be your advantage in the game.
6 types of tennis players that love lightweight tennis shoes
The prodigy: There are plenty of young talents coming through with the world at their feet. But they don't want to be held back by a pair of heavy and clunky tennis shoes.
The enthusiast: Whether it's a scorching summer day or a chilly winter morning, this dedicated soul never misses their tennis sessions, and lightweight shoes help keep them agile.
The strategist: Known for their on-court smarts and impeccable court coverage, this player prefers lightweight shoes as it allows them to react to every volley and chase down every ball that goes down the line.
The weekend warrior: In between hectic work and family life, this player depends on their lightweight tennis shoes to get them through their Saturday morning club match because as much as they enjoy their tennis, the weekend is full of many more activities to embrace as well.
The seasoned senior: Age is just a number for this seasoned player who chooses lightweight tennis shoes to maintain their agility and outsmart opponents with experience.
The coach: Coaches spend hours on the court, acting as a hitting partner and demonstrating techniques with their tennis proteges. Lightweight tennis shoes provide the comfort and speed needed to keep up with aspiring players.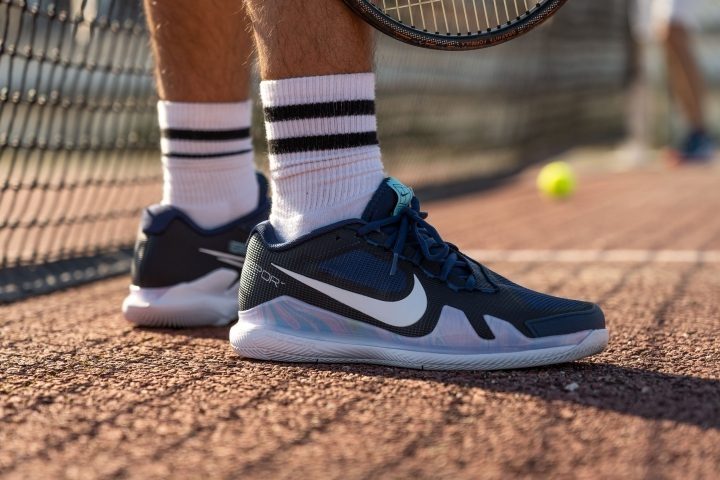 And 5 types of players who prefer heavier tennis shoes
Sure this article might be about lightweight tennis shoes but it would be remiss not to mention that lightweight shoes don't suit everybody, particularly these types of players:
The stable mate: These players value the added weight of tennis shoes for the increased stability it provides. Particularly effective for players who aren't skinny lightweights themselves, heavier shoes can help keep you anchored to the court reducing the likelihood of unnecessary post-match soreness and even injury.
The shock absorber: Sometimes the additional cushioning and shock absorbing layers that manufacturers create their shoes with comes at the expense of a heavier shoe, and for players who prioritize these comfortable features - particularly on hard courts - might shy away from a lightweight tennis shoe.
The durability devotee: Heavy shoes have been traditionally associated with durability, or 'heavy duty' if you will. While the technology is improving to make this durability lighter, there are plenty of players to this day who will err on the side of sturdy in the pursuit of longer-lasting shoes.
The all-weather warrior: The reality for most local club-level tennis players is that, unlike what we often see on TV, outdoor playing means all conditions. From wet to cold to windy, and sometimes all three. Some players will lean towards heavier shoes with the theory that they will be better in poor conditions, for example by holding better traction than their lighter weight counterparts.
The baseline bomber: Players with a baseline-dominant playing style, known for powerful groundstrokes, may opt for heavier shoes to support their aggressive movements and provide a stable base for generating maximum power.
The role that playing styles have on lightweight shoes
Considering weight is an important part of the process in researching and ultimately finding the perfect pair of tennis shoes. However, it's not just the product to consider, it's also your playing style. Different players look for different attributes in a shoe so that it suits them the best, not just because that's what the marketing material told them.
The aggressive baseliner
Those players that find themselves rallying from the baseline will rely on endurance, agility and quick lateral movements. Although there may be some hesitancy for a baseline player to seek out lightweight shoes, they can be beneficial as it allows them to make fast directional changes while still allowing for recovery in between movements, thereby maintaining the endurance required for long matches.
The all-courter
The ability to adapt to different situations and surfaces is a tennis trait frequently sought after, yet infrequently found. However if this is you then you'll find yourself seeking a balance between lightweight shoes (great for fast reactions on hard courts) and heavier weight shoes (best suited to clay courts as they provide the stability required for sliding across the court).
The serve-and-volleyer
If you find yourself at the net frequently, whether playing doubles or singles, you'll be looking at prioritizing stability and support in your tennis shoes. Sometimes heavier tennis shoes can provide more support allowing you to stay grounded and ready to clip that volley over the net.
The counterpuncher
Counterpunchers have a unique ability to turn their opponent's power against them. Although known as being constantly in defense, their style - when done effectively - is one that puts their opponent on the backfoot regardless of how offensive they were playing.
For counterpunchers quick and nimble movements are a regular feature of their game, and as they gradually wear down their competition they find themselves requiring a somewhat unusual combination of responsiveness for fast movements and cushioning for long, drawn out matches.
Counterpunchers definitely benefit from lightweight tennis shoes as they turn their match from 'counterpunch' at the beginning, to 'punchy' at the end.
Anatomy of a lightweight tennis shoe
Understanding where the engineers concentrate their efforts in trying to make lightweight and reliable tennis shoes is an important part of your research. This will help you know what to look for and what's important to you. Let's drill down on those considerations: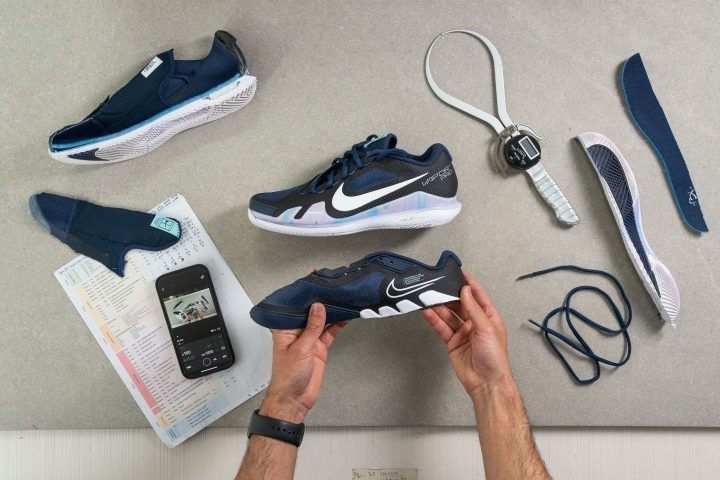 Midsole cushioning
The midsole is crucial for comfort and support, and these technologies offer lightweight yet effective solutions. Brands like Nike use Air Zoom and Asics has it's own GEL technology in the midsole to provide responsive cushioning and shock absorption.
Outsole traction
Outsoles are often made with durable rubber compounds like Adidas' Adiwear, designed to provide excellent grip and durability on the court. The pattern and composition of the outsole play a significant role in enhancing traction during quick movements.
Upper materials
The upper material impacts the shoe's overall weight, flexibility, and comfort. Synthetic overlays and closely woven fabrics create the sense of stability while retaining durability, allowing the shoes to retain their integrity during all sorts of sharp tennis movements and throughout long rallies. A classic example of this is the Nike Court Air Zoom Vapor Pro which uses a thick and tightly woven mesh structure.
Toe cap
Many of the big tennis footwear brands are using technologies to reinforce the toe cap area to resist abrasion and extend the shoe's life. This is especially important for players who have an aggressive playing style, with fast and sharp court movements to and from the net, plus laterally across the court. K-Swiss has created their DragGuard technology for this exact reason, and they use it on their popular tennis models such as the K-Swiss Hypercourt Supreme.
Lateral stability
Many modern tennis shoes use a lightweight lateral stability technology designed to provide on-court stability. An example of this is Asics with their Twistruss system, as used on the ASICS Solution Speed FF 2. This is particularly suitable for the player who starts at the baseline but typically moves to the net and requires a fast, flexible and lightweight shoe.
Torsional rigidity
Tennis shoes need to provide torsional rigidity, meaning they resist twisting, to support quick lateral movements. Some brands integrate shanks or arch support technologies to enhance this rigidity without compromising weight. And shoe engineers know that they can play with this feature, as this recent study published in the European Journal of Sport Science found that "shoe torsional stiffness had no effect on running velocity, on stance duration and maximal values of ground reaction forces" [1], therefore allowing some slack with how shoes can be designed for torsion.
Creative engineering
Wherever the shoe has material is an opportunity for an engineer to create technological improvements, including weight reduction. Expect to see this improve in the coming years with fabrics that demonstrate unbeatable comfort and durability, but still being incredibly lightweight.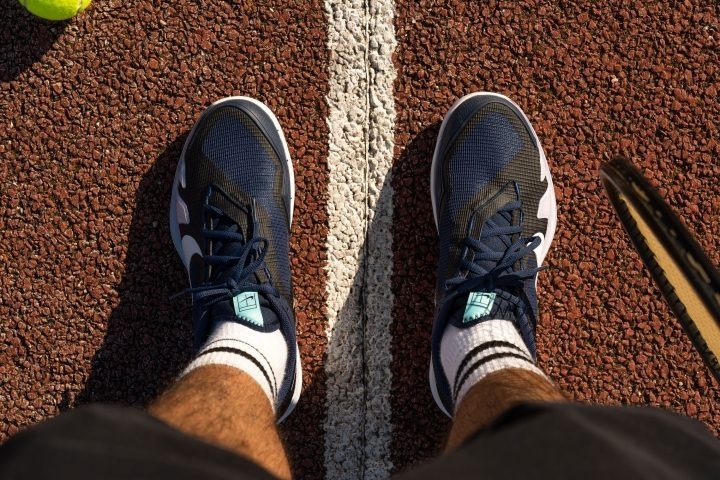 How lightweight technology stacks up for each brand
So how exactly do the big brands keep their tennis shoes so nice and lightweight? There's some serious research and development that goes into making the end product, so let's take a look:
Nike
Renowned as being a worldwide leader for sporting footwear technology, Nike applies similar principles for their tennis range. Some of their lightweight innovations include: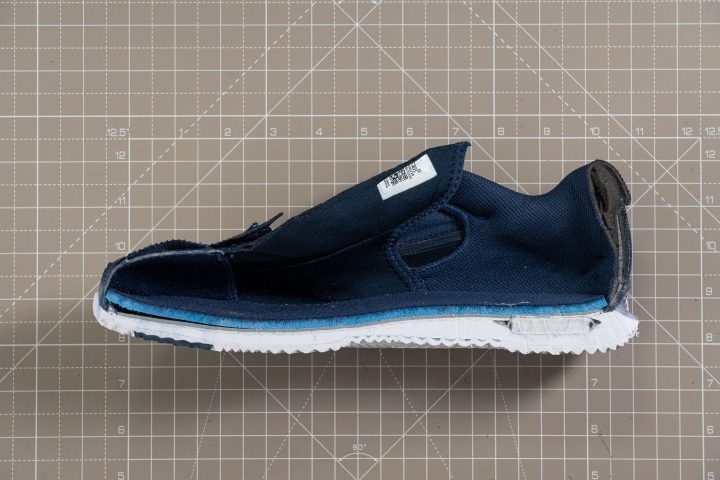 Zoom Air: Nike's Zoom Air technology is renowned for providing responsive cushioning in the midsole section. It features low-profile but highly responsive air cushioning units which will enhance the player's 'feel' for the court. Despite all of this, it remains remarkably lightweight and is a favorite feature of Nike tennis shoes for players at all levels.
Lunarlon cushioning: Nike's Lunarlon cushioning offers a responsive and lightweight foam core inside the shoe's midsole. It provides ample cushioning for comfort without adding unnecessary weight.
Outsole engineering: The outsoles of Nike tennis shoes often feature herringbone patterns and strategic rubber placements. This design optimizes traction and grip without compromising on weight.
Asics
Asics is well-known for its focus on comfort and performance. To keep their tennis shoes lightweight, they incorporate the following technologies:
GEL technology: Asics integrates GEL cushioning in the midsole of their tennis shoes. It offers shock absorption and comfort while being lightweight.
Trusstic system: The Trusstic System technology reduces the weight of the sole unit without sacrificing structural integrity. It enhances stability and reduces shoe weight.
Lightweight uppers: Asics often uses lightweight and breathable materials for the upper construction, reducing excess weight while providing a secure fit.
K-Swiss
Strongly regarded in the tennis world, K-Swiss is known for its footwear and they employ some clever technology to keep their tennis shoes lightweight:
DuraWrap technology: K-Swiss uses DuraWrap technology to reinforce areas of the shoe that experience high abrasion. This adds durability without significantly increasing weight.
K-EVA midsole: K-Swiss utilizes their K-EVA midsole for cushioning. It maintains lightweight properties while providing ample support and shock absorption.
Aosta rubber outsole: The Aosta rubber compound in the outsole offers traction and durability without excessive weight.
References
Martin C, Touzard P, Horvais N, Puchaud P, Kulpa R, Bideau B, Sorel A. Influence of shoe torsional stiffness on foot and ankle biomechanics during tennis forehand strokes. Eur J Sport Sci. 2023 Jun;23(6):914-924. doi: 10.1080/17461391.2022.2153232. Epub 2022 Dec 12. PMID: 36437487.
How we test tennis shoes
From mesh and synthetic-made materials to knit or even leather shoes, we've vetted and double-checked every essential part of the footwear in the RunRepeat shoe testing lab. We've also do hours of playtests on the clay and hard court to assess their comfort and performance.
To finalize our comprehensive reviews, we do these steps:
We procure all the lightweight tennis kicks from a wide array of brands in the market. We invest our own funds to preserve the independence and impartiality of our rankings and reviews.
We play hours of tennis to evaluate each model for this guide. We carefully scrutinize each one based on various parameters such as weight, break-in period, cushioning system, outsole traction, breathability, lateral support, and more.
We perform a battery of mechanical tests to determine vital areas such as grippiness on different surfaces, lateral movement performance, and so on.
We then put our goggles on and be all geeky about the shoes. We perform another series of tests, but this time, inside our lab, we measure the properties of the shoes. We cut the shoes open and unearth all the technologies or simple details that make up the shoes.