7 Best Cheap Gym Shoes in 2023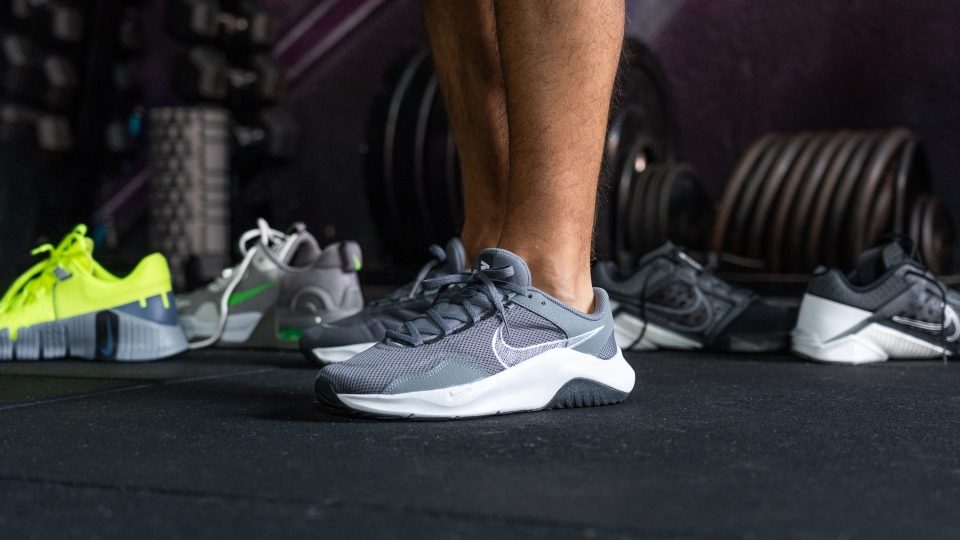 We earn affiliate commissions at no extra cost to you when you buy through us. Why trust us
Whatever fave way you like to sweat, there's no need to spend a fortune on a new pair of gym shoes. In fact, if you're on a tight budget, you can still score good quality workout kicks from popular brands like Adidas, Nike, and Reebok.
Let's get this out of the way though: you can't expect a $50 pair of shoes to be loaded up with the latest innovation in gym shoe technology. But what you will get is still a solid quality product from trusted labels that offer stylish design, ample cushioning, and support to keep you comfortable in the gym.
To help you choose the perfect fit, we managed to come by over 50 pairs of the best cheap gym shoes out there priced at $65 and below. We've tested each very thoroughly and picked our top favorites in specific categories.
Comparison of the 7 best cheap gym shoes
| | | | | | | | | |
| --- | --- | --- | --- | --- | --- | --- | --- | --- |
| Best | | | | | | | | |
| CoreScore | | | | | | | | |
| Users rating | | | | | | | | |
| Experts | | | | | | | | |
| Best price | | | | | | | | |
| Ranking | | | | | | | | |
| Popularity | | | | | | | | |
| # of colorways | | | | | | | | |
Buyer's guide on the best cheap gym shoes
You should seriously research your options before buying cheap gym shoes. If you don't, you might end up with a pair of shoes that won't function well on the gym floor if you don't know what to look for. Even worse, you might end up injured!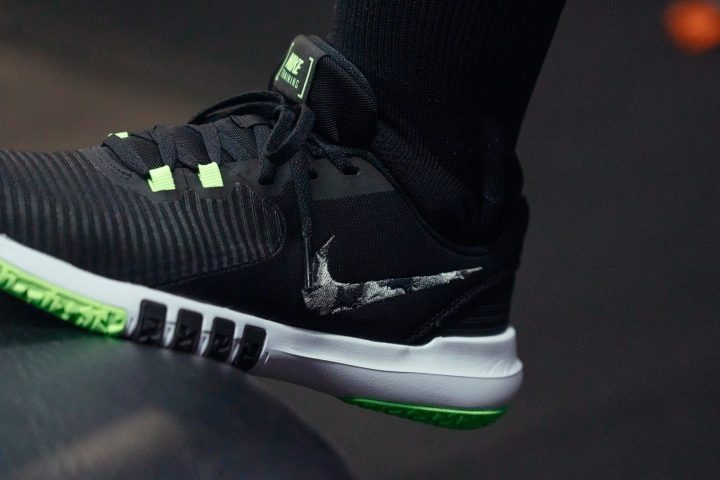 Let's drill down on the details of what to look for in a cheap gym shoe to help you get a great deal without compromising performance.
What are the compromises when buying cheap gym shoes?
There are several possible compromises you may need to take into account when purchasing inexpensive gym sneakers, including:
Inferior Materials
Cheap gym shoes could be composed of inferior materials, which could lead to decreased durability, less support, and a higher risk of injury.
We thoroughly check every single training shoe that gets to our lab. We use a Dremel to test the wear resistance of various shoe components (toebox, heel padding, outsole, etc.).
We found that sometimes a more expensive shoe doesn't mean better durability. But in some cases, it is worth investing in a longer shoe life.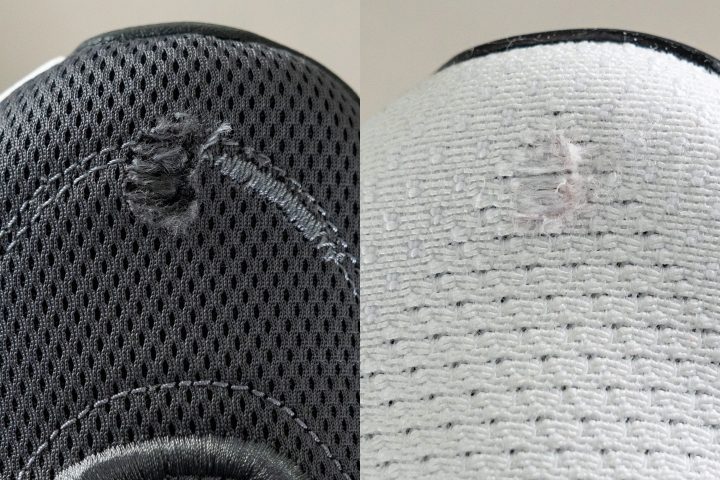 Budget shoe ($65) vs. Premium shoe ($140)
Lack of Technologies
Cheap gym shoes could not include the technology and features found in higher-end versions, such as specific support systems or cutting-edge cushioning foams.
Jumping on a basic EVA foam like this...
...is going to feel different from jumping on a Zoom Air unit like this:
Lower Brand Reputation
Cheap gym shoes could be associated with lesser-known or worse-reputation brands, which might not provide the same level of quality, support, or customer care as more well-known brands.
What to look for when buying a cheap workout shoe
Finding inexpensive gym shoes that are safe and useful can be challenging, but there are a few considerations to bear in mind when shopping for low-cost options:
Check for Quality: Even if you're shopping for a cheap pair of shoes, you should still check sure they're built of durable materials.
Search for Sales and Discounts: During discounts, clearance events, or while using coupons, you can frequently find high-quality shoes at reduced costs.
Read Reviews: To learn how other customers felt about the shoes, read their reviews. You should take into account any safety or efficacy concerns they may have raised.
Choose a Reliable Brand: Although you might not be able to buy the most costly brands, there are many trustworthy brands that provide affordable solutions. A quality shoe can be obtained by selecting a brand with a solid reputation.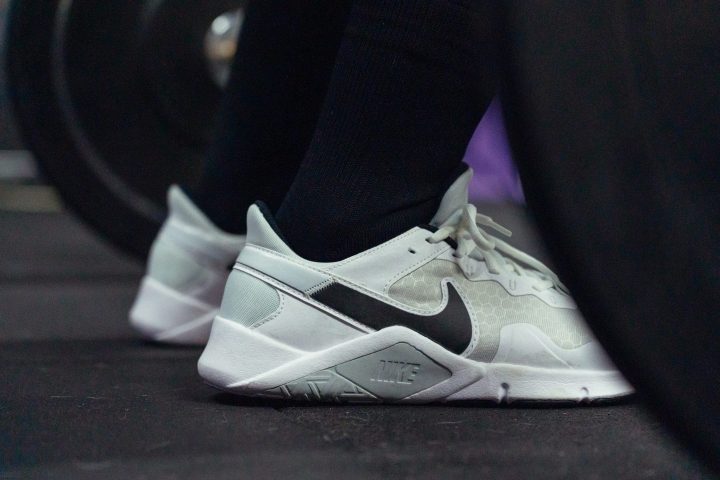 Match to your Workout: The goal is to select footwear that is appropriate for the type of exercise you plan to perform. For instance, you might not want to lift weights in a cheap running shoe.
Check the Fit: Ensure sure the shoe fits comfortably and correctly. Injury might occur from wearing shoes that don't fit properly.
Return Policy: Verify the return policy to see if you may send the shoe back if it isn't the right fit for you.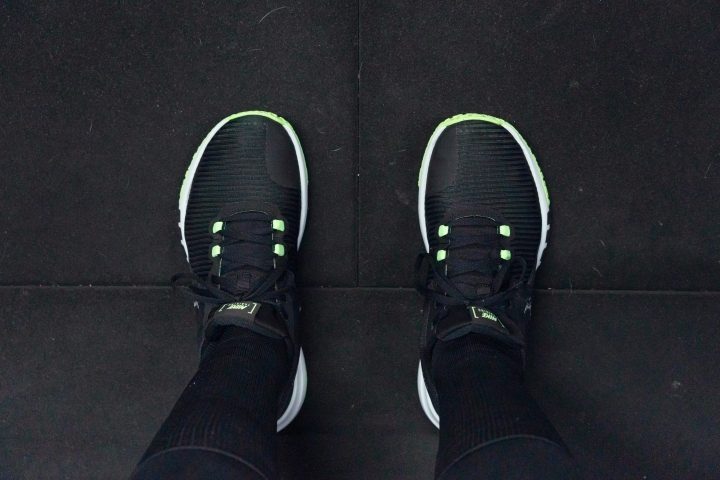 How we test training shoes
Identifying our best picks in the budget-friendly category requires meticulously testing. As fitness enthusiasts ourselves, we've got a fair share of extensive experience wearing many of the pairs on this list. We only make sure that the other ones are also put to the wringer before giving our verdict.
Here's our process:
We purchase affordable gym shoes across different brands. We use our own money for this to avoid bias.
We use the shoes to their full potential before coming up with our final assessments. That means wear testing the shoes in a variety of training regimens and cardio exercises. We take note of the shoes' real-life feel, performance, breathability, and many more.
We anchor all our in-depth reviews on our personal experiences wearing the shoes for workouts in the gym.
We get down to lab testing and measure the properties of each shoe. We even go as far as cutting the shoes into pieces just to have a full perspective of the shoe's interior.
One of the aspects we look over is the shoe's stability. To gauge this, we measure its overall flexibility using our digital force gauge. Not only that but we also assess its torsional and longitudinal flexibility subjectively by bending and twisting the shoe using our own hands. Another factor for stability is the platform's width, which we measure with our caliper. The midsole's thickness and hardness could also be contributing factors.