5 Best Adidas Terrex Hiking Shoes in 2023
We earn affiliate commissions at no extra cost to you when you buy through us. Why trust us
Get better prepared for your next hike with the Adidas Terrex hiking shoes. Well-built and stylish, the impressive lineup of Terrex models offers stand-out protection, comfort, and stability. Tough and responsive, these highly-rated hikers deliver solid performance on the trails in classic Adidas style.
Whether you're up for multi-day hiking jaunts or just want a quick trip to the trail, the Adidas Terrex hiking kicks definitely fit the bill if you want a dependable pair and great quality hiking footwear. Though some models come with a steep price tag, still their strengths spell hiking confidence.
To make your browsing experience a lot easier, we've rounded up 20+ of the best Adidas Terrex hiking shoes that we have brought back to our lab. We spent lots of hours just to get to the bottom of every shoe. We also wore them to our actual hikes to discover their features ourselves. Take a peek at our featured models in different categories.
Comparison of the 5 best Adidas Terrex hiking shoes
| | | | | | | |
| --- | --- | --- | --- | --- | --- | --- |
| Best | | | | | | |
| CoreScore | | | | | | |
| Users rating | | | | | | |
| Experts | | | | | | |
| Best price | | | | | | |
| Ranking | | | | | | |
| Popularity | | | | | | |
| # of colorways | | | | | | |
Adidas has been a major leader in the footwear industry for decades. For example, they've created iconic shoes for soccer, basketball, and running. But did you know that Adidas also has an entire selection of adventure-focused, outdoor footwear?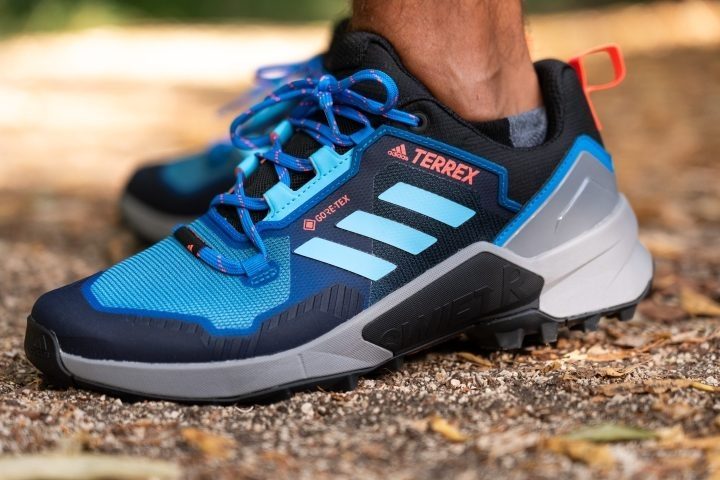 Adidas' outdoor performance footwear line is called Adidas Terrex. Keep reading to learn more about what makes Terrex hiking shoes so special.
Core components of Adidas Terrex hiking shoes
Grippy and durable outsoles
Adidas Terrex hiking shoes come with grippy and durable outsoles to provide traction on off-pavement terrains, such as gravel, dirt, sand, mud, ice, snow, and grass.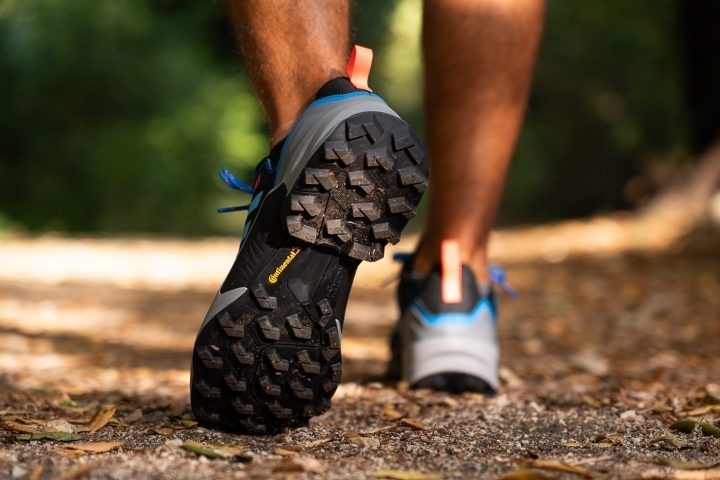 Adidas Terrex hiking shoes use outsoles with special rubber compounds that are grippy and durable so they don't wear down quickly. The shoes also use lug profiles specifically designed for off-pavement surfaces.
Deeper lugs facilitate traction in loose terrain.
Wide-spaced lugs prevent mud from building up
Uni-directional lugs help push forward and grip on steep uphills.
Aggressive lugs under the heel help you brake and slow down on descents.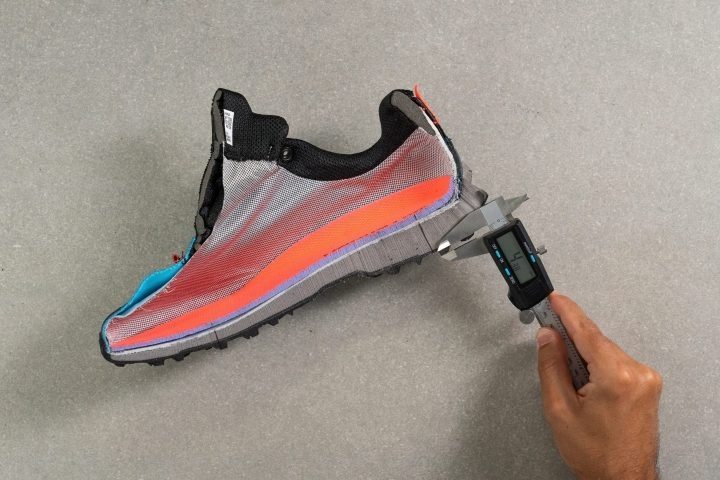 Lug depth ranges from 3.5 to 4.5 mm in Adidas Terrex shoes
To further enhance the performance of their outsoles, over ten years ago, Adidas Terrex began collaborating with Continental. Their goal was to improve the grip of their hiking shoes. Since then, Adidas Terrex outsoles that utilize Continental rubber offer 30% more traction.
Continental is one of the most durable rubbers we've seen to date
Shock-absorbing midsoles
Hiking terrain can be rough and rocky. Sharp rocks, roots, and other hard terrain can wear your feet down and cause injury. Therefore, hiking shoes need to incorporate midsoles that provide cushioning and shock absorption for impacts.
We use a durometer to measure the midsole softness of each Adidas shoe to let you know which ones are plusher/firmer
Durable and protective uppers
Adidas Terrex hiking shoes are intentionally designed to protect your feet from harsh terrain and weather. They are made with sturdy and protective materials. For example, Adidas Terrex hiking shoes come with robust protective toe caps. Or for extremely cold or wet conditions, they'll come with insulation or waterproofing.
We put each Adidas Terrex shoe through a Dremel test to measure its durability level
How to decide which Adidas Terrex hiking shoe is ideal for you
Not all Adidas Terrex hiking shoes are created equally. Some models will suit you better than others. But how do you figure that out? Let us help you out.
When thinking about which Adidas Terrex hiking shoe will suit you best, it's helpful to think about four essential considerations.
The terrain type you most often hike
The weight of the load you carry
The duration of your hiking efforts
The typical local climate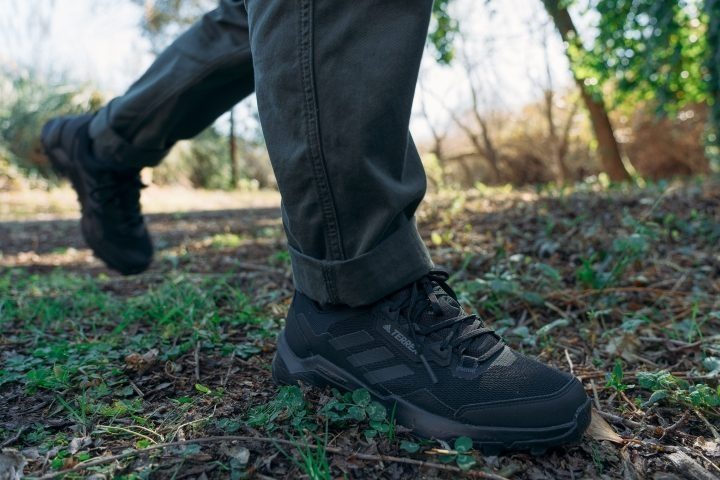 The terrain type you most often hike
Selecting the best possible hiking shoe depends on the terrain you enjoy the most and the terrain you most often travel over.
Do you spend most of your time on "easier" trails? Is the terrain flat, rolling, or steep? Do you spend most of your time on "harder" technical trails? Typically, how are the conditions– are the trails dry and loose? Maybe muddy?
Trail type
Characterized by
Easy to moderate

Fire roads
Well-maintained double track

Even and stable surface
Open areas, meadows, shallow valleys
Gravel, dirt, maybe mud
Shoes for easy/moderate trails: Adidas Terrex AX4, Adidas Terrex Trailmaker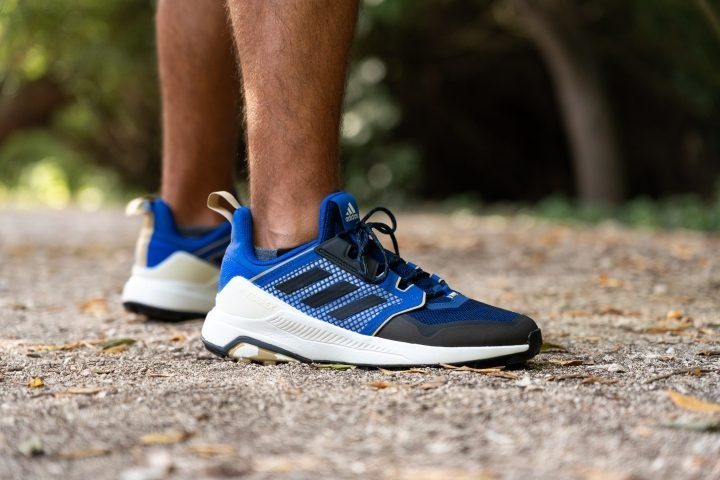 Technical and advanced

Uneven and unstable surfaces
Rocky and loose
Steep inclines and declines

Backcountry, non-maintained trails

Single track
Path of least resistance

Uneven and unstable surfaces
Rocky, rooted, and loose
Rock scrambling
Very steep inclines and declines
Shoes for advanced trails/backcountry: Adidas Terrex Swift R3 GTX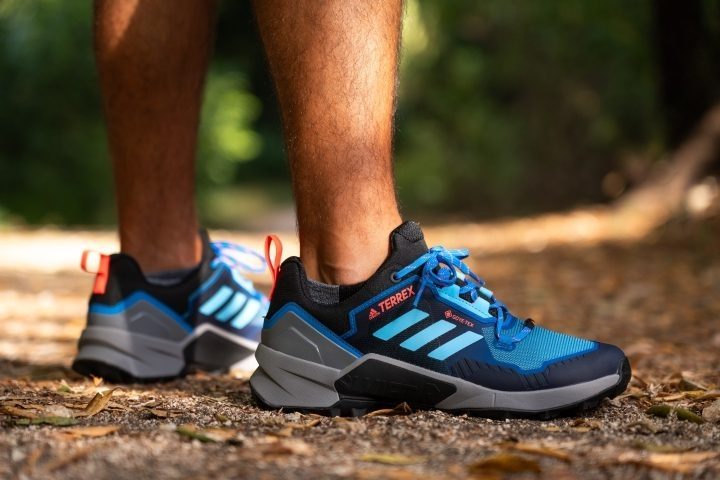 Everyone is different, however, more often than not, hikers who frequent easy to moderate trails are happy with lightweight, flexible, and cushioned hiking shoes. Something similar to a running shoe but with a more rugged outsole and upper.
On the other hand, for highly advanced terrain and backcountry travel, many hikers prefer a more robust and stable hiking shoe. Something that feels like a hiking boot but still sports the low-cut cuff of a hiking shoe.
Weight of the load you carry
The next item to consider when thinking about which Adidas Terrex hiking shoes are best for you is the typical weight of the load you carry when you're hiking.
Do you always carry a day pack with hiking essentials? Do you typically go hiking only with your car keys and cell phone? Do you frequently go backpacking and carry heavy loads?
Most hikers prefer stiffer and more stable hiking shoes for heavier loads. The extra support they get from stiffer hiking shoes helps protect their feet and prevent foot fatigue from carrying a lot of weight.
On the other hand, for light and fast missions or casual day hikes, some hikers prefer lightweight, flexible, and sensitive hiking shoes.
Duration of your hiking efforts
We kind of alluded to this point in the previous section when talking about how much weight you typically carry when you go hiking. Usually, the longer you plan to be out hiking, the more weight you carry. That's because you need to bring provisions to keep yourself hydrated, fed, and warm throughout your adventure.
So it's common for hikers who frequently go backpacking to prefer robust, stiff, and protective hiking shoes. This is also true for hikers who frequent rough and rocky advanced terrain.
On the other hand, for the hikers who like to go for short day hikes or who may enjoy the occasional trail run, a simpler, lighter weight is ideal. However, even if the duration of your hike is short but the terrain is particularly rough, you may still consider a more robust hiking shoe.
The typical local climate
The last important consideration to make when shopping for Adidas Terrex hiking shoes is the typical local climate. The weather will tell you a lot about the type of hiking shoe you should select.
Is it hot and dry where you live? Does it frequently rain? Do you go winter hiking in the snow?
When thinking about the climate, what you're debating about is whether or not to buy waterproof hiking shoes, or something different, like water-resistant or repellent.
Breathable non-GTX shoe vs. waterproof GTX shoe
If rain, snow, or other forms of precipitation are frequent obstacles while you hike, and if getting wet and staying wet would make you cold and uncomfortable, we recommend considering a pair of waterproof Adidas Terrex hiking shoes.
However, if the climate you frequently hike in is warm and dry, or if you don't mind getting wet, or if it feels good (for example, during a hot summer day), you may not need waterproof hiking shoes. You may be better off with a water-repellent model or a quick-drying and breathable hiking shoe.
Finding the perfectly fitting Adidas Terrex hiking shoe
The perfect-fitting shoe does exist! Here are some tips to help you in the process of trying on new Adidas Terrex hiking shoes.
Purchase multiple pairs
Shopping alone for shoes is super convenient. However, it can also feel tricky because you cannot see the shoes in person. That's why we recommend buying multiple pairs.
With multiple pairs of the same shoe but in different sizes, or multiple pairs of completely different shoes, you can experiment with what feels the most comfortable. Then, after you've decided which pair of shoes fit perfectly, you can return the other pairs.
Just remember that if you employ this strategy, it's best to double-check the return policy of your online retailer to make sure your return fits within their parameters.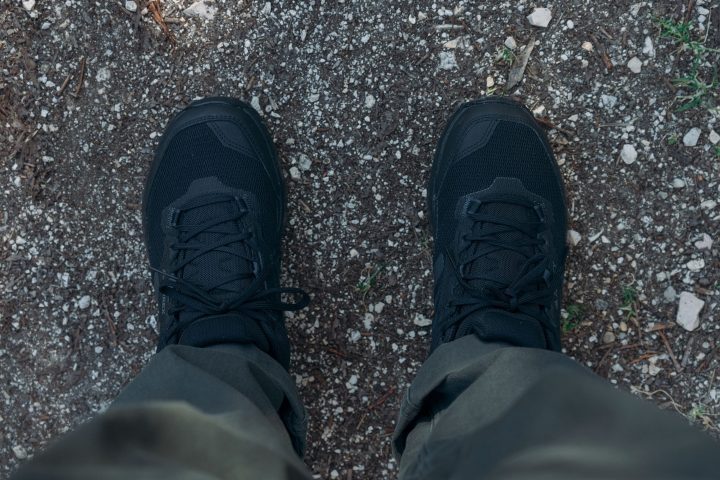 Try shoes on in the afternoon
Believe it or not– your feet swell over the course of the day. But you don't need to panic, it's perfectly normal.
Because your feet are slightly larger in the afternoon and evening than in the morning, we recommend trying on new Adidas Terrex hiking shoes later in the day.
Trying on shoes with swollen feet will guarantee that the shoes fit despite the swelling. Therefore, you won't end up with a pair of hiking shoes that feel too tight after you are on your feet for a while.
Keep them on around the house
When you purchase a new pair of hiking shoes, it can be tempting to put them on right away and head straight for the nearest trailhead. However, we recommend slowing down the process slightly.
Instead of going straight to hiking, try wearing your shoe shoes around the house for a while. Wearing your new shoes around the house will give your feet time to acclimate to their new environment and inform you of any issues with the fit.
Then, if there is an issue with how the shoes are fitting, they are still clean and can be easily returned because you stayed in the house and didn't go hiking in the dirt.
Try the shoes on with socks
Nowadays, we live in a day and age where socks are designed for specific purposes. For example, there are cycling socks, winter socks, dress socks, hiking socks, and running socks.
So when you try on new pairs of Adidas Terrex hiking shoes, it's best to do so with hiking socks. Wearing hiking socks while trying on hiking shoes will give you the most accurate fit possible and allow you to make an informed decision.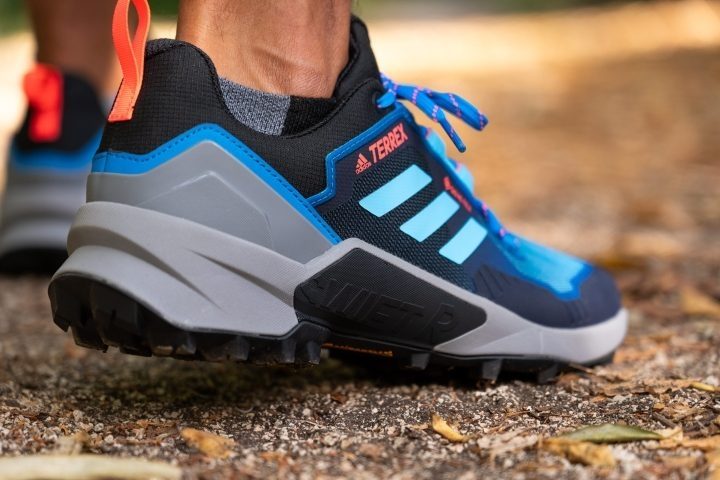 Go with the larger pair
Sometimes, if you are unlucky enough, you fall between sizes. If this sounds familiar, we recommend going with the slightly larger size. But why?
First off, slightly larger shoes will accommodate foot swell more effectively. In addition, a little too much room is easier to manage than not enough room. You can do so by wearing slightly thicker socks, changing out the factory insole, or lacing up your shoes a little tighter than normal.
An abbreviated history of Adidas Terrex
Adidas has been involved in hiking and trekking since the 1970s. However, around that time, things changed. Adi Dassler, Adidas' founder, wanted to create something different for the company. Specifically, Dassler wanted to create more adventure-oriented footwear.
So, in the late 1970s, Adidas Outdoor, a subsidiary of Adidas, started finding success. The success of Adidas Outdoor was in part due to sponsoring iconic mountaineer Reinhold Messner with lightweight and durable shoes for his expeditions.
Finally, after much research and experimentation, in 2009, Adidas produced its first line of outdoor-focused performance wear and footwear. It was an exceptional success.
Then, in 2011, Adidas Terrex was finally born. Adidas Terrex was the ultimate conglomeration of high-quality outdoor-oriented performance gear and footwear.
In the present day, Adidas Terrex is an industry leader in the hiking and trail running categories. This is possible because of Adidas Terrex's track record with footwear innovations and material usage. As a result of their high-quality design and manufacturing, Terrex hiking shoes are an excellent choice for off-road usage, whether you're a casual weekend hiker or an amateur endurance athlete.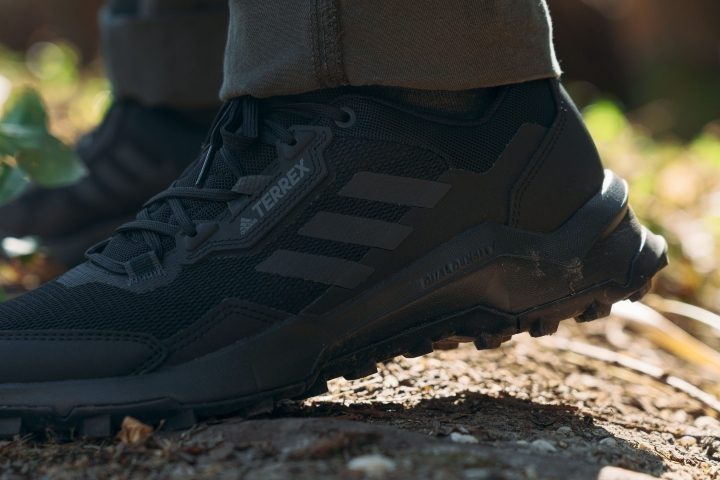 Adidas' sustainability commitments
Adidas understands its position as a powerful leader in the footwear industry. That's why they have been making personal sustainability commitments to evolve the industry and show that a more sustainable way of making footwear is possible.
Adidas is rethinking its materials
Adidas believes in a sustainable footwear industry. Therefore, they are committed to do their part to push the industry in the direction of sustainability.
In particular, Adidas is expanding its portfolio of materials, textiles, and fabrics to include recycled and natural products. They are also diving into innovative and sustainable recycled products.
To demonstrate their commitment, Adidas has made the goal of replacing virgin polyester with recycled polyester by 2024. In addition, by 2025, nine out of ten Adidas footwear products will contain a sustainable material.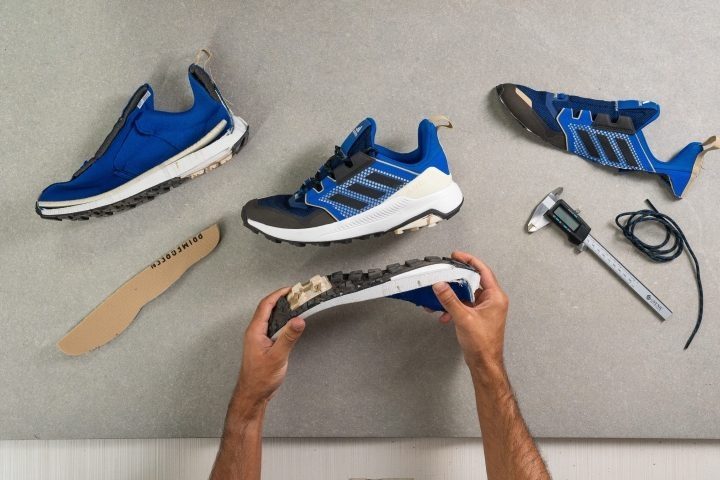 Adidas is redesigning its manufacturing processes
Over the years, Adidas has been rethinking and redesigning its manufacturing process. In particular, they have been focused on removing excess waste from their processes.
Mitigating waste that goes to landfills is the inspiration behind Adidas' Made to be Remade campaign.
Using the Made to be Remade process, Adidas customers can now give back their old footwear instead of throwing it away. When Adidas receives old shoes, they clean them, shred them, melt down their components, and remake something new using recycled materials.
Adidas is focused on reducing their carbon footprint
Adidas wants to continue to reduce the carbon footprint of its manufacturing processes. To accomplish this, they measure carbon emissions from start to finish of the shoe manufacturing process.
For the sake of transparency, the results of their measurements are provided to the consumer.
As a testament to their commitment to reducing the carbon footprint of their shoe manufacturing processes, Adidas partnered with Allbirds to create the first pair of running shoes using less than 3kg of CO2.
Frequently asked questions
Which Adidas Terrex hiking shoe is best for winter hiking?
Just because it's cold and snowy outside doesn't mean you have to hide indoors. The Adidas Terrex Free Hiker Cold.RDY is the perfect shoe for winter hiking. It's insulated to keep your feet warm and grippy on slippery and wet surfaces.
Which Adidas Terrex hiking shoe is the most lightweight?
Lightweight hiking shoes prevent foot fatigue and enhance the ground feel. For hikers wanting a lightweight hiking shoe, we recommend the Adidas Terrex Trailmaker. It only weighs 8.8 ounces. With numbers like those, you'll hardly know you have these on your feet!
How we test hiking shoes
To review all the models on this list, we've done the necessary tests and hiked 30-50 miles for each pair across different terrains and weather conditions. We've also checked and double-checked the technologies used in all the models inside our RunRepeat shoe testing lab.
Our selection process involves the following:
Purchasing the Adidas Terrex hiking shoes for our wear tests. This ensures 100% objectivity and independence of our rankings and in-depth reviews
Trekking and backpacking through the backcountry wearing the Terrex shoes to get a first-hand experience of the model's actual fit, grip, heel protection, toughness, flexibility, and many more.
After putting in the hours and mileage, we do all sorts of testing in our independent lab to help us gather more data about the hiking shoes. We are not only after the experience but also the science behind how a hiking shoe performs. Yes, we're geeks here!