Looks fast, runs fast. The Launch 9 from Brooks is a daily trainer that can handle any speed you put into your run. Whether you're going fast or slow, it performs. On top of this, it can handle any distance. From short runs, 5Ks to 20 miles, it doesn't disappoint. Ultimately, get the Brooks Launch 9 if you're after a solid all-rounder that doesn't hurt the wallet or the feet.
Pros
Smooth heel-to-toe transitions
Lighter weight
Comfy ride for long miles
Perfect for any pace
Not tippy when cornering
Stable on gravel
Can double for casual wear
Sustainable outsole
Great-value
Cons
Not as energetic as expected
Pricier than before
Who should buy the Brooks Launch 9
The ninth iteration of the Brooks Launch is the perfect pick for runners in need of a:
fun and lightweight running shoe that can go fast or slow
road shoe built for any distance and can double for casual wear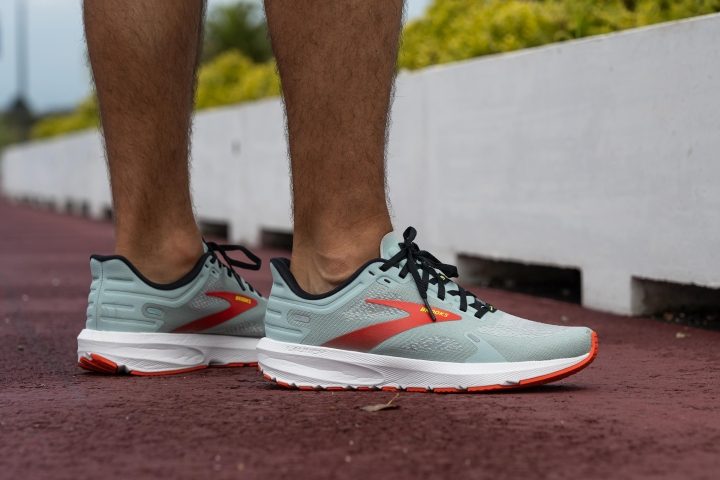 Who should NOT buy
it
If you're looking for a dedicated, tried-and-true speed trainer that's ready to set and beat PRS, it's better to go for the Brooks Hyperion Tempo or the Brooks Levitate 5. If you want something cheaper, get the Brooks Revel 5.
Brooks Launch 9 vs. 8
This time around, the Brooks Launch 9 sees these updates:
More cushioned ride, thanks to the additional 2mm stack
Lighter weight because of the new Creel wrap upper. An experienced runner said it "looks and feels like a knit but with less stretch."
Sustainability-driven design with the shoe's Green Rubber outsole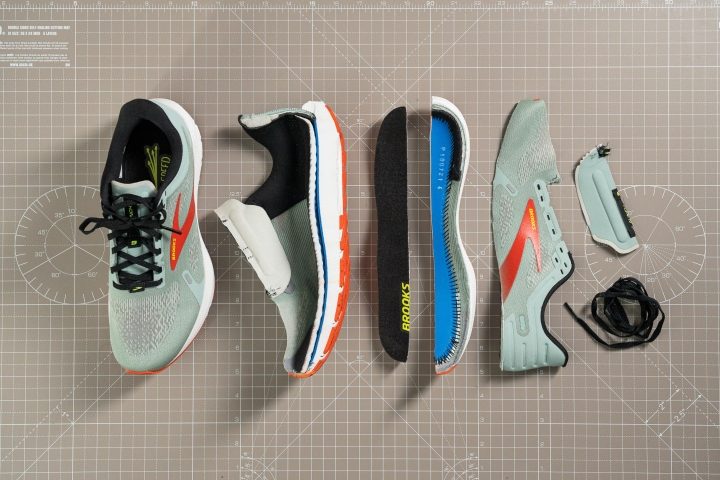 All these changes entail a price increase of $10. From $100, the Brooks Launch 9 now retails for $110. Despite this, many still find it a "great-value" choice.
Brings in the fun
Launch 9 has a touch of pop that makes it a fun and peppy ride from low to high-mileage runs. As a runner has said, "the ride is very springy." Another one, who has been wearing all the Launches since 2006 has said that the 9th iteration is "the most comfortable, best-fitting, and responsive version, simply the best!"
Feels firmer than it is
Runners find the ride as something close to the NB FuelCell and the PUMA Nitro, but a touch firmer. One expert said "it felt stiff and like there was just too much shoe going on." There were many surprised runners who obviously expected a softly cushioned footbed. They ended up leaving reviews like "extremely hard/stiff" and "you feel tired on your feet after walking 15mins."
Fact check
In our durometer measurements, the Launch 9 scored 22.0 while the average in our lab is 29.8. This denies the firmness and shows that the midsole is actually quite soft.
However, some runners differentiate stiffness from firmness and this one comment summarized the Launch 9 saying "Firm feel without feeling stiff." The lab denied this as well because the shoe scored 4/5 for torsional stiffness (5 being the stiffest). For Brooks fans, experts explained the feel as the Ghost but a little more aggressive.
The Launch 9 takes care of the foot
Because it has more cushion, reviewers find it "more forgiving" for longer miles than the Launch 8.
Heel drop is lower than advertised
In the brand's specifications, it says that the Launch 9 has a drop of 10mm.
Fact check
Our lab data says differently: heel stack height (32.4mm) minus forefoot stack height (23.0mm) got us to a drop of 9.4mm.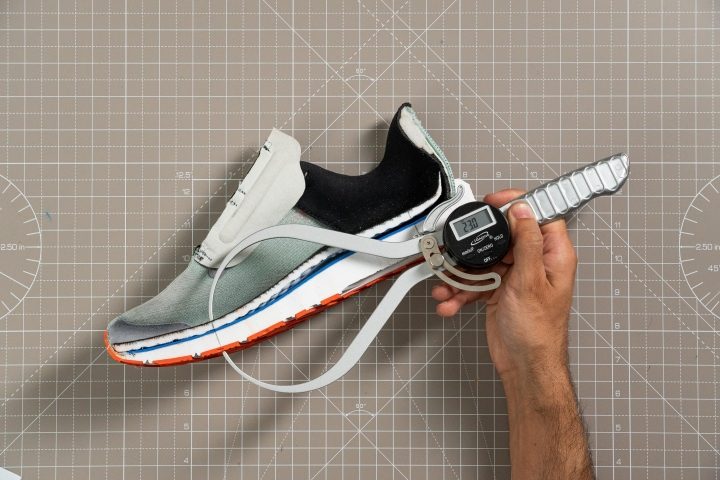 Not a breathable shoe
"My feet were warm even just wearing the shoes to run errands in," said an expert. It should be noted that the "upper is actually very elaborate in construction," as an avid runner has noticed.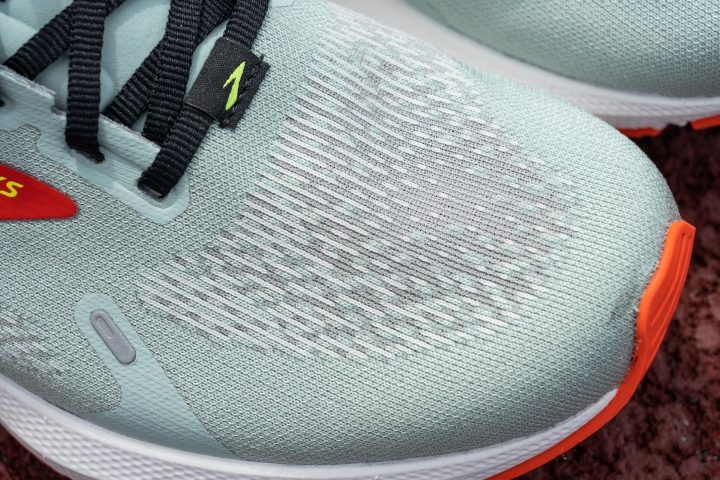 He also noticed that "the mesh is dense with no light showing through."
To check that, we rip the upper apart AND we did the light test. Can confirm: not the most breathable shoe out there.
Run easy
This shoe has a rockered shape that allows for fast and easy heel-to-toe transitions. The ride is so seamless that experts compare it to the Skechers Maxroad 5.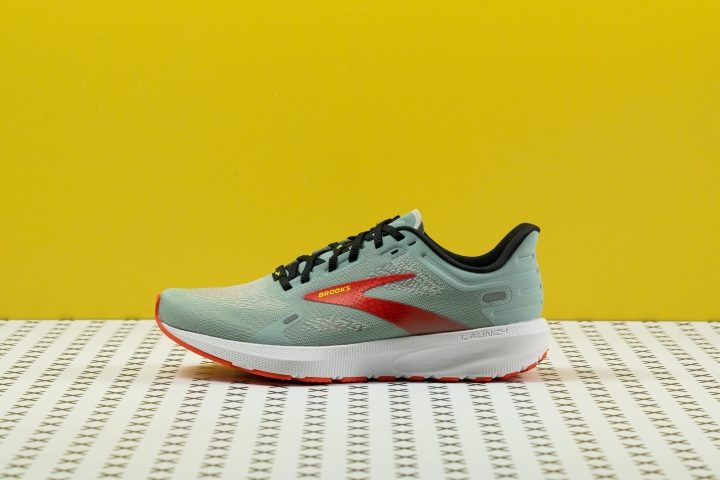 Pay attention to the heel counter
We found reports of it being very high and rigid. It is also padded so there were no issues caused by the height and rigidness - no rubbing, slips, or skin cuts.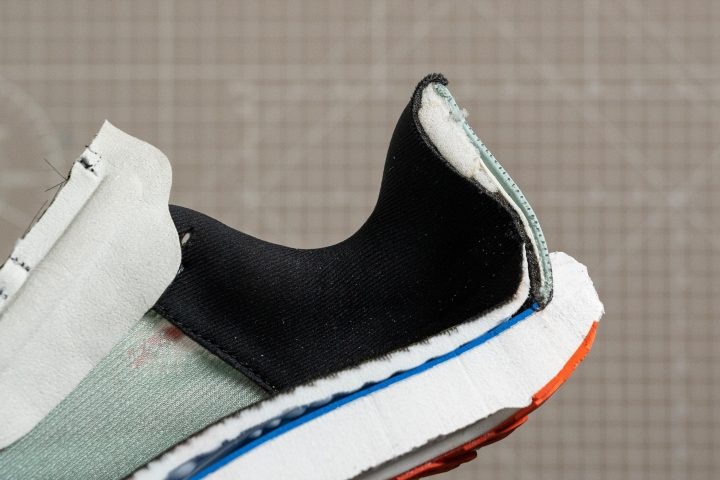 However, in the lab, the Launch 9 scored 2/5 on the heel squeeze-and-push test. Given that 5/5 would be the most rigid out there, it is not such a stiff heel counter after all.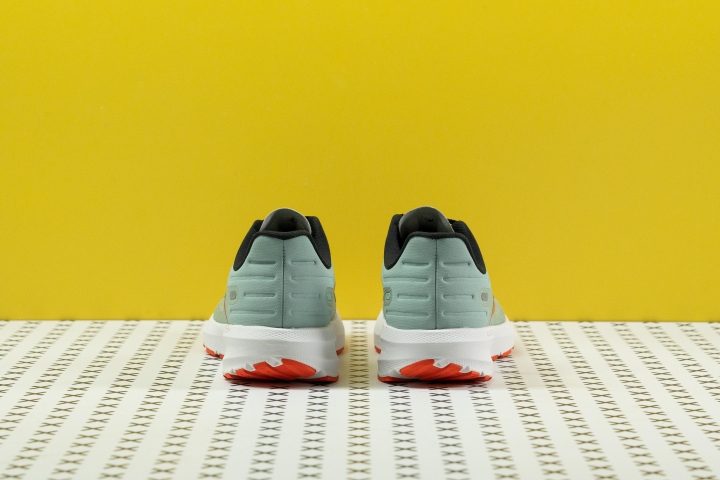 Weight that's built for speed
It's not just lighter than its predecessor; it's also lighter (7.5 oz in US M 8) than most running shoes on the market (weighing in at 9.7 oz on average). What definitely screams SPEED is the tongue: it is very thin.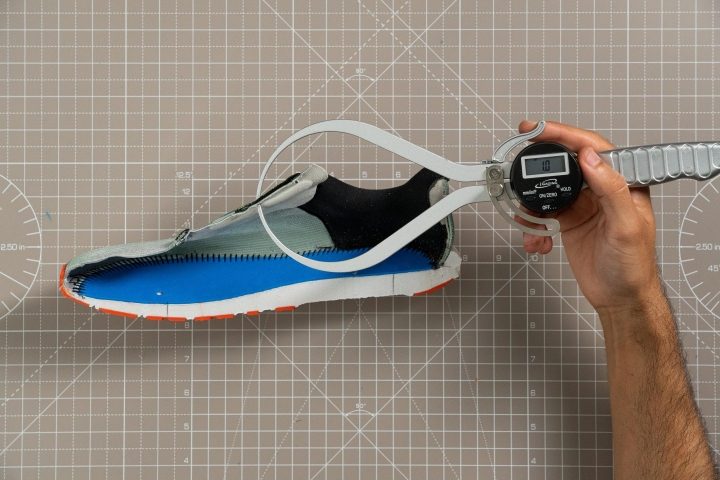 In the lab, we measured its thickness: an astonishing 1mm. Compare it to the average of 6.1mm and you really get a race-ready tongue!
Inspires surefootedness
The combination of the snug upper and the broad base are loved by many runners.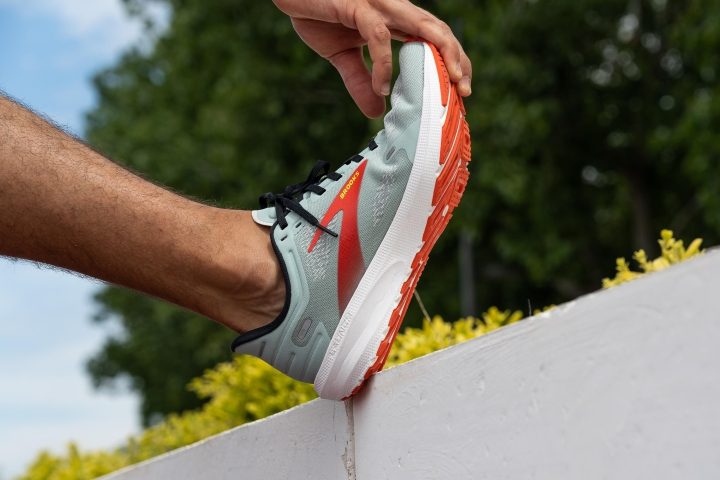 Despite it having a higher stack, according to them, they don't feel tippy in the Brooks Launch even during sharp turns and when running on gravel.
Fact check
When checking this in the lab: the base does not seem to be wider than the average. Launch 9 measured 83.3mm at the heel, while the average is 89.0mm. At the forefoot, it measured 110.1mm and the average is 111.9mm.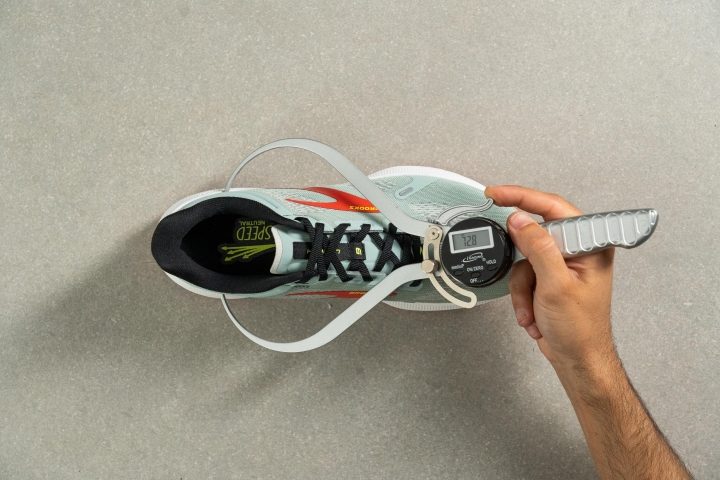 An expert also noticed that "more and more brands [are] going towards more full ground-contact with their outsoles."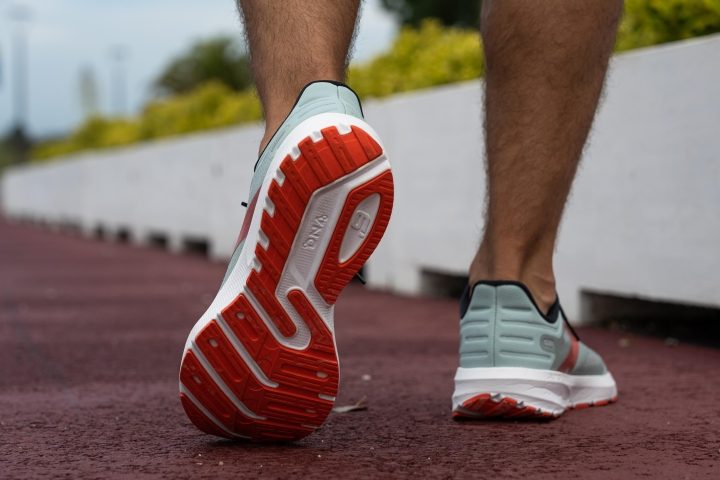 She concludes that this is what might be the main cause of those stable landings. Indeed, there's a 1.9 mm thick rubber at the bottom covering most of the area.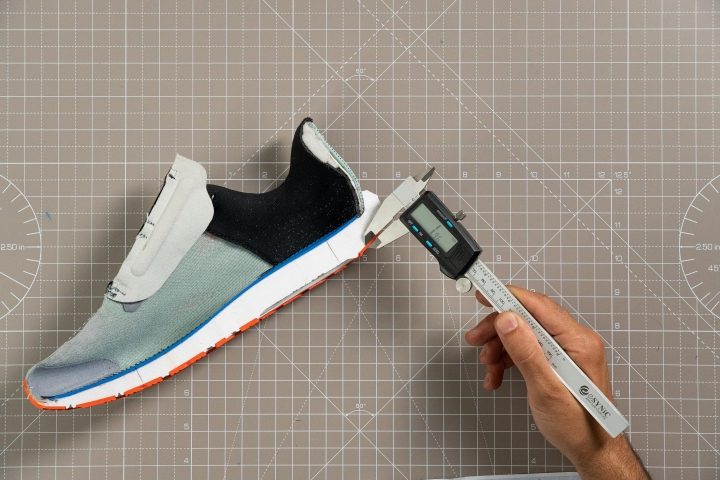 Minimizing waste
To champion a more eco-friendly approach, the Launch 9 has a green rubber outsole that's made using sand instead of petroleum. This lessens its environmental impact.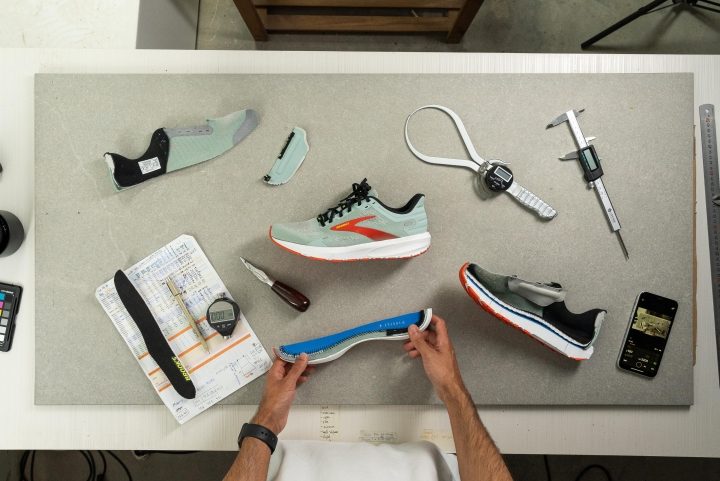 Average-to-narrow fit
A lot of runners claim that they feel secure and locked in with the Launch's new upper. But the opinions split regarding the in-shoe space. Some describe it as neutral and well-fitted, others say that the fabric has enough stretch, and one expert even finds the shoe narrow.
Fact check
Using a caliper, we measured the widest part of the forefoot at 94.7 mm. While still in the medium range of toebox widths, the shoe tilts towards the narrow side of the spectrum (being 2.9 mm narrower than the average). So, wide-footers should definitely go for the wide version.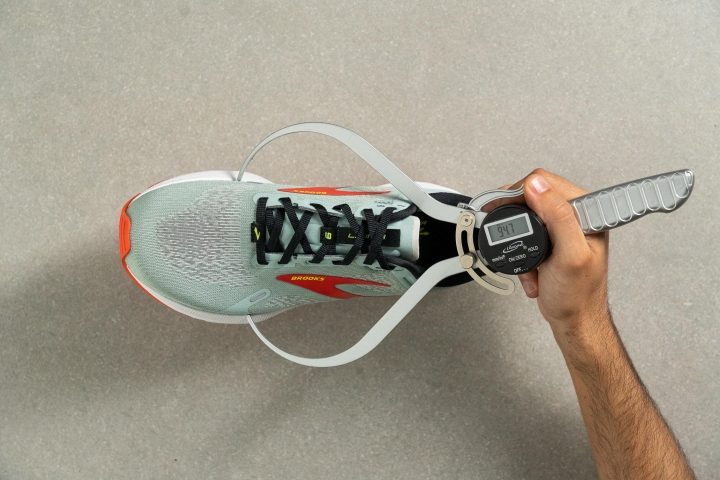 Not perfect for night runs
When doing the lab-testing, we dive into every little detail. Reflective elements included.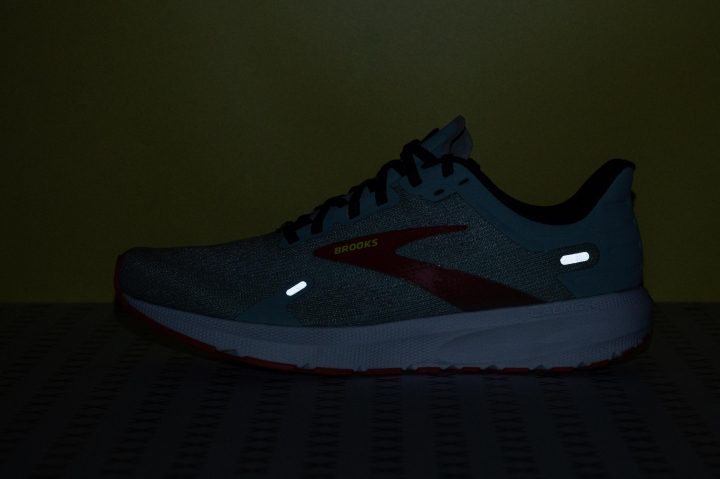 While it's great that the Launch 9 has some, runners think there should be more of them or they should be larger. Some at the back would be nice as well!
Watch out when running in winter
When checking the flexibility of Brooks Launch 9, what surprised us is how big of a difference it is when comparing the flexibility at room temperature (22.7N) and after the shoe has spent 20mins in the freezer (37.8N).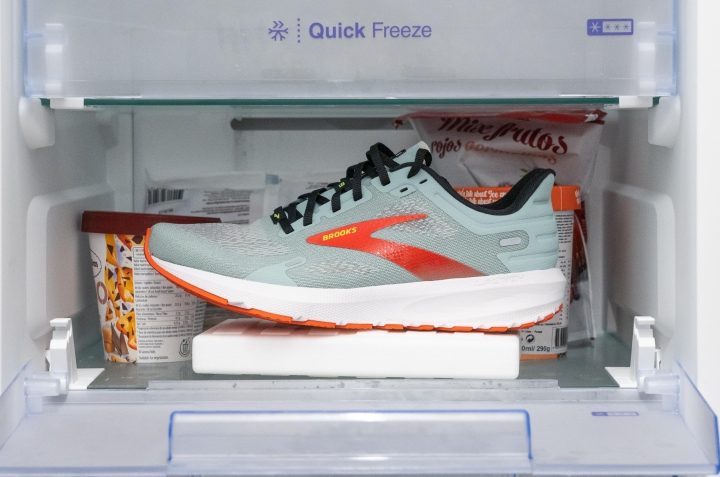 Launch 9 has a 66.5% difference in those 2 measurements, while the average difference for all the shoes in our lab is 32.9%. You've been warned: store your shoes at room temperature.
Brooks Launch 9
Average
Whole shoe

Weight (g)

212

275

Drop (mm)

9.4

8.9
Flexibility of the shoe (N)

22.7

30.2
Flexibility of the shoe (Freezer 20 min) (N)
37.8

40.0

Flexibility of the shoe (% of change)

66.5

32.9

Lace slip test with the knot (N)
-

24.6

Longitudinal flexibility (1-5 scale, 5 being the stiffest)

3

3.4

Torsional flexibility (1-5 scale, 5 being the stiffest)

4

3.6

Upper

Thickness - Tongue (mm)
1.0

6.1

Width Upper - Forefoot (mm)

94.7

97.6

Width Upper - Heel (mm)

72.8

76.4

Lace Stretch (1-5 scale, 5 being the most stretchy)
1
2.6
Flexibility of the heel counter (1-5 scale, 5 being the stiffest)
2
3.1
Tongue: gusset type
none

-

Heel: pull tab
none

-

Midsole

Width Midsole - Forefoot (mm)
110.1

111.9

Width Midsole - Heel (mm)

83.3

89.0

Stack - Forefoot with insole (mm)

23.0

24.1
Stack - Heel with insole (mm)

32.4

32.8

Durometer Midsole Heel (Room temperature) (HA)

22.0

29.8

Outsole

Outsole thickness (Heel) (mm)
2.0

3.6

Lugs Depth (mm)

-

3.4

Durometer Outsole Heel (Room temperature) (HC)
77.5

81.2

Insole
Insole Heel Thickness (mm)

5.8

4.7

Insole: removable
yes
-