A shoe that literally launches you forward - the Brooks Launch 8! Easily, it's one of the best picks for speed training shoes that don't break the bank. For a budget shoe, it goes above and beyond in areas of lightness, speed, and durability - something most speedsters don't possess! If you already have an easy-day and race-day shoe, this will complete your rotation. And if you want a light daily running shoe, it can fit the bill too!
Pros
Hugs your feet
No heel slipping
Breathable
Surprisingly flexible
Easy to slide into
Elf tab
Feels light and fast
Affordable speed trainer
Brooks Launch 8 review and lab test
This is a simply designed shoe built for speed work and training days that push your times. It works best as a supplementary shoe to someone who already has a race-day and a recovery-day shoe.
You should buy this shoe if you are looking for a speed trainer without a high price tag.
Don't buy the Launch 8 if you want a shoe with super-modern technology. If you want the best of the best, this is not that shoe. Hyperion Elite 2 and Hyperion Tempo would be.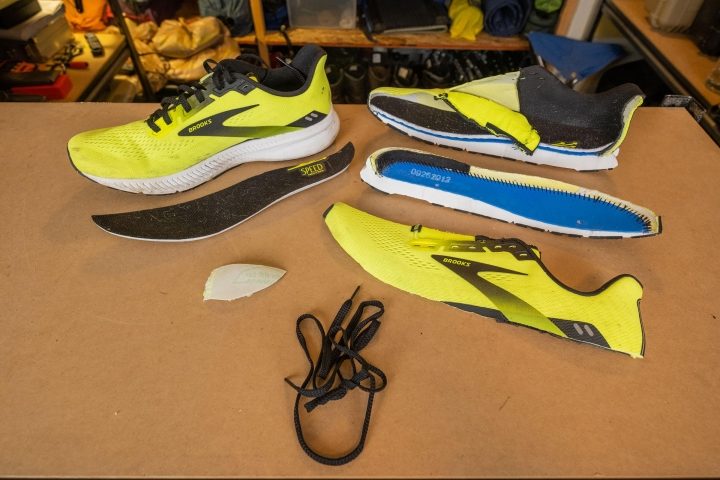 Hugs your (wide) feet
The Launch 8 hugs your foot, and although they seem long and narrow as you hold them in your hand, they worked well for my wider feet.
Heel doesn't slip in Launch 8
The heel counter is medium/firm stiffness, coming at 82.1N on our tests, and although this is higher than the average heel stiffness of 55.5N, the only shoe we've tested that was stiffer was the Brooks Glycerin 19 (121.1N). The important thing here though was that I didn't have any heel slip.
Breathability
I love the air mesh upper. It's more breathable than the past model of the Launch, and a little more performance-minded with a bit less padding in the ankle and tongue.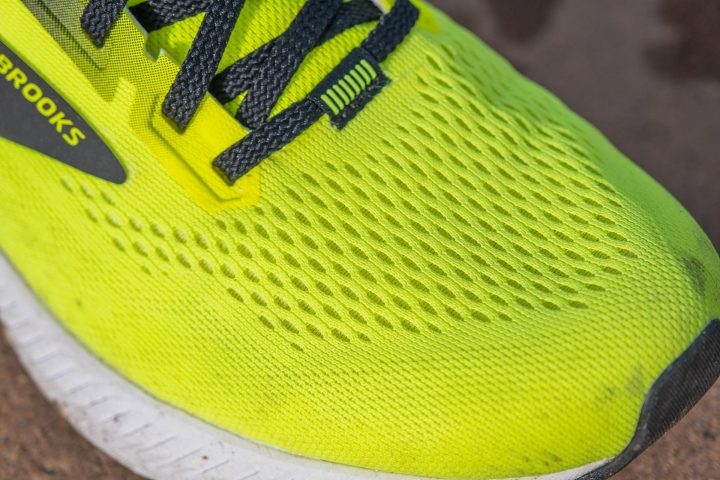 Also, on our "light test", the Brooks Launch 8 passed with flying colors. And yes, the upper is a nice breathable mesh, but because the shoe is neon yellow. The whole shoe glowed in our lightbox. The average LUX passed through a shoe is 64, the Launch read 495.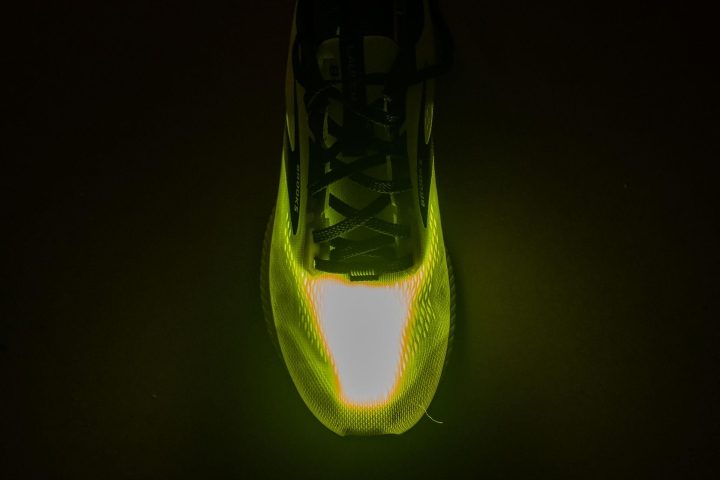 I don't think it's nearly 10x more breathable than other shoes by any means, I think the material and color of the shoe helped boost this finding.
Launch 8 lacks response and spring
I leave every run wanting more response, more spring, and just some more excitement out of the shoe.
Brooks needs to step up the midsole game. This shoe has the BioMoGo DNA midsole and granted this shoe feels better than almost all the other Brooks road shoes I've tried this year, but it's because it feels light and nimble, making it feel fast.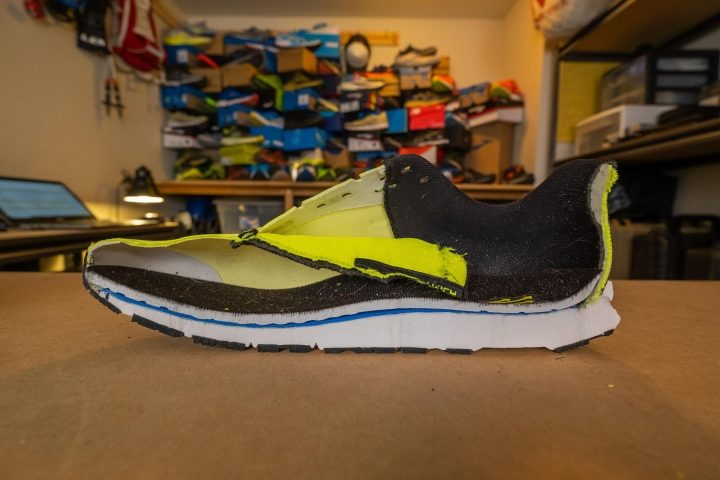 I will say whatever they changed from the Launch 7 is a good change, the 7 felt like a brick and the 8 has more flex and forgiveness in the midsole, but the big question is why not put DNA Flash on these?
Surprisingly flexible
Look how it bends! With an average of 18.7N needed to flex it, Brooks Launch 8 comes as our 2nd most flexible shoe so far (the average being 23.8N).
I wish Brooks boosted this flexibility with more pop.
Finally, a speed shoe with a proper outsole
The outsole is a hearty 3.7mm (this is an average between front and back, there's actually a bit more rubber underfoot upfront) of full rubber which I really like.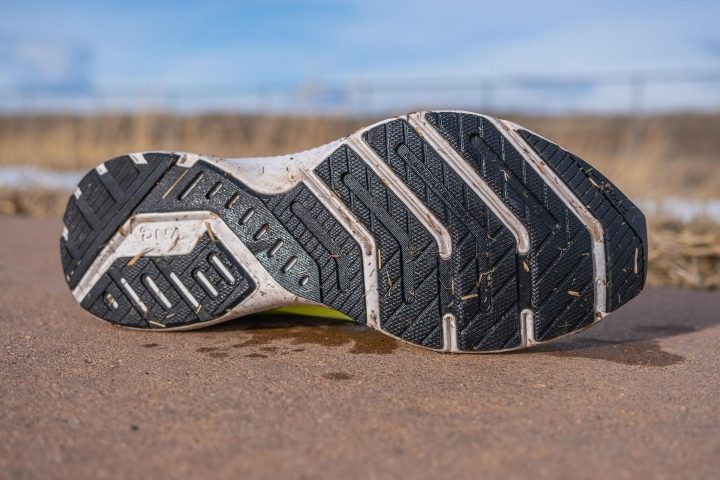 Not all speed-orientated shoes have a full outsole, which should add some durability to this shoe, especially to the non-heel strikers out there.
You can simply slide into the Brooks Launch 8
I really like the shape of the heel flair, it makes the Launch 8 really easy to slide your foot into. This is another good update from the 7 that was missing this tall, elf-like heel.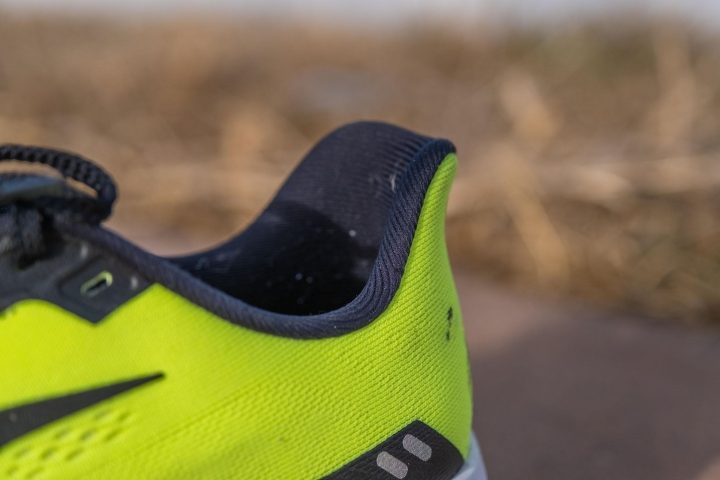 I was really unsure about these heel tabs when shoes started coming out with them, but I'm starting to dig them, it's almost like having a built-in shoehorn.
Stay away from slick surfaces
One thing to mention, the outsole was not super grippy on slick surfaces in my tests, although most road shoes aren't built for grip anyway.
Brooks Launch 8 feels light & fast
They come in at 8.55 ounces or 240g, which is not technically heavy, but competitors in this space like the Skechers Razor + and the Saucony Kinvara 12 are about an ounce to 1.5 ounces lighter.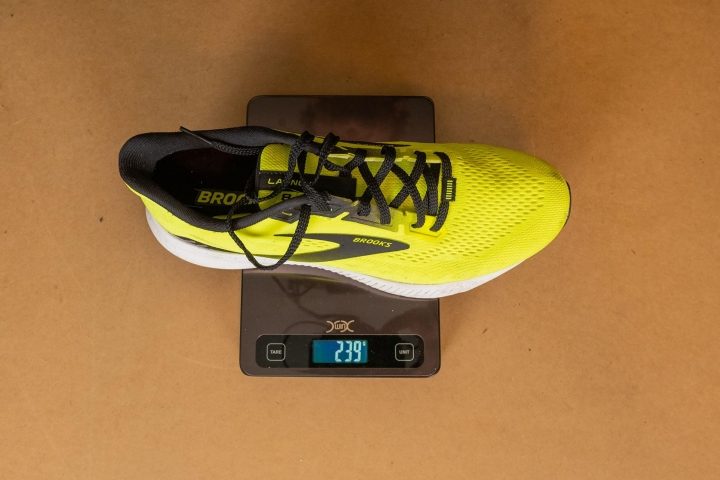 However, they feel light, which feels fast, and I like that, even if it's just mental because they are neon yellow.
Average midfoot lockdown
Most shoes would benefit from extra mid-foot lockdown and the Launch 8 isn't immune to this.
The tongue needs to be gusseted, shoes without a gusset don't get a ton of my attention as I'm looking at them on the shelves of my local retailer.
I had to tie them up pretty tight to get the feel I wanted, and they felt a touch tight over the top of my foot because of it, which is why I appreciate they didn't go too minimal on the tongue (4mm). Any less padding and I would have had some discomfort.
Disappointing laces
They have a wide (6.4mm) and thick (1.3mm) braided nylon lace and it just feels subpar for a high-performance shoe like this. I know this is a budget shoe but the laces feel cheap and like an afterthought.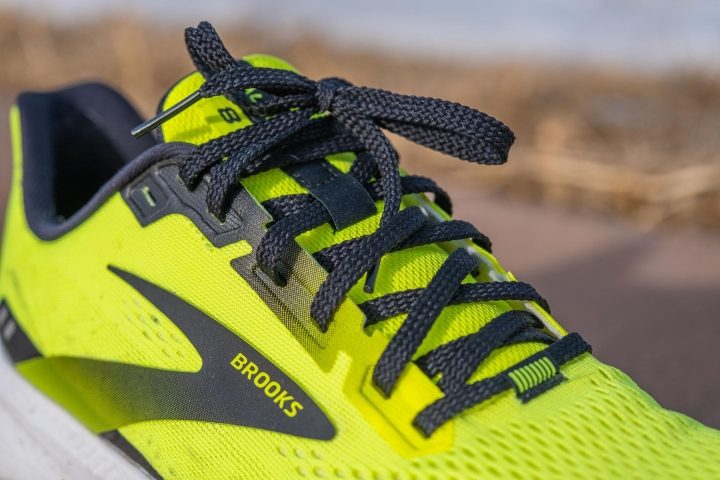 I wish Brooks would have put the laces from the Catamount on the Launch 8, those are ideal for a shoe like this.
Refreshing color choices
I absolutely love the neon and black colorway as well, I know color doesn't influence performance, but it's loud and simple at the same time, and because of that I feel faster in them.
Budget-super-friendly
Ok down to price and this is a major pro. $100, for a speed shoe, and that's pretty fantastic!
Conclusion
In the end, if you are looking for a fast trainer, that's stable and dependable, durable and light enough for race day, the Launch 8 accomplishes all that. I don't love the midsole, but they feel nimble and they are a nice improvement from the 7. One last thing to comment on is if you are a winter runner, these shoes didn't fare too well in our freezer test, with the shoe getting 102% stiffer when cold, which may deter some.
For now, I have my fingers crossed that the 9 comes with their Flash midsole, and although I wanted more pep they actually are a nice shoe to run in, and I love the looks, so I may wear them just because of that!