The Brooks Divide 3 stands out as one of our best choices when it comes to door-to-trail shoes. It has received a complete makeover compared to the
previous iteration,
and considering its price, we found that it's now a nearly perfect daily trainer, capable of tackling almost any situation, whether it is trails or roads. It can be as good (or even better)
as
many other more expensive competitors in its category.
Pros
Exceptionally comfortable
Versatile for roads and trails
Smooth predictable ride
Great for long days out
Absolutely affordable
Overall secure fit
Broad toe box
Stable on moderate trails
Cons
Ride feels

flat

Not for very technical trails
Who should buy
Brooks

Divide

3

Trail runners on a budget, beginners and experts alike, who are after a very comfortable shoe should all consider the Divide 3 for their slow to moderate-paced runs, on a variety of surfaces, except only for the roughest terrain. It is particularly good to eat up training miles, and it's an ideal companion when preparing for a trail race.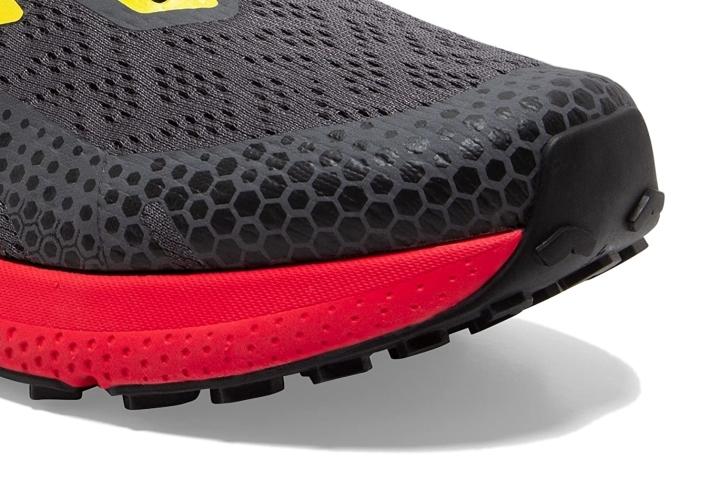 Who should not
buy

it

Don't get this shoe if you: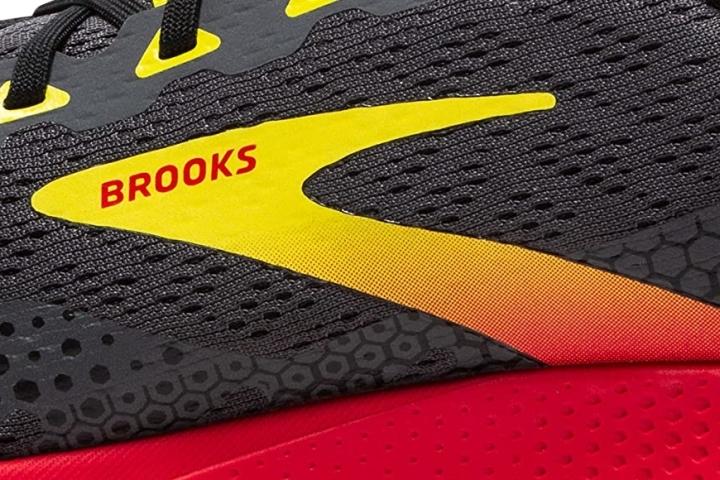 Brooks Divide 2 vs. Brooks Divide 3
Based on our tests and assessments, the Brooks Divide 3:
is 0.3oz (9g) lighter
has a roomier toe box
has a better and more secure upper
is a little bit more responsive
has

less

aggressive traction, more suited to roads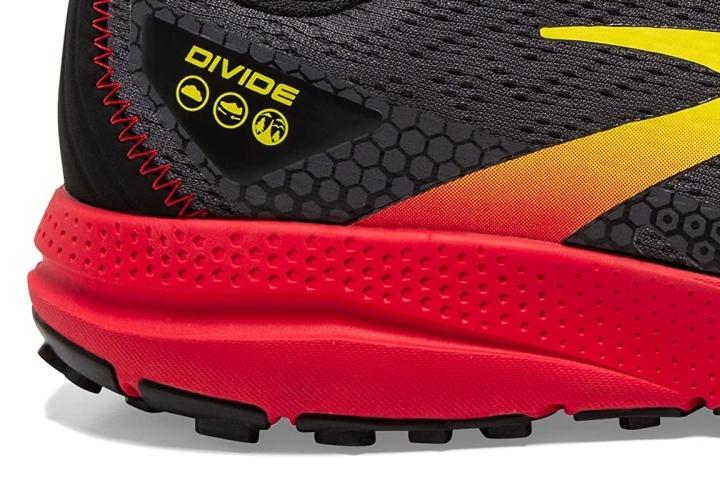 A shoe for almost any terrain
Door-to-trail shoes usually tackle any terrain, but the most technical. That's exactly what the Divide 3 does. We discovered that it strikes an optimal mix between extensive road versatility and rough trail/off-trail capability. We found that its versatility shows its limit only on very steep and loose terrain.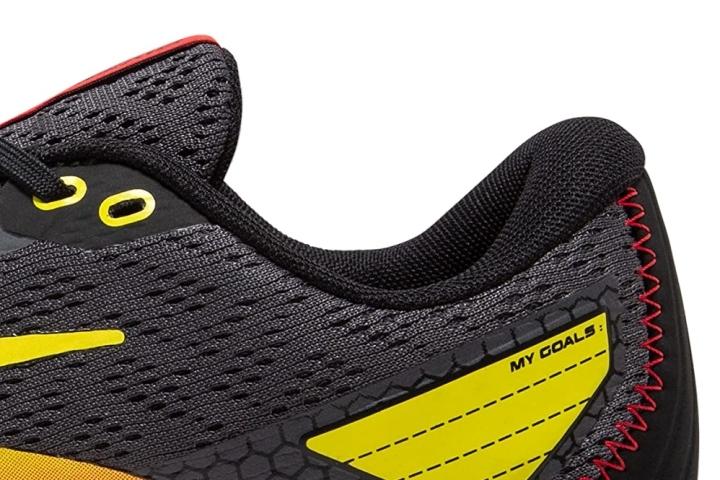 An enjoyable ride
We noticed that Divide 3 is not very lively or dynamic, but it has enough response and energy return when it is needed to amp up the speed.
We felt that the cushioning was moderately firm but not in a bad way. In fact, the ride is stable and responsive enough, which is something we consider perfect for a trainer.
Brooks Divide 3 hugs your feet
A great combination of padding, generous toe box, and excellent lockdown makes the shoe feel almost perfect. We are happy with how these give the shoe a comfortably snug fit.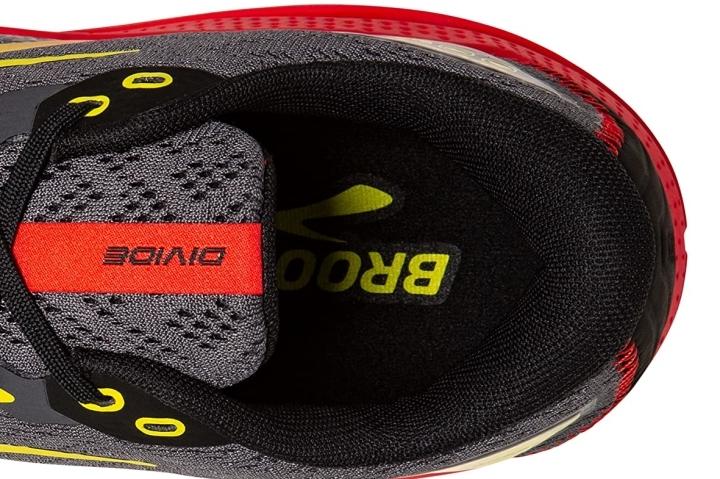 A supportive shoe
This is a neutral trail running shoe, yet we found that it feels solid and supportive, thanks to a little bit of arch in the midsole that fits right and exactly without any gaps.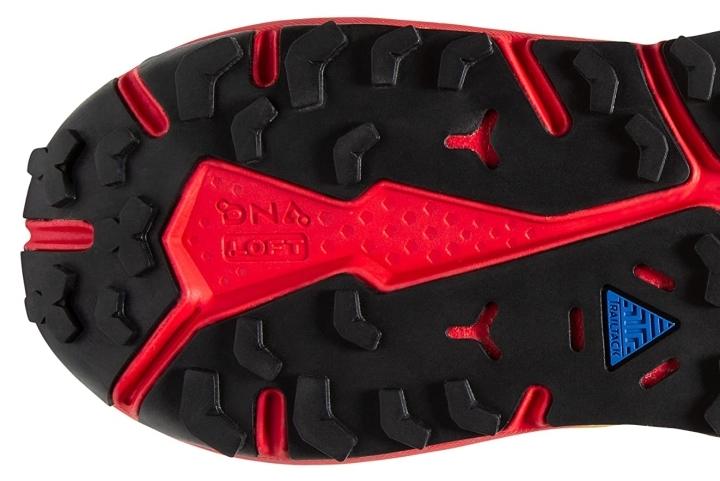 Enough protection in the Divide 3
Though there are sturdier shoes, we verified that the toe bumper of the Divide 3 is substantially protective, and even if some of the sharpest rocks can be felt, there's enough foam underfoot to avoid issues.
On top of this, we can attest that the shock absorption is great. We found that the shoe is well cushioned, which is enough for a whole day out. Our legs also didn't feel fatigued after running in the shoes.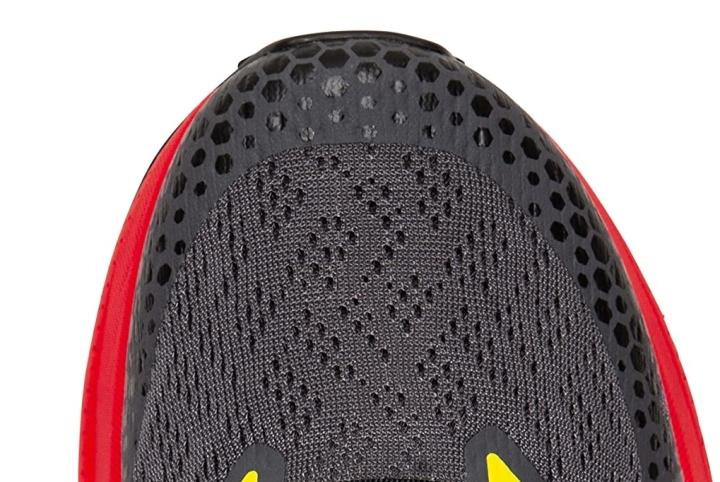 High quality, fantastic price
We really appreciated the price of this shoe, which is $100 and therefore definitely cheaper than many other trail running shoes (the average is $129).