The Brooks Caldera 4 is a fantastic performing trail shoe with worthy updates that keep building up to this superior shoe. It's a trail shoe offering the best in terms of durability, comfort, and trail function for an all-around daily trainer that isn't afraid of getting dirty and performing optimally while doing it. Those looking for a softer ride while still managing loose and technical trails will not be disappointed giving the Caldera 4 a try.
Pros
True to size
Secure fit
Breathable upper
Grippy outsole
Gusseted tongue
Durable
Very comfy
Cons
Break-in period
Not for extremely technical terrain
Slightly expensive
Brooks Caldera 4 review
The Caldera 4 is just as much a long-distance contender as it is a short-distance daily trainer. From my experience running from my doorstep to the local gravel trail, the transition from road to gravel was seamless and hardly noticeable.
The long runs over 12 miles were especially gratifying in this shoe due to its overall consistency in cushioning, grip, and durable materials. The Caldera also excels in wet and steep conditions up mountain ridges that were filled with loose rock and stumps of all sizes.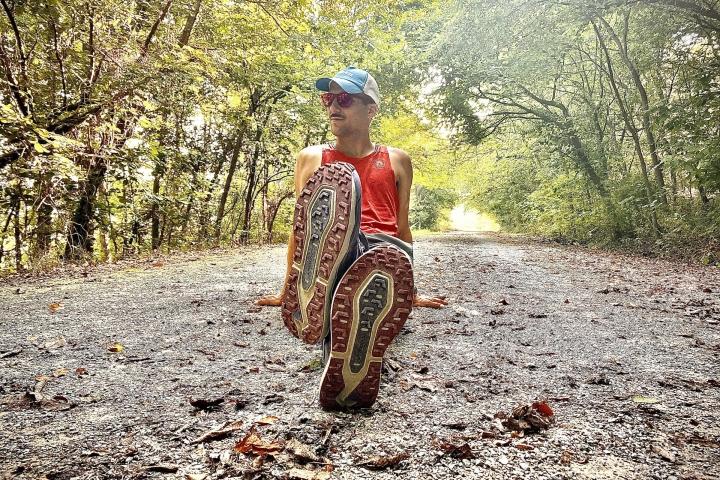 Also, the TrailTack Traction rubber outsole really works when you get on top of slick rock slabs and loose descents down the mountains.
The Caldera 4 checked all the boxes in the trail shoe category and I think it could very well be a contender for Brooks' best all-around trail shoe.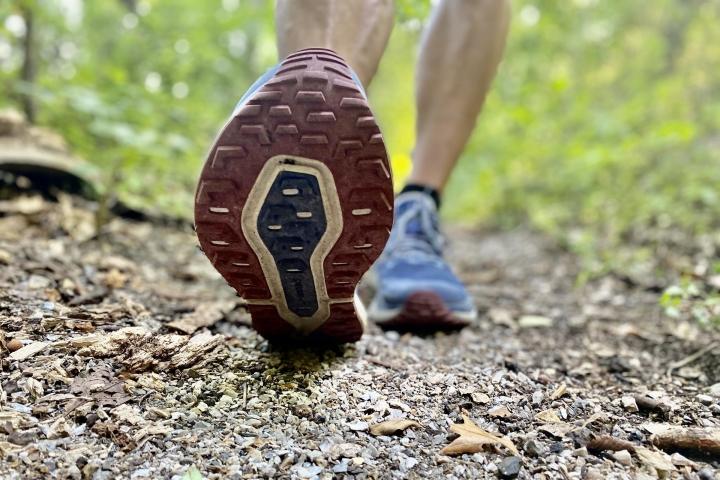 Who should buy it
The Brooks Caldera 4 is suitable for runners who are looking for a trail shoe that:
works well as a hybrid transitioning from pavement to trails
offers durability, foot protection, and value for money
has a rocker feel to propel you forward combined with a wide and stable platform
Who should NOT buy it
Look away if you:
need a shoe for extremely technical terrain (in this case, pick a pair from the Cascadia line)
prefer a waterproof trail shoe (praised for its waterproofness, the Cascadia 15 GTX is worth checking out)
Proper true-to-size fit
Just like the other Brooks running shoes I've been fitted with (Glycerin, Levitate, Ghost, etc.), the Caldera 4 fits true-to-size. My men's 9.5 US left me with adequate toe box room for the toes to splay naturally. The heel counter is just firm enough while providing padding around it to prevent my heel from slipping through.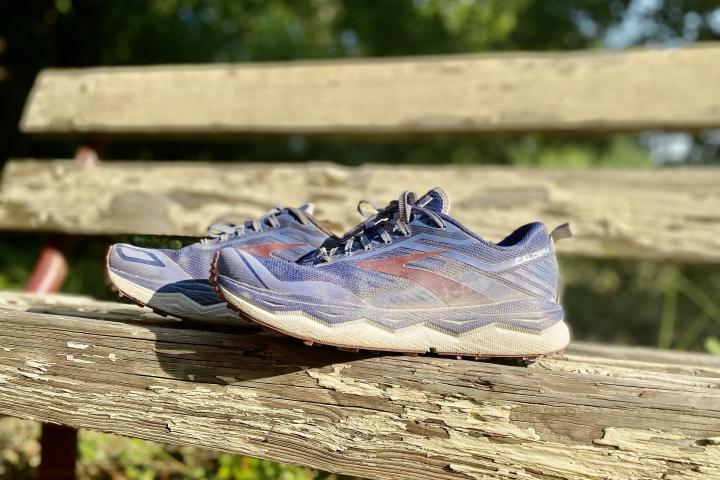 Functional design from top to bottom
The Caldera 4 is a trail shoe in its purest form due to the well-spread lug pattern, grippy outsole rubber, durable upper with minimal overlays, and aesthetically pleasing color choice of, deep cobalt, blue and red.
Responsive and protective
The midsole felt like a great balance between responsive and protective with a 33/29 mm stack height heel to toe. The 4mm drop seems to land well on my feet and adds a bit more leverage when climbing up technical hills.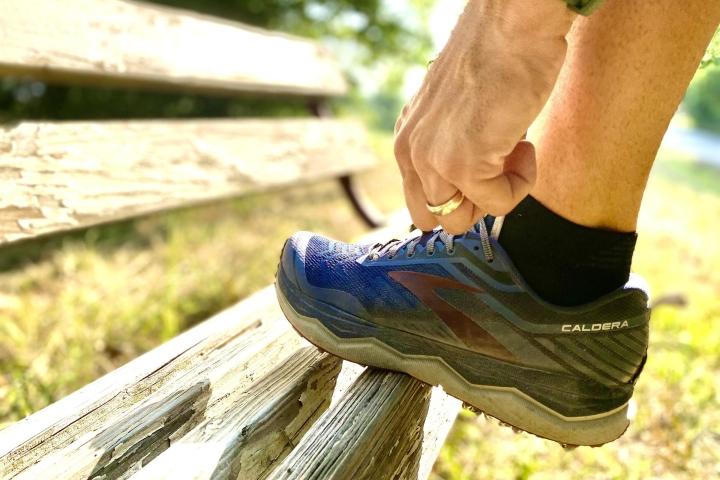 Worth-noting gusseted tongue of the Caldera 4
Also worth noting is the gusseted tongue that stays in the proper position at all times even on aggressive rock-filled switchbacks and hard turns. I liked how the padding in the tongue was also not overdone and allowed the top of my foot to stay cool.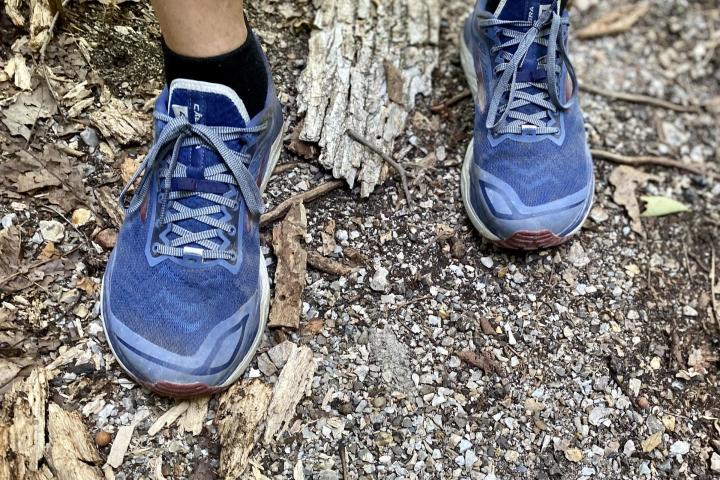 Break-in period needed (10 to 25 miles)
Although the Caldera 4 did have a wide base from heel to toe, I did experience some slight pinching that caused a blister on the medial side of my forefoot.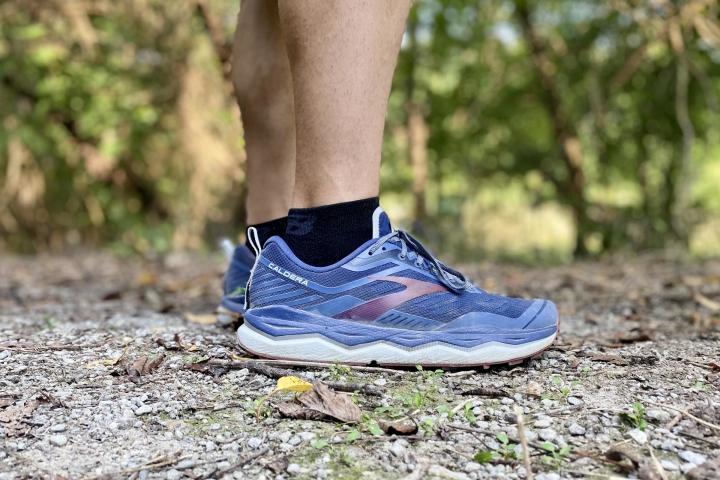 This went away, however, as the shoe broke in following a few trail repeats of 3-6 miles. I believe this was due to a slightly stiff break-in period that the shoes needed for a total of 10-25 miles before the cushioning, insole, and upper materials started settling in and working together as a homogenous trail shoe.
Outstanding upper of the Caldera 4
I'm not sure what magic engineering Brooks has up its sleeve in regards to how well the upper on the Caldera 4 works. From every angle, Brooks has hit this upper out of the park.
The multi-weaved engineered mesh material wicks away hard debris and liquid while retaining breathability that allows the foot to stay moderately cooler than most trail shoes with this level of protection. The material is flexible enough to allow natural foot movement while landing and stepping off the ground and still remains snug for a conformed fit.