ASICS Gel Kayano Lite 2 review and lab test
A modernized version of an all-time classic.
I like that ASICS is rethinking how to build the Kayano line. This shoe looks and feels more like a neutral runner, but has enough stability control built in to give pronators the support they need.
Most stability shoes are built around heavy, clunky designs incorporating plates, guide rails, or stiff, hard plastic medial posts. ASICS reimagined how to create a stable shoe without any of those weighty relics.
The "Lite" in the name doesn't just apply to the weight, this shoe is lighter on the environment as well, with most of the upper being constructed with recycled materials. A nice plus in a modern world where we should be concerned about our planet.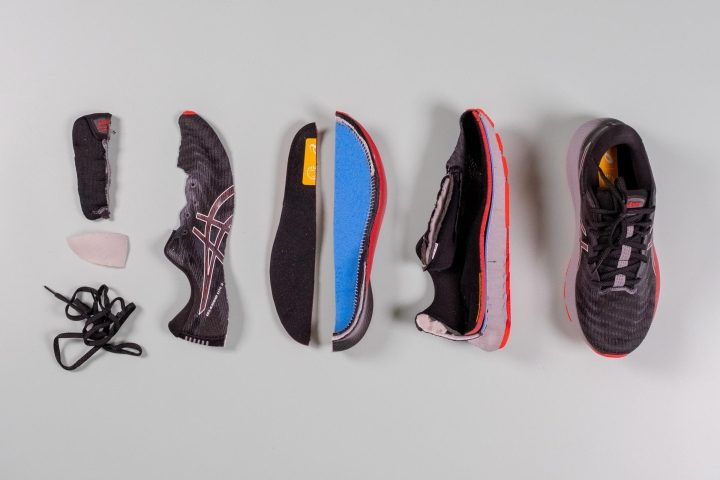 This shoe is peppy and more fun to run in than the classic Kayano in my opinion and I'm glad it's onto v2 and the Kayano Lite was not just a one production run wonder.
Read on to see if you need to check out the new Kayano Lite 2.
Who should buy the ASICS Gel Kayano Lite 2
If you are a pronator or have a heavy gait cycle and need a little more support in your shoe, the Kayano Lite 2 may be a great option. It's reimagined how a stability shoe should be built, out of lighter, more modern material, and looks and feels more like a neutral shoe many pronators found off-limits for their needs.
If you are a long-time ASICS runner, this shoe will feel familiar yet updated. And if you are a heritage Gel Kayano runner, you should 100% give this newer version a try, I think it effectively replaces the older Kayano hands down.
Who should not buy it
Don't buy this shoe if:
You don't need the added stability it provides. Check out the Gel Nimbus Lite 2, it's very similar in design but a neutral shoe.
You need extra stability for severe pronation. The Kayano 28 still provides a bit more stability if needed.
If you are looking for a super plush daily trainer. Check out something like the Hoka Clifton 8 instead.
Ultimately the Gel Kayano Lite 2 is a great option for stability runners who need a lighter, easier riding daily trainer. It's not a fast race shoe or a super plush recovery shoe, but it's comfortable and stable which is all you really need.
Fits true to size and wide
The Kayano Lite 2 fits true to size and is nice and wide.
There's plenty of room in the toe box for wide feet, these are super accommodating.
ASICS went a bit overboard with the tongue plushness. It's 13.6mm thick, while average shoe tongues are just 5.5mm thick. This feels great, but it doesn't let heat escape and makes it hard to get an extremely tight feeling fit over the top of the shoe.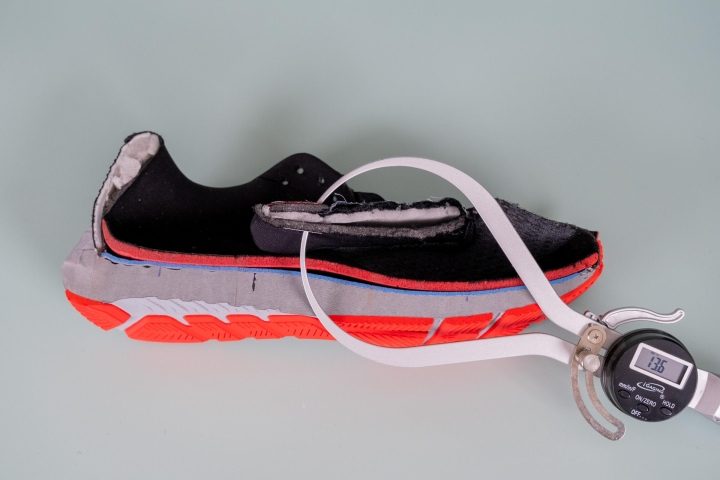 And without a gusseted tongue, it can feel a touch sloppy at times unless you crank on the laces.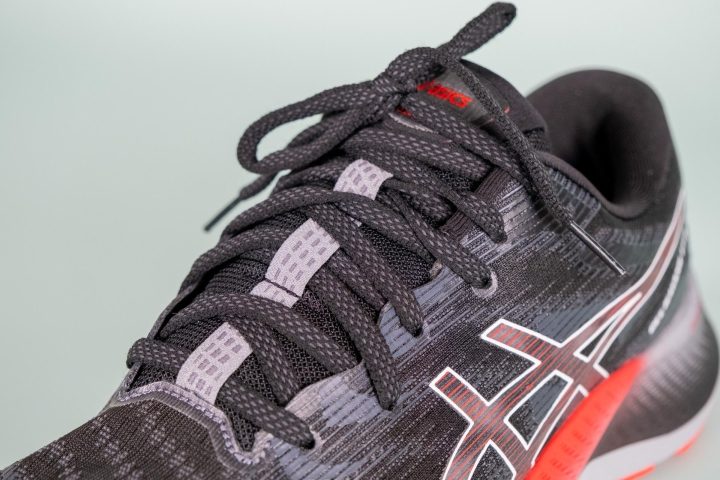 Kayano lite 2 rocks the comfort
This shoe is extremely comfortable on your feet. There's padding everywhere. The ankle collar is insanely thick, as is the tongue.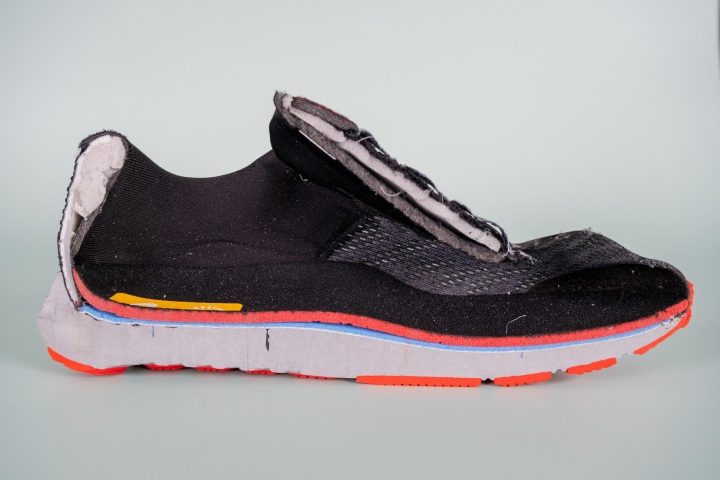 To add some comfort there's a thick 5.6mm memory-foam feeling Ortholite insole giving the shoe a nice plush feeling underfoot. Average insoles are just 4.3mm thick so this is a nice amenity.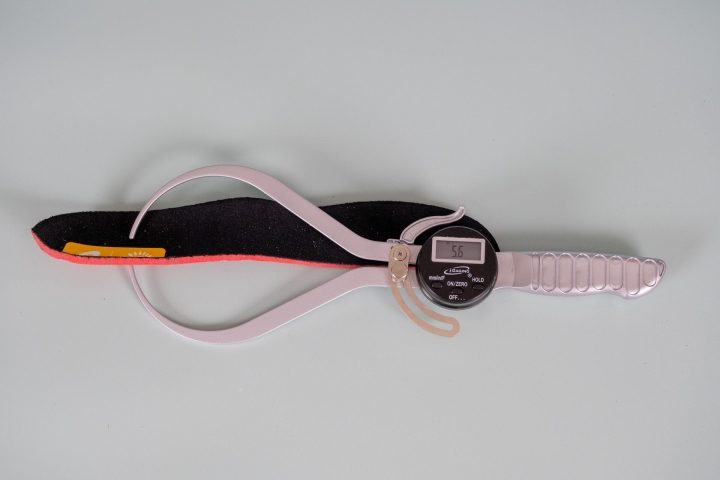 The shoe isn't technically super-breathable thanks to all its soft padding, but one nice thing about the upper is it's devoid of heavily welded overlays most stability shoes are adorned with which tend to suffocate your feet. I'll put it in the category of better than most stability shoes when it comes to breathability.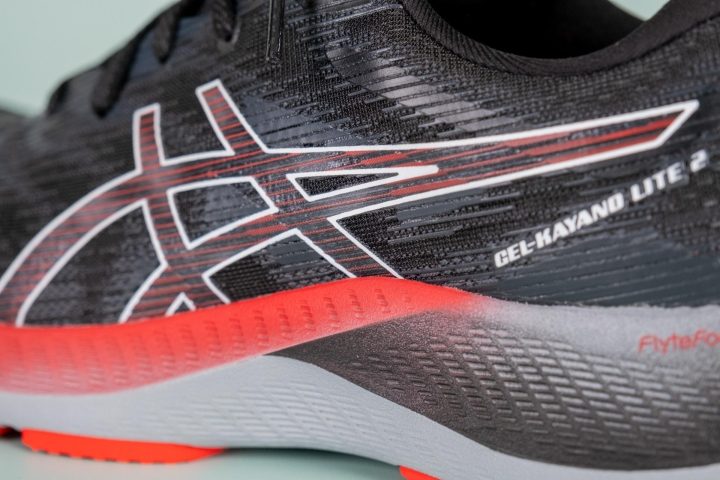 Rides like a neutral trainer
Anyone that knows me knows I am not a giant Gel Kayano fan. The newest version, the Gel Kayano 28 however did get good reviews from me. ASICS changed how they stabilized their venerable, long-time fan favorite and it's changed how I view the platform.
I do however think the Kayano Lite is a much better way to do a stability shoe. No more heavy gel padding in the heel, no plastic pedial post (although that was removed in the Kayano 28), and about half an ounce lighter than the standard Kayano, 10.1 vs 10.6 ounces (286g vs 302g).
The shoe gets its stability partially from its super-wide platform. At 115.6mm wide under the forefoot and 96.1mm wide in the heel, it's considerably wider than average shoes (112.8/89.7mm).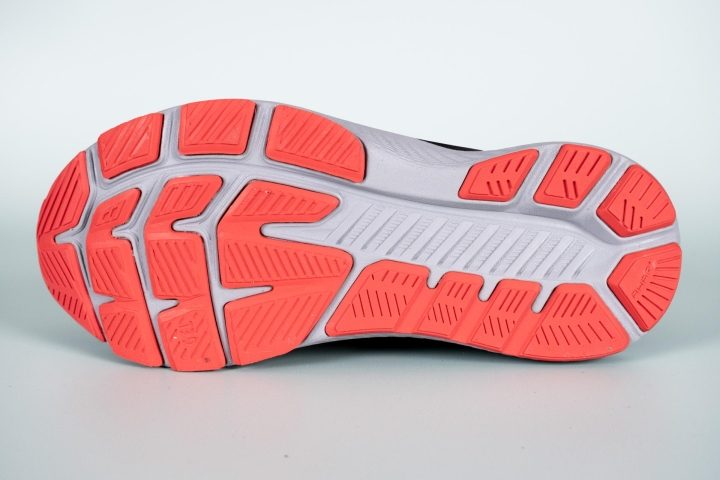 It has tall stacks at 35.9mm in the heel and 24.8mm in the forefoot which means a steep drop of 11.1mm which I don't love. This drop measurement has actually increased since v1. This shoe would be more ideal with a flatter design in my opinion.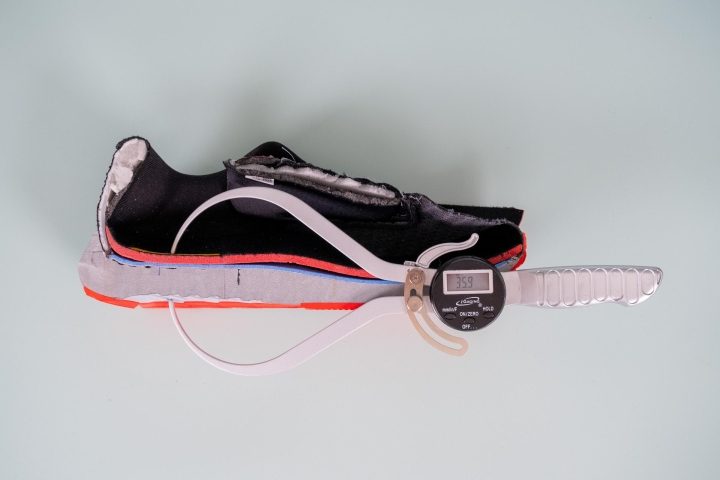 As for flex, it measured 27.4N on the flex test, average shoes flex at 37.5N. But this softer reading is almost all under the toes in the forefoot. The rest of the shoe is super stiff, adding to its stable nature and causing it to score 4 out of 5 in torsional stiffness (5 being the stiffest).
The Kayano lite comes with a wider platform underfoot than the Kayano 28, 115.6mm vs 113.4mm in the forefoot, and a taller stack height, 35.9mm vs 31.8mm in the heel just for comparison.
Lastly, it has a super stiff heel counter ranking 5 out 5 (5 being the stiffest). Stability shoes usually have stiff heels, they help stabilize the shoe, but to me, stiff heels normally feel counterproductive, cause heel slippage, and require a ton of padding. The Kayano lite has plenty of padding, but surprisingly I didn't have any heel slip in this shoe.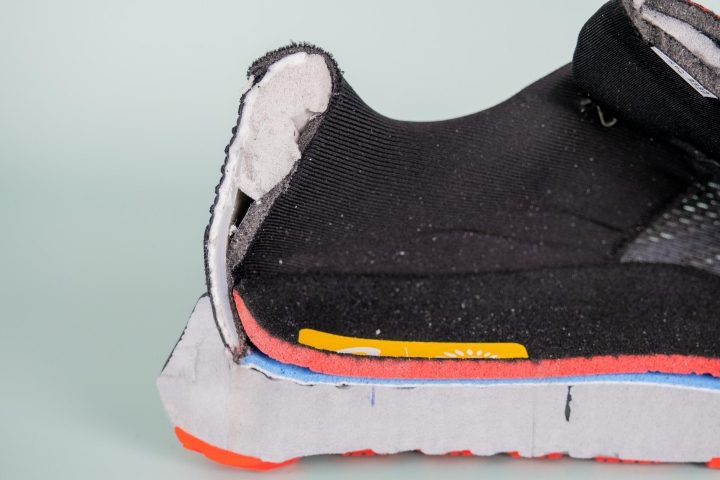 Weight is good for stability shoe
The main issue with v2 of this newer Kayano design is ASICS is taking it in the wrong direction in some key areas. It's gained considerable weight and drop, both negatives in my opinion.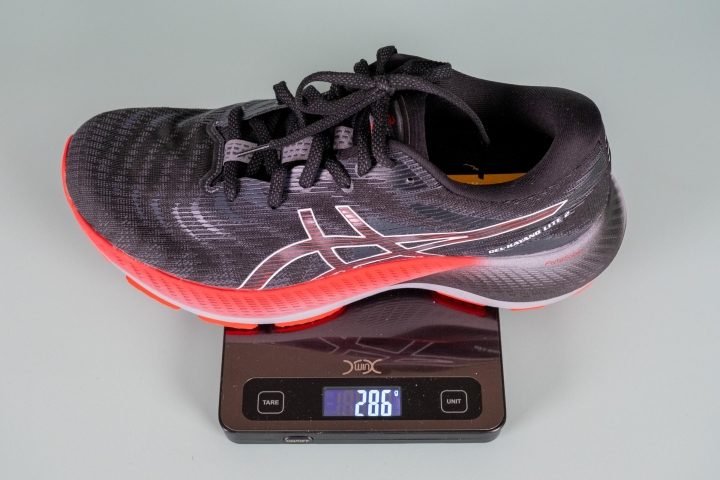 At 10.1 ounces (286g) which is pretty dang light for a stability shoe it's unfortunately about half an ounce heavier than v1.
It's hard to compare this to a standard daily trainer or a standard motion control shoe though since the latter usually has heavy plastics to account for the stability control devices.
Durability and grip
ASICS shoes all pretty much have the same outsole material, it's high abrasion, it's grippy, and it wears down slowly.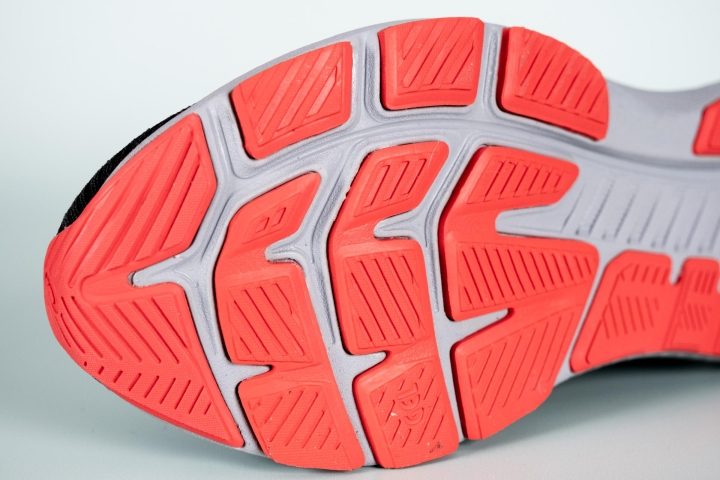 They place extra hard rubber in the heel where most people land, to extend the life of their shoes, and the Kayano Lite 2 is no different.
This 5.1mm outsole is hard and durable at 84.5Hc on the durometer meaning this shoe should last a long time and wear down slowly. Average outsoles are 3.8mm thick and 80.0HC on the durometer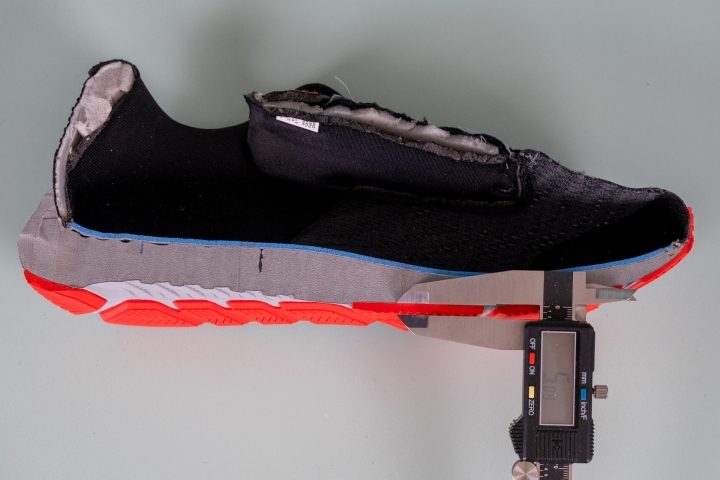 Breathability
As I mentioned earlier, I'll put it in the category of better than most stability shoes when it comes to breathability.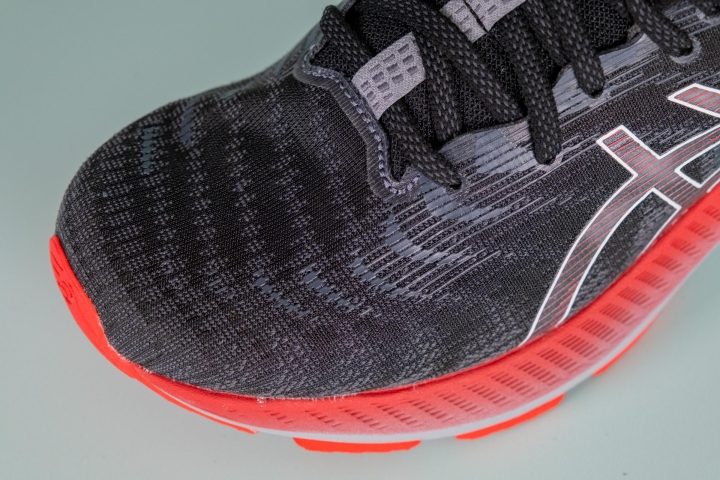 It has a nice mesh upper, but it's really just the toe that lets heat escape, the rest of the shoe is so padded it runs a touch warm.
Reflective
There are some nice bright reflective elements on the heel of the Kayano Lite 2 for those that prefer to run in the dark or low light times of the day.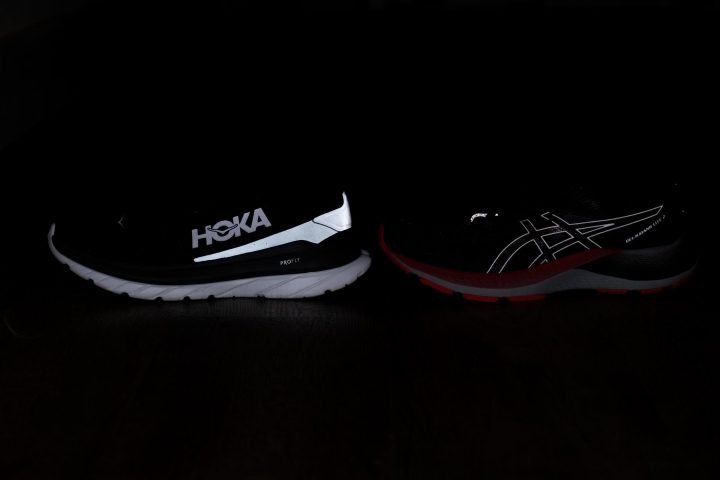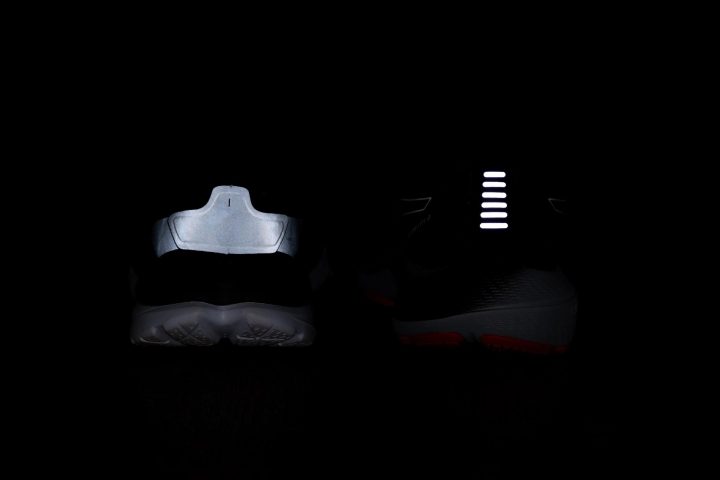 We compared this to a highly reflective shoe, the Hoka Mach 4, so you can clearly see the comparison side by side.
Conclusion
If you're a stability runner and want something a little more modern, this may be a great option.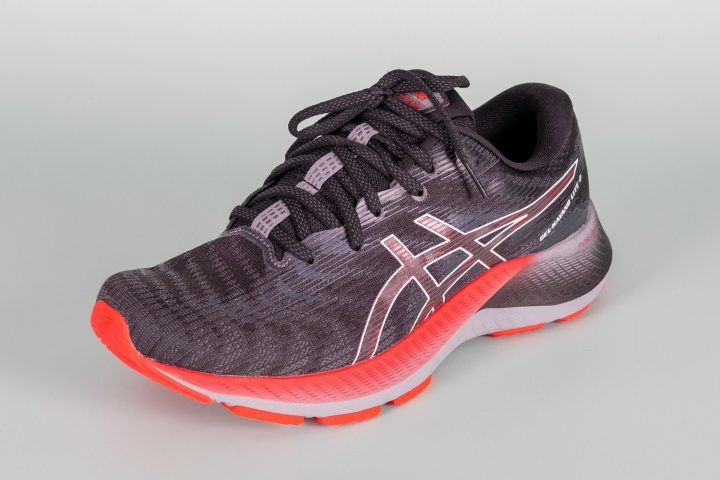 Complete lab-specs overview
Kayano Lite 2
Average
Whole shoe

Weight (g)

286

267

Drop (mm)
11.1
8.3
Flexibility of the shoe (N)
27.4


37.5

Flexibility of the shoe (Freezer 20 min) (N)
46.5

47.7

Flexibility of the shoe (% of change)

69.7

40.7

Lace slip test with the knot (N)

22.0

23.2

Longitudinal flexibility (1-5 scale, 5 being the stiffest)

3

3.2

Torsional flexibility (1-5 scale, 5 being the stiffest)

4

3.3

Upper

Thickness - Tongue (mm)

13.6

5.5

Width Upper - Forefoot (mm)

98.6

98.5

Width Upper - Heel (mm)

77.5

76.0

Lace Stretch (1-5 scale, 5 being the most stretchy)

4

2.9
Flexibility of the heel counter (1-5 scale, 5 being the stiffest)
5
3.3
Tongue: gusset type

None

-

Heel: pull tab

No

-

Midsole

Width Midsole - Forefoot (mm)

115.6

112.8

Width Midsole - Heel (mm)

96.1

89.7

Stack - Forefoot with insole (mm)

24.8

24.6

Stack - Heel with insole (mm)

35.9

32.9

Durometer Midsole Heel (Room temperature) (HA)

20.0

22.2

Outsole

Outsole thickness (Heel) (mm)
5.1

3.8

Lugs Depth (mm)
N/A

3.4

Durometer Outsole Heel (Room temperature) (HC)

84.5

80.0

Insole
Insole Heel Thickness (mm)
5.6

4.3

Insole: removable

Yes
Compare popularity
Interactive
Compare the popularity of another shoe to ASICS Gel Kayano Lite 2: