The 8th iteration of the GEL Contend series is given mad love by fitness enthusiasts and newbie runners alike. The well-padded, lightweight, and durable construction of these daily trainers is what gets runners and walkers so pumped about their next adventure on the road. The out-of-the-box comfort and accommodating fit of these shoes from ASICS is also a welcome surprise for sweat lovers looking for affordable kicks.
Pros
Superb comfort
Secure fit
No break-in needed
Durable
Supportive structure
Feels light on the feet
Budget-friendly
Cons
Not very responsive
Narrow toebox
Less cushy than other ASICS shoes
Who should buy the ASICS Gel
Contend

8

The ASICS Gel Contend 8 is a great daily companion for:
Fitness enthusiasts who want a low-budget trainer that offers superb comfort for the uncomfortable sweat session ahead.
Folks with neutral arches who need a pair of trainers that can take on miles of road fresh out of the box.
Wide-footed runners who want a snug fit that's light and supportive all around for their more laid-back runs.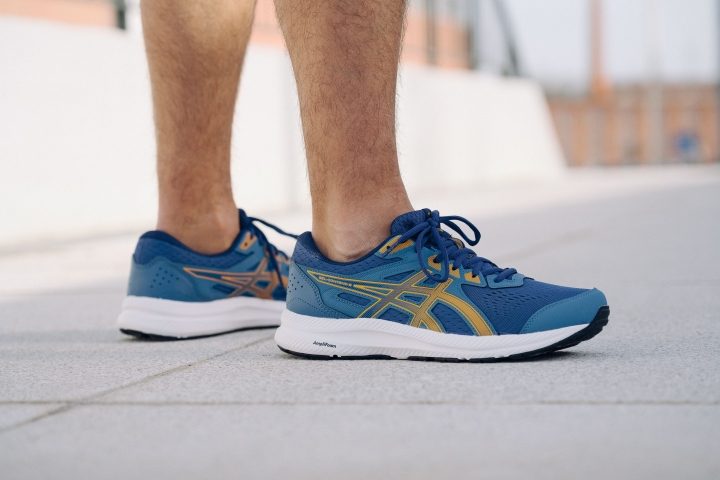 Who should NOT buy it
For runners who would want a bit more bounce in their step, the responsive, smooth, and fun ride of the ASICS Superblast could help with that.
For cloud-like steps every time, the ASICS Gel Cumulus 24 is a more cushioned alternative to the ASICS Gel Contend 8.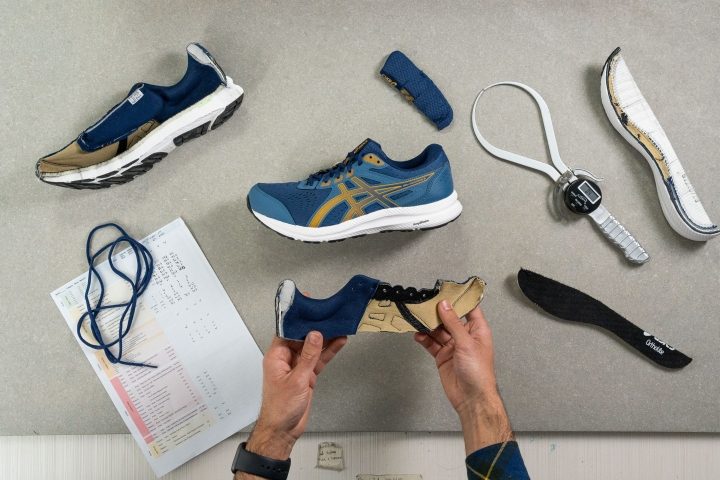 The ASICS Gel Contend 8 is comfy all around
Runners enjoyed a cozy and sweat-free experience wearing the Gel Contend 8 for their summer runs.
Fact check
The shoe indeed has the highest breathability rating (5 out of 5) based on our smoke-pumping machine test. We assessed the amount of smoke passing through the fabric in a given time which is presented in the video below.
ASICS Gel Contend 8 (left), Adidas Runfalcon (right)
You can also see how the mesh fabric is nearly see-through, especially in the toebox area.
The thickly padded tongue and lining of the heel counter make these shoes "comfortable at all times" as mentioned by an expert.
Fact check
Our caliper measurement shows 3.9 mm of padding thickness in the tongue. This is less than the average 5.6 mm and also thinner than some of the other ASICS shoes, such as the Gel Excite 9, with a 9-mm thick tongue.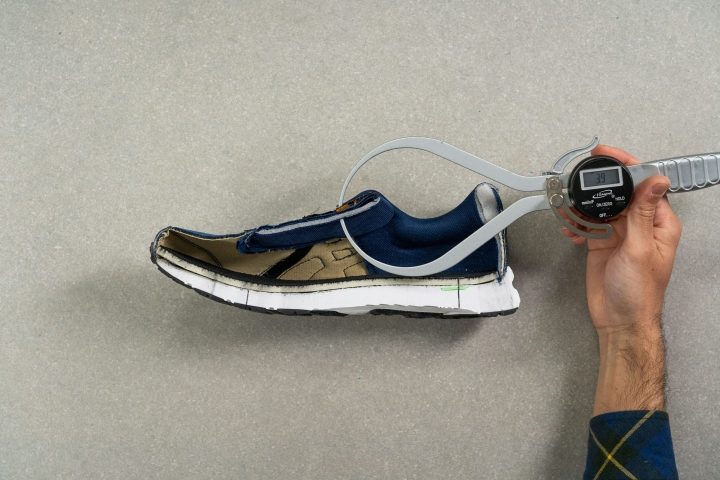 The glove-like fit of these daily runners is also loved by a critic who said that "the fit is spot on."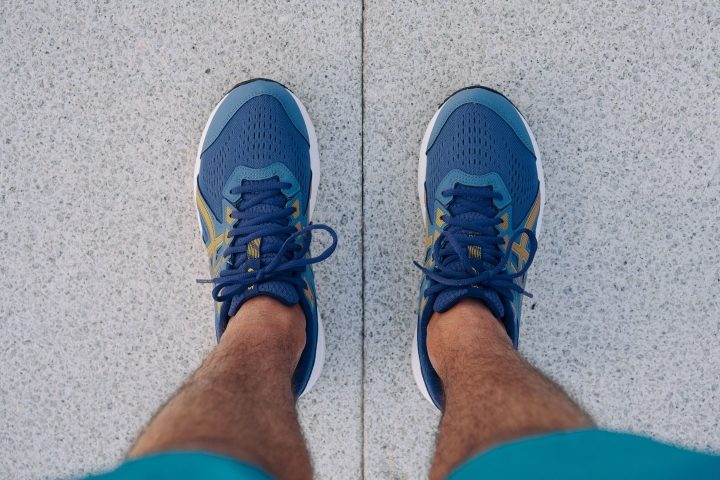 Fact check
Measuring the widest part of the shoe's toebox (94.3 mm), we actually found that it is narrower than average by 3.4 mm. Thus, runners with wide feet are recommended to get the wide or even extra-wide version of the shoe (luckily, it's available in a range of widths).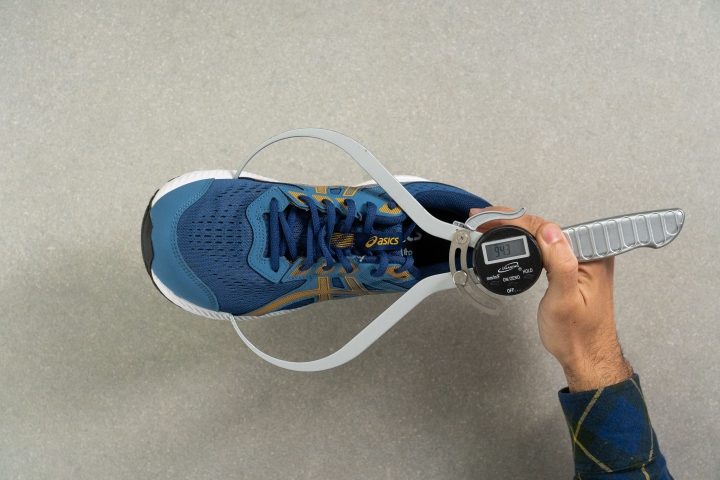 Easy runs are also made better with the OrthoLite sock liner. This is a key feature for an expert who said that this made their step-in comfort "exceptional."
Fact check
The insole adds a welcome touch of padding which is 4.8 mm thick (0.3 mm thicker than average).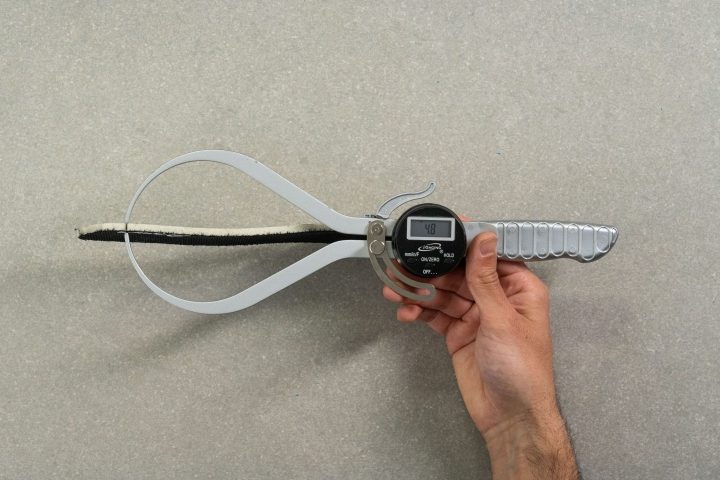 Lets runners play straight away
Straight out of the box, the ASICS Gel Contend 8 is found by runners and walkers to be very welcoming and accommodating.
From the overall fit to the midsole performance, one critic mentioned that "they feel fantastic immediately." Another praised the midsole of the shoe which they found to be "pretty flexible and does not require a break-in."
Walk, run, and sweat it out with the ASICS Gel Contend 8
"Aerobic workouts are a YES" for a sweat lover who put their feet in the ASICS Gel Contend 8. For a walking fan, they found these to allow their walking to be more stable.
With the minimal energy return paired with the flexible and adaptable platform of the midsole, an expert loved how for them, the Gel Contend 8 "suits natural running."
Fact check
This ASICS shoe has a lot of flex to it! Measuring its resistance to being bent, we found that the Contend 8 is 37%(!) more flexible than road running shoes on average.
Fact check
In a manual assessment, it also proved to be very pliable. We rated it as 2 out of 5 (where 1 is the most flexible) in both longitudinal and torsional flexibility.
Fact check
The caveat is that on a cold day, the Gel Contend 8 is going to get 62% stiffer and 26% firmer and will need a little breaking in. These measurements were taken after leaving the shoe in the freezer for 20 minutes.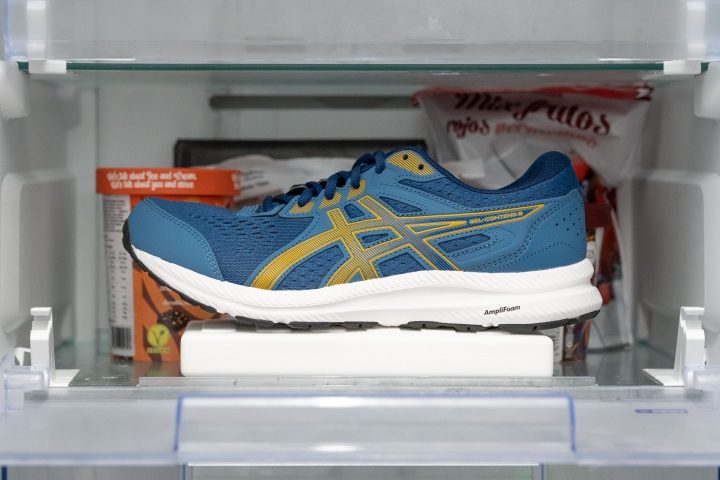 However, it is worth noting that one critic found the Gel Contend 8 to be "slightly less cushy" than other ASICS models that they have.
Fact check
Based on our durometer measurements, this ASICS shoe sits right in the middle between soft and firm.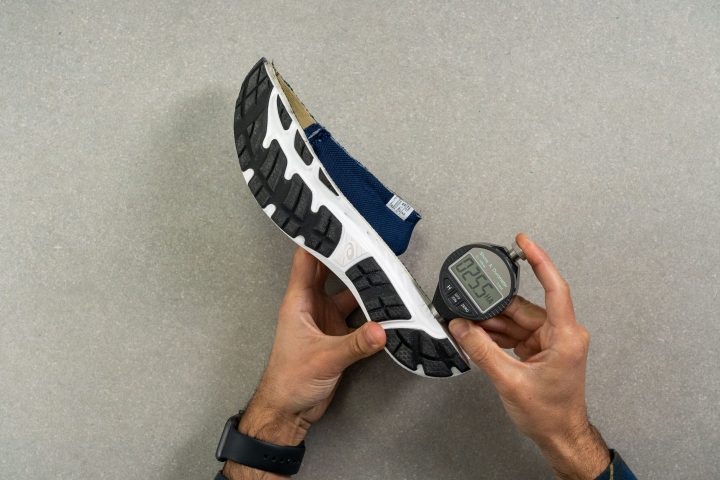 Disclaimer: We repeat the durometer measurement five times before noting down the result. The photo above shows the last measurement.
Fact check
There is also an ample amount of cushioning for a daily running shoe. We measured the heel stack at 31.1 mm (2.1 mm thinner than average) and the forefoot stack at 22 mm (2.5 mm thinner).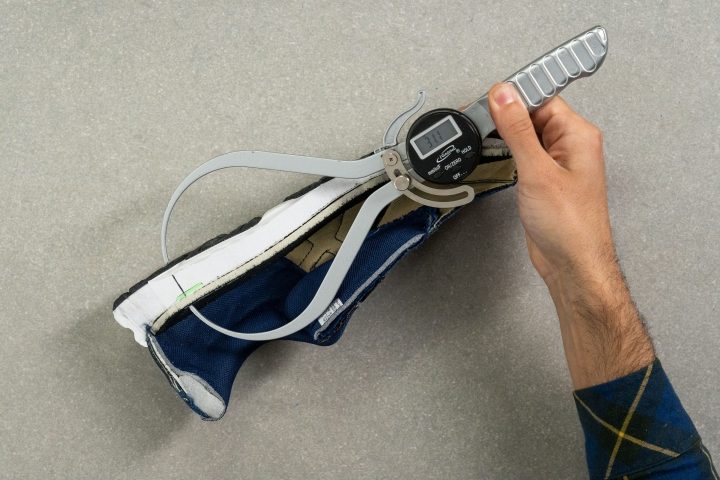 Fact check
The difference makes for a 9.1 mm heel-to-toe drop. This is very close to te officially stated 10 mm.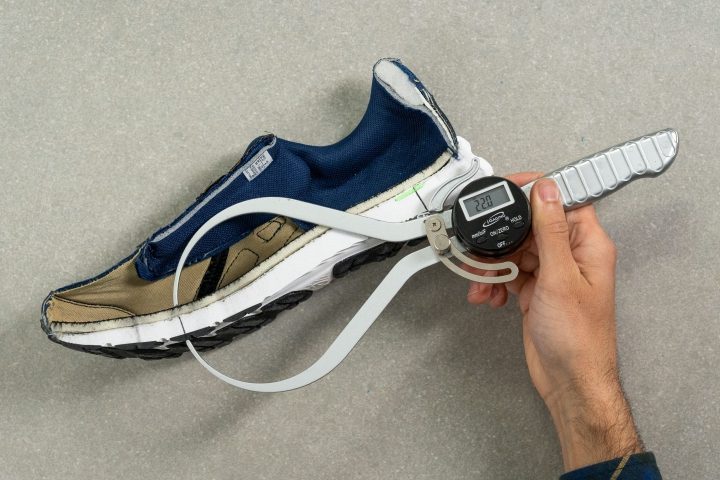 Disclaimer: We always measure stack height with the insole included.
Wear-resistant daily trainers
After a long period of time running in the ASICS Gel Contend 8, a critic mentioned that they found "no signs of wear and tear at all."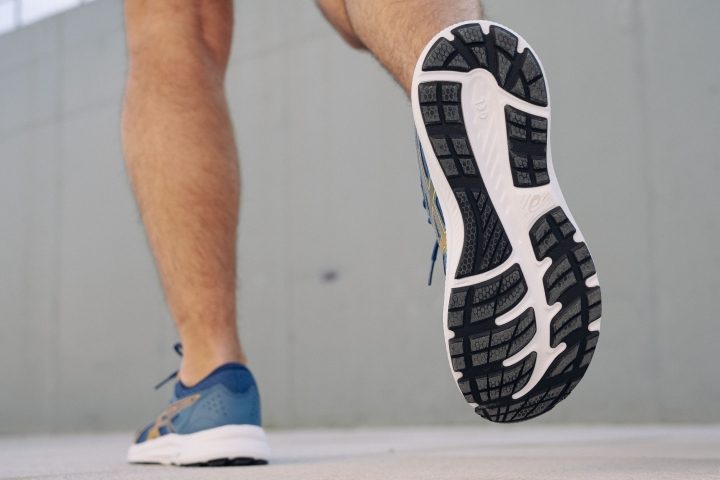 Also, for a loyal fan of the Gel Contend series, "hard-wearing" was how they found these shoes.
Fact check
One of the measurable characteristics that are directly connected to the shoe's longevity is the outsole thickness. The rubber layer on the ASICS Gel Contend 8 is 4.2 mm thick. This is notably thicker than the average 3.4 mm for road running shoes.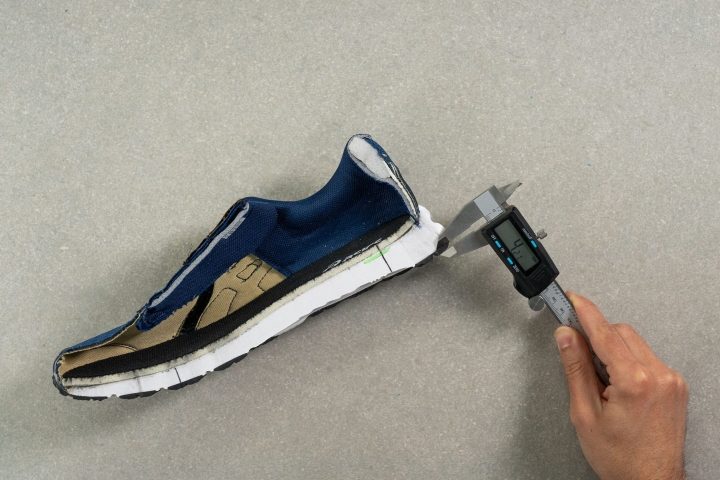 Fact check
Another parameter is the hardness of this rubber compound. In the case of Gel Contend 8, it is 5% firmer than the average.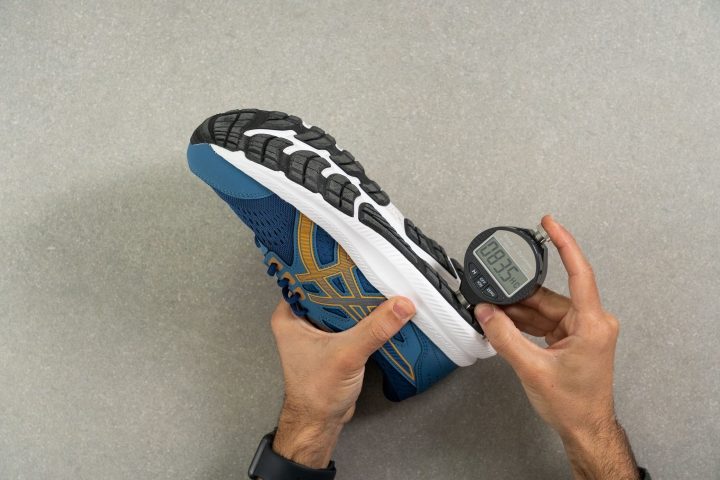 The ASICS Gel Contend 8 is supportive from top to bottom
It was even mentioned by a wearer with high arches that "they offer great comfort and support." The synthetic stitching of the upper was also noted by an expert who said that it had a "structure which provides a supportive foothold."
Fact check
This ASICS shoe comes with an amply wide sole as well. In the widest part of the forefoot, we measured it to be 109.5 mm, only 3 mm narrower than average.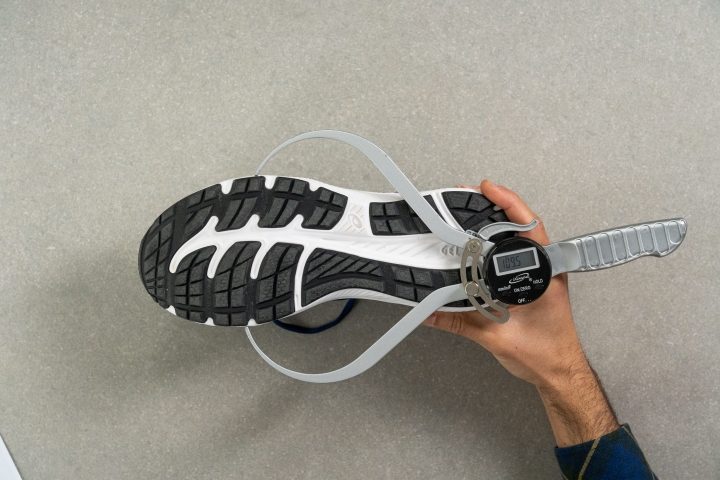 Fact check
Meanwhile, in the widest part of the heel, it is 91.4 mm - 1.8 mm wider than average.
Zero complaints in the weight department
Despite our database saying that the ASICS Gel Contend 8 is a tad heavier than other daily running shoes, runners are still in love with how light they are.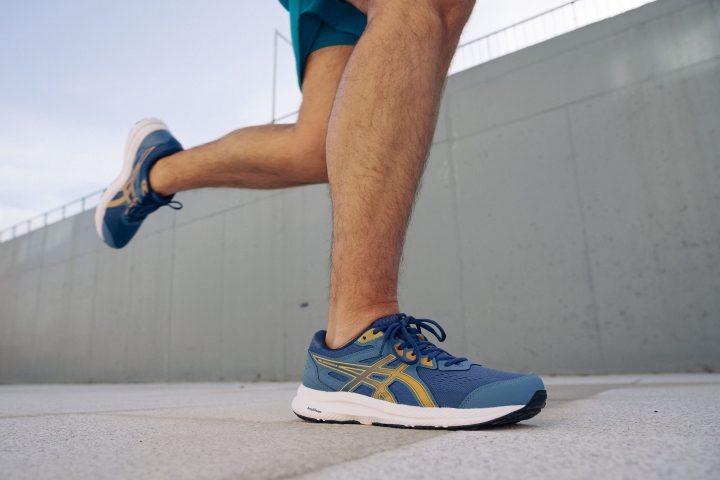 At a weight of 298 grams (Men's 9), this neutral trainer is loved by a critic who said: "These are so light on your feet!" For an ASICS fan, they said that these are "a little lighter than other ASICS models" in their collection.
Look and feel amazing in the ASICS Gel Contend 8
"Attractive gym trainers" was how a gym-goer described these shoes. From the gym to the road, buyers love the stylish aesthetic of these daily trainers. Another even described the overall aesthetic as "fabulous."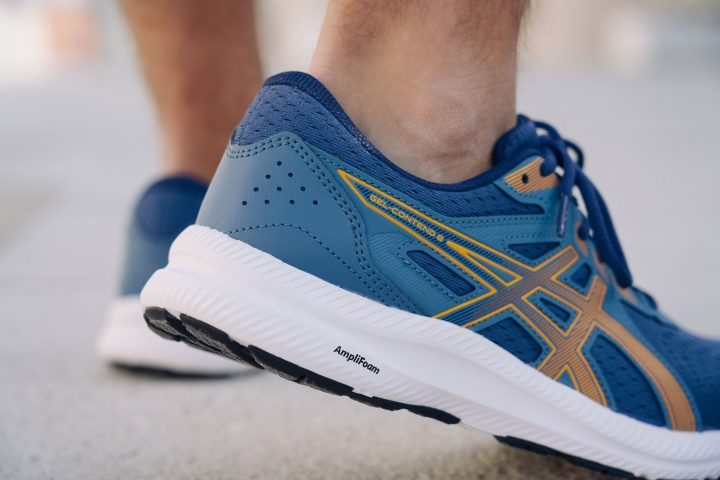 Great quality for an affordable price
At a generous price point of $100, fitness enthusiasts love how affordable these shoes are considering their dependability and durability.
One critic even said that these are "brilliant" despite them being cheap. True enough, our database says that these are 13% cheaper than other neutral daily trainers.