Verdict from 48 experts and 100+ user reviews
7 reasons to buy
Many people liked the aesthetics of the Nike Air Zoom Pegasus 35, emphasizing the freshness of the color schemes.
The zigzag stitching of the engineered mesh was appreciated because it kept the façade durable.
A lot of testers welcomed the full-length Zoom Air unit, which responsibly cushioned the foot and attenuated impact shock.
The grip capability of the outsole unit received praise from a lot of consumers.
Based on several runners' responses, the Pegasus 35 functioned well across a variety of activities like speed training, even-paced runs, and even half-marathons.
Several wearers admired the overall design of the shoe; they said it is very comfortable.
A few wearers mentioned that the shoe has a lightweight construction.
4 reasons not to buy
A tester complained that the upper unit of the Nike Air Zoom Pegasus 35 was a bit wide and that it didn't hug the foot securely.
A few runners reported that the collar wasn't too secure; the heel tended to slip off the shoe's opening.
The outer section of the midsole unit creased after a few uses, according to a tester. Such an occurrence supposedly diminished the visual flair of this model.
The shoe is pricey compared to other road running shoes available in the market, said a few users.
Bottom line
Many people liked the 35th iteration of the Nike Air Zoom Pegasus line. They welcomed the color schemes, the sturdiness of the engineered mesh, the comfortable underfoot platform, and the traction-ready outsole. Moreover, the versatility of this model was lauded. On the other hand, several consumers complained of an inconsistent fit, as well as a decline in the quality of the aesthetics via the midsole creasing.
Tip: see the best running shoes.
Our reviews
The Nike Pegasus 35 has been going since 1983, with the Nike Oregon Project using this, or the turbo, as their daily trainer. The fact that elite athletes such as Mo Farah and Yomif Kejelcha wear this shoe means it must be of a high standard.
The Nike Pegasus 35
Design
The Pegasus 35 looks great. They are a sleek, fast looking shoe having similarities to the record-breaking Nike Vaporfly 4%. Personally, I like the look of the heel counter and love how the sole finishes at the back of the shoe.
The creases on the inside of the midsole can be seen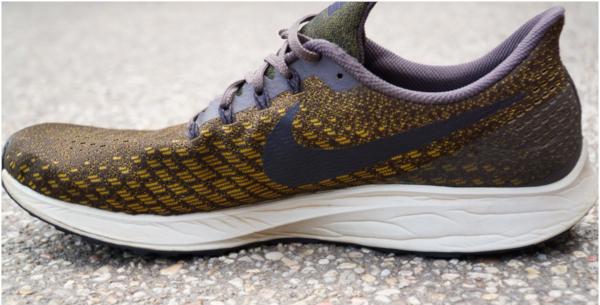 Midsole
The midsole provides a stable and comfortable ride. It is responsive and can handle some speed. Many heel strikers will find this well cushioned, but since being a forefoot striker, I personally found this a bit on the firm side.
I purposely landed with my heel and noticed more cushioning than landing my normal way. Having very mild plantar fasciitis meant I noticed a difference when I changed from Under Armour Bandit 3 to the Pegasus 35.
The firmer sole caused some mild pain on the sole of my foot. This was fixed after rolling out my calves and the soles of my feet. A very noticeable point aesthetically though, are the creases in the midsole. It doesn't take long for this to happen and is especially noticeable on the inner of the shoe.
Outsole
The outsole is an interesting design, featuring two lanes of horizontal lines and geometric design for the mid and inner side of the sole. After running 200 miles plus in these shoes the outsole has lasted very well, still retaining some of the texture on the surface of part of the sole.
Zoom in and take a look at the texture on the outsole after 200+ miles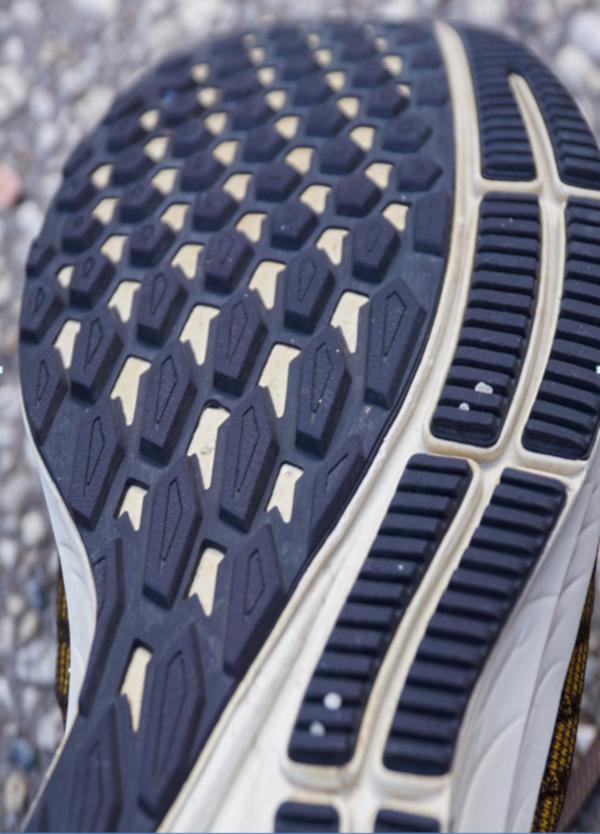 Many of these miles were on a trail made up of fine gravel. The horizontal lines do well at avoiding pickup of most of the stones. There is a white part in the middle of the shoe without the black layer which has some indents after running on gravel.
This included some bigger sized rocks, although this hasn't had a big effect. The outsole provides very good durability.
Upper
The upper provides a secure and comfortable fit. It has an outer thinner layer with a thicker inner layer. The inner is cushiony, especially around the heel, providing good support and being very strong.
On the other hand, breathability is a downfall of this shoe. Your socks do end up with a nice sweat patch at the end of a run.
I have heard other runners complain about their feet getting hot on longer warmer days. If you frequently run in the wet, be prepared for a smelly shoe.
With the new design of the heel counter, I did find my heel slipping slightly. I didn't find it too noticeable.
The holes on the outer layer of the heel collar can be seen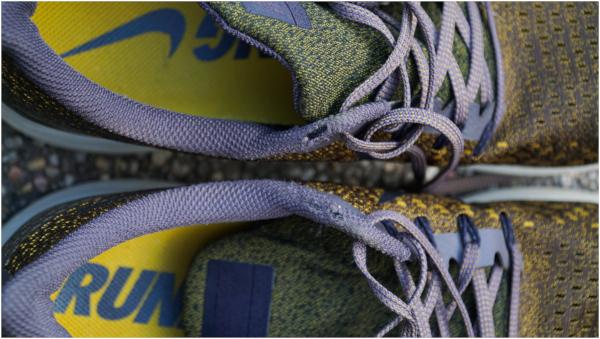 Around the heel collar, a hole is developing on the outer grey material from rubbing against the tongue. I started noticing this around 150 miles.
Overall the upper provides great support, leaving your foot snug and secure. It is well made and durable.
Performance
The Pegasus 35 is primarily a daily trainer but can handle some speed. They are great for threshold days and can handle intervals quite well. I have taken them out on a few 16km runs, and they've held up well over the distance, staying comfortable throughout.
They are labeled as a road shoe, but I have found them good for the trail I run on, which is made up of fine gravel.
This is the fine gravel that I ran many of the miles on which is made up of crushed rock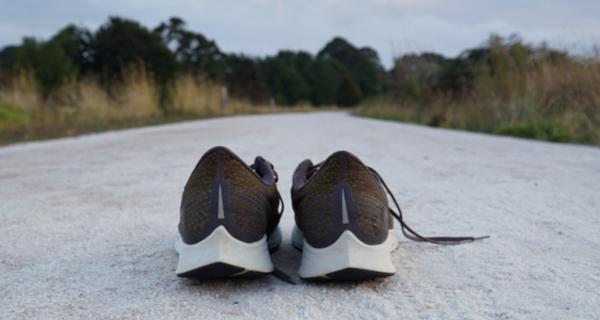 Pros
Snug, secure upper
Cushion for heel strikers
Stable midsole
Comfortable, providing a smooth ride
Looks great
Versatile - can handle a range of distances and speeds
Cons
Heel collar durability
Breathability, not a big issue but maybe in warmer or wetter climates
Heel counter causing a loose heel.
Creased midsole
Personally found them a bit on the firm side being a forefoot striker
A bit on the pricey side
Conclusion
The Pegasus 35 is a good choice for a daily trainer, providing a nice cushion for heel strikers and still enough for forefoot strikers, although I found them a little on the firm side.
This shoe provides a nice secure fit in the upper, except for the fact that the heel counter can cause some slight slippage. The outsole is durable with a stable midsole. The breathability is an issue as well as the heel collars durability.
Overall, this is a daily trainer that most people will be happy with. It is a very versatile, handling a range of distance and speed. Of course, not everyone is going to love a shoe, but I think most people will at least be happy with this as a daily trainer.
The Nike Pegasus series has been around for 35 years. Many of Nike's best-known running shoes have been Pegasus shoes. I have run around 150 miles in the Nike Air Zoom Pegasus 35, and I can say it truly surprised me.
Whether it was the full-length Zoom Air unit or the 33mm Cushlon cushioning, the shoe really does impress me in terms of running.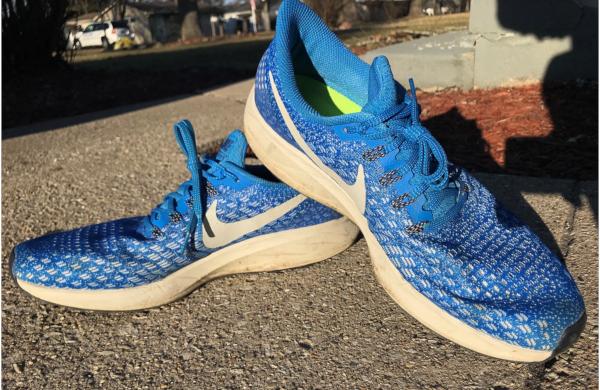 First impressions
When I first saw this shoe, I was caught by the bright colorways that Nike had made for it. It looked much more cushioned than any other Nike running shoe, which made me want to try it more.
It had a very modern aesthetic and feel to it. I wouldn't even hesitate to wear this shoe as casual wear. The overall appearance of the shoe was very pleasant overall.
Upper
The upper of the shoe is made of a form-fitting engineered mesh. It has a zigzag pattern which looks very modern and flashy. It is very breathable and works great in any kind of weather.
It has flywire cables that adapt to the foot of the runner and keeps it secure. A good detail Nike added was a reflective strip on the back of the shoe which is great for night running.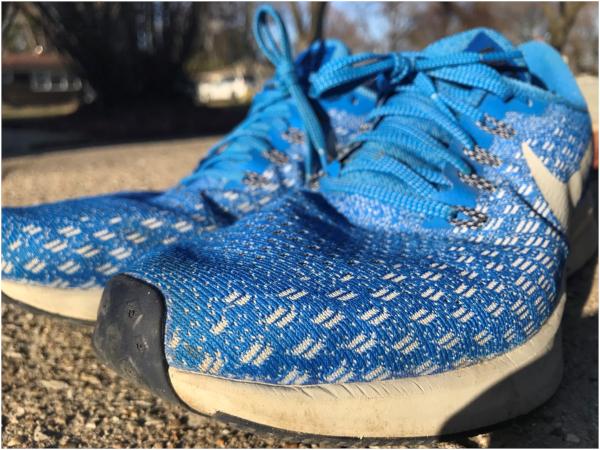 Durability
In terms of durability, this shoe is amazing. The shoes have barely shown any wear and tear in the outsole or upper after tough mileage.
The overall design of the shoes is very well made and very durable. They are durable for road or trails but better for roads. The only thing that concerns me in durability is the midsole, in which it creases and shows wear very easily after the first few runs.
One thing I do like that Nike did in terms of durability was having the outsole unit of the shoe in a waffle design that helps the flexibility and grip capacity of the platform.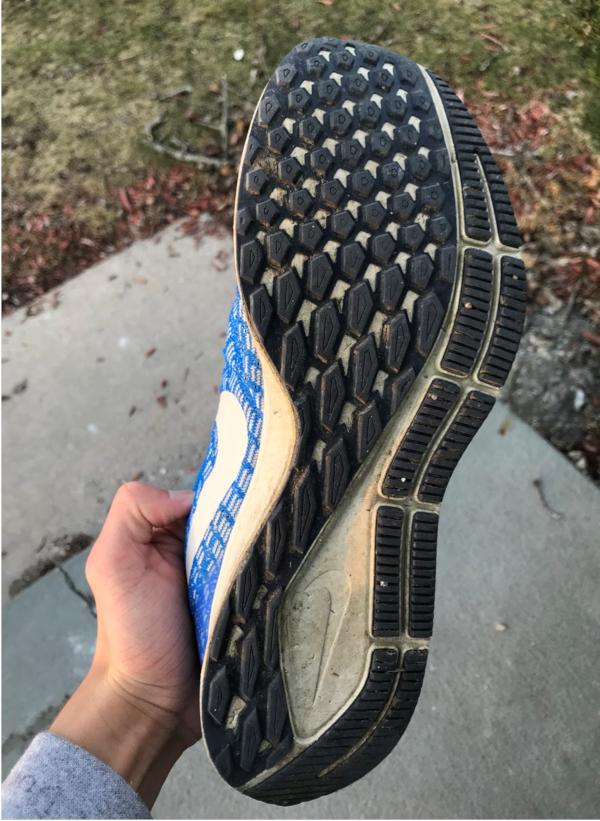 Comfort
In terms of comfort, these shoes really surprised me. In these shoes, Nike has added a full-length Zoom Air unit which is meant to be responsive for long distances.
That being said I think the hype about that personally was a little overrated as I did feel good responsiveness but nothing extremely out of this world. The Cushlon foam that Nike uses surrounds that air unit and is meant to deliver durable cushioning throughout your run.
The one thing I didn't really find comfortable was the lipped heel which had little cushioning and caused some discomfort in longer runs. With that being said, I do think this is one of Nike's best-cushioned shoe, if not the best in terms of comfort.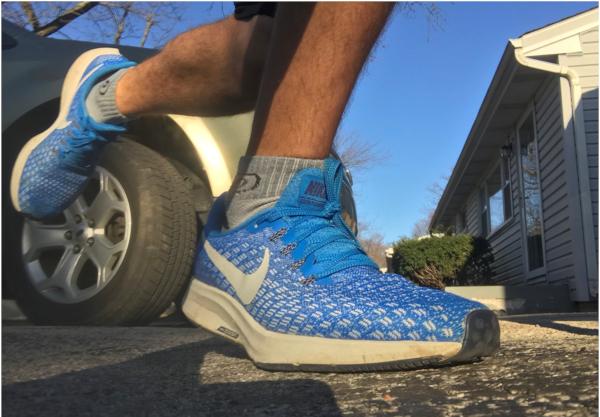 Price
The price of this shoe is a little pricey coming out at anywhere from $80 - $120. I do think the shoes are definitely worth those prices when it brings high quality.
What I like about this shoe
I really like the overall versatility of this shoe. These shoes can be used for really any kind of run, from speed runs to long recovery runs.
I also like how you don't have to be fast to run in these shoes, but you can be, and they'll do great. I also really like that the design of this shoe is very modern and simple but not being overly flashy.
Why you should buy this shoe
I believe you should buy this shoe because it does great on any run and is made for most runs. It can go fast and is lightweight but still has the cushioning that'll last you miles upon miles. This shoe truly does get the job done, and it'll do you good no matter how fast of a runner you are.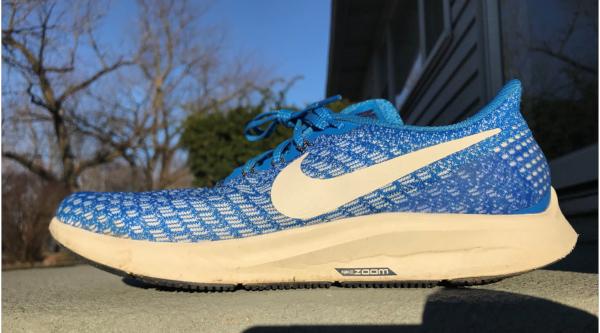 Conclusion
In conclusion, the Nike Air Zoom Pegasus 35 is an everyday trainer from Nike that is very versatile. They provide good structure and good cushioning for longer runs, and they're lightweight and definitely can go fast.
It doesn't matter whether you're a beginner or a veteran; these shoes won't let you down.
new Pegasus every year for as long as most of us have lived (since 1983). It is the workhorse of the Nike line-up. So the hype when the new Pegs was launched is understandable.
Many runners I know have stayed up to date with the Pegasus from at least five iterations. So in general, the shoes have to keep improving every year to keep runners interested, that adds up to the pressure. Will the Pegasus stay true to the promise of a "shoe for every runner"?
This years' iteration has received a complete makeover, ballooning the hype, so let's dig in!
The new Nike Air Zoom Pegasus 35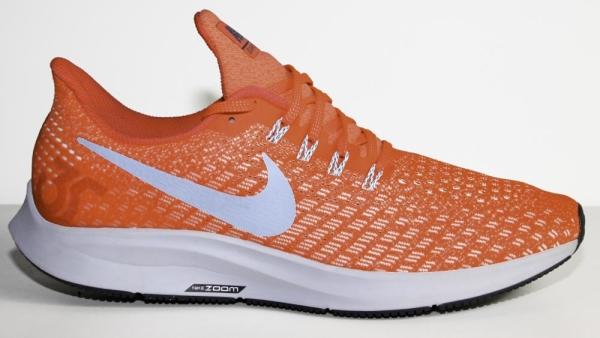 Looks
Nike managed to launch a shoe that looks unique even taking design cues in the heel collar from the likes of the Adidas Alphabounce such as the back of the collar and the tip of the tongue -without us seemingly noticing.
The shape of the shoe is also more pointy and triangular from the side, making it look sleeker.
The heel counter of the 35 is barely noticeable in pictures, but it makes a very bold statement in person.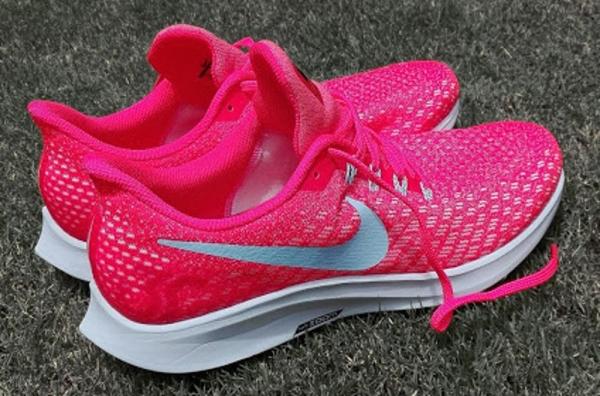 The minimalist look of the Pegasus 35 it's the most appealing feature; its construction is understated, even concealing the flywire on the inside to make room for the bigger Swoosh.
For the first time ever, the number 35 is translucent and big on the heel counter, making this the only real decoration it has besides the big Swoosh. On the sides of the midsole, there are wave-like lines that look high and clean and add to the effect of "flow", this thing looks fast just sitting there.
The visible number 35 on the heel area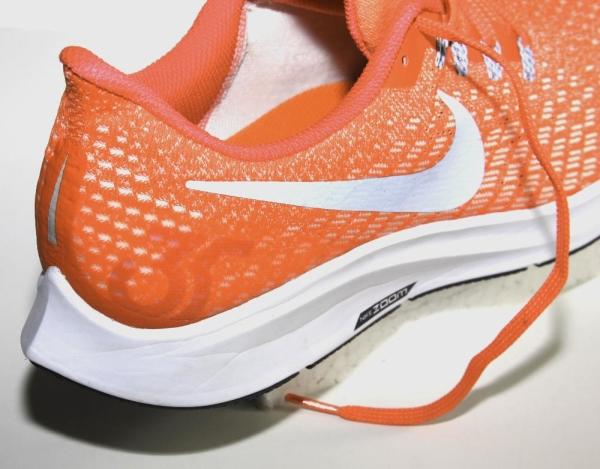 There are subtle cues from the likes of the Vaporfly 4% and the Zoom Fly, such as the triangular back of the heel - my favorite feature. It looks like it would feel different while running, but it is not really noticeable.
The outsole looks like a Pegasus 34 except for the hexagons that have now turned to spikes. It looks more durable now, and we hope it really is.
The outsole looks like a stretched-out Pegasus 34, again Nike is keeping what worked and improving it.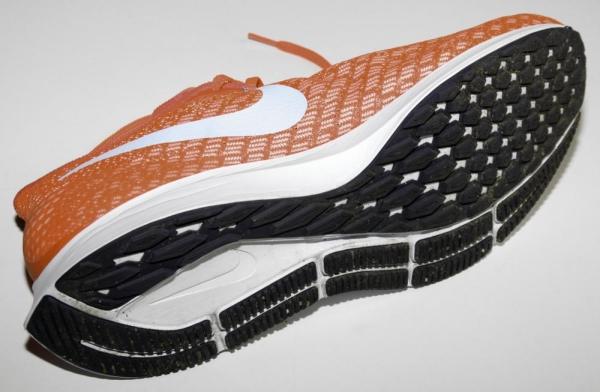 One downfall of the look is the appearance of wrinkles on the sides of the midsole that happen almost after the first use, but it seems a small price to pay.
Wrinkles appear almost the first time you use them.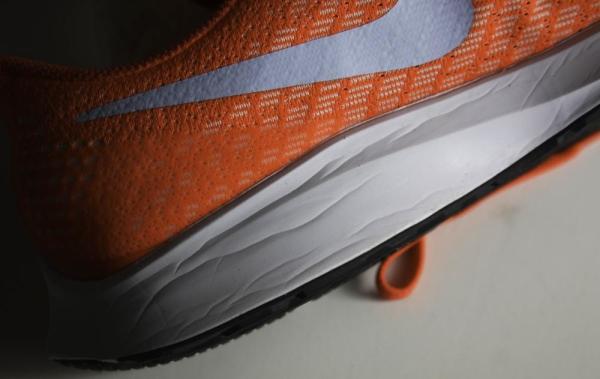 Fitting and Feel
The feel of the boot inside is almost sock-like. I tried running without socks in them and it was barely noticeable. The inside has almost no seams to hurt your feet.
The sock liner is the only detail of the shoe that is the same as every shoe at least since the Elite 8, but why change something that works, right?
Look 'Ma, no stitches!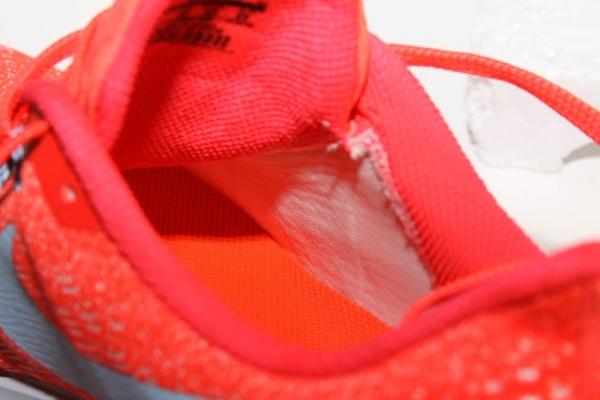 Regarding the size, I had to order a half-a-size more, but have had to do so with most of my previous Nike racing shoes. The shoe may be a little wider, but the vertical fit seems right.
I would recommend not to pull the strings too tight when using them and to tie them almost where they are because they tend to get really tight.
Also, one small negative detail was that the inside of the tongue stained my socks while running in the rain (I got the loud fluorescent orange ones) so my white socks got a bit of transfer but after a wash they were fine.
The Pegasus staining my socks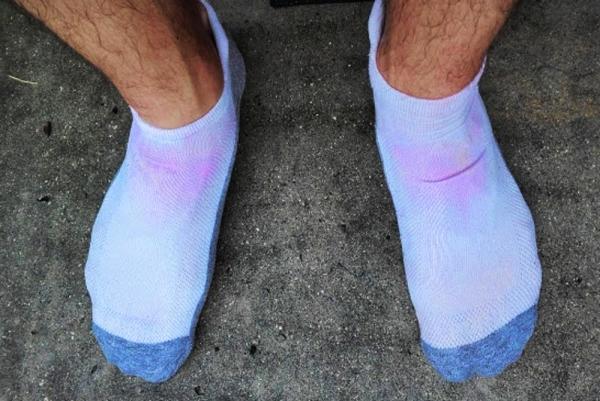 Performance
Being an avid user of other Nike racing shoes such as the Streak 6, these feel reminiscent of that low, stable ride. Make no mistake, these shoes are fast, the transition feels propelling and quick, it makes your stride flow like nothing I have tried before.
The stability is something else compared to the current React cousins. When trying out the Nike Odyssey React and Epic React Flynit, I could not get used to the lack of stability I felt, especially in sharp turns.
I felt the React foam to make my feet strive for stability. The Nike Pegasus 35 do that trick perfectly, they offer a very good balance between a stiff like racing Nike Streak 6 and cushioning like Epic React, it is definitely the ample middle ground.
Maybe their best trait is that snug stable feeling that makes you not notice the shoe after a while. I also logged my fastest mile ever during a 10K event on a hilly course, so they are really fast.
For moments during a speed training, I felt like the heel collar was releasing the ball of my heel but it never happened. It is not a terrible feeling but one that takes getting used to.
One upside is the traction, these shoes grip really well on concrete surfaces even in warmer climates. Also, the grip is excellent in the rain on concrete and if it wasn't for the torrential rainfall dripping off my cap, I would have never guessed it was raining at all.
So in summary, I believe the hype is well deserved for these daily runners, the Pegasus legacy lives on!
Conclusion
The Peggies are fast, really fast.
The midsole is very well balanced between cushioning and stability.
The grip is superior to other Nike Racing series shoes.
The sock liner and inside are comfy enough to run without socks.
The looks are stunning and minimalistic.
The price is a little high but justified once you try them.
They are a bit narrow so going half-a-size is advisable if your feet are on the wide side.
The inside of the tongue might stain your white socks on sweaty runs.
Nike has been a long time competitor in the running shoe space. With ambitions of breaking the 2-hour marathon, Nike has really been pushing incredible shoe technology.
I mainly run in Adidas, but after hearing so much praise from the old and new Pegasus lineup I finally wanted to give these a try. After all the hype I have heard around this shoe, I must say I'm not as impressed as I initially would have thought.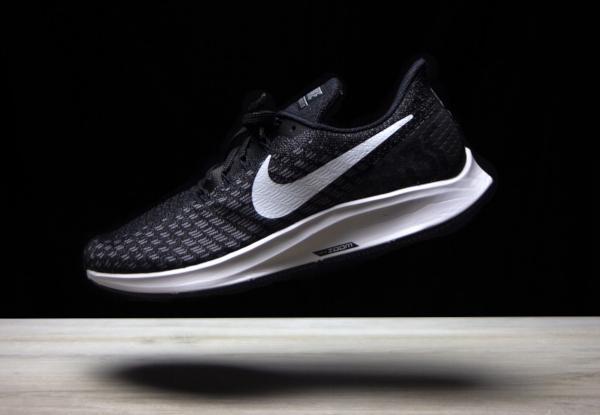 Midsole/comfort
After just a few runs in the shoe, I did notice wrinkles starting to form in the midsole. While this doesn't seem to have any effects on the shoe for now, it does make me worry about the durability of the midsole.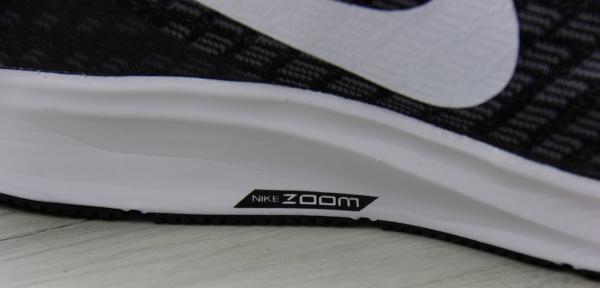 I am mostly an Adidas runner, but after hearing from so many runners that this was one of the best shoes they have ever trained in I wanted to give them a chance.
My expectations of the cushioning system were really high, and I must say I feel like the shoe underperformed a little. While the full-length Air Zoom did provide some comfort for my mid-foot strike, I really was expecting a bit more cushion out of the shoe.
The shoe didn't offer as much cushion as I would have liked, but it performs well as a stable and responsive shoe.
The Pegasus 35 weighs in at 9.9oz for a men size 10, but it actually felt quite light when on the foot. The heel didn't feel too heavy, like some Adidas Ultraboosts, which made the shoe a bit more comfortable on longer runs.
Outsole
Nike has made a lot of bold claims about the durability and multi-surface traction of the Nike Pegasus 35 outsole.
After running and training in these shoes for a few months I can easily confirm the durability of the outsole. The grid pattern outsole works really well on any surface up to a gravel trail. I never felt uncomfortable with the grip of the shoes even in wet conditions.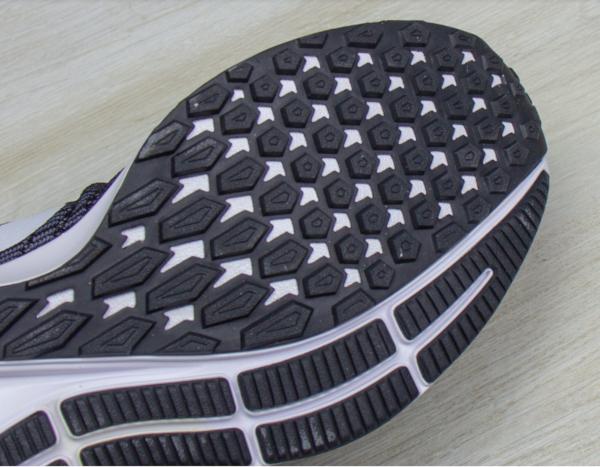 The outsole pattern also helps with the flexibility of the shoe. The flexibility and beveled heel counter really made the transitions smooth while running.
I normally don't like having excess material in the heel, but in this case, it didn't seem to add much weight and bulk so I'll give it a pass.
Upper
The mesh upper was breathable and comfortable even on longer runs. My foot would get a bit warm on hotter days, but it never became too big of an issue.
The engineered upper provide some stretch where needed and the flywire lockdown system making sure your foot stayed firmly in the shoe even at a faster pace.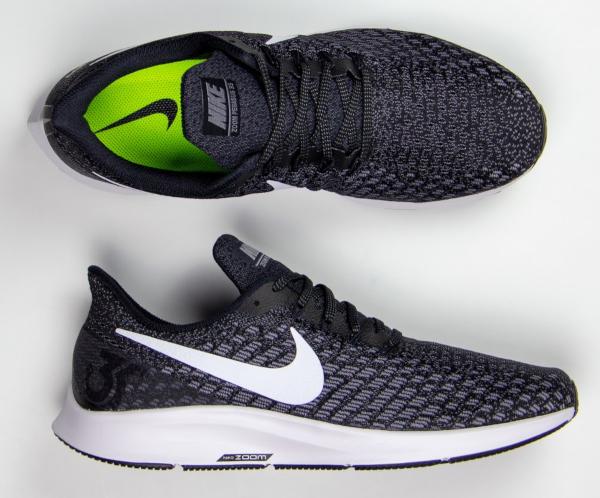 The Pegasus 35 does have quite a large tongue, but thankfully it never became an issue.
Looks/price
The shoe comes in plenty of colors so you're sure to find one you like. As subjective as looks are, I personally still don't know if I like the way the shoe looks. The shoe does have a futuristic vibe to it which Nike claims also makes the shoe more aerodynamic.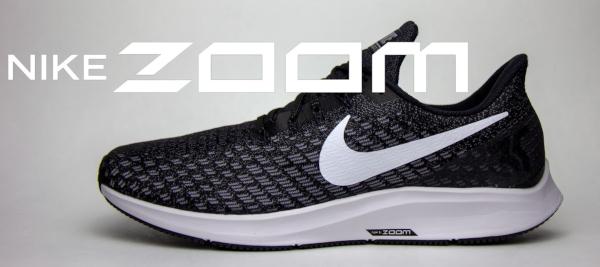 The Nike Zoom Pegasus 35 comes in at $120 but regularly goes on sale to $80-100. I think that is a great price for such a workhorse of a shoe. The versatility of the shoe is where it really shines. Being able to use it as a casual, training, and running shoe really make this shoe worth that price tag just a bit more.
Training off the roads
It's always fun to lace up and tear up the road, but I think it is just as important to hit the gym and train with weight as well.
With a 28mm heel stack height, the shoe does lift you off the ground a bit. That being said, I never felt unstable when squatting or deadlifting at normal weights. I also liked that this shoe was not bulky. It was lightweight and breathable enough to not bother me while working out.
Conclusion
My expectations for this shoe were quite high. The Nike Pegasus series has a lot of praise from all types of runners. While it was a great runner, I don't think it quite lived up to all the praise it receives.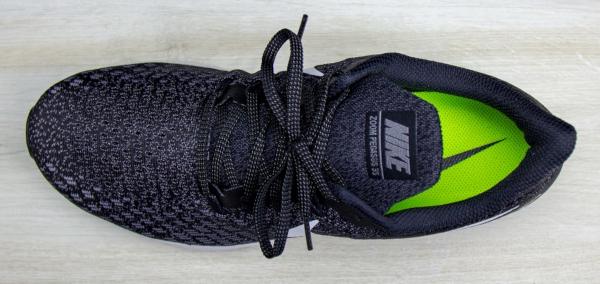 That being said, I think it is still a great versatile shoe for running and training.
The design of the shoe is defiantly a bit different than what we have seen in the past, but I think it fits the new lineup of shoes coming out of Nike. The wide range of colors available means there is something for everyone taste and the price is reasonable for the technology your getting.
Nike's special model, the Pegasus 35, is designed for every occasion, from everyday usage to elite level running. With an excellent design, quality, and durability, this model presents leading choice amongst runners.
Introduction
For decades, Nike, as one of the most recognized sports brands in the world, tends to upgrade their previous models and present us with the newest technologies year after year. That is also the case with the model called Zoom Pegasus who tend to achieved production of 36 models.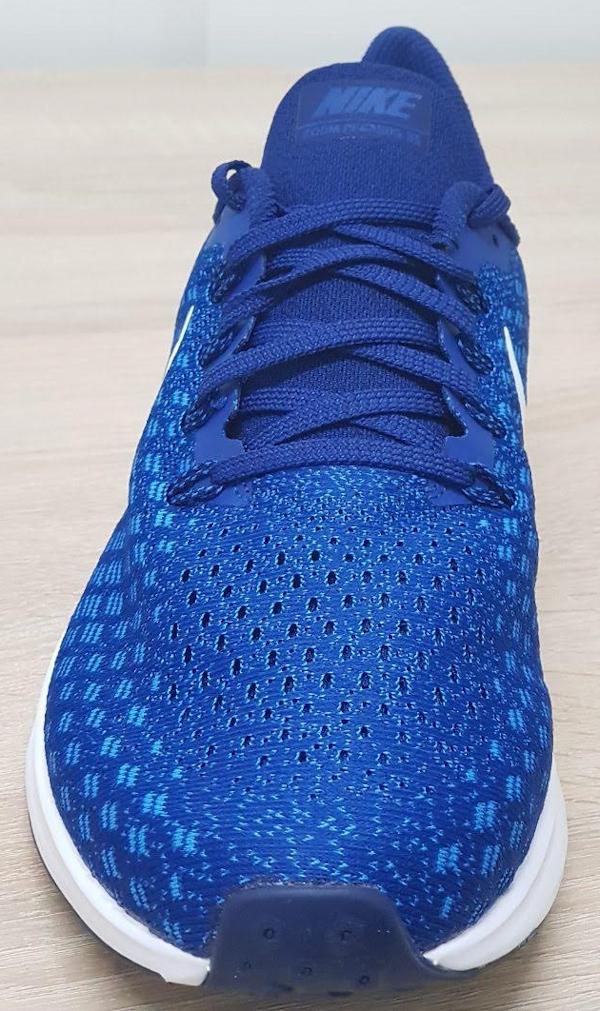 After a very successful 34th version, which was, by the way, my first model from Zoom Pegasus line, I thought I could not be much better. But, Nike, as expected, always set new standards and goes one step ahead compared to their competition.
Design
What I like the most about these shoes is their design. You can go on a casual morning run with style, do some serious athletic training or choose them as an outfit for a night out. You can choose a variety of colors when it comes to this model so that nobody will be left without an option.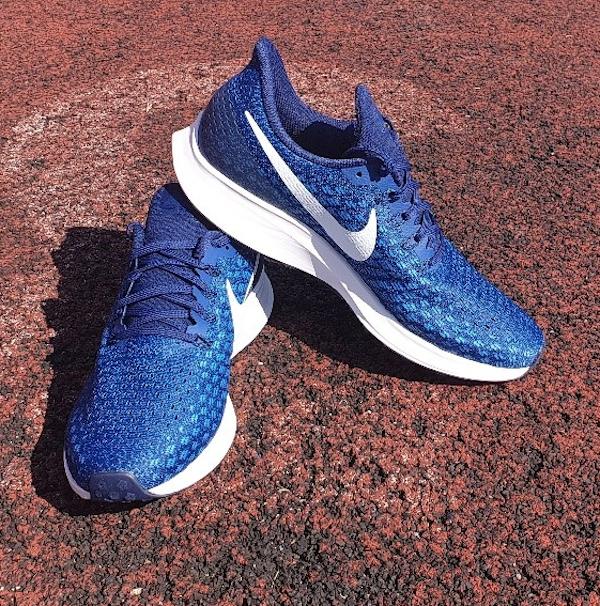 It is a simple design, with a little bit extravagant curves, which combined with a big Nike swoosh logo, shows that you wear something else than just comfortable sneakers.
Outsole
We will start a more in-depth review by analyzing outsole first. After wearing different running shoes, it is a special feeling to make first steps with this model.
Nike redesigned the shoe's outsole, where hexagonal lungs are smaller compared to the previous model, which results in faster toe-off ability. Between the lugs, we can notice negative spaces, which cut down on weight but also increases flexibility.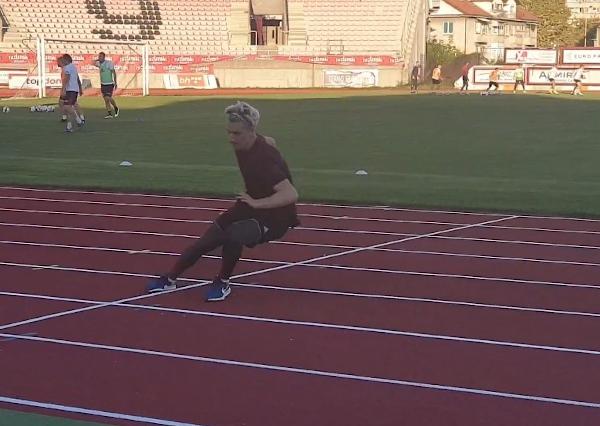 Tapered lugs are referred to as traction lugs and increase the traction of the sneaker. This is especially noticeable while doing short sprints on tracks and agility exercises wherein, compared to other models that I wore, I felt a lot more confident and agile.
On the lateral side of the outsole, we can find lateral crash rail, which is designed for absorbing landing impact and delivering a smooth heel to toe transition. The rubber that makes up all of these features is called Duralon, which showed up as one with high quality, as well as durability.
Midsole
The midsole of the shoes is built out of full-length Zoom Air bag and EVA foam technologies with 10mm heel to toe offset.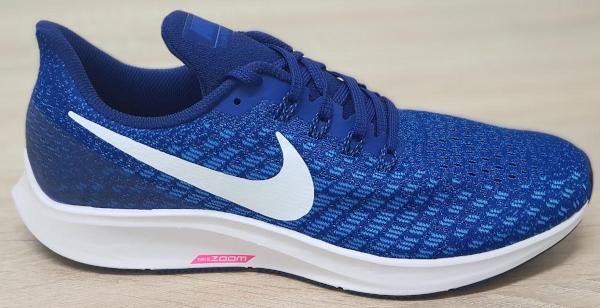 The first thing that I noticed after switching from Nike Zoom Pegasus 34 is the midsole really feel a bit thicker. However, this thickness did not affect responsiveness in my case.
One thing that separates these shoes from another is the drop-stiched Air bags construction, which made fore flexibility achievable.
The general opinion about the shoes
After getting the Zoom Pegasus 35 model, I felt a lot more comfortable than in the previous model. Firstly, I used them for five months as a regular shoe model combined with my jeans. It was just so easy to combine them with my city outfit and feel great while walking at the same time.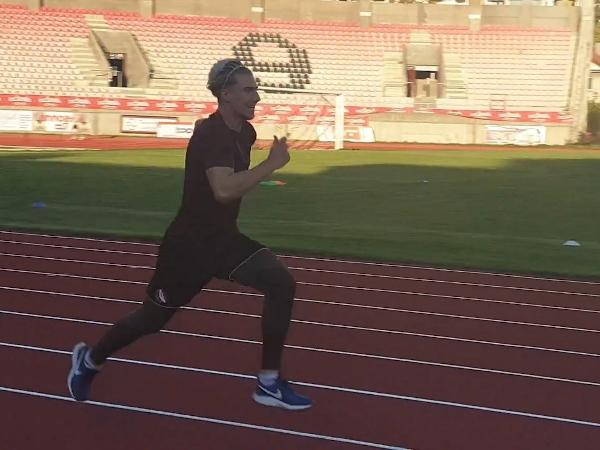 After wearing them for the first time on running track, I noticed that they fill a bit thicker in the midsole area. However, that did not affect my running style, agility, or speed runs at all. I felt much more comfortable and agile as well by doing all these exercises.
One thing I like the most is the shoe's grip. I am doing a lot of sharp turns and ladder exercises. I can confirm that these shoes are just phenomenal in every way.
While doing runs, I felt good while I was wearing them. I can not say that it felt like I was running on clouds, but surely, runs were very smooth and comfortable.
I like the material itself as well. The design is a bit thinner than on the previous model, and it just looks nicer. It is very durable, breathable, and most importantly, available in many color variations.
The only thing that I don't like on this model, but it already upgraded on the newer version is the tongue, which feels a bit thick for my taste. I prefer a thinner version as on football boots. Regardless, this did not affect my comfort or performance in any way.
Shoes are true to size, and by saying they are comfortable, it is clear that I never had any blisters or skin irritation problems.
Laces are also made out of sturdy material, and by that, once you lace your shoes, laces won't bother you anymore.
The Pegasus has been around for a while, not quite as long as the mythical creature, but definitely long for a line of running shoes.
The shoes make an excellent everyday, neutral training shoe. For me, the 35's are the best update yet. It is so good, in fact, that I am writing this review as I finish off my 3rd pair of this model.
Look and feel
The Pegasus 35 boasts a fashionable new look compared to the previous models and come in numerous colors. There are some cool patterns for the shoes available.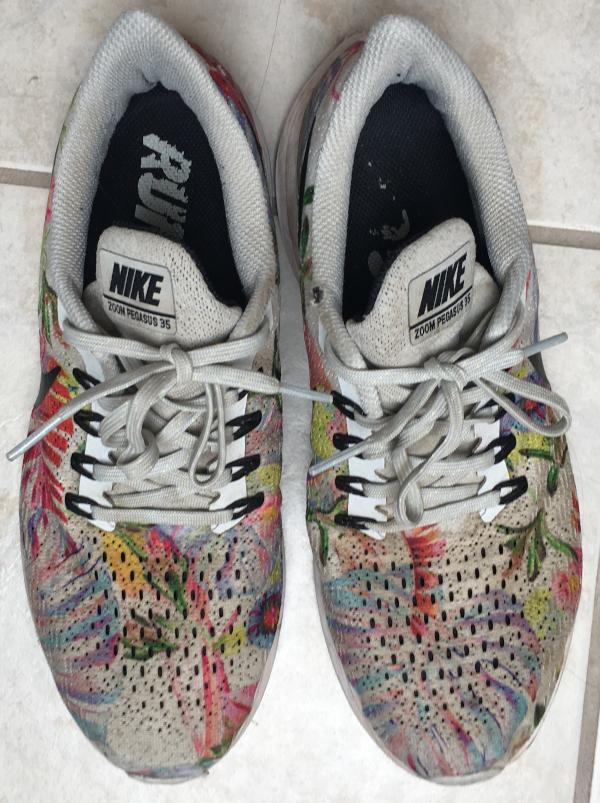 Nike Pegasus 35, flower pattern
They also feel more cushioned than previous models and have a nicely-fitted and breathable upper. Even with relatively narrow feet, the normal width for these shoes is comfortable.
The heel is narrow enough and the sole flexible enough to prevent slipping during toe-off, resulting in a smooth feel. The sizing was as expected.
Despite the substantial differences from earlier models of the Pegasus, these did not cause any injuries when I started wearing them.
They felt natural in the first run, which is likely a result of the full Nike Zoom-air foam across the whole sole of the shoe.
They have now been out for over a year, and even the new model (the Pegasus 36) is not quite as awesome as these shoes, although they look quite similar.
Versatility
Although I mostly use them as a normal training shoe, they also work for track sessions and marathon racing, and they held up to numerous long runs.
While not a racing shoe, they make for a comfortable ride during marathons. Also, the fitted upper remains comfortable and doesn't cause blisters.
They don't feel quite as light and fast as my racing flats, but are also quick enough to hop into an easy 5k or 10k effort here and there, if I'm not looking for a new personal record.
They have decent traction for a road shoe, and are solid and cushioned enough to wear on rocky trails.
But, it definitely cannot be categorized as a trail shoe. The sole is not aggressive enough for dusty, gravelly, or muddy trails, especially not if you are looking for a fast trail shoe.
On rainy runs, they do not feel super heavy, suggesting that the shoe has some drainage and is not collecting tons of water.
Durability
These shoes did not feel like they needed to be broken in, as they felt comfortable from the first run.
They survived about 375 miles before they started to feel too worn down on the roads. But, the outsole on the outside of the heel started to wear down after ~100 miles, which is the main reason for the point deductions.
In fact, the outsole seems to wear down much more quickly than any other part of the shoe. It wore down more quickly than previous models of the Pegasus, specifically the 32's, 33's and 34's.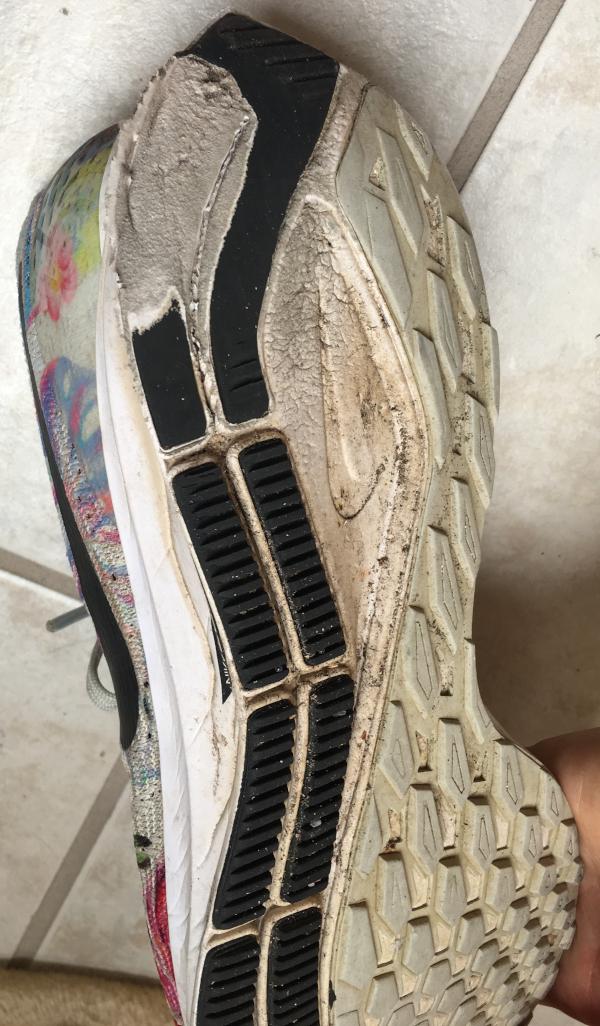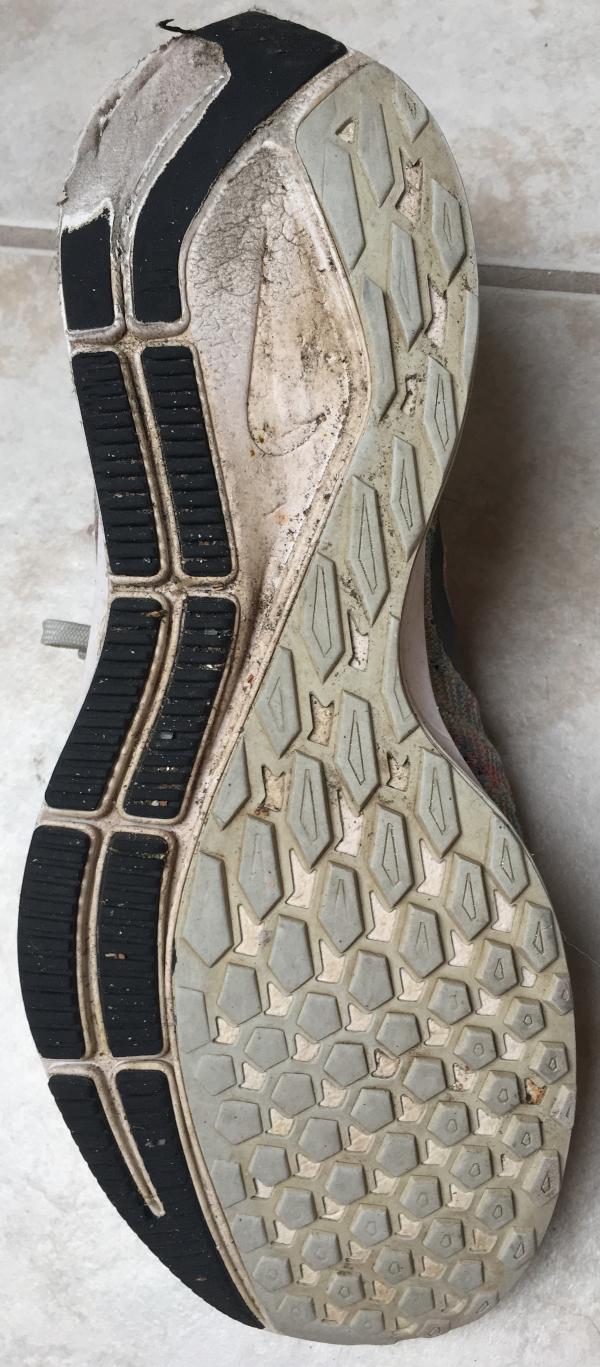 The wear on the side of the outsole began after about 100 miles and progressed
Additionally, from the side, creases could be seen on the side of the sole after only a few runs. Regardless, this did not impact the feel of the shoe.

Creasing on the sides of the soles, picture taken at 450 miles
Conclusion
In short, I love these shoes. I plan to keep wearing them until I cannot find them anymore. They last for a solid number of miles—I have stretched them to as long as 450 miles.
They provide enough comfort for anything from speedwork to long runs.
As an added bonus, they don't look so bad with jeans if you are wearing them to work and don't want to carry around extra shoes just to go for a lunchtime run.
The Pegasus 35 is the 35th version of very popular neutral Nike running shoes. In the past 10 years, I did not find shoes that I was as happy as with this one.
It sports the right balance between smoothness, weight and provides a great fit.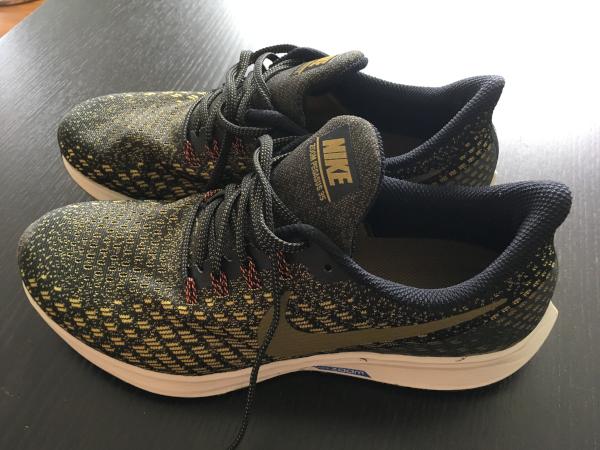 There are many reviews of these shoes, here are the points that I have not seen elsewhere:
Sweet-spot for landing is very large, you basically cannot twist your angle
Secure heel lock (esp. in comparison with other Nike shoes)
Despite the higher weight, it allows me to go faster than many much lighter shoes, especially on flats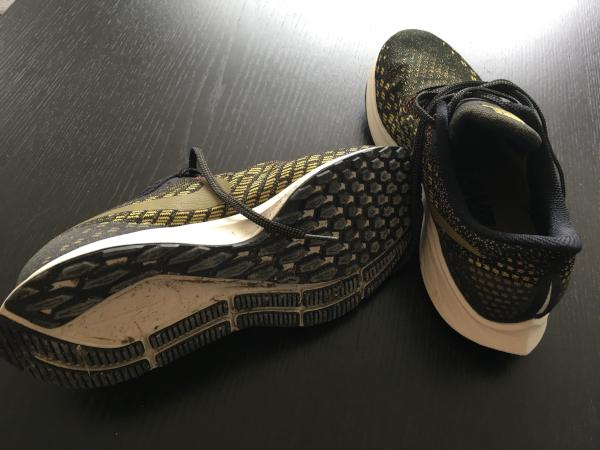 Overall
At 285 grams and at EU42.5 size, it is not a pure racer, but rather a true all-around everyday runner.
It is well cushioned, so it guarantees a smooth ride, but it is not overly cushioned so that the power transfer is still good.
Sole
I found that I can really go very hard without sacrificing comfort so that the impacts from the hard surface doesn't hurt me. This is especially noticeable on descents. The Zoom foam is very good and I actually prefer it to e.g. Adidas Boost.
Those willing to spend extra cash may want to go for Pegasus 35 Turbo, a more expensive, lighter and race-oriented brother with the Zoom X foam, this is the same foam like on those famous Vaporfly 4% and Next%, crazy expensive options preferred by many professional athletes.
The shape of the sole is such that there will be no small rocks stuck, the annoying feature of many other shoes.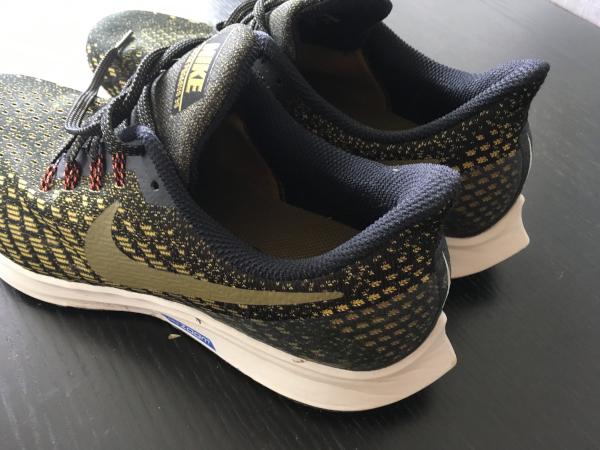 Shape
The shape of the shoe is pushing you into mid-foot striking which is good.
There is an extra foam underneath the heel area which makes the sweet-spot for landing very large.
This may be especially comforting for inexperienced runners as the risk of twisting your heel is minimized.
Fit
Runners that prefer secure heel lock (like myself) will be happy with these shoes. This is in stark contrast with many modern shoes (like Nike LunarEpic).
The Flywire laces do work very well.
Looks
I got the shoes in as they were the cheapest and they look absolutely bad-ass. Like a fast rocket.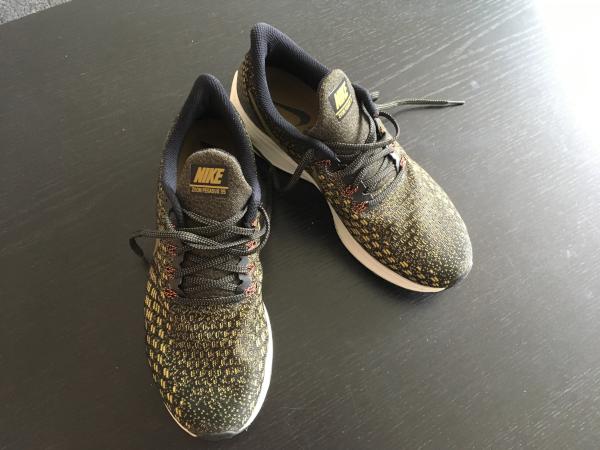 Sizing
The sizing is consistent with other Nike shoes. The toe-box is slightly roomier yet not too loose.
I needed no time to wear them in, they felt great out-of-the-box.
Breathability
I found the upper material of the shoes not as breathable as e.g. Flyknit. This makes it a bit uncomfortable for longer runs.
Value
At RRP 140EUR this is not a cheap shoe. But the price usually drops quite a lot and I manage to get them for under 80EUR, which makes a great purchase.
The less breathable upper and slightly higher weight is the sacrifice I am willing to make for shoes that make me forget I am actually wearing them.
I much recommend these shoes to enthusiast 5k, 10k runners.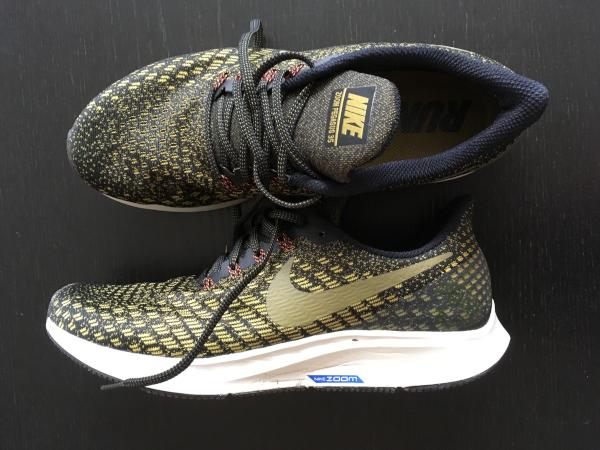 As a hobby cyclist and a weight weenie, I like to weight my components and hence weight has always been a very important factor when choosing running shoes.
The Nike Pegasus 35 has changed that. This shoe made me buy another pair of the more race-oriented Pegasus 35 Turbo.
Will the Nike Zoom Pegasus 35 manage to keep themselves, and my feet, in one piece when tested over a 6-hour race? I have previously used Nike Zoom Pegasus 34, and they were pretty good so I thought I'd give the next model up a go as they no longer carry the 34 in my local running shop.
I have used these shoes for a couple of months so they had done about 150km before the race. I tend towards my trail shoes for long runs so this will be the furthest they have gone in one go.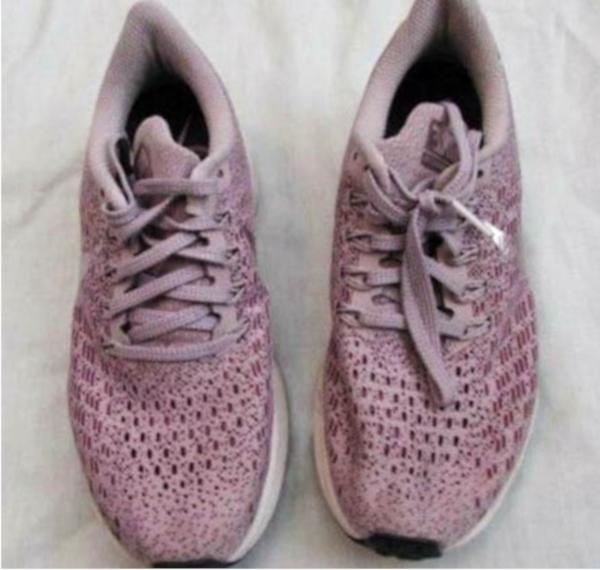 Introduction
After trying on many, many pairs of shoes from different brands, I finally found a pair with a wide enough toe box for my flipper style feet.
They have a variety of color options, but all the colors for this model fall into the more muted end of the spectrum. Mine is pink as it's the only color they had in stock at the time of purchase.
They are very light and comfortable enough to wear over the distances I've tested them in training (5-20km), so I thought I'd give them a run out at Dinton 6-hour race. Dinton is technically a trail race but over footpaths which are good enough to be suitable for buggies and wheelchairs.
As the weather had been good, the race director suggested that road shoes would be more suitable than trail shoes for this race. Objectively, they fit all my road running shoe essential checkboxes (neutral, light, wide toe box) for a reasonable price.
I think that there are a couple of things that make a good shoe, comfort and durability are my main criteria with the price also being an important factor.
Positive column
Comfort
Over short distances, these shoes are comfortable enough. A decent level of cushioning means that my knees were able to cope better than they normally do with the steep downhills.
The shoe did well when used for interval training, providing comfort at both low and high (well slightly higher than slow) speeds.
Durability
The upper seems to be sturdy and survived puddles well.
Price
A reasonably priced shoe from a big brand name.
Grip
I am extremely clumsy, and this shoe seems very grippy which makes running in the cold and wet a much more pleasant experience as I'm much less likely to fall over!
Negative column
Comfort
Over longer distances, my feet swelled up that caused foot cramps, sore ankles, battered and bruised toes. I think this is because they size up small.
These issues may have been relieved by ordering up half/one whole size.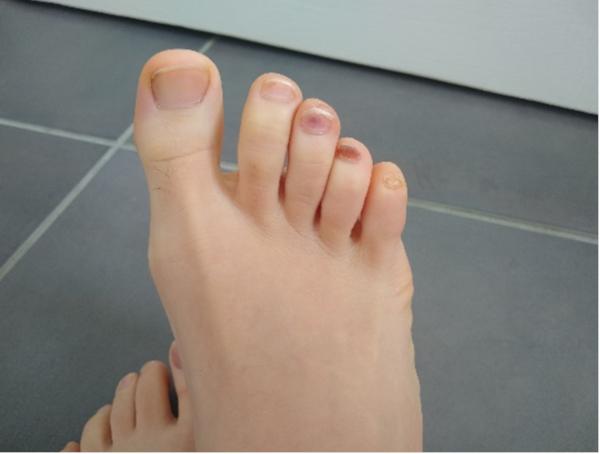 The small sizing issue is exacerbated by having to wear thick socks with these shoes as the thin ones I normally wear seem to cause quite a lot of rubbing, particularly around the ankle.
The tread seemed to pick up small stones much more easily than other shoes I have had.
Durability
Oh my goodness! I have always assumed, foolishly as it turns out, that running shoes should have at least a reasonable level of durability. Shoes that wear out after a few hundred kilometers would make running a very expensive hobby.
The outside rear of both shoes gave up within 2km of each other at around 31km of the race and the feel was very uncomfortable for the remaining run.
My run was cut short at 3.5 hours due to my little one getting poorly and needing to be collected from nursery (fortunate as I don't think I could have kept going with the soles in the state they were).
I am a neutral runner with no pronation or strange running style that I am aware of. I have never had this problem with any pair of shoes I have had before.
When I tweeted Nike they suggested that there was a possible manufacturing fault. This was also suggested by the shop I purchased them from who swapped them for another model with no questions.

Price
The price per km is a bit steep!
Conclusion
It was a comfortable shoe over shorter distances, but I don't think I'd choose it again for longer ones. For durability alone, I have to say this shoe was disappointing in the extreme.
I really enjoyed the previous model of this shoe and my final thoughts on this are "will I never learn?" When I find a pair of shoes that works for me, I should buy more than one pair!
The Nike Air Zoom Pegasus 35 was the shoe I chose to wear for training and running my first marathon. Guided by reviews on RunRepeat, it was probably the best £120 I've ever spent.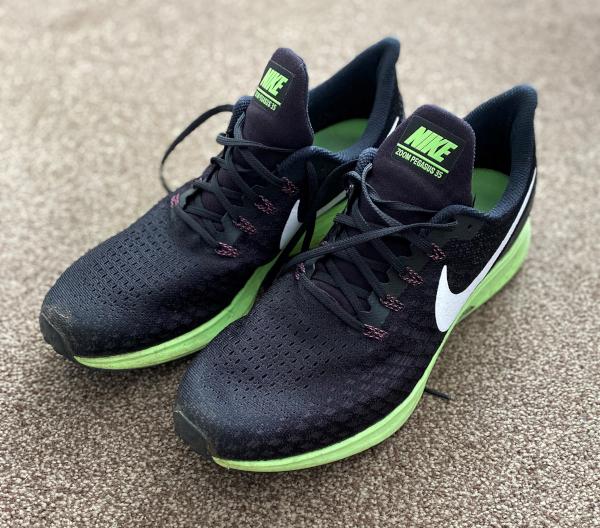 Comfort
So, let's the essential part out of the way first—the Nike Air Zoom Pegasus 35 is the best fitting and comfortable shoe I can imagine.
I've pounded through at least 300km in them, and I've not had a blister, not had a sore toe. Actually, the support for the foot is amazing.
Although I'm a neutral runner, I do have very high arches and occasionally suffer from metatarsalgia. The Pegasus 35 provides ample arch support, and again, I've had no issue with pain in the balls of my feet when using these shoes.
The only negative point I've experienced is getting the laces at uniform tightness across the top of the foot. A couple of times, I've had to stop mid-run to adjust.
As the tongue is part of the body and therefore offers a snug fit, I've found that wearing the laces a little looser than I would typically do works fine.
Performance
I'm not a runner who has ever been concerned about my times—I judge my running on my endurance and ability to add to the miles each time.
In that respect, the Nike Pegasus 35 has done exactly what I've asked of them. They provided the support and cushioning to take me from a panting half marathon mess to a confident runner who completed a marathon!
When I do add speed runs as part of my training then, they've always been responsive. I've never felt the shoe was holding me back.
Durability
So after 18 months and many miles, how have they held up? Very well. The photos are the shoes now, so it's easy to see how well they wear.
Naturally, some of the 'spring' has gone, and the innersole has begun to flatten around the toes. That being said, I'm still happily running up to 10k in these.
I had a concern when I bought them that the lace hoops looked fragile and would eventually come away from the shoe. I need not have worried.
A close inspection shows that the hoops still look secure and there's no sign of any degradation where they meet the shoe.
Considering the shoes have been used in all weathers, it's also really pleasing that there's been no particular fading of the colours of the outer material.
Often, a running shoe will begin to fray after repeatedly getting wet and then drying again. However, the Pegasus 35 has shown no sign of this.
Colours and range
As is usually the case with Nike shoes, there are plenty of colour options to suit any taste and favourite running top! I went with the yellow and black design because they really stand out and have been commented on at the start line of more than one 10K.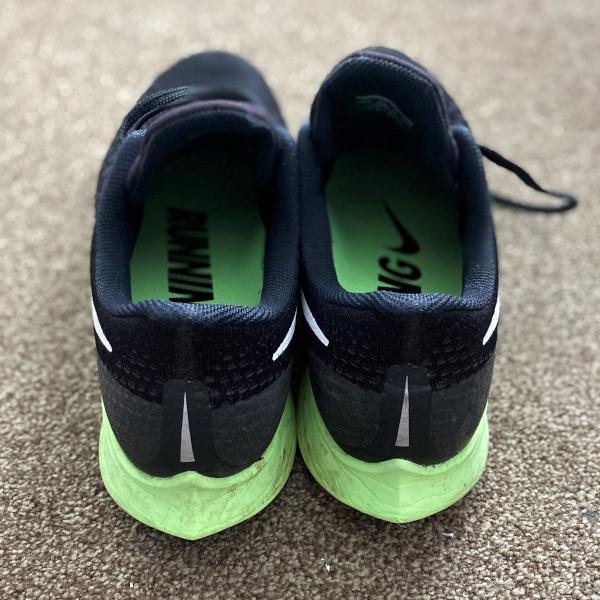 The only thing that annoys me, not that you can see that when you wear them, is that the lace hoops are speckled with purple. Not sure why Nike missed that extra attention to detail and made them yellow specks to match the rest of the shoe.
Conclusion
If you're looking for a serious shoe to give you many happy and pain-free miles, then the Nike Air Zoom Pegasus 35 is the perfect shoe for you. The main positive is the durability.
It really is an achievement from Nike to make a shoe that still feels comfortable after so many miles.
I am a Nike fan for the longest time. I like their shoes for everyday and also for running. In general, I also like very much the look of almost all their models.
But still, this is my first pair of Pegasus. I recently got myself a pair of Pegasus 35. And to be honest, the only thing that I am sorry about is that I haven't done it earlier.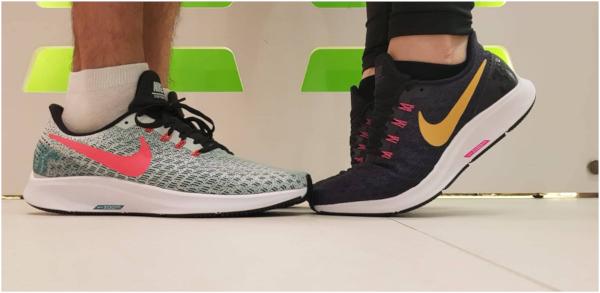 First impression
Let's first start with the looks of the shoes. As I already mentioned, I am very impressed with the overall look, and I have a great first impression.
The model comes in various color combinations. It was hard to choose one, but since I will be using them mainly for running, I went with the dark blue version.
I personally prefer to have darker shoes for running because mud and dirt show too easily on lighter ones.
The first time I put the Pegasus in the store, I was very impressed with the sensation. Lately, I have been running mainly with Hoka One One models which are known to have big cushioning.
I was expecting that every shoe after them will feel stiffer. But I was wrong. The Pegasus 35 feel great on the feet. They are soft but stable. Usually, with soft sole, there is a chance of the shoe being unstable and wiggly, but this is not the case.
Actually, the sole of this model was the main thing that drew me to want to get them. I was sure that it would be very comfortable.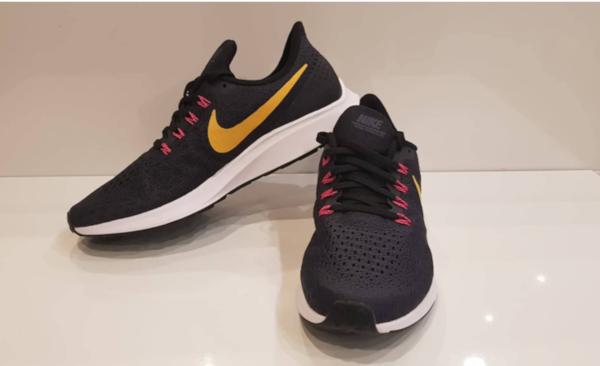 Sizing
About the sizing, I got one size bigger than my usual size. My size was also feeling fine, but still, I got plus one. The reason is not that they are short.
The reason is that probably I felt them a little narrow, so I needed more space on the sides. And of course, for running, we prefer to have space on the toes. This is why I recommend to size up a little.
First run together
For running, I didn't have any problems with the shoes. I didn't need any time to break them up or get used to them. They didn't make any blisters on me or any other uncomfortable sensation.
I started with 5k from the first time, and I didn't feel that this was the first time running with new shoes. The upper part is also very soft and light. Nothing is bothering my legs the way I experienced with other shoes before.
Overall, the shoes are medium light. I don't feel them on my legs. I think that they are great for street running short or long distances. I wouldn't recommend them for the trail because they don't have much grip on the bottom.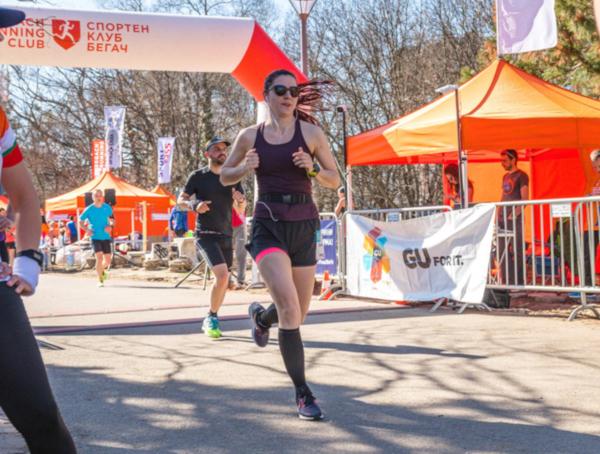 The negative side
If I have to give some negative points to the Pegasus 35, I can come up with only two small ones. First, the shoe is not hugging the heel very good.
I am getting the feeling that it will slip off while I walk. Even if I try to tighten the shoelaces, the shoes are still moving around the heel. There is no ankle support because the shoe is not going that high on the leg to reach it.
But still when I start running, nothing is moving, and the shoes are not slipping off. I got used to them, and now I am not noticing this feeling anymore.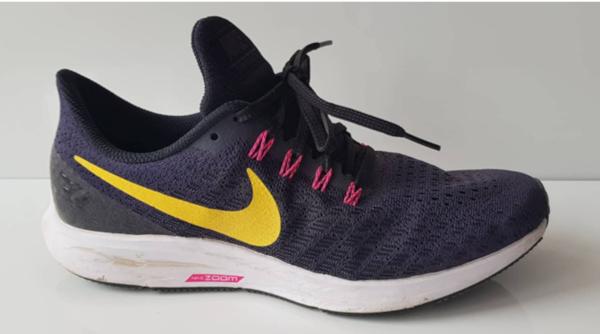 The second thing is that the soles are getting wrinkly and squished after a few runs. This is just an aesthetic problem. The actual sole is not harmed I think. But I don't like to see that since they are pretty much brand new still.
Conclusion
In conclusion, I would say that Nike Pegasus 35 are great shoes – good for everyday use and also good for street/park running. I totally recommend them.
After a history of 2 marathons, 2 half's, some 14 and 10k races, I am looking for something strong, reliable shoes with the cushioning I need for my knees.
Running 18k per week in blocks of 6k is what I am doing these days. I find the Nike Air Zoom Pegasus 35 fills that void.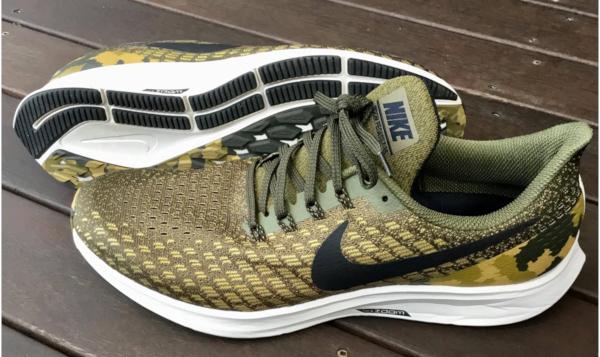 For starters
I have owned 3 pairs of Nike Pegasus; these are a great looking shoe, the design with the laces has been well thought out. You know sometimes you pull laces in some shoes, and you need to keep the pressure on before you tie up.
With this system, there is no need. The loop system (as I call it) grips the laces, so when you tighten you can tie up without releasing pressure or run the risk of losing that tightness.
I like the pointy bit at the back. It's like the new model euro car has been released, like icon design. Not sure what it does but it looks very cool, and no other shoe has it.
The ride
With my age, I need a bit more support in my knees and ankles. The Pegasus 35 has a little more beef under the ball and heel. The shoe is quite narrow which suits my foot perfectly.
For hard surfaces, it has great retention around the lace. Some shoes with the cloth trim tend to get sloppy, and this can make the ride lose.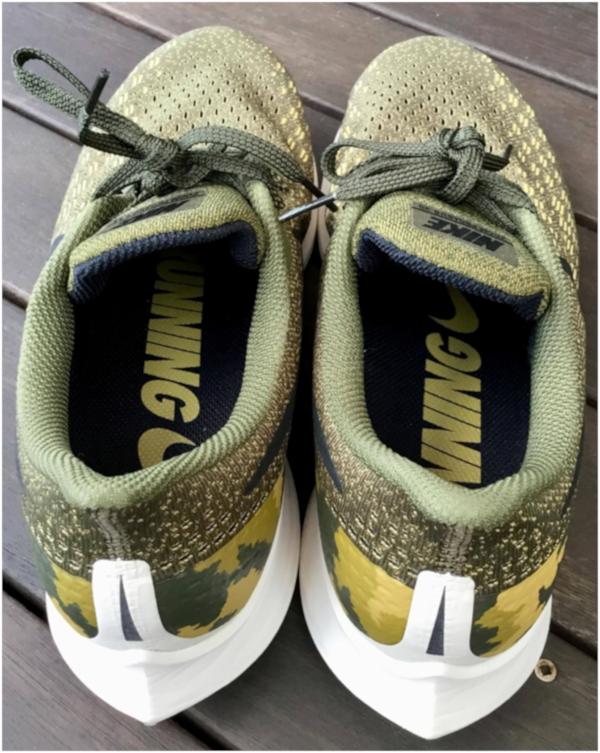 The materials
After lacing up for the first time, I noticed how stiff and strong the upper was. For me, this was a great asset. I never want my foot moving in a shoe yet this one has the flexibility to stretch without being sloppy.
The sole is strong yet flexible, and it's almost like it's suited for my weight which is around 81kg. So its bends when needed.
I have noticed the heels crease a bit which is great because you know your shoe is shocking the bumps, but after a while, it looks a bit worn. This happened with the last pair.
The grip
For me, it's great on smooth/hard surfaces. No kidding, it's ok on gravel and lousy on wet surfaces especially a wet road or smooth concrete. But the design is very fancy and looks appealing, I do like it.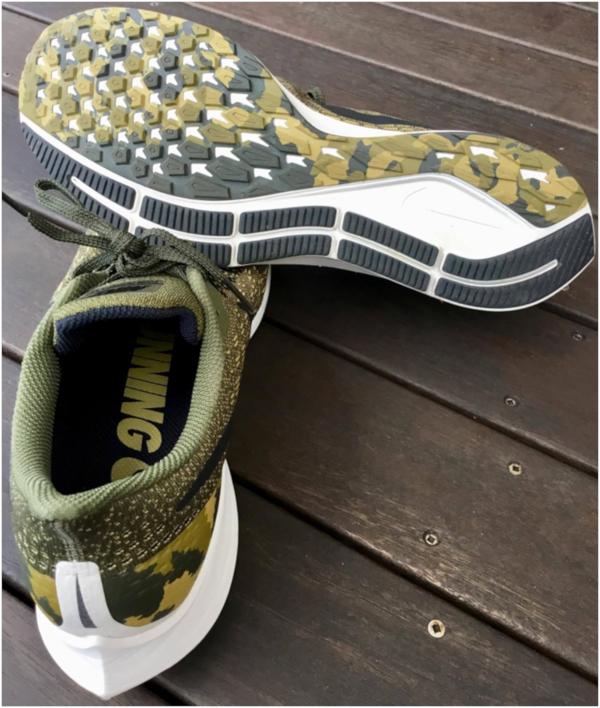 Like a glove
I have narrow feet, so the 10 is true to my size with enough toe room at the end. I always wear a 10 in Nike, and this one fits very nicely.
I like the extra padding around the collar but make sure you wear socks over this one, or you will have all your sweat sucked up in the sponge. It may take some life off with salty sweat, then comes the stink.
What about the weight
According to my luggage scale, they are .55 kg or 1.22 lb, light enough for a good road session or around an hour. Light enough for a few sprints but not too many. The shoe is a bit stiff for that because of its strength and stability.
Will they last
Well, given I have only had them for a few weeks, I still have no shaving from the sole. I have been skidding around on hard surfaces. If the previous Pegasus are anything to go by after 3 years they still look very new and no sign of compression.
Overall
Nike Zoom Pegasus 35 is a great shoe for the road. If you have tired legs with a few miles on them, then this might be your shoe. I like the ball sponge and the strength in materials.
Its a cool shoe (not just to look at) but because of its breathability. When wearing them in 35 degrees, Australian heat tends to get sweaty which is why I suggest a good sock.
With my current running pattern, I will look for a new shoe in around 18 months. The price is comparable to the other good brands and for what you get probably marked very well at around AUD$155.
After 70 miles and 7 runs in my Nike Pegasus 35, I think I can confirm that they are a solid training run sneaker. When I laced them up for my 8th run in them, I realized how cushioned they were and comfortable for the entire 10 miles I ran in them.
I couldn't think of a better shoe to write my first review on, so here is my take on the Nike Pegasus 35 Premium shoe.
These shoes do not look like they have been out of the box, let alone on a handful of long runs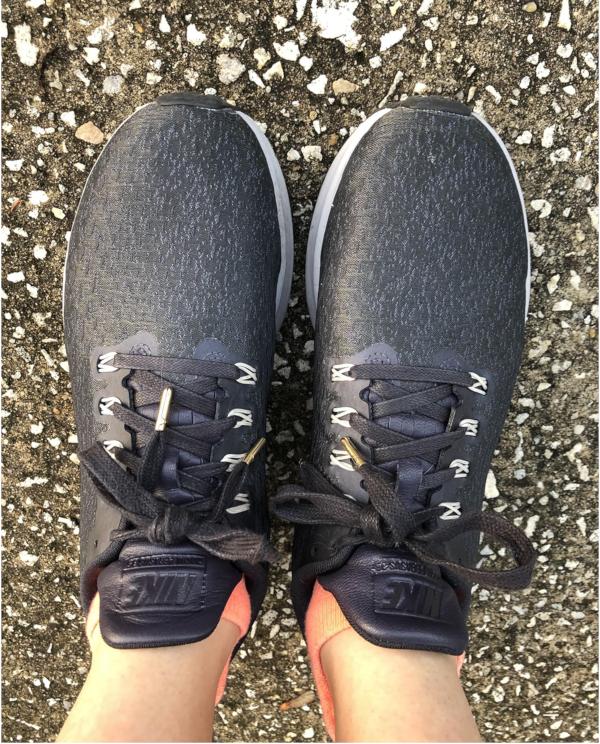 I have been running for almost 4 years now, and out of all the shoes I have tried, these are the ones I want to remember making the best decision to try them out.
The Nike Pegasus 34 was a great model, but the 35 quickly replaced them when I decided to take a friends advice and try them out instead of purchasing another pair of the 34. They are definitely a step up from the Pegasus 34, which I used while training for Chicago and I even ran in my pair for the actual race.
Solid training buddy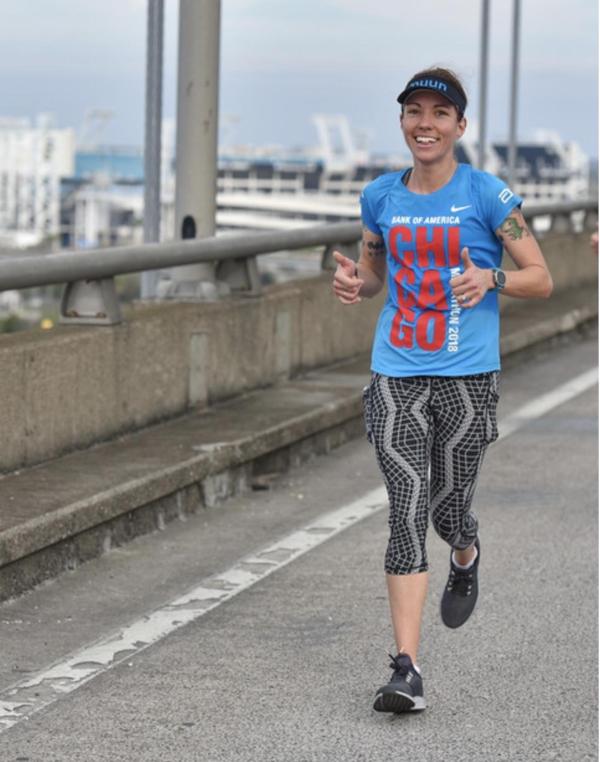 Why I like this shoe
I ran in my 35 on a 16-mile long run, training on the Hart Bridge for the Gate River Run. With some shoes, I might have blisters or pain in my feet after a long run, but I have no complaints so far about the Pegasus 35.
Recently I have learned to size up in my running shoes, so the pair I have a 9.5 and they feel just right for my regular size 9 narrow feet. After trying out the 35, I don't think I will be trading out this model until the next improvement Nike makes.
Comfortable Nike Pegasus 35
Pros
The material of the shoe seems very strong and should hold up for many miles
The Nike Zoom soles of the shoes are a unique shape
The insole of the shoes is very comfortable from start to finish
I like how the Nike logo is not overly visible and blends in with the color of the background
Great for running all distances and speeds, whether a 5-mile tempo run or 16+ miles
Lots of room in the toe bed and a comfortable heel as well
I could see myself using them to run a marathon and feel comfortable the entire race
What I don't like
The shoelaces are a little too fancy and thick, so they came undone during my first run. They have the metal at the ends, so if you aren't used to double knotting the laces, this might be a challenge.
I couldn't double knot the laces if I used the top hole for lacing, although this is not a problem for me. Some wearers might choose to change out the laces.
Performance
As you can see, there are many more pros to this shoe than cons for me. After trying out several running shoes, this is by far my favorite.
Easy 10 miles before Snickers Marathon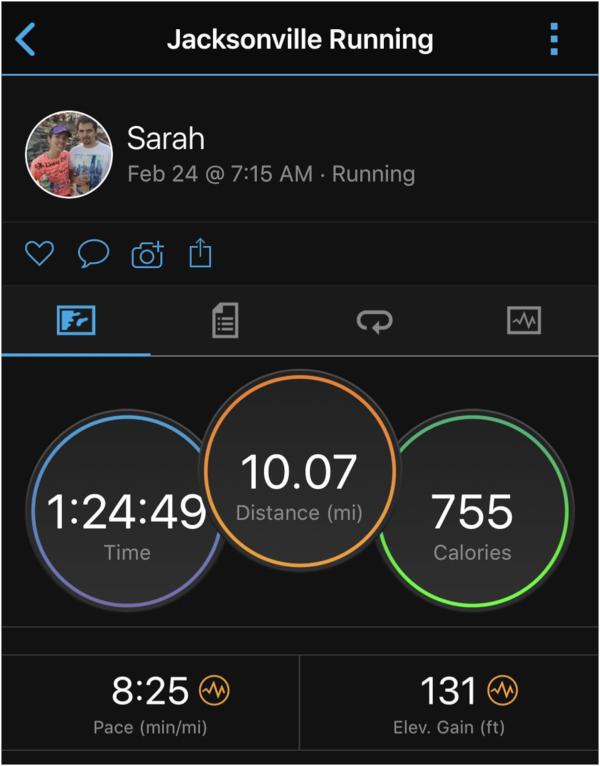 Just a fraction of the miles I've enjoyed running in my 35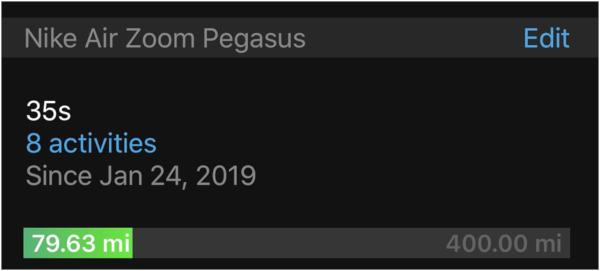 Conclusion
The Nike Pegasus 35 is a must try for any runner who loves the previous Pegasus shoes Nike has to offer. Just be warned that once you try the 35, you will say "Nike Pegasus 34, who?"
And while marathon training isn't easy, or training for any distance for that matter, why not invest in a pair of shoes that is going to take you past the finish line!
Whoever said that running would be easy? It's nice to know there's a shoe out there that will make the miles that much better. So if you are ready to get speedy, this is your shoe.
The Nike Air Zoom Pegasus 35 is a do-it-all workhorse trainer that you are going to want on your feet mile after mile after mile.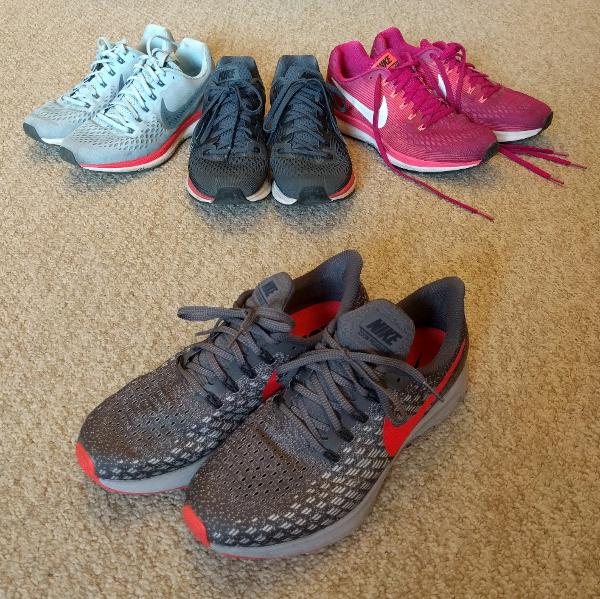 Intro
I went through a lot of different shoes, and blisters, before I landed on the Nike Pegasus line. Now I can't imagine wearing much else for my everyday training. I started out in the Pegasus 34, and after going through 2 pairs and 1000 odd miles in those, I upgraded to the Pegasus 35.
Needless to say, I'm a fan of the line (I even got my partner into a snazzy pink pair of 34 for her park-running), and the Pegasus 35 is an excellent addition that I can see myself coming back to again and again.
Look
The 35 follows much of the look of its older brother with a few tweaks here and there, the most noticeable being the change to the tread pattern, the lip at the back of the ankle, and the little fin on the heel.
I opted for the grey upper with the orange tread, which I find a pretty striking and good-looking combo (so you can certainly look good when you turn up for your local park run – whatever time you run to).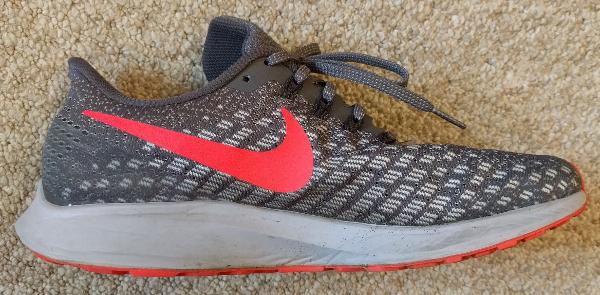 I'm not sure if I'm sold on the little fin sticking out the back of the heel.
I've read somewhere that this is to make the shoe more aerodynamic, but I'm not sure how much advantage it can bring (or why you would need an aerodynamic advantage on a workhorse trainer – anyone looking for a speed boost should probably check out the Nike Streak 6 instead).
When I first put them on I was catching it as I went downstairs quite frequently. I've largely adapted to it now and barely notice it.

The little lip on the back of the ankle is a nice touch. I've suffered from Achilles problems over the years (as I'm sure we all have). I'm not sure if it was from my shoes rubbing, rather than my simply overtraining (more likely!), but the lip on the 35 means there is no rubbing on my Achilles, so any potential issue is avoided.
As for the tread
You have a change to a slightly elongated hexagon pattern which provides enough grip for pavement, gravel and light trails (I've not tried anything much more adventurous in them).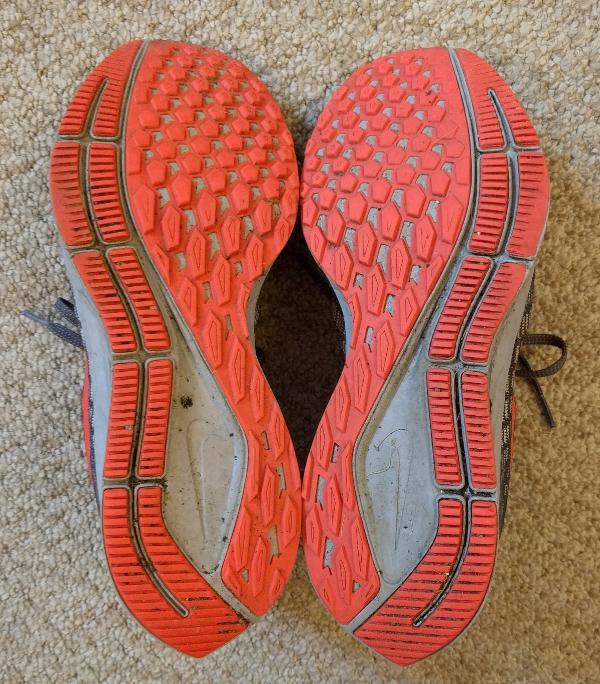 All in all, I'm a big fan of the updated look and, like its older brothers before it, once I've put another 1-200 or so miles into them, I'll happily keep wearing them to the gym and for everyday wear out and about.
Fit and Feel
I have slightly wider than average feet at the ball of my foot and pretty high arches (what my partner calls "hobbit feet") so I need something that is pretty snug I the midfoot and wider at the toe box. The Pegasus 35 doesn't disappoint in this respect. The toe box feels roomy, without being sloppy.
I feel like I have a lot of much-needed wiggle-room and space for my foot to splay whilst I can still get that snug fit through the midfoot. I find the heel fits nice and snug too and there are extra eyelets for a secure ankle lock if that is your preference (I find I do fine without).
Comparing the 35 to their older brother the 34, I think the toe box may be just a touch wider (it certainly feels like I have more room). The wide toe-box and last also mean that the 35 (like their older brother) feel incredibly stable when running and turning at pretty much any speed.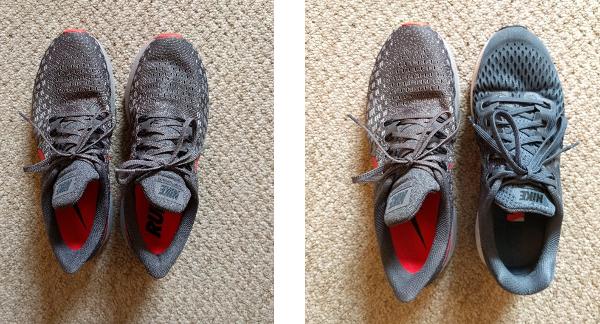 In terms of ride, the 35 have just enough cushioning that I feel my shins and feet are being adequately protected without sacrificing too much by way of transferring force in the ground.
They felt very cushioned when I first put them on and I still feel like I'm getting some good shock absorption after 250 miles. I tend to use them for my easy and threshold runs, and I would be tempted to use them for a marathon.
With that said, you could easily use these for speed work if you were just starting out, and I've certainly run a few dozen miles of intervals and sprints in them. If you aren't interested in pure speed, these could easily be your go-to shoe from training all the way to your next 5 or 10k.
Just to give an idea on sizing: My feet are about 25cm in length when I measure them from heel to longest toe (perhaps a smidge over), so according to Nike's sizing chart that should put me somewhere between a UK size 6.5 and 7. I opted for the 7, which I feel gives a perfect fit: snug in the midfoot with about a thumbs width in front of my longest toe.
I'm sure I could have sized down to 6.5, but having conducted an experiment with those sizes in the Nike Streak 6, I think that would make the toe box a little too snug for me at the sides and on top (even with half a thumb of length to spare).
If you like a good deal of wiggle room (and don't want black toenails) I'd suggest using the Nike sizing chart based on your foot length, but erring on the larger size.
Weight
My 35 came in at just under 250 grams (and bear in mind that is after 250 odd miles, so they might have shed a little rubber weight from the tread.
It's not the lightest shoe in the world, by any means, but it's light enough that you can still get some speed and they won't feel like a dead-weight after your 2-hour long run.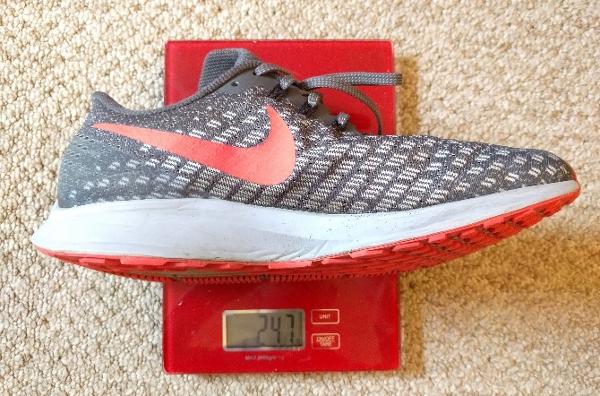 Compare the 35 to their older brother, the Pegasus 34, which come in at 258 grams for my pair (400 miles), and the Streak 6 which I measure at 174 grams.
You could certainly shed a few grams (73 to be exact) by switching to the lower profile Streak 6, and if you are looking for a racing shoe (and have run out of easy improvements to make elsewhere) then that might be the right move.

But you lose a lot of the cushioning in the Streak 6, and those extra 73 grams turn the Pegasus 35 into an absolute dream to wear mile after mile after mile. In other words, if you want a do-it-all shoe, those extra 73 grams are a price well worth paying for the Pegasus 35.
Wear & Tear
As you can see by the pictures throughout this review, my pair of 35 aren't showing many signs of wear: after 250 miles, the upper is still like new, and I've not noticed any warping in the footbed from use.
The cushioning has been flatted down somewhat now, so the ride isn't quite as soft as it was the first time I put them on, but they are still easily cushioned enough for me to run 16 miles in them on a Sunday and have my shins and calves feeling fine (give or take a bit of muscle ache!).

The tread has proved pretty hard wearing. I mainly run on pavement and grass with a few dry mud trails and there is still a millimeter of tread left before the forefoot has been worn smooth.
I'm wagering I can easily get another 1-200 miles out of them before they need to be retired (especially if I switch to running more predominantly on grass.
Compare that to the Pegasus 34 which I 've probably put 400 miles into and are now worn smooth. A word of warning though: how much tread is left isn't the be-all and end-all of whether your shoe needs to be retired (as I've learned to my detriment).
If you are finding your shins aching after a run, it may be that the cushioning has gone from your shoes and it's time for a change (even if they still look like sonic the hedgehog underneath).
Conclusion
The Pegasus 35 really is a do-it-all shoe if you're new to running or not at the stage where you want different shoes for different training sessions or races. You simply can't go wrong with it.
It's light enough that you can easily sprint your way to a new park run PB, cushioned enough that you could run your next (or even first) marathon in it, and stable enough that you aren't going to be limping home after a long or tough session from a twisted ankle.
For more experienced runners, the 35 is an awesome shoe for your easy mileage: fantastic ride that leaves your legs feeling fresh for the next day, and durability enough that I can see myself wearing it for another 200 miles. I'd even suggest it can be used for threshold running or cruise intervals to give the legs that little bit extra cushioning and keep them in good nick for race day.
For more intense speed work I would probably switch to the Nike Streaks (or similar), especially if you are running your intervals in the 3:30/k range or lower, where you start to notice the extra weight on the 35.
The only downside, to my mind, is that at £105 in the UK they are still quite pricey. If they drop to £75, as the Pegasus 34 did at various retailers, I think you have the perfect price-point for the perfect workhorse shoe for any level of runner.
The Nike Pegasus has been a staple, go-to shoe in the running community for 35 years now. Originally intended to be for every runner, the Pegasus line has withstood the test of time, and has been a reliable shoe to run in.
I first stumbled upon my first pair of Pegs in high school and continued wearing them year after year, model after model because I loved their lightweight, neutral fit that still provided me with the cushioning that I needed running anywhere from 30-70 miles in a week.
I can't lie, when I first saw the Pegasus 35, I was worried. Nike changed the look, changed the midsole and the upper, and I was concerned that the shoe that was always reliable had lost its way.
Don't get me wrong, they look incredible. I mean, look at these beauties. I couldn't buy a pair, the question is: could the withstand my mileage? Let's see.
Upper
Let's start here. There are a few key features of this shoe I want to highlight, first the flywire technology. This creates a more snug and comfortable fit around your foot.
The laces pull the shoe up and over your foot, giving it that close, snug feeling. It also helps give the shoe the sleek design on your foot, which helps keep it looking fast, while more importantly keeping you comfortable as well.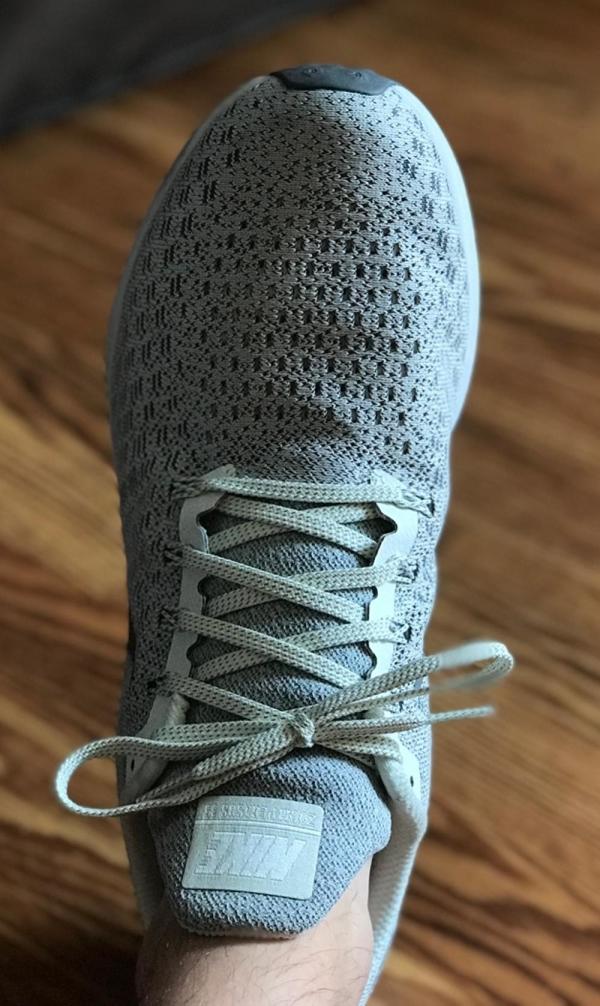 Next, the tongue. The tongue of a shoe can make or break it. This was another piece I was concerned about, the tongue on the Pegasus 35 sits up higher on the ankle/shin area, and at first, I was a little leery about it. After wearing it around and for a couple of runs, I actually found it to be more comfortable than not. It is a potential spot of discomfort, however, depending on the person.
Third, the Pegasus features a breathable mesh upper that feels more sock-like than what previous Pegasus users are used to with the flymesh. It is still lightweight and breathable, and in my opinion more comfortable. Beware of stepping in puddles, however, the mesh provides little protection against water.
Finally, the collar. The Pegasus 35 features an out-turned collar, which is designed to add extra support to the Achilles area. While this may be subtle, it provides a great deal of added comfort that I especially noticed on longer runs. It guards against rubbing to prohibit blisters and also cradles the Achilles to prohibit any added strain from step to step.
Midsole
The Nike Zoom Pegasus 35 features a full-length Zoom Air midsole, as compared to pockets of Zoom Air in the heel and forefoot in its predecessor, the Pegasus 34. Zoom Air is a series of small, flexible wires that compress when pushed down upon and release when the pressure is lifted. this is what gives the Pegasus its responsive feel.
It also allows for a more natural foot strike, something that I noticed during my first few miles in my new Pegasus. It is comfortable and soft, while still providing responsiveness.
The Midsole also features a pointed heel, as seen in the photos below. This design is used in the Zoom Fly and the Vaporfly 4%, the shoes Nike advertises as the fastest shoes on the market.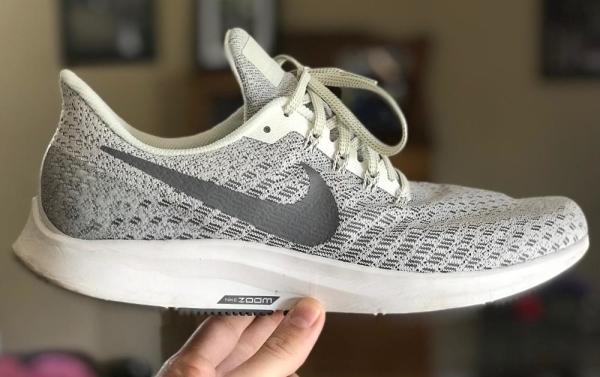 The pointed heel helps the shoe aerodynamically, as well as creates a landing spot for heel strikers. Let's be honest, it also looks really cool, especially next to the "35" on the heel design.
One possible negative of the midsole is that the foam will crease as it is worn. As seen in the photo below, those creases were not there when I purchased the shoe. They do not decrease performance but can make the shoe slightly less attractive.
The Pegasus 35 has a 10mm heel-toe drop, with a heel stack height of 28mm, which is relatively standard in most running shoes.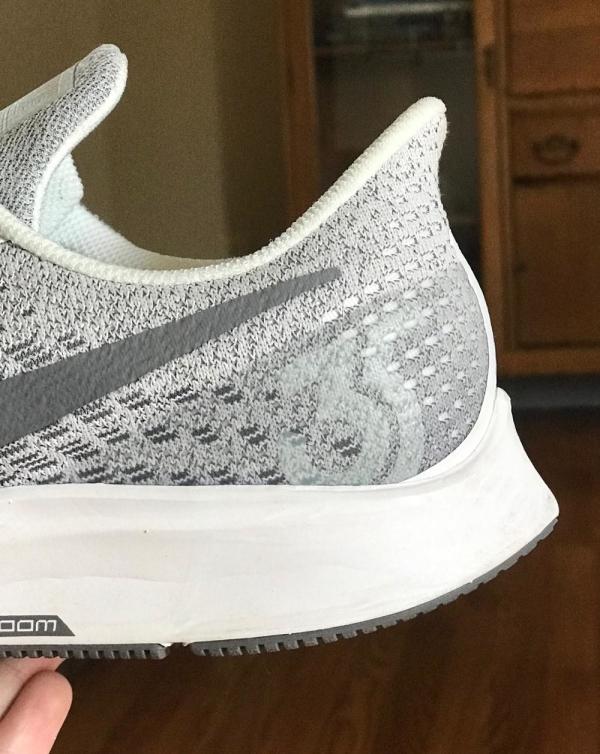 Outsole
Finally, the outsole. The outsole features Nike's waffle lugs, which have been in shoes since the very first Nike shoe. The goal is to increase traction and durability.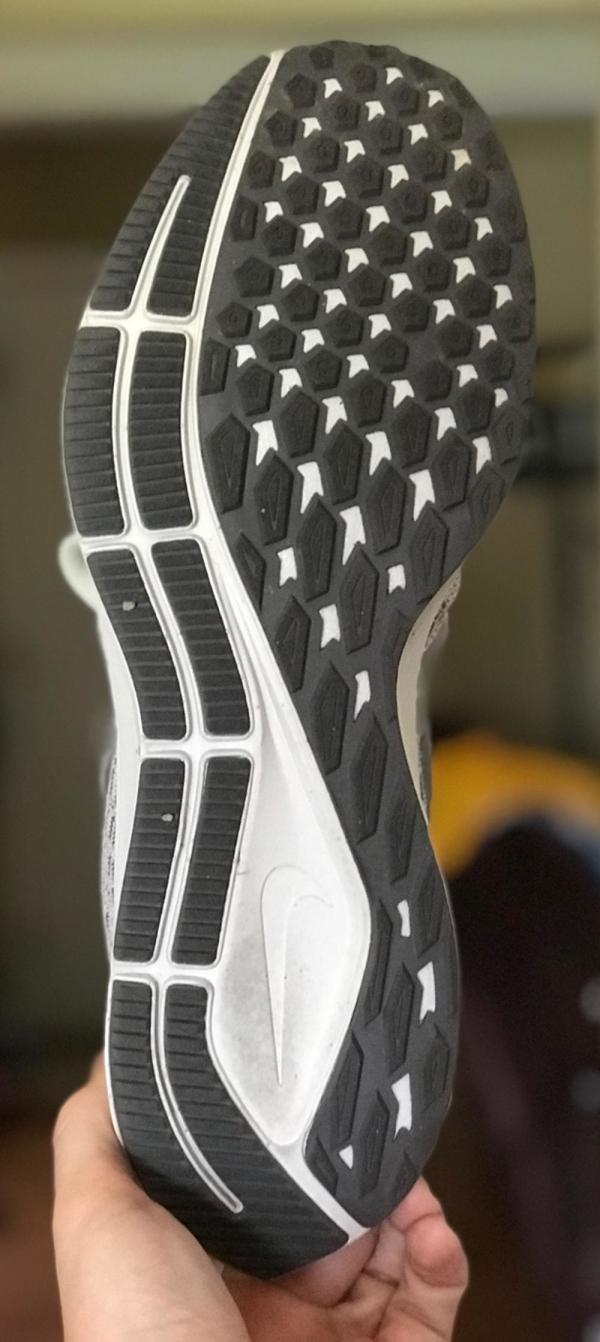 In my experience, the Pegasus line is one of the more durable shoes that I have owned, and I suspect the 35's to be no different. The rubber outsole has withstood rocks and sticks and the like. The best thing about the outsole in the Pegasus 35 is that you can't feel it, it simply does its job and keeps providing traction.
Pros
Lightweight, durable shoe
Comfortable, even during long runs
Fashionable
Versatile
Good price ($120 at Nike.com)
Cons
The elongated tongue could prove uncomfortable to some runners
Does not protect against water
Midsole creases with use
Conclusion
In my opinion, the Pegasus 35 is one of the best shoes on the market. Its versatility lets you use it in a fast-paced workout, or on a slow long run. It performs well, while not sacrificing comfort.
At a retail price of $120, the Nike Zoom Pegasus 35 is a premier daily training shoe for any type of runner that is well worth the cost. This new shoe continues a great line of running shoes.
Good to know
The Nike Air Zoom Pegasus 35 is a running shoe that's designed for those who have neutral pronation. It makes use of contemporary design to cater to casual shoe enthusiasts and fashionistas. The upper unit uses an engineered mesh that has a zigzag weave for durability. Flywire cables help to provide a secure and agreeable fit.
A full-length Zoom Air unit is used as the core cushioning unit of this running shoe. Contrary to the configuration of previous Pegasus models, the compressed-air cassette in this one runs the entire length of the platform. A Cushlon carrier hugs the Zoom Air technology, shielding it from wear and tear.
Two rubber compounds are layered on the outsole of the Nike Pegasus 35. The purpose of these features is to protect the rest of the platform and provide traction over the surfaces.
The outsole unit of the Nike Air Zoom Pegasus 35 has a waffle design—comprised of flex grooves and traction nodes— that heightens the flexibility and grip capacity of the platform.
A rubber crash rail is fashioned on the lateral side. Its purpose is to receive the landing impact and ease the heel-to-toe transition.
Duralon is a rubber compound that has a responsive nature. Aside from doling out traction and protection from surface abrasion, it potentially adds some more cushioning. It's specially placed on the forefoot part of the outer sole.
BRS 1000 is a feature that's made of carbon rubber. This material is touted to be long-lasting. Its purpose is to shield the platform from wear and tear.
Zoom Air is a cassette that contains compressed air. The one that's used for the Pegasus 35 runs the entire length of the platform. Its purpose is to make the ride bouncy and to render more shock attenuation.
A Cushlon carrier covers the Zoom Air unit, sandwiching it and keeping it intact. It also provides cushioning because it's fundamentally made of molded foam. The Cushlon is also designed to deliver durable and consistent underfoot cushioning throughout the run.
The upper unit of the Nike Air Zoom Pegasus 35 makes use of engineered mesh. This cloth-like material offers form-fitting and breathable coverage. A zigzag weave strengthens its structure, thus keeping it from easily tearing apart.
Flywire cables peek through the instep part of the façade, acting as the eyelets of the lacing system. These elastic strands adapt to the tightening and loosening of the shoelaces, thereby giving a secure yet customizable wrap.
A partial cleatie construction uses a mesh sleeve and some padding to maintain a smooth and well-supported in-shoe experience.
A reflective strip on the back part of the upper makes the runner more visible, especially when running at night.
The Air Zoom Pegasus is the longest-running running shoe model from Nike. It continues to impress runners of all levels. To completely utilize the functional design of the Pegasus 35, Nike decided to manufacture other variations of this running shoe. These special variations are designed to cater to the different needs of every runner.
Nike Air Zoom Pegasus 35 Shield
This running shoe model is the water-repellent version of the regular Nike Pegasus 35. Designed for the roads, the shoe received special upgrades to help runners conquer slippery and wet routes.
The upper is made of durable, water-repellent materials to keep the foot dry. The seams are also sealed to prevent water from entering the shoe. The upper material remains to be light and breathable. The Pegasus 35 Shield has a completely different outsole material. It uses a Storm-Tread Wet Traction rubber for durability and grip.
This special variation of the Pegasus 35 is more durable and more expensive.
Nike Air Zoom Pegasus 35 Premium
The Nike Pegasus 35 received a premium upgrade in this running shoe. The shoe is designed for beginners and seasoned runners. Along with its street-ready design, this women's Nike Air Zoom Pegasus 35 offers a good balance of comfort and breathability.
The overall design of the premium version followed the regular Pegasus 35, but the cushioning was tuned for female runners. This running shoe features a few special design elements including a small Swoosh, metal aglets, wax laces, and leather tongue. All these are designed to give runners the premium look and feel.
Nike Air Zoom Pegasus 35 FlyEase
In this running shoe, the Nike Air Zoom Pegasus 35 has received the FlyEase touch. The lace-free FlyEase closure is designed for an easy on and easy off of the shoe. The FlyEase system connects a hook-and-loop strap to the zipper. The bungee cords are specifically placed in the top for a secure fit.
The Nike Air Zoom Pegasus 35 FlyEase is available for both men's and women's versions. Featuring the sample technologies found in the Pegasus 35, the shoe delivers a balance of comfort, cushioning, and fit.
Nike Air Zoom Pegasus 35 Mid Shield
The Nike Air Zoom Pegasus 35 Mid Shield is the mid-cut version of the Pegasus 35. It also has a water-repellent upper and reliable traction for wet and slippery running conditions. This version is available at NikeiD.
The running shoe offers the same level of cushioning, comfort and fit. Since you can customize this shoe according to your preferences, you can absolutely choose your own traction and accents, and make it your own.
This mid-cut water-repellent version of the Pegasus 35 is available at $160.
Nike Air Zoom Pegasus 35 Metallic
The Pegasus 35 features a metallic look in this Pegasus 35 Metallic version. This running shoe for women's offers elegant looks without compromising performance, comfort, and fit. The shoe uses the same technologies and materials found in the regular Pegasus 35 to give runners the same responsive cushioning, comfortable feel, and smooth wrap. The metallic Pegasus 35 also features durable textile and synthetic upper materials.
Nike Air Zoom Pegasus 35 Floral
The Nike Air Zoom Pegasus 35 Floral is a special version designed for women. The upper of the shoe has a feminist twist but it still delivers reliable cushioning and comfortable fit just like the Pegasus 35. Aside from the floral design, another special aspect of this running shoe is the glow-in-the-dark outsole.
The men's version of this running shoe is the Nike Air Zoom Pegasus 35 with graphic design in its upper. The shoe has a tropical print across the upper, and just like the floral version, it has a glow-in-the-dark outsole material.
Since its release in 1983, the Pegasus has established a great reputation in the running community. Because of its positive feedback, Special Edition versions of this shoe model were released. Some of these are the following:
Nike Air Pegasus ACG (1988) - The version featured a synthetic leather upper. It gave runners a great amount of protection. The shoe was designed for runners to have an alternative for off-road and wet running conditions.
Nike Air Pegasus A/T (1991) - The shoe was designed for all-terrain running. It featured synthetic black and grey leather.
Air Pegasus Racer (1991) - It was a lightweight running shoe designed for racing. The weight of the shoe is approximately 220 grams.
Nike Air Trail Pegasus (2003) - Designed for the trail, the shoe featured a tough waffle outsole for reliable grip. The shoe was also designed to give the foot comfort and protection.
Nike Air Zoom Pegasus Mo Farah (2017) - The running shoe was designed to celebrate Farah's achievement. Nike customized the shoe with personal details. It was available in red colorways, with Union Jack flag and gold accents.
The Nike Air Zoom Pegasus model was first introduced in 1983. The shoe was designed to be half air to constitute quickness and movement. It also has a Nylon upper.
The Pegasus was created by Mark Parker (Nike CEO), and Bruce Kilgore (Air Force 1 designer).
Nike Elite Runners who train in the Pegasus include Matthew Centrowtiz, Amy Cragg, Joan Benoit Samuelson, Bernard Lagat , Lelisa Desisa , and Timothy Cheruiyot.
In its 35th version, the Pegasus model is considered as Nike's best-selling running shoe of all time.
The shoe was originally called as Air Wedge Trainer because it features the Air Wedge unit that is formulated to improve shock absorption.
In 1987, the children's version of the Nike Pegasus was released. Since then, the kid's version of the model has been part of the Pegasus line-up.
In 1996, the visible Air unit was introduced.
In 2004, the women's Nike Air Zoom Pegasus was created to follow the anatomy of the female foot.
In 2006, a gender-specific design was introduced on the shoe.
In 2011, Flywire Panel was introduced in the Nike Pegasus 28.
In 2018, the shoe features the responsive Cushlon foam, which is specifically tuned for women.
The Nike Air Zoom Pegasus 35 and its other variations are available in Nike iD customized design.
Rankings
How Nike Air Zoom Pegasus 35 ranks compared to all other shoes
Popularity
The current trend of Nike Air Zoom Pegasus 35.