The ZoomX Invincible Run Flyknit 2 from Nike is a daily trainer where comfort is paramount. But what makes it better than most everyday running shoes is it offers a ton of bounce and support to gobble up the miles ahead. On top of this, it offers a smooth, easy ride. Overall, the Nike ZoomX Invincible Run Flyknit 2 is a definite must-have for days when your legs are tired and if you want a fun, lively long run.
Pros
Plushness overload
Protective for long runs
Smooth and seamless ride
Adds pep to your step
Supports tired legs
Terrific heel lockdown
Spacious toe box
Grippy on light trails
Cons
Not for wet surfaces
Expensive for a trainer
Lacks durability
Poor airflow
Who should buy the Nike ZoomX Invincible Run Flyknit 2
The Invincible Run Flyknit 2 should be a part of your running shoe rotation if you're looking for a:
running shoe that's comfy for recovery to easy days
fun shoe for short runs
protective and stable shoe for long miles (up to a marathon distance).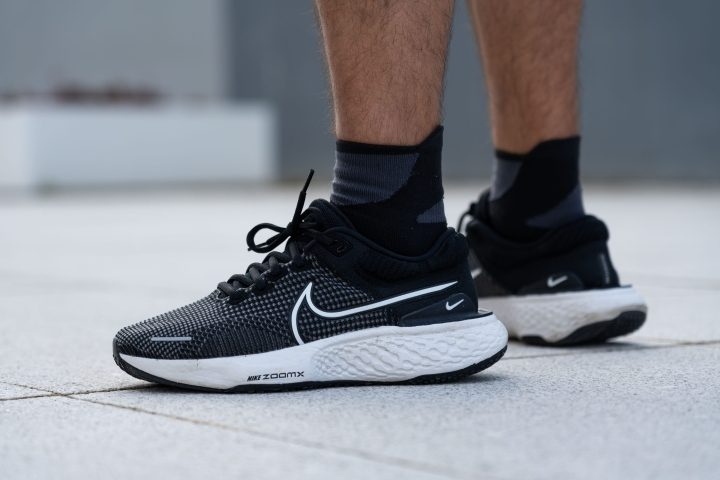 Who should NOT buy it
If there's one thing we can all agree about the ZoomX Invincible Run Flyknit 2, it's crazy expensive. So, if you want to save money, experts highly recommend sticking to the older version—Nike ZoomX Invincible Run. Since there's a newer iteration, it's going to go on sale for a much lower price. And hey, they're not that far off.
Durability is also an issue for this trainer. For a solid, tank-like alternative, it's best to go for the Nike Pegasus 38. Ultimate traction even on wet roads? Go for its big brother—the Nike Pegasus 39.
Nike Invincible Run FK 2 vs. 1
The second version of the Nike Invincible Run Flyknit didn't change that much. So, those who loved the first version (which one of them described as a "commercial success") are stoked that it doesn't go through a complete overhaul.
Here are the small changes applied to this edition:
For stable transitions, it has a wider base.
To max out protection, this version has more foam than the last.
The laces have been updated with a much thinner design to ramp up lockdown.
To keep weight at a minimum, the padding around the collar has been trimmed down.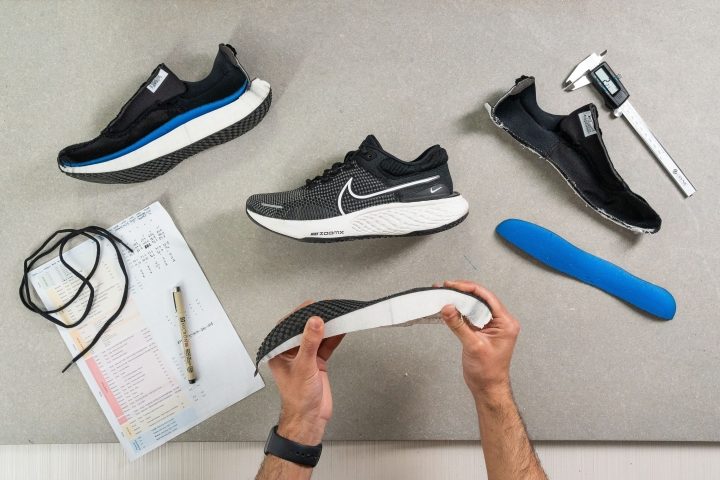 Not exactly for hot weather
"It's much better suited to winter runs or cool climates" is a feedback from a long-time runner. This is because there's a knit upper and because the padded tongue is attached to the inner sleeve, affecting the shoe's ventilation.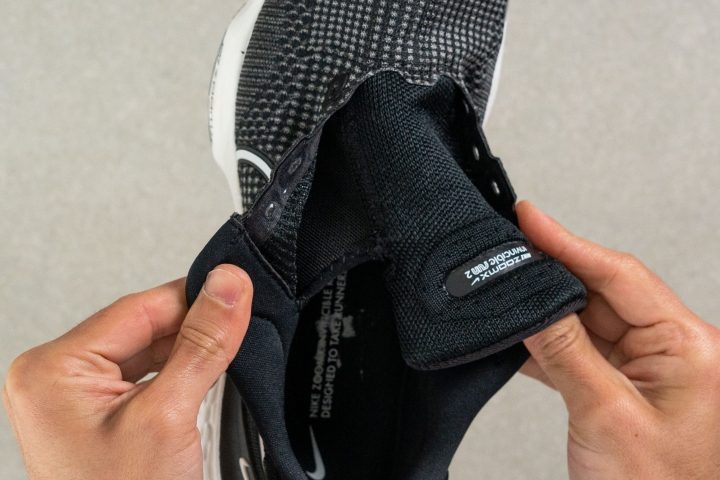 Fact check
With the smoke test, we can see how breathable an upper is. On a 1-5 scale where 5 is the most breathable, this shoe received 2. Therefore we can confirm what most reviewers said: it's not the airiest shoe.
Nike ZoomX Invincible Run Flyknit 2 (left); Adidas Runfalcon (right).
We use a smoke-pumping machine and cover up the shoe mouth entirely so that the smoke is only able to escape through the upper.
Fact check
In addition to the smoke test, we always check how transparent the upper is. In the case of the Invincible 2, not much light passes through the fabric, proving its below-average breathability.
As part of our lab tests, we took some pictures of the knit upper with a microscope.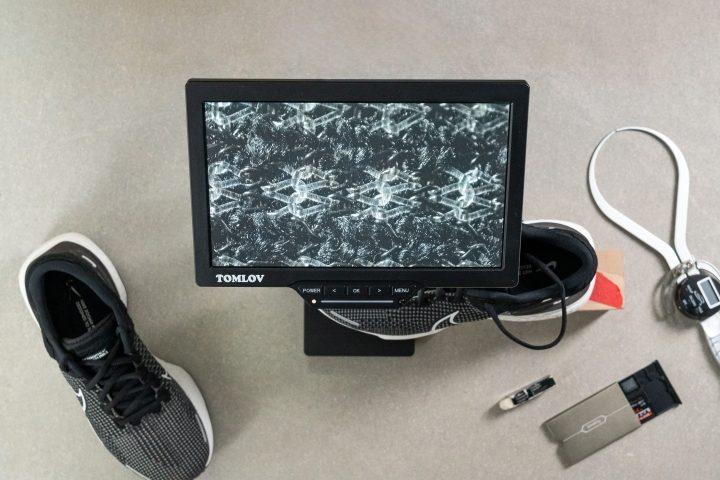 Knit uppers are usually great when it comes to comfort, but they are not the best in class for breathability. That's exactly what happens with the Invincible Run 2.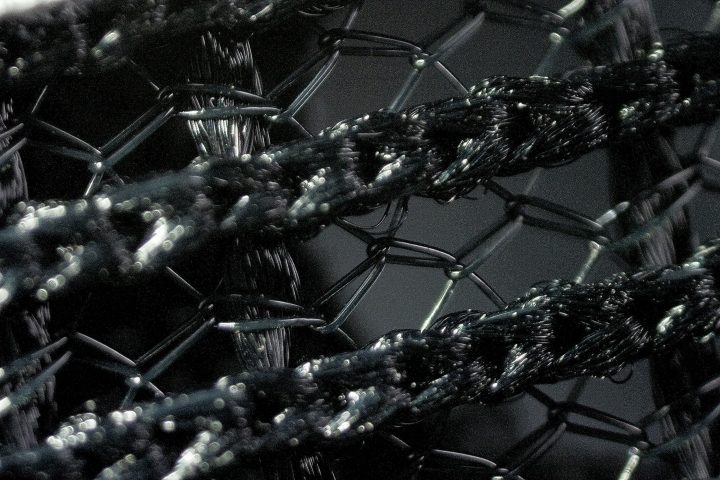 A close-up photo of the mesh on the Nike Zoom Fly 5.
In the two photos, we can clearly see the difference between a mesh upper, which comes with large holes for ventilation, and a knit upper, which has a much denser texture.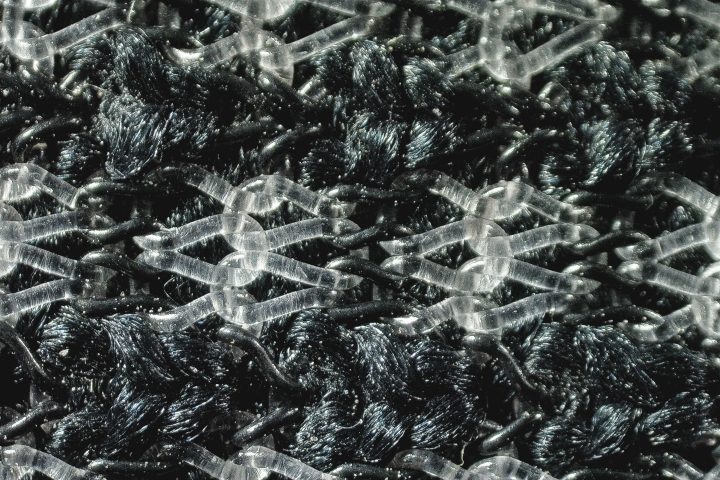 A close-up photo of the knit on the Nike ZoomX Invincible Run Flyknit 2.
A home for the sole
This shoe has a "jumbo-thick, compressible ZoomX midsole," as one runner would put it, making it very comfy to put on. "You sink into this shoe in a way I never have with any other running shoe," adds another who is 100% in love with the shoe's plushness. One even says, "It feels like was running on bubbles."
"Even walking around in it is a treat," compliments another reviewer. And if you're coming back from an injury, the Invincible Run Flyknit 2 is a no-brainer.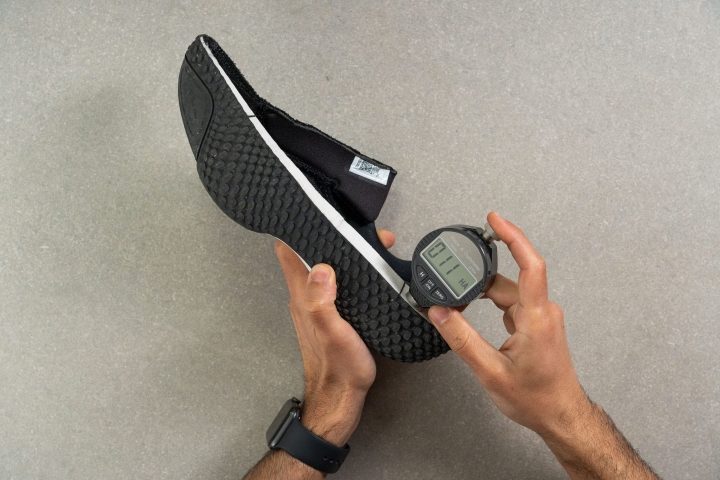 Disclaimer: We take an average of 4 measurements and exclude any outliers. This image shows just one of our measurements.
Fact check
Reviewers are right. Using a durometer to check the foam, we discovered that Nike ZoomX Invincible Run Flyknit 2 is extremely soft. It's a whopping 79.4% softer than the average and is among the plushest shoes on the market.
The Nike Invincible Run Flyknit 2 will make you glide
Its rocker geometry is a solid A+. "Transitions felt velvety smooth," remarks one tester. It makes you roll through your stride; one road runner even says that it's almost unbelievable that the same company that makes the boring Pegasus can make a groundbreaking shoe like the Invincible 2. It's crazy smooth; you can even feel the rocker geometry just by walking in it.
Fact check
While the geometry is not as pronounced as other shoes (take the exaggeratedly rockered New Balance Fuelcell SuperComp Trainer, for instance) the Run Flyknit 2's midsole shape helps a little bit with rolling forward.
Nike ZoomX Invincible Run Flyknit 2 (top) vs. New Balance Fuelcell SuperComp Trainer (bottom).
Not your regular daily runner
"It's a really strong shoe," gladly remarks one commenter. And this is because it's springy and lively; it's unlike any other shoe on the market. Although plush, it has some nice feedback to it.
To further describe the sensation, an expert has this to say about the Nike ZoomX Invincible Run Flyknit 2: "a shoe that feels like you have mini trampolines under your feet." That's how fun it is.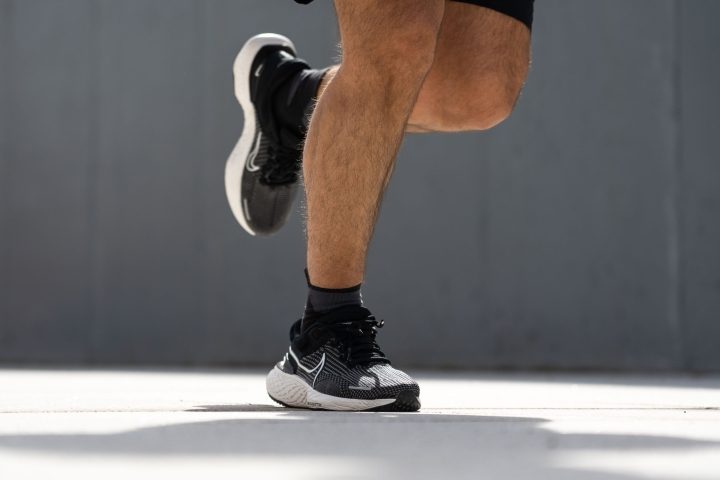 No achy feet
Apart from the comfort it offers, it also has great shock-absorbing qualities. And if you want a super cushy running shoe with maximum impact protection, "you're bound to love this shoe," shares one critic. Another went on to explain that when running in the shoe, it mutes out the harshness, keeping the hips, knees, and ankles safe.
Fact check
We can confirm that there's plenty of cushioning and protection in this shoe. When we measured it, it came out that the height at the heel is 35.5 mm, slightly different from the marketed 37 mm, yet still taller than average (33.2 mm).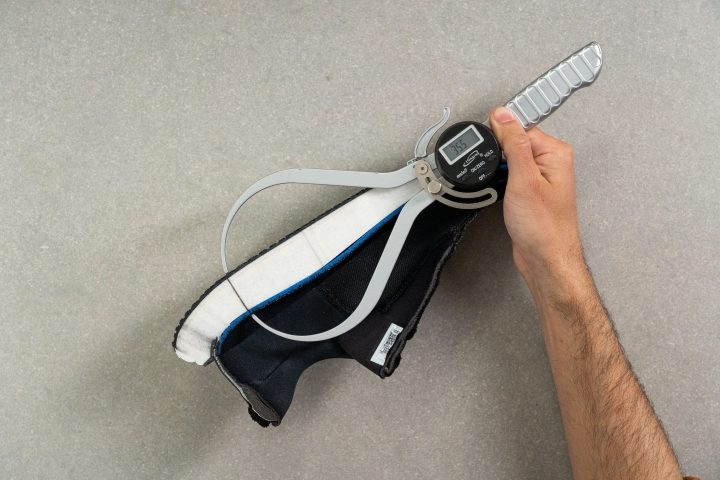 Fact check
Contrary to the official figure, we found that at the forefoot the midsole is not 28 mm high, but 23.5 mm! This also means that the heel-to-toe drop is 12 mm and not 9 mm as officially stated.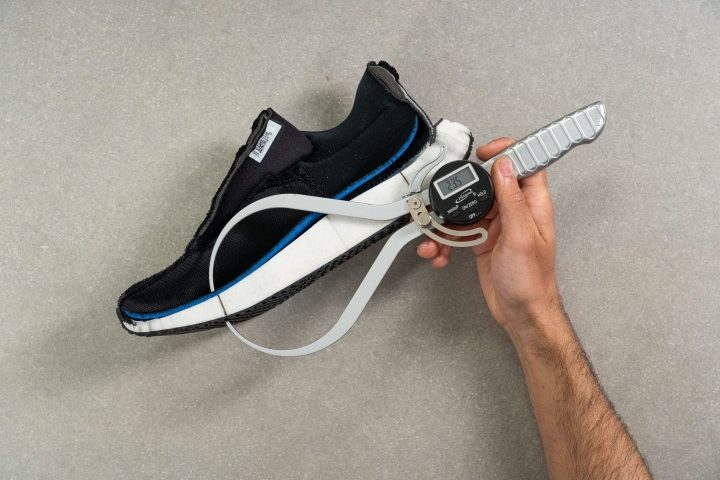 Disclaimer: Our stack measurements are taken with the insole included.
The insole of the Invincible Run FK 2 is 3.3 mm, while the average is 4.5 mm. There was probably no need to use a thicker insole in this case, as the shoe already offers plenty of soft cushioning underfoot.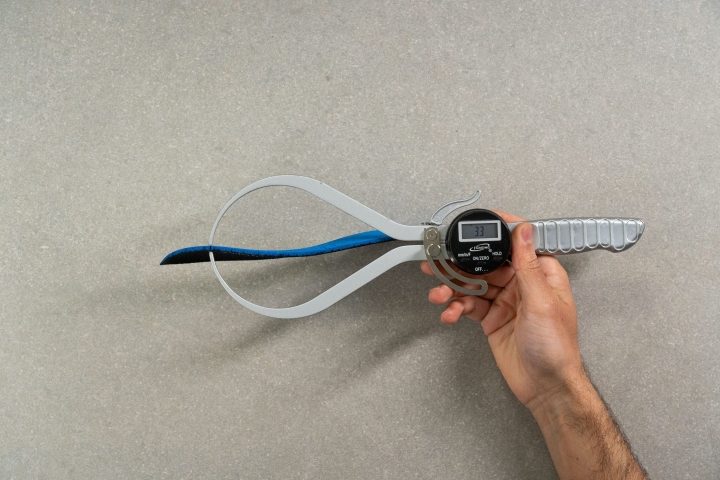 Ready for the sharp corners
There are plastic rails in the heel that keep the foot locked in position. A runner who claims to "overpronate when running on tired legs" says they really appreciated this. On top of this, it has a wide base that ensures steady strides.
It has "like a bunion of foam sticking out from the side," observes one running expert. They are referring, of course, to the wide forefoot, which provides surefooted strides during sharp turns.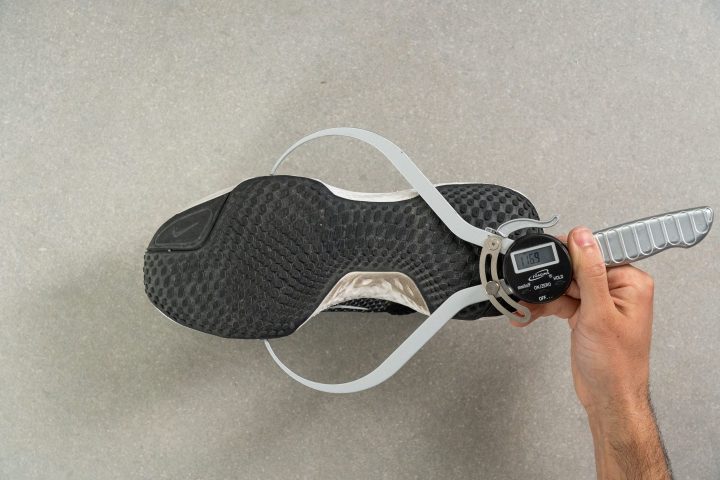 Fact check
It's true that the sole at the forefoot is slightly wider than most shoes we tested. We measured 116.9 mm, which is 3.8% wider than the average (112.5 mm).
This, together with the TPU heel clip, can help with stabilizing the foot.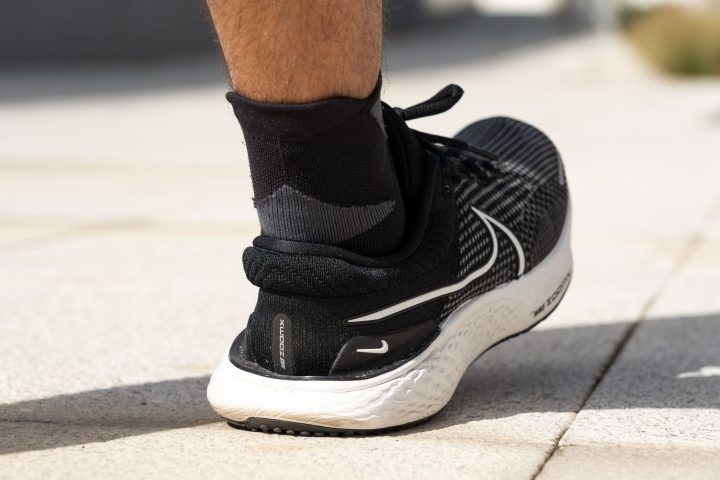 Room for big toes
Version one of the Nike Invincible Run already had a wide-toe box. And in this iteration, it's made (slightly) wider. And as most runners report, it has a good amount of room for those with fat toes and even those with wide feet. And if you're clocking up the miles, don't worry about foot swelling; you have more than enough space here.
Fact check
We double-checked this in the lab and found that at the big toe the upper of the Invincible Run Flyknit 2 is 5.6% wider than the average.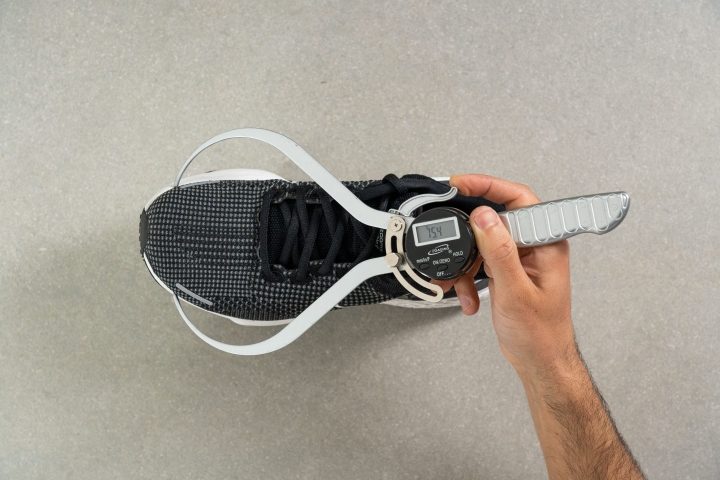 Our caliper measured 101 mm at the widest part of the upper. Being the average 97.7 mm, this Nike shoe is 2.3% wider than most shoes we tested in our lab.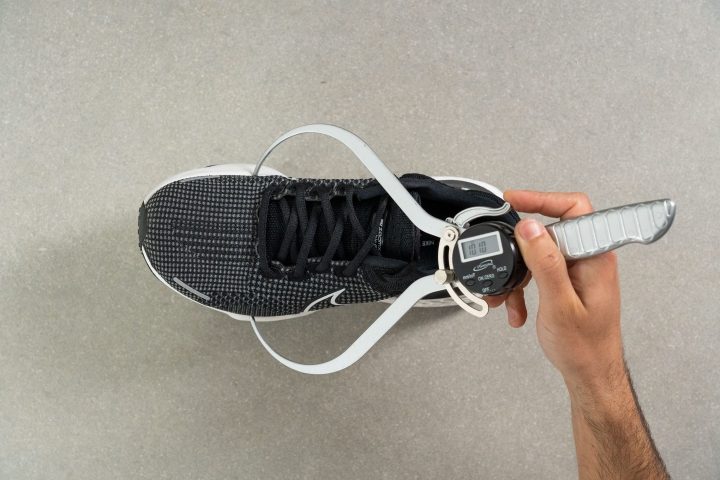 Great even in cold weather
As mentioned before, this is a soft shoe. What's more, it's also flexible: in our test, it scored 2 out of 5 (where 5 is the stiffest) both for longitudinal and torsional flexibility.
The second test confirms the results we found in the first one: out of all the shoes we had in our lab, it's 35% more flexible.
What's astonishing, is that it does not change much when the temperatures go down. When we put it in a freezer, we found that it became 27.2% less flexible, well below the average of 44%, and its foam got only 21.8% firmer (the average is almost 27%).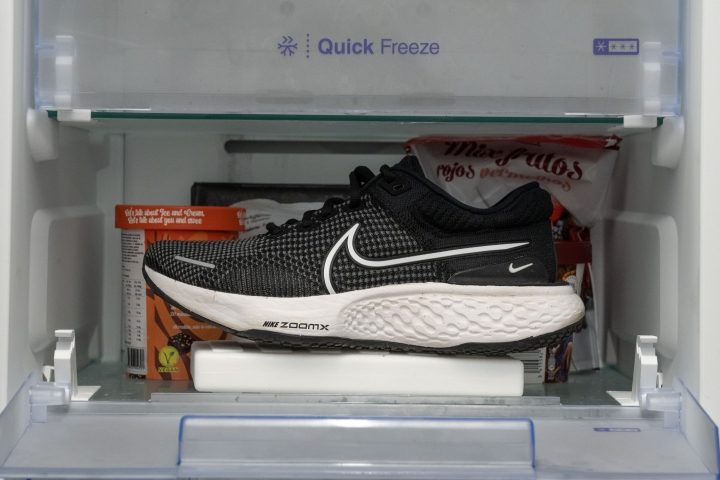 Visible at night? Try again Nike
The shoe has a reflective insert positioned on the external side of the toe box, but it's just too tiny to be of real help when it's dark. Besides, the shoe would be much more visible if it had one more reflective detail on the back.
Outsole is underwhelming
Yes, it grips on light trails, but for $180 traction is not enough to make up for its lack of durability. "Durability is its biggest weakness," states one Nike loyalist. And others agree with this too.
Fact check
The results we had in our lab might explain the poor durability of the outsole. Soft outsoles tend to last less than hard ones, and the rubber here is 9.2% softer than average.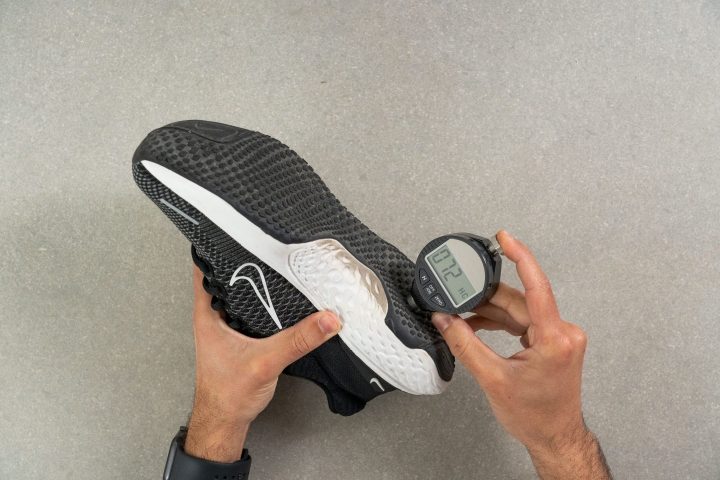 And worse, it's not even the grippiest on wet concrete. "The tiny nubs didn't do much to prevent me from slipping," reports another running shoe reviewer.