6 Best Weightlifting Shoes For Women in 2023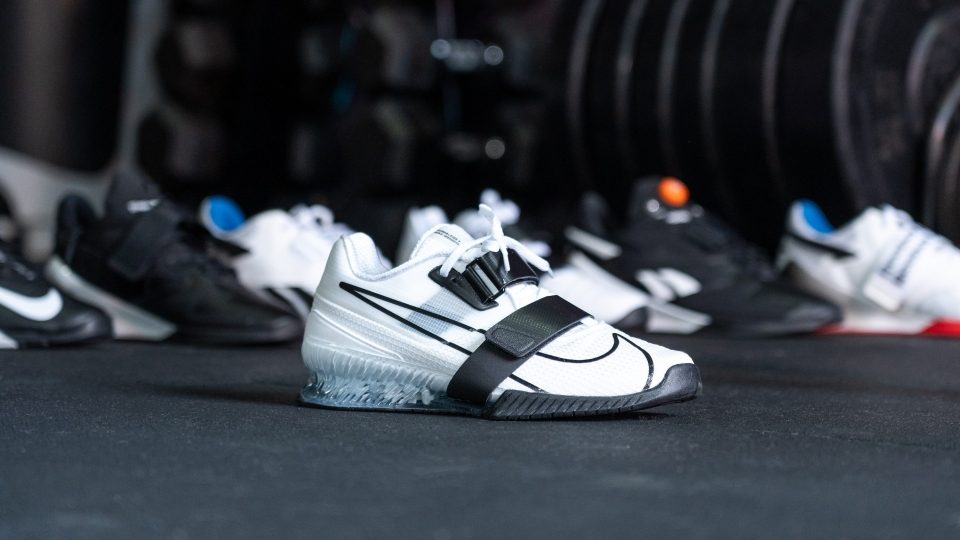 We earn affiliate commissions at no extra cost to you when you buy through us. Why trust us
Though weightlifting is incorporated in a lot of workout programs such as CrossFit and HIIT, it is still a discpline that stands on its own. It has unique demands such as maintaining an upright posture and a deeply and securely rooted stance. A good weightlifting shoe for the ladies is going to be helpful in meeting these demands.
Even if it is already a specialized discipline, the number of weightlifting shoes available for women can still be overwhelming. Hence, we made a list of the most worthwhile ones, and made it available to you here. Reebok and Adidas are among the brands that dominate this list.
How we test weightlifting shoes
Ranking shoes is an exercise in futility if we cannot maintain our objectivity and credibility. Hence, we make sure of the following:
We appreciate freebies but we don't just accept them especially if it's a shoe that we are going to review.
We write reviews only AFTER we've used the shoe in actual weightlifting sessions for at least two weeks.
We have our own opinions, as we check others' (reviewers from outside RunRepeat) as well before we finalize our review.
In addition to our qualitative assessments, we also calculate the Corescore of each women's weightlifting shoe. This figure is technically the weighted average of all the individual ratings from experts, avid weightlifters, and hobbyists from all over the web.
Comparison of the 6 best weightlifting shoes for women
| | | | | | | | |
| --- | --- | --- | --- | --- | --- | --- | --- |
| Best | | | | | | | |
| CoreScore | | | | | | | |
| Users rating | | | | | | | |
| Experts | | | | | | | |
| Best price | | | | | | | |
| Ranking | | | | | | | |
| Popularity | | | | | | | |
| # of colorways | | | | | | | |
This is our complete guide to purchasing women's weightlifting shoes. I've been a personal trainer and gym owner since the mid-80s, and have worked with hundreds of women on the gym floor.
That experience has given me plenty of insights into finding the ideal women's weightlifting shoe.
The essential attributes of women's weightlifting shoes
Here are the must-have components of a reliable weightlifting shoe for women:
Women's weightlifting shoe essentials

Midfoot security: straps are often used to achieve a tighter fit; these may be instead of or in addition to shoelaces.

Wide toe box: to allow the toes to spread out while lifting.

Elevated heel: helps to squat deeper in an upright position; ranges from 15 mm (0.6 inch) to 22 mm (1 inch)

Rigid heel: most heels will be constructed from wood, TPU, or EVA.
A note about comfort
It's worth pointing out at the very outset that women's weightlifting shoes are designed for function rather than wearer comfort. As a result, you won't find a lot of cushioning or padding around the heel. The whole idea is to make the foot as solidly grounded as possible.
Cushy trainers like this and (God forbid) running shoes are not firm enough to provide enough stability
To explain the importance of having a solid foot position when weightlifting, I like to use the illustration of firing a cannon. Imagine the effect of firing a cannon from a canoe. Most of the explosive force of the cannon shot will be lost due to the instability of the firing platform - and you'll probably end up being catapulted into the water!
A similar thing happens if you don't have a secure foot position when weightlifting. You'll end up losing a large proportion of your lifting force through shoe cushioning, lateral foot movement, and other unwanted power leaks.
The rise of weightlifting shoes for women
As a female weightlifter these days, you are spoiled for choice when it comes to dedicated lifting shoes. But it wasn't always like that. In fact, until around a decade ago, there was no such thing as a women's weightlifting shoe. But the explosion of interest in women's weightlifting and powerlifting over recent years has seen every major manufacturer bring out a line of shoes for women that is on par with their men's range.
So, what did female lifters wear before dedicated women's weightlifting shoes became a thing? Pretty much whatever they could find. That included ordinary trainers, running shoes, boxing boots, and men's weightlifting shoes.
Adidas proved to be the market innovator when it came to weightlifting shoes. Inspired by the russians, who saw the need for a raised heel in response to the deep split snatch position that became all the rage in the 60s, the company paired with Olympic lifter Tommy Kono in the early 70s to create their first raised heel lifting shoe. The original Kono shoe had a high top but this was soon abandoned and a lower cut, which allowed for greater ankle mobility, was adopted.
Adidas introduced the first weightlifting shoe available in women's sizes, the Adipower, in 2012. The Adipower saw a departure from a wooden heel to thermoplastic polyurethane (TPU). This was soon picked up by other manufacturers. With Adidas having led the way in women's lifting shoes the other major players soon followed.
Most popular women's weightlifting shoe brands
Here's a rundown of the major players in the women's weightlifting shoe space, along with the key features of their range:
Adidas
Adidas is the innovator of the western weightlifting shoe industry. They offer a wide range of models and heel heights, from 0.6 inches (15 mm) to 1 inch (25 mm). The Adipower remains their top seller, with the Power Perfect running a close second.
Nike
Nike got into the weightlifting shoe market not long after Adidas but then bowed out in the 90s. only to return in 2009. The key features of Nike women's lifting shoes are a TPU heel, single or double straps, and a standard heel elevation of 0.8 inches (20 mm). See their top-selling Nike Romaleo.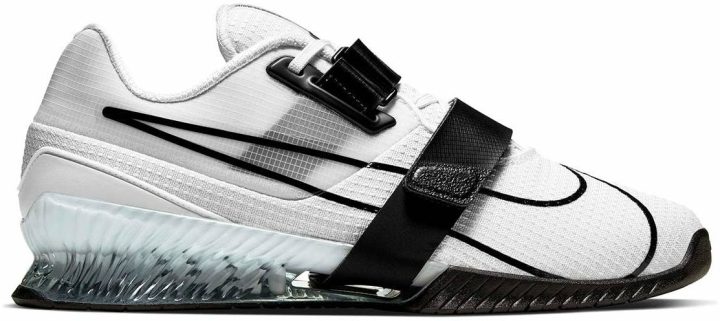 Reebok
Reebok introduced its first pure weightlifting shoe, the Legacy Lifter, in 2017. It was brought out in both a men's and women's version. The Legacy Lifter and Lifter PR are the most popular women's lifters, both having a TPU heel.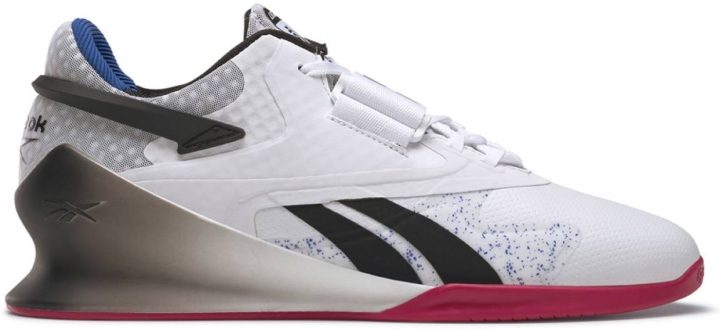 NOBULL
NOBULL introduced its first lifting shoe in 2016. They are known for their range of leather shoes for women, made from hand-selected, top-grain leather that is embedded with natural oils. The heels are made from stacked leather that is individually cut, bonded, waxed, and finished. Heel heights on NOBULL women's lifting shoes tend to standardize at 0.75 inches (19 mm). NOBULL leather weightlifting shoes for women are among the most expensive on the market.
Why buy dedicated weightlifting shoes
Any load-bearing structure, from an apartment block to your own body, is only as good as the foundation that supports it. When you begin lifting weights, your body becomes that weight-bearing structure. And it's your shoes that connect it to the ground.
Lifting weights in a pair of compressive, cushioned shoes would be like building an apartment on the sand. Some of the muscular and explosive power that is meant to be propelling the weight up is going to be lost in the compression effect of the shoe. These power leaks will prevent you from achieving your maximum strength potential.
That's why you should do your squatting and overhead weightlifting exercises with weightlifting shoes on your feet.
Let's consider half a dozen more reasons to invest in a dedicated weightlifting shoe:
Weightlifting shoes encourage proper form
People who squat with flat heels have a tendency to round their backs as they push out of the bottom position of the exercise. That's not good as it puts a lot of stress on the spinal discs, which is compounded by the compressive pressure of the weight on the bar.
Squatting with an elevated heel helps to overcome the rounded back problem. When your heel is higher than your toe, you will automatically maintain a more upright torso position as you go in and out of a squat. This increased biomechanical positioning allows you to bring your knees forward beyond your toes, which naturally keeps your torso more upright.
A number of studies confirm that squatting with an elevated heel shoe will reduce the forward lean issue that can make squatting a lower back hazard. In one study, in which college-aged students were analyzed performing a 60% of one rep max squat with and without raised heel weightlifting shoes, wearing the shoes was seen to significantly reduce overall trunk lean and shear stress on the lower spine.
The researchers recommended that 'weightlifting shoes should be used by those who are prone to displaying a forward trunk lean and who aim to increase knee extensor activation.' [1]
Better quad activation
When you squat with a raised heel, your knees are able to track over your toes. This allows for greater knee flexion and reduced hip flexion. The result is greater involvement of the vastus medialis (VMO) quadriceps head that sits directly above the knee joint. The VMO is also known as the teardrop muscle. It is the main strengthener and support muscle for the knee. Your glutes and hip extensors will be de-emphasized as the exercise more directly works the quads. [2]
Keeps you securely grounded
Rigid weightlifting shoes provide that all-important secure base to push from. Even though it might seem easier to do your heavy lifts in your everyday trainers or running shoes, you won't be able to perform as well, or as safely, if you do!
The solid heel of a woman's weightlifting shoe, combined with a secure lockdown system, firm midsole and enhanced sole grip prevent the tiny foot movement that could jeopardize your safety and dissipate your power.
Women's weightlifting shoes feature a textured, flat sole to make sure that you're getting the most secure grip possible.
Reduces ankle strain
The rigid heel and higher heel height of women's weightlifting shoes reduces ankle dorsiflexion. This is the reflexive drawing of the toes back to the shin that can increase your chance of suffering an ankle injury.
When should (and shouldn't) women wear weightlifting shoes?
Weightlifting shoes are designed to be worn when doing certain core weight training exercises:
Squat
Clean & Jerk
Snatch
Push Press
They can also be worn for lower body exercises such as the leg press and hack squat. Wearing heel elevated shoes will help to emphasize your quadriceps when doing lower body pressing moves. So, if you want to target the quads more than the glutes or hamstrings, it's a good idea to wear your lifting shoes.
One exercise that you shouldn't wear weightlifting shoes for is the deadlift. Doing so will increase your lifting range of motion and compromise your hip positioning during the movement.
What to focus on when shopping for a women's weightlifting shoe
How high should the heel be?
Women's weightlifting shoe heel heights vary from 0.6 to 1.0 inches.
The ideal elevation for you will depend on your squatting style and on the length of your femur (thigh bone).
Women who squat with the bar high on their back and, or, have a relatively narrow foot position, need a greater degree of knee flexion to perform the exercise with proper form. This will require a higher heel than a low bar squatter with a wide foot position.
Women with long legs relative to their torso will also gain from a higher heel elevation than those with shorter legs. Conversely, people with shorter legs should choose a lower heel height.
TIP: At the end of the day, the best heel elevation for you is the one that feels most natural. If possible, put the shoe on and move about in it before committing to the purchase. If you're buying online, you can still go into a retailer and try on a pair of the shoe's you've got your sights on. Perform a few body weight squats to assess the movement pattern and comfort level.
Heel comfort vs rigidity
Women's weightlifting shoes are designed for functionality rather than comfort. The heel of a weightlifting shoe is meant to be rigid to provide a secure ankle base and prevent any lateral heel movement. The most commonly used heel materials are:
An EVA heel is relatively light, incredibly durable, and slightly more compressible than other alternatives.
TPU, or Thermoplastic Polyurethane, is very resilient and is lighter than other options. It is also much more compression resistant than EVA.
Leather and wooden heel shoes are much noisier than the other alternatives. A wooden heel will provide the most rigidity.
The heel shape is one more crucial factor to consider. The broader the heel, the more stability and support it will offer.
Why you need a secure locking mechanism
When you're squatting or doing Olympic lifts, your feet are what keep you grounded. Any lateral movement or foot slip during the execution of a lift could spell disaster. That's why every aspect of a woman's weightlifting shoe needs to be rock solid - including the locking mechanism.
Many of the popular brands of women's weightlifting shoes use a combination of straps and laces to achieve the most secure fit possible.
Velcro straps may be single or double:
| | |
| --- | --- |
| Single strap | If your workout regularly involves doing exercises that require a high degree of ankle mobility, such as the split jerk, you'll be better off with a shoe that is not completely rigid, so go with a single strap system. |
| Double strap | I recommend going with a double strap system as this will secure the entire midfoot area, not just the part that lies under the strap. |
Midsole and toe box considerations
The rigidity of the shoe should carry on into the midsole area. The more solid the sides of the shoe, the less likelihood there is that your foot will slide out as you're exerting maximum effort on the lift.
When it comes to the toe box - that's the area that runs from the end of the lacing to the end tip of the shoe - you need a decent amount of width. That's because when you plant your foot on the ground during squats or other weightlifting moves, you want your big toe and pinky to spread out in order to achieve the most secure foot grip.
When trying on the shoe, splay out your toes and press them down into the soles. If your pinky or big toe is pushing into the sides of the shoe, the toe box is too narrow for you.
Ideal Construction Materials
Women's weight-lifting footwear is made to be strong as well as stable. They are most often constructed from such materials as timber, leather, EVA, TPU, textile, and mesh, with strong composite material for the soles.
Women's weightlifting shoes are not known for their breathability, with leather being the least airy of them all. The compromise is that the more breathable material used, such as mesh, the less stiff the shoe will be. The most breathable weight-lifting shoes that I've found were made from perforated natural leather.
I recommend opting for a TPU midsole material. In my experience, TPU supplies the very best combination of stability, longevity, compression resistance, and breathability.
If you have bigger than typical feet, I suggest going with a leather or leather/mesh mix midsole. This combination will ensure more side support if the foot begins to press out laterally.
Frequently asked questions about women's lifting shoes
How long should women's weightlifting shoes last?
A quality pair of women's weightlifting shoes should last between 12 and 24 months. If you are working out in them several times a week, they'll probably need replacing closer to the one-year mark.
Cheaper weightlifting shoes will not be as durable through the midsole and outsole areas and so will need replacing sooner. That's why I recommend stretching your budget and investing in a higher-quality pair that will last for longer.
How do you clean weightlifting shoes?
Rather than throwing your weightlifting shoes into the washing machine, I recommend spot-cleaning them. To do so, dab a little soap on a damp washcloth and gently rub on the areas of the shoe that need attention.
Spot clean your shoes every 3-4 weeks or as the need arises.
How can I take the best care of my weightlifting shoes?
In addition to spot-cleaning your women's weightlifting shoes, I recommend taking them out of your gym bag to air them out as soon as you get home. A final tip that I learned the hard way when you're putting your weightlifting shoes on, is to take the extra few seconds to undo the laces, rather than simply jamming your feet into them!
References:
[1] Sato K, Fortenbaugh D, Hydock DS. Kinematic modifications making use of weightlifting shoes on barbell back squat. J Toughness Cond Res. 2012 Jan; 26( 1 ):28 -33. doi: 10.1519/ JSC.0 b013e318218dd64. PMID: 22201687.
[2] Legg HS, Glaister M, Cleather DJ, Goodwin JE. The effect of weightlifting shoes on the kinetics and kinematics of the back squat. J Sports Sci. 2017 Mar;35(5):508-515. doi: 10.1080/02640414.2016.1175652. Epub 2016 Apr 20. PMID: 27096286.