5 Best Weightlifting Shoes in 2023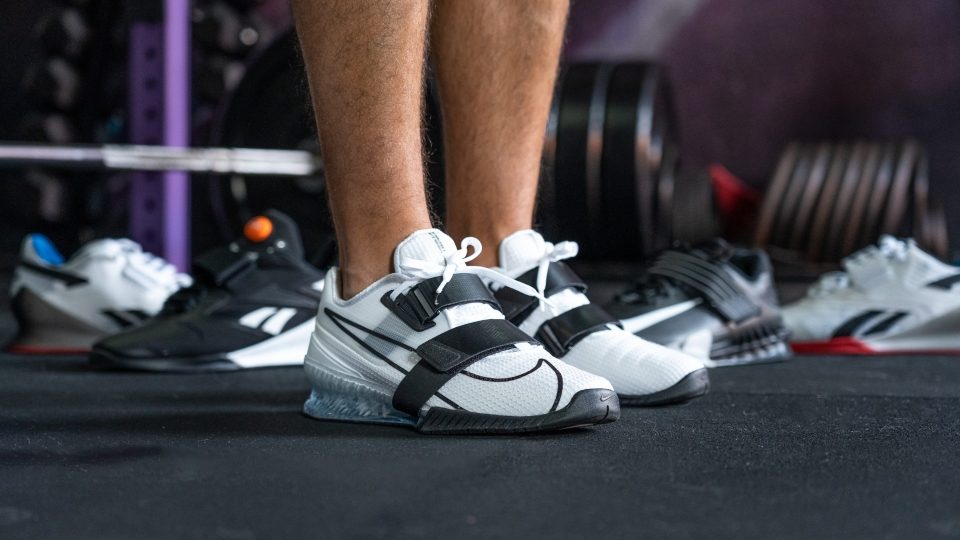 We earn affiliate commissions at no extra cost to you when you buy through us. Why trust us
Also known as lifting shoes or squat shoes, weightlifting trainers come with a wide non-compressible platform, raised heel, and a strap to keep you stable under the heaviest loads.
Whether you are a competitive weightlifter or someone who does strength training, this footwear will keep you sure-footed. While they may all look similar at first glance, there are differences that make some of them better for beginners, advanced athletes, and certain types of exercise.
Since we don't want you to get trounced by the countless factors to consider, we get to the bottom of them all for you! We have tested over 10 lifting shoes to help you find the best option.
Comparison of the 5 best weightlifting shoes
| | | | | | | |
| --- | --- | --- | --- | --- | --- | --- |
| Best | | | | | | |
| CoreScore | | | | | | |
| Users rating | | | | | | |
| Experts | | | | | | |
| Best price | | | | | | |
| Ranking | | | | | | |
| Popularity | | | | | | |
| # of colorways | | | | | | |
Why get a weightlifting shoe
Many gym-goers lift weights using whatever footwear is at their disposal, be it their regular running shoes or even casual sneakers.
These pairs could suffice for very light weights but if you are lifting moderate to heavy loads on a regular basis, there are several solid reasons for considering specialised footwear.
The benefits of using weightlifting shoes

Secure foothold

Extra-sturdy upper materials keep the foot firmly in place.
Wide Velcro straps or BOA dials are added to adjust the fit and hold it at all times. 
A firm heel counter at the back stabilises the rearfoot area.

Raised heel

Helps the wearer squat deeper in an upright position without stressing the ankle.
Ranges from 15 mm (0.6 inch) to 22 mm (1 inch)

Wide stiff platform

The wider base provides a surefooted experience during lifts.
The sole unit is made of dense, non-compressible materials.
The platform is reinforced by a slip-resistant rubber outsole.
If these benefits are not convincing enough, see why this type of footwear is recommended by the International Weightlifting Federation (IWF) or watch a weightlifting session of the Olympic Games. 
Lifting shoes vs. cross-training shoes
But what if you are not aiming for the professional tournaments? You just want to incorporate some lifting into your regular gym session.
In this case, a pair of cross-trainers or CrossFit shoes may indeed be a better option. But let's consider the pros and cons of each type:
Lifter

Cross-trainer

Raised heel (15 - 22 mm)

+ gives an advantage for the following cases:

all squats variations (especially if you can't plant the heel when you squat)
snatches
cleans
jerks
push press
military press

- will not let you do anything else at the gym; masks problems with ankle flexibility

Flat sole (0 - 6 mm)

+ offers the following benefits:

can be used for all gym exercises
help to improve ankle mobility
okay for light to moderate weight training
recommended for deadlifts

- will not help you plant the heel in the squat; can feel unstable for Olympic weightlifting

Non-compressible

+ no wobbling occurs; no power is lost as you go up from the squat

- has no flex or cushioning for any other activity

Compressible

+ gives cushioning and flexibility needed for agile exercises

- the squish will absorb part of the energy you exert when squatting and lifting

Rigid

+ tight casing made of leather and extra straps clasps the foot for stability

- little to no flex makes it uncomfortable to even walk in the shoe; little breathability

Flexible

+ synthetic upper readily flexes in the forefoot to accommodate burpees, planks, jumps, etc.; offers more breathability

- flexibility leads to lack of stability when lifting
Bottom line: If squats, cleans and jerks are the primary focus of your gym routine and you want maximum stability from your shoes, choose lifters. On the other hand, if you want to be more versatile, do all-around workouts, and don't want to change footwear in the midst of a training session, go for the flat-soled CrossFit shoes.
Middle ground: A solid alternative was introduced by Nike in their flagship Metcon line. Starting from the 5th iteration and up, you get a pair of removable Hyperlift inserts along with the shoes. These firm wedges can be placed underneath the insole in the heel area to increase the heel height by 8 mm for men and by 6 mm in the women's version. Adding firmness and heel elevation, these inserts make the Metcon come a step closer to an actual lifting shoe. 
If you are also curious about how running shoes, Chuck Taylors, and being barefoot affects your weightlifting performance, see our science-backed study on lifting shoes.
Choosing the right weightlifting shoe for you
The primary parameter to consider in lifting shoes is the heel height.
Weightlifting shoes are available in several heel heights, ranging from 15 mm (0.6 inches) to 22 mm (1 inch).
The tendency for beginners is to select the lower height, while the more professional athletes choose the highest heel height.
Lower range

Adidas Powerlift

15 mm (0.6 inch)

Inov-8 Fastlift

16.5 mm (0.65 inch)

Best for:

beginner and seasoned athletes
powerlifting-based training

Middle range

Adidas Power Perfect

19 mm (0.7 inch)

Adidas Adipower

20 mm (0.8 inch)

20 mm (0.8 inch)

Best for:

intermediate to advanced athletes
a mix of powerlifting and Olympic weightlifting

Upper range

22 mm (0.9 inch)

Best for:

advanced athletes
Olympic weightlifting
Weightlifting shoes help you achieve the best results in what they are intended for - weightlifting.
This footwear is not meant as all-around gym footwear. That's why it is still crucial to work on the mobility, flexibility, and strength of your feet and ankles outside of your lifting sessions. Keep your training routine versatile to succeed in sports and stay healthy.
How we test weightlifting shoes
Personally, we do not take the process of choosing our lifting shoes lightly. Backing our statement are the things we painstakingly do to end up with only the best while simultaneously taking out the tendency of biased reviews out of the equation:
We acquire the lifting shoes using our own hard-earned money.
We use the lifting shoes not only for strength and lifting exercises but also for other sets of workouts. Plus, we do multiple reps of each workout to obtain more significant observations and conclusions. We also warm up in them. Finally, we use them in our home, in the gym, and outdoors.
We execute various lab tests that further check the durability, breathability, and even stability of the lifting shoes. Cutting the shoe into pieces is also one of the things we do in the lab for a fuller perspective.