7 Best Hiking Boots For Women in 2023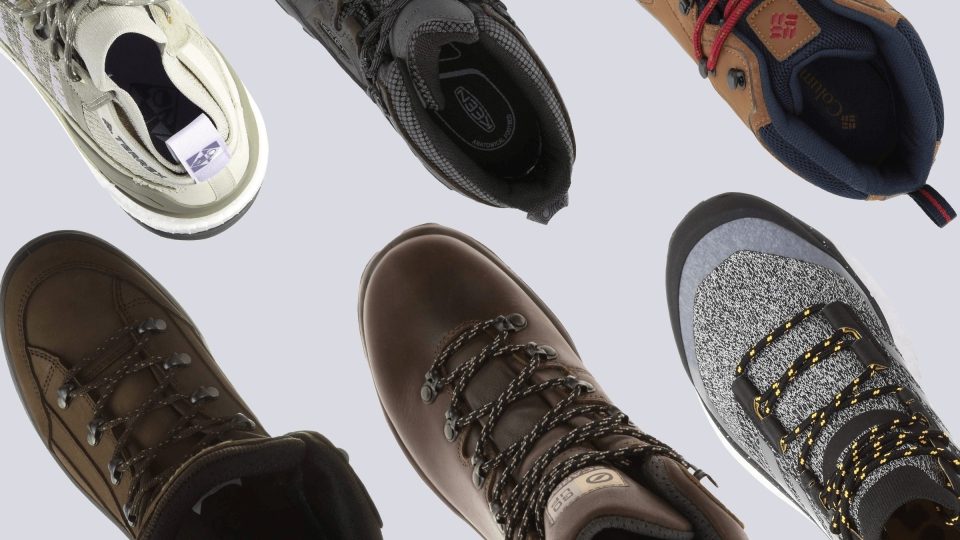 We earn affiliate commissions at no extra cost to you when you buy through us. Why trust us
Picking the ideal pair for your outdoorsy escapades can be a real challenge more often than not. To make the hunt so much easier for you, we've tested 300+ hiking boots for women across multiple brands.
Do you need a tough-yet-comfy well-rounded hiker? How about a lightweight kick that propels on manicured trails? Or perhaps something that sits on the affordable end of the pricing scale? Whatever you need, we got the right boot down below.
How we test hiking boots
The way we make compelling and trustworthy reviews is hardly complicated at all. Here is our straightforward approach:
Hiking boots for women can be as expensive as those for men. That said, we buy them using our own funds to be as objective with our reviews as possible.
We test each hiker for days, even weeks. Every pair is gauged, from comfort level to durability.
Our reviews on the best hiking boots for women reflect thousands of opinions from regular users and experts alike.
We assign a CoreScore to each reviewed hiker and then use that score to help us define our top picks.
Comparison of the 7 best hiking boots for women
| | | | | | | | | |
| --- | --- | --- | --- | --- | --- | --- | --- | --- |
| Best | | | | | | | | |
| CoreScore | | | | | | | | |
| Users rating | | | | | | | | |
| Experts | | | | | | | | |
| Best price | | | | | | | | |
| Ranking | | | | | | | | |
| Popularity | | | | | | | | |
| # of colorways | | | | | | | | |
There is so much to consider when planning your next hiking trip. Everything from planning the route, deciding what gear to bring, and getting a group of like-minded friends together are all really important to consider but don't forget to give lots of thought to the hiking boots that you'll be wearing.
Here's what to keep in mind when trying to find the best hiking boots for women.
Choose your hiking boot based on the activity
There's never been a better time to go shopping than now. There's such a huge range of hiking footwear choices for women that it's easy to find the best hiking boots for women that perfectly suit your plans.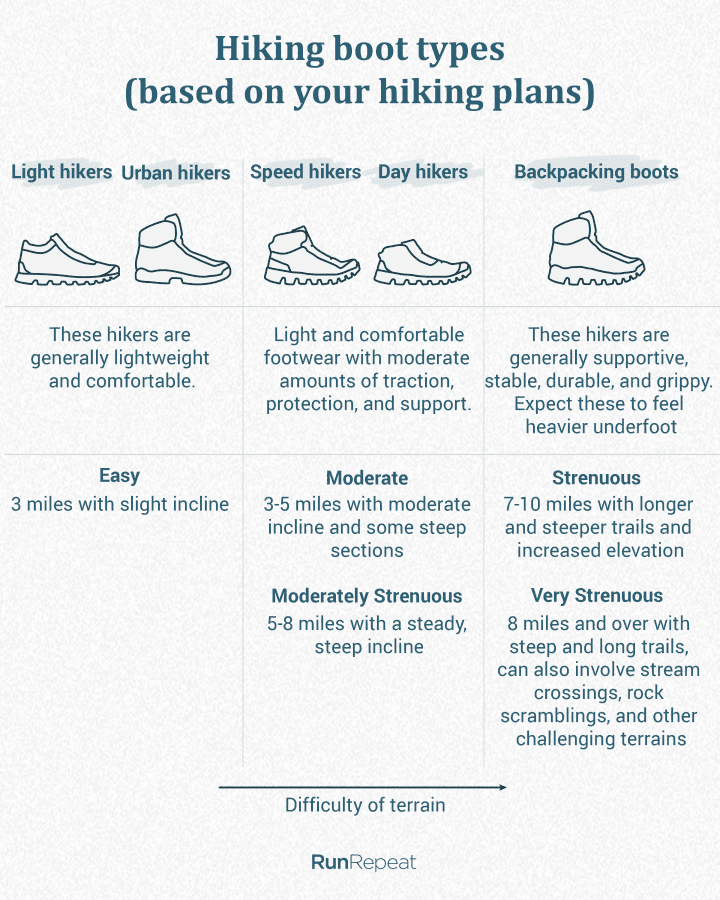 Boots for day hiking
First up, hiking boots can be used for day hiking. Having a specifically designed tool for the job allows you to hike in whatever conditions. Hiking boots are rugged enough to take on almost any trail, comfortable enough to be worn all day, and have plenty of features and technologies to make hiking as pain-free and enjoyable as possible.
Average weight of women's day hiking boots - 434 g.
This category of boots also includes lighter boots known as "speed hikers." This footwear is even lighter and is perfect for those who carry smaller backpacks and love going faster through the trail.
Average weight of women's speed hikers - 425 g.
Boots for backpacking
Picture yourself striding across the mountains for days on end on an epic backpacking trip. When you're out in the wilderness for an extended period of time, it is so important that your equipment doesn't let you down.
Hiking boots are great for backpacking, but you need to consider the durability of your boot. Trekking with all your gear on your back increases the load on your feet and boots, so you should consider getting a mid-weight or heavy-weight pair of boots. These are often more durable than lightweight boots and will stay in better condition for longer, letting you hit your daily distance targets.
Average weight of women's backpacking boots - 540 g.
Hiking boots for walking (urban hiking)
There's no issue at all when it comes to walking in hiking boots every now and again. Most hiking boots will be overkill for walking trails, the added features needed for hiking aren't needed when it comes to walking and add unnecessary weight.
Consider the places and conditions that you'll be hiking in, in some cases, you'll be better off with a hiking shoe. But if you'll only occasionally be out on walking trails, and don't mind the added weight, you'll be perfectly fine using your hiking boots for urban walking and light hikes.
What sets women's hiking boots apart from men's
Most hiking boots are unisex, coming in a broad range of styles with a suite of features that most hikers will be very satisfied with. But for those looking for a specialized boot, there are both men-specific hiking boots and women-specific hiking boots.
Women's boots differ because they are:
Lighter (by 98 g on average)
Made for women's feet
Come in different sizes
Released in different colorways
Women's hiking boots are lighter
Weight is an important factor when it comes to finding the best hiking boots for women. A good pair of lightweight women's pair of boots like the Lowa Renegade GTX Mid comes in at 900g a pair. That's a considerable difference compared to a pair of men's hiking boots that can weigh over 1kg.
This might not seem like a huge difference on paper, but out on the trail on a long hike, this weight-saving is phenomenal.
Here are a few more examples of weight differences in men's vs. women's boots:
The best hiking boots for women save weight with smart design choices that keep the weight low, but the quality high. Using lightweight materials for the upper, midsole and insole shaves off quite a lot of weight, normally this can affect the durability and waterproofness, but the best boots are able to combine the best of both.
More accommodating for a woman's foot
The female foot differs from the male foot. They're often more flexible with higher arches, and hiking brands have fine-tuned their boots to perfectly fit women's feet. A slightly differently designed midsole and insole to support the higher arch can make all the difference during a long hike.
Women also tend to have more flexible feet that move more inside the boot. To combat this, some of the best women's hiking boots have a narrower fit and ways to lace the boot to secure the foot as much as possible.
Different sizing schemes for women's boots
Generally speaking, women's hiking boots come in smaller sizes than their male-specific counterparts. This creates greater choice and accessibility for female hikers, letting more ladies get out on the trails and go hiking.
Women also have the benefit of buying men's hiking boots if they prefer more volume inside their footwear or simply like a different color scheme. To get the right size, go down 1.5 US size from your regular boot size. Example:
| | |
| --- | --- |
| Men's | Women's |
| US 5.5 | US 7 |
| US 6.5 | US 8 |
What hiking boot features do you need?
There is a huge variety of boots, features, and technologies out there, so before you jump into buying a pair of hiking boots, you need to consider where and how you'll be using your boots.
Safety
Like with any activity that can take you to remote places, far from civilization, it's vitally important that we're safe while we're out there. This should be a key focus when it comes to buying hiking boots.
Consider what conditions and terrain you'll be hiking in.
| | |
| --- | --- |
| Dry, summery conditions | Icy, wintery conditions |
| don't require lugs as deep or thread patterns as aggressive, but the sole should still be made of high-quality material with great grip | require boots with deep lugs and aggressive thread patterns on the soles; this will give you better stability, grip, and traction in tough settings |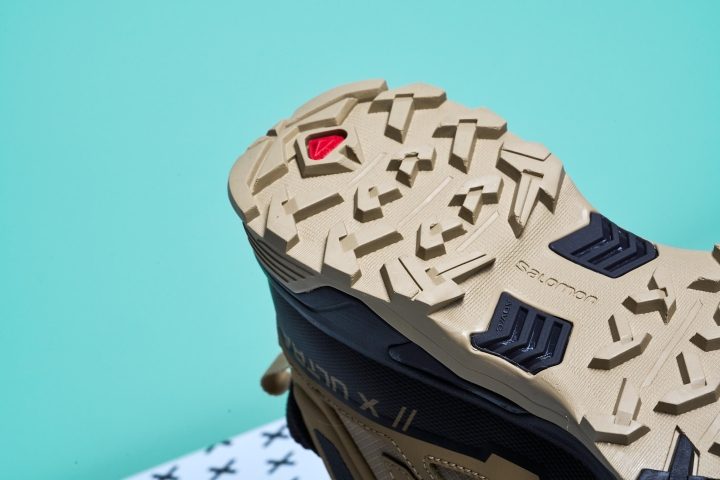 Salomon X Ultra 4 Mid GTX - one of the most aggressive hiking boots (5.2 mm deep lugs)
If you think you'll be in extreme winter conditions, you'll need to find a boot that's compatible with crampons. This is an aggressive, metal grip system that clips onto the outsole of the boot to make icy conditions more manageable. See mountaineering boots.
Hiking boots come with a tall or medium-height cuff and this has a big influence on the safety of the boot. Hiking across loose, rocky terrain can cause us to roll our ankles, but if you have a higher, more supportive cuff, you'll have more protection. These boots are generally heavier though, so there are trade-offs to consider.
| | | |
| --- | --- | --- |
| | High-cut women's boots | Mid-cut women's boots |
| Average weight | 521 g | 445 g |
Waterproofing
Waterproofing is one of the first things people think about when they first start looking at hiking boots.
There are three main types of waterproofing:
Natural material waterproofing
Synthetic material waterproofing
No waterproofing
Waterproofing with natural materials, like full-grain leather, is a very popular and reliable option. Full-grain leather offers great protection against the elements letting you explore in more challenging conditions. Leather requires some maintenance, but if treated properly, it can last for years. Another caveat is that leather boots on average weigh 25 g heavier. Last but not least, these boots are not an option for vegan hikers.
See women's hiking boots with leather uppers.
Waterproofing with manmade materials, like Gore-Tex, has become incredibly popular in recent years, and for good reason too. Gore-Tex is a proprietary material that prevents water from passing through, yet allows moisture to escape. This gives boots with Gore-Tex great functionality as they perform great in winter and summer.
See our guide on the best waterproof hiking boots for women if you plan to be in very wet conditions.
Some lightweight boots have no waterproofing at all. You might think this is a downside, but in the right conditions, no waterproofing is the best option. On hot, sunny days in dry conditions with no chance of rain, waterproofing can be a burden as breathability is the main focus. By not having to worry about water entering the boot, breathability can be improved.
See breathable hiking boots for women.
Protection
The best women's hiking boots protect your feet in tough conditions.
They do this with:
durable uppers
rugged outsoles
ankle supports
Durable uppers made from full-grain leather or synthetics help keep water and snow out, so your feet stay dry and warm out on the trail. You're also protected from rocks and branches hurting your feet.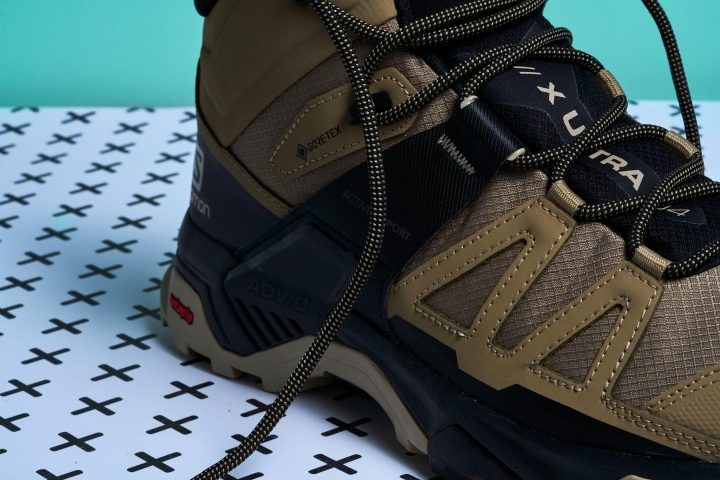 Rugged outsoles protect your feet from whatever you'll stand on during your hike. Trail debris can pierce through the sole of sneakers, but hiking boots are much tougher and keep you safer on the trail.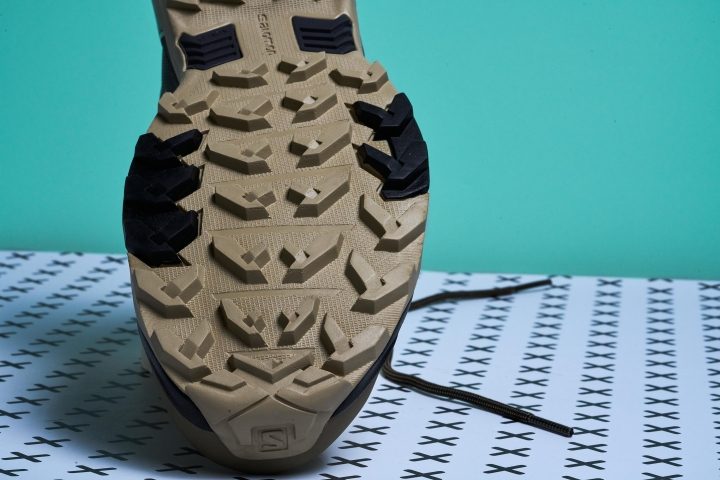 Hiking boots are designed to hold your foot in a secure place as you hike. Ankle supports protect your ankles in tricky and loose terrain as they rise higher up your leg than walking shoes and have less flexibility and movement than other parts of the boot.
Comfort
When it comes to finding the best hiking boots for women, comfort is one of the most important factors. But, as we know, comfort is hugely personal, so it's a great idea to know what comfort options are out there and then choose what suits you best.
Our boot soles are constantly in contact with the ground and have to deal with some rough terrain. Having a sole that absorbs some of these shocks and is durable enough to last in your preferred conditions will keep you comfortable on the trail.
See our in-depth reviews of women's hiking boots to find out more about their comfort level.
Padding
It's important to consider how much padding you want in your hiking boots. Padding makes your boots more comfortable but also adds weight and can extend the breaking-in period. Light-weight boots have less padding than medium and heavy-weight boots, these usually have padding around the cuff and on the tongue of the boot.
Sizing
If your boot doesn't fit properly then you're not going to enjoy yourself on the trail. Too small and you're feet will be cramped and your toes will bunch together, making every step a chore. If your boots are too big, your feet will move too much which creates friction. This is where blisters come from.
It's also really important to consider the width of your foot. Most hikers fit standard boots, but there are some boot makers out there who produce their boots in a wide fit. If you've got a wide foot, this can be a game-changer.
See our guide on how to measure your foot to determine your boot size. You might as well check out the size charts of the most popular women's hiking boot brands:
Here are a few more tips on how to ensure the right size and fit in your future pair of hiking boots.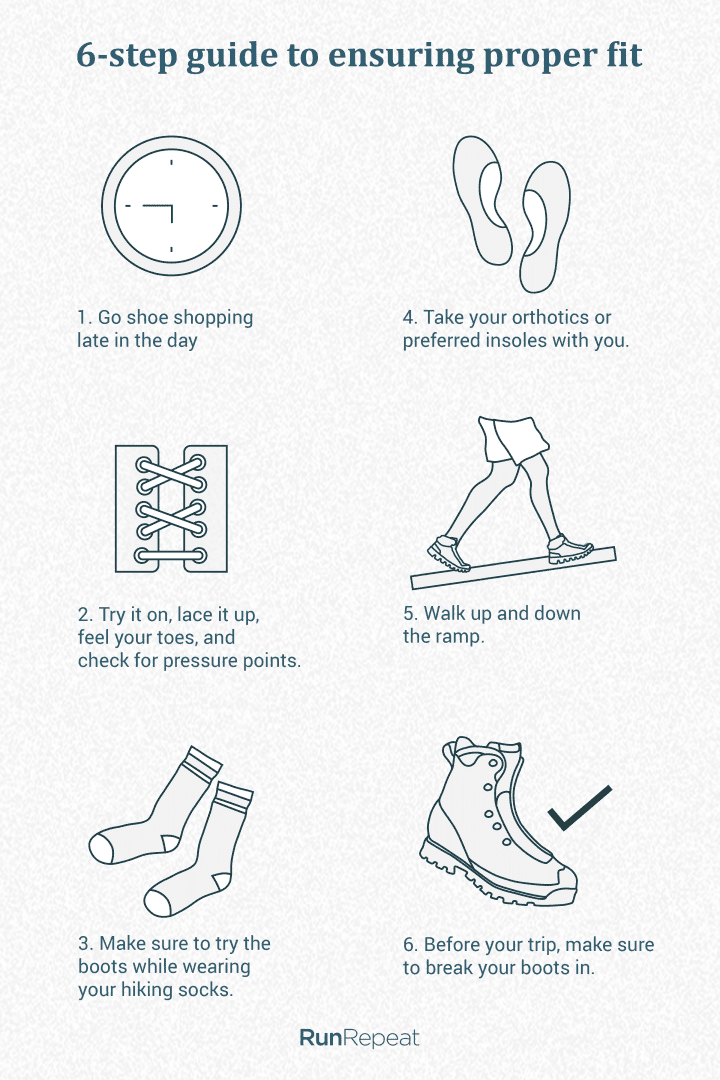 Frequently asked questions about women's hiking boots
There are always a lot of questions when it comes to hiking boots. Here we answer some of the most important ones.
Do I need a women's specific boot?
It's not necessary to have a gender-specific hiking boot, the unisex boots do a great job for hikers all across the world. But it is important to know the features of a women-specific boot and decide if it's the right choice for you.
Do hiking boots fit like shoes?
This depends entirely on the person. Generally speaking, you will want to buy the same size as your shoes or if you plan to wear a thick hiking sock, try sizing up ½ a size. Your boots should fit snugly everywhere, but not tight.
How much should I spend on hiking boots?
There's no exact price point that you should be looking at when it comes to hiking boots. At the very base level, they're all the same in that they allow you to go hiking. It's important to understand what terrain and conditions you'll be hiking in and prioritize boot features around that. If you plan on hiking exclusively in hot, dry conditions, there's no need to spend extra money on highly waterproof boots. Don't miss our guide on the best cheap hiking boots.
The average MSRP of women's hiking boots is $195 ranging from $45 to $470. But thanks to RunRepeat, you are up to date on all the discounts available for each boot.
How long do hiking boots last?
The lifespan of hiking boots depends on what distance you hike and how well you take care of your boots. Wearing a pair of lightweight boots in tough conditions under heavy loads will see them deteriorate faster than a pair of heavy-weight boots in the same conditions.
You can extend the lifespan of your boots by cleaning them properly after each hike, especially in mucky conditions. Clean the leather regularly and treat them
How do I stop getting blisters while hiking?
There are a few ways to do this with the most important being to wear a boot that fits properly. If your boots are too big, your foot will move too much creating lots of friction, this is how most blisters form.
Even with the perfect fitting boots, it's still possible to get blisters, this can happen when your boots aren't fully broken in yet. To help combat this you can wear anti-blister socks which help reduce friction.
What is the best brand of hiking boots?
This is an impossible question to answer as there is no definitive answer. There are lots of great brands out there to buy from, many of which are included in this article. Instead. It's best to think about what you want from your hiking boots, make yourself aware of what's available, and narrow down your choices that way.
There's a lot to consider when looking for the best hiking boots for women. They're often lighter than men's boots, better suited to the shape of women's feet, and come in a more suitable range of sizes.