7 Best Hiking Boots For Men in 2023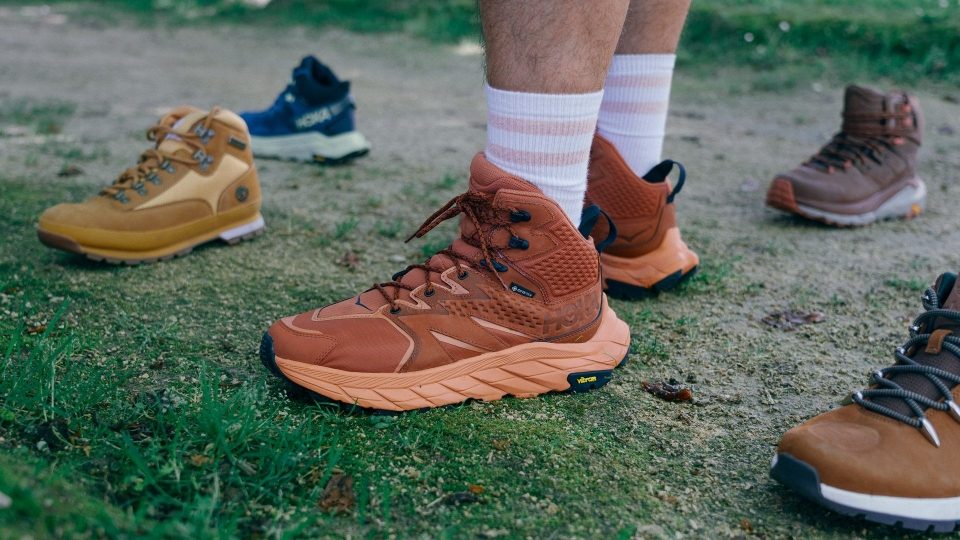 We earn affiliate commissions at no extra cost to you when you buy through us. Why trust us
We have all been there—the terrain all of a sudden becomes tougher, and we wish we had something more formidable wrapping our feet. For such a situation, you and your homies had better be in some of the best hiking boots for men.
Having tested 350+ high-quality men's hiking boots, we give you kicks that deserve the highest recognitions in a handful of categories. So, whether you need a brawny all-rounder or a boot that can pamper your feet while towing a loaded pack, this is the space for you.
How we test hiking boots
We take pride in our unbiased reviews. To make sure that we stay on the lane of objectivity, we live by the following:
Hiking boots for men aren't always cheap. That said, we buy each pair using our money.
We hike for days to test these men's kicks to find out each one's strengths and area of expertise. Over various terrain and in different weather conditions, we test them.
To make our reviews on men's hiking boots comprehensive, we include in the mix thousands of reviews from both regular users and experts.
Every men's hiking boot that we review comes with a CoreScore. This RunRepeat-exclusive scoring system allows us to come up with our top picks below.
Comparison of the 7 best hiking boots for men
| | | | | | | | | |
| --- | --- | --- | --- | --- | --- | --- | --- | --- |
| Best | | | | | | | | |
| CoreScore | | | | | | | | |
| Users rating | | | | | | | | |
| Experts | | | | | | | | |
| Best price | | | | | | | | |
| Ranking | | | | | | | | |
| Popularity | | | | | | | | |
| # of colorways | | | | | | | | |
When it comes to venturing out into the wilderness on epic hiking trails, the last thing you want is to be worrying about your choice of footwear. I've hiked high mountain trails in Canada, remote routes in Australia, and technical loops in Europe, and thanks to my detailed research, I've always had the right tool for the job.
Here's all you need to know to help you pick the best hiking boot for men.
The different types of hiking boots
Hiking boots come in any number of styles, weights, and types - often expertly made for specific situations. Generally, they can be classified into three types:
| | | |
| --- | --- | --- |
| Lightweight boots | Midweight boots | Heavyweight boots |
| under 500 g | 500 g - 650 g | over 650 g |
| best for day hikes and hiking on well-maintained trails | best for multi-day hikes and backpacking trips | best for hiking technical trails and carrying heavy loads |
Here we break down each type in detail, look at their pros and cons, and in what situation you might want to use each one.
Lightweight hiking boots for men
Materials and weight define whether a hiking boot is considered lightweight or not.
A lightweight boot:
Weighs under 500 g per boot
Made from softer materials
Made with breathable materials
Is flexible underfoot
Key benefits of lightweight hiking boots
As the name implies, the main benefit of lightweight hiking boots is their weight. Lighter boots allow you to hike further for longer without the weight penalty of traditional hiking boots. The weight difference between the two can sometimes be as high as 300g per boot - this is a huge difference, especially on long-distance trails.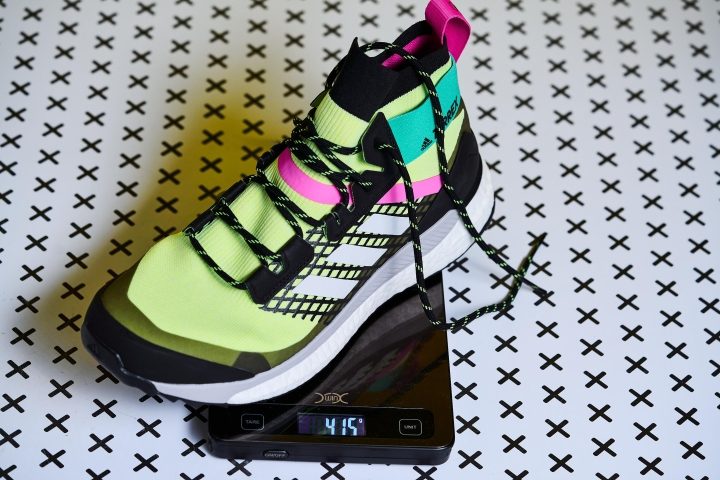 Adidas Terrex Free Hiker (415 g in a men's US 10) - one of the lightest hiking boots
The use of soft and breathable materials is all about comfort. Softer footbeds and uppers mean that the breaking-in period is relatively short, many beginners often choose this route for their first pair of hiking boots.
Breathable materials like mesh and suede allow heat and moisture to escape from your feet, keeping you cool on the trail.
Timberland Euro Hiker (left), Timberland Sprint Trekker (right)
A flexible outsole really helps with control and agility on the trail. While not a huge issue on hard-packed trails, a flexible outsole is such a benefit when you venture onto technical trails with a loose surface as your foot can react quicker and be more agile.
Timberland Sprint Trekker (one of the most flexible hiking boots)
What lightweight boots often lack
To keep the weight down, some sacrifices have to be made. Generally speaking, lightweight hiking boots won't keep you warm in the wilderness. The breathable materials are often quite porous and let water in, meaning you'll need to plan your hikes around the weather.
There's also a chance that they'll have less ankle support than a rigid, heavyweight pair, so you'll have to watch your foot placement on rocky trails.
Best scenarios for lightweight hiking boots
Lightweight hiking boots come into a class of their own in:
Short to medium-length hikes
Summer conditions
Low-altitude hikes
Non-technical trails
Check out our dedicated lightweight hiking boot guide for even more info.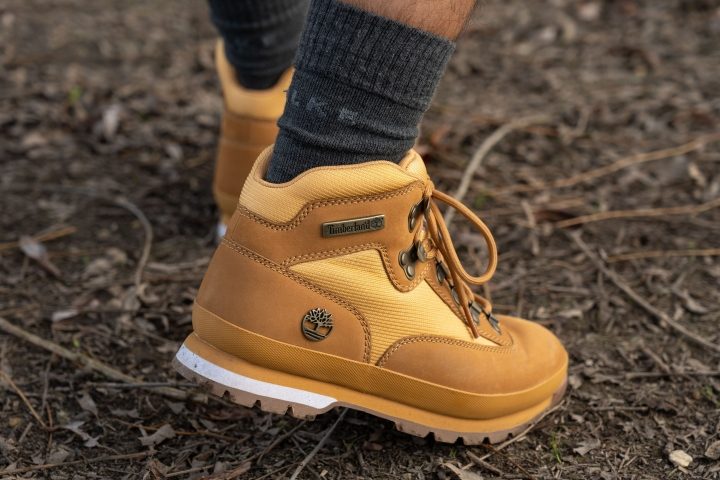 Midweight hiking boots for men
Adaptable and dependable, the best midweight hiking boots for men have:
More cushioning
Higher ankle supports
Durable uppers and outsoles
Better ability to carry loads
Key benefits of midweight hiking boots
Many of the best hiking boots for men fall into this midweight category, simply because they have the best of both worlds, and if you're a beginner looking for your first pair a midweight boot may be your best bank for your buck.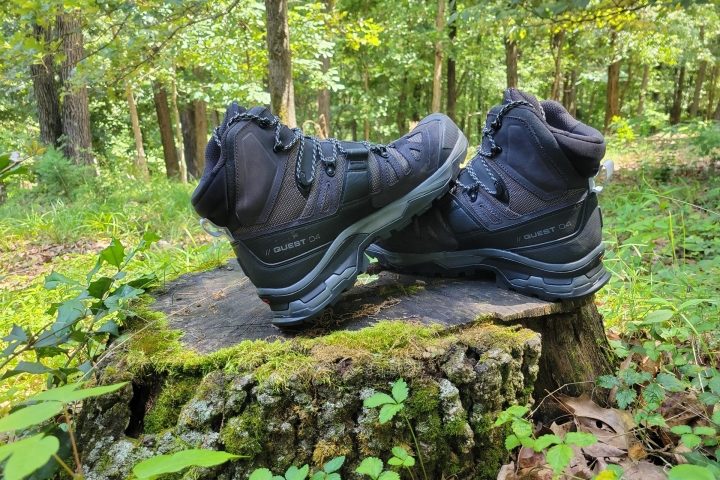 The extra weight is partly made up by the addition of cushioning, this is such a big benefit on long and multi-day hikes where every bit of comfort is appreciated. The higher ankle cuff also adds to this weight, but many appreciate the extra level of protection that comes with it. By holding your ankle in place, you lower the risk of injury if you twist it.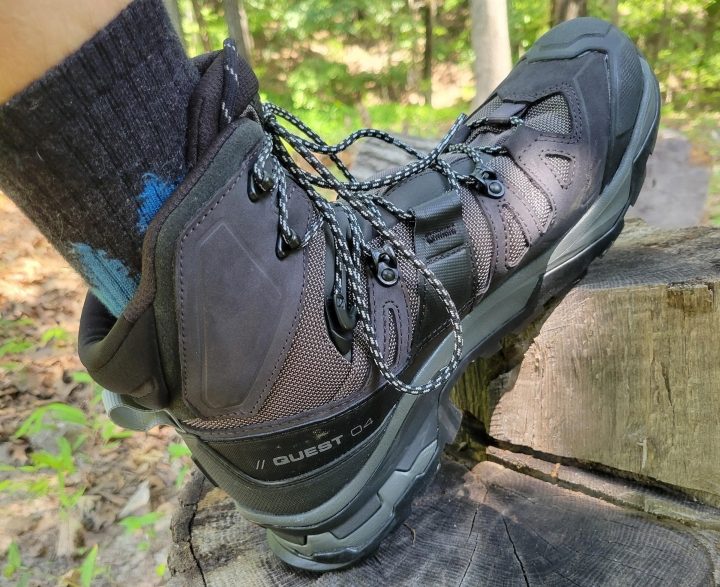 Often made with split-grain leather, this keeps you drier for longer throughout the year while still having an acceptable level of breathability. An inner lining helps with insulation, letting you get outside when the mercury drops.
And finally, hikers love the durability of midweight hiking boots when compared to lightweight boots. This lets you carry heavier loads in your pack, spend more time on tough, technical trails, and ultimately go deeper down the trail.
What midweight hiking boots often lack
The ultimate all-rounder or jack of all trades, master of none? Honestly, it depends on what you're planning to do. Midweight boots fall short if you live in an area of extremes. Cold, wet winters and dry, hot summers mean that a midweight hiking boot may not be waterproof enough in the heavy rain and not breathable enough for summer hikes.
Best scenarios for midweight hiking boots
Consider buying a pair of midweight hiking boots if:
You need one boot to do it all
Hike in an area with all four seasons
Plan medium to long-distance hikes
Hike with a backpack
Heavyweight hiking boots for men
Heavyweight hiking boots are designed to take you as far as you can go.
They often:
Weigh over 650 g per boot
Full grain leather uppers
TPU midsoles
Thick, rugged outsoles
Key benefits of heavyweight hiking boots
Heavyweight hiking boots for men are on the far end of the spectrum compared to lightweight boots. They are feature-packed boots that focus on safety, support, and durability. All of this comes with a weight penalty, but depending on your situation, this may be a very worthy trade-off.
Full-grain leather uppers keep the elements out, can stand up to a lot of abuse, and can be treated to extend their life. This makes them a great choice for seasoned hikers who plan to hike long distances in a range of different conditions.
TPU midsoles help support your feet across technical terrain, providing a strong and stable platform every time you place your foot. This lets you hike with confidence across tricky terrain.
Heavyweight hiking boots have a lot of the key features that midweight boots do, but with more. The uppers are more durable, the ankle cuffs are more supportive and the soles are thicker and more rugged with aggressive tread patterns. These soles give you better grip in loose, rocky conditions and will last longer.
What heavyweight hiking boots often lack
Heavyweight hiking boots lack the benefits of lighter ones. They're heavier, have less breathable uppers, and can be quite stiff with a prolonged break-in period.
Best scenarios for heavyweight hiking boots
If you hike on trails that require a heavyweight hiking boot, then you'll love their benefits and will quickly forget about the added weight.
They're best for:
Long, technical trails
Backpacking with heavy packs
Hikers who need durable, long-lasting boots
Hiking in wintery conditions
Hiking boot features - which ones do I need?
At the simplest level, hiking boots are tools to keep us safe and comfortable while out on the trail. There have been countless technological advances over the years to make this happen, yet every boot is made up of three main parts: the upper, midsole, and outsole.
Hiking boot uppers
The upper is the top part of the boot and the part that covers the largest surface area. Its job is to protect your foot from the elements, keep water and snow out and keep you comfortable on long days out on the trail.
Uppers can be made in a range of materials, from traditional leathers to high-tech synthetics.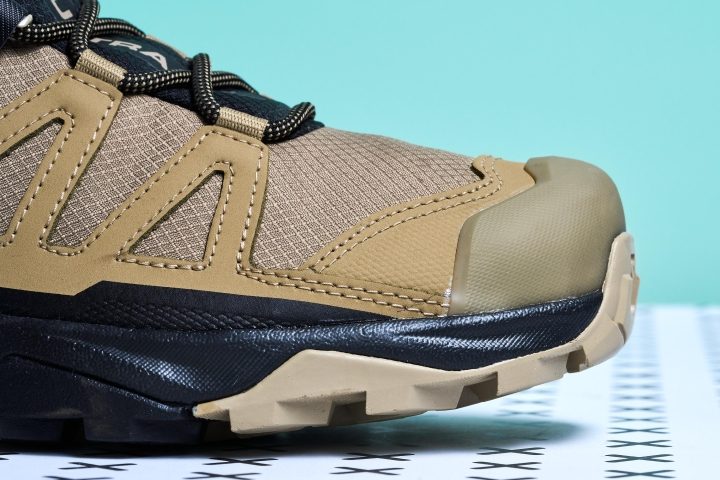 Waterproofing technology - Gore-Tex
If you've been looking for new hiking boots, it's highly likely that you've considered getting waterproof ones. Waterproofness is essential for any pair of boots that you plan to wear in wet conditions. The most common waterproofing technology is Gore-Tex.
We'll discuss Gore-Tex here, but keep in mind that some of the larger brands like Columbia and The North Face use their own proprietary waterproofing technology that's quite similar.
Gore-Tex is an advanced fabric membrane that keeps you dry and comfortable by blocking rain and water from entering but allowing sweat to escape. If you're planning to hike in wet conditions, it's well worth considering a pair of Gore-Tex, but if you're looking for a summer hiking boot then it's best to look elsewhere. Even though Gore-Tex is one of the most breathable waterproof membranes, it's not as breathable as many non-waterproof upper materials.
Leather
Ideally suited for hard-wearing rugged boots, leather is an incredibly dependable choice for many hikers. You'll find boots made with full-grain and split-grain leather.
Split-grain leather is used for lighter boots as they are often quite breathable and durable without bringing excess weight. This is a great choice for summer hiking boots, and you can find some with Gore-Tex, allowing you to hike year-round.
Full-grain leather is what you'll find on heavyweight boots that stand up to anything that you throw at them. They'll keep you safe and comfortable on tough trails, and with a bit of maintenance, they'll last you years.
Midsoles
Midsoles are usually made of one of two foam types, either Ethylene-vinyl acetate (EVA) or Polyurethane (PU).
| | |
| --- | --- |
| EVA | PU |
| EVA soles are filled with thousands of tiny bubbles that make them softer and more cushioned - perfect for lightweight hiking boots. | PU is more commonly found in heavyweight hiking boots as it's denser and harder-wearing. |
Midweight boots use a mixture of EVA and PU to get the benefits of both.
Outsoles
When it comes to outsoles, it's all about lug depth:
| | |
| --- | --- |
| under 3.5 mm | Shallow lug depths are ideal for easy terrain where comfort is the priority over grip. |
| 3.5 - 4.5 mm | Medium-depth lugs are best suited for do-it-all boots, giving grip in most conditions. |
| over 4.5 mm | Deep lugs are the go-to choice for hikes across very challenging terrain. These outsoles have the best grip and should provide grip in almost all situations. |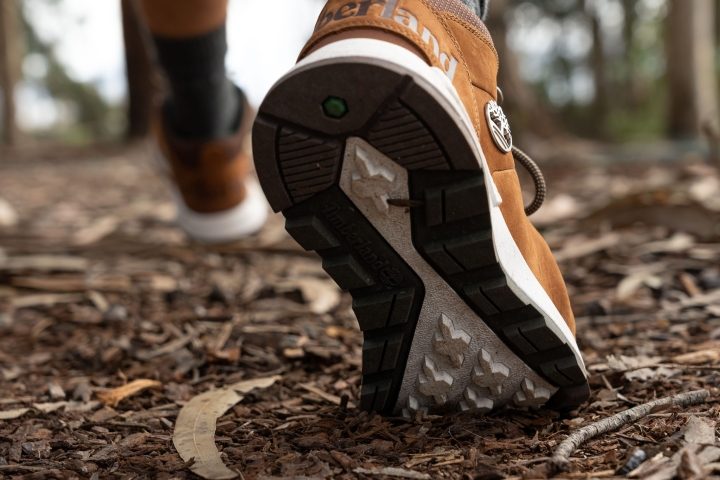 Example of medium-depth lugs (4.0 mm)
Specific hiking boot features for men
Believe it or not, there can be a big difference between hiking boots for men and hiking boots for women. Generally speaking, men and women have different types of feet, men's feet are larger and less flexible, while women's feet are smaller and more flexible.
Men's hiking boots are readily available in larger sizes. You can walk into most outdoor stores and pick up a size 13 US off the shelf, something that you'd find almost impossible to do if looking for a woman's hiking boot in the same size.
Another factor to consider when looking for the best hiking boots for men is that the male foot is often stiffer and less flexible than a woman's, and generally men have flatter arches. This means that most men's specific boots are designed with less cushioning as the foot moves around less and the default insoles are flat.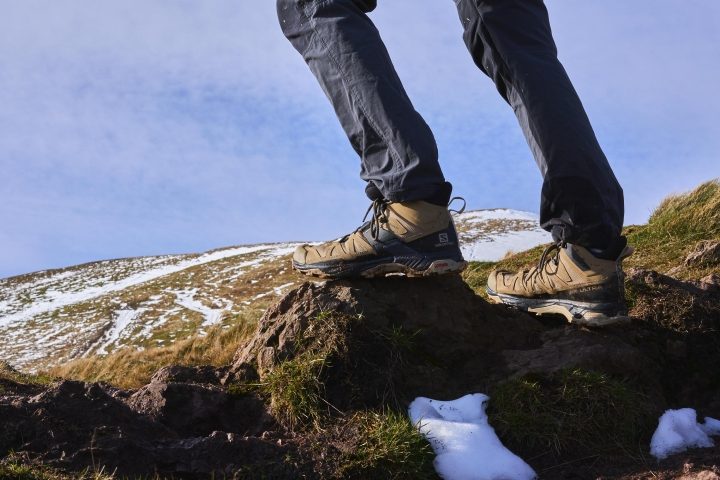 Hiking boots vs. hiking shoes
Most hikers ask themselves if they should get hiking boots or hiking shoes when first starting out. Hiking shoes are lighter and more flexible than boots meaning they're easier to break in, but they have less protection around the ankles due to the lower cuff.
Average weight (men's)
Hiking boots: 558 g
Hiking shoes: 378 g
When you might need a hiking shoe instead of a hiking boot
Hiking shoes can be great in certain situations. If you need a lightweight piece of footwear to enjoy some summer hiking on relatively easy terrain, then a hiking shoe might be the best way to go. But if you'll find yourself outside in all types of weather and are planning long hiking adventures then a hiking boot is the best way to go.
Think a shoe might be the way to go? Don't miss our extensive guide on the best hiking shoes.
Frequently asked questions about hiking boots for men
Do I need a hiking boot for every hike?
Honestly? No. Unless each of your hikes takes you deep into the wilderness on technical trails, it's unlikely you'll need a hiking boot on every hike. Some hikes are easier and more accessible than others, and depending on your ability level, you may be okay with a hiking shoe or even a trail running shoe.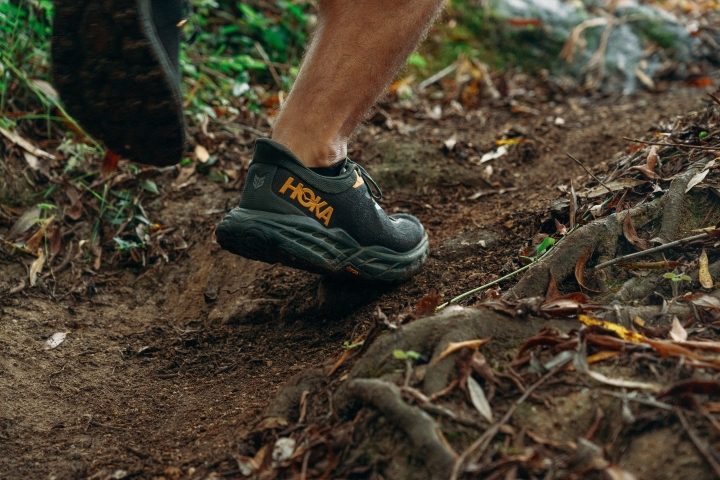 Hoka Speedgoat trail shoes are a popular choice for hiking
Do I need an expensive pair of hiking boots if I'm a beginner?
The most important thing is getting out there. If you have the budget for an expensive, featured-pack pair then you may want to go for that, even if you're a beginner. Hiking is such a great activity, you'll likely be hooked after your first day. If you're on a tighter budget, there's a huge choice of amazing cheap hiking boots.
Columbia, Merrell, and Skechers offer some solid options for $100 or less.
Can I use winter hiking boots in summer?
Absolutely. You can use your winter hiking boots year-round. Just be aware that they may be overkill on hot summer days and your feet might get pretty hot. But if you can handle that, then go for it!
Can I use summer hiking boots in winter?
Technically, yes. But in truth, we wouldn't recommend it. Firstly, summer boots are likely, not waterproof, so if you get wet, you'll get cold and that can lead to serious issues in remote areas. They also have less grippy soles, so you'll need to be extra careful around ice and snow. You're far better off prioritizing your safety and wearing winter boots.
How do I take care of my hiking boots?
Air out your boots after wearing them and let them dry naturally. This will allow the materials to stay in top condition. Clean the dirt and muck off the uppers after each hike and treat them with a re-waterproofing conditioner as needed. If you see any cracks or holes opening up, a product like ShoeGoo will help further damage.
Will I get blisters from my new hiking boots?
Like with any new piece of footwear, there's a good chance you'll experience some sort of blister. But there are ways to lower your chances.
Firstly, make sure you buy the right size, this may seem obvious, but loose boots will give you lots of blisters.
Wear a proper hiking sock. These help to reduce friction and pressure while keeping you comfortable.
And finally, if you suffer badly from blisters, try a lightweight hiking boot as they have a shorter breaking-in period.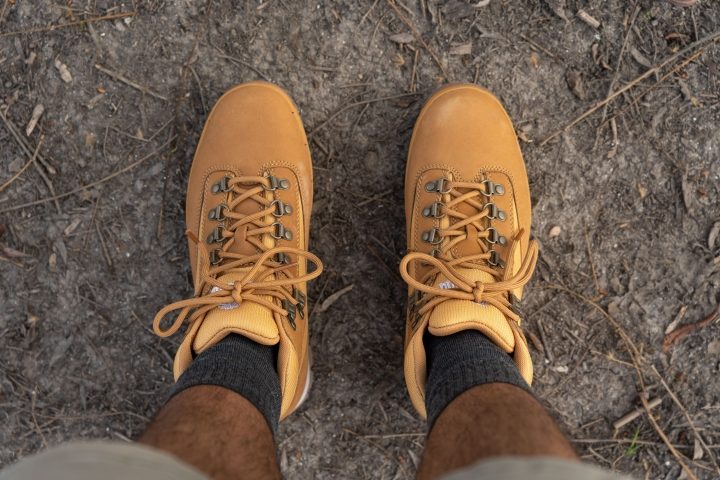 How long do hiking boots last?
This completely depends on you. The type of boot you choose, how much you hike, and how you take care of your boots all influence their lifespan.
If you're a casual hiker with a heavyweight pair of boots and take very good care of them, they can last for years. But if you're a thru-hiker, hiking hundreds of miles each summer on technical trails, you may burn through a pair of lightweight boots each season.
Can hiking boots be repaired?
Yes! That's the beauty of hiking boots, essentially they're tools for getting into the outdoors, so people like to repair them rather than getting a new pair every time. The most common type of repair is resoling. This is when the entire bottom piece of the boot is replaced giving your favorite boots a new lease of life.
Can I wear hiking boots on walking trails?
You'll often see people on walking trails wearing hiking boots and there are many good reasons for this:
They prefer the extra support and stability
They have one "do-it-all" boot
They don't mind the extra weight
They're hikers out with their walking friends
When it comes to choosing the best hiking boots for men, there is a lot to consider. From weight, materials, best uses, and budget, each hiker will have different needs. But at the end of the day, it's all about getting out onto the trail, enjoying it, and being safe.