The Mazama is a new trail running shoe that Brooks offers to those who desire speed and stability in a lightweight package. While it does not have the most aggressive outsole, the traction shines on rocks, loose terrain, sand, and grass. Moreover, the grip continues to amaze in wet conditions. This is an excellent option for almost all types of distance during training or race day.
---
Verdict from 23 experts and 100+ user reviews
12 reasons to buy
The Mazama is incredibly comfortable, according to most of the reviews.
It is quite light for a trail shoe.
Several runners felt the need to go fast in this shoe.
It has decent cushioning for long runs, based on a handful of comments.
A number of runners loved the stable ride in this shoe.
Breathability is excellent, as mentioned in a few reviews.
The superb traction gathered praises from almost all of the reviews.
More than a few runners valued the Propulsion Plate as it gives the shoe a snappy ride while it also protects the foot from the rugged terrain or sharp objects along the trail.
It's a trail shoe that some runners have used for road running without any issues.
A handful mentioned that the midfoot fit is quite snug in a good way that it prevents the foot from moving forward when running fast downhill on technical or grassy terrain.
The responsiveness is appreciated by more than a handful of runners.
It offers superb ground feedback without doing away with necessary protection, as reported by several wear testers.
2 reasons not to buy
It is expensive.
A handful of runners observed that the shoe is a bit long.
Bottom line
The Mazama is a new
trail running shoe
that Brooks offers to those who desire speed and stability in a lightweight package. While it does not have the most aggressive outsole, the traction shines on rocks, loose terrain, sand, and grass. Moreover, the grip continues to amaze in wet conditions. This is an excellent option for almost all types of distance during training or race day.
Best price from 32 shops
We earn affiliate commissions at no extra cost to you when you buy through us.
80% say it's true to size.


Overview of this review
Our reviews
As someone who has got on with Brooks shoes in the past, I felt that this shoe would be ideal to suit my needs. I did lots of research before I bought the shoe, weighing out the positives and negatives, and I'm really glad I did go for it.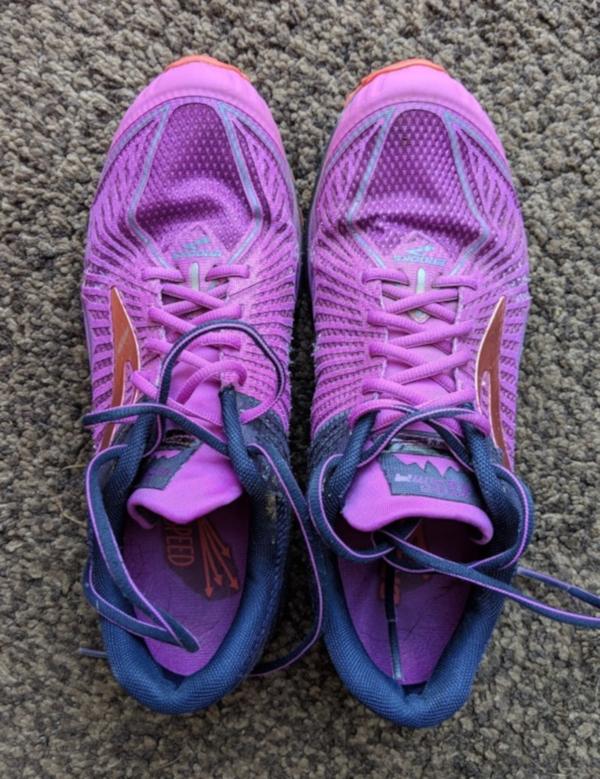 Brooks Mazama is incredibly comfortable and is a very light trail shoe. It's a low profile shoe meaning it is a 'fast shoe'.
It has little cushioning for longer distances. The breathability and traction make it a fantastic shoe to have. I would definitely recommend it for those people who like to mix between trail and road running.
The Outsole
The shoe contains lots of key features which makes it so notably fantastic.
One of which is the Propulsion plate below the forefoot that acts as a midsole foam. This allows stability and provides extra push which is incredibly useful when kicking off of an array of surfaces.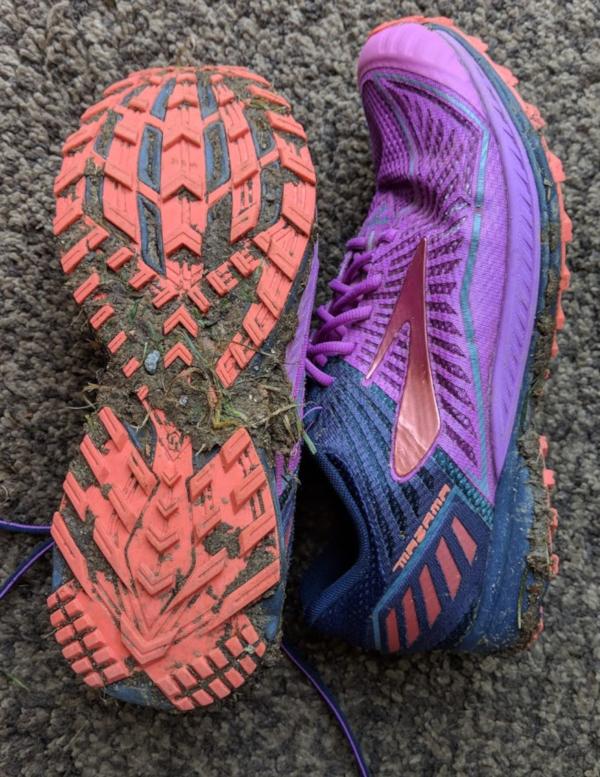 I found that it kept my foot really protected especially when going across really uneven terrain or going down hills as I still felt incredibly supported.
The only issue is when I ran on chalky surfaces or surfaces with little friction, the shoe became really slippery and I wasn't able to maintain a lot of grips. I would probably wear shoes with more traction for environments like this.
The Upper
There is a comfortable toe box at the front of the shoe which is very useful when going downhill and just keeps your feet inside the shoe really comfortable. However, the top section of the shoe is almost sock-like and has no protection.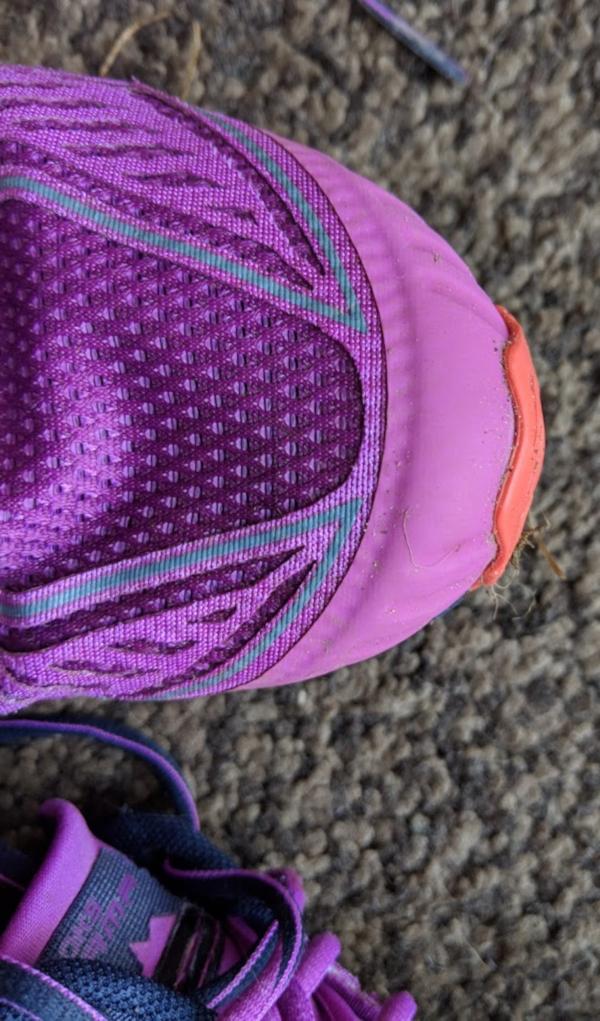 I think if you are doing more technical trail running this might not be the best shoe for you. The toe box is really roomy.
In a few reviews I read, most runners complained about it being too narrow. I have quite wide feet and by just going up half the size I was still able to splay my toes and I never felt like it was too tight even when my feet got warmer.
The upper mesh layer on the shoe has two layers which means it is able to hug the foot but not overheat it.
The tongue is really nice because it is so thin and it also has a tiny little pocket if you want to store your key when you may be running. It is very minimalistic and sits really nicely on the top of your foot.
The Lowdown
The laces are quite thin and I have found a few occasions they have come undone if not tied tightly enough. However, it's simple to replace them if you are unhappy.
The more miles I did just make me more consolidated that I had chosen to buy the shoe. I felt as if the shoe molded to my foot more and was really responsive in keeping my feet warm when I needed it the most.
Conclusion
I have tried a few other trail shoes and have never found a shoe that is comfortable and performs well. I do believe that this shoe does that.
If you're just getting into trail running or looking to do more miles in trail running, this is definitely for you. I think if you are an established trail runner or prefer much more technical trail running it might be better to look at brands such as Inov-8 or Hoka.
Updates to Brooks Mazama
The sleek upper features a very breathable mesh that is supported by extremely light overlays on both sides of the shoe. Besides being allowing optimal airflow, the upper wraps the foot in security and comfort as well.
The sticky rubber in the outsole allows the Brooks Mazama to shine on practically all outdoor surfaces, even when it rains. With moderately-sized and aggressive lugs, the shoe offers excellent grip that can take the runner from the doorstep to the trails.
A midsole plate doubles as protection against sharp objects on the trails and keeps the run very responsive. It works well with the decoupled midfoot to allow freedom of movement separately for the heel and the forefoot.
Trail-specific protection includes a lace garage, a gusseted tongue, and a tough toe bumper. These help the runner have a more confident run on the rough trails.
Size and fit
The fit of the Brooks Mazama is designed for those with medium to slightly wider feet. It holds the heel and the midfoot reasonably well. The fit is snug in a good way with adequate room in the forefoot for the toes to splay or to accommodate swelling. It runs true to size making this Brooks trail running shoe comfortable to its wearers.
Outsole
The outsole of the Mazama is populated with opposite-facing arrow-shaped lugs from the heel to the forefoot. Running uphill or downhill is enhanced with this kind of outsole layout. Brooks uses a very sticky rubber compound in the outsole of this shoe and its latest version, the Mazama 2 for great traction on almost all outdoor surfaces. The depth of the lugs is just enough that running on the road does not feel jarring or bumpy.
Midsole
Spanning the heel to the forefoot in the Brooks Mazama is the brand-exclusive BioMoGo DNA midsole foam, which is also used in one of Brooks' popular trail running shoe, the Caldera 3. This midsole technology delivers cushioning right where and when the runner needs it. It adjusts to the stride of the runner so that the run feels responsive and cushioned. Transitions from landing to take-off are enhanced by the full-length foam. Beneath this foam is a thin slice of TPU plate that gives more pop during toe-offs. It doubles as a protection against sharp objects when running on the trails.
Upper
Brooks utilizes a double-layered mesh for improved durability, structure, and support. The mesh is also very breathable as evidenced by the countless holes. There are numerous lightweight synthetic overlays on the lateral and medial side of the shoe for support and midfoot hold. The thin and gusseted tongue is lined with plush fabric to avoid irritation or blisters while the ankle collar has light padding. A rubber toe bumper prevents the toes from getting bruised. There is enhanced cushioning in the form of a thin Race Sockliner.
Rankings
How Brooks Mazama ranks compared to all other shoes
Popularity
The current trend of Brooks Mazama.