The Ghost 14 from Brooks really fits the bill as the shoe for all runners. It's a workhorse that's comfy enough for easy days, responsive for tempo sessions, and is heavy-duty to handle light trails. Overall, a no-fuss daily trainer that will work for all your runs!
Pros
All about comfort!
True to size
Lots of padding
Smooth ride
Really stable, even on light trails
Great out of the box
Built for longevity (500 miles, easily)
Great grip
Cons
Lacks breathability for hot summer days
Not the best for long distances
Brooks Ghost 14 review and lab test
A daily trainer that's able to do it all.
The Brooks Ghost 14 is a long-time favorite for a lot of runners. It's a cushioned, neutral, daily trainer built for comfort and consistency across a variety of runs.
This durable shoe can go the distance, last a long time, and hugs your foot with ample padding throughout.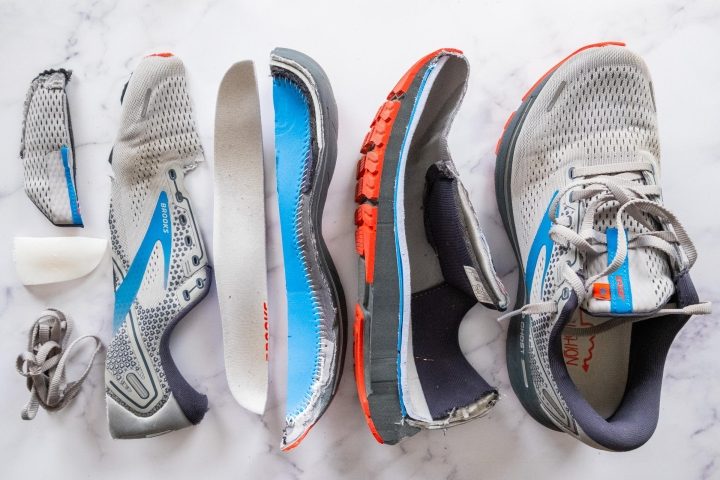 There have been a few updates to the 14, but the major change from previous models is the midsole. The 14 is 100% Brooks DNA Loft which is softer underfoot than past generations of this shoe.
As we all know, Jacks-of-all-trades rarely excel at any single thing. Read on to learn more.
Who should buy the Brooks Ghost 14
Buy the Ghost 14 if you are looking for a cushioned daily trainer that's not super stiff or super soft. This shoe is consistent for runners doing varied distance runs over varied terrain.
Whether you run on pavement, a treadmill, or even mild dirt trails, the Ghost 14 is a no-fuss workhorse for daily use.
It's a great shoe for joggers that needs consistency and comfort and want a shoe that will last a long time.
Who should not buy it
Don't buy the Ghost 14 if:
You want a super soft shoe that's great for recovery days. The Brooks Glycerin series has more padding and a more plush ride.
You want a fast training shoe. The Ghost 14 is a jogger, not a tempo or race-day shoe. Check out the Brooks Hyperion Tempo or the Brooks Launch.
If you need added support underfoot. This neutral shoe is stable but doesn't have added motion control or stability features. Try the Brooks Adrenaline line.
Wide range of widths on Brooks Ghost 14
The Ghost 14 works for a very wide segment of the population and to me, the fit feels generic because of it.
It's true to size and can accommodate just about any foot, but that causes issues as well. I had a bit of heel slip as my main fit complaint. I don't love super stiff heel counters, to me they help cause slip, and this one scored a 4 out of 5 on our stiffness scale where the average is just 2.8.
There's a bit of room around the ankle as well when the shoe flexes which felt a little sloppy to me. This was a challenge to solve through any lacing techniques.
The good news is that Brooks makes this model in a variety of widths, B, D, 2E, and 4E so no matter the shape of your foot they will have a Ghost 14 to fit it.
Ghost 14 has plush comfort all around
The Ghost is built for comfort and it doesn't disappoint. There's padding everywhere!
The insanely robust ankle collar provides a soft touch around your ankle and Achilles and the tongue is a whopping 8.1mm thick. Compare that to the average of just 5.5mm and you'll understand how this shoe is designed.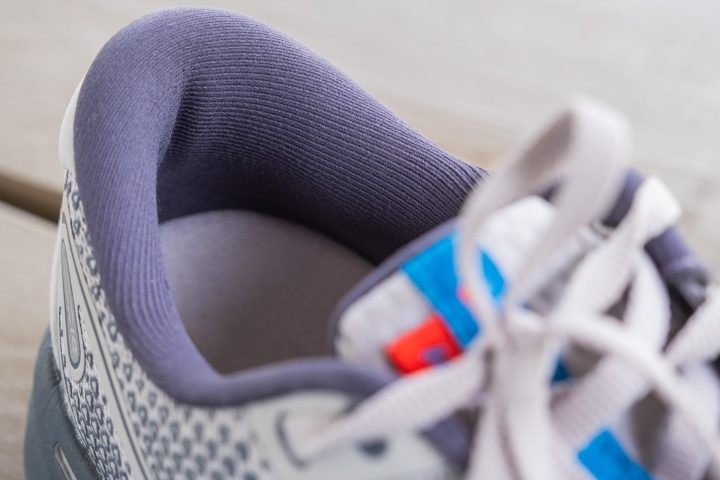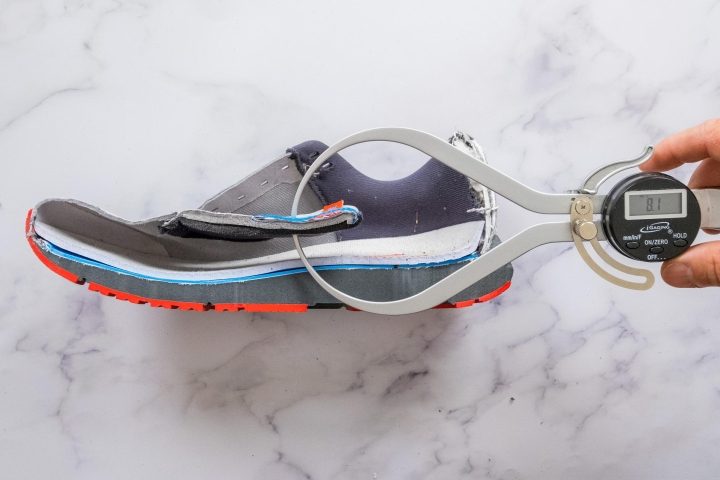 Brooks finally ditched the round laces as well and moved to flat laces for the 14, which sit more comfortably over the top of your foot in my opinion.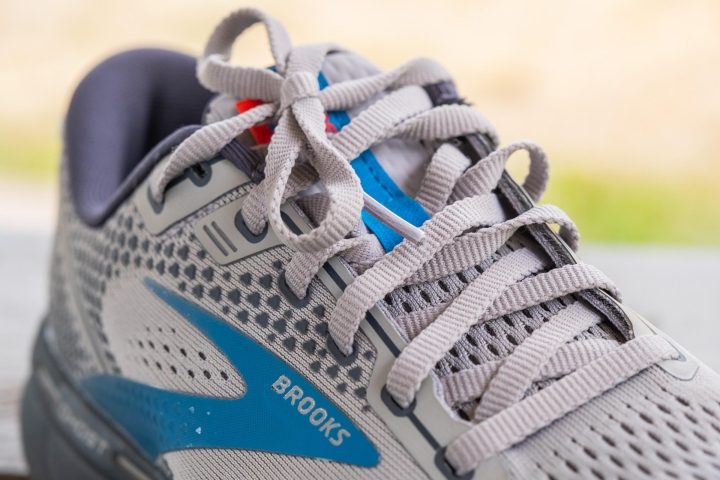 Soft, flexible ride for daily running
The big change from previous versions is Brooks went to a 100% DNA Loft midsole which is softer underfoot than the previous make up a variety of foams.
There are pros and cons to this move. The shoe is a bit softer underfoot giving it a bit more impact dampening and comfort underfoot, but it's also more flexible and less responsive. Brooks is aiming at those looking for comfort with the Ghost vs those wanting performance and I think it's the right move for this shoe.
The Ghost 14 measured 19.2N on our flex test, much softer than the average shoe at 40.2N.
This shoe is ideal for joggers and recreational runners who will be happier with comfort as the main priority. Most runners want one pair of shoes they can lace up and run in without thinking about which shoe to wear, and the Ghost 14 fills that role well.
Being a generalist isn't all bad. The shoe does feel good underfoot. It's not soft or mushy, you don't sink into this midsole, it's not a recovery shoe or super plush like the Hoka Clifton, but it's not stiff and brickish either.
I pushed the shoe to a 5/min pace and it went, it can be done, but that's not its sweet spot. Mild runs are where it likes to perform and that's just fine for the majority of runners.
The platform is also nice and wide giving it a very stable ride. At 113.8mm wide in the forefoot and 94.2mm in the heel it's above average (112.7mm and 89.3mm) giving it a robust feel that's not wobbly or indecisive on a variety of terrain. I wouldn't think twice about taking this on mild trails even, it's that stable.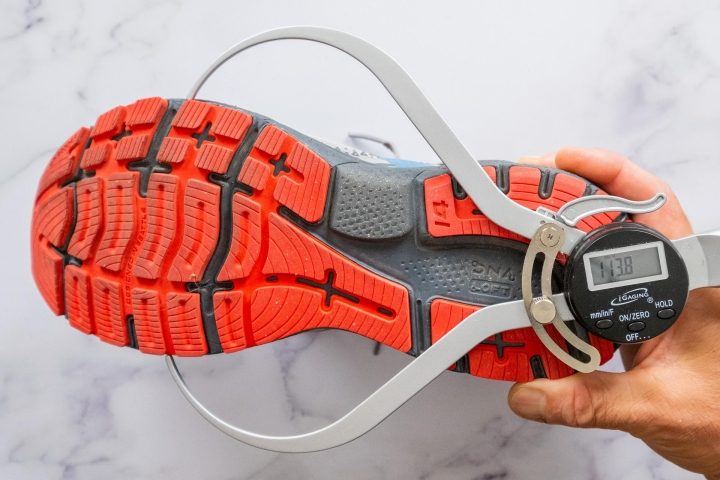 The last gripe on the ride is the 12.4mm drop. As a generalist shoe built for the masses, this is just too much drop. It needs to be 6-8 to work well for the majority of runners I think. It feels steep and I just hate steep drop shoes unless they have a specific reason for being so.
Ready to go straight from the box
There's absolutely no need for break-in in the Ghost 14, Brooks made this shoe ready to take out of the box and do a 5K on day one if needed.
Ghost 14 could be lighter
It has a lot of padding and cushion, so it's not lightweight. At 10.1 ounces (287g) it tips over a crucial landmark of being above 10 ounces.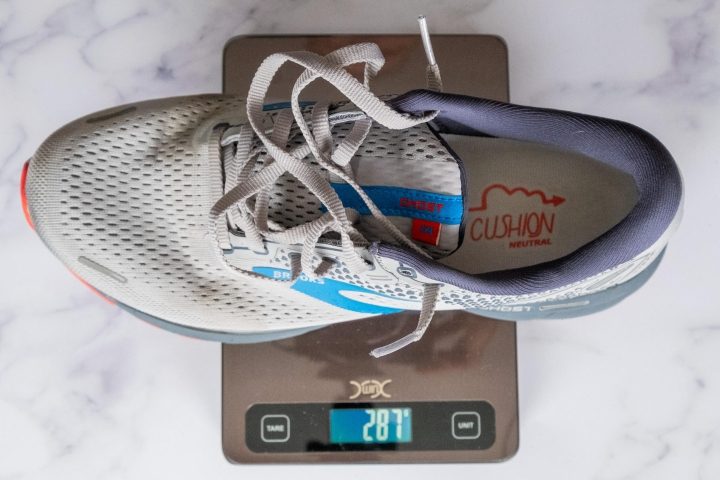 As a daily trainer weight is not usually a key issue to stress about, but this shoe would be more interesting at 8.5-9 ounces.
Built heavy-duty
This shoe is built for longevity. There's plenty of heft and heavy-duty features that make me think this shoe should have no problem going to 500 miles, which is key in a daily trainer.
The 5mm outsole is robust (compared to 3.8mm on average) and the midsole, although softer than past versions is still dense and shouldn't pack out prematurely.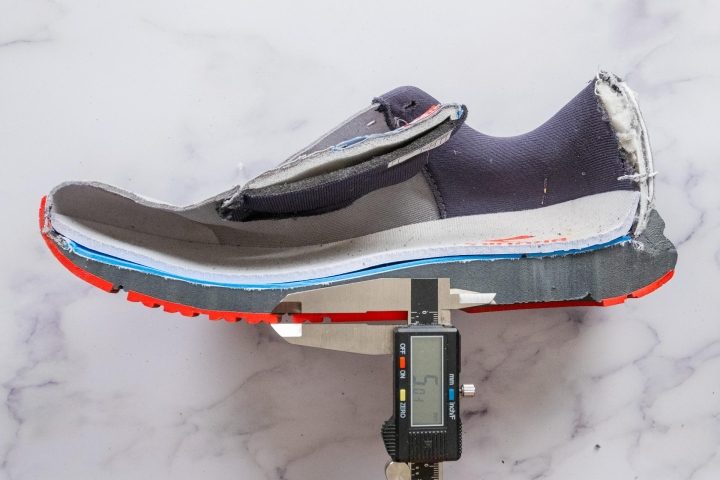 Spied grip won't disappoint
The grip is great. There's lots of rubber under the shoe with a variety of textures and siping. It had no problems on my runs and should work on anything you throw at it, rain or shine.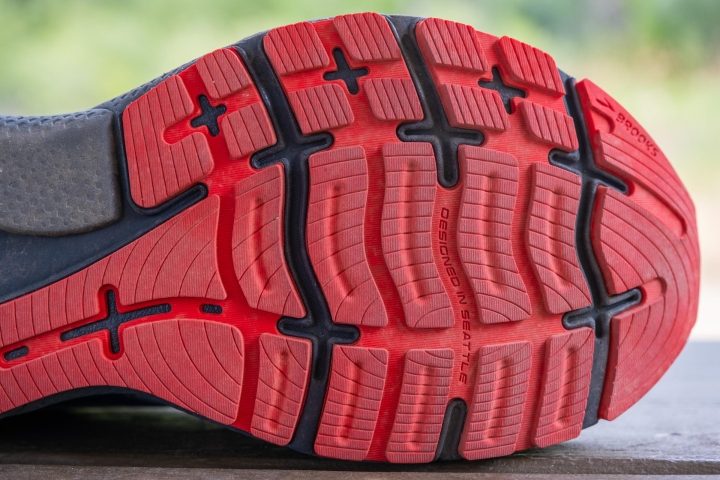 Ghost 14 is a multi-purpose shoe
The ghost can do a little of everything.
This shoe can do your 1-5 mile daily run, your 10-mile distance efforts, go slightly quicker if you need a speed day here and there, and even be used out on dirt trails for a weekend hike.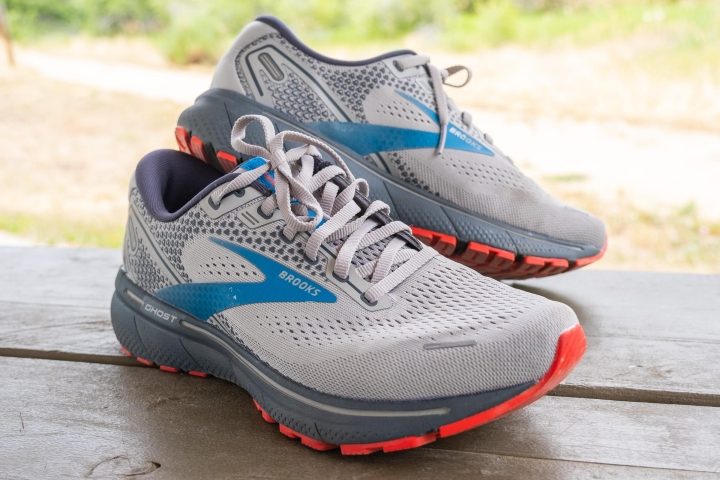 Sure, you can use it on your next 5K too!
Where this shoe is not ideal in my opinion is for long-distance running where you may want something with more comfort or that's more efficient, and it's not a high-performance shoe so if you are going for a PR on race day consider a quicker model like the Hyperion Tempo or Hyperion Elite 2.
Breathable but still heavily padded
The shoe has plenty of venting perforations on the upper, more than the past version and it breathes adequately.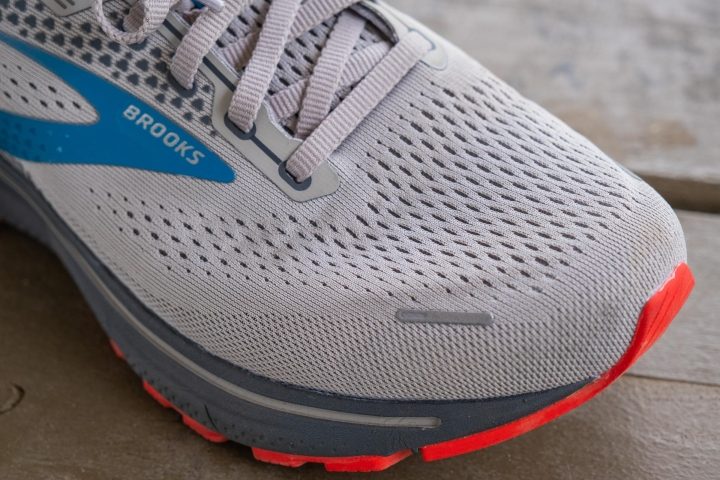 But, it is a heavily padded shoe so it's still a bit warm. It's satisfactory but on the hottest of days, you may consider other shoes. Because of that, we scored it a 3 out of 5 on our breathability test. The perforations allow heat to escape but it takes some pressure before they started to really vent in our tests which is why they run a touch warm.
Some heel slip and no gusseted tongue
Lockdown is adequate. It works and I didn't have any hot spots in the shoe, but my heel did move around a bit throughout my efforts.
The upper stretches and hugs your foot, so that's great, but it's not a super high-performance shoe and the lockdown follows suit.
It doesn't have a gusseted tongue, which would help with fit. This is annoying, this is not a super budget shoe, at $130 it should have that tech to help with fit and comfort in my opinion. Its closest competitor, the Saucony Ride 14 has a gusseted tongue which could easily convince me to go that route as a consumer.
Also, the new flat laces are too smooth and come untied easily. At just 11.0N on our lace slip test, they slip twice as easily as the average laces which take 22.9N to come untied. Be sure to double knot.
Brooks Ghost 14 comes in Gray!
Brooks colors… Gray and more gray in the colorway lineup. They did add a red outsole for some flair, but it's still gray…
It does look better than the past version though. It's a bit more sporty and doesn't have the odd Brooks external padding under the ankle collar that never made sense to me.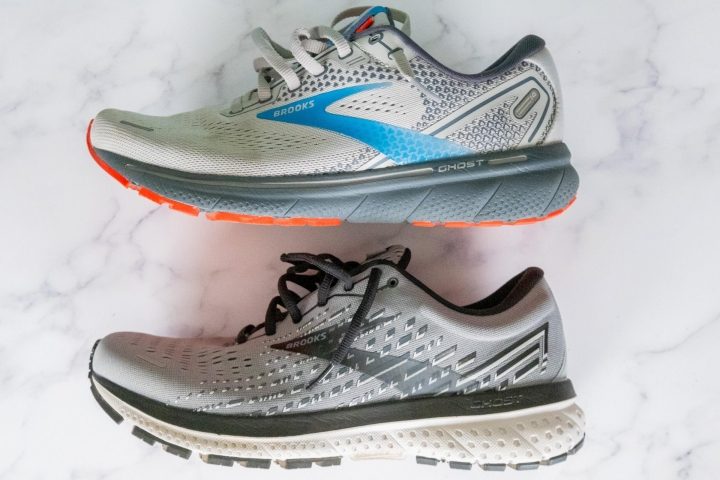 I did see Brooks makes this in one fun colorway, a killer neon green, good for you brooks to step out and try something new.
Night runners
This shoe only has one reflective element on the heel, even though it looks like there are reflective elements on the side, they didn't actually reflect light.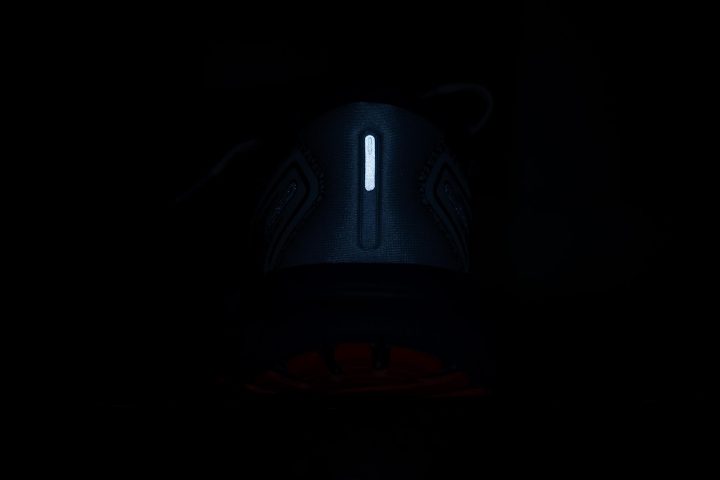 As a training shoe, it's likely to be used on night runs or in low-light situations so I wish the designers had considered that more.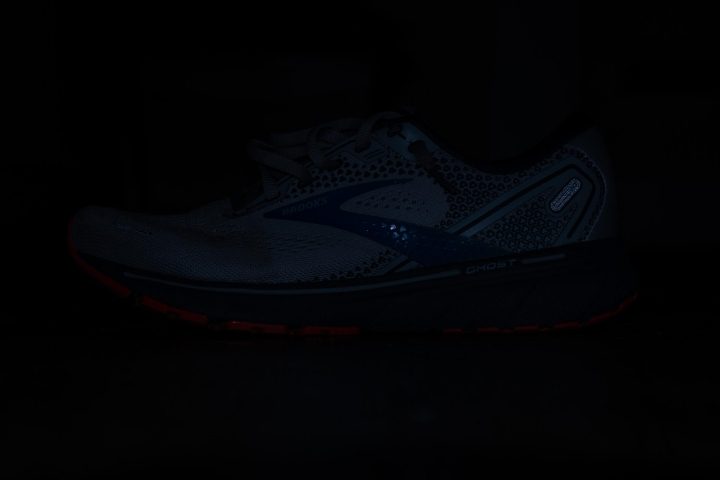 Stiffens significantly in cold weather
The shoe does harden up significantly in cold weather too. In our freezer tests is stiffened 56.1% (the average shoe only stiffens 37.6%) so beware in really cold conditions it will feel very different.