The most popular Euroleague teams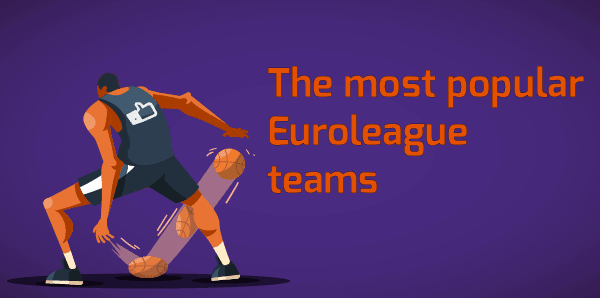 Summary:
Fans of Euroleague teams fill 66% of their arenas capacities on average
Only 2 teams (Zalgiris and Maccabi) gather more than 90% of their arena's capacity
9 teams in total have above the average attendance regarding the arena capacity %, and 7 teams are below the average in this aspect
Zalgiris fans showed that Lithuania is a land of basketball - 5% of Kaunas population goes to the arena every game
Vitoria is following closely with 4.6%, followed by Podgorica and Khimki
7 teams gather below league-average 0.2% of hometown population in the arena
Spanish and Greek teams have the largest fan base on social media
Only Real Madrid and Zalgiris have more SM followers than their hometown population
Real dominates the aspect - the number of SM followers equals 285% of Madrid's population
The 19th season of the most prestigious basketball competition in Europe is 20 fixtures underway. Over the last 19 years, the Euroleague has faced some important changes, most notably in organization and format.
While there is an ongoing debate over the direction where the league is heading to, the reality is that the league is getting more popular with each passing year.
But how popular are Euroleague teams? While the league's popularity grows each season, end of the calendar year is a good time to see how popular are teams that make the league so popular.
Two main criteria were used as a popularity reference in this research - attendance in the home arena, and the number of followers on three major social media (Facebook, Twitter, Instagram).
1. Who brings the most fans into arenas?
Under league regulations, teams with a long-term license (11 teams possess the license) have to play in arenas with minimum 10,000 seat capacity. Associated clubs have to provide at least 5,000-seat arenas. Where are teams standing in term of filling their arenas?
While the average attendance is the most used criteria for the attendance rankings, there are a couple of important factors that should be considered relative to the attendance.
First of all, how successful are Euroleague teams in filling their arena capacities?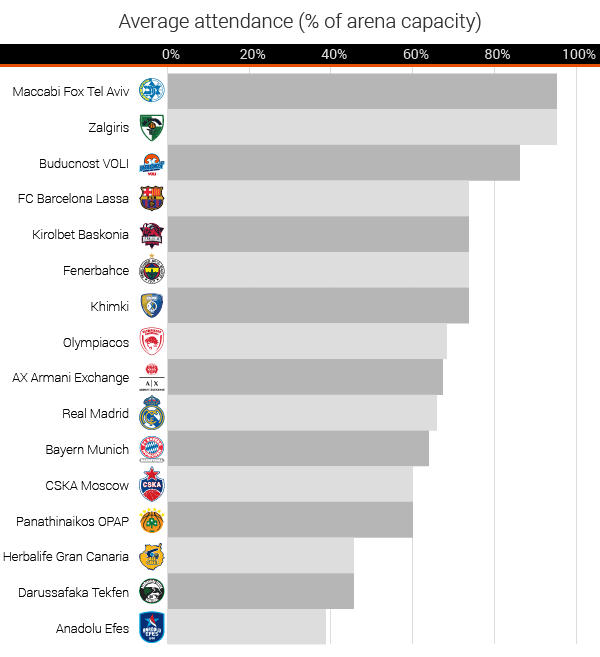 Shout out to Tel-Aviv and Kaunas! With 95% of their arenas filled with fans every single game, Maccabi and Zalgiris are leaders of the Euroleague.
A returnee to the league after 15 years, Buducnost from Podgorica, stands strong with filling the 87% of Moraca's capacity on a regular basis.
Barcelona, Basconia, Fenerbahce, and Khimki complete the list of teams whose fans occupy more than 70% of the arena.
Olympiakos (67%) and Olimpia Milano (66%) are the only two teams left who gather above league-average 66% of capacity.
Let's take a look at the attendance relative to the population of the team's hometowns.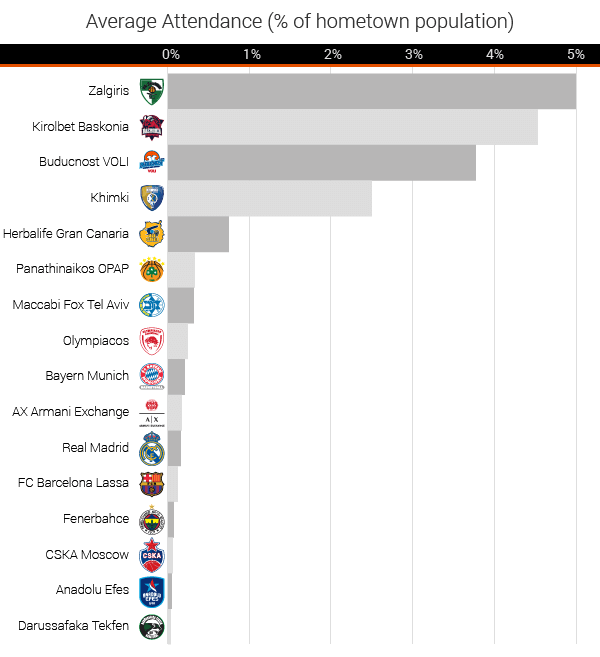 Judging from the chart above, it's not a coincidence Lithuania is called the land of basketball. On average, 5% of Zalgiris' hometown population spends Euroleague nights in the arena.
Baskonia fans from Vitoria are following closely with 4.6%, and Buducnost gathers 3.81% of Podgorica's inhabitants for number 3 spot.
From Podmoskovie, 2.5% of Khimki's people come to watch Alexey Shved and the company. Basconia closes the circle of top5 with 0.8% of Victora's population in the arena.
2. Who is leading the way on social media?
Not every fan of a Euroleague team comes from the team's hometown. But are there teams whose number of faithful social media follower exceeds their hometown population?
By adding the number of followers from 3 major social networks (Facebook, Instagram, Twitter), here is how the teams rank: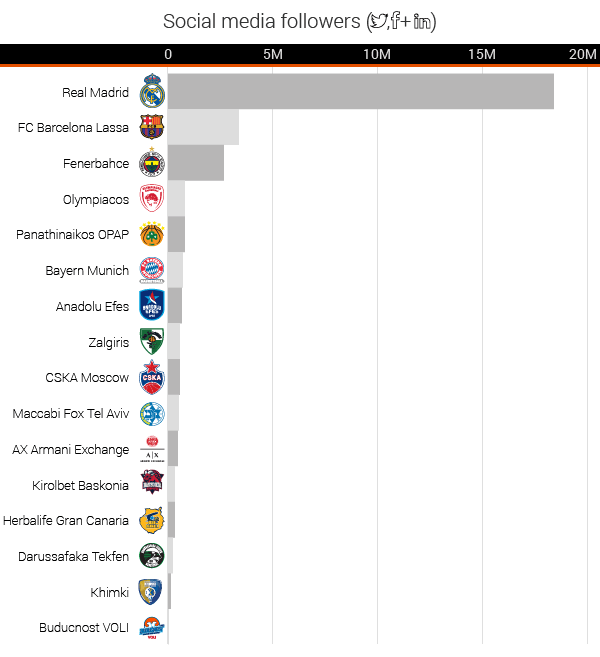 Could there be any better proof of why Real Madrid is called the Royal club? With over 18.3 million followers through 3 major social networks, Los Blancos are the untouchable force of fanbase.
Their archrival from Catalonia takes second place with 3.2 million followers, and No3 is reserved for Fenerbahce with 2.5M.
Two Greek giants from Athens complete the top5 list, with Olympiakos having a slight lead over their biggest rivals.
When we include the number of team's hometown population in the equation, things stand like this: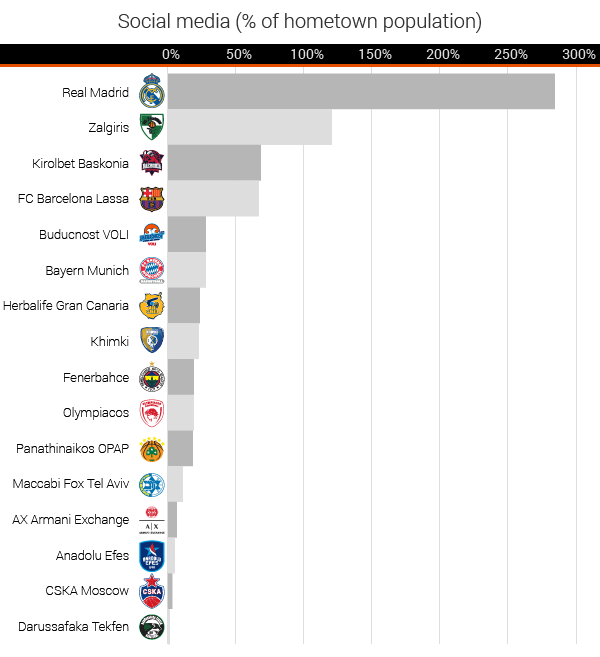 Again, Real Madrid leads the way. The army of Real's followers could inhabit a city with almost 3 times the population of Madrid (287%)!
Zalgiris is the only team left whose social media popularity exceeds hometown population, gathering 120% of Kaunas population.
The two are followed by two more Spanish teams, Basconia (69%) and Barcelona (67%).
Bayern and Buducnost are challenging for the 5th spot, with the number of their followers equals 27% of Munich's Podgorica's population.
Use of content
Feel free to use any material from this page, as long as a reference is added to this original piece.
Reach out to Dimitrije at dimitrije@runrepeat.com for any requests or questions about the graphics, text or print usage.
About Dimitrije and RunRepeat
The research was conducted by Dimitrije Curcic. Dimitrije is a basketball content expert for RunRepeat. A former player and an assistant coach, his passion for the game of basketball doesn't make any compromises in the quality of basketball content.
At RunRepeat, the main word is quality. We are devoted to making in-depth articles in all of our categories.
Using the innovative CoreScore rating system, we help you pick the best basketball shoes at the best price. Check out the shoe collection of your favorite players, including Steph Curry, LeBron James, Michael Jordan, and many others.