Reebok shoes, specifically, have transcended its humble start by continually producing top of the line shoes. The reviews numbering to over 100,000 in all is the runner's confirmation of their partnership with Reebok in always aiming for the best.
Why take advantage of the best Reebok stability shoes?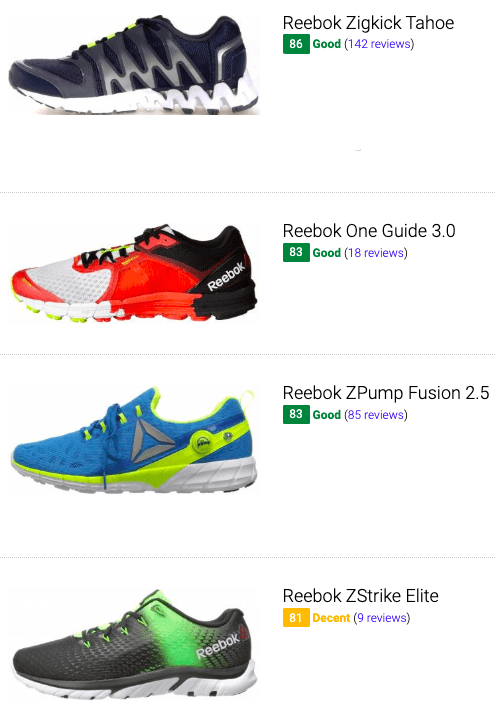 From top to bottom, parts of Reebok stability shoes are geared towards a more stable ride for the overpronating runner. There are several corrective measures in place that are warranted to decelerate the inward rolling of the foot after striking.
The stability feature starts right away on the upper. The technical production of the upper material is built to support midfoot stability. More than putting a bootie style fit on the foot, the upper helps to secure the foot in place to limit excess motion especially in the arch area.
The heel is a bit stiffer than usual to add another stability feature. A securely locked heel is another key in keeping the foot from rolling inwards. Heel stability coupled with a secure upper fit works hand in hand for a more comfortable and stable ride.
For the perfect balance of soft cushioning and responsiveness, the best Reebok stability shoes use a three-foam midsole with increasing hardness. The softest part of this midsole foam is the lateral part where it helps to absorb shock every time the runner lands while the hardest part would be on the medial side or the arch area. The firmer medial post would bear the burden of the impact a collapsing arch is supposed to tackle.
Located in the midsole is another foam that covers the arch area to provide additional support on the runner's arches.
Despite the necessary amount of corrective features of Reebok stability shoes, cushioning is not taken for granted. The soft part of the midsole foam offers plush cushioning without being too marshmallow. The right mix of soft cushioning and great responsiveness translates to better and smoother heel to toe transition.
Reebok stability shoes are reasonably light weight. Even their 10oz or heavier stability shoes run lighter than the scales indicate. These stability shoes would be ideal training partners that can handle the daily grind of running.
Orthotics or insoles pose no problems with these stability shoes. These supports would add a more customized fit and comfort for the runner.
What to look for in the best Reebok stability shoes?
Medial structure. Medial support varies among Reebok stability shoes. Commonly used are midsole shanks that are made of thermoplastic polyurethane for a firmer and more durable medial support. Sometimes, a dual density foam is used as medial support.
Insoles. As stated beforehand, there are Reebok stability shoes whose insoles can be removed to accommodate orthotics and aftermarket insoles and Footbeds.
Cushioning. Premium cushioning is still very much a part of Reebok's stability shoe. By no means are the runners stepping on bricks when they lace a pair of these shoes.
5 best Reebok stability running shoes
Reebok One Guide 3.0
Reebok ZPump Fusion 2.5
Reebok ZStrike Elite
Reebok ZStrike Run SE
Reebok Pump Plus Night
This shoe has recently been added to RunRepeat. There are still not enough reviews for us to assign it a
CoreScore
.
CoreScore
A score from 1 to 100 that summarizes opinions from users and experts. The average CoreScore is 78.
More...