Overall ranking lists
Reebok categories
Reebok is a European company that designs and manufactures a wide range of athletic apparel, footwear and accessories. It focuses on distributing top quality fitness and sports items, including running shoes, workout clothes and training equipment. Since its foundation in 1895, the brand is already established globally and is being used by fitness enthusiasts and professional athletes alike. In fact, Reebok has a lot of track and field sponsorships under its belt, supporting athletes such as Simone Facey, Blake Russell, Shalonda Solomon and Micah Kogo. According to reviews and ratings, some of the popular models under the brand include the Reebok One Guide and the Reebok All Terrain.
Reebok Running Shoes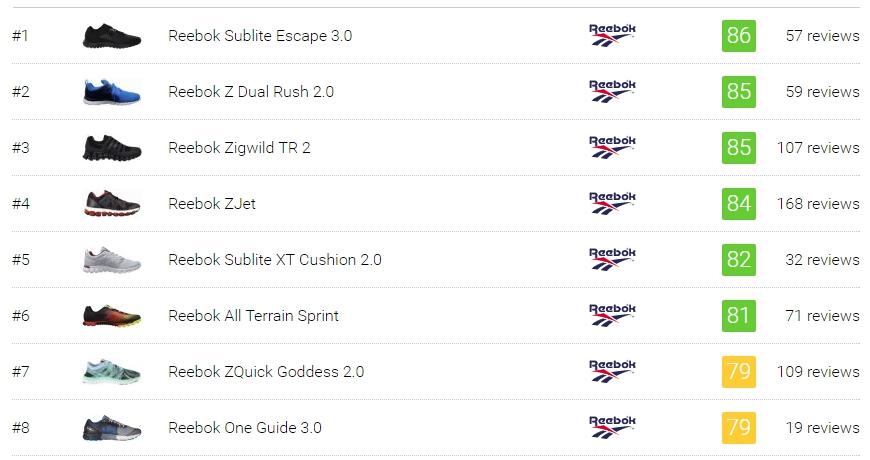 Reebok running shoes can either be used on the track and trail. Aside from running, the men's and women's shoes are versatile enough to fare well in cross training, performance activities and casual purposes. Whether you have low or high arches, you will surely get a pair that can improve your performance without sacrificing comfort and style. Reebok continually grows as a brand, introducing new technologies and technical features to improve its sports lineup, especially in running. Some models may not have good reviews, which is why it is important to do research before purchasing a pair from the brand.
Enhance your training and running performance with top-quality footwear from Reebok, a performance brand that is highlighted in a total of 100,000 shoe reviews. Written by casual runners, beginners, seasoned athletes and shoe enthusiasts, the high ratings and awards garnered by the best Reebok shoes prove that the brand is starting a legacy in the running industry.
What kind of Reebok shoes fits your running needs?
Improving your natural running movement is possible if you wear the right kind of shoes on the track or trail. Reebok has a fine collection of low drop shoes and minimalist runners for those who want to go natural. Reebok minimalist shoes and Reebok low drop shoes are lighter and minimal than other shoe kinds, so they are great for speed and better ground contact.
Pronators will not have much trouble picking shoes with the right kind of arch structure. Runners with low arches can choose between Reebok motion control shoes and Reebok stability shoe to decelerate pronation and improve gait efficiency. On the other hand, Reebok neutral shoes are suited for supinators (under pronators) and neutral pronators who can run without much stability.
For your racing needs, choosing light platforms such as Reebok race shoes is a priority. The combination of flexibility and comfort is palpable, as well as the minimal structure which results in a lightweight profile.
Whether you want to run on the trail or race in the track, there is a wide range of best Reebok shoes to choose from. Reebok road shoes can be used for gravel, pavement and track running, while Reebok trail shoes will handle rugged terrain just fine.
Why are best Reebok running shoes different from other shoe brands?
Pricing.Despite being an old brand, runners can still get a great deal from Reebok's best running shoe collection. Their performance models are priced reasonably to cater to beginners, enthusiasts and athletes in the running community. Beginners and casual runners can score footwear products for as low as $50-$70, while there are technical shoes that are priced between $130 and $150. Whatever your level of experience and budget is, the Reebok footwear brand has something for you.
Popularity. Being of the global shoe brands established in the 80s, Reebok shoes already have a fair share of popularity in the active community. Athletes and fitness enthusiasts alike trust the brand in providing top-notch shoe models for their trail and track needs. Not only are the best Reebok shoes well-recognized among runners. Running authorities, like Men's Health and T3, also acknowledge the reputation of Reebok shoes in various awards, such as "Best Shoe for CrossFit Training", "Top Pick for All-Around Shoe" and "Best Running Shoe Award".
Shoe technologies. The best Reebok shoes are incorporated with great footwear technologies that enhance speed and performance. The shoe innovations that you should look forward to are the SmoothFuse system, FoamFusion technology, R52 Rebound foam, decoupled heel system, Met-head Release Zone, DuraGrip system, Underfoot Rock Guard, Second-skin Perforated Tongue, Mesh Drainage Ports, ZRATED outsole and the Molded PU sockliner among others.
This shoe has recently been added to RunRepeat. There are still not enough reviews for us to assign it a
Corescore
.
Corescore
A score from 1 to 100 that summarizes opinions from users and experts. The average Corescore is 78.
More...