Overall ranking lists
Merrell categories
When it comes to outdoor footwear, Merrell is a top and trusted shoe brand. Based on their adventurous philosophy, it designs and manufactures running shoes that fare well for running, hiking, traction, casual purposes and barefoot running. In fact, its wide range of men's, women's and kids' outerwear have gained awards and accolades over the past years from running magazines and organizations in the athletic community. Merrell running shoes, such as the Merrell Trail Glove, Merrell Vapor Glove and Merrell All Out Fuse, have great reviews from runners. Since 1981, Merrell has been in the spotlight, with popular trail and track shoes, apparel and accessories under its belt.
Merrell Running Shoes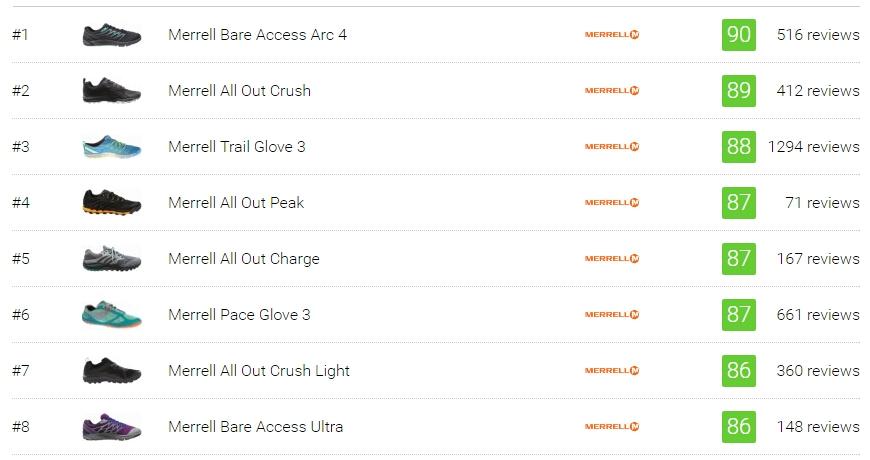 Whether you are a beginner transitioning from road to trail, or an advanced runner who loves the thrill of the outdoors, Merrell running shoes will not disappoint. Every pair strives to feature the perfect balance between comfort and protection. Its shoe technologies are not just highly acclaimed in reviews, but also have good ratings when compared to other outdoor shoes on the market. As proof, a lot of professional runners and adventure seekers rely on Merrell for performance training, speed workouts and trail racing. Conquer the outdoors with a pair of Merrell running shoes for a great blend of traction, protection, durability and comfort.
Enhance your track and trail experience with the best Merrell shoes, which have been presented in more or less 100, 000 reviews written by shoe experts and runners. Merrell is best known for outdoor footwear, but its collection is expansive enough to provide the best pair of performance shoes for any type of runner.
What should you expect from Merrell shoes?
If you are into racing, investing in a good pair of Merrell race shoes is a wise choice to improve your speed on the road or trail. Race shoes are built with racing-specific features that enhance the platform's speed and performance without adding too much to its structure or weight.
Controlling or decelerating pronation can be achieved with Merrell motion control shoes and Merrell stability shoes. These are cushioned platforms with structured arch units to improve the gait efficiency of over pronators. On the other hand, Merrell neutral shoes will fit under pronators (supinators) and neutral pronators since they do not need additional support to facilitate a smooth heel to toe transition.
Merrell low drop shoes have minimal platforms that guarantee flexibility and better ground contact. Merrell minimalist shoes also have a similar structure, but weighs lighter than the previous type because of the lack of cushioning.
Running on even and uneven ground is possible with Merrell's running shoe collection for the trail and track. Merrell road shoes are responsive and stable on gravel, track and pavements, while Merrell trail shoes provide the protection, traction and comfort for rugged terrain and off-roads.
Why should you make space for the best Merrell shoes?
Shoe technologies. Merrell shoe technologies are developed to enhance performance and speed on both the trail and track. In addition, these also add to the overall comfort, support and protection of the best Merrell shoes. The top-rated shoe technologies and features from Merrell include the M-Select Grip outsole, Air Cushion units, MBound technology, M-Select Fresh technology, Uni-Fly midsole, Vibram outsole, Trail Protect plate and Omni Fit lacing system.
Popularity. Merrell is one of the top-of-mind shoe manufacturers today. The brand has established its authority on both trail and track racing. It is expected that some of the best Merrell shoes gained high ratings and raving reviews from sports professionals and fitness enthusiasts. In fact, the brand has also collected awards and recognitions for their top-notch performance footwear, including the "Best Barefoot Shoe", "Best Footwear Award" and "Best Debut Shoe" among others. The best Merrell shoes also found their way in "Best Trail Shoes" lists.
Pricing. Merrell is best known for their trail collections, so it is expected that their prices are higher than usual. The construction of trail shoes is packed with features to improve protection, shock attenuation, traction & grip, comfort and even waterproof features. The best Merrell shoes are priced $80-$170, depending on the technicalities incorporated into the shoe. Entry-level trail shoes from the brand are likely cheaper as compared to others. Professional trail runners would still consider Merrell shoes for their adventurous needs, since the brand has proven their worth and value.
This shoe has recently been added to RunRepeat. There are still not enough reviews for us to assign it a
Corescore
.
Corescore
A score from 1 to 100 that summarizes opinions from users and experts. The average Corescore is 78.
More...