The Nike Pegasus 38 was already one of our favorite daily workhorses. Nike's added an easy on/off FlyEase zipper and lacing which makes the Peg38s accessible to more people.
Pros
Excellent cushioning
Easy on/off
A perfect all-rounder
Lots and lots and lots of grip!
Excellent lockdown
Can go fast
Nike Air Zoom Pegasus 38 FlyEase review and lab test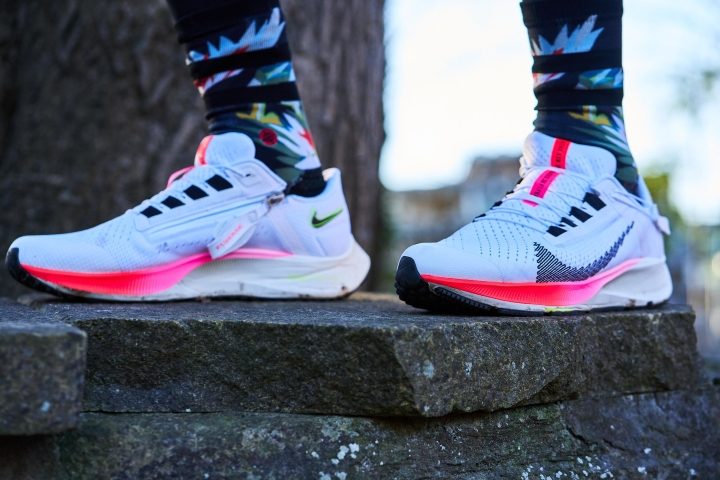 The Nike Pegasus 38 FlyEase is a super-comfy daily trainer with heaps of stability and energy return. This shoe can do it all, from gym workouts, tempo runs, and even a tiny bit of off-road!
Who the shoe is for
The Nike FlyEase line was made to be accessible for people with mobility issues. With an easy access side-zip and simple tightening with velcro, it's one of Nike's most capable and accessible shoes.
The Peg 38 FlyEase mixes a bunch of Nike tech to create a well-cushioned shoe that's got a great amount of energy return so it can be great for speed work and longer training runs alike.
Who the Pegasus 38 FlyEase is not for
Don't buy the Peg 38 if:
You have a super wide foot. Nikes still tend to run a bit narrow in my opinion, and although the Peg 38 is wider than past iterations it's still not an excessively roomy shoe.
You're expecting this to be an ultra-lightweight race-day shoe. It's not. Check out the Air Zoom Tempo Next% FlyEaseif you want a true race shoe.
It's not the lightest, but that's not a problem
Coming in at 10.3oz (291g) the Pegasus 38 FlyEase isn't race-ready weight and comes in a bit above the average. Heavier shoes are more energy-draining than carrying the same extra weight, but thanks to the design and shape of the midsole, I hardly noticed the extra grams.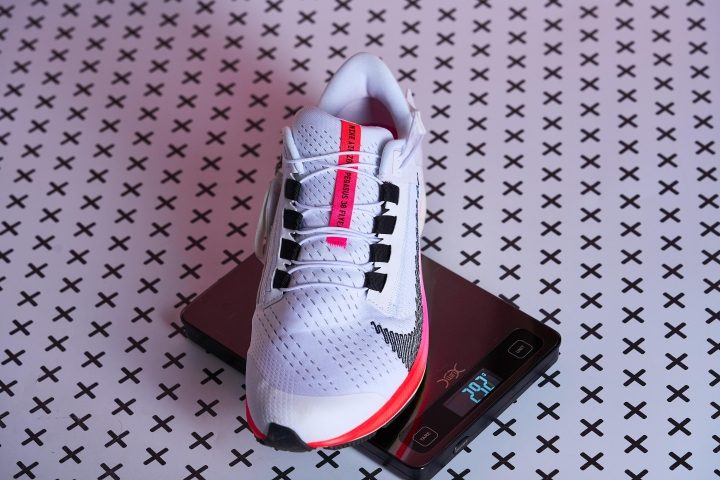 A bit narrow, which makes it difficult to close
The base Pegasus 38 was narrow and the same is true for the FlyEase version. This makes it difficult to close the zip if you have slightly wider feet, which is ironic. You can totally loosen the lacing and that makes it easier, but I would have thought Nike could have foreseen this being an issue.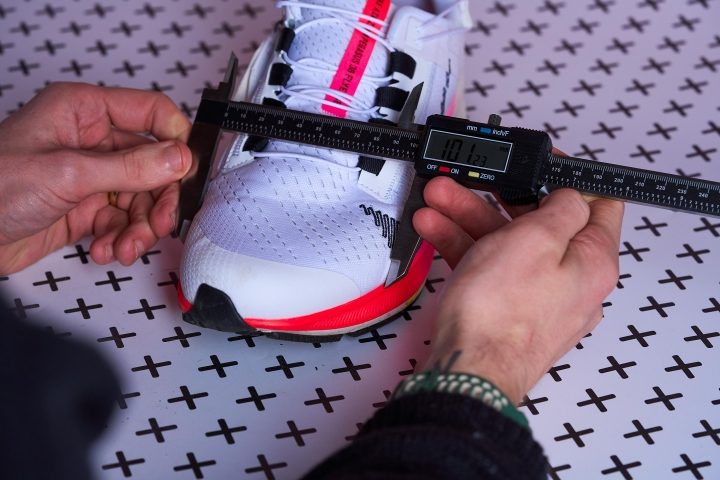 Once in I find the snug fit actually to be incredibly comfortable, but I can't overlook this problem for putting it on.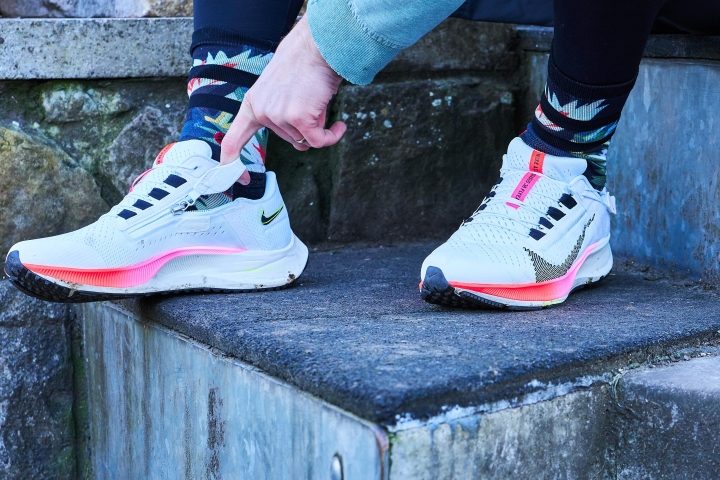 The Nike Pegasus 38 FlyEase is super comfy
As I said, the fit is really comfortable once you're n the shoe, especially underfoot. Nike's React midsole has always been fantastically comfortable and it's no different here.
With a durometer (hardness) of 19.5HA at room temperature, that React Foam is super-soft compared to the average (26.9N).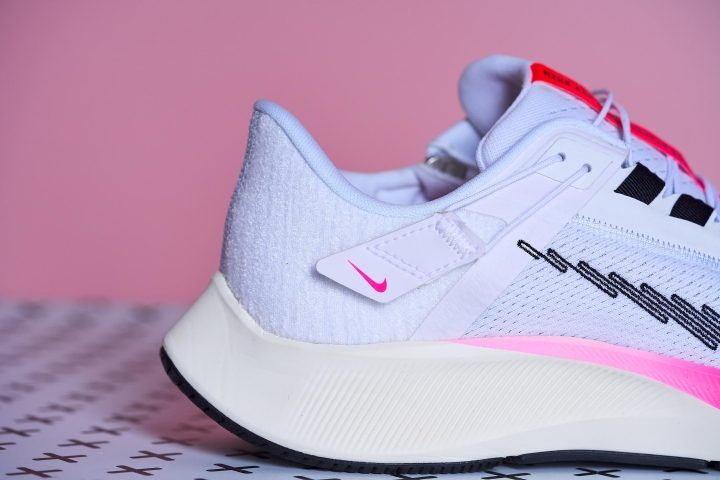 With a nice amount of arch support and cushioning, the Pegasus 38 FlyEase absorbs a lot of the impact on runs.
The Peg 38 FlyEase is still energetic and responsive
A mixture of Nike React Foam, the profile of the midsole, and the Zoom Unit air pocket in the forefoot, running in the Pegasus 38 FlyEase is a really really fun experience. It's one of the most energetic shoes I've tested.
The Zoom Unit provides that extra oomph that feels a bit like a carbon plate but works at slower speeds too. It's one of those shoes that makes you want to stay out on your run a little longer.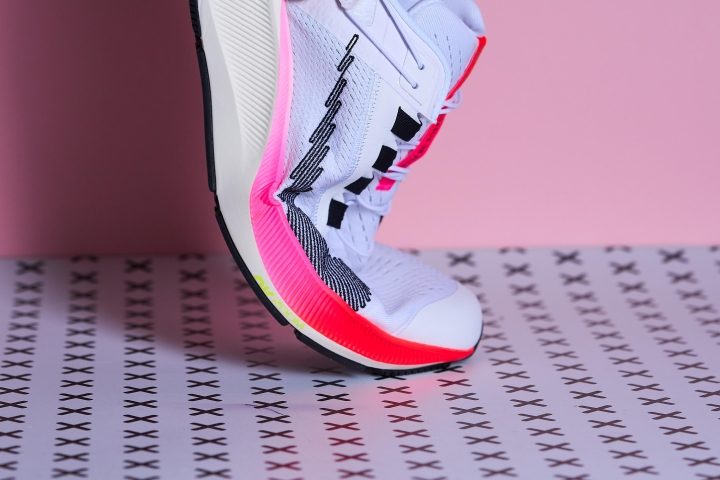 A super-stable ride
With a nice 109.5mm wide forefoot, the Nike Pegasus 38 FlyEase is really stable to run on. Strangely I thought the rather narrow 80.7mm wide heel would be quite wobbly, but I found the 8.7mm drop focused my weight towards the wider forefoot.
I was also pleased that the Zoom Unit was both stable and predictable.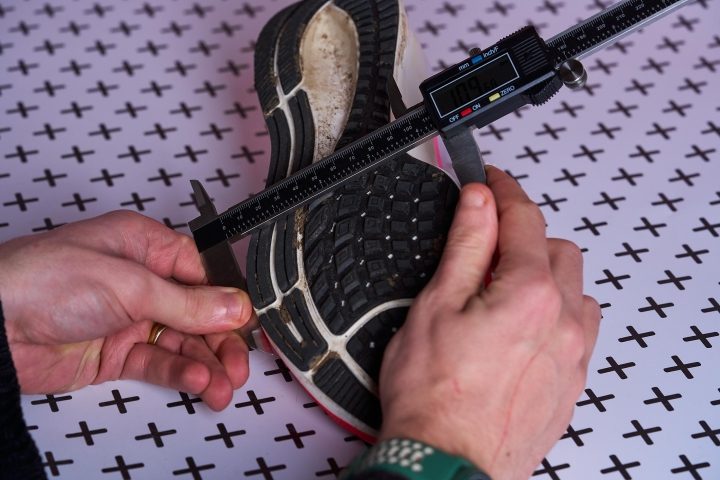 The Nike Pegasus 38 FlyEase has loads of grip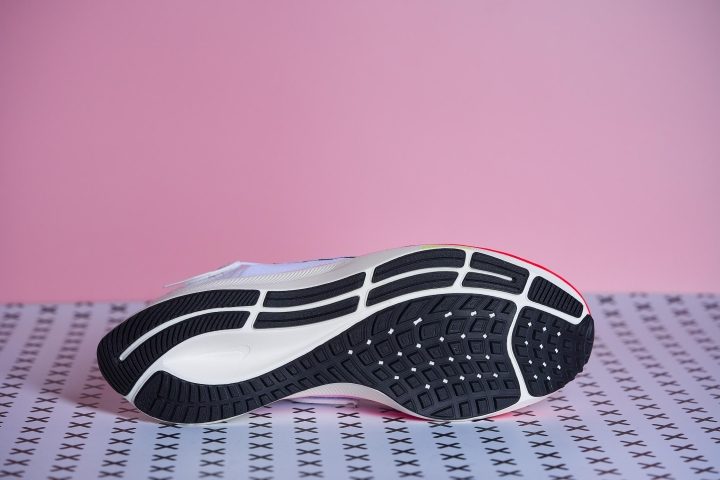 The Nike Pegasus 38 FlyEase almost offers too much. With 2.3mm lugs, the outsole gives the possibility of taking your runs off-road.
While nothing like the lugs on proper trail shoes, the outsole can take you reliably onto a few lesser-trodden paths while still providing lots of grip on tarmac.
Conclusion
The Nike Pegasus 38 FlyEase brings all the benefits of the base Peg38s to a more accessible product. There are definitely a few concerns that I have about how well that will work, but time will tell. Aside from that, the Pegasus 38 FlyEase is an incrediby fun shoe to run in, and blends comfort and performance perfectly.
Complete lab-specs overview
Nike Air Zoom Pegasus 38 FlyEase
Average
Whole shoe

Weight (g)
291

270

Drop (mm)

8.7

8.3
Flexibility of the shoe (N)

27.6

34.5

Flexibility of the shoe (Freezer 20 min) (N)

36.2

48

Flexibility of the shoe (% of change)

31.2

34.1

Lace slip test with the knot (N)
NA

24

Longitudinal flexibility (1-5 scale, 5 being the stiffest)

4.0

3.2

Torsional flexibility (1-5 scale, 5 being the stiffest)

3.0

3.4

Upper

Thickness - Tongue (mm)
5.6

6.2

Width Upper - Forefoot (mm)

99.3

98.7

Width Upper - Heel (mm)

76.5

82.5

Lace Stretch (1-5 scale, 5 being the most stretchy)

4.0

2.7
Flexibility of the heel counter (1-5 scale, 5 being the stiffest)
4.0
3.0
Tongue: gusset type

Full

-

Heel: pull tab
No

-

Midsole

Width Midsole - Forefoot (mm)
109.5

112.2

Width Midsole - Heel (mm)

80.7

89.0

Stack - Forefoot with insole (mm)

23.1

24.2

Stack - Heel with insole (mm)

31.8

32.6

Durometer Midsole Heel (Room temperature) (HA)

19.5

26.9

Outsole

Outsole thickness (Heel) (mm)

3.7

3.7

Lugs Depth (mm)

2.3

3.3

Durometer Outsole Heel (Room temperature) (HC)
87.5

81.1

Insole
Insole Heel Thickness (mm)

4.4

4.3

Insole: removable
Yes