New Balance Fresh Foam More v2 review
The New Balance Fresh Foam More v2 is a max cushioned everyday running shoe. After testing it for a couple of weeks I can say it's very much a great shoe for running. it's comfortable, has a nice soft feeling, and definitely provides a fun running experience.
I would say this shoe is most optimal for easy and long runs. A large amount of cushion and overall comfort of the upper and midsole just was made for those easier efforts. I definitely wouldn't want to use this for a race or any fast-paced workouts. It's too heavy for that and does not have the most responsiveness which is something you want for faster workouts.
Who should buy it
This running shoe is best for someone who's looking for a max cushioned, daily trainer that delivers a soft and forgiving ride.
Who should NOT buy it
This shoe is not for someone who's looking for a:
Generous true to size fit
I think in terms of length the shoe runs very true to size. For width, the shoe is very generous as it leaves a lot of space in the toe box as well as the midfoot is not snug at all. It took quite a lot of adjusting in the laces to fit my somewhat narrow foot, so for most, it should be just fine.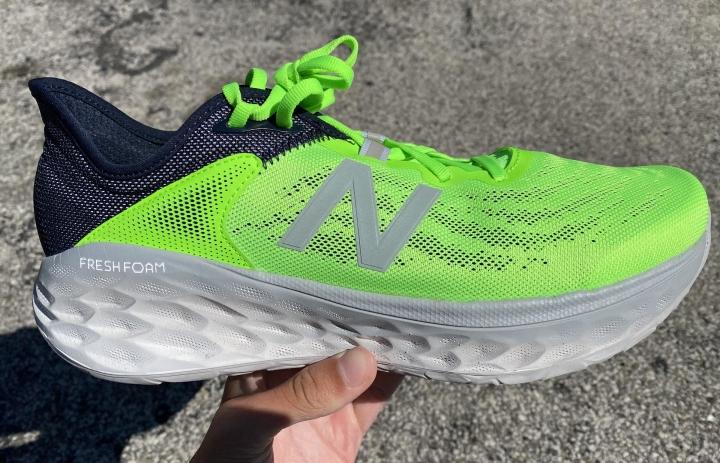 I will say, the heel cup is quite wide so you might feel some movement but it didn't affect performance in the least bit, just kind of there. Overall though, I was pleased with the fit.
Comfort for all of your miles
Comfort is definitely where this shoe shined in. It's most certainly a maximalist shoe, with an extremely large amount of Fresh Foam X, which is made to be soft and comfortable. Most of my miles are in the 6-12 mile range, and the shoe provided great comfort with each mile. I wouldn't say the Fresh Foam X midsole is very responsive but thanks to the rocker shape of the midsole you can pick up the pace with not very much extra effort needed.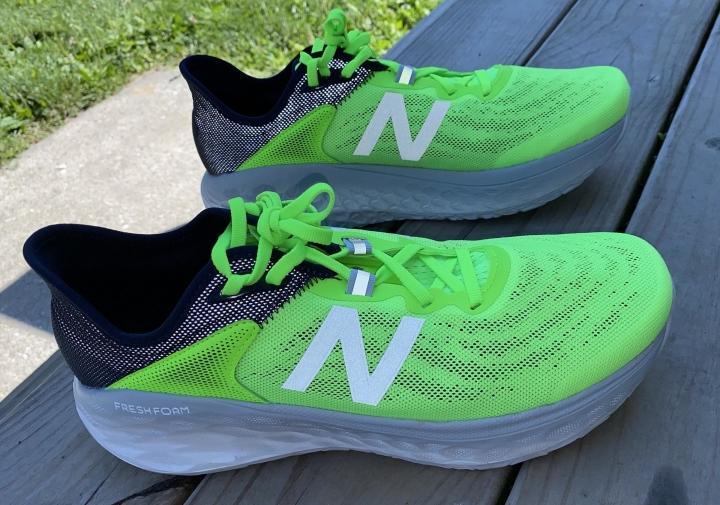 Now, I'm not saying in the least bit this is a workout shoe, you would definitely want to look into a lighter, more responsive option for that. Overall though, the shoe was made for extreme comfort for all of your miles and that's exactly what it provided.
Squishy, smooth ride in the Fresh Foam More v2
Overall, I would describe the ride as squishy and smooth. Now, I don't want it to seem like the shoe is mushy, because that entails it is "too" soft and you feel like you're sinking, instead, the shoe has a feeling of protection and cushion within each step, but not overly soft.
The shoe just overall has a really smooth feeling because of the rocker shape. Once again, this shoe is not meant for workouts or races in the least bit, as there are so many other options.
Good weight for a cushioned shoe
The shoe weighs 9.3oz/266g, nothing too light or too heavy. It actually has a good cushion to weight ratio and the overall shoe is impressive.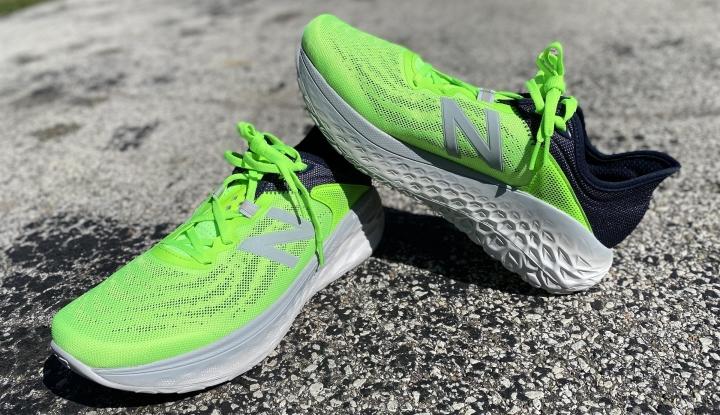 The Fresh Foam More v2 is lacking in durability
The durability of this shoe is an issue. Even after 20 miles, I could see significant wear on the outsole of the shoe. The outsole is a ground-contact ethylene vinyl acetate (EVA) foam that replaces traditional rubber to shield the main cushioning unit from wear and tear.
Unfortunately, I think traditional rubber would have maybe been a better choice, as the current outsole is very much wearing down fast.
Exceptional grip in the New Balance FF More v2
I'm primarily a road runner so that's where I, most of the time, tested this shoe. That being said I also took it for a couple of runs on grass and dirt trails. In all the shoe has a fine grip in all three of these conditions, which is no surprise because of the large amount of outsole and lugs that are at the bottom of the shoe.
Due to the large stack height, I think taking this on light buffed out trails would be fine but there's not a trail like an outsole so traction wouldn't be optimal.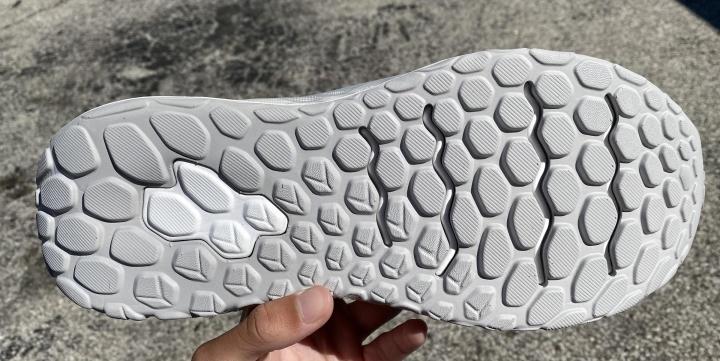 Polarizing lockdown
I think the lockdown of the shoe was good, depending on what part of the shoe you're talking about. In terms of the midfoot lockdown, it was great! The thick tongue, as well as the nice detail of a sort of midfoot band, allowed for the laces to be tightened as tight you want without any discomfort.
Once you get to the heel, it's not that the lockdown or heel counter is bad, but for me personally, the heel cup was just wide and large which made the heel move in the shoe some but not necessarily made the foot slip out of the shoe.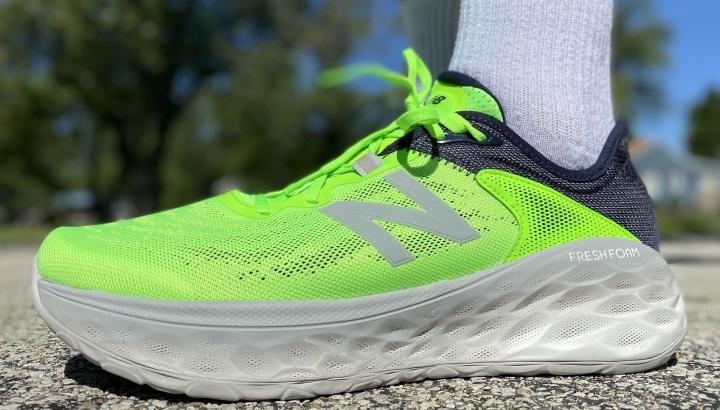 Overall, I think the lockdown of the midfoot was great but the heel lockdown could be worked on.
An overpriced shoe
This shoe retails at $165, which unfortunately is over what I think it should be. Sure the shoe is great, but there's not really any crazy technology or anything that I can think of that should make it cost that much. The only thing I can think that's a price-worthy thing about this shoe is the high stack cushy midsole; other than that I don't see anything that is $165 worthy.
Conclusion
In conclusion, I was pretty pleased with this shoe. The only thing I wasn't pleased with is the price, but other than that the other issue was the heel lockdown, which, even then I barely saw as an issue.
Compare popularity
Interactive
Compare the popularity of another shoe to New Balance Fresh Foam More v2: