There's been a narrative around Jose Mourinho for years now -- the tricky third season.
It feels like he repeats the same pattern at every club he goes to.
Season 1: Improve the team and win the league or challenge for the title
Season 2: Win the league and challenge in Europe
Season 3: Implode
But is this actually true? What does the data tell us?
Well… it turns out after analyzing the results of all of Jose Mourinho's 909 competitive matches as a manager, he has an average shelf life of about 95 matches at each club before decline sets in.
Season 2 tends to go well, season 3 goes downhill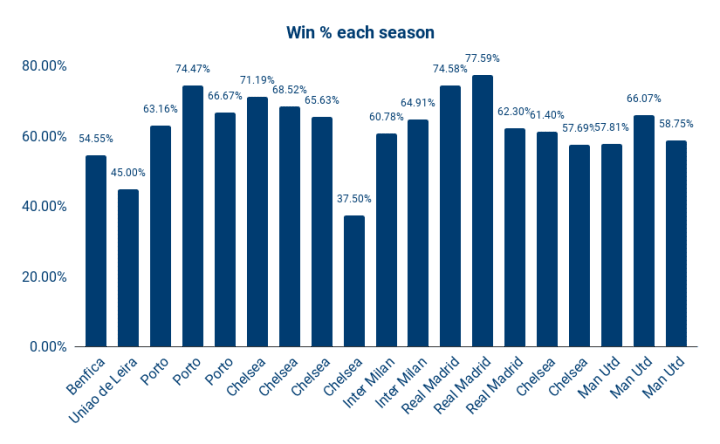 At every club Mourinho has stayed at for three seasons, his win rate has declined in that third season.
Whereas, in general, Mourinho's second season has been his most successful season at each club when it comes to win %.
This is true for Porto, Inter Milan, Real Madrid, and Manchester United.
Chelsea is the only outlier -- his first season was his most successful in his first and second spell as Chelsea manager (Benfica and Uniao de Leiria were half-season spells, so we won't pay them too much attention.)
But how many matches does it take before the decline sets in?
Chelsea
After a two year spell at Porto where Mourinho won the league twice, the Portuguese Cup, the Uefa Cup, and the Champions League, he was appointed Chelsea manager.
Chelsea had a whirlwind start under Mourinho. They took the English Premier League by storm and looked like they were going to be champions from matchday 1. It was only natural for the win rate to level off over time.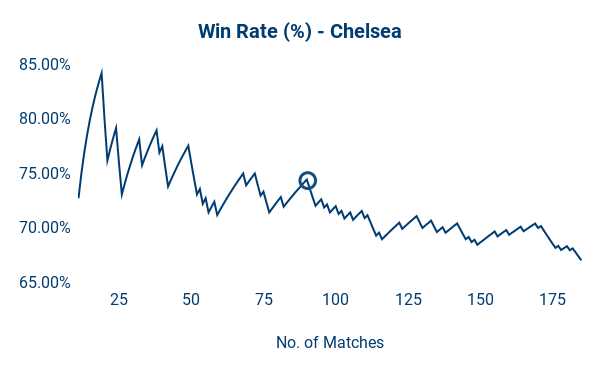 However, after 90 games it never recovered -- it was a continuous downward trend with a couple of brief rallies. The decline had commenced.
Inter Milan
Mourinho headed to Serie A when Italy wasn't the biggest market anymore. Its biggest club, Juventus, was still trying to fully recover from the match-fixing scandal which saw it relegated to Serie B and lose a host of top players.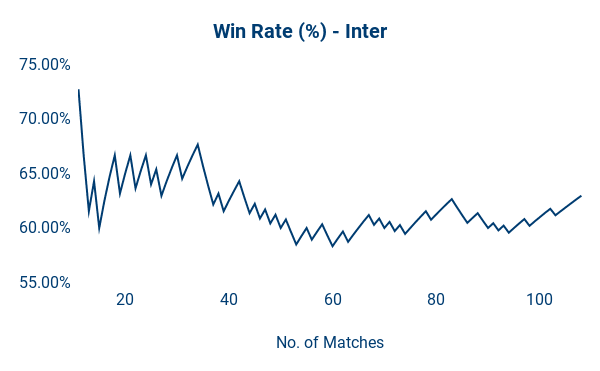 Mourinho spent two seasons at Inter Milan, winning the treble in his second season before leaving for Real Madrid.
Although his win rate was not particularly high at Inter - the treble winning season was the 8th highest win rate of Mourinho's career - it is clear there was no decline over his 99 matches.
Real Madrid
At Real Madrid, Jose Mourinho was up against one of the greatest teams of all-time in Pep Guardiola's Barcelona.
This pushed Jose to his best two seasons in terms of win % in his first two seasons at Real Madrid. However, as has been the case, there came the point of no return.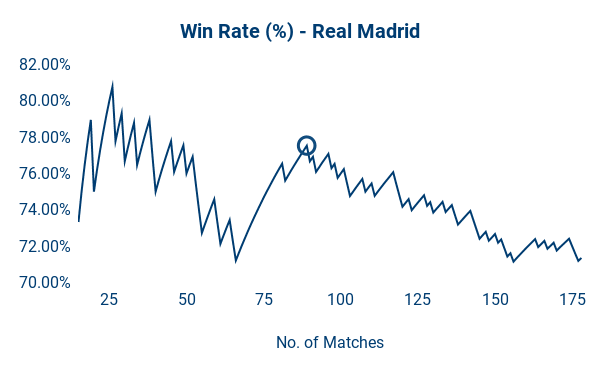 After 89 games, Jose Mourinho's win rate at Real Madrid rallied to 77.53% on Jan 15th, 2012 thanks to a 2-1 win in the League away to Mallorca.
It would never reach those heights again. Mourinho eventually left Real Madrid in June 2013 to return to Chelsea.
Return to Chelsea
Returning to Chelsea, Mourinho won his 3rd and Chelsea's fifth English Premier League title in season 2014/2015.
However, after 84 games this time, the decline had begun to set in.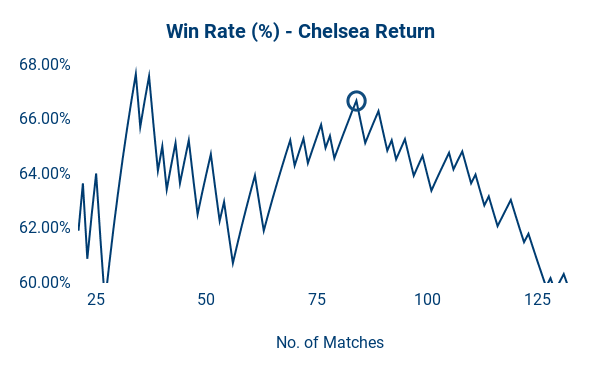 On boxing day 2014, Chelsea defeated West Ham 2-0.
A sharp downturn in form followed, but Mourinho's Chelsea clung on to win the Premier League that season. The following season continued in the same vein, and Mourinho was eventually sacked the following December -- 24 games into the new season.
Manchester United
Mourinho was never really convincing at Manchester United -- despite winning his fourth career European trophy while manager.
After a fairly average first season (securing Champions League football by winning the Europa League) he again improved in the second season to lead Manchester United to second in the table.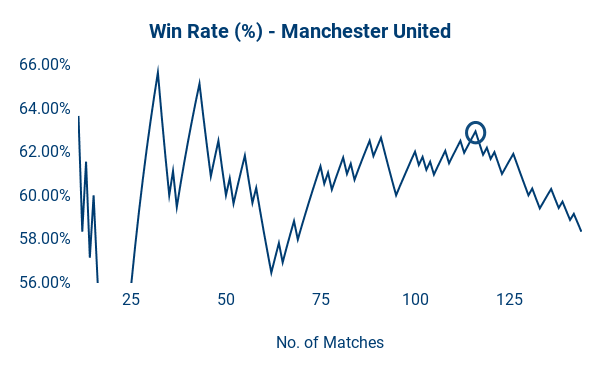 But, by the end of the second season, the signs of decline had already begun to set in. After 116 games, United lost away to Brighton in the Premier League.
Mourinho's win percentage at Manchester United never again reached the 62.93% it had reached after a home win against Arsenal in the league a week before.
Mourinho is in overall decline
Mourinho's career has followed a similar pattern. Outwith Porto, Jose Mourinho's teams have seen a sharp decline whenever he has entered a third season of management.
And, looking at Mourinho's career as a whole, you can see his own performance is in decline.
On the fourth of May 2004, Jose Mourinho's Porto defeated Deportivo La Coruna 1-0 in Spain to go into the Champions League final.
This brought Jose's career win % up to 64.34%.
That was the last time his career win % was below his current rate of 64.47%.
The decline is obvious.
Nothing shows this more than when you break his win rate down by season.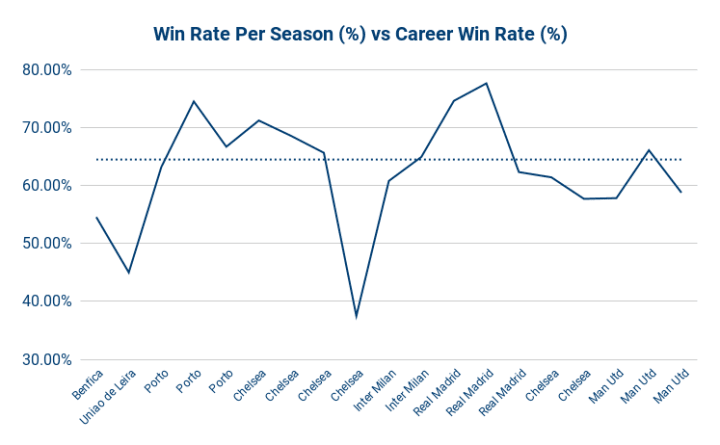 In only one of Mourinho's past 6 seasons has his win % been above his career win %. Whereas before that, 7 of the previous 9 seasons has been above his career win % of 64.47%.
Summary
Jose Mourinho isn't finished. He can still do a job -- but there are two factors working against him:
He's in decline -- his career win % is heading in the wrong direction
He's only good for 95 games
These are two major factors, but Jose Mourinho is still a manager who has won 8 league titles in four countries.
He's won the Champions League twice, and the Europa League twice.
He's won more than 570 games as a manager, he's never lost more than three games in a row, and never gone more than five matches without a win.
Don't write Jose Mourinho off just yet, but it doesn't look like he's ever going to be The Special One again.
Access to data, about Danny and RunRepeat
All data is publicly available in this spreadsheet. Please feel free to make a copy of the spreadsheet and use it for your own article. Please credit RunRepeat as the original source of the data. For any questions or media enquiries, please contact Danny at danny@runrepeat.com.
Danny is a football expert at RunRepeat. He is a Rangers fan, has attended Scotland matches at Hampden for years and loves a game of fives. His favorite soccer cleats are Adidas Copa Mundials or anything from the Total 90 or R9 ranges.