6 Best Hiking Shoes For Wide Feet in 2023
We earn affiliate commissions at no extra cost to you when you buy through us. Why trust us
Give your feet a break from getting squished every time you hit on the trails. Get a glove-like feel with a dependable pair of hiking shoes for wide feet. Ill-fitting shoes can ruin an otherwise great outdoor adventure and put your feet and ankles at risk of injury or bruised toenails.
Having a wide-foot problem can be a real challenge when going for a day hike or a backpacking trip. Thanks to footwear manufacturers like Danner, Oboz, KEEN, and Vasque, to name a few, you no longer have to suffer from unnecessary discomfort while tackling challenging terrains.
To help you find the ideal shoes that'll suit your feet, we've rounded up and tested 30 pairs of the best hiking shoes for wide feet. We took them on our on-foot journey on different hiking routes and did all sorts of typical hiking activities in them to properly establish our opinions about them in all possible aspects. Take a quick look at our top picks in different categories.
Comparison of the 6 best hiking shoes for wide feet
| | | | | | | | |
| --- | --- | --- | --- | --- | --- | --- | --- |
| Best | | | | | | | |
| CoreScore | | | | | | | |
| Users rating | | | | | | | |
| Experts | | | | | | | |
| Best price | | | | | | | |
| Ranking | | | | | | | |
| Popularity | | | | | | | |
| # of colorways | | | | | | | |
How to choose hiking shoes for wide feet
Welcome to all our wide-footed friends!
You have successfully found one of the most informative guides on hiking shoes with wide boxes. By the end of this article, you will learn about the importance of the toebox, why the width of hiking shoes matters, and what can happen if you don't take the width of your feet seriously.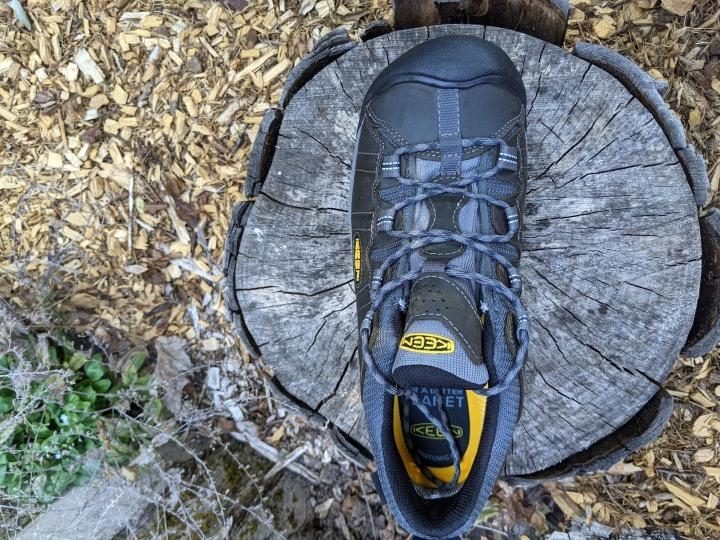 To accommodate a wide foot, you need to look for one or both of the following:
Wide width (2E/4E for men and D/E for women)
Wide toebox
The importance of toebox width for wide feet
"Toebox" is a technical term for the front of your shoe. As the name suggests, it is the part of your shoe that contains your toes.
The space inside the toebox should be large enough for your toes to spread out and wiggle. That way, your feet can properly function.
As you walk, your heel comes into contact with the ground, a natural process known as heel striking. As you finish stepping, your foot lowers and flattens. The flattening process, or the collapsing of the arches in our foot, is called pronation. As your feet pronate, your toes splay outwards.
Then, as you move forward, your heel lifts off the ground. Your muscles tighten, and the many bones in your feet lock. Your toes propel your body weight forward like a springboard. This process is called supination.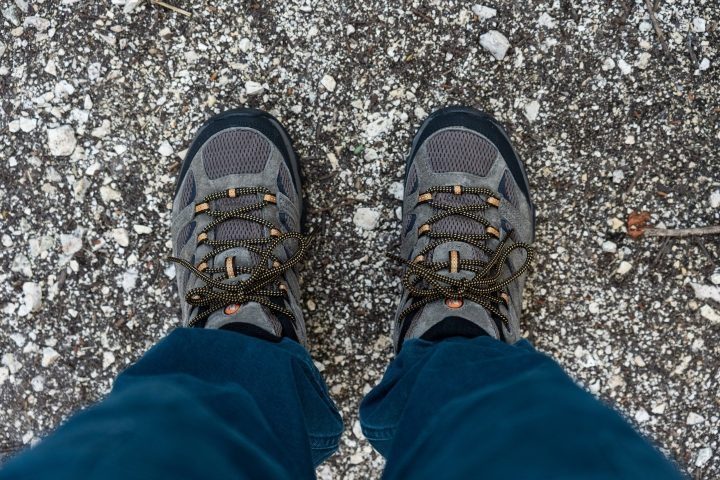 During both processes – of pronation and supination – your toes need room to work. They need space to stretch, flex, and move. When they cannot function properly due to a small toebox, they become susceptible to podiatric problems.
Problems that can come from a cramped toebox
Selecting a hiking shoe with a wide toebox is more than just making your feet more comfortable. It is a major factor in preventing injuries.
Ill-fitting shoes with a cramped toebox can lead to various issues.
Black toenails, also known as "runner's toe"
Calluses, corns, and blisters
Foot deformities such as claw toes, also known as hammer toes and bunions
Determining if your feet are "wide"
Determining whether you have wide feet and finding a shoe that comfortably fits your feet can be a journey. Unfortunately, finding a shoe that works for your unique feet can take some time and experimentation.
One indicator that you have "wider than normal" feet is if your feet consistently feel suffocated in the majority of the shoe you try out. When this is the case, your toes are not able to wiggle and spread out, or they even curl at the front of the toebox.
Other indicators of whether or not you have wide feet are age, unique foot deformities, swelling, pregnancy, and genetics.
Our feet change shape and size with age
This is obvious, but throughout your life, your feet will change. They get larger as your body grows. But your feet continue to change, even after your body fully matures.
Typically, feet tend to grow longer and wider with age. This is because as you age, the ligaments and tendons in your feet loosen and stretch out. The arch of your foot also collapses more.
Foot deformities and injuries affect foot shape and size
Some feet are naturally wider than others. And sometimes, feet are wider because deformities take form, most notably bunions.
Bunions are bony bumps that form on the joint at the base of your big toe. They can be caused by prolonged pressure on the feet that compresses the big toe and pushes it inward. Due to its location, a bunion becomes the widest part of your foot.
Swelling can occur
Our feet fluctuate in size and width due to swelling. Long and short-term swelling in the feet and legs, also known as peripheral edema, can be caused by a medical condition that requires treatment to fix. But swelling can also occur from being on your feet all day at work or on a hike.
Pregnancy can make women's feet swell
During pregnancy, a reproductive hormone called relaxin, which is produced by the ovaries and placenta, is released into the body. Its primary purpose is to relax joints, ligaments, and muscles to help the female body stretch to prepare for delivery.
As a result, it is common for swelling in pregnant women's legs, ankles, and feet, especially during the second and third trimesters.
Genetics plays a role in foot shape and size
Your genetics play a vital role in all of the physical characteristics you inherit. That's why it's common for children to look so similar compared to their biological parents. This is true for shapes and sizes of feet also.
Depending on their genetics, some people will have naturally wider feet than normal. Interestingly, individuals born with flatter feet will also have wider feet due to the lack of an arch.
Fitting tips for selecting hiking shoes for wide feet
Trying on hiking shoes involves more than just putting on a pair of shoes and looking in the mirror. You can do specific things to ensure you get the best-fitted shoe.
Take your time. Try not to rush when you try new shoes. Instead, enjoy the process, and remember that you plan to hike hundreds if not thousands of miles in whichever pair you select. That's important and worthy of your time.
Try shoes on in the afternoon. Your feet swell throughout the day, especially if you stand a lot for work or are hiking all day. So try new shoes in the afternoon or evening when your feet have had time to swell up. That way, you are not surprised when your shoes fit in the morning but feel too tight in the afternoon.
Try on both pairs. It is common for your feet to be different sizes. They can vary in length, width, or both. So try to avoid settling on a pair until you've tried on both shoes, even if the first one went on perfectly like a glove.
Buy multiple pairs. We recommend buying multiple pairs in a variety of sizes. That way, you can try on various sizes at one time. This strategy is beneficial for shopping online. Just make sure you double-check the return policy of the e-commerce website you are patronizing.
Wear your shoes around the house. To get a feel for your new shoes, we recommend wearing them around the house as you cook meals or do chores. You can learn a lot about shoes by wearing them before taking them on a proper adventure. Also, remember to avoid wearing them outside so you can keep them clean if you need to return them.
Consider the materials. Some shoes will stretch while others will not. It all depends on the material that the shoe manufacturer uses. So, consider the materials, and if they stretch a little bit, for example, leather, select a size that will work with your feet even after a little stretch.
Frequently asked questions
Which hiking shoe with a wide toebox has the least heel-to-toe drop?
Most shoes position your feet so the heel sits higher than the toes. This is due to the cushioning in the midsole. The difference in elevation between the heel and the toes is called a heel-to-toe drop or heel drop.
Of the hiking shoes with wide toeboxes that we reviewed in this article, the Xero Shoes Aqua X Sport has the least heel-to-toe drop.
Can a toebox be too wide?
Yes, too much room in the toebox can be a problem. For example, if your feet are "swimming" in your shoes, then too much movement occurs, and your foot is not secure. In such cases, you become more susceptible to injuries such as the runner's toe, blisters, and Achilles tendonitis.
How much room do my toes need?
Your toes need room to wiggle and spread out then you make a step. A good rule of thumb to follow regarding wiggle room for your toes in the toebox is to reserve ⅜" to ½" inches of space between your longest toe and the front of the shoe. And remember, your longest toe may not be your big toe.
Which brands are best for wide toeboxes?
Some hiking shoe manufacturers are more well-known than others when creating shoes with wider toeboxes. We've included many great options– Danner, Salomon, and Keen. However, it's important to mention that different shoe models from the same manufacturer may have different-sized toeboxes. Therefore, when you find a brand and shoe model that works well with your unique feet, we recommend sticking with them.
Which shoe with a wide toebox is the most waterproof?
If you frequently hike in wet climates and terrain, having waterproof shoes may be worthwhile. Of the shoes we reviewed with wide-toeboxes, there are two notable mentions regarding waterproofing, the Keen NXIS Evo WP, and the Salomon Odyssey GTX.
How we test hiking shoes
Reviewing all the pairs of hiking shoes for wide-footed people requires hours of research and performance tests in the field. Before giving each one its overall rating, we take the shoes on a series of hikes and off-road adventures, covering 30-50 miles across different terrains.
Our selection method includes doing the following:
Investing time, energy, and our own resources to buy wide-toe box hiking shoes from trusted brands. This guarantees the 100% objectivity of our comprehensive reviews.
Clocking up the miles wear testing the shoes on the trails. We specifically determine their real-life fit, comfort, traction, heel protection, waterproofness, durability, and more. We also subject all the models further to technical terrains, murky routes, and tough weather conditions.
Seeking more data inside our shoe testing lab. We utilize our self-invested tools and equipment to measure the parameters of the shoes. Moreover, we divide the shoes in half and into pieces using our saw machine. This is to put all the elements on display for us to criticize.