10 Best Skechers Sneakers in 2021
Finding the best Skechers shoe may be downright tedious given the numerous options. But, don't worry. RunRepeat is here to help you out.
Whether you're on the lookout for the most stylish or the most reliable walking companion, we've got you covered.
We don't just pick what's popular. Our team went the extra mile to gather and assess all available user reviews and check the shoes for ourselves.
Overview of this guide
How we test the best Skechers sneakers
Skechers have hundreds of shoes in their catalog. So, how can we tell which one is the best?
Actual users know best, that's why we make sure to gather all user and expert reviews, analyze their comments, and come up with an unfiltered, unbiased summary.
Since we have to see it to believe it, we try to get our hands on the shoe and wear it.
We purchase all Skechers sneakers with our own money to stay transparent.
Based on the above, we assign CoreScores from 0-100 to each shoe and pick out the creme of the crop for this guide.
Best overall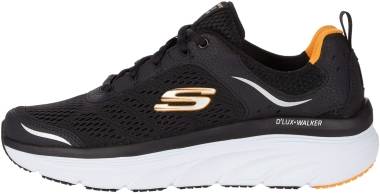 5 colorways available
Top pick
When it comes to Skechers kicks, we know for sure that they're budget-friendly. Even their best sneaks, which for us is the Skechers D'Lux Walker, are not in any way wallet-draining. And given its affordable price point, its quality is amazing. Look at it, it doesn't look cheap at all!
Now, surely there's a trade-off given its price. Unconvinced, we just had to try it, and lo and behold - the one thing we didn't like about these kicks is their long break-in period, which for us, isn't really a deal-breaker.
Once broken in, everything else about this shoe is GREAT. It's super, crazy comfortable thanks to its plush cushioning down below. Your arches would also thank you at the end of the day because these sneakers are so supportive and stable. What's more, is that it's oh so sturdy - something you won't usually get from a $75 pair of kicks.
Apart from all that, this kick also looks great on the outside and gives you the extra lift you need. So if you're into these kicks, go grab a pair. For $75 or less, it's hard to go wrong with the Skechers D'Lux Walker!
See our full review and facts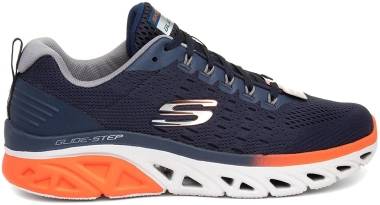 Skechers Glide Step Sport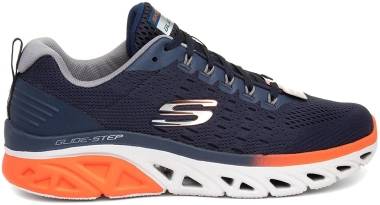 No offers available
Also great
Gliding over and stepping on urban pavements can be tiring, especially if you're wearing the wrong shoes. However, you'd want to double the gliding and stepping once you have the Skechers Glide Step Sport on foot. It's just that amazing!
Made specifically for sneakerheads with an active lifestyle or those who just want to have fun, the Skechers Glide Step Sport is here to keep your tootsies cool and sweat-free while you get things done. This is all thanks to its airy mesh upper!
In case you get these dirty during one of your summer adventures, worry not! Since we didn't have time to do the brushing ourselves, we opted to wash these by dumping them in the machine and the results were satisfying. All the muck and grime were removed! And the shoes? Well, they still look great.
If there's one thing that disappointed us, it's the shoes' break-in period. TBH, it felt stiff and uncomfy during the first few wears. Good thing, we gave it a chance! Because soon after, these bad boys' comfort levels went through the roof. It also gave zero dragging down sensation which you can blame on its uber-light construction!
See our full review and facts
Best style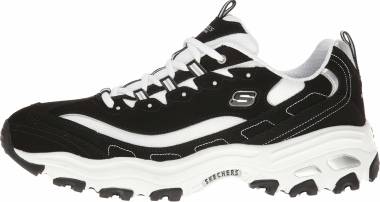 4 colorways available
Top pick
Skechers would not be here today without its most stylish kick - the Skechers D'Lites. After over a decade this humble kick still looks gorgeous! Chunky, sporty, and retro, it has all the makings of a true blue classic sneaker.
First released in the year 2007 (yes, It's been around for that long), these kicks have been clad in various materials and hues. So, if you're looking for a shoe that's available in multitudes of colorways, this is the kick for you.
When it comes to performance, the D'Lites truly delighted us with its ultra-cozy in-shoe feel. In fact, foot problems don't have much to say once the feet are surrounded by its plush confines. We also don't mind the added height since it makes our legs look much slimmer - truly a welcoming treat!
Although it's one good-looking and comfy shoe, the D'Lites have a few quirks. Heel slip is something you might not like about this shoe but changing up the lacing a bit does the trick. Tying it can also take time but you can always replace the laces if you want to avoid this minor setback.
All in all, this kick still got our thumbs up! If it's just about looks, this one aced it! Consider its plush confines and sturdy construction an icing on the cake.
See our full review and facts
If you love the look of Air Max kicks but you're a bit tight on the budget, you might as well try Skechers' Uno - Stand On Air. It may not have Nike's distinguishing Swoosh logo, but these sneaks will literally and figuratively let you "stand on air" like you're walking on clouds!
Yes, when it comes to Skechers sneakers, this one definitely deserves a spot on the list of good-looking Skechers shoes. The sole may look like the Air Sole in the Air Maxes but its upper sure looks clean, sleek, and streamlined - a far cry from the latter's elaborate detailing.
Down under, you're also treated to a plush, impact-absorbing memory foam sole that provides the right amount of arch support. So, if you often feel unwanted pressure underfoot, try these on and you won't regret it because we sure loved it!
Be aware, though, that these kicks' synthetic upper takes time to break in. It also feels a bit cramped in the toe area. However, once it loosens up, your tootsies will take great pleasure in its homey confines and will finally feel right at home.
For only $70, the Uno - Stand On Air Sure is a great deal. You get a sporty all-rounder that's both comfy and supportive. If that's not enough, you'd be surprised to find out that these kicks are damn sturdy! A real good buy!
See our full review and facts
Best for flat feet
7 colorways available
Top pick
Having trouble finding the most comfortable shoe for your beautiful flat feet? Search no more because Skechers has got you covered! Podiatrist- certified, the Arch Fit is made to fit perfectly on your feet like they're custom built.
Shoes engineered for people with foot problems often come with a high price, but not with these bad boys. For only $85, we were able to walk over 10 miles without feeling any back or foot pain. Think plush, firm, and stable!
Now, don't get us wrong. It's not like the Asics Kayano when it comes to stability. But given its affordable price tag, you're really getting a lot for less.
With these kicks, you won't only say goodbye to pain, but you're also in for a mighty smooth ride. Talk about buttery heel-to-toe transitions!
And if you plan to go about your day-to-day activities in light rain, go ahead! We tried these on wet pavements and smooth slabs, and it stuck to it like glue. Its mesh upper will also keep your feet feeling warm and toasty.
Worried about dirt and muck ruining your kicks? Don't be, because these are machine washable! We tried it and the shoes came out looking pristine with their form and function all intact.
See our full review and facts
Also great
If you think that it's impossible to find the perfect shoes to match your flat feet, think again! Skechers, after all, has a knack for creating shoes for people with various foot problems. And those with flat feet need not look far, thanks to the creation of the Skechers Arch Fit Banlin.
A part of Skechers' well-loved Arch Fit collection, you know for sure that the Arch Fit Banlin provides the same supportive feeling underfoot and same stylish look minus the expensive price tag.
Now, this kick isn't only for people with flat feet. If you overpronate or have high arches or plantar fasciitis, you'll find these kicks right up your alley.
Besides saying goodbye to pain and wobbling, we found its breathable confines and laceless construction a pleasing added feature.
We found our heels slipping at times but this didn't really bother us. For only $85, we can finally walk past the airport security in seconds thanks to its easy-to-slip on and off build. Sweaty feet are also the least of our worries since these kicks mesh upper is super duper breathable.
See our full review and facts
Other buying guides