3 Best PRO-Keds Sneakers in 2023
From the coffee shops to city streets to the stadiums, these Pro-Keds sneakers give you that confidence and cool vibe that you're kicking it right -- old-school style. Exuding authentic vintage glory, the Pro-Ked kicks have been worn by famous athletes, fashion icons, musicians, and artists.
Easy to sport with anything in your wardrobe, the limited lineup of Pro-Ked kicks has continued the legacy of subtlety, uncluttered stylish look. The favorite low-cut (as well as the high-cut) design PRO-Keds Royal comes at a budget-friendly price tag with a rich selection of colors.
To make your browsing experience easier, we've rounded up and tested all the best Pro-Keds sneakers available today. Get the latest reviews, current rankings, and top picks of your favorite sneakers.
How we test sneakers
While our testers take all the lifestyle shoes in various street-wear tests, the same sneakers are subjected to mechanical tests inside the RunRepeat shoe lab. When all the data are submitted, we pore over them and crunch the numbers that will appear in the reviews and CoreScore.
These are the selection protocols involved:
Procure all the pairs of Pro-Keds sneakers from our own pocket. We ensure that our reviews are based on 100% objectivity.
Evaluate the strengths and key features of a particular model, highlighting its real-life fit, function, comfort, style, fabric quality, weight, closure system, grip, price range, and a lot more.
Collate additional info from sneakerhead forums, expert feedback, bestselling list, and hundreds of reviews from regular customers. We consolidate all the data for further product comparison and assessments.
To conclude the guide, all the pairs of Pro-Keds sneakers on the list are rated based on the evidence gathered above. Each pair is assigned an overall rating ranging from 0 to 100. See the CoreScore to view a summary of the model's overall performance and value.
Best PRO-Keds sneakers overall
PRO-Keds Royal Hi Classic Canvas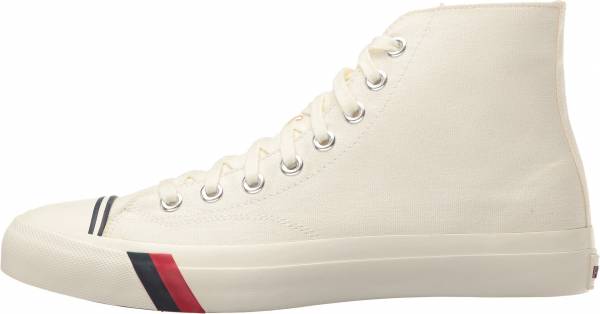 Zappos
Free shipping & returns
Amazon
Prime & free shipping
Pros
Retro look
Good fit
Versatile
Sturdy
Firm feel
Tough soles
Lightweight
Affordable
Comfortable when worn
Verdict
The PRO-Keds Royal Hi Classic Canvas will make sure you're kicking it right—old-school style. These high-tops have a unique design that sets them apart from the classic high sneakers. They're great for all-around leisurewear and are light and comfortable enough to be worn all day. But don't let the sneakers' stylish good looks fool you. They belie a tough exterior that will last you a good long while.
PRO-Keds Royal Hi Classic Canvas full review
Best PRO-Keds classic sneakers
PRO-Keds Royal Lo

Zappos
Free shipping & returns
Pros
Nostalgic appeal
Timeless design
Durable
Budget-friendly
Has retro-styled outsole
Allows air circulation
Delivers cushioning
Great feet support
Cons
Frail sole
Gets dirty easily
Verdict
With its granted better mobility around the ankle region than the original high-top Pro-Keds royalty, the Pro-Keds Royal Lo' proved that there is more to the world of rubber-soled sporty shoes than the Chuck Taylors. This comeback model kitted out with a sturdy fabric and reinforced with a rubber toe cap receives a warm reception for its old-school vibe that's easy to sport with any casual clothing. It comes at an affordable price tag and a rich selection of colors.
PRO-Keds Royal Lo full review
Best PRO-Keds low top sneakers
PRO-Keds Royal Plus Suede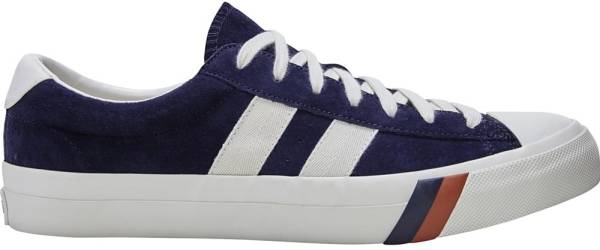 Amazon
Prime & free shipping
Pros
Reasonably-priced
Incontestable comfort
Well-cushioned
Great for all-day wear
Rubber toe cap
Squishy removable footbed
Stable
Padded collar
Soft fabric lining
Cushioned footbed
Verdict
PRO-Keds Royal Plus Suede flaunts an authentic vintage glory, from its rubber toe cap, pronounced midsole, to the two distinctive stripe details on its white sole. The luxurious suede cover, premium leather accent on the heel, and breathable textile lining create a sense of refinement to this rather straightforward and basic sneaker.
PRO-Keds Royal Plus Suede full review