7 Best Cheap Basketball Shoes in 2023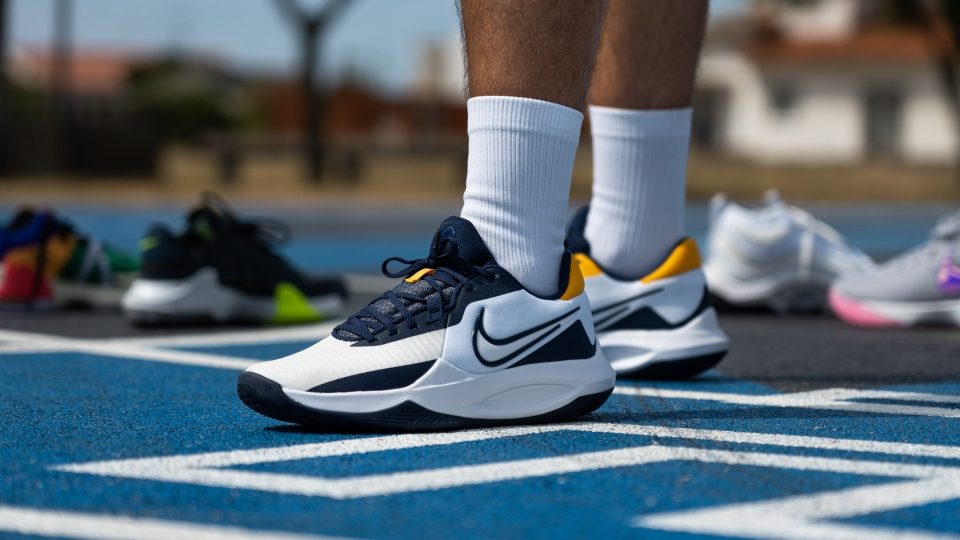 We earn affiliate commissions at no extra cost to you when you buy through us. Why trust us
Getting more for less is always appealing. Because of this, brands such as Adidas, Under Armour, and even industry leader Nike make cheap basketball shoes available for everyone.
We have tested and reviewed over 30 shoes under $100 to find which ones have the best performance in this price range. Our takeaway? Lesser price does not equate to lesser quality. We were actually surprised to find that in some aspects, these shoes come very close to their more expensive counterparts.
Comparison of the 7 best cheap basketball shoes
| | | | | | | | | |
| --- | --- | --- | --- | --- | --- | --- | --- | --- |
| Best | | | | | | | | |
| CoreScore | | | | | | | | |
| Users rating | | | | | | | | |
| Experts | | | | | | | | |
| Best price | | | | | | | | |
| Ranking | | | | | | | | |
| Popularity | | | | | | | | |
| # of colorways | | | | | | | | |
Which basketball shoes are considered "cheap"?
Here at RunRepeat, we consider "cheap" the bottom 25% based on SRP. Out of the bottom 25%, Nike, Adidas, and Under Armour offer the most number of cheap shoes.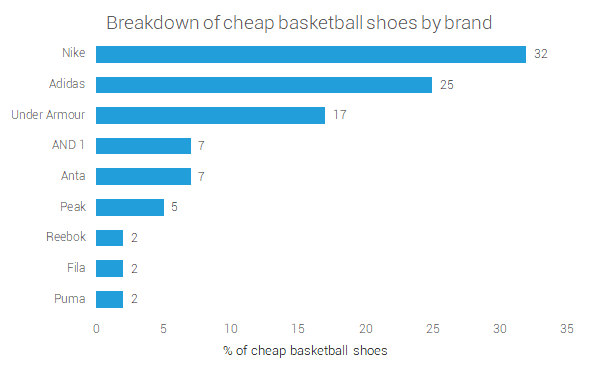 What makes up the top cheap basketball shoes
Generally, cheap basketball shoes are made from materials that are less expensive and far more common than the ones used on more expensive options. The table below summarizes some of the most commonly used materials across brands.
Material

Description

Cushion

Old Cushioning Technologies

Cheaper basketball shoes make use of old technologies. A good example is Nike's Air technology, which is light and comfortable.

EVA Foam

Closed cell ethylene-vinyl acetate copolymer foam or EVA is among the most commonly used material for midsoles primarily because it is durable, water-resistant, and comfortable.

Upper

Synthetic fabric

The upper of cheap basketball shoes also need to be durable, hence synthetic fabrics are usually used.

Artificial rubber

The upper material is sometimes reinforced or infused with much cheaper artificial rubber such as neoprene to ensure comfort.
Best basketball shoes for less
Cheap basketball shoes, even the best among them, can be classified into three categories. You can easily remember them with this acronym: NOT Expensive.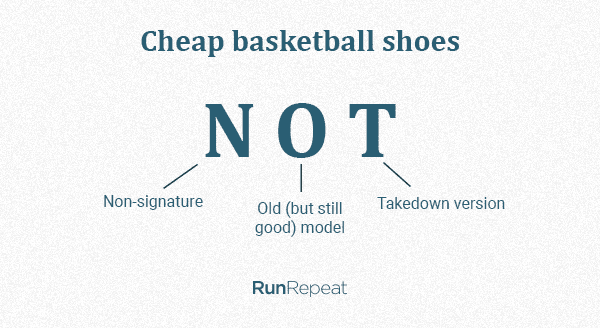 Non-signature models are not less pricey simply because no big name is attached to them, so there is no need to pay a premium for that personality's brand.
Shoe models, hailed and sought after during their time, will eventually be replaced with newer and touted to be innovative ones. But new is not always better; older models, even with their price cuts, can still hold their own on the court.
Brands, in their efforts to appeal to a much wider audience, purposefully produce basketball shoes that are cheaper. They are often referred to as takedown models.
Cheap signature basketball shoes
To widen their reach, some basketball stars work closely with brands to come up with their own takedown basketball shoe releases.
LeBron James. Aside from his main LeBron line, the King LeBron James also has a takedown line known as the Soldier.
Kyrie Irving. Besides the main Kyrie line, shooting guard Kyrie Irving also has a series of budget basketball shoes called the Kyrie Flytrap. As of the first half of 2020, it made its third release.
Kobe Bryant. The late Kobe Bryant also drops budget-friendly basketball shoes every now and then. The Nike Mamba Fury is the first one to release since his death in January 2020.
When you go for less pricey signature basketball shoes, always consider your style of play. If you are a big man who takes on the center and power forward position, you'd need a shoe with more cushioning. LeBron's basketball shoes can help you with this.
However, if you are a guard who needs a more pronounced feel of the court, Kobes and Kyries are what you need. Otherwise, you can go for cheap basketball shoes with great traction and court feel.
When is the best time to buy cheap basketball shoes?
Basketball shoes can also come significantly discounted; if you know when to shop for them, that is!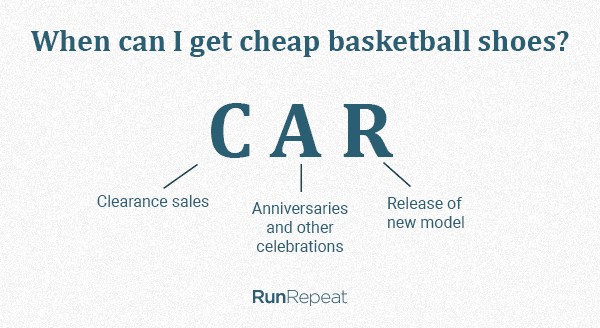 Buying at clearance sales are among the most obvious ways to get basketball shoes at significantly discounted rates. Clearance sales usually happen right after big events when retailers scramble to bring their inventories back to normal.
Speaking of big events, the retailer's anniversary day or week is usually a period of generous discounts, especially for their loyal customers. Celebrations that push people to shop such as Christmas also bring prices down.
You can also get basketball shoes for less upon the release of a new model in a basketball shoe line. The price of the one that the new release replaces will surely be brought down to entice buyers to at least consider buying it.
How we test basketball shoes
Our mantra for our shoe reviews is honesty over freebie. So, for all the shoes we tested, we make sure that every penny we use the buy them comes from our own pockets. This way, we can be more straightforward about our feedback.
In testing the shoes, we do it two ways: wear testing and lab testing. We play in all the shoes for a substantial amount time before reporting our likes and dislikes. We also take them both indoors and outdoors for a wider array of observations.
After that, we summarize our thought about our experiences, and then we proceed with more data-seeking inside our lab. We measure different aspects, such as durability, weight, and flexibility. We also tear the shoes apart, giving us an absolute view of every component.