Frustrated with his sweat-soaked cotton shirts, former University of Maryland football special teams captain Kevin Plank had a vision that would eventually revolutionize the performance apparel industry.
Plank hated having to change his wet t-shirt over and over again during football practice, but then he noticed that his compression shorts managed to stay dry all throughout. Inspired by this, Plank set out to create a moisture-wicking t-shirt that would keep athletes cool, dry, and light even in brutally hot conditions.
Working from his grandmother's basement in Washington DC, Plank founded Under Armour in 1996 and designed the first UA HeatGear T-shirt named the #0037. He then traveled up and down the East Coast to sell his revolutionary product straight out of the trunk of his car. By the end of the year, he made his first team deal that generated $17,000 in sales.
Since then, Under Armour has grown into a multi-billion dollar company that develops, markets, and distributes performance apparel, accessories, and footwear.
I Will Protect this House: Athletes Fired Up for Under Armour Basketball Shoes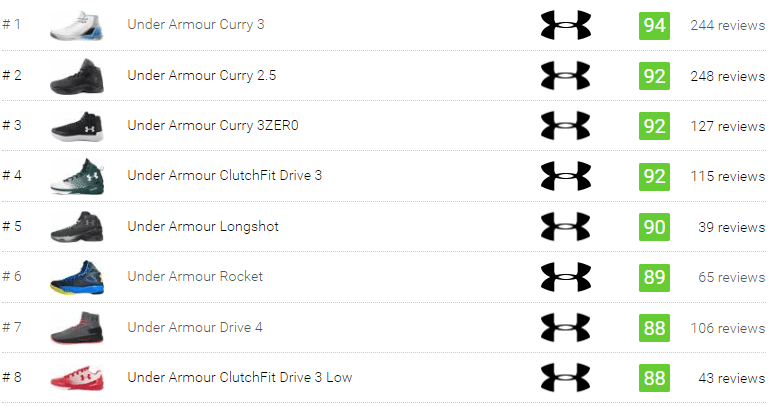 Born on the football field, Under Armour started making performance footwear and launched their first football cleat in 2006. In 2009, they debuted their first running shoe line. The following year they introduced their Micro G basketball line just in time for the opening of the 2010-2011 NBA season.
Headlined by Golden State's breakout superstar Stephen Curry, Under Armour hopes to compete with American brand Nike and German sports giant Adidas in the basketball footwear arena.
Stephen Curry
Often counted out, Stephen Curry was not heavily recruited out of high school. Division I NCAA programs avoided recruiting him, citing he's too small and weak to compete at the collegiate level. Even Virginia Tech, his father Dell Curry's alma mater, did not think he deserved a spot in their team.
Despite all the criticisms, Stephen was not disheartened and relentlessly worked to improve on his weaknesses. Using the brush-offs as motivation, he continuously trained and pursued his dream of becoming an NBA player just like his father.
A coach from a small liberal arts school located just a few minutes from Stephen's home took notice of his development and gave him a chance. Coach McKillop of Davidson College knew something other recruiters didn't. He saw that Stephen could be a star. "You could see the character, the poise, the work ethic, toughness, and resiliency," McKillop says.
Stephen finished his freshman year at Davidson as the leading scorer of the Southern Conference. During his sophomore year, he led his tenth-seeded team to the Elite Eight by averaging 32 points per game. The following year, Stephen topped the NCAA scorecards by averaging almost 29 points per game. He became so good that even Steph's would-be top rival LeBron James showed up in one of his games to watch him play.
In spite of what he has achieved, NBA scouts still doubted his abilities. "Over the years, I've been doubted and questioned," Stephen stated in a press release. "My NBA scouting report represents what some said about my ability." Selected as the seventh overall pick in the 2009 NBA draft by the Golden State Warriors, the small point guard rose above all the challenges and proved his doubters wrong.
Now a two-time NBA Champion (2015 and 2017), Stephen has been selected to four All-Star and four All-NBA teams. He was named the 2015-16 NBA Scoring Champion and won back-to-back NBA MVP honors (2015 and 2016). In 2016, he was also the first player in NBA history to be unanimously elected as the league's Most Valuable Player.
Stephen's sneaker story mirrors his NBA journey. He battled through an injury-filled 2011-2012 NBA season, casting doubts on his marketability. Determined to get back on track, he scored a career-high 54 points against the New York Knicks while setting a franchise record of 11 made three-pointers in a single game. He was steadily emerging as a star, but it seems that even with all his achievements as a Nike athlete, the company was not particularly interested in re-signing him.
Much like his college coach, Under Armour saw Stephen's potential as a brand ambassador. They bet big and signed him in 2013 after Nike's now infamous attempt of reacquiring him. "Our key attributes for players we want to have on our team are young, underdog and next -- and Steph checked all those boxes," Under Armour's SVP of global marketing Matt Mirchin told ESPN in an interview.
Stephen is already on the fourth installment of his signature Curry line, and he has single-handedly propelled the sales of Under Armour basketball shoes even to the point of briefly overtaking Adidas as the second most popular US footwear brand.
Under Armour Curry 1. After much anticipation, Under Armour officially unveiled Stephen's first signature sneaker in 2015.
The Curry 1 was inspired by Stephen's journey from an unnoticed prep player to an NBA superstar. It commemorates defining moments that forged his path to greatness. "To be part of this process and to see the Curry One come to life is a dream come true," Stephen says. "What makes this experience so meaningful is that the shoe represents the belief I have in myself and the belief of my family, close friends, teammates and coaches that's driven me to get better and led me to where I am today."
The Under Armour Curry One is designed to meet the demands of the league's most unguardable player. These UA basketball sneakers feature innovations such as Anafoam and Charged Cushioning, providing Stephen with performance benefits to elevate his game.
Under Armour Icon Curry 1. Still riding on its popularity, Under Armour released a fully-customizable version of the Curry One. Using UA's Icon platform, buyers can tell their story while showing off their creativity and style.
Under Armour Curry Lux. Diving into the lifestyle market, Under Armour launched a premium version of the Curry 1 aptly named the Curry Lux. "Performance gets elevated as an expression for street culture," SVP of footwear Peter Ruppe told Sports Illustrated in an interview. "I think for us, where we are in our maturity in footwear, it is time for us to compete in that broader footwear market."
Available in both mid and low-top silhouettes, the Curry Lux features new materials that range from full-grain leather, split leather, nubuck leather, and suede. UA's goal was for basketball players to have an off-court option that they can still use on-court if they desired.
Under Armour Curry 2. With the Curry 2, Under Armour had to step it up a notch after seeing the wild success of Stephen's first signature UA basketball shoes. Featuring a seamless Speedform upper,

the Curry Two is engineered to deliver a precision fit

for maximum control.
Under Armour Curry 2 Low. The Curry Two Low carries with it the same tooling as its mid-top counterpart but is unique in its own way thanks to its near slip-on construction.
Under Armour Curry 2.5. Fresh off a record-breaking 73-win season, Stephen gets an updated version of his second signature sneaker just in time for the Warriors' championship run.
Built to withstand the rigors of the playoffs, the Curry 2.5 is equipped with a rubberized upper that delivers lightweight protection.
Under Armour Curry 3. Under Armour wanted to shake things up with the Curry 3 by including Stephen throughout the entire design process. "We kind of wanted to take a different approach and get him involved earlier on and have him look at sketches and have him circle what he likes, and x-out what he didn't like," UA Senior designer Kort Neumann said in an interview. "Then we just presented some ideas ourselves to see if he was gravitating towards them and to see what we could improve on."
Inspired by fighter jets, the Steph-approved silhouette perfectly complements his unique playing style. The Curry 3 is equipped with Under Armour's most innovative technologies to provide him with total control and infinite support on the court. These Under Armour basketball shoes feature a new Threadborne upper for lightweight structure and Meta-wing carbon fiber shanks for stability.
Under Armour Curry 3 Lux. For becoming the first Under Armour school to reach the NCAA final four, UA decided to treat the University of South Carolina Gamecocks with an exclusive Curry 3 Lux.
These limited-release Under Armour basketball shoes are made with premium Oxblood leather, complementing the school's colors.
The Curry 3 Low was also treated to a premium lifestyle makeover. The UA Curry 3 Lux Low is crafted with luxurious white ostrich skin.
Under Armour Curry 3Zer0. Under Armour decided to drop the .5 concept and renamed Stephen's postseason kicks the 3Zer0. "With the positioning of the 3Zer0, instead of doing a 3.5, we wanted to make it more of a recognizable franchise. Something stronger than just being the little brother to the main signature. We wanted it to stand on its own, and be a faster version and a lighter version." Kort Neumann said.
The UA Curry 3Zer0 is made to perform when it matters. Stephen was wearing these Under Armour basketball shoes when his Golden State Warriors swept their way through the first three rounds of the 2017 NBA Playoffs.
These UA basketball sneakers are constructed with a breathable mesh upper to keep you light on your feet while its adjustable heel wraps around your ankle, locking your feet in place.
Under Armour Curry 4.

With Steph's fourth signature UA basketball shoes, he was clear with what he wanted. "He loved the step-in comfort of the 3. He loved the traction as well. [But] he felt like the shoe was too bulky," Kort Neumann said. "Although he was looking for something stable at the time, he wanted something streamlined and speedier for the 4."
Faced with the daunting task of creating a new design concept, Neumann picked Stephen's brain to meet his demands. "I gave him my sketchbook and said, Go through this. If you see something you like, please circle it, and if you don't like something, feel free to X it out," explained Neumann.
Equipped with an all-new knit upper and a full-length speed plate, these Under Armour basketball shoes enable Stephen to move quickly and efficiently on-court. The Curry 4 is designed to help him become the best possible player he can be.
Under Armour Curry 4 Low. Stephen's fourth Under Armour basketball shoes reviews were mostly positive, so UA wasted no time in releasing its low-top version.
The Curry 4 Low deviates from past low models with its distinctly casual look while still sharing similar performance elements to its high-top counterpart.
Emmanuel Mudiay
Looking to strengthen their basketball presence, Under Armour enlisted top NBA prospect and future lottery pick Emmanuel Mudiay. He was once ranked as the number one high school point guard in the nation and was projected to be the number one overall pick in the 2015 NBA Draft.
Straight out of high school, Mudiay made the leap to professional basketball. He signed a one year $1.2 million deal to play for the Guangdong Southern Tigers in China while waiting out his NBA draft eligibility. After spending a season with the Tigers, Mudiay was eventually selected seventh overall by the Denver Nuggets and made the 2015-2016 NBA All-Rookie Second Team.
Under Armour quickly took notice of Mudiay and signed him to a multi-year endorsement deal just a couple of months after he decided to play overseas. "With Emmanuel joining our roster, Under Armour Basketball has added one of the game's best young players to our team," Under Armour EVP of Global Marketing Matt Mirchin said. "For such a young player, Emmanuel has a complete game, is a leader and plays with a toughness that stands out the moment you see him step on the court. When you combine that with his commitment to training and his positive attitude, he has the potential to be a special player for a long time. We're proud to now be a part of his journey."
Showing their rookie some love, Under Armour made Mudiay the first rookie in his draft class to have his very own PEs. "Joining the Under Armour team is an important step in the pursuit of my ultimate dream to compete at the game's highest level," Mudiay said. "Knowing their dedication to making athletes better and how well their footwear performs made them the perfect partner."
Under Armour ClutchFit Drive Low PE. These limited edition Under Armour basketball shoes are available in three colorways called The Genesis, The Appreciation, and The New Year.
Under Armour ClutchFit Drive 2 Low PE. Under Armour wasted no time in showing Emmanuel Mudiay he was next in line after Stephen Curry. One day after the 2015 NBA Draft, his ClutchFit Drive 2 Low Mudiay PE was already available in stores.
"Emmanuel is really comfortable with the ClutchFit Drive 2 and loves the support and fit," Under Armour Vice President of Team Sports Footwear, Accessories, and Equipment Josh Rattet said in an interview. "His game is both explosive and also about change of pace, so traction and great lateral support are both huge for him. He's constantly cutting and shifting and driving, so that multi-directional grip pattern is something that players can look forward to giving them great traction. This year, we also added Charged Cushioning to the franchise for great comfort and a smooth ride. Emmanuel likes playing in lows, and we're going to continue to offer this in a low and mid for players."
Under Armour Fireshot PE. To celebrate Emmanuel Mudiay's first year in the league, Under Armour dropped three colorways of the UA Fireshot styled in Denver Nuggets hues. These player exclusive Under Armour basketball shoes feature an iridescent UA logo and a custom 0|EM script on the tongue.
Raymond Felton
Raymond Felton joined the NBA in 2005 after being drafted fifth overall by the Charlotte Bobcats (reverted back to their original Charlotte Hornets name in 2014). With a solid rookie year, Felton made the 2005-2006 NBA All-Rookie Second Team and finished fourth in the T-Mobile Rookie of the Year voting. He currently plays for the Oklahoma City Thunder and serves as their backup point guard, hitting the floor when OKC star Russell Westbrook needs a break.
After being traded to the New York Knicks, Raymond Felton entered the 2012-2013 NBA season as an underdog looking to prove himself. He has been wearing player exclusive colorways of the UA Micro G Torch since the beginning of the season, so in 2013 Under Armour made things official by signing him to a multi-year partnership deal. "We are extremely excited about partnering with Ray, a true professional and someone who embodies the underdog spirit we look for in our basketball athletes," Kris Stone, Under Armour Director of Sports Marketing in Professional Basketball, said in an interview. "Ray has clearly established himself as a winner dating back to his high school state championships, NCAA Championship and current impact on the Knicks recent rise to the top of their division."
Under Armour Micro G Torch PE. After re-acquiring Felton in the 2012 offseason, the New York Knicks have been impressive and are dominating their competition in the Atlantic Division. He has been averaging 15.8 points and 6.3 assists per game, making him a significant contributor to the team's success.
Under Armour took notice of the veteran point guard's impactful performance and quickly hooked him up with his very own player edition of the Micro G Torch. Aptly named the Knicks, his PE is predominantly black and is offset by blue and orange hues.
Under Armour Anatomix Spawn PE. Constructed from the bottom up, the Anatomix Spawn mimics the anatomy of the foot. It features a partly mesh upper to cut down the shoe's weight, allowing you to elevate your game.
Several signed athletes, including Felton, donned PE colorways of these Under Armour basketball shoes.
Under Armour Charge BB Low PE. Dressed in Knicks colors, Felton's PE of the Under Armour Charge BB Low features the 2|RF text on the tongue.
Notable NCAA Partnerships
With the allure of potentially building brand awareness and understanding market trends, major apparel brands often battle it out to gain the right to sponsor college sports teams.
Sports sponsorship is one of the most effective forms of marketing. It offers more benefits and variety by providing brands the opportunity to drive excitement around new products and services, expand into new geography and demographics, drive more website traffic, increase product sales, and eventually build long-term partnerships with athletes.
In light of this, Under Armour recently inked the largest apparel and shoe sponsorship deal in college sports history.
University of California, Los Angeles (UCLA) Bruins. Adidas has been UCLA's apparel provider since 1998. However, on July 01, 2017, their partnership has officially ended, kicking off the biggest deal in NCAA history. "We are excited to officially embark upon this journey with Under Armour and to introduce a cohesive new branding initiative that will unite not only our teams, but also the entire UCLA family. As we look toward the future, Under Armour's philosophy of innovation, its cutting-edge technology and its commitment to storytelling make it the perfect partner for UCLA. Together, we will go beyond great." UCLA Athletic Director Dan Guerrero stated in a press release.
The university and Under Armour signed a 15-year, $280 million deal. "This deal was about geography," Under Armour founder Kevin Plank said. "It was important for us to plant our flag in L.A."
Notre Dame. At the time of its signing, Notre Dame's 10-year $90 million shoe and apparel contract with Under Armour was the most valuable in college sports history. "We love the company we are partnering with, and we can't wait to grow with them," Jack Swarbrick, the school's Athletic Director said. "We don't believe we're partnering with a $2 billion company. We're partnering with a $20 billion company."
According to Swarbrick, he was excited to see the company's commitment to innovative technologies and hopes that the brand's entrepreneurial culture will influence the school. "For us to marry our tradition with one of the great entrepreneurial stories in recent time in this country is exciting for me," he said. "I think it will impact our culture in direct ways. Make us more creative, more inventive, allow us to move more quickly and to be fundamentally entrepreneurial."
Kevin Plank, Under Armour's Chief Executive, commented that the deal was a game-changing event for the brand. "It puts us on a completely different level, and frankly, we're ready for that level," he said.
It Started with an Idea: Performance-Driven Under Armour Basketball Shoes Technologies
Being the originator of performance apparel, Under Armour is known for creating innovative technologies. The brand is not in short supply in providing their athletes with cutting-edge technology that helps them elevate their game.
UA Micro G
At least 30% thinner than traditional foams, UA Micro G is lighter, sleeker, and ultra responsive. This low-to-the-ground cushioning offers better comfort and stability, enhancing a player's ability to change directions rapidly.
Micro G's low compression formula is designed to deliver high rebound that enhances energy return, providing wearers an extra level of bounce with every step.
Charged Cushioning
Stephen Curry's preferred cushioning, Charged is the ultimate advancement in foam technology. It is designed to provide the perfect balance between responsiveness and impact protection.
UA Charged cushioning absorbs impact during foot strikes and then converts it into different levels of responsive comfort. Depending on loading conditions, the foam feels soft when a minimal load is applied but becomes firmer when more pressure is exerted on it. The result is a well-balanced ride that reduces impact and offers high energy return.
Meta-Wing Carbon Fiber
Introduced in the Under Armour Curry 3, Meta-Wings were specifically designed to match Stephen's fast-paced style of play. These carbon fiber shanks were inspired by the tail wings of aircrafts and are engineered to stabilize the entire ankle and heel area.
Anafoam
Anafoam is made of flexible mesh that is fused with anatomically molded foam to provide lightweight structure. It is designed to deliver a body-mapped fit and supportive feel.
ClutchFit
Engineered to flex under pressure, ClutchFit wraps around the foot and acts as a second skin. Its hourglass-shaped pattern is specially made to expand and contract, delivering unhindered support and a superior one-to-one fit.
UA Speedform
Utilized in the Under Armour Curry 2, Speedform is a seamlessly molded heel cup that delivers locked-in support and enhanced stability. It is meant to feel like an extension of the foot for unrivaled comfort.
Threadborne
Also making its debut in the Curry 3 is Under Armour's latest upper technology called Threadborne. Inspired by paracord, it is made of high-tensile threads that are woven together to deliver support, breathability, and freedom of movement. "The level of how you can customize [Threadborne] is amazing," says Neumann. "There's so many different variations of how you can apply it that it really took us a little while to figure out how to get the best of both worlds, in terms of performance and aesthetics. Depending on category, the Threadborne can look different because of the different performance attributes that are needed."
She Plays to Win: A Woman's Guide in Choosing the right Under Armour Basketball Shoes
Most Under Armour basketball shoes come in men's sizes, so finding a pair that fits a woman perfectly may be a challenge. Manufacturers use different lasts; therefore their sizing varies. The foot is also three-dimensional, so two-dimensional measuring tools such as a Brannock device and a ruler can only estimate your foot's length and width.
Men and women have an approximate 1.5 difference in length, while the width stays the same. Ladies can use this technique when purchasing online. This method is just a rough conversion, so there is still a chance that the pair you'll be receiving won't fit. Luckily, you can send them back to the retailer and have it exchanged for a better fitting pair.
Unfortunately, UA has shied away from partnering with WNBA stars; however, they do offer a few Under Armour basketball shoes for sale that are specifically made in women's sizes such as the UA Drive 4.
When to Expect the Latest Basketball Shoes Under Armour has to Offer (Release Dates)
Typically, Under Armour basketball shoes are released before the NBA season starts. Brand partners are equipped with player exclusives of the latest UA basketball shoes to be shown off during games.
Sneakerheads have their hands full throughout the year since brands continuously supply the market with limited-edition shoes and special releases. Events such as Christmas Day, Chinese New Year, and the All-Star Weekend are celebrated with the launch of new designs and colorways.
The NBA Playoffs is also the perfect time to check for new Under Armour basketball shoes for sale. Playoff versions of signature models are released to keep up with the postseason's high-intensity style of play.
Lastly, buyers should also be on the lookout during the NBA Finals. Under Armour released the Curry 4 during the 2017 Finals wherein Stephen had an iconic moment with his latest pair of signature UA basketball sneakers.
Best Deals: Cheap Under Armour Basketball Shoes for Sale
Let's face it, buying the latest basketball shoes Under Armour, Nike, Jordan Brand, and Adidas have to offer takes a chunk out of our budget. Therefore, getting the best deal for your next pair of UA basketball sneakers is a must.
Experienced sneakerheads will tell you to never buy UA basketball shoes and other sneakers in general at its full retail price. If you are looking for a daily grinder, they suggest waiting until new models are launched since the older releases will usually go on sale.
Buyers can also expect to see promotional offers and steep discounts when the season changes. Retailers routinely clear out their inventory to make room for the upcoming season's. This trend sees an uptick in activity during the months of January, April, May, and November.
Also, ballers don't want a pair of UA basketball shoes that will tear apart right after a few games, so aside from getting the best deals, it is also crucial to check Under Armour basketball shoes reviews to truly get the best bang for your buck.
Juicy Under Armour Tidbits
Why did Kevin Plank Name His Company Under Armour?
Originally, Plank wanted to call his new company Heart. However, his application for a trademark was denied. He encountered the same roadblock when he tried trademarking Body Armour. And then one day his brother asked him about his new company. "How's that company you're working on, uhh ... Under Armor?" his brother inquired. Plank was not sure if his brother meant it as a joke, but the label clicked.
Why did Kevin Plank Use the British Spelling of Armor?
The reason was pretty simple, according to Plank: "I was skeptical at the time whether this whole internet thing would stick. So I thought the phone number 888-4RMOUR was much more compelling than 888-44ARMOR."
How did Under Armour snatch Stephen Curry from Nike?
During the 2013 NBA offseason, Stephen Curry's contract with Nike was about to end. Being the reigning apparel brand, Nike had the first opportunity and was in the best position to negotiate a contract extension with Stephen. However, it seems that they were not interested in keeping him.
According to Dell Curry, Stephen's father, the pitch meeting with Nike started off with one of their officials inadvertently addressing Stephen as Steph-on. "I heard some people pronounce his name wrong before," said Dell. "I wasn't surprised. I was surprised that I didn't get a correction."
It all went downhill from there. A slide during the powerpoint presentation showed Kevin Durant's name, possibly left on it by accident. "I stopped paying attention after that," says Dell.
There were also hints beforehand of Nike's lack of interest. Stephen was not asked to lead a Nike-sponsored camp for promising players, and Nike did not show any strong indication that he would eventually become a signature athlete. "They have certain tiers of athletes," Dell said in an interview. "They have Kobe, LeBron, and Durant, who were their three main guys. If he signed back with them, we're on that second tier."
This shoe has recently been added to RunRepeat. There are still not enough reviews for us to assign it a
Corescore
.
Corescore
A score from 1 to 100 that summarizes opinions from users and experts. The average Corescore is 78.
More...