3 Best Casual Sneakers in 2023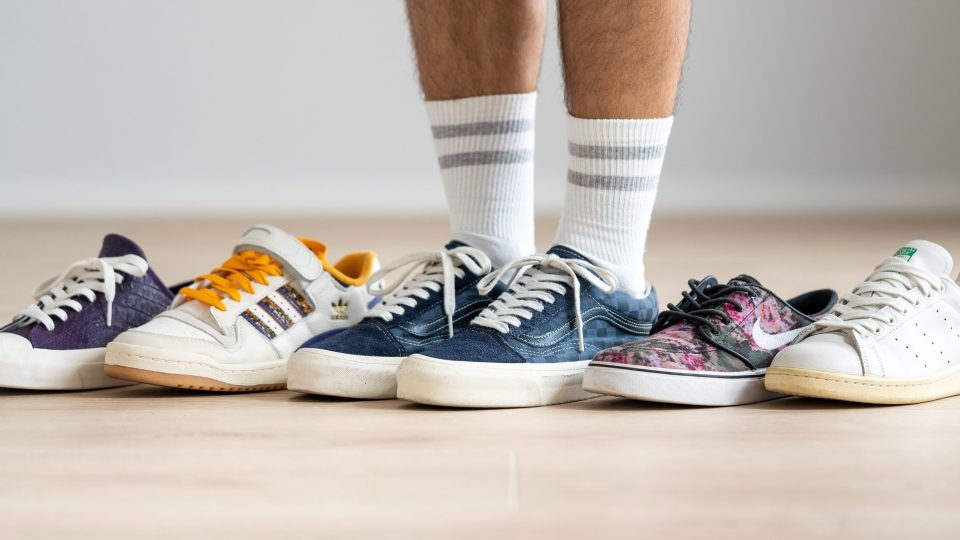 We earn affiliate commissions at no extra cost to you when you buy through us. Why trust us
There is a full range of sneakers available out there. But if you're looking for a shoe that you can throw in for your everyday wear, casual sneakers are unquestionably your MVP.
Casual sneakers will not just make you look groovy, but they also provide you with much-needed foot support for your all-day city adventure.
With 200+ casual kicks, picking which one suits you can be difficult. To help you out, we took the time to round up a roster of the best casual kicks. We have tested them tirelessly before even indicating what's best for what. We have made some recommendations for various categories for your quick reference.
Best overall casual sneakers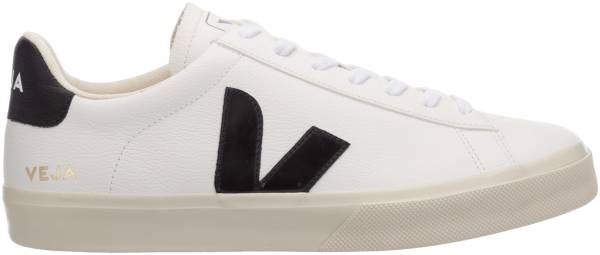 What makes it the best?
We looked for versatility and usefulness in a casual sneaker and we found that among the sneakers we tested, Veja Campo reigns supreme. It is truly unbeatable for all sorts of laid-back activities, especially with its exemplary build and comfort. To top it all off, while its silhouette is undeniably perfect for casual styles, it also matches outfits that are taken up a notch!
Veja Campo is such a wonderful companion for everyday strolls because of its homey confines, from underfoot to the sides of the foot. Outside, we realized that this sneaker boasts ultimately high-grade materials that scream long-lastingness. We found that the upper is indeed tough as it didn't show any hint of giving up despite sporting it every day.
The best thing about the Veja Campo is even though it gathered dirt from our casual trips, we didn't struggle cleaning it. A quick wipe and it was immaculate again. However, we considered the $175 retail price of this sneaker wallet-draining, especially since it exceeds the average sneaker price by 49%. If you desire something cheaper, we suggest checking out other inexpensive casual kicks.
Pros
Premium craftsmanship
Through-the-roof comfort level
Eco-friendly
Low maintenance
Consistent sizing
Clean and sleek looks
Versatile design
Cons
Expensive
Rigid before break in
Full review of Veja Campo
Best slip-on casual sneakers

What makes it the best?
We stand by the DC Villain as the most sterling slip-on casual sneaker out there. This sneaker is the very definition of accessibility and practicality. We didn't mind using it anywhere because, besides the fact that it is so freaking comfortable, it also suits both casual and semi-formal attires.
We found that this casual sneaker is fantastic for long hours of wear and standing up, as it is packed with padding from heel to tongue. We also didn't encounter any hotspots in this pair. When it comes to slipping our feet into and out of the sneakers, the job couldn't be easier.
DC Villain also proved to be very breathable. We discovered that it is such an excellent companion for hot days because its upper permits the smooth flow of air. Even though we appreciated this kick for being so comfy, we hoped for thicker cushioning. If you also want to relish in an extremely cushiony feel, we suggest looking for other slip-on options.
Pros
Trendy style
Both for casual and formal occasions
Comfortable all-day wear

Easy to put on and off

Lightweight construction
Breathable
Durable
Cons
Poor traction

Lacks cushioning
Full review of DC Villain
Best minimalist casual sneakers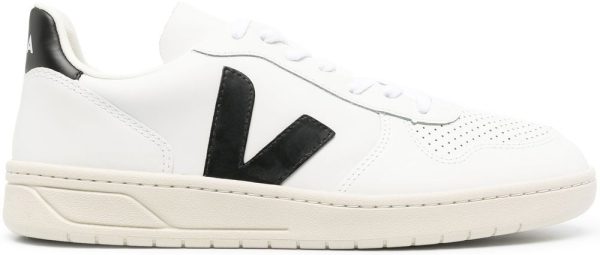 What makes it the best?
For that simple yet refined look, we couldn't pick any other sneaker for everyday on-foot elation but the Veja Esplar. We established that this sneaker is basic but not too basic because it might look unadorned but it is all we need to style tons of outfits! Also, there is nothing minimal about it when it comes to comfort and quality.
We could last the whole day with Veja Esplar without really minding about the time because of how phenomenal it feels on foot. We love how consistently plush its midsole is for the whole day. What's even great about it is it can accommodate even wide footers.
We also inspected the materials of the shoes and we can confirm that they have A1 quality. We admired the robustness it exhibited while we were testing them on our daily casual affairs. However, we found that Veja Esplar has to be broken in as it has an initial stiff feel, especially at the tongue. If you would rather buy a pair of sneakers that doesn't need a break-in period, we advise seeking other good-to-go casual kicks.
Pros
Mighty comfy for extended wear
Eco-friendly
Premium quality
Simply versatile
Reasonable asking price
Runs true to size

Just as awesome IRL as in photos
Cons
With break-in
Not for skinny feet
Full review of Veja Esplar
Comparison of the 3 best casual sneakers
| | | | | |
| --- | --- | --- | --- | --- |
| Best | | | | |
| CoreScore | | | | |
| Users rating | | | | |
| Best price | | | | |
| Ranking | | | | |
| Popularity | | | | |
| # of colorways | | | | |
Whether you're a sneakerhead who loves keeping an eye on the latest trends, or just a regular person who wants to be fashionably casually cool, researching the best casual sneakers is fun - with so many different brands, models, and styles on the market there's something for everyone.
But what is it that you should look for exactly? Is it that you just choose a brand you like, a model that looks good, and be done with it? Or are there more factors to consider? Well, for the discerning individual who appreciates what's on their feet, a pair of casual sneakers is an investment. And if you want to make sure you're getting that investment right, you've come to the right place.
Follow your instincts, not the hype
There's a lot of hype brands push out there about their sneakers, and if we've tested them and like them, you'll find us hyping them up too. But let's be real - if you don't like a pair of sneakers in the first place you're not going to wear them. So always keep that in mind as your number one takeaway.
First and foremost aim for a style you like with all day comfort for your feet. Don't let others try to convince you what you should like, follow your instincts and wear what works for you.
The top 5 characteristics of casual sneakers
Not all shoes are made the same, and casual sneakers are no exception. However, if we were to categorize them - and let's face it we are already, and everybody subconsciously does - here's the most common identifiers:
1. Big brand name: As expected all of the top footwear brands offer a vast array of casual sneakers in their collections. From Adidas to Nike to Seavees, if big brands appeal to you because of their reliability you're sure to find something to fit your style, that it's complemented with a highly regarded logo is just the cherry on top.
On the flip side there are many offerings from some of the lesser-known up and coming brands which are well worth a look too! Take a look at the HeyDude sneakers if you love to keep your finger on the pulse.

2. Low top: When it comes to casual sneakers in particular, it's no secret why low tops are a crowd favorite. Their style flexibility and the freedom they give your ankles make them a lovely choice for casual wear, ticking all the right boxes for a versatile and comfortable option..
3. Lace closure: Most casual sneakers have standard shoe laces to keep them tight, but some people will prefer slip-ons because they're so easy to put on and take off.
See also our guide to the best slip-on sneakers.
4. Minimalist design: Sleek and understated, minimalist designs are all about clean lines, streamlined shapes, with a penchant for monochromatic palettes. The beauty of minimalist sneakers is that they match any outfit in nearly any setting.
5. Breathable construction: If you're wearing your most comfy casual sneakers frequently you'll want them to be able to ventilate and stay dry, because no one wants moisture build up or the foul smell of foot odor. Breathable materials, particularly in the upper, make this a reality.
Note that not all of these characteristics are mandatory in a pair of casual sneakers, it just so happens to be that they are the most common. As always, first and foremost choose and wear the pair that suit your feet first and are most comfortable.
A blank canvas makes styling easy
Though you seldom see it used in other apparel, canvas is a clever sneaker fabric owing to its strength and durability. But canvas is not an easy material to print on, most emblems and logos are stitched onto canvas shoes. And that leads to an interesting quandary footwear manufacturers have had to deal with, but maybe not the way they initially wanted to - turns out people love plain canvas sneakers with minimal branding on it.
Take a look at some of the most popular casual sneakers on the market: Adidas casual sneakers are mostly plain design but with limited branding on it except for three stripes. Likewise for the Converse casual sneakers, minimal branding and maximal styling. The irony is that people are happy to buy brand name canvas sneakers, but they're not doing it to show off the brand, rather it's because it's a brand they relate to, one they identify with if you will, and the final product being relatively plain means it works in so many different settings and with different outfits. Win win for the blank canvas.
3 signs your sneakers are worn out
Is it time to bid farewell to your trusty pair of kicks? Here's three telltale signs that your sneakers have seen better days:
Slippery sole: Do you find yourself skating around on the sidewalk like it's an ice rink? Maybe your sneaker's outsole is worn down. A good grip is essential, not just for your safety but also for a comfortable stroll. Your hot coffee cup will thank you for not spilling everwhere.
Pancake cushioning: A good pair of sneakers will feel like a mattress underneath your feet. When it starts to feel as flat as a pancake, it's time to consider a replacement. A lack of cushioning can lead to discomfort and potential foot problems.
Cracks and tears: Take a good look at your shoes and cast a critical eye over them. Sure they might be your favorites but be honest: do they show some cracks in the materials? Maybe some tearing in the fabric, especially near stitches? Or maybe you spot some other significant damage. Put the duct tape away, it's time to let them go to sneaker heaven.
How to know how many sneakers you need
There's no rule about how many sneakers you need in your life. Sneakerheads will collect many but wear few. Other people will only have a few pairs and have them on constant rotation.
It's a good idea to have a range of shoes to meet different needs and occasions. For example, you should have a few pairs for everyday use, another dressy pair for more formal occasions, plus sneakers for leisure and exercise.
Sneakers for the modern lifestyle
How often do you find yourself on your feet? Running after the kids, going to the shops, housework, taking the dogs out for a walk and generally having some 'me time'? If any of this sounds familiar you'll likely find yourself slipping into the most comfortable sneakers you have out of pure habit.
But don't let habits dictate your life. Is now the time to refresh your choices, maybe create a new set of habits along the way? Consider having multiple pairs on rotation rather than just one pair that are used everyday.
Whatever the weather, whether you like it or not
Don't let unpredictable weather rain on your shoe parade. It's a smart move to have at least one or two pairs that can tackle the elements with style. When Mother Nature decides it's time to rain, maybe consider a pair of waterproof sneakers. When she turns on the warm sun, think about some summer sneakers to get you through the day.
Wear 'em in, wear 'em out
When you find a pair of sneakers you love you'll find yourself gravitating to them often; from casual wear to the grocery store to more formal occasions there's not much a good pair can't do. So as nice as they are when they're worn in and perfectly molded to the shape of your foot, wearing them regularly only means one thing: they're on their way to being worn out. But there's nothing wrong with wearing a pair of sneakers out, it means you got the full life and value out of them. That's ultimately a success.
How to extend the lifespan of your sneakers
Mix it up: While there's no magic formula for making your shoes last forever, you can follow a few guidelines to maintain their appearance and durability. Start by switching things up – avoid wearing the same pair every day and give your shoes a break by rotating between different pairs.
Take a deep breath: After wearing your shoes for a few hours, allow them to breathe. Avoid leaving them cooped up, especially in environments like gym or travel bags, which can limit ventilation.
Wash and dry naturally: When your sneakers need a wash, skip the washing machine and dryer. Instead, hand wash and then let them air dry by opening the tongue fully and sitting them in a dry area. Outdoor drying is ideal, but indoors is ok too if space is limited or the outside climate restrictive. Avoid trying to dry them in a drying machine or in direct sunlight as each can hasten the breakdown of certain fabrics and adhesive materials.
Insole upgrades: From time to time be sure to replace your insoles to enable continued comfort, especially as your sneakers age. While this can temporarily extend the lifespan of your sneakers, keep in mind that changing insoles isn't a substitute for replacing the sneakers when they're truly worn out.
Don't be lace-lazy: Everytime you take off your sneakers you should fully untie the laces. Avoid "toeing" them off with the shoelace still done up, as this can stretch the shoe and contribute to heel breakdown over time, particularly from the damage caused when you put them back on, still tied.
Let's talk foot health
No one wants to have to deal with often-repulsive foot issues like blisters, odor, and fungal infection. Prevention is always the cure, so try rotating your sneakers on a schedule.
Wearing the same pair every day can create a moist environment within the shoes, which can promote some funky bacterial and fungal growth.
Keep your sneakers clean by giving them a gentle wash periodically, and make sure your sneakers are always completely dry before you put them back on again.
Frequently asked questions
Is it OK to wear the same sneakers everyday?
Yes, of course. But if you can stretch your budget it's much better to have multiple pairs of sneakers in different colors for different situations or activities, and rotate them regularly. This allows your shoes to air out and recover, which can help maintain foot health and extend the life of your sneakers. Additionally, having different styles of sneakers can also complement various outfits and occasions.
How often should I replace my sneakers?
For most people one pair will generally last around 8 to 12 months if you are active in them and wear them frequently. However, if you live a very active lifestyle and are on your feet throughout the day - the equivalent of, for example, walking around 4 hours per day - that timeframe reduces down to only about 6 months. On the other side of the coin if you rotate your sneakers frequently or aren't on your feet that much you should be able to extend their lifetime even more.
How we test sneakers
To help you save time and effort, we carefully tested 200+ casual sneakers. Here is our approach to objective and honest feedback:
We bought these shoes using our money to ensure unbiased reviews.

We sport the sneakers on our casual outings. We assess how it performs and reacts in different use, may it be light or serious.

To get first-hand results, we spent hours carrying out a series of tests and comparisons

inside our lab. We also slice the shoes into pieces so not even the smallest detail can hide from us.