We surveyed 50 journalists from the countries who have qualified for Euro 2020 to get the expert view on how the tournament will unfold. Here's what they said:
Key findings
56% of journalists backed France to win Euro 2020
Only 5 teams mentioned as potential winners (France, England, Belgium, Portugal and Italy)
42% back Germany to be the biggest underachiever at Euro 2020
Kylian Mbappé favourite for best player and Golden Boot
Phil Foden heavy favourite for best young player
Denmark and Ukraine chosen as biggest overachievers
At a glance
Tournament Winner - France (56%)
Runner-up - France (20%) [Spain (18%)]
Biggest overachievers - Denmark (18%)
Biggest underachievers - Germany (42%)
Best player - Kylian Mbappé (36%)
Golden Boot - Kylian Mbappé (38%)
Best young player - Phil Foden (36%)
Who will win Euro 2020?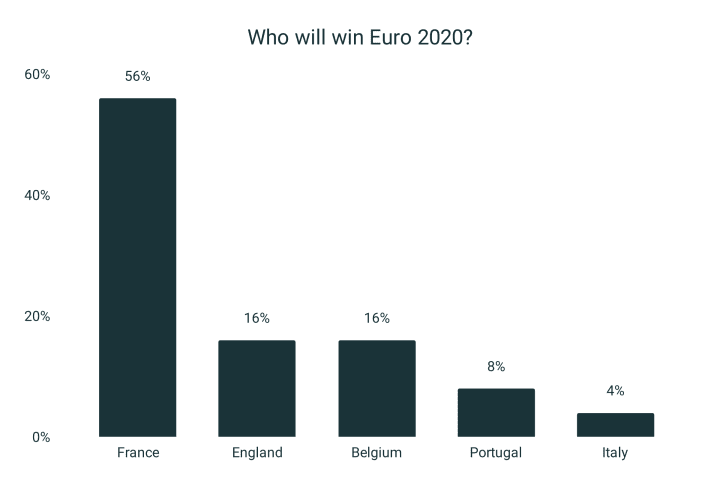 France is a heavy favourite amongst our respondents. More than half of the journalists surveyed backed them to win the tournament and match their achievements from World Cup '98 and Euro 2000 by winning back-to-back international tournaments.
England and Belgium are joint second-favourites with 16% picking each of these teams to win their first Euros.
Defending champions Portugal are 4th favourites with just 8% of the vote, with Italy the last team picked as potential winners by our jury.
With just 5 teams chosen as potential winners, traditional big names such as Germany, the Netherlands, and Spain have missed out completely.
Who will finish as runner-up?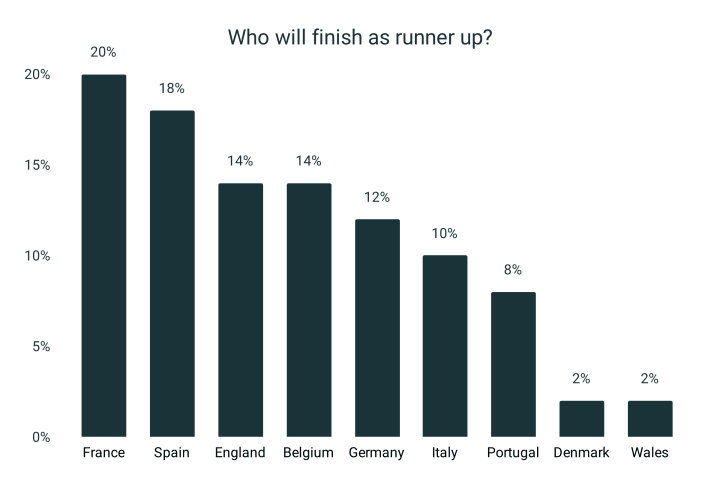 France has also been chosen as the most likely team to finish as runner-up by our jury. With 20% of journalists backing them to finish as runner-up and 56% choosing them to win, 76% of respondents have stated they think France will reach the final.
Spain is runner up in the runner-up poll on 18%, closely followed by England and Belgium who can't be separated again.
Germany, Italy, Portugal, Denmark, and Wales also got mentions.
The overachievers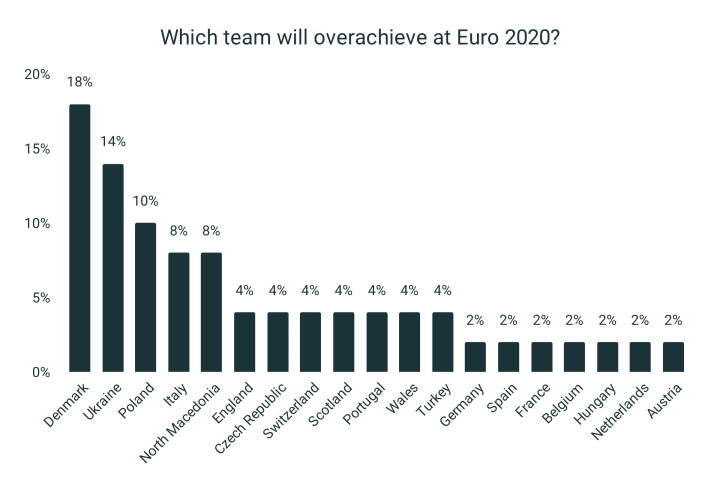 19 out of 24 qualifying teams have been mentioned as the biggest overachievers at the tournament.
Denmark received 18% of the vote for this question, with Ukraine following closely with 14%.
Robert Lewandowski led Poland came in third in the voting with 10% which isn't all that surprising on the back of his record-breaking Bundesliga season.
The underachievers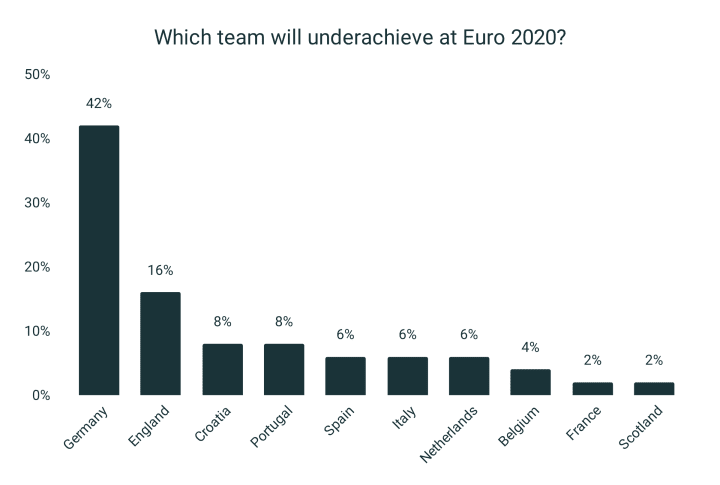 Germany is backed to be a huge letdown at Euro 2020.
42% of respondents answered that they thought Germany would be the biggest underachiever at the tournament.
Perennial underachievers, England, came in second in the voting with 16%.
Croatia and Portugal are other notable teams predicted to flop at the tournament.
Who will win the Player of the Tournament?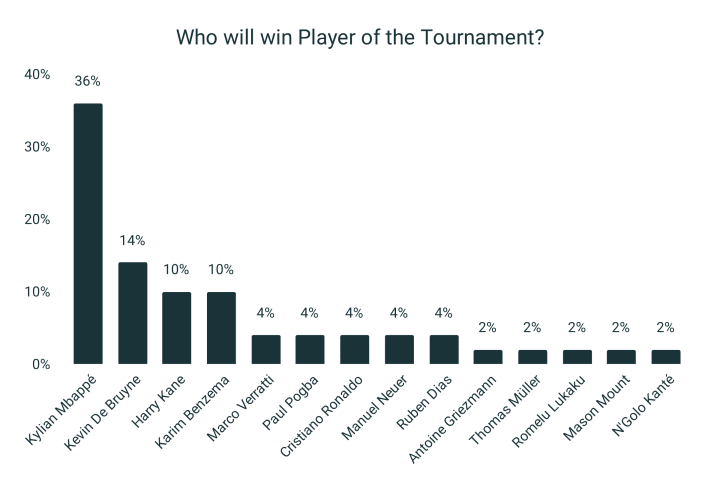 14 different players were selected as potential players of the tournament.
Kylian Mbappé is the significant favourite and seems to be the man to watch. He received 36% of the vote.
Second, was Kevin De Bruyne on 14%, then Harry Kane and Karim Benzema - each on 10%.
Although mainly forward-thinking players were mentioned, there was still room for Manuel Neuer, Ruben Dias, and N'Golo Kanté.
Who will win the Golden Boot?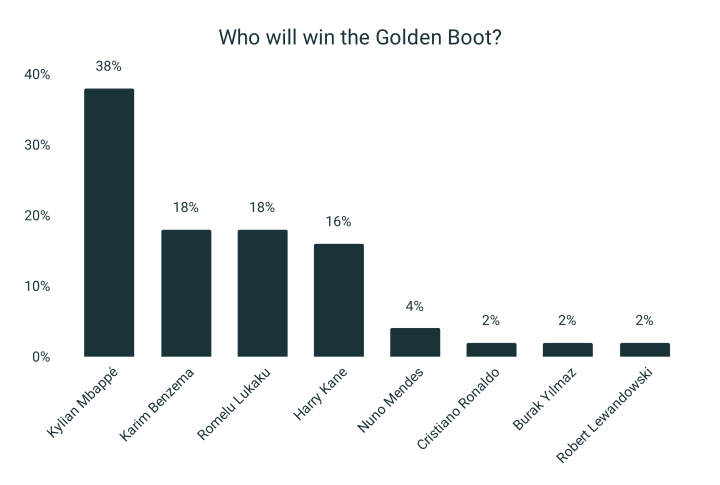 France and Kylian Mbappé feature heavily in the Golden Boots standings as well.
Mbappé is the favourite with 38% of respondents choosing the Frenchman. His teammate Karim Benzema is in joint second with Belgium's Romelu Lukaku. He's closely followed by Harry Kane on 16%.
Who will win the Young Player of the Tournament?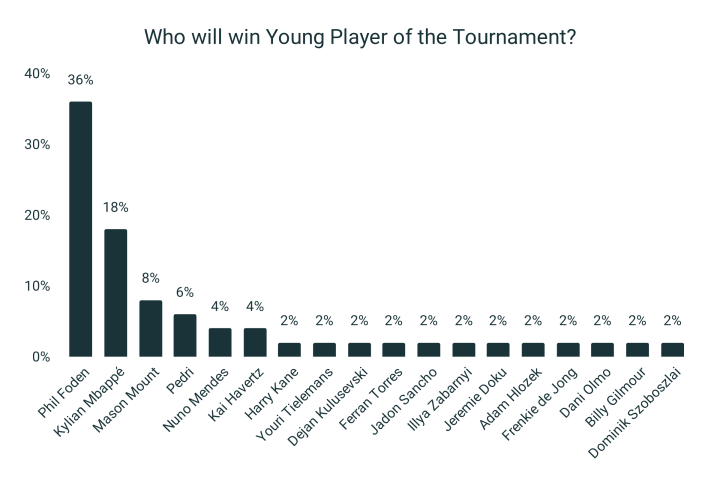 18 different players were selected in the running for Young Player of the Tournament.
In spite of being chosen for Player of the Tournament and Golden Boot, Kylian Mbappé was not in first place on this occasion. He fell to second on 18%.
Instead, England's Phil Foden was the overwhelming favourite for best young player with 36% of the vote.
Conclusion - Mbappé's France the team to beat
The experts have had their say. It's clear France is the team to beat and Kylian Mbappé is the main man.
Of the rest, England and Belgium each have a chance of winning their first European Championship.
For the Belgians, journalists believe Kevin De Brunye will be the key man (having finished second in Player of the Tournament predictions) and Romelu Lukaku will be vital up front.
For England, Harry Kane is the main man (coming joint 3rd in player of the tournament predictions and 4th in Golden Boot predictions.)
Phil Foden is also tipped to make a huge impact for the English in his first international tournament after being predicted as the overwhelming favourite for the best young player award.
About RunRepeat
We prioritize objectivity when it comes to shoe reviews. Because of this, we 1. don't get shoes for free but buy them with our own money 2. run in the shoes 3. cut the shoes in half in our in-house lab. By combining our experience with the shoe with 20+ data points from the lab, we make sure that our shoe reviews showcase the highest level of objectivity out there. To learn more about how we test shoes in the lab, check out our Methodology page.