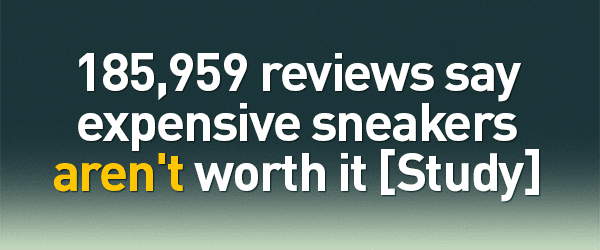 Put your money away!
As the price of a pair of sneakers goes up, user satisfaction does not increase with it.
To the contrary, RunRepeat data suggests that shoppers are more satisfied with cheaper sneakers than they are with expensive sneakers.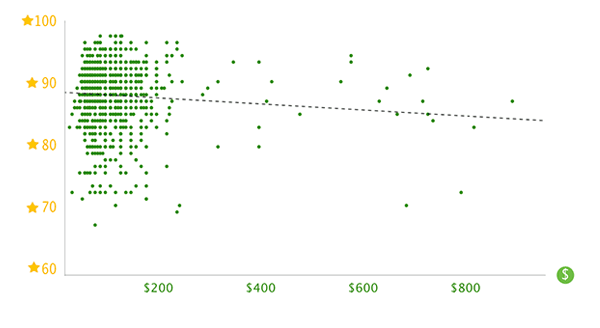 After analyzing 185,959 reviews of the 1,000 most popular pairs of sneakers in the RunRepeat database, regression analysis shows that there is no statistical correlation between the price of sneakers and how highly it is rated by users.
Key takeaways
As the price of sneakers increases, satisfaction decreases
The 10 cheapest sneakers (avg. price $44.50) are more satisfying (0.4%) than the 10 most expensive sneakers (avg. price $657.50)
The three best-rated brands are: #1 DC, #2 The North Face, and #3 Tretorn
The three worst-rated brands are: #1 Steve Madden, #2 Airwalk, and #3 Taos
The three most affordable brands are: #1 Airwalk, #2 Keds, and #3 PRO-Keds
The three most expensive brands are: #1 Balenciaga, #2 Gucci, and #3 Cole Haan
The most satisfying sneaker for the lowest price is Vans Primary Check Old Skool with a user rating of 96 and a price of $60.00
The least satisfying sneaker for the highest price is Balenciaga Triple S Trainers with a user rating of 73 and a price of $795.00.
Adidas sneakers are the tied 5th best brand for satisfaction and the 7th most expensive.
Nike sneakers are the tied 17th brand for satisfaction and the 6th most expensive.
Results
Price vs rating: As price increases, satisfaction decreases
To generate this graph, we plotted 1,000 of the most popular shoes in our database from the previous month with the price on the x-axis and user score on the y-axis.
You can see that as price increases, user satisfaction decreases.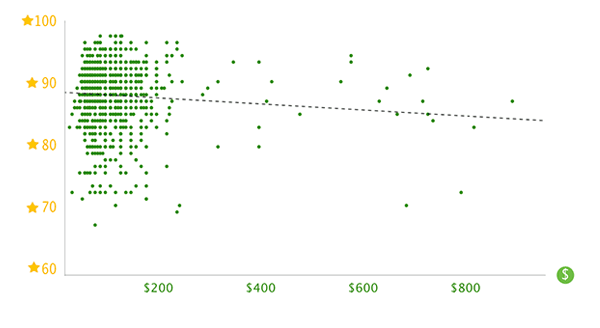 This holds up when you put all the shoes with the same score into a bucket and calculate their average price. At this point, you have the average price for each populated score from 0-100.
For example, the average price for all sneakers with a score of 98 is $96.77. Whereas, the average price for all sneakers with a score of 44 is $245.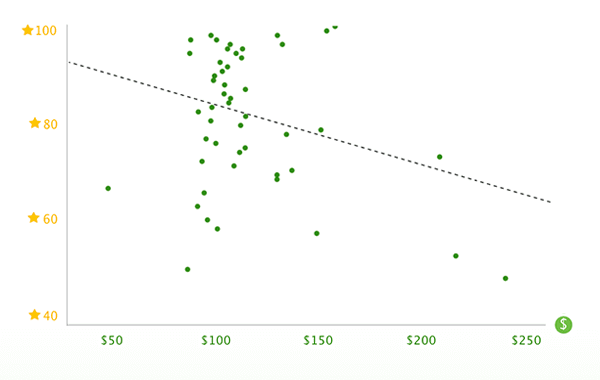 It's clear that as the price increases, the user review score (out of 100) significantly decreases.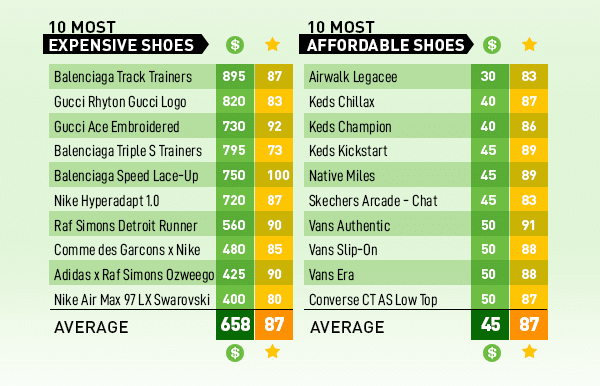 The 10 most affordable sneakers are: Airwalk Legacee, Keds Chillax, Keds Champion, Keds Kickstart, Native Miles, Skechers Arcade - Chat Memory, Vans Authentic, Vans Slip-On, Vans Era, Converse Chuck Taylor All Star Low Top.
The 10 most expensive sneakers are: Balenciaga Track Trainers, Gucci Rhyton Gucci Logo, Gucci Ace Embroidered Sneaker, Balenciaga Triple S Trainers, Balenciaga Speed Lace-Up Knit, Nike Hyperadapt 1.0, Raf Simons Detroit Runner, Comme des Garcons x Nike Cortez Platform, Adidas x Raf Simons Ozweego Bunny, Nike Air Max 97 LX Swarovski.
Brand matrix: Which brand is the best value for money?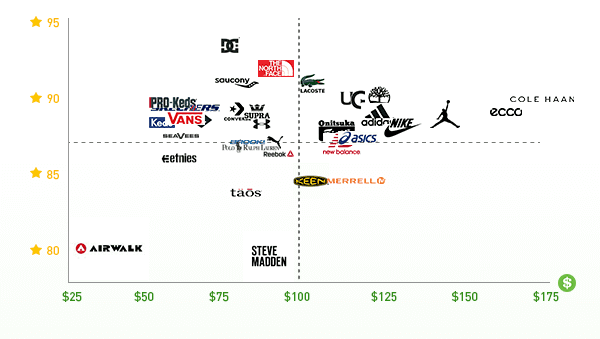 By plotting the average score of all of each brands' sneakers against the average price of a pair of sneakers from that brand, we can get an idea of the real value for money offered by each brand.
We can also look at individual factors: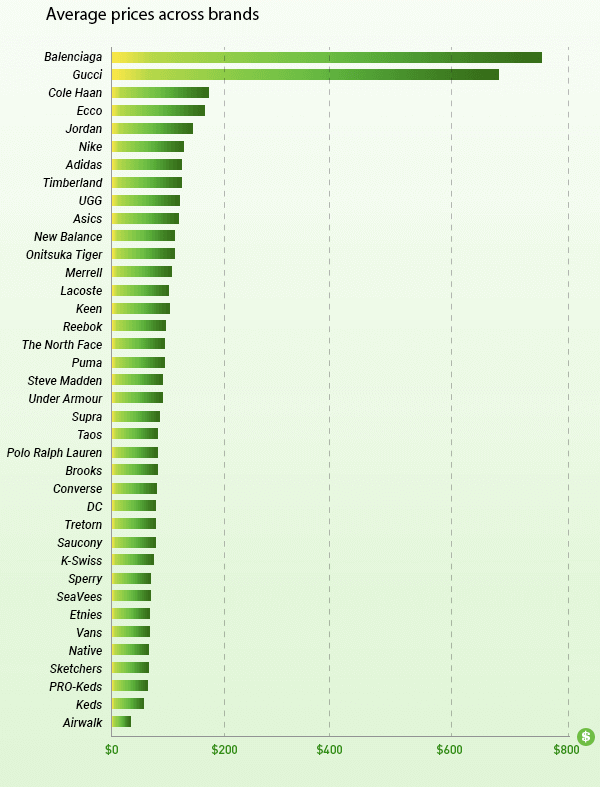 Airwalk sneakers are the cheapest brand. On average, a pair will set you back $33.33. On the other end of the spectrum, the average pair of Balenciaga sneakers will cost $756.43.
When it comes to user reviews: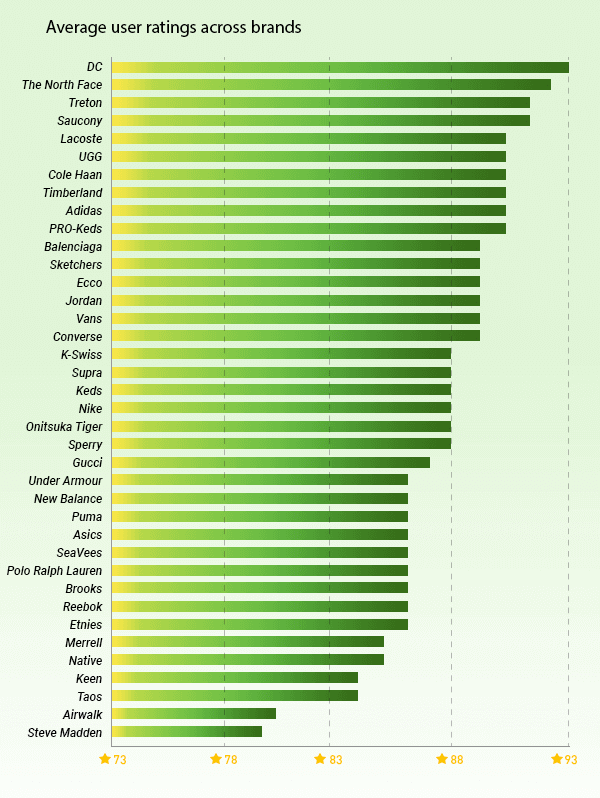 DC sneakers have the highest satisfaction with a score of 93. Steve Madden is the worst performing brand with a score of 80.
Nike vs Adidas
The two giants of the sneaker world came in the middle of the pack both in terms of user satisfaction and in price. Perhaps even more surprisingly, Adidas slightly outperformed Nike on both counts.
Out of 38 brands, Adidas was tied for 5th in user satisfaction with an average score of 90. Nike performed worse, tying for 17th position with a score of 88/100.
When it came to price, Nike and Adidas were 6th and 7th most expensive brands respectively. The average pair of Nike sneakers will set you back $126.18. Whereas the average pair of Adidas kicks is slightly cheaper at $123.41.
Infographic - 185,959 reviews say expensive sneakers aren't worth it [Research]

Share this Image On Your Site
Definitions
Popular - The 1,000 most popular sneakers are the 1,000 sneakers in the RunRepeat database with the most visits in May 2019.
Customer Reviews - The customer reviews are based on a 5-star rating and can be left by any visitor to RunRepeat.com. The ratings are then used to develop a score out of 100.
Satisfaction - Satisfaction in this context is calculated based on the user score. The assumption is that if a shoe has a user score of 95, the buyer is happier or more satisfied than someone who buys a shoe with a user score of 85.