Is Black Friday the cheapest day to buy stuff?
After investigating the two largest markets - clothing and tech - the answer is a firm no.
In this pricing analysis study, we analyzed 1.4 million prices of 4,024 sneakers from more than 200 retailers over the past 3 years to understand the relationship between prices on Black Friday and the rest of the year.
We also analyzed one of the 5 most popular products from 3 different tech categories on Amazon to understand if the findings extend beyond the sneakers market.
Key Findings
Sneakers are cheaper on 66% of days throughout the year than they are on Black Friday
You can expect to pay as much as 57% more on Black Friday than when sneakers are at their cheapest
Prices remain stable on Black Friday -- there is no noticeable price drop across the board
Tech products are also not cheaper on Black Friday than they are at any other point throughout the year
Sneakers Cheaper 66% of the Time
According to a survey from BlackFriday.com, clothing is the most sought after item on Black Friday. 23% of respondents were looking for clothing deals. This was closely followed by tech products at 22%.
But, it turns out Black Friday clothing deals are not all they're cracked up to be.
Last year, the average price of sneakers on Black Friday was $64.63.
In the year between August 1st, 2018 and July 31st, 2019 sneakers were cheaper on 66% of days than they were on Black Friday.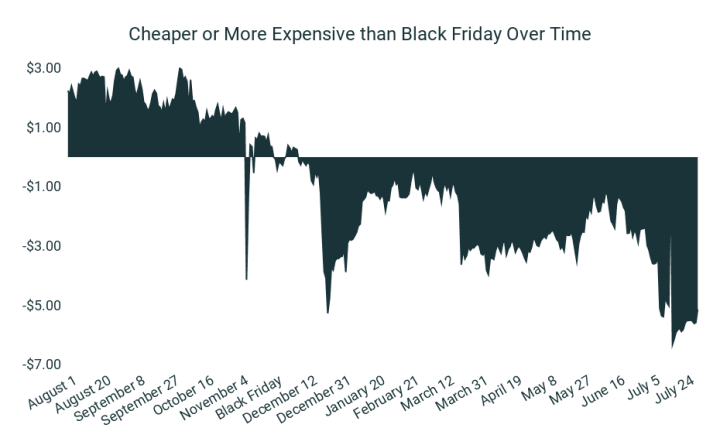 If you choose 10 days at random throughout the year, the sneakers will be cheaper on more than 6 of those days than they are on Black Friday.
You can pay as much as 57% more on Black Friday
When looking at the 27 most popular pairs of sneakers in the RunRepeat database, you can expect to pay an average of $23.95 (36.3%) more on Black Friday than you would on the cheapest day of the year for each pair of sneakers.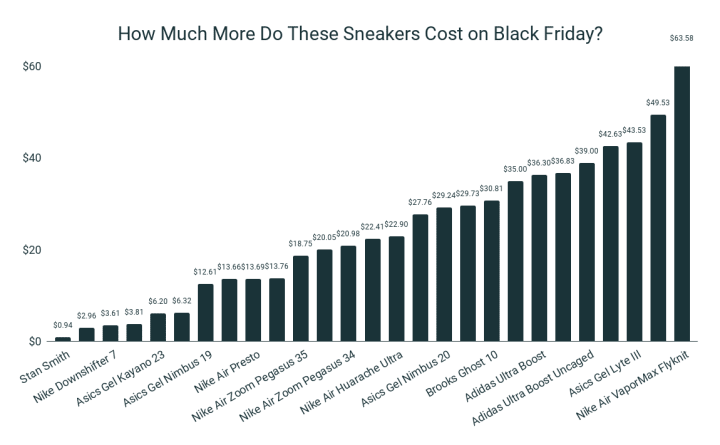 Some sneakers, such as the Nike Air VaporMax Flyknit, you can expect to pay up to $63.58 more on Black Friday (an additional 57%) than the cheapest day throughout the year.
No Sharp Price Drop on Black Friday
If Black Friday truly was a one-day event where prices are cheaper, we would see a stable pricing trend in the lead-up to Black Friday, and then a noticeable drop in price on the day.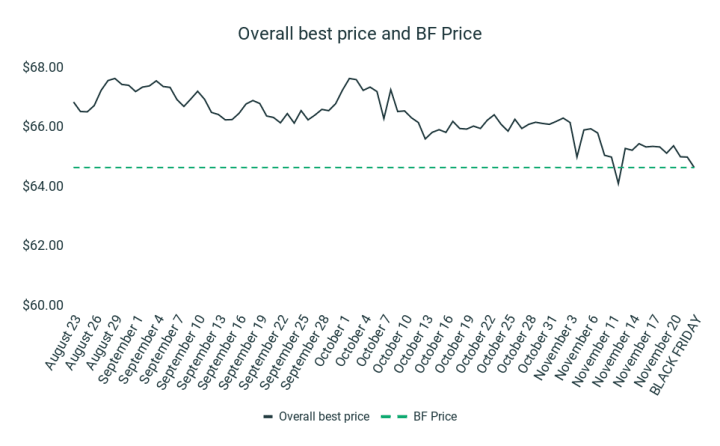 Instead, we see a gradual trend where prices are steadily decreasing.
The fact that there is no discernable price drop on Black Friday versus the days and weeks leading up to Black Friday strongly suggests that there are not savings to be made by shopping on one of the biggest shopping days of the year.
What about tech products?
Based on a quick analysis of other products, this trend is not confined to sneakers or even clothing.
A quick (non-scientific) look at some of the most popular items on Amazon shows prices are not necessarily cheaper across the board on Black Friday.
Three of the most popular tech items on Black Friday are TVs, headphones and laptops. To get a general idea if the same results would apply to these items, we selected one of the top 5 selling items from each of these categories to see if the results hold up. The items are:
For each of these items, we were able to get some data from Keepa.com showing price history over the past year:
| | | | | |
| --- | --- | --- | --- | --- |
| Product | BF Price | Highest Price | Lowest Price | Avg. Price |
| Toshiba TV | $129.99 | $179.99 | $99.99 | $154.26 |
| Sony Headphones | $348.00 | $349.99 | $297.00 | $321.63 |
| Acer Laptop | $319.00 | $379.99 | $299.99 | $335.58 |
As you can see, Black Friday is not necessarily the best time to buy the most popular electronics. All of our items are available cheaper at another time of the year than they are on Back Friday.
Having said that, both the TV and laptop are cheaper on Black Friday than they are on average throughout the year. On the other hand, the headphones are approximately $26 more expensive on Black Friday than they are on average.
The takeaway from this data is that it makes sense to take time and do your due diligence. There are tools like Keepa and CamelCamelCamel that allow you to track prices on Amazon over time to help you understand if you're getting a good deal or not.
And with sneakers, you can see if you're getting the best price using the price tracking tool on RunRepeat.
Access to data, about Danny and RunRepeat
All data is publicly available in this spreadsheet. If you want more detailed data, reach out. Prices include all 1749 running shoes and 2275 sneakers at RunRepeat. For any questions about the data or this article, contact Danny at danny@runrepeat.com.
Danny is a sneaker expert at RunRepeat, exploring all things sneakers from a business, culture and style point of view. He has spent years consulting on business processes for top retailers in Europe -- so he has the inside track on all the tricks of the trade.