The Adidas Sprintstar Spikes are perfect for any sprinter wanting to feel the need for speed and upgrade for their event. Besides being lightweight, the shoe is also being praised for its efficient power and uncomparable fast performance. Despite the shoe's narrow toe box, the Adidas Sprintstar is recommended by most reviewers for its properties that raise any athlete's performance during race day.
Pros
True to size
Lockdown fit
Awesome grip
Lightweight
Nice laces
Cons
Not breathable
Lacks durability
Adidas Sprintstar review
The Adidas Sprintstar is a spike made for sprinters. On the official site, it says it is meant for all runs made that start from the block, but as I am a middle-distance runner, I can confirm that it can also be used for races up to a mile.
The overall impressions of the shoe have been awesome from the start. I think I also have to say this was the first spike I ever owned or even wore.
The upper of the Sprintstar
The upper is made out of a material that is not very breathable, nor is it very light. Don't get me wrong; the shoe still is light at about 191 grams for size EU 46.
If it used the same material as my current Adizero Ambition 4 (EU 46 – about 140 grams), it would be much lighter. It is also a bit stiff compared to the Ambition's upper in the front.
The back part, the heel cup is nicely done and goes around your heel very comfortably. Also, the laces are very comfortable, and it gives you a nice lockdown fit.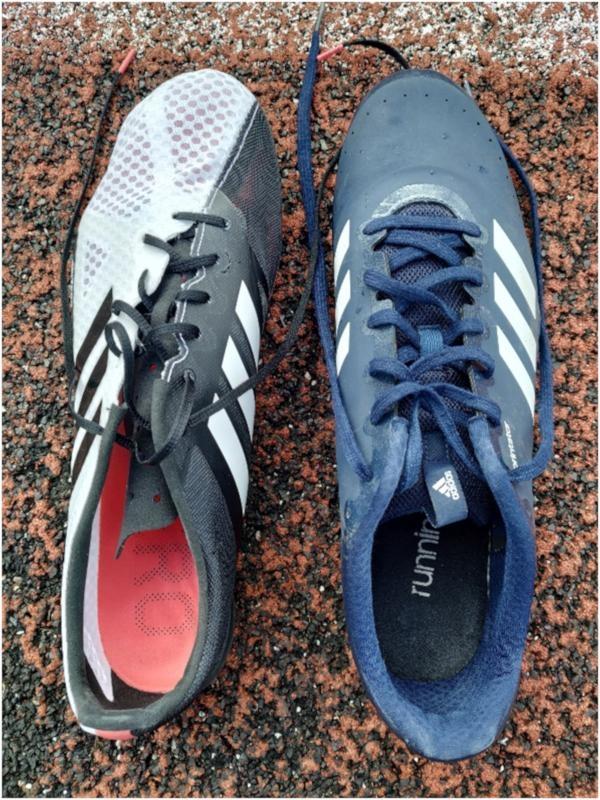 The laces are also very nice. One of the best actually. They are the first on any Adidas shoe that I didn't need to tie a double knot to run in them for 200m repeats or longer intervals.
The midsole & outsole
There isn't much to say about the midsole since there isn't any basically. Whatever there is in the middle, it is totally okay, and I don't think there is much to improve here.
Maybe cut down weight in some way, but it is not a concern at all. So that leads us onto the outsole.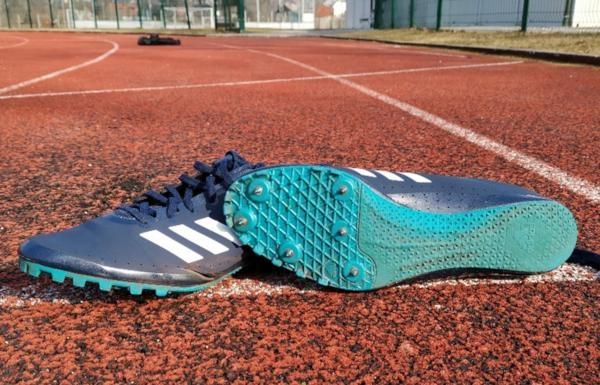 The front part, some midfoot and forefoot that is, is made of hard plastic with 6 holes for spikes in them. On the edges of the front, there are also some mini rectangular "spikes" made of plastic and are all part of this one piece.
The part that goes from under the arch to the end is made of something hard on the inside. It is covered with some soft rubber that has some grip, but it doesn't matter since you can't even (at least a bit comfortably), strike with the heel first with this spike (or most of them).
Performance of the Adidas Sprintstar
The Sprintstars were my first spikes ever, so I didn't know if I chose the right ones at the start. They felt okay the first time putting them on but were weird since they are not like normal running shoes.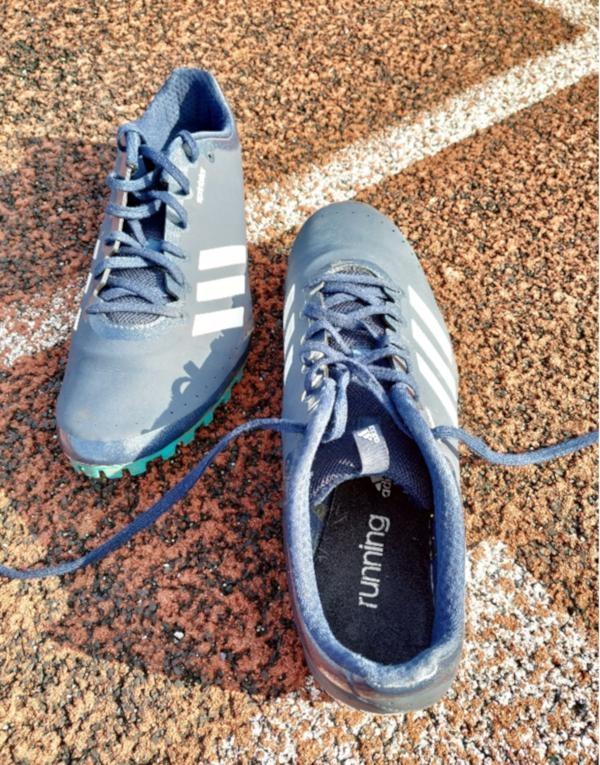 I went with the size EU 46. The first-ever race I did in them was a 100m, which I ran in 13.66 (not the best but okay for someone training for about 2 months).
Later, my coach put me on the middle-distance races, mostly from 600-1000m. I ran all of them in these spikes, so I can assure you that they are totally fine for these distances and going up to the mile (maybe even more, who knows).
I know that's the point of spikes, but it really feels good that you have that 100% grip in these; it's really awesome!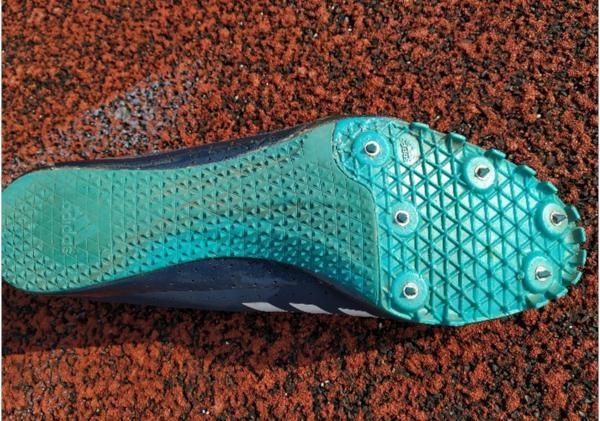 As I said, I bought a size 46, and that fit me perfectly. All of my Adidas running shoes that I own are also size 46, so if you have any Adidas shoes, you should buy them at the same size.
The shoe will stay on your foot without wobble if you tie them good, and it really just feels great. I PR-ed almost every race for the two years I had them, and they really were nice.
But I had to switch them since they started to tear on the part that is closest to the part of the foot where the pinkie toe "connects" to the actual foot. I made a hole there with them (while running, not intentional), so every time I ran in them, the socks were red because of the track on both feet.
I mostly wore them on dry days and not many times in the snow or rain, so I was able to extend the life a bit longer.
Conclusion
The spikes really are awesome ones for middle-distance. I think it's also a very popular sprinting shoe since some of my friends that are sprinters use them.
They are also pretty cheap. One of the reasons why it's an awesome deal for someone who is starting track a bit more seriously by joining in on a track & field club and racing competitively.