Salomon has successfully improved the predecessor, as evident in the number of compliments for the S-Lab Ultra. Users were quick to note that the enhancements were noticeable, therefore efficient. While there were a few disapprovals about sizing and price, the consensus was in favor of the S-Lab Ultra, because of its purposeful features, comfortable ride, and impressive performance.
---
Verdict from 6 experts and 100+ user reviews
8 reasons to buy
The upper of the S-Lab Ultra had a fit that felt like a glove, according to a commenter.
One runner was amazed that the shoe gave no blisters after a marathon.
The midsole absorbed shock efficiently, despite being not as cushioned as other racing shoes, a customer wrote.
A reviewer shared that the shoe felt surprisingly nimble on rocky trails.
The Quicklace™ feature enabled an even and secure fit, said a user.
Many buyers liked the shoe's improved forefoot cushioning.
An amazed runner claimed that the outsole was grippy enough for mountain trails.
The redesigned lace pocket on the tongue was now easier to use, a commenter wrote.
4 reasons not to buy
The toe box was too short and too narrow, complained a user. Another said it was too rigid and less flexible because of the added material.
There was not a lot of grip on wet rocks, a runner observed.
Some users criticized how the shoe required a break-in period.
One buyer thought the S-Lab Ultra was expensive.
Bottom line
Salomon has successfully improved the predecessor, as evident in the number of compliments for the S-Lab Ultra. Users were quick to note that the enhancements were noticeable, therefore efficient. While there were a few disapprovals about sizing and price, the consensus was in favor of the S-Lab Ultra, because of its purposeful features, comfortable ride, and impressive performance.
Best price from 30 shops
We earn affiliate commissions at no extra cost to you when you buy through us.
56% say it's true to size.
Our reviews
If you can get past an aggravating set of detached plastic overlays on the upper and a quirky lacing system, the Salomon S/Lab Ultra Trail delivers exceptional cushioning, plenty of feel for the ground, and a versatilely-grippy outsole all in a lightweight package that makes it a near-perfect shoe for long distance runs on any terrain.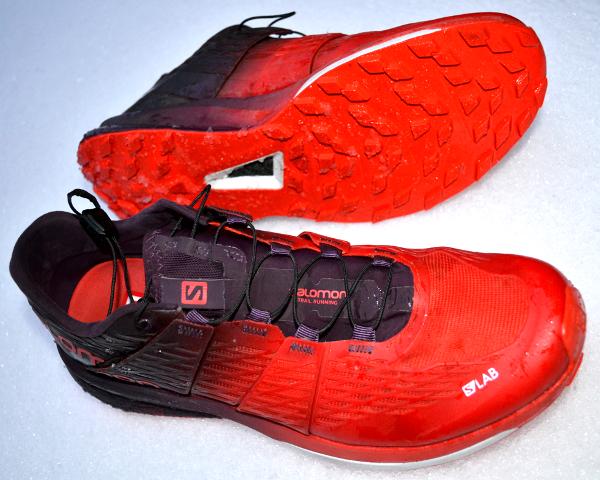 Who the S/Lab Ultra Trail is perfect for
Long distance trail running presents a major engineering challenge for athletic companies who face two seemingly contradictory demands.
First, ultra-runners want lots of cushioning to keep their legs fresh over dozens of miles, but also want to be able to feel the ground underfoot to give confidence when running on unstable or technical terrain.
Second, ultra-runners want space in the shoe's upper for their feet to splay out and absorb shock, plus room in the toe box for feet to swell over the miles, but at the same time need a precision fit that will keep their feet from slipping around while hopping from rock to rock or barreling down a muddy hillside.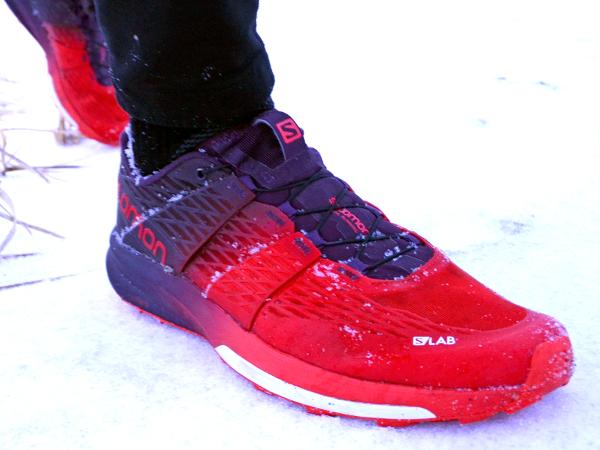 With most trail running shoes, these contradictions mean sacrifices one way or another. Maximalist cushioning shoes like Hoka One One's Speedgoat 3 offer plenty of cushioning for ultra-distance running but don't offer any feel for the ground. Altra shoes like the Olympus 3.0 have a shape that gives plenty of space in the toe box but lacks a precision fit and therefore slips around when running over technical terrain.
Salomon's obsessive S/Lab engineers clearly did not want to make these compromises and have delivered a remarkable shoe that checks all the boxes. The S/Lab Ultra Trail at once has exceptional cushioning sufficient for running 50+ miles on the hard ground, and yet keeps runners positioned low to the ground with a flexible midsole that gives an outstanding feel for surfaces underfoot.
Meanwhile, the upper of the S/Lab Ultra Trail is snug enough that it doesn't slip while moving over unstable, technical terrain, but is also flexible enough to allow toes to splay out and for feet to swell during long runs (note this is true for runners with narrow to moderately wide feet, see caveat below for runners with wider feet in the section: "Who the S/Lab Ultra Trail Isn't Ideal For").
Finally, deliberate, minimal use of material has kept the shoe at 10.6 oz for a men's size 9, extremely lightweight for the amount of cushioning and foot protection that it provides.
In sum, for those with narrow- to moderate-width feet who need a combination of exceptional cushioning, light weight, robust foot protection, grip in a range of conditions, and a good feel for the ground, the S/Lab Trail Ultra could easily be the best option on the market.
In-Depth Review, from bottom to top
The S/Lab Ultra Trail's outsole is perfectly designed for long distance runs where athletes must move over a variety of changing surfaces from start to finish.
The outsole provides effective grip in a remarkably wide range of conditions: I ran confidently on mud, dirt, grass, snow, ice, wet leaves, river beds, concrete, packed dirt, metal grating, sand, crushed gravel, and boardwalks.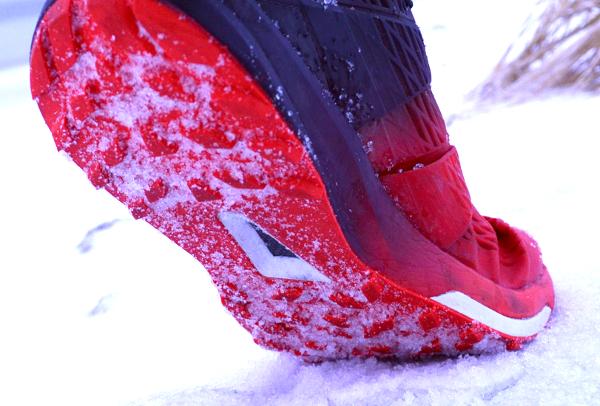 While outsoles with more aggressive lugs like the ones found on the Salomon S/Lab Speed 2 or the Inov-8 X-Talon 200 may provide better grip on wet, muddy trails compared to the S/Lab Ultra Trail, those outsoles are one trick ponies for one specific environment and feel uncomfortable in most other conditions.
By contrast, the S/Lab Ultra Trail's outsole is refreshingly versatile with lugs that are deep enough to grip wet, sloppy surfaces like muddy hillsides, but shallow and stable enough to be comfortable on hard, flat surfaces like sidewalks or crushed gravel.
An additional plus to the shoe's outsole is its durability. The outsole rubber that Salomon has utilized is top notch, and after hundreds of miles running on harsh terrain, the outsole shows virtually no signs of wear.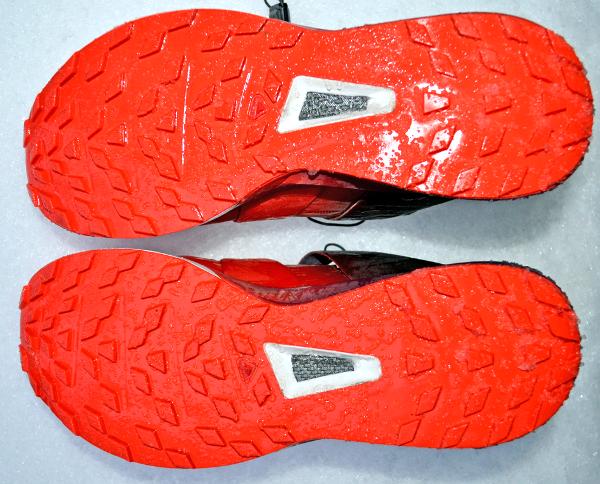 Midsole
Moving up to the midsole, the shoe provides an exceptional balance between cushioning—on par with maximalist Hoka One One's Speedgoat 3 or Altra's Olympus 3.0—but without the loss of feel for the ground or the awkward feeling of being elevated high above the earth that comes with maximalist shoes' mattress-worth of midsole foam.
The S/Lab Ultra Trail's midsole is relatively thin considering the cushioning it provides and uses a flexible rock plate that protects and cushions while still allowing runners to connect with and feel the ground.
This gives runners tactile feedback as terrain changes, allows precision foot placement, and affords confident movement over crumbly rocks, slick leaves, and gnarly tree roots. Salomon's choice to not go full on maximalist in the midsole also helps keep the weight down, and the shoe stays very lightweight for a rugged long-distance trail shoe at 10.6 oz for men's size 9.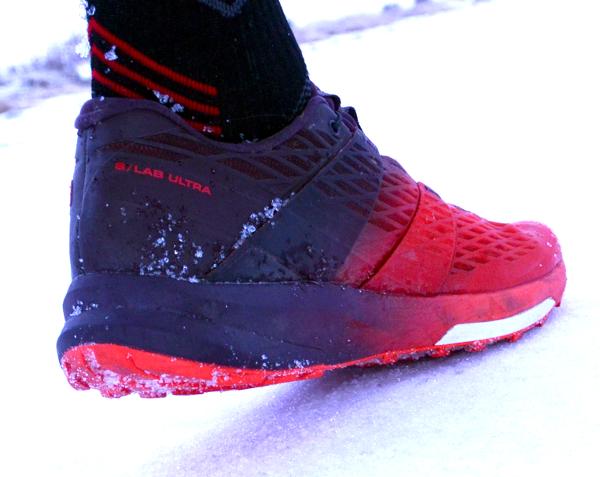 Salomon's choice to go with an 8mm heel-toe drop in the midsole is also praiseworthy. While aggressively minimalist 0-4mm ratios have developed a cult following with some trail runners, for most runners this posturing will cause excessive strain on the lower leg, will not encourage a smooth heel- or midfoot-toe transition, and is ultimately less than ideal.
By contrast, the 8mm drop of the S/Lab Ultra Trail is a happy medium. It is enough of a drop to encourage quick turnover and to not cause harm for runners whose legs are accustomed to more traditional 12mm+ heel-toe drops.
Yet 8mm is not so big of a drop that the minimalist fan club will feel uncomfortable. Also, for ultra-distance races where paces often slow to a brisk walk, being positioned at a moderate 8mm drop will feel comfortable at a wide range of tempos from a full sprint to a shuffle.
Upper
At the top of the shoe, the upper on the S/Lab Ultra Trail is excellent, albeit with a couple of quirks. The upper has a robust amount of protection with welded overlays that keep sticks, rocks, and other trail hazards at bay, but also is thin and ventilated enough to breathe amazingly well.
While it is not waterproof, none of the high-end materials in the upper absorb moisture, and the shoe drains water at a rate dramatically faster than any other trail shoe, so fast that after crossing ankle-deep through a creek the S/Lab Ultra Trail started to feel dry just a few strides later.
The upper's mesh hugs the foot snuggly to keep it from slipping but is also flexible enough to allow the foot to flex with uneven terrain and swell over the course of a long run. Finally, the upper's semi-rigid heel counter keeps the ankle and hindfoot perfectly stable, but also gives a bit of flex to prevent abrasion and allow the foot to pronate naturally as it adjusts to uneven terrain.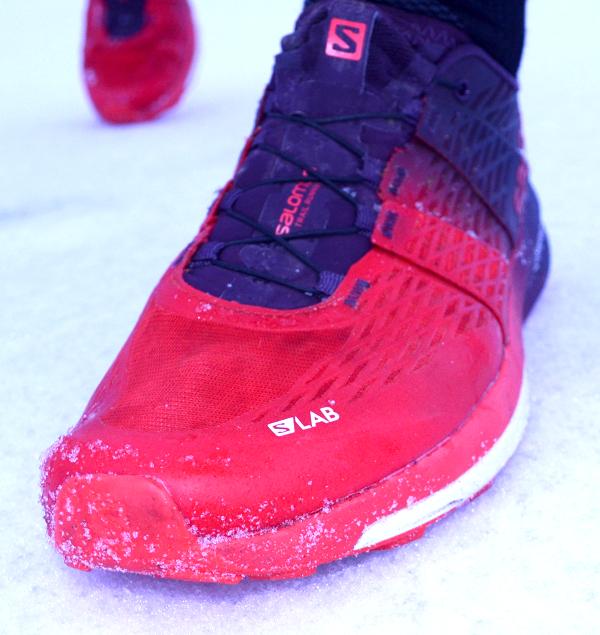 The two issues with the upper are its weird "Sensifit" wings (also referred to as straps or panels) and its Quicklaces. The Sensifit wings are a set of four raised plastic overlays that are detached from the rest of the upper. They look cool in a youthful way, like a Transformer toy, but they aren't comfortable.
Salomon states that these overlays were added at the request of S/Lab ultra-runner Francois D'haene who needed an extra snug wrap around his midfoot. Other than D'haene however, almost every reviewer of the shoe I've come across has had reservations about these overlays for a range of reasons, some reporting they cause uncomfortable pressure on the midfoot, others describing rocks and grit getting caught between the overlays and the rest of the upper's mesh, and still others complaining that these overlays gave off a clicking sound with every stride.
In my own experience, these overlays were uncomfortably snug, too rigid and inflexible, and caused blisters until around 50 miles of wear finally softened them out a bit.
Even after this breaking in period though, I still need to take time to loosen the lace on each of the Sensifit overlays' eyelets every time I put on the shoe to make sure they aren't too tight. These overlays aren't a deal breaker because they do eventually soften from a pain to a minor annoyance, but I do hope in the updated version Salomon gets ride of this quirky design feature.
The second issue with the upper is Salomon's Quicklaces. I've said it before, and I'll say it again: I don't like Quicklaces. They're marketed by Salomon as major design innovation, but in my experience, they're a hassle and gimmick.
Their first problem is that I haven't found Quicklaces to be any quicker than regular laces: after pulling them tight, you then have to spend time bunching up all of the extra Quicklace material and, bit by bit, tuck it into a small pocket on the shoe's tongue.
A second issue is that unlike regular stretchy laces, Quicklace's rigid material makes it difficult to adjust the tightness of the shoe at each eyelet, so you have to spend an inordinate amount of time fidgeting around with a finicky piece of string every time you tighten up the shoe.
Finally, Salomon also brags about Quicklaces being made out of super durable "Kevlar-like" material, but seemingly, they're not all that durable because Salomon sells replacement laces which—because they're over-engineered—cost more than regular replacement laces, require watching a ten-minute instructional video on how to install them, and then literally involve welding them on to your shoes with a lighter.
So, unless someone is regularly shooting at your feet, Kevlar material Quicklaces are going to be more of a pain than they're worth. Like the Sensifit overlays, Quicklaces aren't a deal breaker on an otherwise outstanding shoe, many of us just wish they'd go away. Some Salomon fans will just cut the Quicklaces off and replace them with good old-fashioned tie up laces as soon as they take their new shoes out of the box.
A Look at the Competition
The market for ultra-distance trail shoes has expanded in the past few years. The most obvious competitors to the S/Lab Ultra Trail come from Hoka One One, either the Speedgoat 3 or the Evo Mafate: all are highly cushioned trail shoes that keep lightweight, at 10.6 oz for men's size 9 in the Salomon versus 10.3 oz for the Speedgoat and 9.6 oz for the Evo Mafate.
In addition to being marginally lighter than the Salomon, both of these Hokas will accommodate slightly wider foot types, have slightly more cushioning, and come at a slightly lower suggested retail price ($140 for the Speedgoat and $170 for the Evo Mafate).
We're splitting hairs here, but if you need a bit more foot volume, need to save a few bucks, and won't be running on very technical trails that require a good feel for the ground, then the Hokas may be a better option for you. On the other hand, if you will be running on any kind of technical terrain, then the Salomon is preferable because it delivers precision foot placement, feel for the ground, and a snug fit that the maximalist mattress-for-shoes Hokas lack.
Another set of competitors come from Altra: the Olympus 3.0 and the Lone Peak 4.0. At 10.7 oz, the Lone Peak 4.0 is roughly the same weight as the Salomon, but the Lone Peak has noticeably less cushioning.
The Olympus 3.0 has a comparable level of cushioning as the Salomon, but is noticeably heavier, at 11.5 oz, and with its hardcore maximalist midsole has no feel for the ground. In my experience, compared to the Salomon, both of these Altras suffer from less grippy outsoles, less durability, and chunkier, less comfortable uppers. If saving a few bucks or having a 0mm heel-toe drop is a necessity, then Altra is your brand, but otherwise, the Salomon wins out by all measures.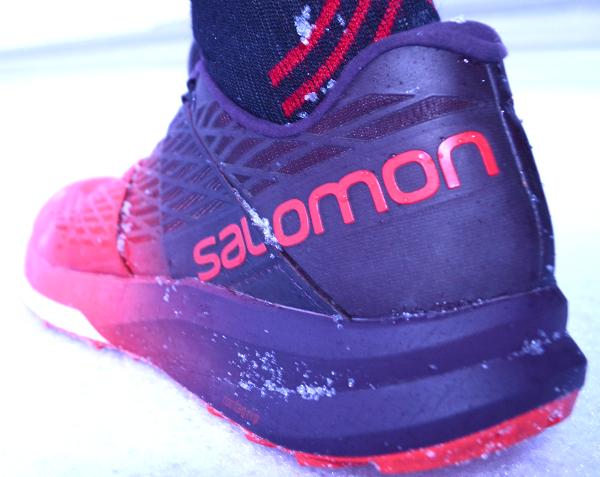 Who the S/Lab Ultra Trail isn't ideal for
This is a remarkable shoe, but it is designed for a niche market and won't be a good choice for many runners. Those who might look at other shoes include:
Those with wider feet. The S/Lab Ultra Trail's upper is low volume and meant to give a snug, supportive, precision fit for a particular narrow- to moderate-width foot shape. The S/Lab Trail Ultra will be too tight and uncomfortable for those with a wider midfoot or toe box. If you're not sure about your foot width, try them on at a specialty running store or be sure to check the return policy of your online vendor before buying.
Runners on a budget. The deal breaker for many runners will be S/Lab Ultra Trail's $180 suggested retail price tag, but after you've calmed down from the initial sticker shock, it should be noted that the shoe's high-end materials and outstanding manufacturing quality mean the S/Lab Ultra has been repeatedly wear tested to stay fresh 800-1000 miles, roughly twice the mileage of most running shoes priced at around $120. This means that per mile the S/Lab Ultra Trail is actually a great deal and absolutely worth the investment if you anticipate putting in high mileage.
Moderate- to severe-overpronators. The S/Lab Ultra Trail is impressively stable for a shoe without a medial post thanks to its snug midfoot wrap, precisely engineered midsole, and semi-rigid heel counter. However, its low volume upper doesn't work well with supportive inserts, and the shoe probably will not be stable enough for moderate- or severe-overpronators. That said, with many gaits, pronation of the foot will be more biomechanically efficient when running on soft trails than it is on hard roads, so overpronating runners transitioning from road to trail may find they need a less supportive trail shoe than they'd anticipate based on their road running experience.
Those not running ultra-distances. For anyone running around 15 miles or less on the trails, the S/Lab Ultra Trail will be overkill. Unless you need well above average cushioning, durability, and protection for ultra-distances, runners can find lighter and more affordable alternatives from any number of shoe companies such as the New Balance Summit Unknown, the Saucony Peregrine, the Altra Superior, the Nike Kiger, or the Brooks Cascadia. If you like Salomon but think the S/Lab Ultra Trail is more shoe than you need for your runs, consider the Sense Pro as a wider-audience alternative at a lower price point.
Conclusion
The Salomon S/Lab Ultra Trail is a remarkable feat of engineering that provides enough cushioning to keep you comfortable over 50+ mile runs while giving a good feel for the ground and staying lightweight. The upper is very comfortable with form-fitting mesh, a semi-rigid heel counter, and protective, breathable, and water-resistant overlays.
The outsole is amazingly versatile, giving traction on everything from mud to snow to concrete. The only negatives to the shoe are in the upper, with its odd, uncomfortable Sensifit overlays and Quicklaces that are finicky to adjust and aren't actually any quicker than regular laces.
There are a few other caveats: if you're on a budget, are a severe overpronator, or have wider feet, then other trail shoes may be better options. If these aren't concerns, however, the S/Lab Ultra Trail may be the best long-distance trail shoe available to you.
Updates to Salomon S-Lab Ultra
The S-Lab Ultra is a Salomon trail running shoe that effortlessly handles speed. According to its developer, Francois D'haene, the shoe is the material representation of an athlete's preparation for running. It is the result of the balanced combination of cushioning, breathability, durability, and protection – all working together to help the runner reach their goals.
The silhouette is almost identical to its predecessor, the S-Lab Sense Ultra, but this shoe packs more features than it. It also has some redesigned construction elements for enhanced performance.
The updated upper displays a new layout; it now has midfoot panels that target a secure fit by keeping the foot in place. It still has the same material as the previous version, but now with an inner cleatie construction for seamless wear.
Although the midsole is less cushioned compared to the earlier release, the S-Lab Ultra has more features and more material in the midsole. It provides a higher level of comfort and protection that are essential for racing distances. The outsole also gets a revamp with the lug pattern.
Size and fit
The Salomon S-Lab Ultra is true to size, and it has a structure that caters to runners with low to medium foot volume. However, runners who are looking for a snugger fit are recommended to go a half-size down. The shoe unisex, and it is available in men's width of D – Medium.
Outsole
Just like in the popular Salomon Sense Ride 2, this shoe uses the Contagrip which is one of Salomon's most popular technology, and one of its variants is in the S-Lab Ultra – the Premium Wet Traction Contagrip®. Like all the other Contagrip forms, this one is made of non-marking rubber with superior durability.
As the name implies, the Premium Wet Traction Contagrip® excels on surfaces that are damp or have some amount of moisture: puddles, streams, swamps. With this outsole, the S-Lab Ultra promotes a steady ride without slipping or sliding. Such a feature also allows longer runs without the risk of injury from wet ground.
Midsole
The midsole of the Salomon S-Lab Ultra is unique and unlike most trail running shoes. The most notable detail is a dual-density foam that makes up the cushioning.
One part of the dual-density midsole is the EnergyCell+, a durable material that possesses the ability of optimal energy return, supplying a high rebound. Meanwhile, the second part is the Energysave®, which is a thermoplastic polyurethane (TPU) insert in the forefoot. This unit adds an extra layer of cushioning, as well as protection from rocks and rough ground.
For the S-Lab Ultra, Salomon employs grading construction, which is the process of adjusting the shoe pattern according to each size option. With this step, the overall shape of the shoe has an equal proportion, resulting in a more contoured fit for the wearer.
The shoe also uses Profeel Film, which serves as a protective framework, preventing sharp objects on the trail from harming the foot. Aside from this, it also supports the foot during transition, thus offering a consistent and stable ride.
As its sock liner, the S-Lab Ultra utilizes an anatomical-shaped ethylene-vinyl acetate (EVA) footbed. This feature takes cushioning to a higher level, while also equipping the shoe with a shock-absorbent quality.
Upper
The upper of the shoe works double-duty, as it is an anti-debris mesh. It keeps the foot fresh and dry while also providing coverage against debris. Accordingly, the tongue also has a protective lining to ward off trail fragments.
Layered upon the upper are two types of wraps that give a shielding and customized fit. The first is a skin-guard construction that acts as a drain, so the foot dries quickly. The second one is Ortholite® Impressions, a malleable and adaptable material that smoothly follows the shape of the foot.
Salomon's classic tandem of Sensifit™ and Endofit™ is present in this shoe. Sensifit™ is a supportive element that cradles the foot for a secure fit. Beneath it, the Endofit™ internal sleeve brings a contoured fit. Together, they deliver improved ground feedback, which is crucial for running.
The Quicklace™ is an innovative way of adjusting the fit of the shoe, as it does away with traditional lace-tying and instead uses one-pull tightening. A small pocket on the tongue allows the laces to be tucked in, keeping distractions out of the way.
Rankings
How Salomon S-Lab Ultra ranks compared to all other shoes
Popularity
The current trend of Salomon S-Lab Ultra.