90
The Corescore is a score from 0-100 that summarizes opinions from users and experts. Below shows the distribution of scores for all running shoes.
Verdict
Plush comfort in a Salomon! It's what we've all been waiting for. The Ultra Glide is Salomon's answer to Hoka's reign over the cushioned trail shoe category and they nailed it. This shoe has a peppy, energetic ride, a soft, breathable upper, and a grippy, durable outsole. It's worth a look at $140 and has a ton of great features. The only gripe I could conjure up is it's a touch narrow if you have a wide foot.
Pros
Durable
Breathable
Grippy
Great lockdown
Plush and comfortable
Great lacing system
Protective overlays
Energetic ride
Cushioned
Cons
Runs a bit long
Runs narrow
Narrow platform
58% say it's true to size.
We earn affiliate commissions at no extra cost to you when you buy through us.
Comparison to similar running shoes
Salomon Ultra Glide review and lab test
A comfort-minded shoe from Salomon! Finally!!
This is really a change for Salomon who normally focuses on more streamlined, minimal style trail shoes that are stiff and energetic. I was so excited to hear they were coming out with a softer, more plush shoe in the Ultra Glide. Hoka, watch out!
Salomon hasn't spent a ton of time in the cushioned, long-distance category, so to have a shoe with taller stacks, more forgiving foam, and a super plush upper is exciting to say the least.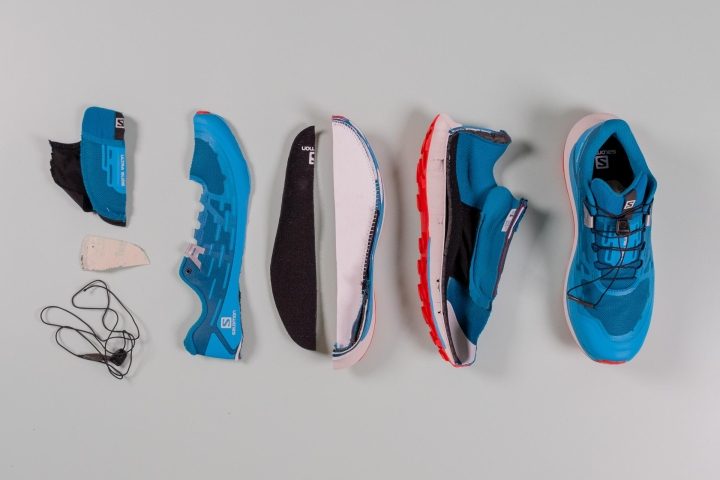 Salomon is one of the top trail-shoe designers out there in my opinion. Some companies think trail shoe design means just slapping lugs onto a road shoe. Salomon focuses on the details to make trail shoes that perform like runners need them to out on varied, steep, and technical terrain.
We've explored every nook and cranny of this shoe, so if you're considering it be sure to read on and find out where Salomon went right, and where they went wrong with the Ultra Glide.
Who should buy the Salomon Ultra Glide
Check out the Ultra Glide if you're looking for a plush trail shoe but Hoka shoes don't feet your feet well.
If you need comfort out on the trail for long efforts, or just the ability to cruise your local trails in a plush pair of kicks, the Ultra Glide may be your jam.
Also, and this is key, if you have a narrow or "normal" width foot, these may be the ideal trail charger.
Who should not buy it
Don't buy this shoe if:
There are really not many reasons not to like this shoe, but if you have a wider foot that's the main deterrent I can find to dissuade you from giving the Ultra Glide a go.
Ultra Glide is long and narrow
Salomon claims this is a wider, more accommodating shoe. To start this fit section, I have to refute the claim wholeheartedly.
The shoe feels a touch long and a bit narrow in the midfoot. If I were really needing this shoe to fit I'd need a half size down and a 2E and then maybe it would be perfect.
It's a major challenge for me to get my foot into the shoe, wider footed people should consider the Sense Ride 4 instead if you want to go with a Solomon as that model was much more accommodating for me.
It's confusing because the Ultra Glide is supposed to be a wider, more accommodating Salomon, but it's a real struggle for me to get on. There's no heel loop or pull tab in the rear, just one on the tongue which only helps so much without an accompanying one on the back of the shoe.
Once on, the toebox is adequately wide even though it's still on the narrow side, but the toe box is not nearly as constricting as the midfoot.
Maybe I could break these in and they'd fit better, but with my slightly wider feet I'd most likely have to pass on the Ultra Glide, and if I was trying these on at the store, I wouldn't even get them all the way on before moving on.
If you have a normal width foot, I think this will be a phenomenal option and the gusseted tongue is designed extremely well to offer great lockdown, and although the lacing system is not customizable like more standard lacing systems are, it works well, hugging the top of your foot without much movement at all.
I wish they made this in a wide because this shoe really is fantastic in almost every other way.
Nice plush comfort
The shoe is built for comfort, and they nailed it, mostly…
The midsole is soft and springy underfoot, the upper is thick and padded, complete with a super-plush 10.3mm thick tongue. That's nearly double the thickness of an average tongue (5.5mm).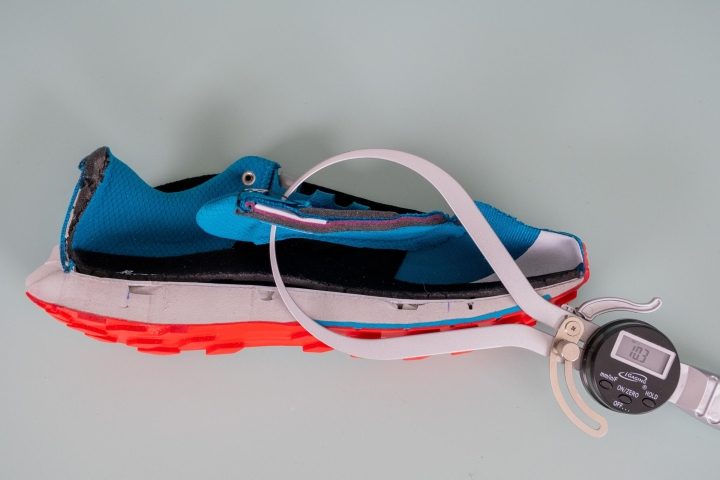 There is a removable insole but it's thin at just 2.9mm and doesn't add much extra padding (4.3mm is the average insole thickness).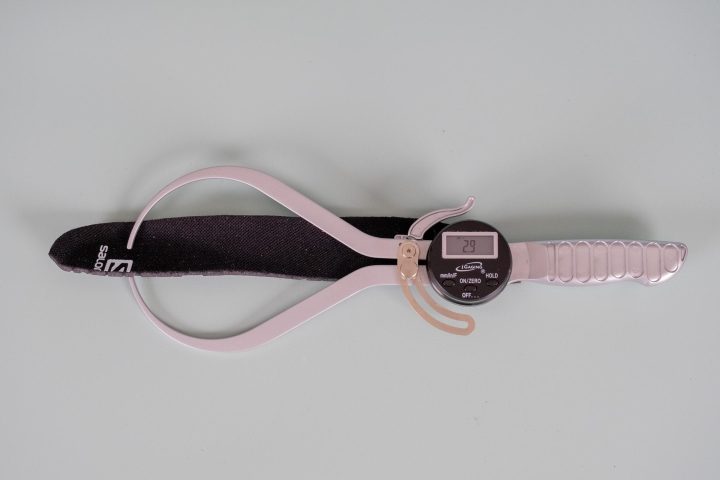 The ankle collar is nicely padded, and not overly stiff hugging the back of your foot nicely. I had no heel slip or movement in the shoe.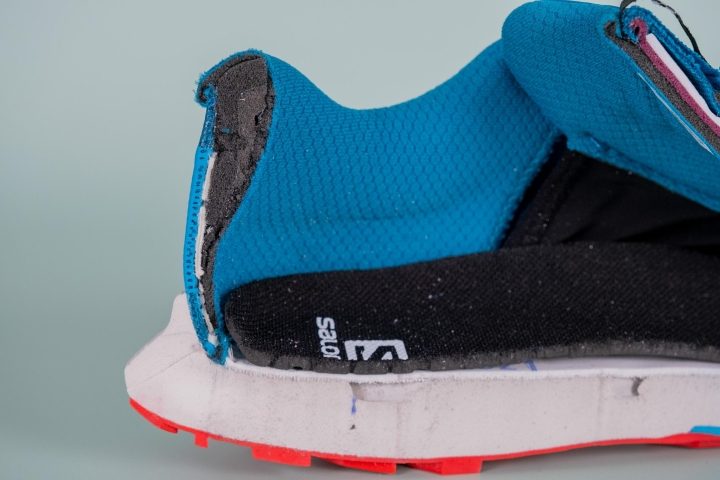 Other than it being too tight in the midfoot for my slightly wider feet, these felt fantastic.
Stiff flexing but soft underfoot
The midsole is softer than average at 17.5HA, average being 22.2HA, giving it a softer feel underfoot.
The shoe flexes at 34.5N, which is also below the average shoe as well at 37.5N, but that flex point is really just under the toes, the rest of the shoe is fairly still and actually ranked 4 out of 5 in our Torsional and Longitudinal stiffness ranking with 5 being t stiffest.
Overall I'd call this shoe a fairly stiff shoe but with a soft midsole to cushion from high-impact footfall.
The midsole is a nice update for Salomon trail shoes. Where the Sense Ride feels nimble and low to the ground, the Ultra Glide feels protective, responsive, and even a bit bouncy underfoot.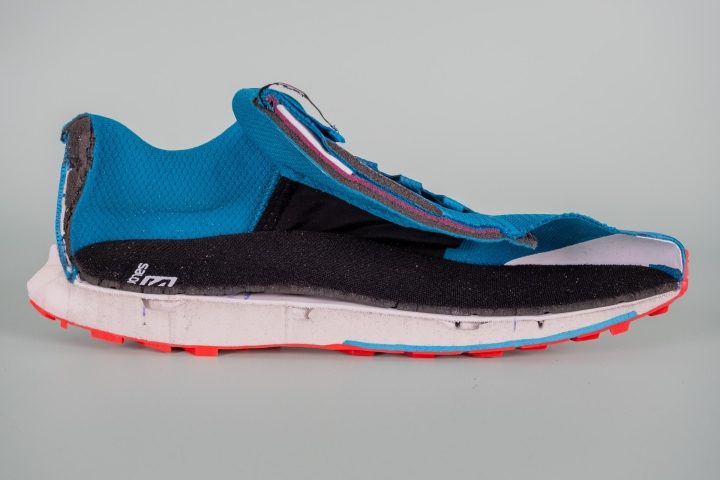 It's not super cush like the Hoka Challenger, but it's peppier and it's fun to run in because of its response.
The shoe rolls nicely through your gait thanks to its slightly rockered design, so in the gentler, flatter stretches you can coast a bit more than in flatter trail shoes. It's a delicate balance that Salomon did well since too much rocker takes away a shoe's ability to attack technical terrain well. Good job here Salomon.
It's built on a narrow platform at just 105.2mm wide under the forefoot, that's significantly less than the average shoe at 112.8mm in the forefoot and can cause some stability issues. However, the heel is actually above average width at 90.8mm (89.7mm is average), it's an odd design. Just be careful on sharp turns and off-camber sections.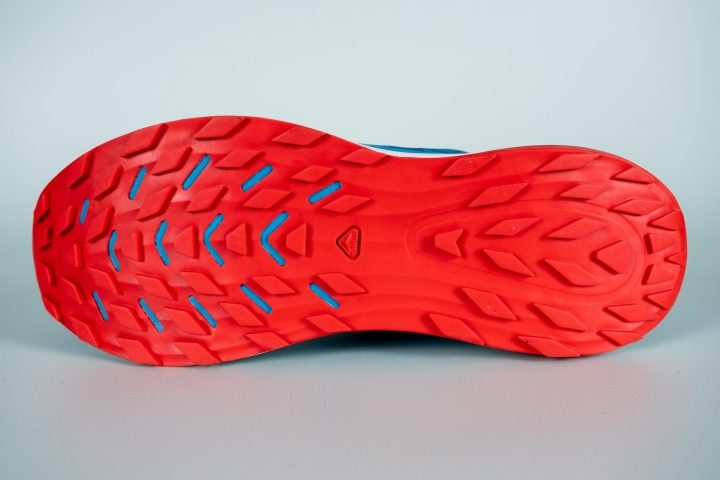 Lastly, stacks are 31.8mm in the heel and 23.9mm in the forefoot which is significantly higher than the Sense Ride 4 at 26.5/19.2mm, but the Ultra Glide is not super tall by any means when compared to other plush shoes on the market. Overall the average is 32.9/24.6mm (this includes road shoes as well).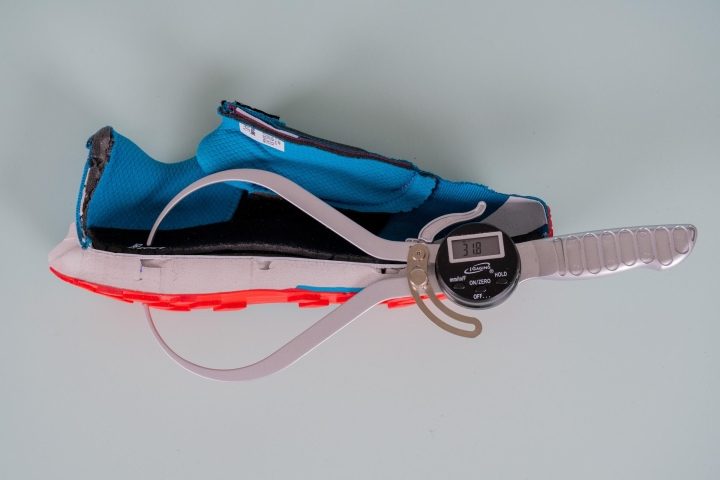 Break-in needed for wider feet
This shoe does need a little break-in, especially if you have a slightly wider foot.
I do think it would work if I broke it in extensively, but with other shoes fitting wider feet better right out of the box I am not sure I would take the time personally.
Decent weight for a plush shoe
At 10.0 ounces (283g), the Ultra Glide is respectable for a highly cushioned trail shoe but I still wanted it to feel lighter on my feet.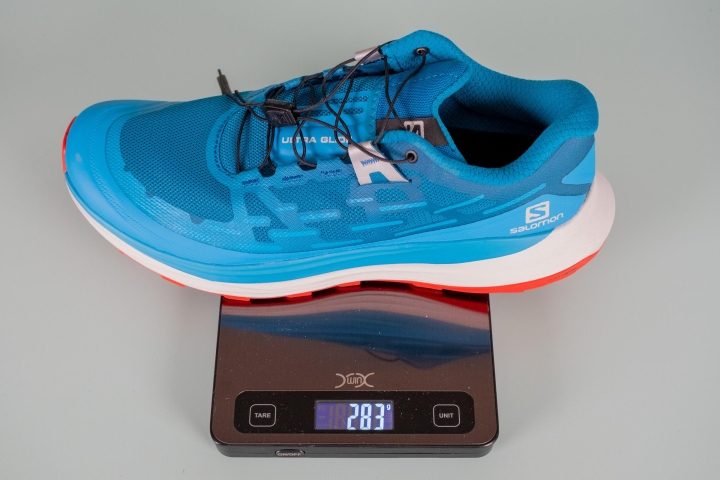 I think Salomon can get this to 9 ounces and then this would be a competition killer! I can't really complain much though since you do get a lot with this shoe at 10.0 ounces.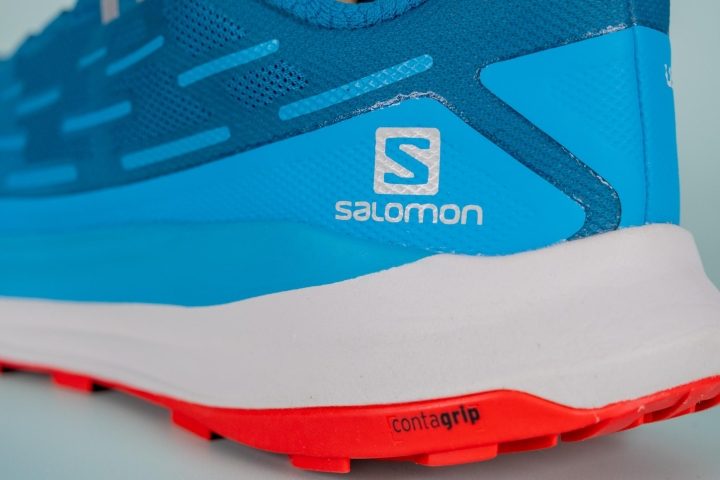 Compared to other recent test shoes, the Saucony Endorphin Trail was 11 ounces (312g) and the Hoka Zinal was 8.4 ounces (239g).
Grip and durability
The Ultra Glide has a thick outsole at 5.2mm overall with aggressive 3.5mm well-spaced lugs. These are adequate for 90% of the trails out there, but you may want an even more aggressive shoe for the super technical runs like something from the trail lineup of the Salomon S-Lab.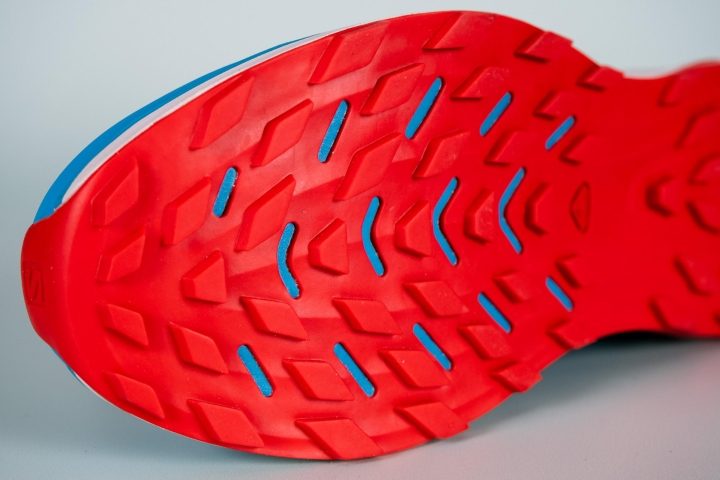 The outsole is a hard 86.5HC on the durometer, well above the average outsole hardness of 80HC. This means the shoe should wear slowly and be extra durable but honestly, it's a bit harder than I would like to see on trail shoes since harder usually means less sweet grip.
It's always hard to balance durability and grip in trail shoes, but I think Solomon went a little too hard on this rubber. Ultimately though this harder rubber may make this shoe great for commuting to and from the trails on the road, or running hard dirt.
Salomon testing says you should be able to get 500 miles out of this shoe after letting their trail star Max King run this thing to death. 500 miles is a tall order for a trail shoe!
One other feature I like in this shoe is the full 360 degree welded overlay at the bottom of the upper. It should protect well from debris and water, and keep this shoe running a long time.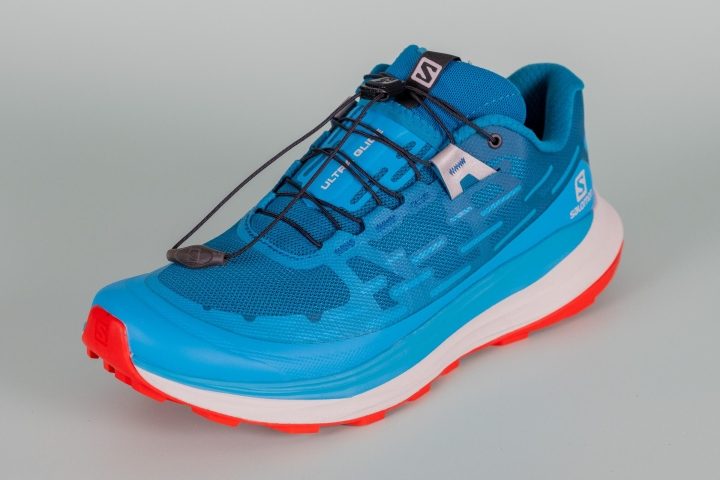 Breathable for a plush shoe
The shoe is surprisingly breathable for a plush shoe with this much padding in the upper. Over course all that padding does inhibit some heat from escaping but Salomon did a pretty good job at keeping this shoe breathable while also protective from rocks, dust, and water.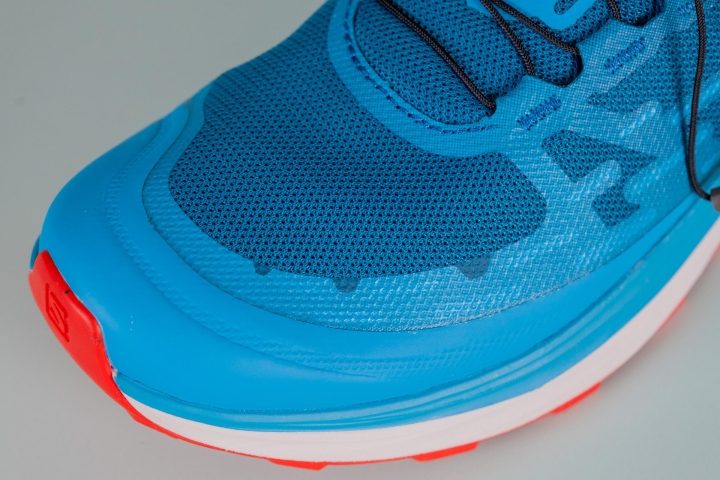 Salomon quick lacing
The Ultra Glide has the typical Solomon speed lacing system, which I love, it's so easy and simple, and it works so well.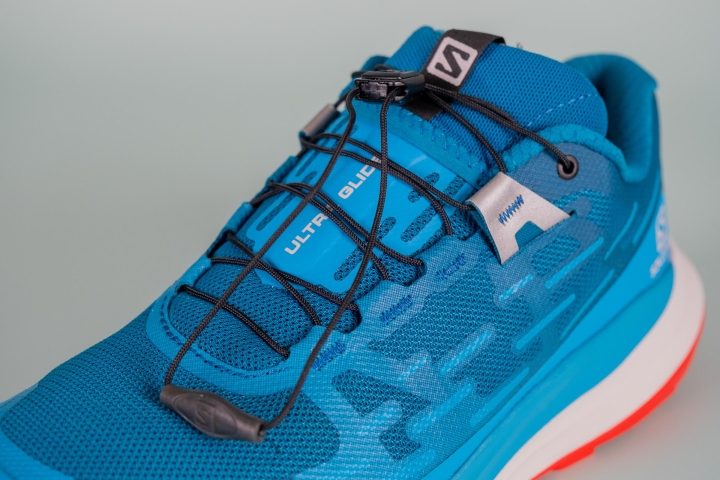 But the weight they save in the lacing system has to be made up for in the thick tongue needed to pad the top of the foot from lace bite. The Ultra Glide solves this with its thick 10.3mm tongue offering plenty of padding to allow you to crank the laces as tight as you want without pinching over the top of your foot.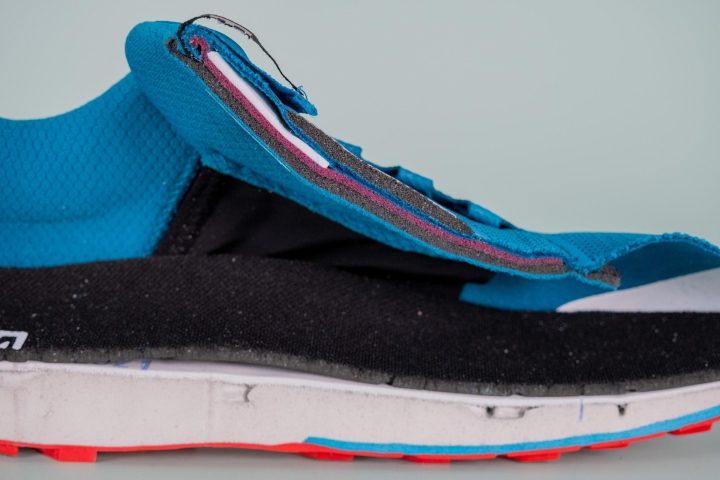 One gripe I always have about Solomons is the lace is just so long after you tighten the shoe and with the sewn-in rubber tab at the end, it flops around. They design a lace garage at the top of the tongue to tuck the extra lace into but to me it's always been a poor design because it's stuck under the top of the laces, so you really have to poke and prod to get that extra bit up under the upper lace crossing and into the small mesh pouch.
But once it's in there, it's secure and this lacing system keeps the shoe tight and is pretty flawless.
I think this is ultimately the best lacing system out there, don't change this Salomon, just fix the lace garage issues and you're set!
Reflective
Although you can take this shoe out for a 100-mile spin, there are no reflective elements, so be careful at night should you be out and about.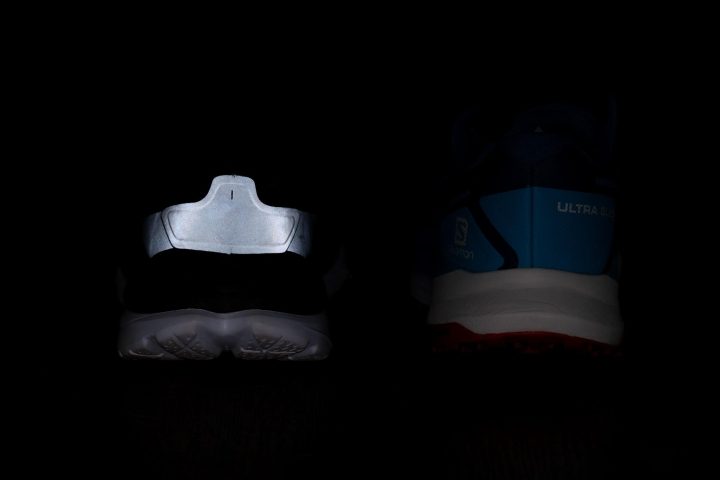 We compared this to a highly reflective shoe, the Hoka Mach 4, and you can clearly see the difference in visibility.
Conclusion
I really wanted to love this shoe, it's nearly perfect for long trail days, if only it were a touch wider I would have been ecstatic with it.
Overall though, for the normal-width foot, this is one of the better trail shoes I've seen hit the market.
I think that at $140 this shoe is worth checking out, and if they drop a wide version I'll be adding this to my lineup.
Complete lab-specs overview
Ultra Glide
Average
Whole shoe

Weight (g)

283

267

Drop (mm)
7.9
8.3
Flexibility of the shoe (N)
34.5


37.5

Flexibility of the shoe (Freezer 20 min) (N)
42.6

47.7

Flexibility of the shoe (% of change)

23.5

40.7

Lace slip test with the knot (N)

N/A

23.2

Longitudinal flexibility (1-5 scale, 5 being the stiffest)

4

3.2

Torsional flexibility (1-5 scale, 5 being the stiffest)

4

3.3

Upper

Thickness - Tongue (mm)

10.3

5.5

Width Upper - Forefoot (mm)

98.6

98.5

Width Upper - Heel (mm)

78.8

76.0

Lace Stretch (1-5 scale, 5 being the most stretchy)

1

2.9
Flexibility of the heel counter (1-5 scale, 5 being the stiffest)
4
3.3
Tongue: gusset type

Both sides (semi)

-

Heel: pull tab

No

-

Midsole

Width Midsole - Forefoot (mm)

105.2

112.8

Width Midsole - Heel (mm)

90.8

89.7

Stack - Forefoot with insole (mm)

23.9

24.6

Stack - Heel with insole (mm)

31.8

32.9

Durometer Midsole Heel (Room temperature) (HA)

17.5

22.2

Outsole

Outsole thickness (Heel) (mm)
5.2

3.8

Lugs Depth (mm)
3.5

3.4

Durometer Outsole Heel (Room temperature) (HC)

86.5

80.0

Insole
Insole Heel Thickness (mm)
2.9

4.3

Insole: removable

Yes
Compare popularity
Interactive
Compare the popularity of another shoe to Salomon Ultra Glide:
Salomon Ultra Glide video reviews