Hoka Zinal review and lab test
Low stack, lightweight, fast, nimble... Is this really a Hoka? Did COVID-19 cause temporary amnesia for Hoka? Don't they like to make big chunky shoes?
Let's just start with the looks of this thing. I opened the box, and damn!! I love it! Colors, slim, sexy!
Now onto the important stuff. I personally like a more sparse trail shoe compared to super-plush bruisers, and I sung a lot of praise for the Torrent 2 for not looking or really feeling like a Hoka. The Zinal outshines even the Torrent though in this pursuit for a lighter, more nimble Hoka.
Hoka seemingly took the Torrent in my mind and stripped out all the upper padding making a lighter and more breathable trail shoe designed for speed. Bravo!
I assume this was designed for the likes of the vaunted Sierre-Zinal race in the Swiss Alps with its naming. Better known as the "Race of the Five 4000m Peaks" the course is surprisingly not an ultra race. It's only 31KM, but it's meant to be raced fast and hard with steep climbs and descents, and this shoe embodies every inch of that.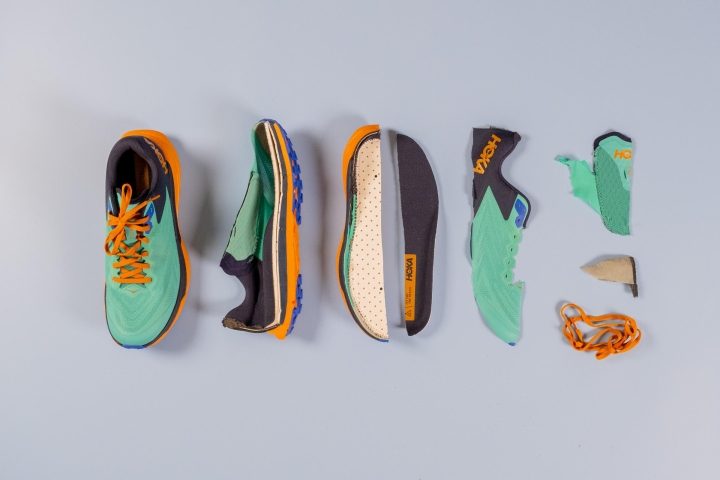 Ok Hoka, how do I get a second pair of these now that I cut them in half? They need to be in my lineup!
Read more to see why they should be in yours too.
Who should buy the Hoka Zinal
Buy the Hoka Zinal if you are a fast, technical trail runner looking for something nimble and speedy for your next race.
These are ideal for short, hard efforts where quickness is key.
They also double well as a commuter shoe for those running on the tarmac to and from technical trails. Unlike other commuter shoes that shy away from really technical stuff, these hook up just fine once you hit the gnar.
Who should not buy it
Don't buy the Hoka Zinal if:
You're an ultra-distance runner, these are meant more for short efforts. Check out the Stinson ATR 5 for max cushioning.
You see a lot of wet, muddy terrain. You'd be better off with the Speedgoat 4 or Mafate Speed 3.
You run mostly on roads and light gravel roads or packed smooth dirt. The Challenger 6 ATR may be more ideal
Ultimately this shoe is meant to go fast and light, if that's not you, keep looking at other shoes, Hoka has a great lineup these days to fit your needs!
They run a bit big
These are a bit big. Right out of the box I can say they are a half size to a full size too long. Bummer, but one day I'll get the second pair in the right size since I had to cut these in half anyway.
They feel a touch straight and narrow as well. I think Hoka could open up the toe box a touch and snug down the middle a bit and these would hug my feet better.
Lastly, I did have a bit of heel slip/movement. The lower cut ankle may be the culprit, but it's just a bit sloppy for how fast you can go in these, so lace them up tightly. I think V2 will solve most of these issues, as this is still the first year of this model.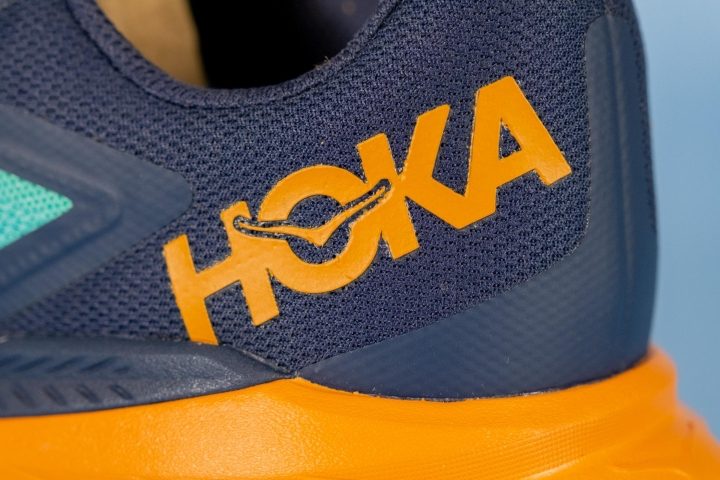 Built for speed, not necessarily comfort
The Zinal fits more like a road shoe than typical trail shoes. This is a plus for most runners since it will feel very familiar. And at its weight, it's almost in killer road shoe territory!
The midsole is soft underfoot, and there's a thick 5.1mm insole (average is 4.2mm) to add to the cushion.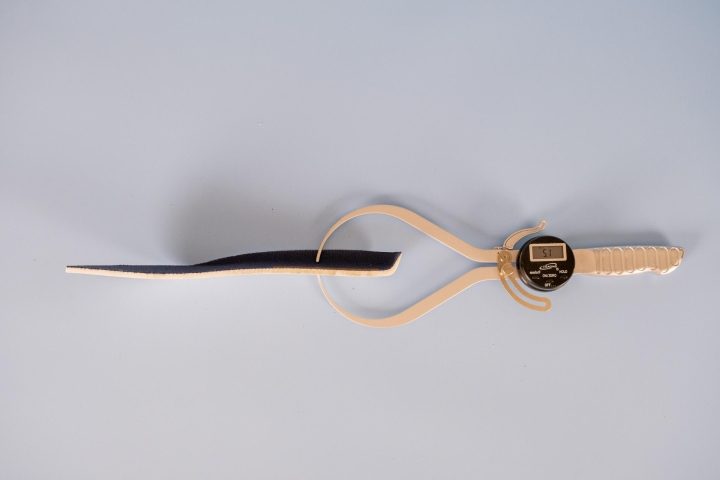 I also really enjoy the thin, lightly padded tongue. At 2.4mm (average is 5.5mm), it's understated but keeps the laces from digging into the top of your foot. It's gusseted too, with very thin stretchy nylon which feels great and is unobtrusive to both the fit and the breathability.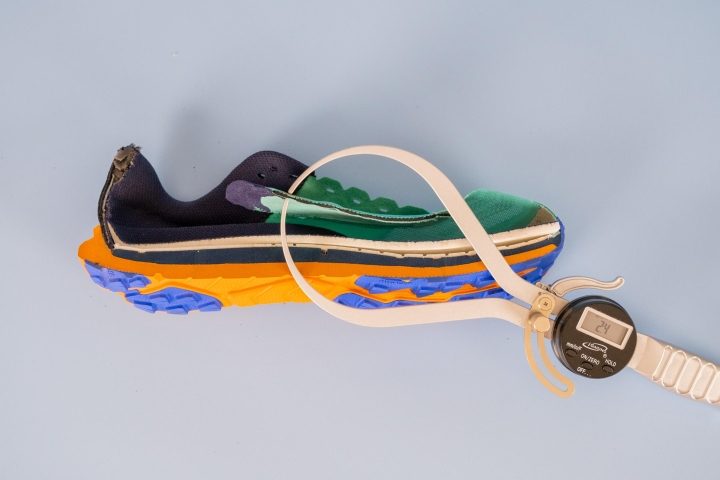 The shoe feels good on your foot, and that I like.
Ground feel booya
Ground feel In a Hoka??? WAAAAHHT!!
I love it, thank you for bringing this into the fold Hoka. That's the main takeaway for me. This shoe is nimble and not like other Hokas. It's quick underfoot, feathery, and the lug pattern ensures fast turnover.
Of course, as I unboxed these my first disappointment just looking at them was the lug pattern. It's not super aggressive which I expected them to be. I thought to myself, "Man, I would have liked these to be meatier, these could be trail crushers if they beefed up the lugs a bit."
But it was more mental than anything. This shoe grips well, even though my mind was saying "give me more aggressive-looking lugs." Small lugs mean faster turnover, which means faster times, and I like to go fast so I am changing my tune after testing, I am a fan.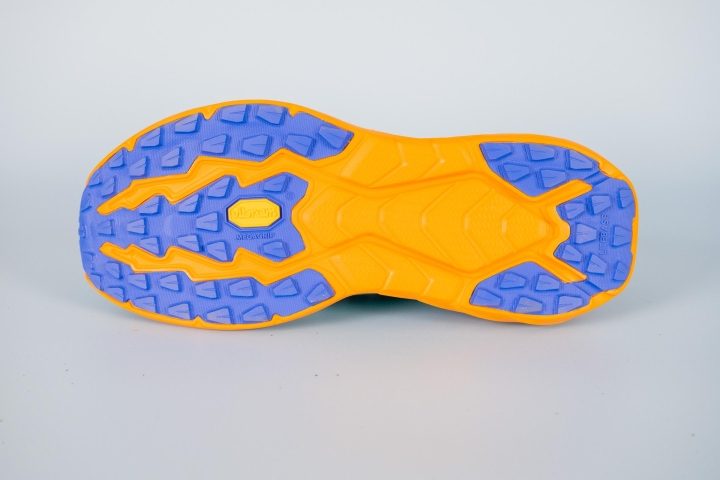 The ride features a dual-density Profly midsole, the same midsole material found in Hoka's Mach 4, another speed shoe. It's soft but not bouncy or energetic, it's a slimmed-down version of the stable, consistent cushion we've come to love in Hokas.
It's a medium-stiff shoe as well. At 37.5N on the flex test it's just slightly under the average shoe at 38.9N, but pretty flexible for a trail shoe, Again this is great for those who like ground feel.
Stack is 29.3mm in the heel and 25.4mm in the toe with just 3.9mm of drop, a huge change from your typical Hoka with super stacks in the high 30s, and I like that, it feels stable.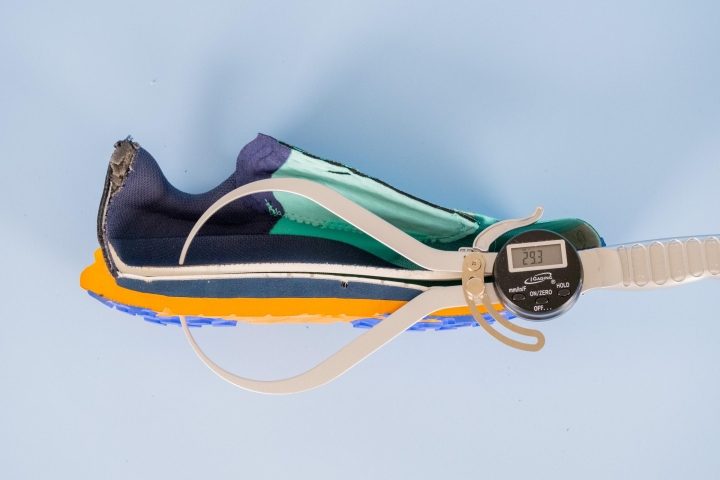 Feathery weight
Weights in at 8.4 ounces (239g) in US men's 9. Is this a road shoe? Damn, nice work Hoka, didn't know you had it in you!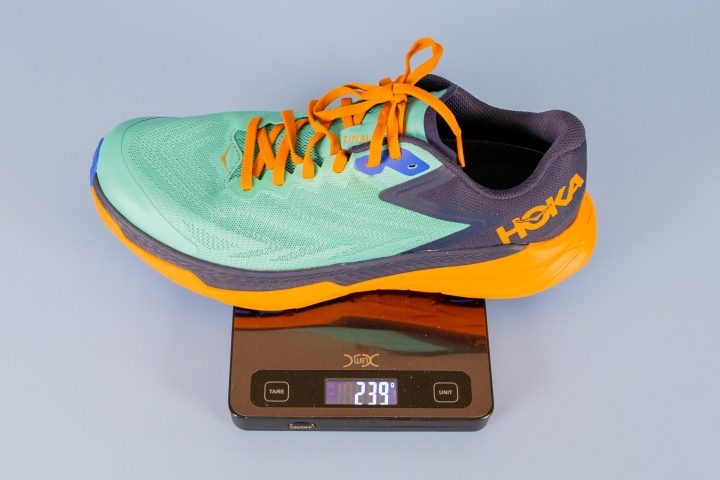 Fast may not mean durable
There is a lightweight welded overlay on the toe, it's not really super durable, it will fend off a light scratch or two, but overall the upper is thin and could have some longevity issues after battling aggressive terrain.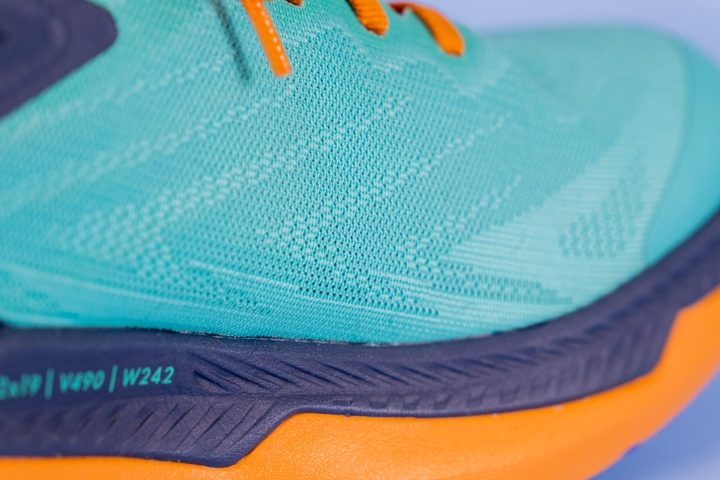 However, the hard outsole, at 88.5HC on the durometer it's well above average (79.7HC) and should wear slowly.
Surprisingly good grip
Grippy but minimal lugs at just 3.4mm (this is actually average 3.4mm) but again, mentally I prefer a deeper more aggressive outsole. However, this shoe hooks up as is and is faster because of the toned-down lugs.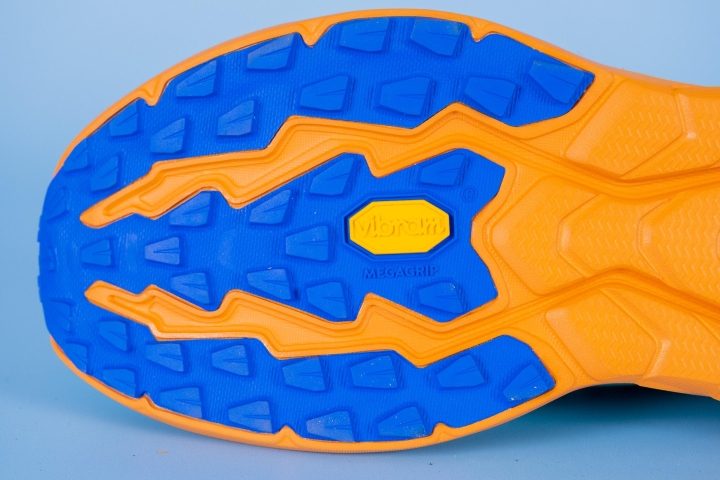 The Vibram Megagrip outsole is what Hoka calls Litebase, which means it's environmentally friendly using just half the amount of rubber as a traditional outsole. This is why it doesn't fully cover the bottom of the shoe, and why the lugs are a bit shallow. But if you care about the trail systems you are running through it's a nice perk that Hoka considered the environment in the construction of the Zinal.
Lastly, I would say it could have issues on wet terrain (which we did not test on, no rain in August in Colorado), but anything super wet or muddy, I'd opt up to a luggier shoe.
Great hot weather shoe
The upper is super thin mesh and highly breathable. This shoe works well on warm days and should drain and dry quickly should you be tramping through stream crossings.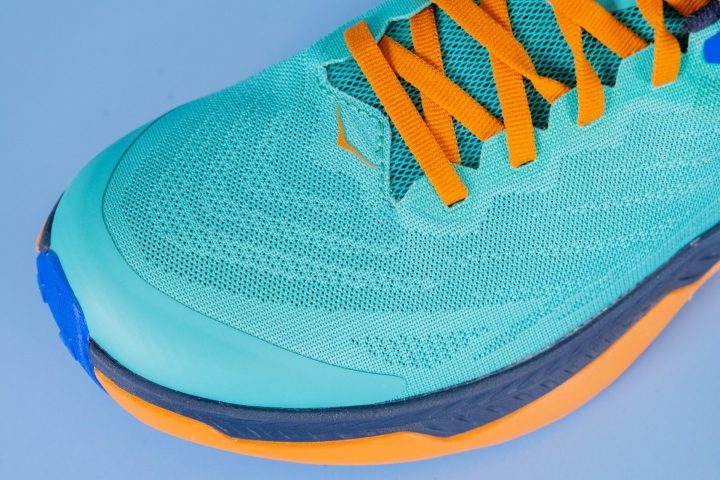 Missing features at this pricepoint
There are a few missing elements I would have liked to see. There are no reflective elements, no lace loop or lace garage, no gaiter attachments, and no heel pull loop.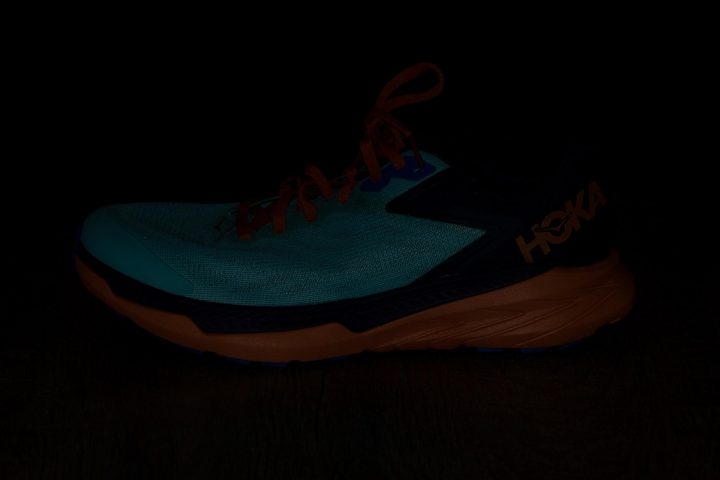 I would have liked some of those features at the $160 price point. It's expensive, I think trail shoes with an EVA midsole should be closer to $120-130.
Conclusion
Ultimately, I wish I didn't cut this shoe in half. I want it in my trail stable. It's exciting, fast, nimble, and lightweight.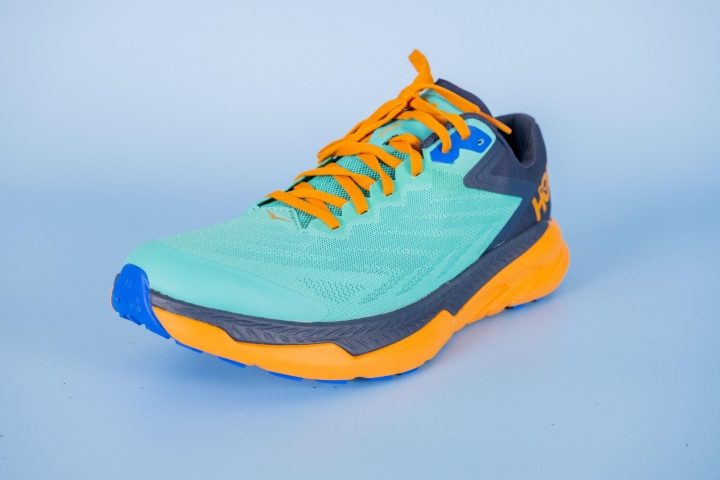 It's a bit spendy, and you should order a half size down, but I really like that Hoka is breaking their own mold here and playing with a shoe of this style.
Complete lab-specs overview
Zinal
Average
Whole shoe

Weight (g)

239

265

Drop (mm)
8.4
9.3
Flexibility of the shoe (N)
37.5


38.9

Flexibility of the shoe (Freezer 20 min) (N)
45.7

47.7

Flexibility of the shoe (% of change)

21.9

40.7

Lace slip test with the knot (N)

30.1

22.9

Longitudinal flexibility (1-5 scale, 5 being the stiffest)

3

3.0

Torsional flexibility (1-5 scale, 5 being the stiffest)

4

3.1

Upper

Thickness - Tongue (mm)

2.4

5.5

Width Upper - Forefoot (mm)

97.1

98.4

Width Upper - Heel (mm)

77.9

75.8

Lace Stretch (1-5 scale, 5 being the most stretchy)

3

2.8
Flexibility of the heel counter (1-5 scale, 5 being the stiffest)
3
3.0
Tongue: gusset type

Both sides (semi)

-

Heel: pull tab

No

-

Midsole

Width Midsole - Forefoot (mm)

114.3

113.0

Width Midsole - Heel (mm)

93.6

89.5

Stack - Forefoot with insole (mm)

25.4

24.6

Stack - Heel with insole (mm)

29.3

32.7

Durometer Midsole Heel (Room temperature) (HA)

20.0

22.4

Outsole

Outsole thickness (Heel) (mm)
4.4

3.4

Lugs Depth (mm)
3.4

3.2

Durometer Outsole Heel (Room temperature) (HC)

88.5

79.7

Insole
Insole Heel Thickness (mm)
5.1

4.2

Insole: removable

Yes
Compare popularity
Interactive
Compare the popularity of another shoe to Hoka Zinal: