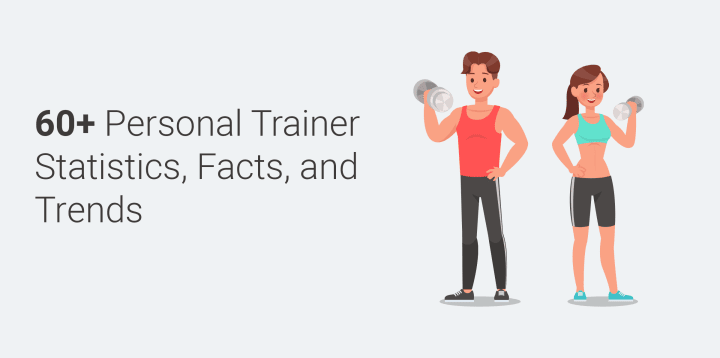 We spent 37 hours reading, researching, analyzing, and compiling personal trainer statistics, to provide a comprehensive breakdown of:
Personal training industry statistics [market size, growth, and trends]
The Fitness Trainer industry is expected to rake in $10.4 billion in revenue in 2020. [IBISWorld - 2020]
The Personal Fitness industry in the United States saw a growth of 2.4% per year from 2015 to 2020. [IBISWorld - 2020]
The market size for Fitness Professionals in the U.S. is expected to see a 1.4% increase in 2020. [IBISWorld - 2020]
In 2019, there were 373,700 personal trainers in the U.S. [bls.gov - 2020]
The need to easily access classes taught by experienced fitness trainers has helped grow the online personal fitness industry market to $6,046 million in 2019 and is expected to reach $59,231 million by 2027. [Valuates Report - 2020]
Personal training statistics in the UK
The personal trainer industry is valued at £684 million. [IBISWorld - 2020]
According to a 2019 report, there are about 57,000 fitness instructors in the UK. [IBISWorld - 2019]
The personal trainer industry in the UK has grown by 2.3% from 2014 to 2019. [IBISWorld - 2019]
About 47% of personal fitness trainers in the UK are found in London and South East London. [Future Fit - 2019]
Freelance personal trainers in the UK earn £20 and £40 an hour but those numbers increase to £50 to £100 per hour if they are working with high profile clients. Meanwhile, trainers employed by fitness centers earn £14,000 to £16,000, but if you have the experience, you can get paid as much as £20,000 to £30,000 a year. [Prospects - 2020]
According to a 2020 survey, fitness instructors in the UK lost, on average, £679 a month or about £8,000 per year pro-rata because of the pandemic. [Insure4Sport - 2020]
74% of fitness instructors in the UK train clients online and 31% of the survey respondents stated that they would continue with the virtual classes even after the pandemic. [Insure4Sport - 2020]
Future Fit Training is the leading provider for personal trainers in the UK and has trained over 40,000 people to date. [Future Fit Training - 2020]
Personal trainer job outlook stats
According to the Bureau Of Labor Statistics, the Personal Trainer industry will experience a 15% growth between 2019 to 2029, adding 57,600 more trainers in a decade. [bls.gov - 2020]
About 12.5% of gym-goers use personal trainers, fitness trainers, and instructors, an increase in demand of 44% in the past 10 years. [Blue Water Credit - 2017]
A recent survey revealed that before the pandemic only 39% of fitness trainers were training clients online. [thePTDC.com - 2020]
Before the pandemic, 58% of workers in the personal training industry were employed by fitness, recreational, or sports centers. While 11% of workers in this industry 11% were self-employed [bls.gov - 2020]
The future of personal training: how it's changing due to covid
In 2019, 59% conduct in-person training, 32% do both online classes and in-person sessions, and only 7% train exclusively online. [thePTDC.com - 2020]
After the pandemic, 83% of personal trainers plan to continue offering online classes to their client base, while only 14% say that they'll keep doing in-person training. [thePTDC.com - 2020]
Though 58% of fitness trainers lost some or all of their income during the pandemic, 21% reportedly made more money, especially those who taught online classes. [thePTDC.com - 2020]
27% of trainers believe is it safe to go back to the gym even with the pandemic. Of that number, 31% are men and 20% are female trainers.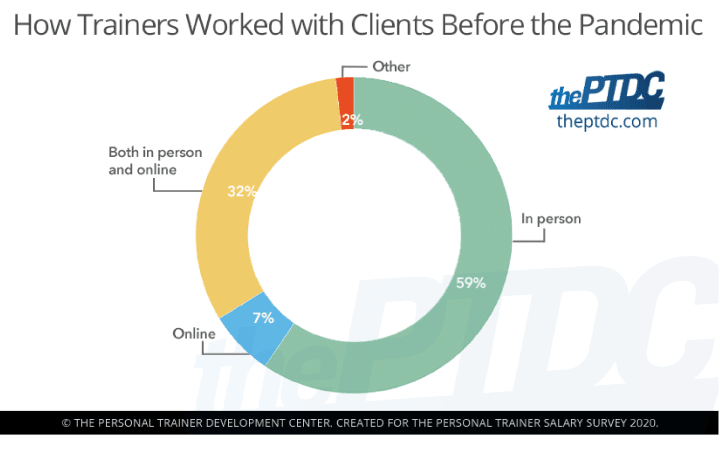 Personal trainer salary stats
As of November 2020, the average annual income of personal trainers in the United States is $69, 901, typically ranging between $44,663 and $76,050. [salary.com - 2020]
Meanwhile, the average pay for fitness trainers in other countries ranges between $26,000 and $34,000 per year. [Trainers Essential - 2020]
According to a recent study, the lowest 10% of personal trainers earned less than $21,110, while the highest 10% of fitness trainers earned more than $75,400 in annual wages. [bls.gov - 2019]
Personal trainers in the state of New Jersey have the highest average annual income of $54,075. Meanwhile, in Colorado, fitness professionals make an average of $35,537 per year. [Zippia.com - 2020]
Pre-pandemic, female fitness trainers earn only 70% of a male fitness trainer's pay, but that number climbed to 80% in 2020. [thePTDC.com - 2020]
Personal trainers with more than 5 years of work experience earn 24% higher than those who are just starting out. [thePTDC.com - 2020]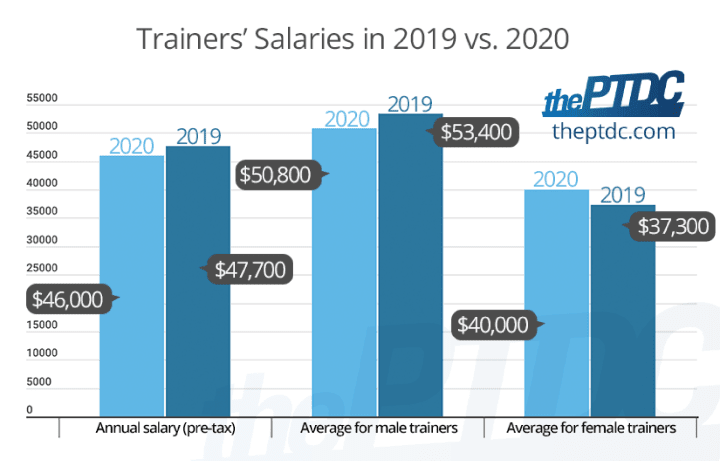 A passion for fitness is what urged 70% of survey respondents to pursue a career in personal training. [Statista - 2015]
About 44% of personal trainers become one because of their desire to help others achieve their fitness goals. [Statista - 2015]
Becoming a fitness trainer appealed to 27% of people who want to work for themselves and 22% of trainers who liked the flexible work hours. [Statista - 2015]
77% of personal trainers started their career because they have a strong passion themselves (43%) or to help others (34%). [OriGym - 2019]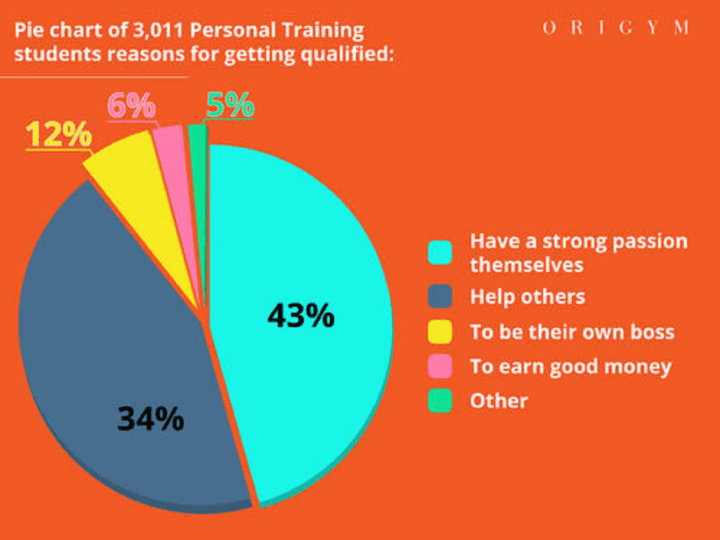 Surprisingly, only 6% of personal trainers do it for money. [OriGym - 2019]
Personal trainer certifications and education
According to a PTDC survey, 42% of fitness trainers are Precision Nutrition certified, making it one of the most popular certification programs in the industry. [thePTDC.com - 2020]
Personal trainers with National Strength and Conditioning Association certification earn 42% higher than those without, about $65,300 per year. [thePTDC.com - 2020]
A survey by the PTDC found that the top organizations that personal trainers were certified by were Precision Nutrition (40%), NASM (27%), and American Council on Exercise (18%).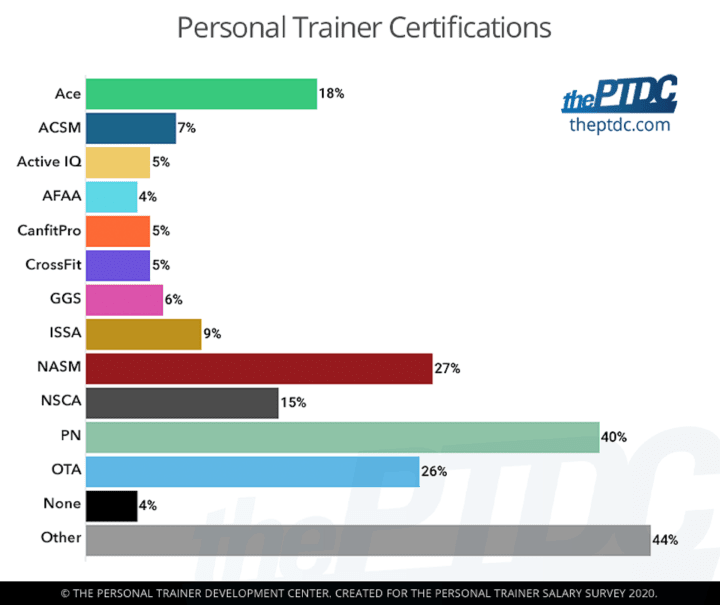 Despite including 12 of the top personal trainer certification organizations in their survey, the PTDC found that 44% received certifications elsewhere.
According to a 2014 survey, 64.2% of trainers have a bachelor's degree in exercise-related fields while 89% have personal training certifications. [NCBI - 2016]
59% of survey participants have a certification from the American College of Sports Medicine, which makes it one of the most common certificates among fitness trainers [NCBI - 2016]
Only 3.1% of instructors have been certified for CrossFit training. [NCBI - 2016]
Personal trainers with formal education are 31.3% more likely to teach Olympic weight training. [NCBI - 2016]
Though the use of weights like kettlebells has grown in popularity over the years, physical trainers with a master's degree are 36% less likely to use kettlebells when they are personal training clients. [NCBI - 2016]
Personal trainer demographics
Recent estimates show that 59% of personal trainers are male. [thePTDC.com - 2020]
On average, 29% of full time personal trainers train an average of 45 hours a week. [ABS Labour Force - 2018]
57% of personal trainers do not feel like they are stuck in a career rut. [Insure4Sports - 2018]
However, only 42% of fitness trainers feel secure in their career choice. [Insure4Sports - 2018]
The average age of fitness trainers, regardless of gender, is 38 years old. [thePTDC.com - 2020]
On average, fitness trainers have 3.4 certifications, but men 3 times are more likely to have them than women. [thePTDC.com - 2020]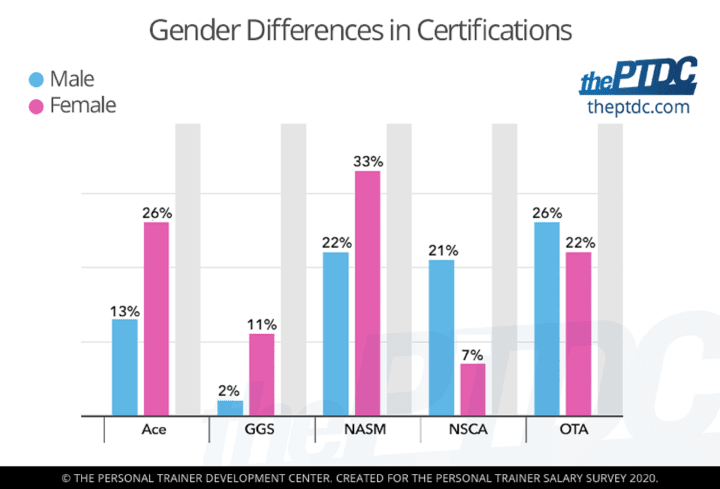 Cost of personal trainers
In the U.S. personal trainers typically charge $40 to $70 for an hour of in-gym training. [Lessons.com - 2020]
Meanwhile, hiring a personal trainer to come to your house increases the rate to $60 to $100 an hour. [Lessons.com - 2020]
On the other hand, personal trainers who teach group fitness classes charge an average of $35 per class. [Lessons.com - 2020]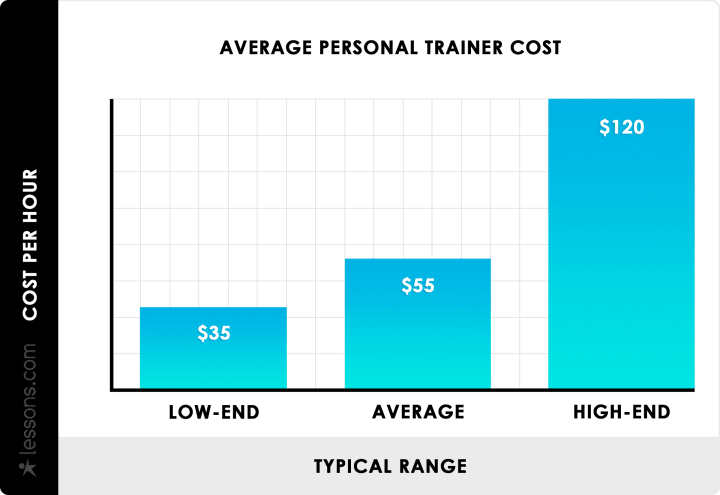 How effective are personal trainers
Those that train with personal traininers seem to have greater benefits of exercise.
A previous study revealed that people coached by personal trainers lost an average of 9% of their body weight in a 24-week weight loss course. [ACE - 2012]
People who train with fitness trainers in group exercise classes increase their lean body mass by an average of 1.3kg compared to those who do not. [Journals of Strength and Conditioning - 2014]
Groups that train with personal trainers increase their aerobic capacity by 7% compared to those that train on their own. [Journals of Strength and Conditioning - 2014]
Personal training related studies and research by RunRepeat
Below is a list of unique studies conducted by RunRepeat that are significant to personal trainers and the industry as a whole:
Related we compiled during our continuous research of the health and fitness industry as a whole:
About RunRepeat
As the world's largest athletic shoe review site, we analyze the shoe reviews from over 4 million athletes and 12,000 experts to provide a CoreScore rating for each training shoe. While the score helps you quickly know which gym shoes are best, the price comparisons from over 213 retailers ensure you get it at the best price too.
Whether you are looking for Nike cross training shoes, some lightweight workout shoes, or some great non-marking hiit shoes to wear to health clubs, RunRepeat will help you find the next best pair of shoes at the best price for you.
Use of content
We are happy to give interviews on this topic and related topics at any time. For this purpose or for other questions regarding our research reach out to Nick Rizzo at nick@runrepeat.com
Feel free to use material from this page in any web coverage of the topic, we just ask that you refer, and link, back to this original source.