Who should buy the NOBULL Trainer
Consider the NOBULL if you:
need an all-around cross-trainer for any WOD of your choice
want a premium-level trainer that goes head to head with Reebok Nanos and Nike Metcons
prefer gym shoes with a simpler design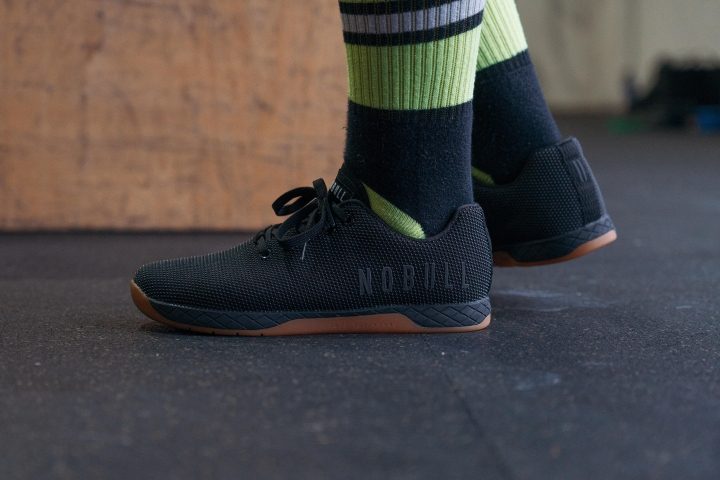 Who should NOT buy the
trainer
If your workout routines are more focused on HIIT or lean more towards heavy weightlifting, we recommend checking out more specialized footwear for these activities. See our selections of the best HIIT shoes and best lifters. At the same price point as the NOBULL Trainer, you can get a solid HIIT shoe like Nike Air Zoom SuperRep or a heavy-duty lifter like the Adidas Power Perfect 3.
And if you want to stay on a budget or catch a discount, we gather all available deals for more than 60+ Crossfit shoes.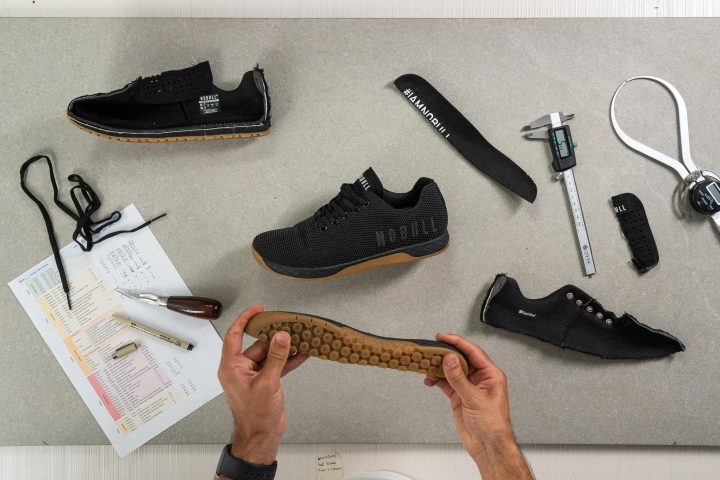 NOBULL does it all well
Plenty of athletes choose the NOBULL Trainer for its all-around performance. It makes them feel confident about anything a "WOD could throw."
The NOBULL Trainer is designed as a CrossFit shoe that also functions as an everyday casual shoe. It is intended to be used from the streets to the gym, and vice versa, so the wearer doesn't have to worry about shoes and can focus on beating their personal records.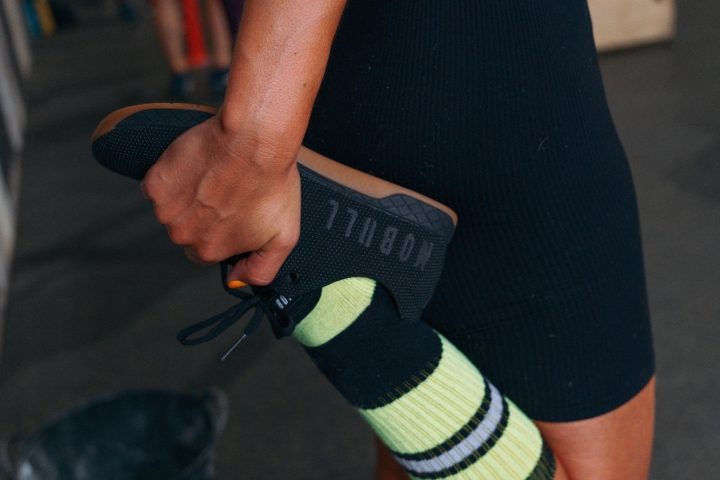 Stable enough for lifting moderate weights
Reviewers describe the NOBULL Trainer's sole as "flat", "stable", and "stiff" which gives them a solid foundation for squatting, deadlifting, and snatching.
It is engineered to be barely compressible in the heel area to deliver steadiness when lifting.
Fact check
The midsole foam of the NOBULL Trainer is indeed on the firm side. For reference, it is 15% firmer than the average running shoe. And is also a bit firmer than the NOBULL Trainer+ (by 7.5%).
Disclaimer: Image below shows 1 of our 5 measurements that we took with the durometer.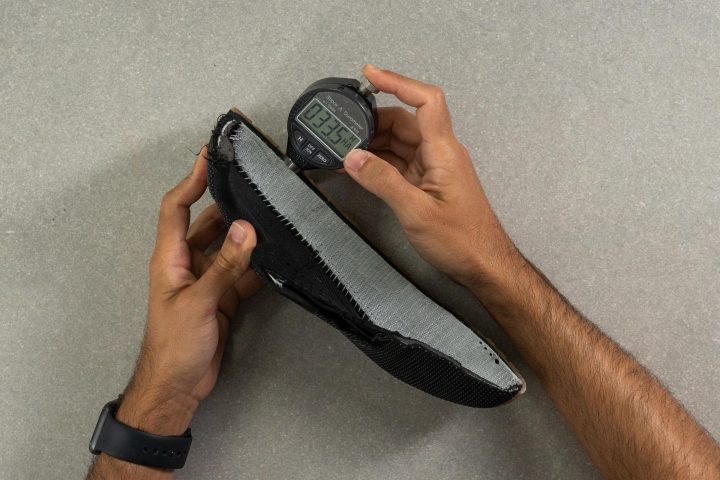 The Trainer gets even firmer (by 7.5%) if it is exposed to cold temperatures. This is just in case you tend to keep your gym shoes somewhere cold (hopefully, not in the home fridge, like we do for our lab tests).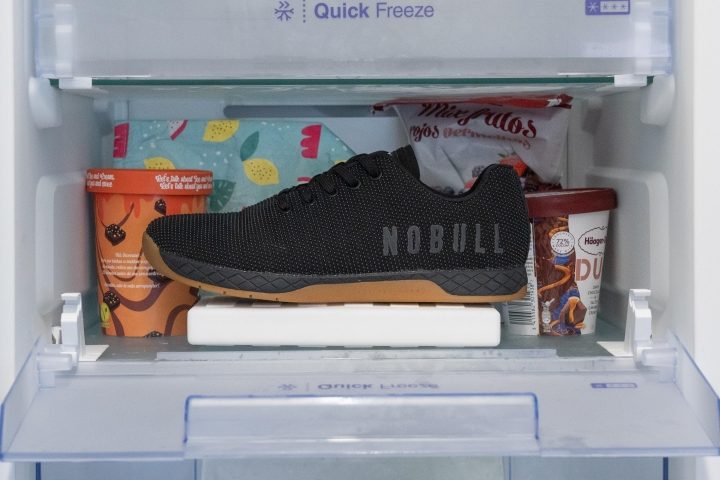 Now let's see about the "flat" aspect. According to the brand, the heel-to-toe drop of the NOBULL Trainer is 4 mm (a golden standard for Crossfit shoes).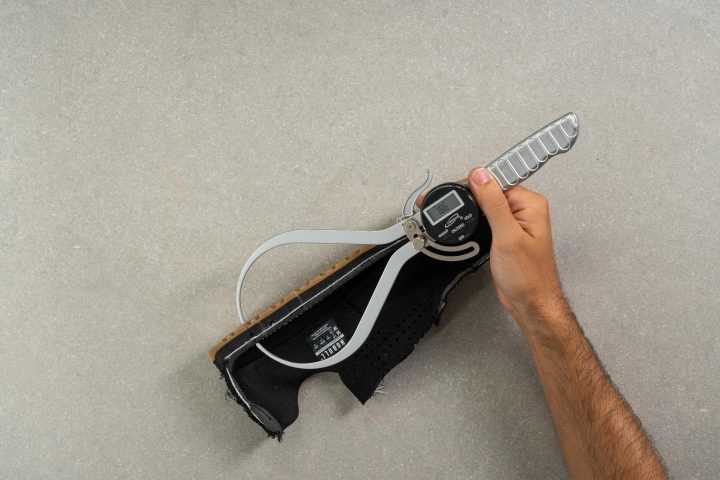 Fact check
Looks like it's very close to the truth. We have measured the drop to be 3.7 mm:
18.6 mm (heel stack)
14.9 mm (forefoot stack)
Insole (2.9 mm) is included in the measurement.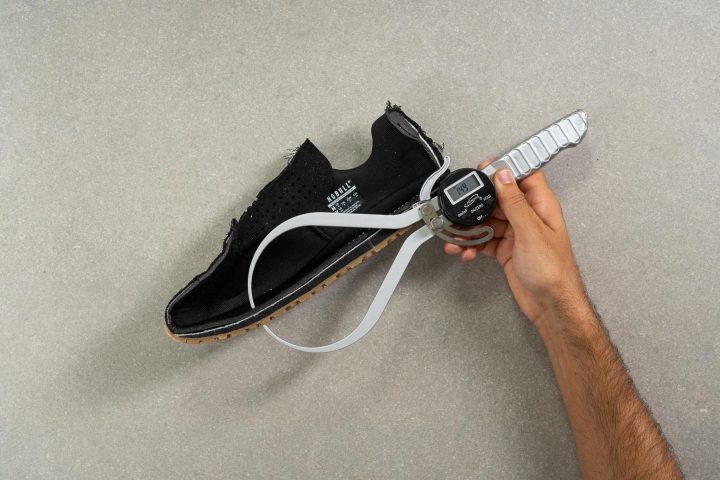 Having a nice and wide footprint greatly contributes to the trainer's stability. While it's not as wide as the Trainer+, gym buffs didn't seem to have any issues with it.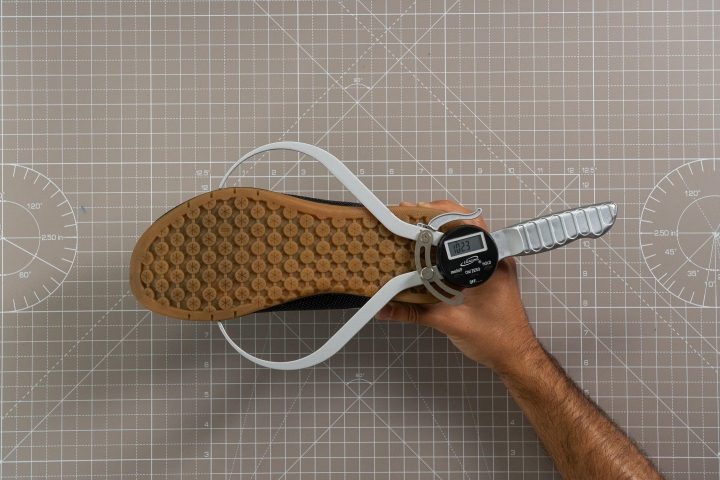 But if you do care about that extra width, the updated NOBULL Trainer+ is 6.2 mm wider in the forefoot and 9.2 mm wider in the heel.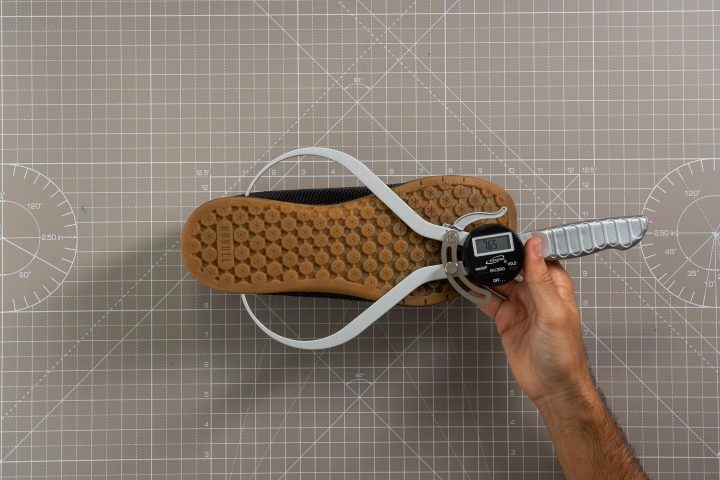 It will help you get some HIIT done
Despite the stiffness, which helps with stability, there is also ample rebound in the forefoot. It helps to power you through jumps and movements where you get up on your toes.
Lacks ventilation though
On the downside, the Trainer really falls short in the breathability department. More than a few athletes found their feet hotter than expected especially during high-intensity training.
Just see how there is no smoke coming through the fabric itself, only a little in the tongue area. Meanwhile, the shoe on the right is made of breathable synthetic mesh.
Even the light is not shining through the sturdy Superfabric of the NOBULL Trainer.
Reflective logo
And if there happens to be a blackout at the gym, get ready to shine with the NOBULL logo on your shoes.
All-day comfort
Gym goers are amazed at how good the trainer feels for simply walking around. They recommend it for commuting, coaching, and casual wear.
This is in part thanks to the right amount of flexibility in the Trainer. There is just enough of it to make the shoe comfortable to walk in.
A lightly padded insole also makes the in-shoe experience a bit more pleasant.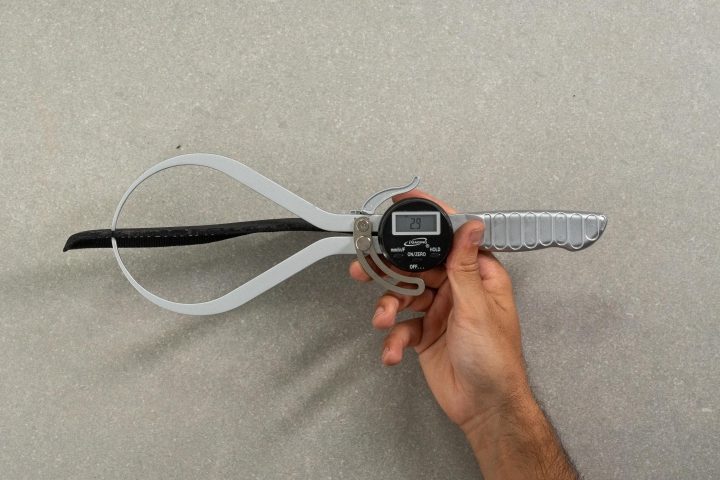 Caveat: not the shoe for heavy lifting
The very same reason that makes the NOBULL Trainer more walkable makes it less appropriate for lifting heavy.
Most Crossfit athletes still prefer the more stable Metcons or special wedged lifters for Oly lifting-focused workouts. They also add that the more rounded edges and a slight upward curl of the NOBULL detract from stability.
NOBULL Trainer will last you long
From the bottom up, the shoe features some sturdy materials, according to many reviews.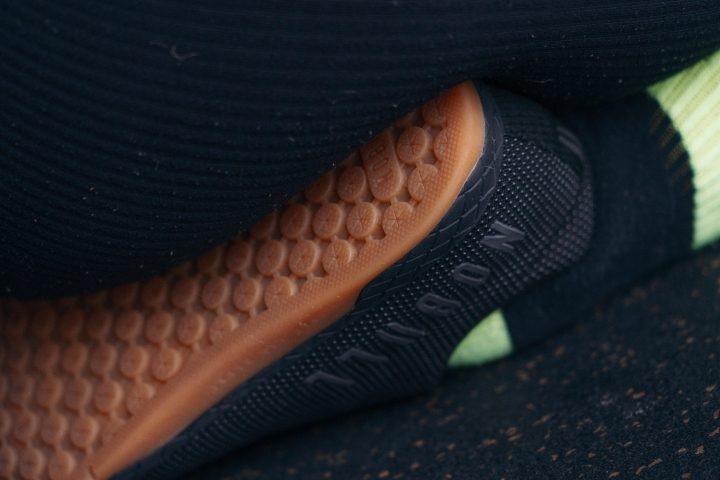 The outsole of the NOBULL Trainer is made of high-carbon rubber. It is engineered to withstand workouts on various types of indoor and outdoor surfaces.
It is also impressively thick. At 4.8 mm, the shoe is actually on par with some rugged trail running shoes.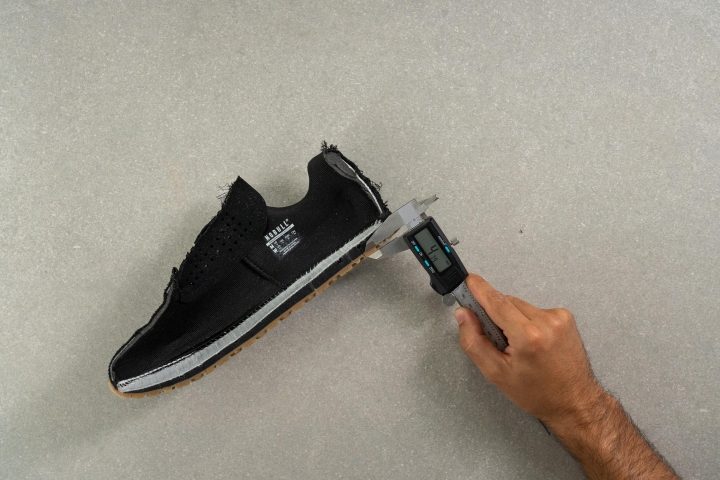 The reviewers also give special attention to the SuperFabric upper. They refer to it as "unbeatable" and even claim that it "resists cuts from a surgical knife." It is nearly impossible to wear a hole in this material, even with rope climbs. One expert describes it as "kind of like a mix between canvas and the basketball."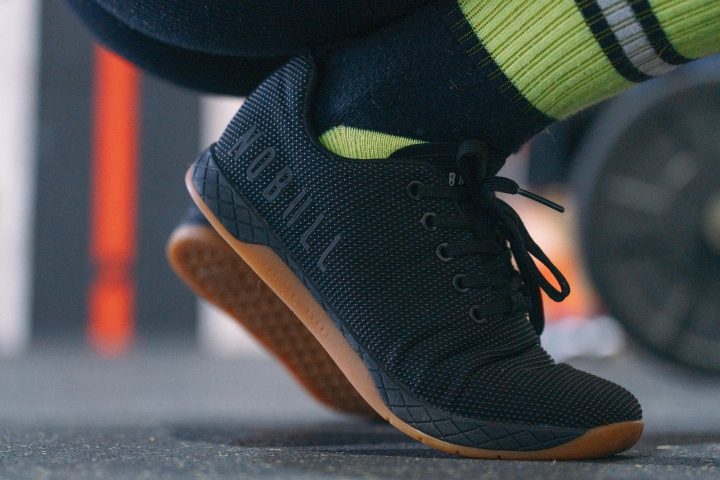 Amazing grip
There is no slippage on boxes, wooden or rubber gym floors as the outsole "grips pretty dang well," according to an avid Crossfitter.
It is also reported to bite the rope very effectively.
Why not look good as you are working out?
All gym buffs adore the sleek and simple design of the NOBULL. It "doesn't scream CrossFit" and comes in over a dozen of colors and patterns to suit any taste.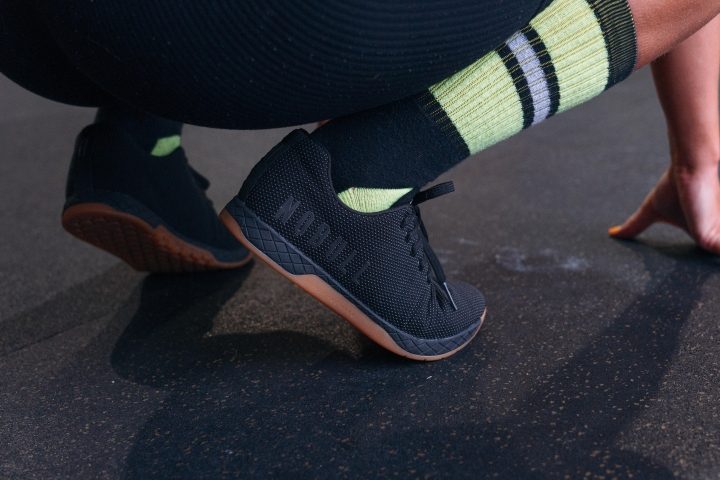 The dotted upper also collects very little dirt and takes just a few wipes to restore its purity.
It's a well-fitting workout shoe
Many reviewers agree that the NOBULL hit the nail in the HEAD with the fit and sizing of the Trainer. It feels secure on the foot and yet offers enough space where it's needed and is not overly padded.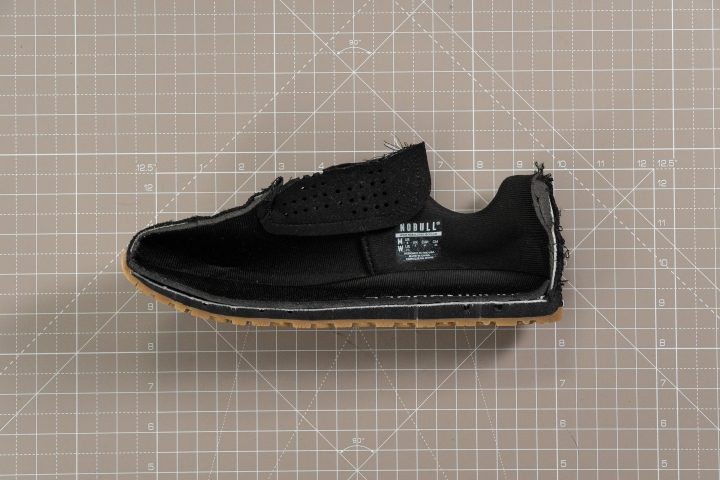 Speaking about the toebox, we measured it to be 96.7 mm in the widest area. It is very close to the average across our lab-tested shoes (98.4 mm). As an expert puts it, "there is still plenty of room for your feet," although if you need an extra-spacious toebox, consider the Reebok Nanos.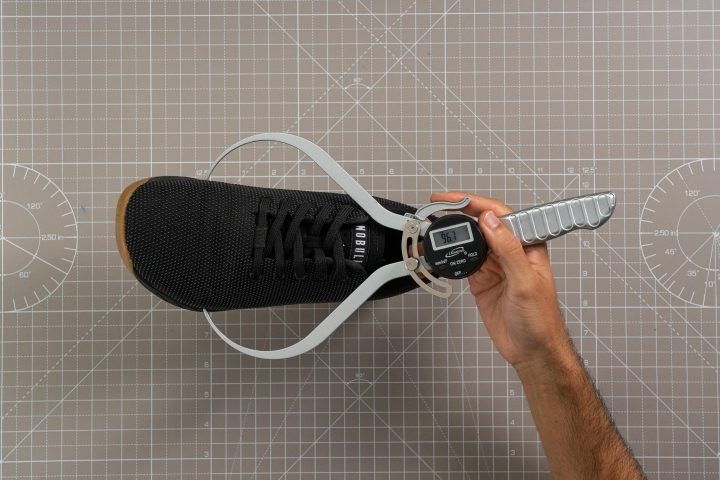 Some experts noted that the lacing system and tongue "worked well to allow a secure fit" and were never digging into the instep.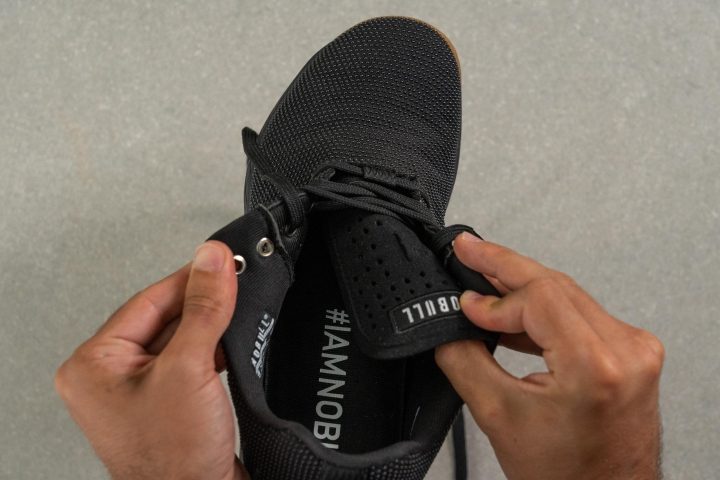 The tongue is lightly padded which helps it wrap around your foot securely.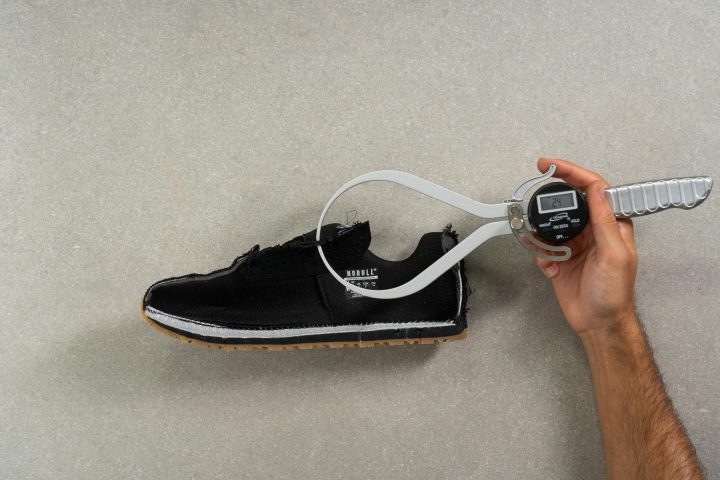 No issues with heel slippage have been reported either. The heel counter paired with a padded collar seem to do a great job holding the Achilles in place.
But there is a price for it all…
With the shoe's simple design, not all reviewers understand what they pay $130 for.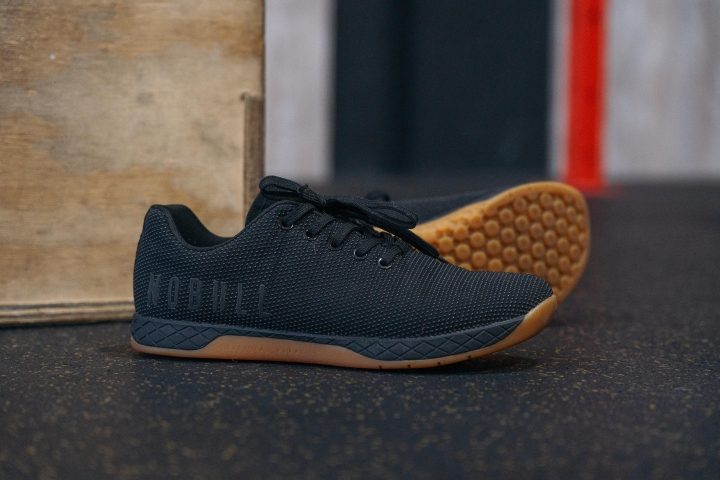 The average price of cross-training shoes is $100, so the NOBULL Trainer goes to the premium tier.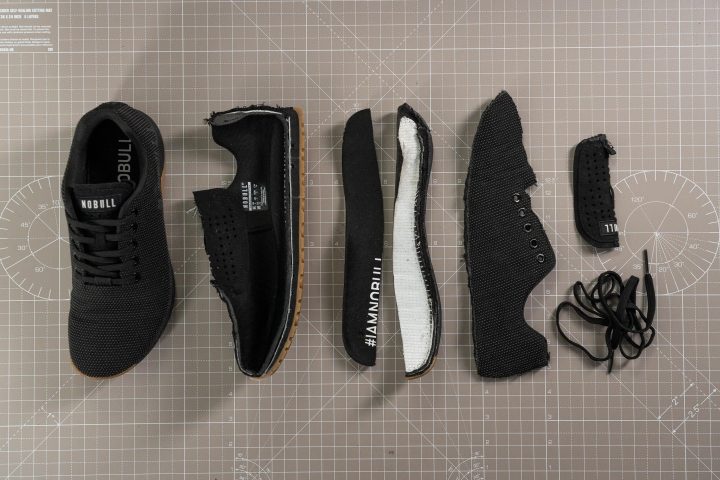 NOBULL Trainer
Average
Whole shoe

Weight (g)
277
303.5
Drop (mm)
3.7
4.3
Flexibility of the shoe (N)
18.7
25.9
Flexibility of the shoe (Freezer 20 min) (N)
23.7
30.8

Flexibility of the shoe (% of change)

26.9
20.7
Longitudinal flexibility (1-5 scale, 5 being the stiffest)
1
2.0
Torsional flexibility (1-5 scale, 5 being the stiffest)
1
2.0
Upper

Thickness - Tongue (mm)
2.4
2.9
Width Upper - Forefoot (mm)
96.7
96.5
Width Upper - Heel (mm)
68.6
71.4
Flexibility of the heel counter (1-5 scale, 5 being the stiffest)
1
2.0
Tongue: gusset type
none
-
Heel: pull tab
none
-
Midsole

Width Midsole - Forefoot (mm)
102.3
105.4
Width Midsole - Heel (mm)
76.5
81.1
Stack - Forefoot with insole (mm)
14.9
16.9
Stack - Heel with insole (mm)
18.6
21.1
Durometer Midsole Heel (Room temperature) (HA)
33.5
32.3

Durometer Midsole - Heel (Freezer 20 minutes)

36

35.9

Durometer Midsole - Heel (% of change) (TEST)

7.5

11.4

Outsole

Outsole thickness (Heel) (mm)
4.8
4.4
Durometer Outsole Heel (Room temperature) (HC)
87.0
86.3
Insole
Insole Heel Thickness (mm)
2.9
2.9
Insole: removable
yes
-
Compare popularity
Interactive
No popularity data available for this shoe at the moment.