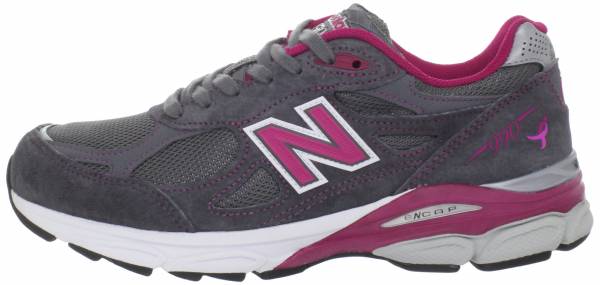 No matter what the current fashion trend is, the NB990 is one of those that remains relevant and a true classic – a sneaker model that, indeed, never goes out of style. Adding to its no-fail flair is an unparalleled comfort even after wearing it for an extended period. It can be bulky or chunky-looking, but it still manages to surprise wearers for being lightweight yet supportive.
---
Verdict from 100+ user reviews
9 reasons to buy
Numerous users agree that the New Balance 990 shoes are very comfortable when worn.
Many reviewers appreciate the great cushioning and support of this low-top shoe.
A variety of colorways are available for this iconic NB classic.
Many reviewers comment that the New Balance 990 sneakers fit their feet well.
Some perceive this New Balance low-top as stylish and versatile.
The NB 990 is lightweight that many buyers feel like walking on air whenever they wear it.
The majority of reviewers attest that this model is durable and of high quality like other New Balance Classic shoes.
Many purchasers are glad that the New Balance 990 shoes are available in wide widths.
This shoe is proudly made in the USA, which is a plus for several purchasers.
3 reasons not to buy
Some buyers find the New Balance 990 sneakers expensive.
Some buyers experience odor issues with some versions of this shoe, mostly after only a few months once they get wet.
A few reviewers are disappointed that the tongue of this New Balance classic is too short and the eyelets are too low.
Bottom line
No matter what the current fashion trend is, the NB990 is one of those that remains relevant and a true classic – a sneaker model that, indeed, never goes out of style. Adding to its no-fail flair is an unparalleled comfort even after wearing it for an extended period. It can be
bulky or chunky-looking
, but it still manages to surprise wearers for being lightweight yet supportive.
Best price from 30 shops
We earn affiliate commissions at no extra cost to you when you buy through us.
90% say it's true to size.






Size and fit
This classic runner features a lace-up closure system with an additional loop tab at the center of the tongue for a more secure but adjustable fit. The structure on the upper offers the necessary support and comfort while keeping the shoe lighter in weight.
New Balance 990 Style
The New Balance 990 sneakers are one proof that classics sure give anyone a no-fail look. These running-inspired shoes offer several classic colorways that present the perfect mix of colors – subtle and not too loud or vibrant like other modernized running shoes that released recently.
The New Balance 990 on feet speaks for itself such that no other fancy aesthetic is required for it to stand out. Its classic design and construction execute a sporty look that can be versatile in style. The suede and mesh combination on the upper, complete with structural overlays and tonal laces, finds a perfect balance between sporty and luxurious. The chunky midsole gives an added flair as well, especially with the rise of the dad sneakers trend (AKA chunky sneakers trend) in the fashion industry.
Notable Features
A proudly Made in USA shoe, the New Balance 990 features a "New Balance USA" branding on the tongue and a "Handmade in the United States" text on the heel patch. It also exhibits a distinguishable polyurethane heel cradle also known officially as the Motion Control Device or MCD, which adds to its signature look and even carried on to succeeding New Balance running-inspired models. The Motion Control technology from New Balance provides wearers added stability and supportive cushioning.
New Balance 990 History
The New Balance 990 shoe model is an essential part of New Balance's heritage in the footwear industry. Recognized as one of the brand's most iconic silhouettes, it is one of the few that proves time and time again that a classic, indeed, effortlessly leaves a footprint in the sneaker community despite fashion trend transitions and different generations of audience market.
Brief history of New Balance
New Balance, like other established footwear brands such as Nike and Adidas, is a renowned name in the sports industry and the whole of the sneakers community. Founded by William J. Riley in 1906, the Boston, Massachusetts-based footwear company started by selling arch support and other shoe accessories to athletes. Riley's business partner Arthur Hall, who he initially hired as a salesman in 1927, played a key role in helping the brand achieve success by strategically marketing its products.
Although the business was booming, Riley and Hall both felt that the company has so much more potential that they had to do more. So in the 1930s, New Balance expanded its production and included manufacturing of performance athletic footwear. With such a brilliant sales move, the brand found a new set of audience market through different athletes who then began patronizing its athletic shoes.
In 1956, New Balance found a new owner when Hall sold it to Eleanor (his daughter) and husband, Paul Kidd. Under the new management, New Balance continued selling arch support products but stopped doing so in the 1960s when it introduced the "Trackster" model as the first-ever running shoe with a ripple sole and available in varying widths.
However, despite a promising product, New Balance's sales gradually declined primarily because the marketing was not that effective. Came 1972 when New Balance through its new owner Jim Davis regained its momentum in sales. The 1970s up to the early '80s was a pivotal era for the brand since it was during that time that the US running industry boomed in the Boston area. A new administration, combined with the right location and perfect timing, paved the way for the brand's eventual triumph that led it to its current spot in the footwear industry.
The rise of the New Balance 990
"On a scale of 1000, this shoe is a 990." was the statement that embodied the New Balance 990 sneakers during its launch in 1982 – the same year that Nike introduced the Air Force 1. More than three years in the making, the Boston-based brand aimed it to be the "most innovative running shoe in the industry" with the perfect balance of cushioning, stability, and flexibility by utilizing top-of-the-line new technologies that are not present in any other New Balance shoes before it. It features the Motion Control Device (MCD) technology, a three-layer midsole, and a Superflex outsole with a carbon rubber heel pad. The upper is comprised of pigskin suede combined with mesh materials.
Introduced as the most technologically sophisticated running shoe at that time, the 990 retailed with a hefty price tag. It was the first athletic shoe to unveil at $100. In fact, it was one of the most expensive shoes back then, but that did not stop the 990 from selling out ten times beyond its projected sales. The market welcomed it positively mainly because it was, and still is, a shoe that delivers performance-wise. Serious runners considered it as a wise investment, but its somehow unattainable price makes it more desirable for some. There was even a point when it became a status symbol such that some people wear it as a fashion statement and not really for running.
The New Balance 990 pioneered the highly sought-after New Balance 99X Series. The NB 99X Series is a lineup of shoes produced by the brand with design and construction originating from the original 1982 NB990 model. It includes other NB classics such as the New Balance 995 (1986), New Balance 996 (1988), and New Balance 997 (1990), and the recent 990 variations like the New Balance 990v3 (2012) and the New Balance 990v4 (2016).
Notable New Balance 990 releases
New Balance 990 "30th Anniversary"
New Balance celebrated the 30th anniversary of the legendary New Balance 990 shoes in 2012 by releasing a limited run of an OG edition of the classic NB silhouette. Only 990 pairs were released on December 1, 2012, with a retail price of $180 for each pair. This version of the men's New Balance 990 is the 10th version of the iconic silhouette from New Balance. Like the 1982 original release, the 30th Anniversary edition features a traditional grey color scheme in suede and mesh materials with hints of white on the midsole, laces, heel stabilizer, and N sidewall branding, while a Vibram outsole seals off the shoe.
Concepts x New Balance 990
This collaborative take on the classic 990 model released as part of the Concepts x New Balance "Varsity Weekend" Pack along with another popular New Balance model, the New Balance 998. The Concept x New Balance 990 features a pigskin suede upper in a white, grey, and navy color scheme, reflective 3M detailing, and a varsity-style Concepts branding. The shoe released on November 19, 2016, with a retail price of $160.
New Balance 990 "Beige"
The running-inspired men's New Balance 990 Made in USA sneakers debuted its "Beige" colorway in May 2016 with a $190 price tag at select New Balance retail stores. This colorway exudes a luxurious touch with its full beige upper equipped with perforated panels and contrasting white accents on the heel tab and sidewalls. The midsole comes in clean white finishing off the premium vibe.
New Balance 990 Made in USA Heritage
In March 2016, New Balance released its Made in USA Heritage Collection that includes three iconic silhouettes from the brand such as the New Balance 990, the New Balance 996, and the New Balance 1300. The NB990 displays a profile that stays true to its '80s original form in a green, gray, and navy color scheme. The suede paneling radiates a retro green look, while hints of navy blue accent are seen on the heel area. The mesh underlays come in a muted gray hue, and the laces, N sidewall brandings, midsole, and heel stabilizer are all in contrasting white color.
New Balance 990 Color Spectrum "North Sea"
These chunky dad sneakers released a "North Sea" colorway in February 2018 for $200 a pair. This Made in USA "Color Spectrum" edition of the classic running-inspired New Balance sneaker features a premium quality pigskin suede upper in a deep blue hue called "North Sea" that took inspiration from oceans. The monochromatic upper that features a huge tongue sits atop a chunky, creamy Moonbeam ABZORB midsole and a black speckled outsole. A "USA" branding is placed on the heel, while a black sockliner and heel detailing finishes off the shoe's streamlined façade.
New Balance 990 "Connoisseur Painters"
The New Balance 990 "Connoisseur Painters" is one of the most recognized releases of the classic model. This low-top New Balance shoe made its debut in 2014 primarily in a burgundy and black color scheme, while white accents highlight the midsole, laces, and heel tab. Each pair released for $180. Built with top-notch quality and craftsmanship, the Made in USA shoe features a combination of leather and mesh on the upper, an ABZORB cushioned midsole, an NDurance outsole, and reflective details.
Nice to know
Apple, Inc. co-founder Steve Jobs frequently wore a pair of NB 990 several times, mostly during company presentations and public appearances.
Other celebrities who are known to be followers of this classic are Ben Affleck, Jennifer Garner, and Hilary Duff.
Barack Obama once had a custom-made pair of the New Balance 990.
The New Balance 990 sneakers also made an appearance in the 2014 drama mystery movie Gone Girl as worn by actor Ben Affleck.
Rankings
How New Balance 990 ranks compared to all other shoes
Popularity
The current trend of New Balance 990.