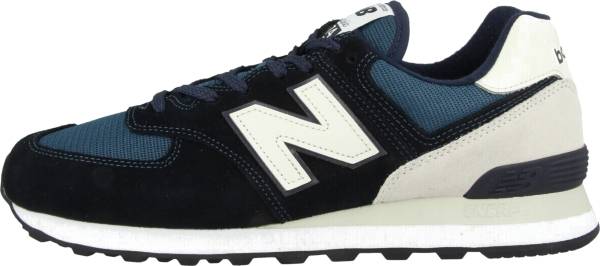 Described as the symbol of ingenuity, the New Balance 574 has undergone countless spin-offs that buyers can actually start a collection. The arch support of this model has been praised as it delivers unmatched comfort for day-long use. Many also applaud its overall style which gives them a versatile kick that can be matched with almost any ensembles. The NB 574 is considered another street-savvy NB kick that will remain a classic and in style.
---
Verdict from 100+ user reviews
8 reasons to buy
Many users applaud the versatility of the New Balance 574 sneakers.
The design of the NB 574 is aesthetically pleasing, many wearers have said.
Like most New Balance sneakers, this model is available in a wide selection of colorways.
The New Balance 574 on feet has great arch support, some users have testified.
A handful of buyers share that this is a nice pair to use for walking for long hours.
The majority of the users describe this pair as amazingly comfortable.
Several users mention that they highly recommend this model to their friends.
Buyers can purchase this pair in the market at an affordable price point.
3 reasons not to buy
Some of the New Balance 574 reviews criticize the stiffness of this pair.
Few wearers gripe about the slightly padded tongue.
Some critics say that this pair is not durable enough.
Bottom line
Described as the symbol of ingenuity, the New Balance 574 has undergone
countless spin-offs
that buyers can actually start a collection. The arch support of this model has been praised as it delivers unmatched comfort for day-long use. Many also applaud its overall style which gives them a versatile kick that can be matched with almost any ensembles. The NB 574 is considered another street-savvy NB kick that will remain a classic and in style.
Best price from 30 shops
We earn affiliate commissions at no extra cost to you when you buy through us.
78% say it's true to size.







Size and fit
The New Balance 574 has a combination of suede and mesh upper that gives a flexible fit. It also has a well-padded collar and tongue for comfort and support. The traditional lace-up closure system is present for a personalized, secure fit while its low-top construction ensures freedom of movement. Lastly, this NB sneaker is known for having a narrow heel, a high instep, a deep toe box, and a wide forefoot.
New Balance 574 Style
Whether it's a women's or men's New Balance 574 shoe, this kick is one of the most liked shoes under the NB classic catalog. Most of the people who prefer the NB 574 purchase them not for running, but simply because of the comfort it delivers to support them on their everyday outdoor activities. Wearers can practically sport the NB 574 anywhere, from light training to city strolling. The upper of the NB 574 is made of breathable mesh and suede which contribute to its lightness. This pair may not be flashy, but it carries a classic look.
Notable colorways of New Balance 574
New Balance 574 Pink Suede displays a hue ideal for the spring season. It is dressed in pink suede and mesh upper accented with white details on the midsole and eyelets.
New Balance 574 Black and Metallic Gold is offered exclusively for the women that combine plush look with its gold details on the classic black leather upper.
The New Balance 574 Legacy of Grey was inspired by the NB 990 and NB 1300JP. It displays an upper in grey suede with hits of whites on the heel, laces, and the N logo.
The all-red New Balance 574 edition, a women's sneaker also known as red/leopard, features an eye-catching bright red suede upper with leopard print on the inner lining.
New Balance 574 Maroon/Grey colorway is made of maroon suede and mesh upper added with white accents and lining with hints of grey on the branding, heel counter, and on the midsole.
New Balance Blue/Black Grey is included in the Windbreaker Pack that features the lightweight ripstop nylon added with reflective 3M accents throughout the kick.
New Balance 574 Navy/Black is composed of premium nubuck leather in predominantly blue color accented with black leather on the heel, inner lining, and laces.
Most of the wearers don this shoe with their activewear or with casual clothes like jeans, joggers, or shorts with tees and sweaters. Some ladies, meanwhile, style their NB 574s with their cozy shift dresses, skirts, leggings, or capri pants paired with a crisp white shirt or oversized pullovers. Overall, the New Balance 574 has an easy-going yet functional look with optimum lightness and comfort.
Notable Features
Most of the buyers and avid fans of the New Balance 574 value this sneaker's classic silhouette. It continually lived through the years since it was launched in 1988. It is hard to think about New Balance without imagining the timeless profile of the NB 574. The New Balance 574 even became the iconic face of the New Balance because of its striking success in the market.
New Balance 574 History
The unique "Endorsed by No One" philosophy of New Balance made them stand out from their competitors. New Balance began to operate as the New Balance Arch Company in Massachusetts in 1906 and was founded by William J. Riley, a British immigrant. The company concentrated on providing shoes with ample arch support and orthopedic support and continued offering high-quality shoes throughout the 20th century.
Riley came up with the 'New Balance' brand as the company aimed at providing products with a three-point design taking cues from the chicken feet, which was observed to provide excellent balance. In 1927, founder Riley hired Arthur Hall to promote the brand in the bigger market, and they later on turned into business partners. They both sold their products to workers that require standing for a more extended period such as police and firefighters. In the 30s, NB began engineering athletic kicks, and it was easy for the team to gain loyal athlete followers.
In the 1930s, New Balance ventured into designing orthopedic shoes for baseball and track and field athletes. More and more athletes go to their office and request their tailored fit orthopedic shoes.
From only five employees and production of 30 pairs of shoes per day, New Balance amplified the range of its sales by establishing its nationwide operation. And this was the pivotal moment for the company. Seventy years after its first release, New Balance shoes reached the national stage.
In the 50s, when the company launched the Trackster silhouette, several college athletes were seen sporting it; thus further improving the brand's popularity in the running domain. Despite its popularity, New Balance stood by its principle of not subsidizing any athlete and staying authentic to their goal of being recognized for its premium quality and performance.
During 1973 and 1974, running and physical fitness became significant pastimes. In October 1976, the Runner's World magazine ranked the New Balance 320 as the best running shoe in the world, and two other New Balance shoes entered the top 10. This catapulted the recognition of New Balance in the market with non-stop requests from runners to have their pair.
In 1988, New Balance released the 574 as an advance running shoe with a notable design. This iteration was a hybrid that blended the best details of New Balance's well-known running kicks at that time namely the New Balance 575 and 576 models. It also carried the famous ENCAP cushioning system which is responsible for comfort and protection. The New Balance shoes called 574 were hailed as one of the brand's most iconic pairs in the sneakers' history.
NB 574 variations
The NB 574 was reissued in 2003 carrying the same features. This time, New Balance offers it in an incredible number of colors and buyers can even customize it to their preferred colors and texts. It was also revived in various versions with an updated look over the years that will undoubtedly cater to the broader range of NB 574 followers' preference. Here are few of the most notable repackaged models of the 574:
New Balance 574 Lux. This model kept all the classic elements and upgraded with luxurious details such as premium nubuck leather added with mesh tongue and terry cloth liner for added comfort.
New Balance 574 Camo. The updated camouflage print adds fashionable appeal while keeping all the comfortable elements which adds to the overall wearer's satisfaction. For its affordability, this kick is a nice inclusion in one's collection.
New Balance 574 Core. Staying true to its name, this NB 574 Core kept all the features of its predecessor while enjoying the success of the current version.
New Balance 574 Sport. This iteration was inserted with elements that deliver ample breathability, utmost comfort and style, and high-quality elements which have been praised by many buyers.
New Balance 574 Backpack. The retro colorways of this NB 574 iteration deliver timeless appeal that can suit various casual get-ups. This true to size sneaker kept the cozy elements and supportive details making this a versatile pair to suit various occasions.
New Balance 574 Classic. For classic design lovers, this shoe is a perfect pair for its timeless style with high-level of comfort, durability, and support.
New Balance 574 Leather. This premium version of the New Balance 574 shoes was dressed in leather, adding a luxurious vibe to the overall style of this sneaker. These New Balance 574 shoes for men's and women's have been praised for their quality and comfort without sacrificing affordability.
New Balance 574 Core Plus. Initially tagged as New balance shoes 574 for women, this sneaker has been commended for its comfort and a wide selection of width options. This affordable kick delivers vintage allure, which has been praised numerous times by many reviewers.
Nice to know
The New Balance 574 shoes have a solid non-marking rubber outsole for durable traction and grip on various surfaces.
This model weighs 340 grams.
The midsole of the NB 574 has an effective shock-absorbing technology called the ENCAP.
The TPU found on the heel insert provides added support and reliable stability.
The New Balance branding can be found on the heel, tongue, and outsole.
Rankings
How New Balance 574 ranks compared to all other shoes
Popularity
The current trend of New Balance 574.