Brooks updates their venerable trail crusher in this 16 version of the Cascadia. If you demand a stout grip, a stable platform, and bright colors take a look at the Cascadia 16. It's true to size, durable as hell, and packed with features like a ballistic rock plate, lace loop, and enough upper lacing eyelets to ensure a custom fit. These aggressive kicks are ready for adventure!
Pros
Grippy outsole
Great lockdown
True to size
Roomy toebox
Durable
Gaiter attachments
Rock plate
Aggressive
Lacing options
Cons
On the heavier side
A bit stiff
Runs warm
Brooks Cascadia 16 review and lab test
The Brooks Cascadia 16 is a stiff, supportive, protective trail running shoe that's great for long hauls on aggressive terrain.
It's been in the Brooks catalog for over a decade and a half, and back when it first came out it was the modern, new kid on the block blazing trails. Its reputation followed its lifespan even as better, lighter, and more exciting trail shoes appeared at the trailheads.
Historically the Cascadia has been a bit of a brick, it's a legacy model for Brooks which has helped carry it, but in years past it's been disappointing to say the least. But the 16 is a totally updated version with some convincing reasons to take another look if you are in the trail bruiser market.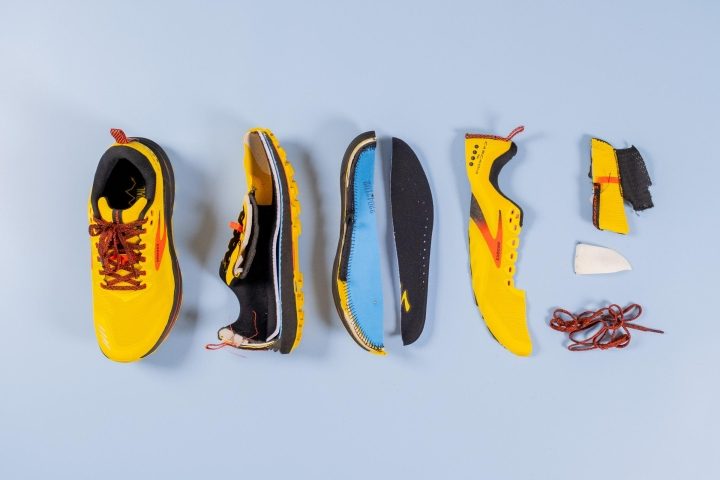 Some of the reasons to consider the Cascadia 16 are a whole new midsole, updated upper, and nice features like a velcro gaiter attachment on the heel, and a lace loop to tuck your laces in during runs where you really don't want them to snag and trip you up.
Read on to see the rest of my thoughts.
Who should buy the Brooks Cascadia 16
The Cascadia 16 is ideal for trail runners who want a stiff, protective shoe that's stable on varied terrain.
The shoe is amazing for long-distance, aggressive runs, and although I agree it protects your feet extremely well, it's a bit stiff for 20+ mile efforts.
If you live in the arid west where trails are rocky and steep, and your typical run is under 10-15 miles, the new Cascadia 16 may be worth checking out.
Who should not buy it
Don't buy the Cascadia 16 if:
The Cascadia 16 has a purpose again thanks to this year's updates, but there are a lot of trail shoes on the market and in my opinion, the Cascadia fills a narrow need as a protective, stiff shoe.
Cascadia 16 fits great
I actually love the fit of the new Cascadias. I have a wider forefoot and a narrow heel, and these fit perfectly for me.
They are true to size, there was no slipping in the back and my toes happily enjoyed the roomy front end.
The tongue is semi-gusseted on both sides with some stretchy mesh, giving these shoes a snug feel over the top of my foot without any restriction or pinching in the toes.
Comfort could be better
Ehhh….
Ok, these are comfortable on my foot. Like I said the fit is great. The upper is padded, and the 12.2mm tongue is plush as hell over the top of your foot (average tongue thickness of 5.5mm which I even think is too thick).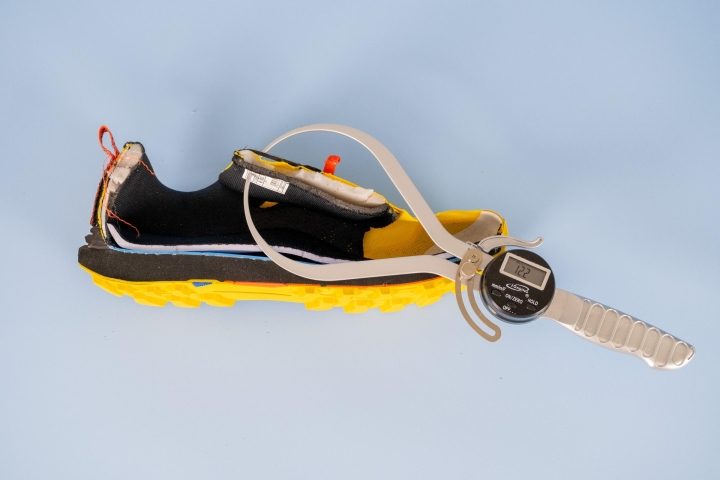 I personally like a more minimalist upper and tongue that focuses on breathability over comfort.
But, the shoe still feels really stiff underfoot, even with the new midsole material and a thick 4.4mm insole (average insoles are 4.2mm). They ran a bit hot for me too (more on this later).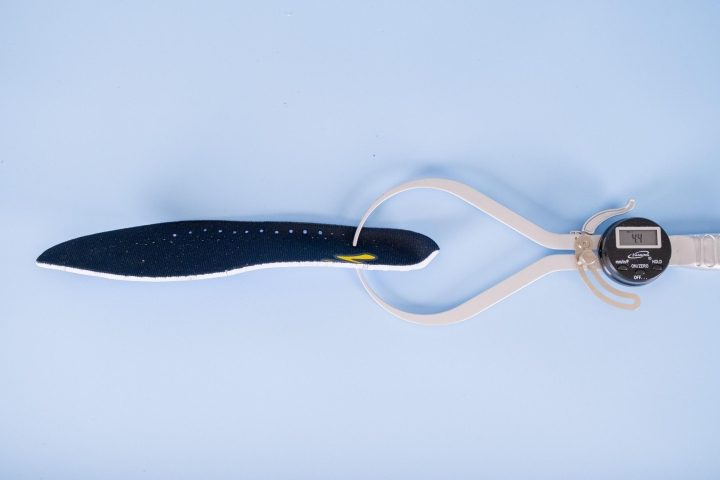 Ultimately they are not comfortable enough to do really long efforts in, my feet would be barking, and I'd prefer something with a bit more cushion underfoot if that was my main focus in these.
Updated ride still a bit stiff
On to the important stuff. The ride has been updated thanks to a new, thicker midsole material (DNA Loft v2) and design.
The midsole is softer and lighter than past models, but I still feel this shoe is pretty dang stiff, it just has less of that classic Cascadia brick feeling, which is crucial to keep this shoe relevant. It's not the DNA Flash on the Brooks Catamount, but it's headed in the right direction.
Gone are the days of a slow medial-post construction as well. The shoe is still extremely stable, thanks to its slightly wider base, but ultimately removing the post is a smart move.
These have an updated nylon rock plate as well. The ballistic plate gives the shoe obvious rock protection underfoot (which I don't really think it needed with its stiff midsole) but the plate also feels like it gives the shoe a touch more response than a standard EVA midsole without the plate. One nice change though is the plate has vertical striations that help it flex laterally, giving the shoe a bit more accommodation on corners or off-camber terrain.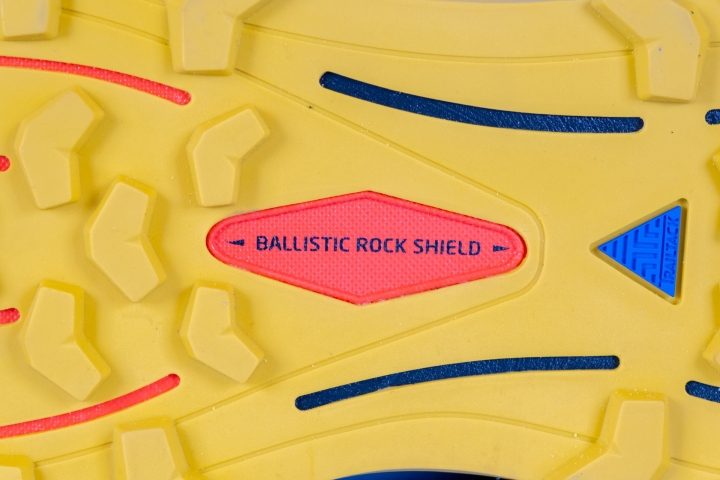 They have a tall stack height of 32.3mm in the heel too. Now I know today that's not crazy tall, but I am still old school and prefer to be closer to the ground in trail shoes, and tend to pick kicks with a bit more ground feel.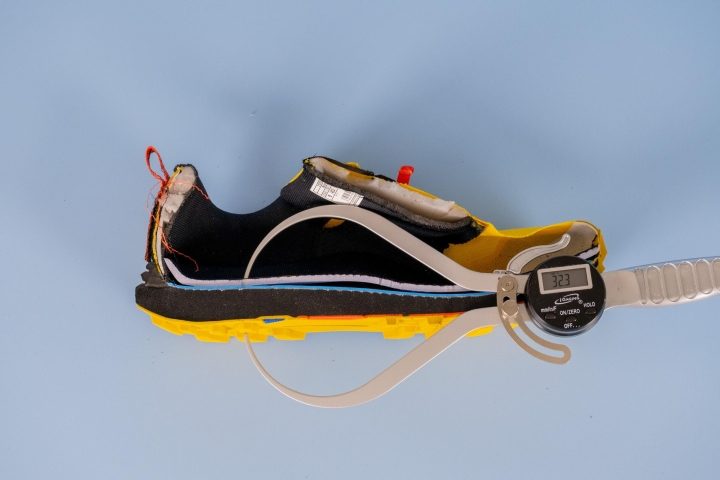 With all this said, they are still very stiff. At 51.1N on the flex test, these rank up there with carbon-plated road shoes like the ASICS Metaspeed Edge which measured 55.8N.
Break the Cascadia 16 in
Unfortunately, these do need to be broken in. They are stiff, and really need some time out on the trail to come alive, if ever…
Brooks, time to cut weight
One of the classic complaints about the Cascadia is its weight. There are so many trail shoes out there that tip the scales more positively than Brooks' long-running legacy trail shoe.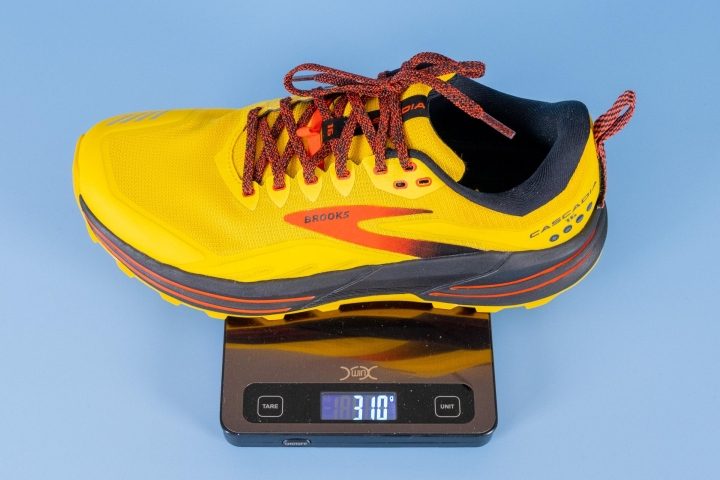 At 10.9 ounces (310g) in a US men's 9, this is just too heavy in my opinion, especially in a shoe that's not springy or bouncy which combats the heft (like the Endorphin Trail).
Durable but not extremely breathable
The mesh upper is breathable, but not highly breathable and to me, these ran hot.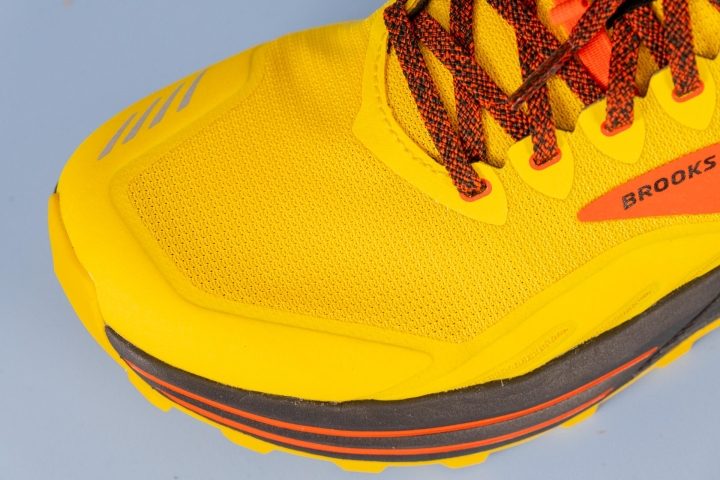 They have a ton of welded overlays which traps heat in but also makes this shoe extremely durable. If you want something that can take a beating, this shoe gets a solid checkmark in that column.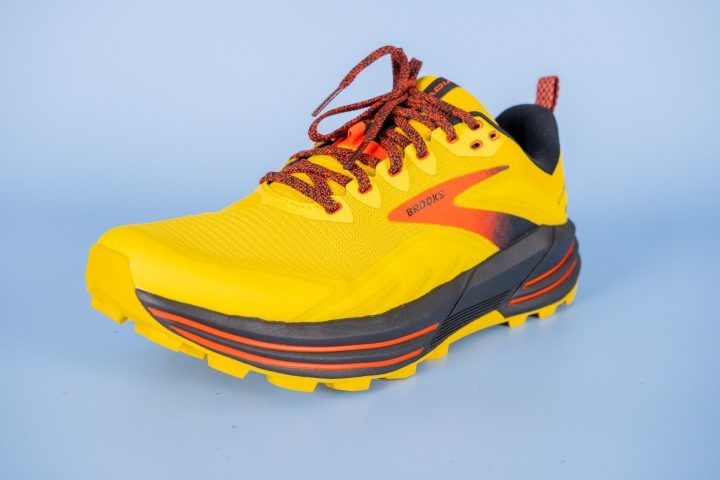 Love the outsole
Great grip, with its deep 4.3mm lugs. Average trail shoes have just 3.4mm lugs.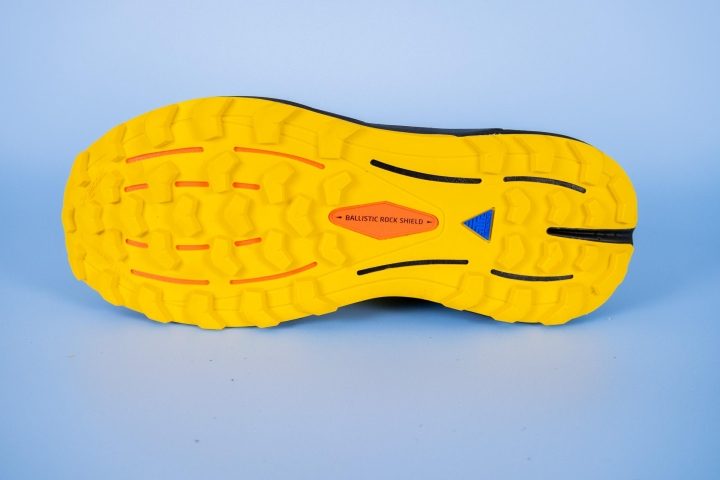 And the Trailtack outsole compound is something I've sung praise for through my Divide 2 and Caldera 5 reviews, its grippy and tacky when you need it to be and plenty hard at 85.5HC on the durometer to be durable and wear slowly.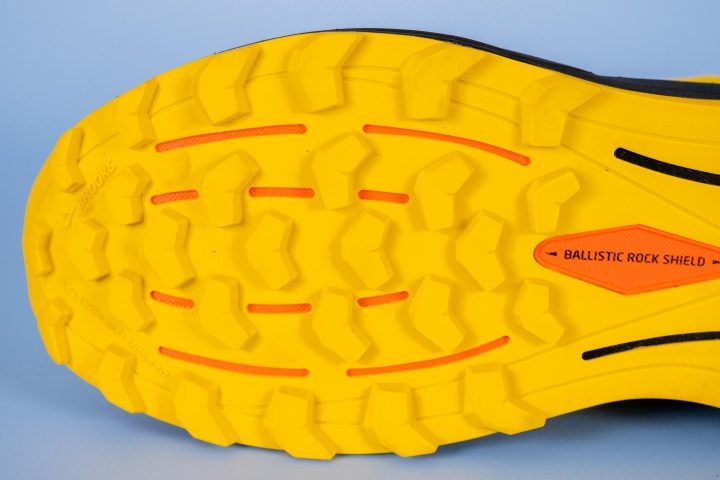 Lacing goodies
I really like that there are options at the top of the lacing pattern with 4 holes to ensure a custom fit. Why don't all shoes have 4 top lace holes? This is actually the first time I have noticed this, seems so easy and smart with a ton of adjustability.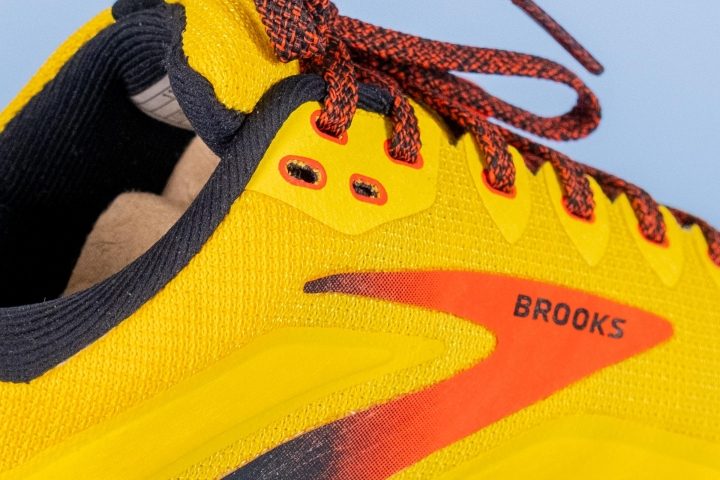 The shoe also has a lace loop to tuck your laces in so they don't trip you up, a nice feature and detail. And the laces themselves are a stiff but grippy material. They scored high on our lace slip test at 43.1N to come undone, nearly double the average lace (22.9N).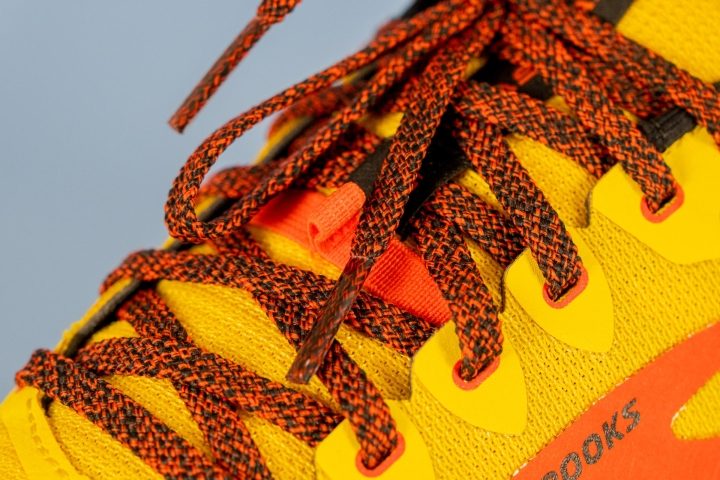 Don't get lost in the dark
Another gripe, there are no reflective elements. It looks like there are on the toe, but it doesn't really light up in our tests. And the velcro strap on the heel does have a bit of shiny thread but it's really faint in our tests as well.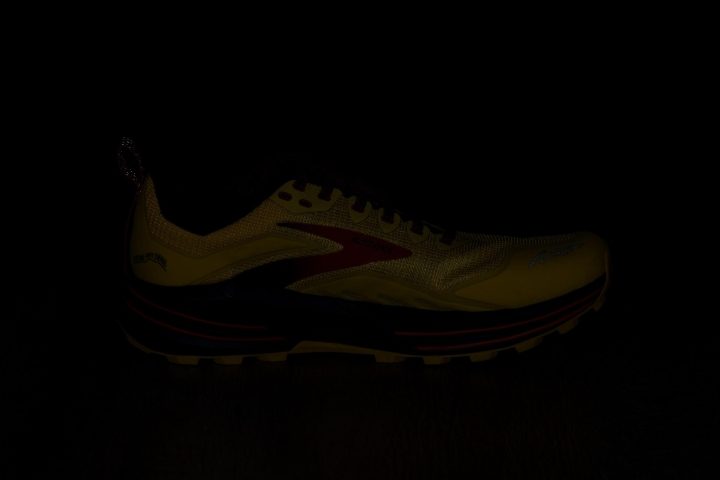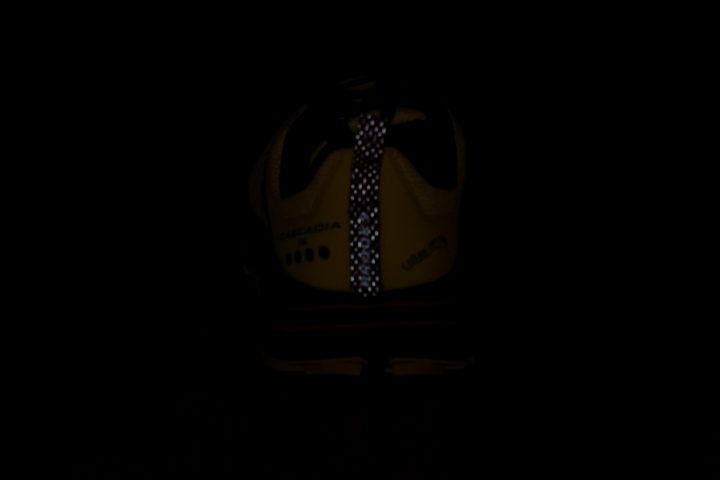 Conclusion
Ultimately, I like the updates on this shoe, but they are still a bit stiff for my liking, and although they are an aggressive shoe, they are not ideal for really long efforts. Explore any trail, but be back to the truck before you crest 15 miles.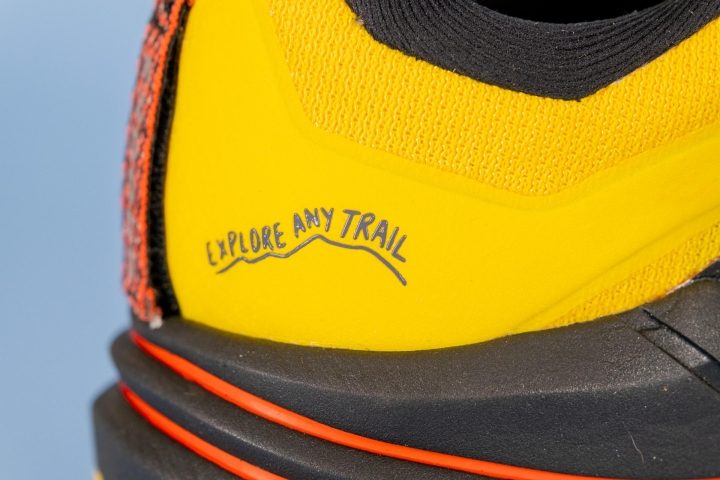 Complete lab-specs overview
Cascadia 16
Average
Whole shoe

Weight (g)

310

265

Drop (mm)
10.3
8.1
Flexibility of the shoe (N)
51.5


38.9

Flexibility of the shoe (Freezer 20 min) (N)
68.8

47.7

Flexibility of the shoe (% of change)

33.6

40.7

Lace slip test with the knot (N)

43.1

22.9

Longitudinal flexibility (1-5 scale, 5 being the stiffest)

4

3.0

Torsional flexibility (1-5 scale, 5 being the stiffest)

4

3.1

Upper

Thickness - Tongue (mm)

12.2

5.5

Width Upper - Forefoot (mm)

97.9

98.4

Width Upper - Heel (mm)

81.3

75.8

Lace Stretch (1-5 scale, 5 being the most stretchy)

2

2.8
Flexibility of the heel counter (1-5 scale, 5 being the stiffest)
5
3.0
Tongue: gusset type

Both sides (semi)

-

Heel: pull tab

Yes

-

Midsole

Width Midsole - Forefoot (mm)

121.4

113.0

Width Midsole - Heel (mm)

96.2

89.5

Stack - Forefoot with insole (mm)

22.0

24.6

Stack - Heel with insole (mm)

32.3

32.7

Durometer Midsole Heel (Room temperature) (HA)

22.0

22.4

Outsole

Outsole thickness (Heel) (mm)
5.7

3.4

Lugs Depth (mm)
4.3

3.2

Durometer Outsole Heel (Room temperature) (HC)

85.5

79.7

Insole
Insole Heel Thickness (mm)
4.4

4.2

Insole: removable

Yes