In summary, the Altra Superior 3.5 has proven itself to be a solid trail running shoe. According to various users, it has ticked all the boxes on what an ideal trail runner should have, as they cited praises about the fit, durability, and other structural factors. For a series that is doing quite well, Altra Superior has nailed it once again with version 3.5.
---
Verdict from 16 experts and 100+ user reviews
8 reasons to buy
The Altra Superior 3.5 gave a precise fit, various customers stated.
Many users were pleased with the durability of the outsole.
A lot of purchasers admired the traction on technical terrain.
Various revieweres have directed their positive comments on the versatility of the tread pattern.
Numerous runners commended the roomy toe box.
Several wearers responded positively to the shoe's zero-drop silhouette.
The midsole supplied plenty of cushioning, a customer stated.
The shoe was comfortable even throughout all-day wear, as mentioned by a reviewer. Other people echoed on this opinion by saying the Superior 3.5 delivered comfort right out of the box.
1 reason not to buy
The StoneGuard was quite bulky and cumbersome, according to some wearers. Others removed it during their runs, while some thought its thickness and weight was distracting.
Bottom line
In summary, the Altra Superior 3.5 has proven itself to be a solid trail running shoe. According to various users, it has ticked all the boxes on what an ideal trail runner should have, as they cited praises about the fit, durability, and other structural factors. For a series that is doing quite well, Altra Superior has nailed it once again with version 3.5.
Best price from 30 shops
We earn affiliate commissions at no extra cost to you when you buy through us.
76% say it's true to size.
Our reviews
The Altra Superior 3.5 is an updated neutral trail running shoe from the previous Superior 3.0 model, which I fell in love with along the trails of the Cascade Mountains here in Oregon.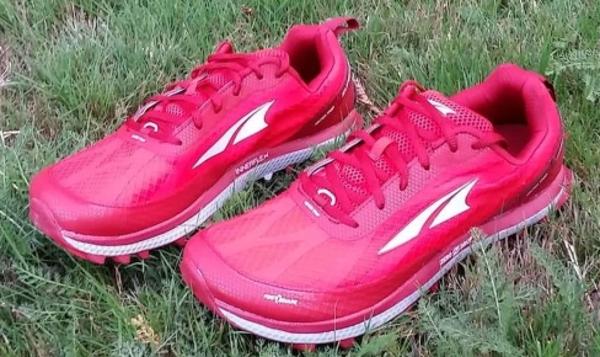 Altra has done an exceptional job of creating wonderful foot splay space with their patented 'Foot Shape' models, rugged tread for grinding on any terrain, and of course their 'zero drop' heel drop.
Altogether, this allows for a natural ride the entire way with any Altra shoe. But let's face it, some shoes are designed better than others, and this model is middle of the road.
First look
While I was very pleased with the previous model, the Altra Superior 3.5 has left me a little underwhelmed at times.
My initial experience with these shoes out of the box was that they felt a little bulkier than the previous models, but I was anxious to put them to the test and see how Altra's latest updated model compares.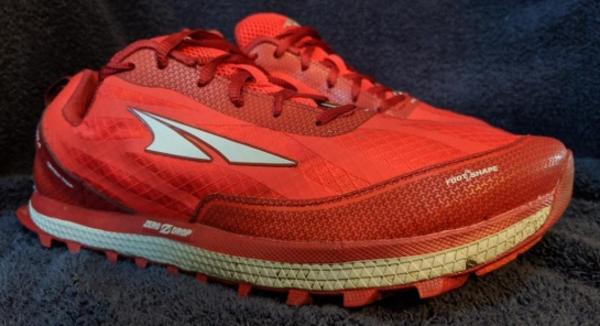 As soon as I put them on, my hunches were confirmed. Not only did they feel heavier, but they seem to run bigger than the previous model. Maybe it didn't help that I chose the red/red coloring, but I felt a little bit like I was running in clown shoes.
Bulky upper
For one thing, the tongues are a lot thicker than the previous model; it almost reminds me of an early 1990s basketball high top. Some may welcome the extra cushioning in the tongue; I miss the sleekness of the previous model.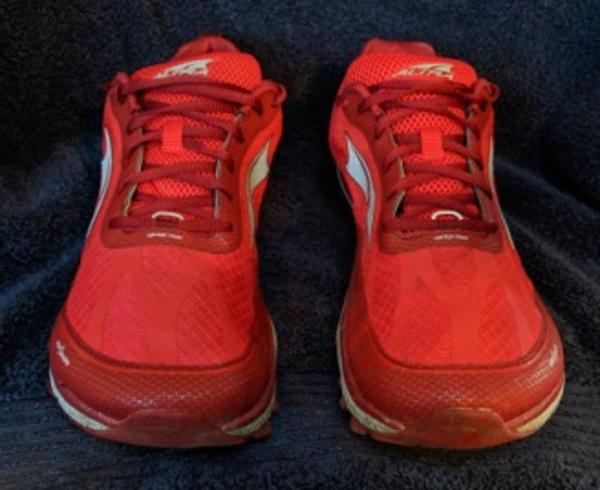 The 3.5s also have a few extra connections for gaiters; Altra calls them 'Gater Traps'. This is usually all well and good with or without gaiters, except there is now a metal loop on the bottom of the tongue that actually rubs against the top of my foot in a way that is quite noticeable, even uncomfortable for the first few miles.
They did add a loop at the bottom of the tongue to help prevent angry branches and debris from getting in underneath the laces—thank you for this! The rest of the upper continues with the same breathable fabric, which does allow for some water to get in, but otherwise does a great job of being light and able to dry quickly.
Reliable midsole
The midsole continues to be quite reliable; this neutral trail running shoe is no different from Altra's 'Inner Flex' design.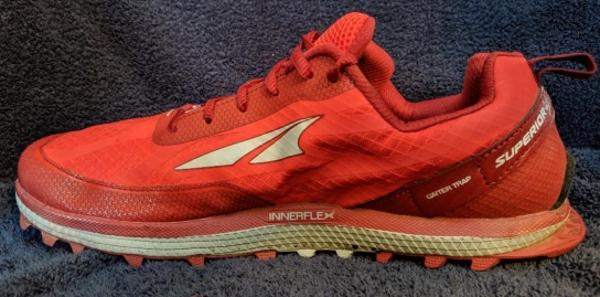 As I mentioned before, Altra celebrates the low heel drop approach to running, and this 0mm heel drop provides for a very natural running experience while providing enough cushioning throughout the foot to make a comfortable run, even on the rockiest terrain.
Endurance-proven lower
I do love the treads on this series; I have been able to run in the sun and rain, on rocks and through mud, and the grip has always been exceptional. After about 100 miles I have noticed some of the tread wearing but nothing beyond normal wear and tear.
Conclusion
Overall, I think the Altra Superior 3.5 is a fine trail shoe that can work out those miles with no problems; a really steady shoe that is great for daily running, and one that I feel comfortable wearing in just about any condition.
This may not be a great racing shoe, but overall, this is another solid product from Altra, that has won me over time and time again.
About a year ago I learned of the brand Altra and their running shoes. As you may know, their key selling points are wide toe-boxes and zero-drop platforms (no heel-to-toe offset).
Despite not being able to try them on before buying I decided to get myself a pair. I went with the Superior 3.5, which is one of the most praised and minimalistic offerings in their trail lineup.
I have now put in something like 400 km in my Superior 3.5s. This review recaps my experiences so far.
Altra Superior 3.5 right out of the box. Foot-shaped and very brightly red!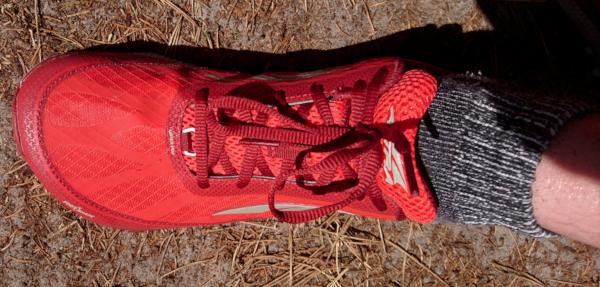 Fit
As an Altra newbie, I was completely taken aback when I first put on the Superior 3.5. The amount of space for the toes was simply phenomenal - especially for a shoe in my normal size. Shape like my feet, the Superior allowed my toes to splay and swell in a way I had never experienced before in a running shoe.
The ankle collar felt plush and provided a snug and hugging feeling at first. This added to the overly comfortable feel. However, after a while the foam in the collar seemed to "collapse" and the plushness disappeared. With the plushness also went the snugness, and what was left was a rather sloppy fit. If you do a lot of technical trails and require speed and control, beware!
Please note that people with narrow feet may feel lost - or to be correct their toes will. I can almost hear the desperate sound of those lonely toes screaming out to each other: "Heeey guuuyys where are you? ... are you?... are you? ..."
Features
The Superior 3.5 comes with its signature "flap at the back" The Altra website did not explain this feature. The answer was, and I quote: "It's intended purchase is for when you are descending to gain additional grip."
Well, I did not find it particularly useful when descending. To be honest I felt no difference at all. Instead, my experience with "the flap" was that it was only good for whipping up debris and sand, and thus constantly showering my lower legs and shoes with "stuff".
After around 125 km I simply had had enough of sand in my socks. A quick operation with a utility knife and the flaps were gone. What a relief! Recently I learned that Superior version 4 comes without the flap! Yeah!
Sideways view post "flap surgery". Please notice the "gaiter trap" loop underneath the ankle collar.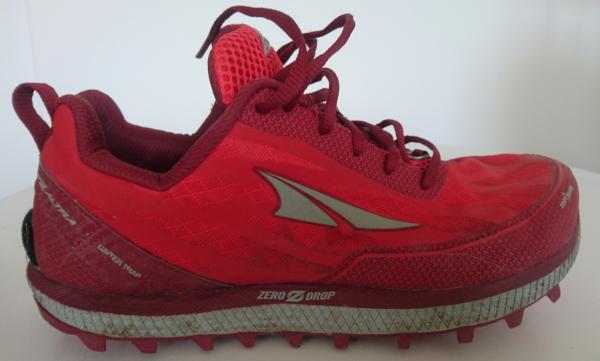 The Superior 3.5 comes with rather limited cushioning. The stack height is a low(ish) 21 mm. When you run, you really feel what is underneath your feet. Not a minimalistic shoe - but trending towards it. Some runners like this while others are afraid to hurt their feet.
For those who need extra protection, the Superior 3.5 comes with the optional "StoneGuard". A thin, plastic insert that you can slide underneath the insole. Once inside your shoes, they will provide protection from underneath.
I found that the StoneGuard renders the Superior quite a different shoe. It feels a lot more firm. Yet still close to the ground and you do not entirely loose the otherwise superior (pun intended) "sense of the track".
The optional StoneGuard may be inserted underneath the insole to provide extra protection.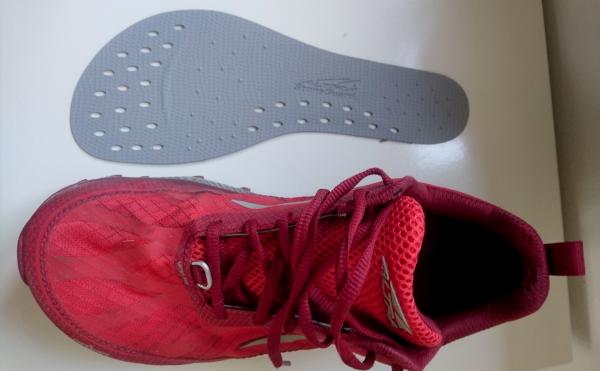 I love the no-frills "close-to-the-ground" experience of the Superior without the StoneGuard. However, with the StoneGuard the Superior is useful in a lot more scenarios. Not only on trails with more "sharp stuff", but also for longer runs I find the added support of the StoneGuard superb.
Frontal gaiter trap - a metal ringlet to hook your gaiters on to. Will fit most gaiter brands.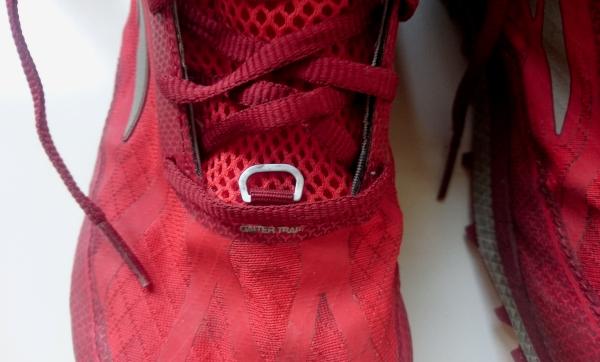 The Superior 3.5 comes with the Altra four-point "Gaiter Trap" attachment system. A ring at the front, a velcro strap/flap at the back and two loops (one on each side). This works well, provided you own a pair of compatible gaiters.
You'll, of course, get the best fit with original Altra gaiters. Well, to be honest, I haven't actually tried the Altra four-point gaiters. Instead, I have with success used my old Inov-8 Race Ultra gaiters. They fit both the front and side loops nicely, providing a secure hold for the gaiters.
Back view showing the velcro gaiter trap.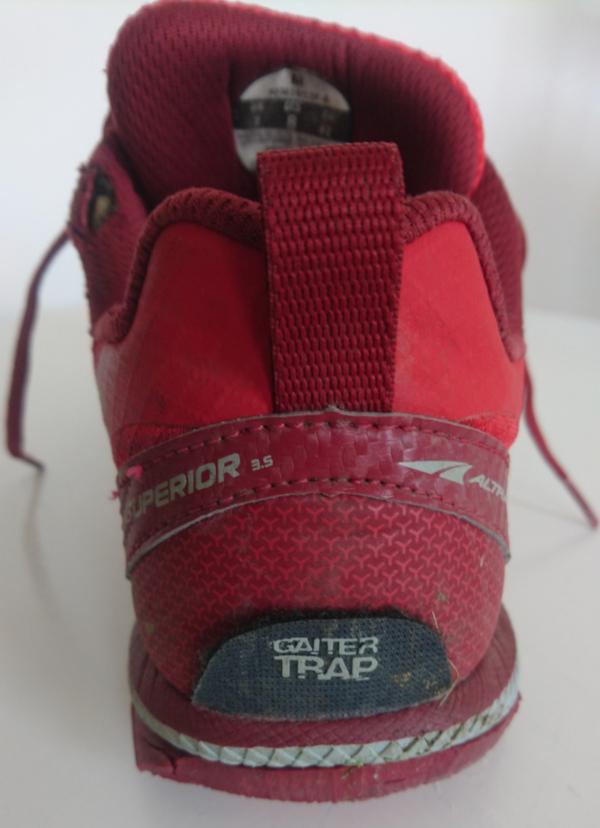 The outsole is - despite its untraditional and docile look - surprisingly grippy. I have found it to provide a good and solid grip on pretty much any type of terrain. Anything from rocks over forest floor to sand - with very good buoyancy on the latter. The only exception being deep mud and bare ice.
With regards to icy tracks, the Superior 3.5 is rather thin and cold. I find it unsuitable for winter running. Should you still choose to venture out on icy trails, the outsole leaves ample room for "add-ons" such as YakTrax or similar.
The rather untraditional looking outsole provides surprisingly good grip.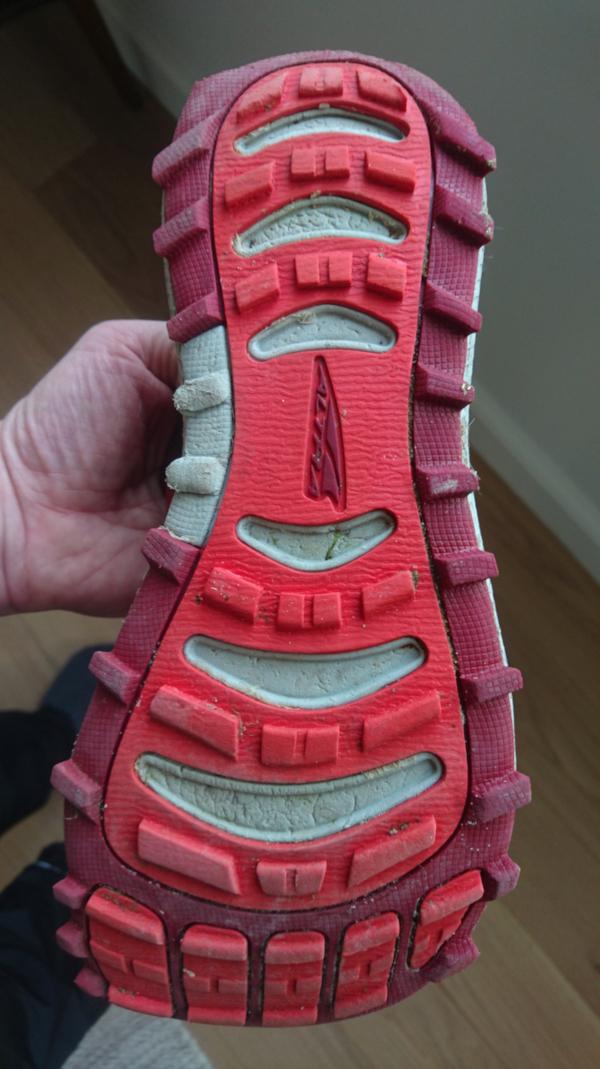 Performance
The Superior 3.5s are useful for pretty much any type of trail I have come across. If you exclude very wet/muddy (lack of grip), and technical routes (sloppy fit). They also handle the odd bit of tarmac/road okay. I would not recommend them for longer road runs though (due to lack of cushioning).
The upper of the Superior 3.5 is light and well-ventilated thanks to the thin yet durable fabric. This makes for a nice summer-time and shoulder-season shoe. I find the lightness excludes the Superior from really cold and wet wintery runs. They soak easily, but once soaked they also drain easily and do not absorb a lot of moisture in the process.
When it comes to distance I prefer the Superior 3.5 without the StoneGuard for short to medium runs. Stability-wise the Superior is superb. The wide and low-to-the-ground platform ensures that the risk of twisting your ankles is minimal. Furthermore, because you can actually feel what is underneath your feet, it is a lot easier for your body to respond to variations in the terrain.
Durability
Altra has over the years gotten a bad reputation for poor build quality. Unfortunately, I have also had rather insufficient experiences with the Superior 3.5.
Seams have ruptured, the foam has collapsed and spilled, the midsole quickly lost a lot of its bounce (what little there was from the beginning). Most issues occurred after a measly 150 - 200 km.
I don't know if I just received a sub-standard pair, but I have seen the same story around the web quite a few times. It just seems to be a trend that Altra shoes have issues with build and material quality!
A pretty typical Altra build issue - ankle collar breakage.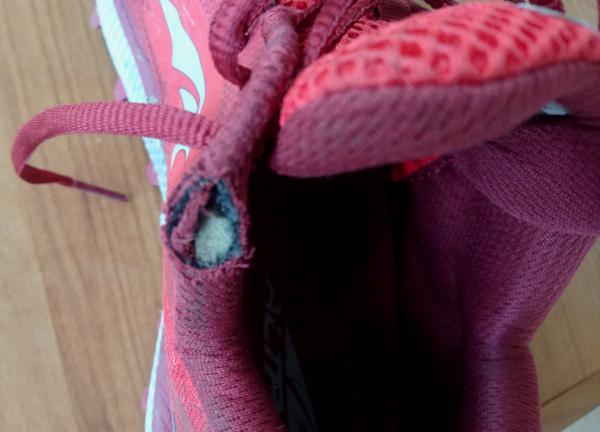 Discussion
Running in Superior 3.5 has shown me that Altra offers something special. The wide toe-box and the zero drop are not unique features per se, but it is certainly far from your typical mass-market type running shoe. For me, it has been a revelation that you can actually get shoes that run and feel completely different and are so very comfortable.
Everyone - or at least those that find mainstream running shoes to be tight and uncomfortable - should try a pair of Altra running shoes. To learn that there are comfortable foot-shaped running-shoe alternatives out there.
You have to be aware that zero drop (natural running) is not something to be taken lightly. If your body is not accustomed to it, you may end up hurting yourself. But once you get used to it, you'll likely find it to be a wonderful and more relaxed running experience.
Conclusion
The Superior 3.5 is a light, mildly cushioned trail shoe with zero drops.
It is a three-season shoe good for easy to medium trail runs. The Superior 3.5 is no longer in production as Altra now offers version 4 instead. Have a look around and you'll likely be able to scoop up a pair of 3.5s for cheap. Just be aware that you might encounter durability issues.
If you are a trail runner with wide feet and curious about zero-drop shoes I strongly recommend you give Altra Superior a try. It is a novel and wonderful experience. I just wish the quality of the build and materials was better.
Updates to Altra Superior 3.5
The Superior series from Altra has always been a hit among trail runners. The third iteration, in particular, was a crowd favorite. Hence, it comes as no surprise that Altra releases a Superior 3.5 – an update of the third version, but only minimally. This release has improved the durability of its predecessor, a factor that is ideal because it is a shoe for the trails.
A quick-drying Air Mesh makes up the upper of the Superior 3.5. In this version, the upper is more durable while still retaining the lightweight and breathable qualities of the previous iteration.
The midsole of this Altra shoe features a two-layer foam for twice as much cushioning and underfoot precision. It is paired with the new DuraTread™ rubber in the outsole. All the other features of the Superior 3.0 remain in this version.
Size and fit
The Altra Superior 3.5 has a standard running shoe length. Because of the brand's unique toe box, the shoe will fit runners with foot volumes from low to high. The shoe is available in D – Medium for men and B – Medium for women.
Outsole
The TrailClaw™ outsole makes use of sticky rubber that follow the form of the foot's bones and tendons to allow a natural flex and support in critical areas. The TrailClaw™ includes the prominent lugs that are essential for trail running, as they bring traction and stability while running. This outsole material is also present in the Superior 4.0.
A foot-shaped outsole material, called the FootPod, offers flexibility and responsiveness. It maps the bones and tendons of the foot for a natural stretch, therefore enhancing the ability for grip.
The Superior 3.5 also has DuraTread™, a durable material built for long-lasting traction on any terrain. It is made from a sticky, heavy-duty compound that withstands the elements.
In the heel area is the Trail Rudder, a controlling mechanism that prevents unnecessary movements and slipping during steep descents.
Midsole
The Altra Superior 3.5 uses A-Bound, which is a recycled midsole compound. This environment-friendly material acts as resilient protection, keeping the foot comfortable and preventing injuries from occurring.
A two-layer ethylene-vinyl acetate (EVA) also takes part in forming the midsole. Compared to other zero-drop shoes, the Superior 3.5 has a lower stack height as it aims to equip the runner with better balance.
The shoe's Inner Flex feature involves the use of flex grooves to deliver flexibility, as well as decrease the shoe's overall weight. Therefore, running performance is improved.
Altra incorporates a Natural Ride System (NRS) design to the Superior 3.5. This means the shoe has an anatomically-shaped last, promoting proper foot mechanics and natural motions. Similarly, the midsole has Natural Foot Design (NFD), following the shape of the foot for the ultimate comfort.
A removable rock plate, called the StoneGuard, could be found beneath the sock liner. It serves as a shock disperser and protects the foot from bruises.
Upper
The quick-drying Air Mesh upper of the Superior 3.5 promises optimal ventilation and a cool and dry foot environment all throughout the run. The material has a seamless finish to reduce skin irritation. Thin and subtle overlays support the mesh for a steady and stable ride.
This shoe still features the Gaiter Trap, which is a Velcro strap that acts as an attachment mechanism so that runners could secure their running gaiters with no problems. The Superior 3.5 also has a matching gaiter that goes with the shoe; it may be purchased separately.
Altra's signature FootShape™ toe box permits a full and natural toe splay to enable balance and stability, therefore allowing the runner to log more miles.
Rankings
How Altra Superior 3.5 ranks compared to all other shoes
Popularity
The current trend of Altra Superior 3.5.