Whether going fast or taking it easy on your training runs, the Altra Rivera 2 is a do-it-all daily trainer that's lively and energetic. It also delivers a natural-feeling run with its zero-drop design. On top of this, it's a trusty pick for runners who want a light, well-cushioned running shoe that can gobble up long miles on the road.
Pros
Responsive on faster runs

Stable on uneven surfaces
Comfortable for long days
Lightweight
Form-fitting wrap
Spacious toe box
Visually

appealing

Soft and stretchy upper
Cons
A bit slimmer than the average Altra
Firmer than the Rivera 1
Who should buy the Altra Rivera 2
Take the Rivera 2 from Altra if you're:
just transitioning to zero-drop running shoes (If you are not sure if these are right for you, see our guide on the heel-to-toe drop)
looking for a solid-all rounder that can handle daily training and tempo paces
wanting to buy a pair of running shoes that can double for

gym training

searching for a roomy shoe that welcomes foot swelling after long miles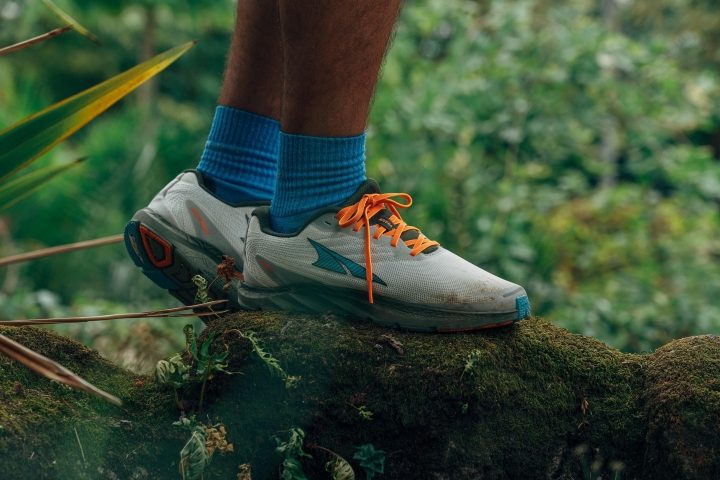 Who should NOT buy it
If you don't mind paying extra for a snappier ride that's more performance-oriented, experts advise getting the UA Flow Velociti Wind instead.
And if you want more stack for recovery days, and anything slower, the Altra Torin 4 is a better option.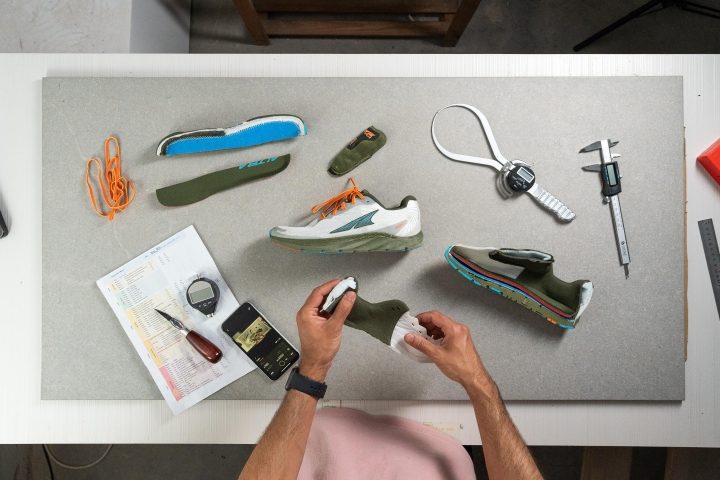 OK for night runs
Sure we had some really shiny-in-the-dark shoes in our lab (like New Balance 1080 v12), but Altra Rivera 2 also has some reflective elements. Too bad it's only in the back and not on the sides, but they definitely help in low-visibility conditions.
Altra Rivera 2 vs. 1
The midsole and outsole of the Altra Rivera 2 carry over the same components from the first iteration. The changes employed by the second version are mainly focused on fit, implementing:
a softer, more pliable upper for a more accommodating fit. One runner said that the "upper is surprisingly supportive."
a snugger heel, addressing the heel lock issues of its precursor
Rivera 2 changes a lot at cold temperatures
When exposing a shoe to the cold (freezer for 20mins) we check 2 things: softness and flexibility.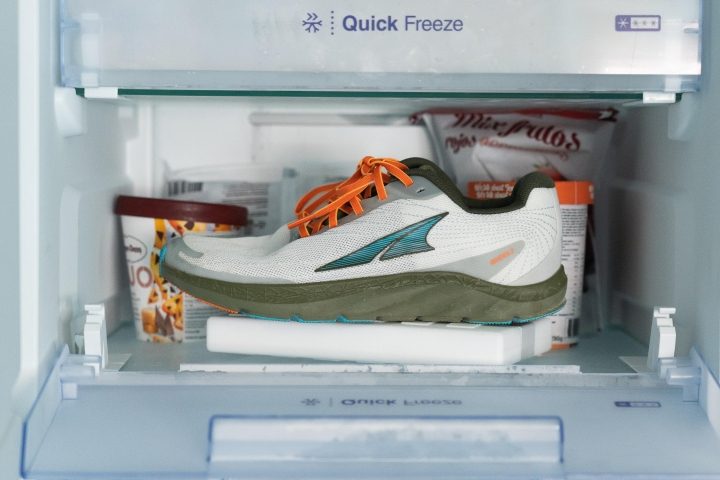 1. For flexibility, we use a force gauge. Rivera got 138.2% more rigid! For reference, the average change for all the shoes in our lab is 39.4%. This, however, does not mean it got stiff. After being exposed to freezing temperatures, it is still more flexible than most other shoes.
2. For softness, we use an HA durometer. Rivera got 46.7% firmer after the freezer (on average, shoes get 21.5% firmer).
Heel drop is NOT zero!
All Altra shoes are recognized by reviewers for having a 0mm heel-to-toe drop. Surprise, surprise!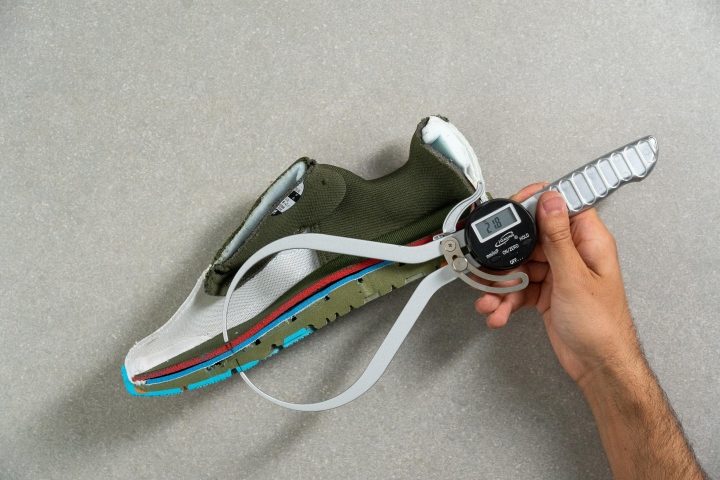 Fact check
Our lab measurements have shown that the Rivera 2 has a heel drop of 2.8mm (heel stack height 24.6mm minus forefoot stack height 21.8mm).
It makes sense that a runner commented "Although it's a zero drop shoe, it doesn't have a flat feeling."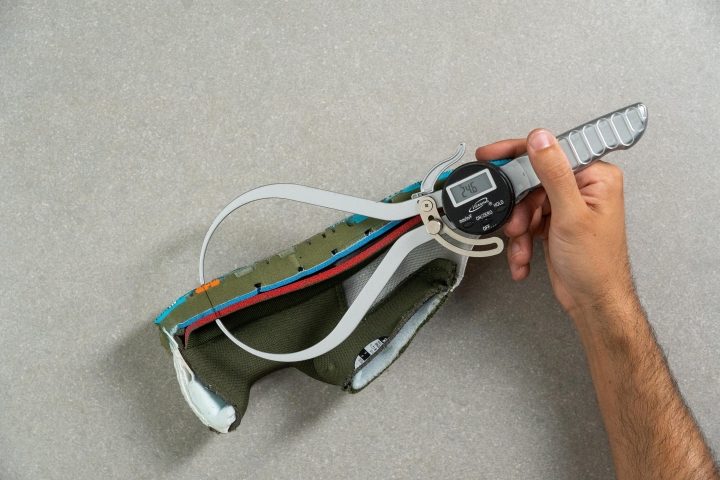 Feel the ground
It's not a max-cushioned running shoe, but testers find its midsole adequate and comfy enough for high-mileage efforts.
Fact check
Our measurements confirm this but deny the brand's statement. With 24.6mm in the heel, it is less than an average stack height which sits at 32.7mm. Brand's statement, however, listed 26mm in the heel.
Experience from one runner goes along with the lab data given that they said the Altra Rivera 2 "would be perfect for those who like more ground contact."
Soft according to numbers, firm according to runners
There hasn't been a consensus among testers, recreational runners and others when it comes to how soft the Rivera 2 is.
Many have said this is a firm shoe or a bit too firm for them, and the majority agrees it is firmer than the Rivera 2.
Fact check
What lab data has shown is that it is a VERY soft shoe. The midsole scored 15.0 on our durometer. The average softness of all the shoes in our lab? 29.4. This makes the Rivera 2 2x softer than an average running shoe.
Keeps you steady
This is thanks to the Altra Rivera 2's broad forefoot and grippy outsole.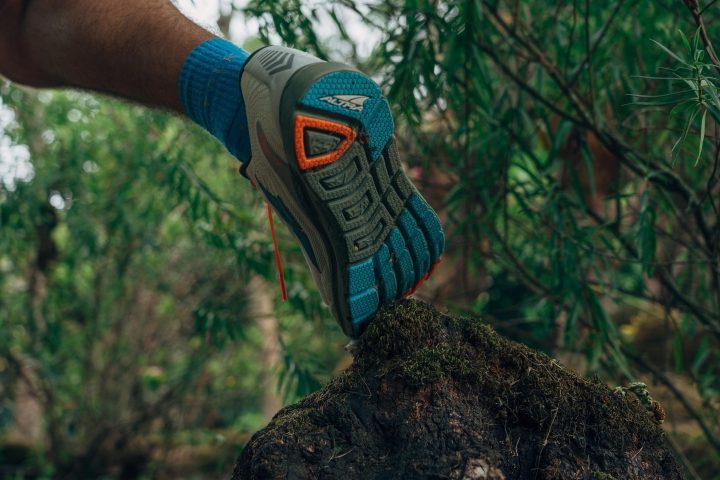 On both flat and rugged surfaces, it encourages stable strides. What also helps are the lugs that are a bit deeper than the average (3.9mm vs 3.4mm).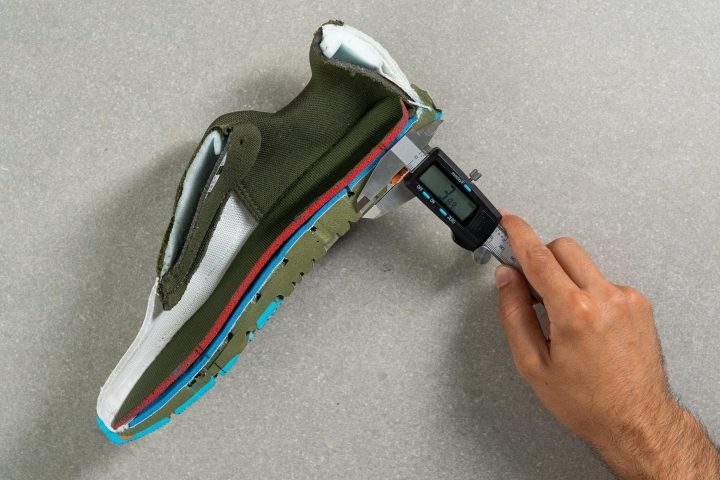 Won't weigh you down
Like the Altra Escalante 2.5 (8.5 oz), the Rivera 2 (8.1 oz or 229g) is light on paper and on the road. For reference, the average speed trainer weighs in at 8.9 oz or 252g and the average shoe weight in our lab overall is 9.7 oz or 275g.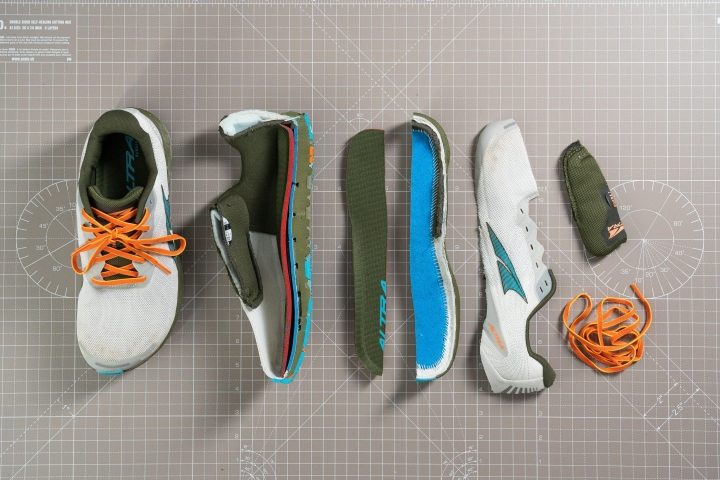 Comes to life during fast runs
"Energetic," "rebounding," and "responsive." This is how the majority describe the ride of the Altra Rivera 2 when they pick up the pace.
Roominess: nor your average Altra level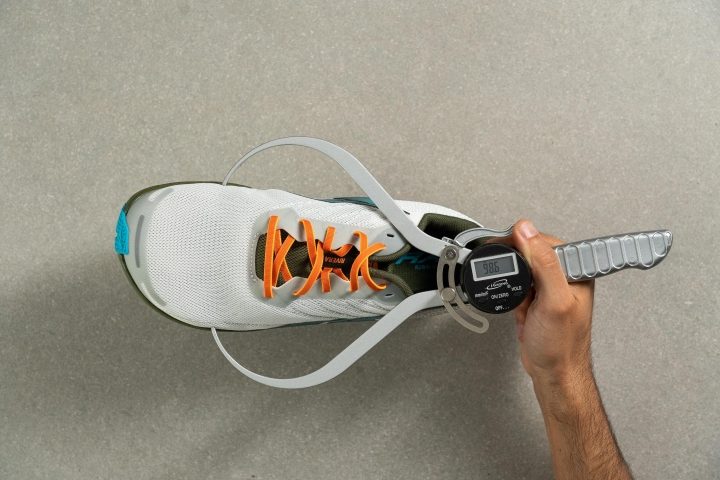 Although it's dubbed as Altra's "least roomy" running shoe, many still find the toe box "very spacious."
Fact check
Our caliper measurement shows a different story: Altra Rivera 2 has a 98.6mm-wide forefoot, while the average is 98.7mm. It's average only! This also tells us how much give the upper has (a lot).
This should not be worrying, as one runner has described it perfectly "your toes still have room to wiggle around despite the snugger fit." If you need reassurance, read this comment "there's no wicked evil seams over my bunions!!!!"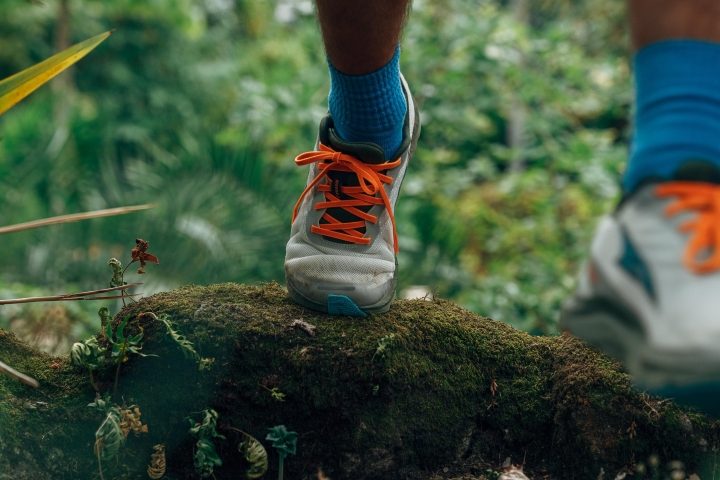 Adapts to the natural shape and contours of the foot
According to multiple runners, the Rivera 2's upper has "more give" and is "more pliable;" it wraps comfortably and securely. To top it off (literally and figuratively), tongue is highly cushioned (thick 7.9mm, while the average is 6.0mm).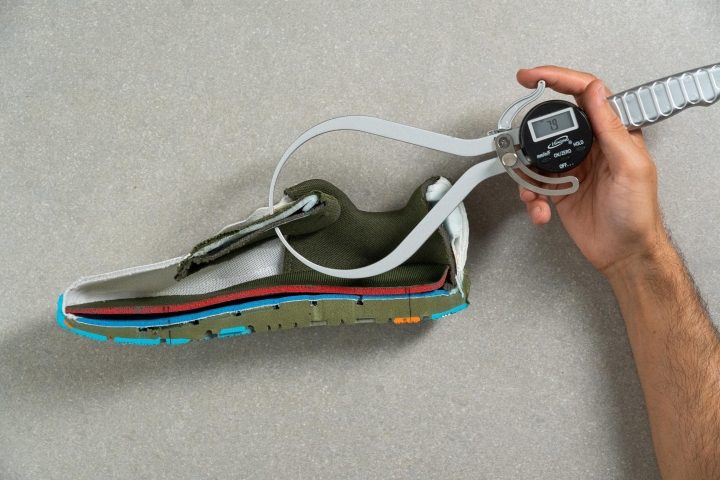 With its higher heel collar, rearfoot lockdown is improved. The midfoot fit is also spot-on.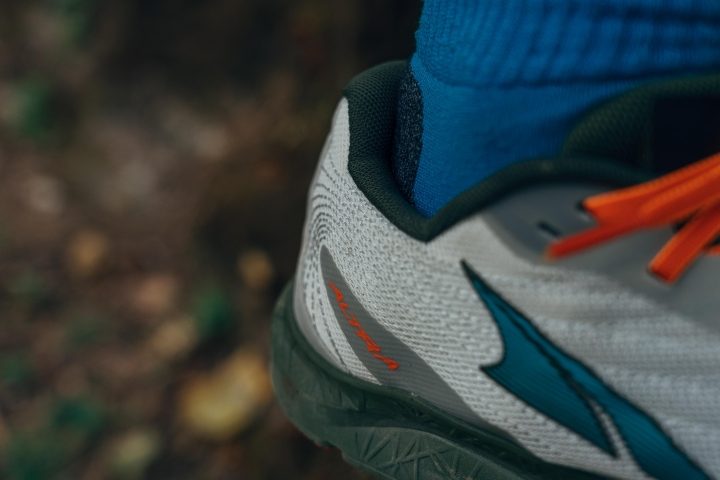 A step-up in the looks department
Road runners describe the second edition of the Altra Rivera as "classy" and "elegant."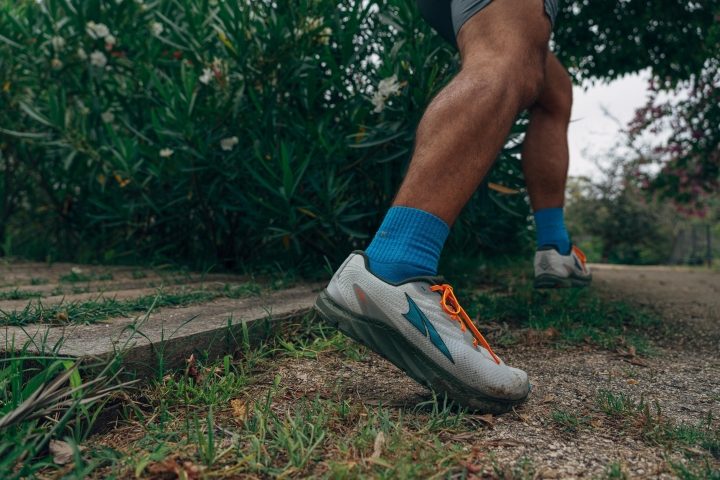 With the shoe's perfectly-combined colors, gone are Altra's "toy-like" designs of the past.
The Rivera 2 is too flexible
This hurts the snappiness of the shoe, hindering its full potential during faster efforts.
Fact check
To check this, we looked at the lab data: oh wow, it is 2x more flexible than the average shoe! We needed a force of 13.6N to flex it, while the average force needed is 29.5N.
Our subjective tests have confirmed this: Rivera 2 scored 1/5 (1 being the most flexible) on our tests, both for longitudinal and torsional flexibility.
Lackluster ride during mellow days
This is especially noticeable for recovery runs and anything slower. During landing, the heel feels very firm, and the ground feel is more pronounced, which can be bothersome. One runner even said, "I felt a bit dull and tired in these."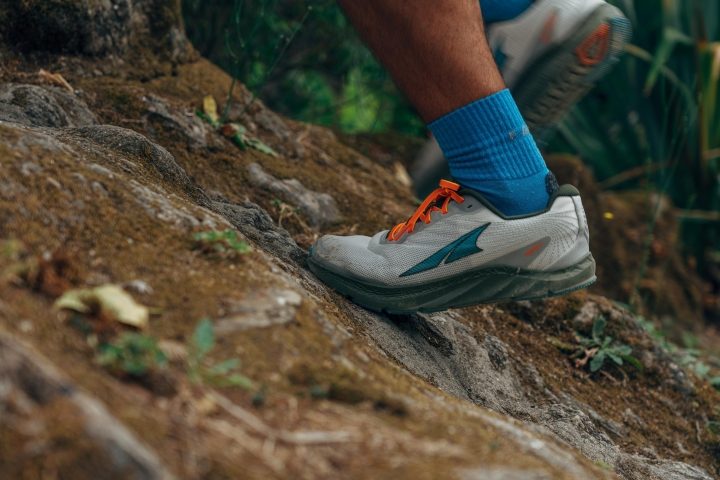 Great for every day!
Many runners have commented that these running shoes are perfect as everyday sneakers. All thanks to the Altra-level comfort: "Also supremely comfortable as a casual everyday shoe," "feels hella comfortable," and many are really happy about the value the shoe delivers ("I would buy these again & again.").