Our reviews
When I burned through my Hoka One One Clifton 5, I was very tempted to buy the same shoes as they were a brilliant daily running shoe.
However, I am a shoe dork and opted to experiment instead. I bought a pair of Altra Paradigm for a try!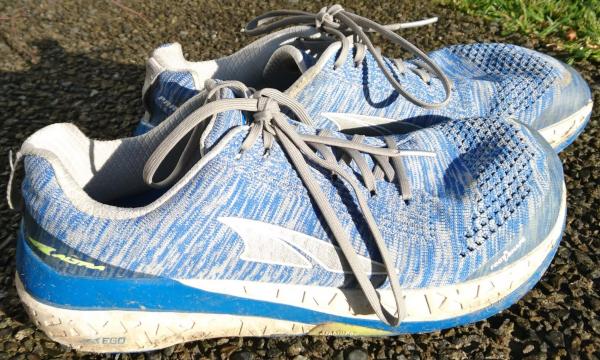 This shoe is aimed at the more maximal market. It also has many features that I enjoyed with the Clifton. In fact, it even has features that outperform my favourite road shoe of the last 2-3 years.
They have a 30mm stack height, the same as the Clifton, so this similarity for me was an appropriate place to start my evaluation.
As of this writing, I have clocked 75 miles of running and quite a bit of walking in the Paradigm.
This experience is enough to form a strong opinion on what the exceptional and disappointing aspects of this shoe are.
Initial impression and fit
Although these are quite chunky shoes, these actually look pretty good. Yes, they have the unusual foot shape. But, the knit material and colour make them quite appealing from a top view.
My fiancée even complimented them briefly, which is impressive as she is less than enthused when I sneak new shoes into the house!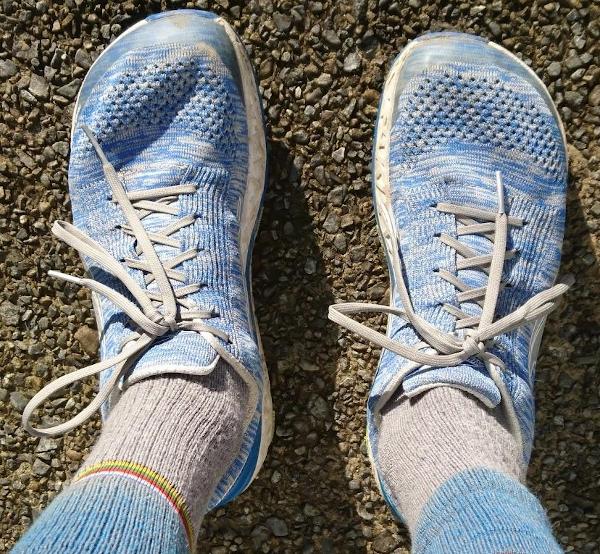 Before running in them, I noticed straight away that the EGO foam in the midsole was very plush and springy—this was a good sign!
I have three pairs of Altra's at the moment. I had previous issues with the fit, sizing, and heel lockdown of the shoes.
I was pleased that Altra seems to have addressed these in more recent models (Lone Peak 4.0 & Torin 3.5). Regardless, I'm afraid my first run in these shoes pointed towards issues of the past.
Size-wise, I have a UK 10.5 in these shoes, the same as my other Altra shoes, Hokas, and Salomons. Inov-8's and Nike's tend to be size 10 for me most of the time.
The shape means there is wiggle room in the toes, and I like that, especially in a road shoe.
Strengths
The EGO cushioning is a delight. For a maximalist shoe, it has plush and very comfortable underfoot. There is a lot of cushioning given the stack height of the shoe, and I was impressed with this fact.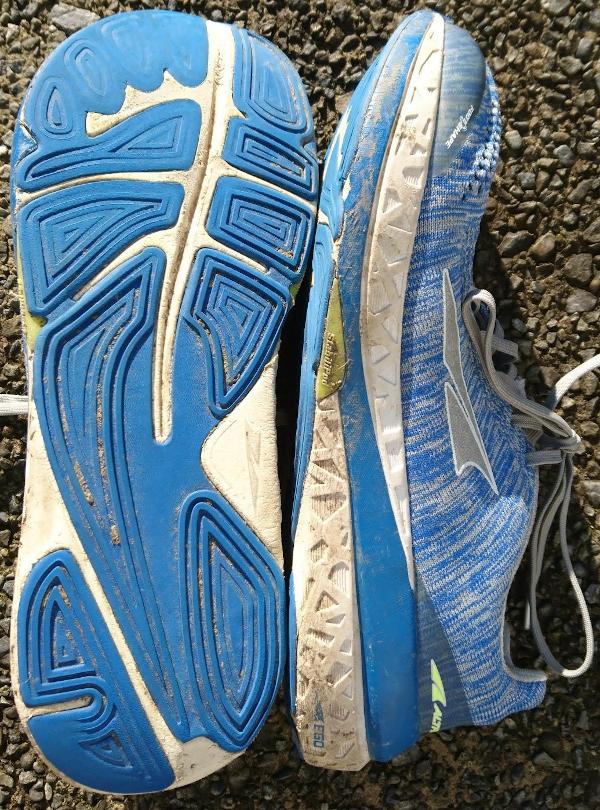 In direct comparison with the Clifton, this midsole is a winner here. They are very comfortable for daily use.
Moreover, while travelling, I have found myself slipping these on and off more than any others. They are such a pleasure to walk around in.
Although it is a neutral shoe, which I prefer, the Paradigms do feel very stable. Usually, any form of stability is too much for me.
However, Altra has employed some pretty unique system underfoot. These are called stabilipods. There is also a light guide rail that does not intrude too much unless you need it.
If you tend to pronate when you are tired, this might be a great feature.
The colours available are all quite muted—Grey, Black or Blue. Overall, I like these colours. Moreover, I think this is a decent-looking shoe if you are okay with a large amount of cushioning.
This might be a good transition option to zero drop. The excellent cushioning and higher stack mean they provide some protection that you might not get from a Torin or an Escalante.
Limitations
There are definitely a couple of disappointments that stop this from being a great shoe.
The sloppiness of the heel area is a deal-breaker for me. It is particularly noticeable later in runs and on hills. I would separate this issue into two main factors:
There is too much padding around the heel and ankle, and the heel cup is too shallow.
The lacing system could use another eyelet to help near the top.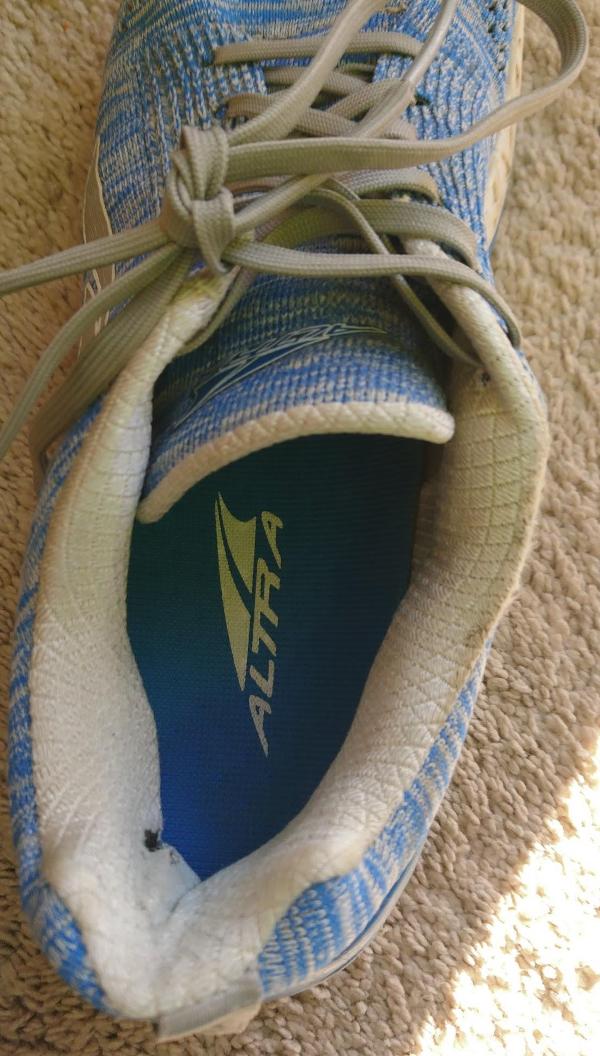 More recent Altra models I currently run in (Torin 3.5 & Lone Peak 4.0) do not have this issue. Hence, it baffles me that the Paradigm is different.
Going ½ size up might improve some of the problems I have with these shoes. But, this would lead to excess toe space and a different kind of issue as there is already plenty of room up there.
The shoe is also too heavy. It comes in at 318 grams. I could feel its weight when trying to pick up the pace.
Prior to purchase, I was ok with this as I do a lot of aerobic running at slow speeds. But, it was not a good combination with the fit. Thus, I rarely reach for these shoes for runs at all now.
On the positive side, they are comfortable for regular use and easy to slip on and off. So, I have been wearing them for dog walks regularly.
In terms of durability, it is a little too early for me to assess this aspect fairly. But, I would say that I have some minor concerns around this.
I have to tie them tightly to get the fit right, and the upper is stretching a little.
N.B.: I have not tested these shoes in warm weather. But, I expect the upper material would make them a little on the hot side.
Conclusion
These are supremely well-cushioned and comfortable maximalist shoes. For some people, it might be a great alternative to the likes of the Hoka Clifton.
I am also impressed with the stability system the shoe uses, as it is supportive but unobtrusive.
For me, there was an issue with the heel lockdown that outweighed the positives. This issue stems from too much padding and a shallow heel cup that results to a sloppy ride.
Also, because of these issues combined with it being too heavy, I rarely turn to these shoes for more than a recovery shuffle (if you ignore frequent dog walks).
It's a good thing that I am fortunate enough to have multiple pairs of shoes to choose from. Nevertheless, if I didn't, I can still work with it until a new pair was necessary.
If the Hoka Clifton had this material in the midsole, it would make a superb shoe! Despite the limitations that annoyed me, some people will love them.
Quick summary
Strengths
Limitations
Fit & heel lockdown
Weight
I switched to Altra as I have a wide foot, and need something that also provides cushioning around the forefront of the shoe. However, be aware, that this is a zero drop shoe and will take some time to adjust to especially if you've been using shoes like Brooks (typically 7mm-12mm) or Hoka (4mm-8mm).
I'd suggest rotating in and out with a low drop shoe as you transition to zero drop. Don't just go all in right away if you're not used to them. When new shoes arrived, I was impressed with the packaging which included a booklet on "getting used to the shoe" as well as a reflective sticker.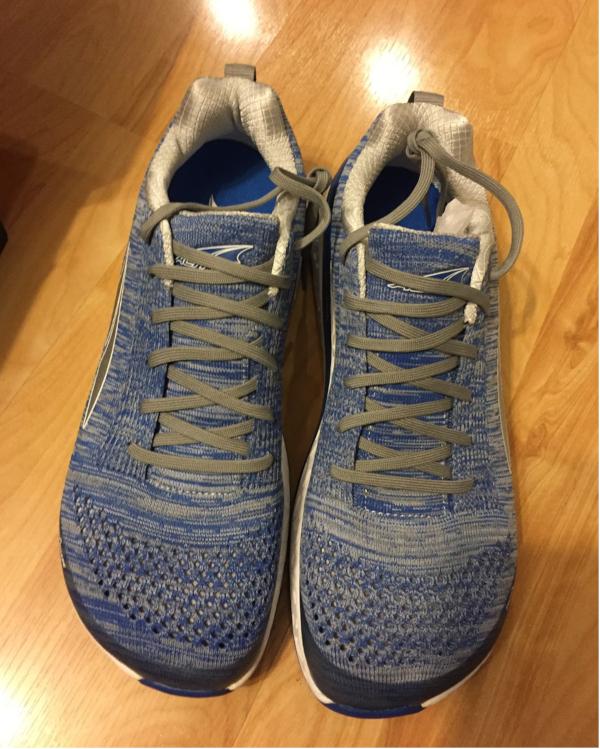 Comfort & fit
It felt great out the box but could tell they were going to take a little bit of time to get used to. Also, it is shipped with good packing and shoe inserts to help shoe retain form.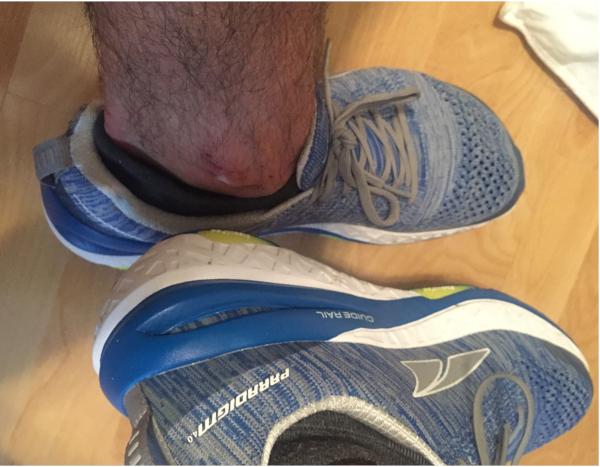 I typically wear wide shoes (2EE). However, Altra is naturally a wide shoe, so you will not see a wide option.
But understand that their average sizing is true to fit and would be the same as a wide shoe option. However, this shoe is not for a narrow foot runner.
Grip & traction
Average, with room to improve. I would have liked a stronger grip though. The shoe serves its purposes for Road Runners and can handle the wet conditions.
However, there isn't a lot of room for error. When crossing a street, I did almost slip on the painted part of the wet sidewalk crossing which could have been bad. Thus, moving forward, I was much more cognizant of this and had to pay more attention to the road itself.
Durability
I have put in about 100 miles in now and not showing any signs of breakdown! So far, the shoe has provided a lot of support in the fore-mid foot. I wanted the cushioning other Altra's don't provide so was happy to see Altra tapping into this market.
Aesthetics
The colorways are limited to only 3 color schemes. They may look a little clunk in the toe box, but this is to help Altra meet their goal of having toes return back to their natural position.
I do not care about aesthetics, but these were not as 'bulky' looking as I originally expected. Pleasantly surprised.
Upper
Interestingly enough, I encountered an issue I never had before, which resulted in blood and cuts. In all, the entire upper sole is very breathable and comfy and provides flexibility to expand as you work through your run.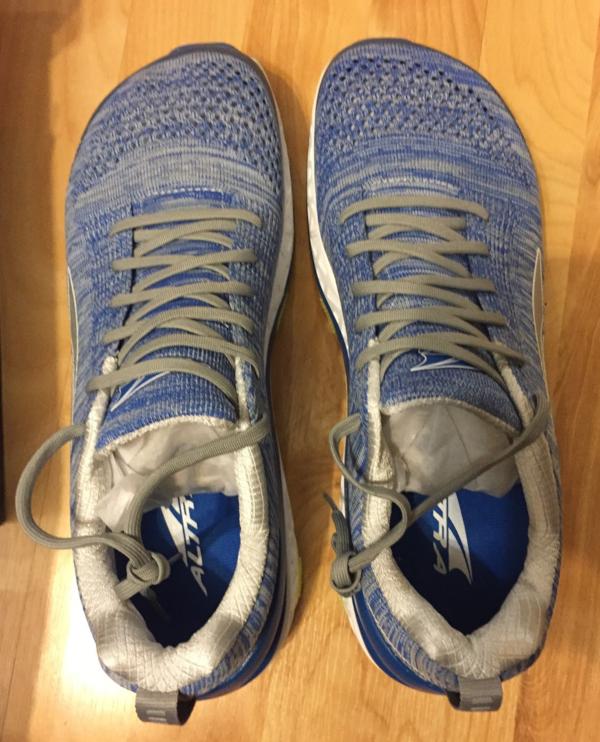 However, as photos will show, there is a little bit of "flare" on the inside of the shoe which is very rigid. And due to my style of running, where at times I overpronate, it rubbed and cut against my left heel which was very annoying and painful.
On the other hand, I find the tongue neither too slim not too bulky. Just the right size and didn't encounter any issues.
Midsole
The midsole is pretty firm and strong. I liked the snug fit on the inside of the midsole especially around the midfoot. I was concerned that this would lead to blisters over time, but so far so good!
I felt a little bit snug on the inside of the sole/inner foot, which guides the foot to opening up in the toe box helping Altra reach that "toes" back to a relaxed and widened natural state.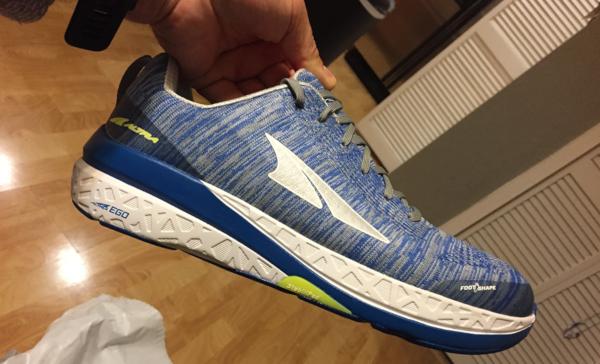 The entire midsole seems very durable and after 100 miles, is not showing much room of deterioration - well done and constructed shoe.
A little narrow/snug in the width area which concerned me at first, but found it refreshingly snug and helped guide toes and shoe accomplish the overall goal of returning runners to natural methods.
Outsole
The outsole is firm, strong and holding up very well vs. competitors. I would like a little more give, but it's not too firm that there's no room for breaking in.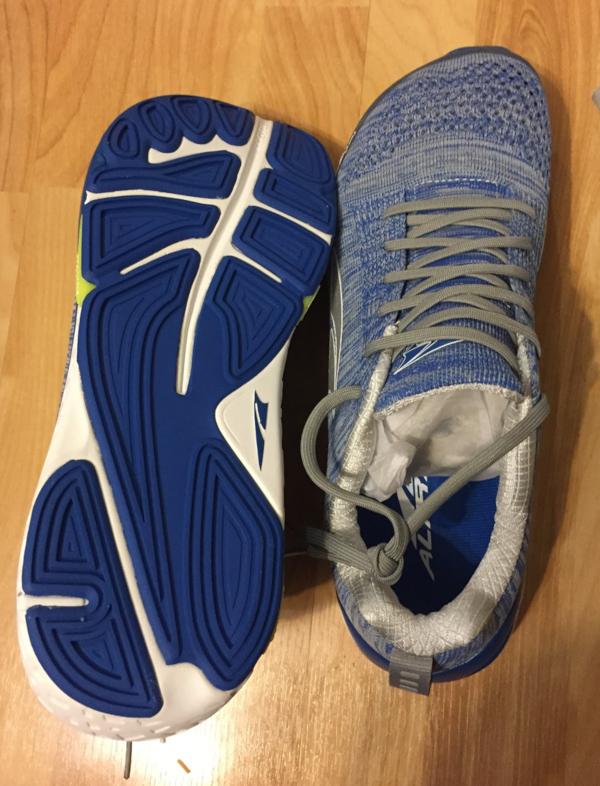 Heel
The heel holds well without adding too much bulk. It prevents the foot from too much/any slipping.
Pros
Cushioning, without making a major sacrifice in aesthetics like other brands
Hits mission in providing a maximalist shoe
Confident in the durability
Cons
Limited to only 3 color schemes
The darn "StabiliPad" found on both the middle and back part of the inner shoes is sharp, it rubbed against my opposite ankle and cut it like a razor, several times over and had to change my style overall to avoid it the best I could moving forward
Final observations
This was my first time in a zero drop shoe which needs to be rotated in and out with another low drop shoe as you adjust. I would certainly give Altra another try in the future and will continue to use the Paradigm 4.0.
The shoe doesn't feel as heavy as it may appear, breathable and dries very well. Just runners be aware: learn more about what a zero drop really means and do your homework especially if you're used to Brooks and Hokas, which are meant for wide feet like ours.
Zero drop is different and uses lower parts of the leg we haven't been forced to deal with in the past. Overall, for me, this is a great shoe especially if you're looking for something different and mixing into your routine.
Updates to Altra Paradigm 4.0
The Altra Paradigm brings out its fourth iteration – a dynamic running shoe that provides maximum cushioning and support while on the road. The Paradigm 4.0 is designed for lengthy distances, as its zero-drop structure delivers a cushy platform that is ready for the long haul. This shoe caters to neutral pronators.
The knit upper has an updated look that increases the overall comfort level of the Paradigm 4.0. It retains the durable quality that is also present in the earlier editions of the Paradigm.
This version of the Paradigm makes use of the Altra EGO™ midsole material, which gives the Paradigm 4.0 the bounciest platform and plushest underfoot feel to date. Together with another new feature, the Stabilipods, the shoe produces a springier and more stable ride.
Size and fit
The Altra Paradigm 4.0 has a fit that is relatively smaller compared to the standard running shoe; thus, runners are recommended to purchase a half-size larger than their usual preference. The shoe has a semi-broad heel and forefoot, catering to wearers with low to medium foot volumes. The Paradigm 4.0 comes in D – Medium for the men's version, while the women's version has B – Medium.
Outsole
Like the previous iteration, the Paradigm 4.0 utilizes the FootPod™ technology in its outsole. This material is shaped according to the natural figure of the human foot, which results in a responsive ride through an enhanced level of flexibility. The structure of the outsole allows the shoe to adapt itself as the running position changes, while also delivering the necessary traction.
The FootPod™ technology works by mapping the bones and tendons of the foot, thus helping them move and bend naturally. This outsole technology is also utilized in the popular Altra Superior 3.5 running shoe.
Midsole
Altra introduces in the Paradigm 4.0 the Altra EGO™ midsole, a dual-nature compound that possesses a responsive capability and a soft characteristic, resulting in an energized ride with an ultra-comfortable sensation. The high-energy ride provided by the Altra EGO™ is complemented by its durable and reactive qualities.
The midsole makes use of a stabilizing tripod, aptly named the StabiliPod™. It supports the three natural stability zones in the foot, therefore controlling pronation and preventing excessive foot collapse.
Meanwhile, a GuideRail™ feature is also present in the Paradigm 4.0. As another support technology, it guides the midsole to efficiently provide adaptive stability. The GuideRail™ offers reinforcement as necessary, such as steering the foot when it gets off-track.
Like many other Altra running shoes, the Paradigm 4.0 includes the Natural Ride System (NRS). This design philosophy promotes natural mobility, as it produces metatarsal-specific shapes to assist proper foot mechanics.
The midsole also incorporates Inner Flex, which is the set of flex grooves placed across the length of the shoe. Inner Flex equips the shoe with the lightweight flexibility that encourages a better and longer running performance.
Upper
The engineered knit upper of the Paradigm 4.0 gives the shoe a supportive breathability. It provides the runner with not only a seamless fit, but also with a durable coverage and an excellent ventilation unit. The knit material is designed to be comfortable and to feel like a second skin.
Compare popularity
Interactive
Compare the popularity of another shoe to Altra Paradigm 4.0:
Altra Paradigm 4.0 video reviews