Our reviews
I just came from an ankle injury (posterior tibial tendonitis) because I had been running with the wrong shoes. So I was advised to buy extra support shoes because I am an overpronator trail runner. As you know, there are no trail running shoes with pronation support.
I decided to give Altra a chance. This is my first time wearing this brand, and I am starting from zero. As always, I am going to make my review based on the specs that the manufacturer provided. So here we go.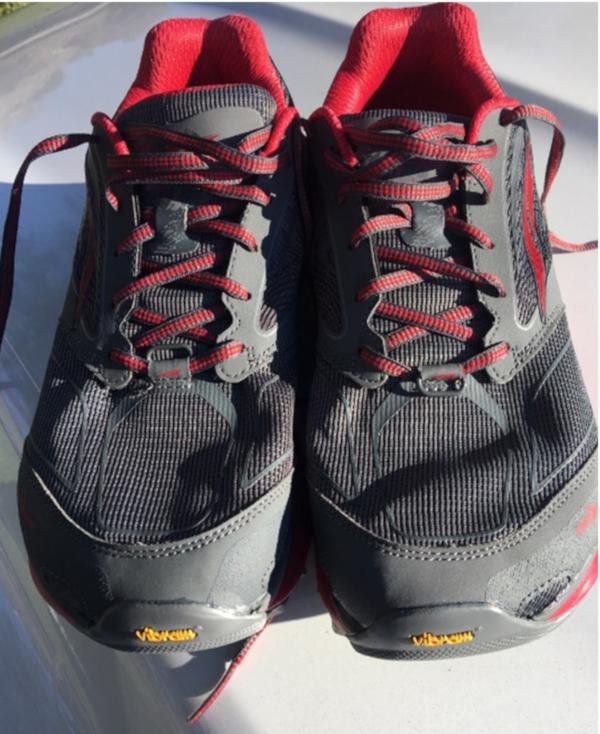 Foot shape
This feature is awesome as they say, "allow the toes to relax and spread out naturally and the big toe to remain in a straight position." If you feel your toes are tight with your current shoe, here is the solution.
For years, I've been wearing those pointy shoes that don't allow your toes to relax. After 10 miles, I started to have cramps in the sole area and had to stop and stretch them. On the other hand, Olympus has enough room for your toes, so I don't have that problem anymore.
I changed my stride landing with the front portion of my feet and transfer all the energy to the posterior portion. You can feel as you are running barefoot with a lot of protection in the shoe. I think that was the cause of my injury in the past - I was running only with the 3 external toes.
"Maximum stability and power" - I can feel that power because of the new running technique. Using all the room you have available, the strides are stronger, and you feel it right in the calves. It's imperceptible, but if you focus on your stride, you are going to notice.
Zero drop
The drop for me is one of the hardest parts to evaluate before I started to watch the health of my feet. You never knew that exist, but now I always try to consider it.
The zero drop is built for the foot to land naturally and reduce the impact. I am practically sure that I have reduced my landing impact, but I will see it in the future if long term injuries will be reduced.
The shape of the posterior part Achilles tendon, due to the zero drop is following the natural shape of the foot and reduces friction. I know it because I have suffered pain and blister from all other brands. With Olympus 3, I noticed that hassle has gone.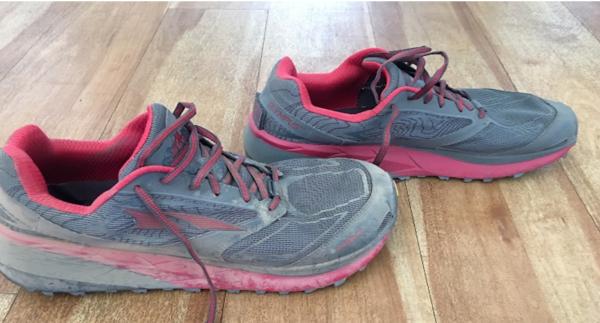 Gaiter trap
There are some hitch points that are intended to hook the gaiters that prevent the debris into your shoes. I don't really use them, but it seems practical.
Vibram
Vibram - this means a "sticky rubber" that provides an unparalleled grip. I have ran on both wet and dry surfaces, but I liked dry surfaces like dusty fire roads, single narrow trail, and rocky trail.
I like the feeling on rocky trails - it's good to feel that grip when you are climbing on the rocks or when you are going downhill as well. If we talk about the wet trails, I don't like the thought that they capture all the mud that the big sole can accumulate and reduce your pace enormously.
So, in conclusion, it is suitable for dry surfaces but not on wet surfaces.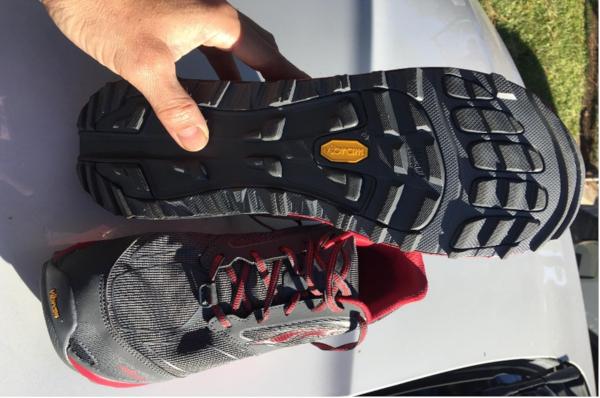 Abound
A bouncy compound, indeed it feels soft and cushioned. I can say along all those miles, most of the shoes start to lose all its properties -the elasticity, cushioning and rebound, but this shoe is built to endure long races.
Also, the Olympus 3.0 has the rebound and return of energy which is so important to me. When I hit the trail, I can feel the energy return - its like you have springs in your legs. Its sole compound feels cushioned, soft enough to protect your feet and be strong for harder surfaces.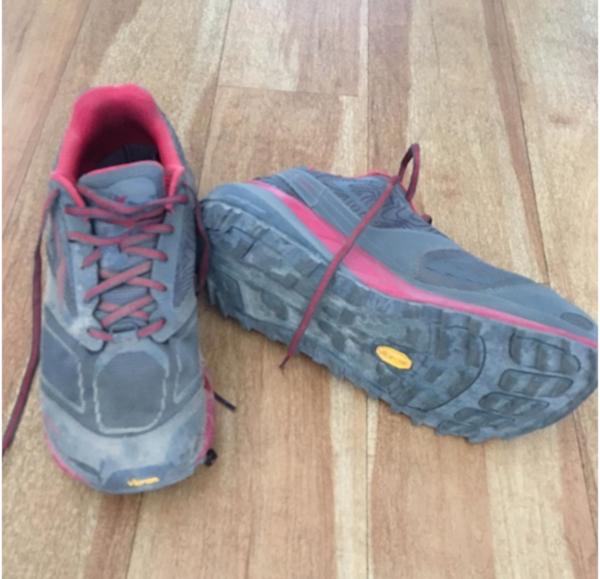 General features
Weight
At 9 oz/252g, even though it has a big sole and it looks enormous, they are not heavy. I have run plenty of miles, and it never felt heavy. Just that time when I ran in wet soil.
Height
At 33 mm, they are very tall but well designed for me. So if you are looking for a high-cushioned shoe, you have to deal with tall shoes.
Upper material
They are built on a mesh with few seams, so they are very comfortable.
Conclusion
I am very pleased with this pair. They are excellent for long runs and hard trails. It offers good support for your feet and keeps them healthy. Altra has developed an excellent platform technology. I recommend these shoes for trail running and ultra-running.
Updates to Altra Olympus 3.0
Now on its third version, the Altra Olympus features a restructure that delivers more stability, traction, and support no matter what kind of trail surface. This neutral running shoe is built to handle long miles and daily excursions while also targeting improvements on natural foot positioning and toe splay. The Olympus 3.0 prides itself on being a versatile shoe and claims its practicality for trail running and racing, hiking, and fastpacking.
An updated upper makes the shoe more breathable and durable than the previous version. It also features the addition of mountain graphics as visual elements.
The sole unit also gets an innovative design, as both midsole and outsole now have increased flexibility, thanks to a lower stack height, added flex grooves, and deeper guide rails. The stability is also improved as the Olympus 3.0 has a broader heel compared to its predecessor.
Size and fit
The Altra Olympus 3.0 runs smaller than the standard-length scheme of running shoes; runners are recommended to purchase a half-size higher than their usual measurement. However, the width profiling of the shoe is more accommodating, as its broad midfoot and heel caters to all foot volumes. The toe box also has a high and wide structure that enables a full toe splay. The Olympus 3.0 is available in D – Medium for men and B – Medium for women.
Outsole
The outsole of the Altra Olympus 3.0 is a Vibram® MegaGrip™ compound, which is a sticky rubber that supplies an unparalleled grip on both wet and dry surfaces. The Vibram® MegaGrip™ is also well-known for its rugged longevity and optimal ground adaptability. These qualities permit the shoe to grip efficiently on the trail.
A unique tread pattern could be seen in the outsole. Called the Natural Ride System (NRS), it features the upper portion as an outline in the shape of the toes, while the lower part follows the curvature of the foot. This anatomical figure helps in maintaining proper foot mechanics and encouraging natural movement.
Midsole
Like the previous version, the Olympus 3.0 uses the brand's proprietary A-Bound midsole. This material is a dual-layer ethylene-vinyl acetate (EVA) created from recycled articles, resulting in a resilient compound that is highly resistant to tearing and other types of damages. Because of this durability, the shoe is able to bring sufficient underfoot protection.
Consistent with the Altra design is the zero-drop platform, which means the heel and forefoot have the same distance from the ground. This structure promotes a natural alignment and a low-impact landing.
The InnerFlex is a set of lightweight, grid-like flex grooves in the midsole that allows the foot to bend and move more efficiently, which results in a quicker pace and a better performance.
Upper
The upper of the Altra Olympus 3.0 is created using a quick-dry, trail-specific mesh. This unique material has enhanced durability and flexibility compared to the preceding iterations, with the aim of giving a more comfortable ride and a more natural movement.
At the lateral side of the shoe are stitched overlays that maintain the structural integrity and framework of the Olympus 3.0. These overlays also act as a support system by ensuring a secure fit. Aside from these, they also protect specific areas of the foot against possible injuries while running on the trail.
The shoe retains the 4-Point Gaiter Trap feature, which is an innovative hook-and-loop installation and is beneficial if the wearer prefers to use a gaiter. The 4-Point Gaiter Trap ensures the gaiter is seamlessly incorporated with the rest of the shoe, so that dirt and debris are effectively kept out.
Compare popularity
Interactive
Compare the popularity of another shoe to Altra Olympus 3.0:
Altra Olympus 3.0 video reviews