Skechers GOrun Ride 8 Hyper
In general, the Skechers GOrun Ride 8 Hyper has made the majority of the users satisfied and happy with its structure and performance. The shoe is considered to be light, bouncy, and protective, making it a good purchase for many. The excellent performance, quality, and lightweight structure of this running gear allow it for long, fast-paced activities.
---
Verdict from 13 experts and 100+ user reviews
7 reasons to buy
The majority of the users remark that the Skechers GOrun Ride 8 Hyper is lightweight.
Some of the wearers commented that the shoe is comfortable.
A few reviewers noted that the running footwear is well-cushioned.
Several users loved its excellent traction.
A lot of runners commend the speed offered by the GOrun Ride 8 Hyper.
Based on a review, the running shoe's upper area is soft.
The price is reasonable for the quality it provides, a buyer noted.
2 reasons not to buy
One of the users notes that the shoe is not bouncy.
The forefoot area is a bit tight for some wearers.
Bottom line
In general, the Skechers GOrun Ride 8 Hyper has made the majority of the users satisfied and happy with its structure and performance. The shoe is considered to be light, bouncy, and protective, making it a good purchase for many. The excellent performance, quality, and lightweight structure of this running gear allow it for long, fast-paced activities.
Best price from 50 shops
We earn affiliate commissions at no extra cost to you when you buy through us.
69% say it's true to size.



Our reviews
The Skechers GOrun Ride 8 Hyper is my latest addition filling my need for a little more shoe for the slower, longer runs. This is my third pair of Skechers in this category.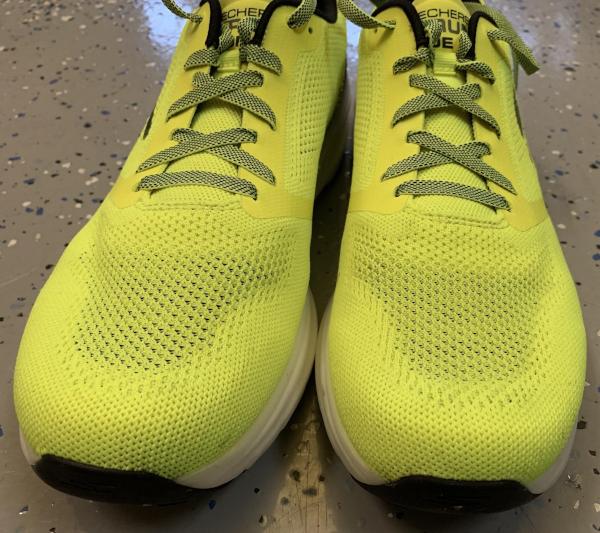 My first was the GOrun Ride 7 Nite Owl. I loved that shoe, put it through lots of miles, retired it, and have been on the hunt for similar since.
My ventures brought home a pair of GOrun 7's that I thought were the same, but they were not—not at all. No need to go into all of that as we are talking about the new guys to my runs—the 8 Hyper's!
While the Nite Owls had some built-in reflective components, I don't think these bright ones are going to need anything extra to be seen. I don't lean heavily into color and style, but I like this color!
We took our first couple of runs recently, and I am excited to be able to share my first impressions. While I typically put more miles before giving my feedback, I think first impressions will be lasting impressions for the 8 Hyper.
Right out of the drive-way, as I settled into form and stride, I was going faster than planned. I let things settle and still was pushing 30-seconds a mile or so faster than I had planned.
Hmmm…. maybe the Hypers were just showing out a little. I was a bit excited noting that I am too old to get excited about new shoes—but I slipped back a few years apparently as these gave me some warm fuzzies!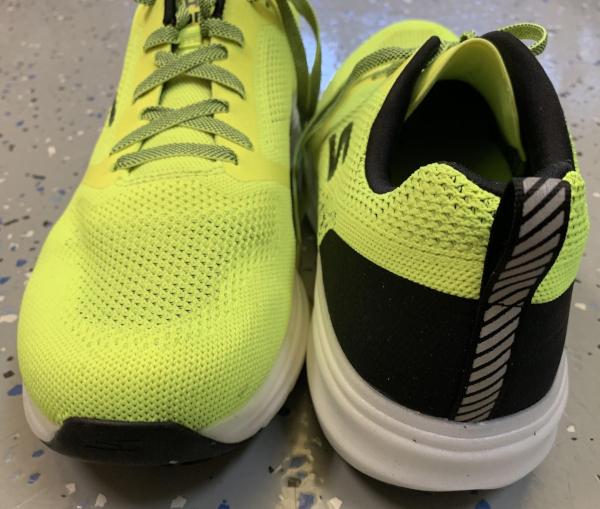 About half a mile in I noted my calves telling me that this is a different shoe than I had been wearing. So, the build is different enough from the NB 1500's and Saucony Kinvara's that my legs noticed. (And, yes, it is a different category shoe—I know, but most of my recent break-ins have not been this noticeable.)
My feet certainly noticed as there is a lot more beneath than with the two lightweights I often lace up. I am a midfoot runner for the most part. But, I could feel the heel land once in a while, so there is a pretty good build-up on the back end.
I had no issue adjusting, for the most part, noting that the midfoot land hand a sense of roll forward to it in a similar manner as my Nite Owls. This feels really good, almost propelling you forward even if just a tad.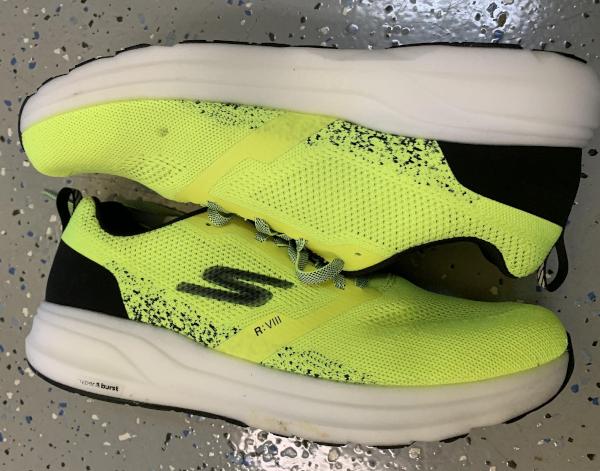 As I was running, I tried to find an analogy of where these fit in my rotation. I ended up placing them as a big motored party-barge.
You know, the boat that you can putter around the lake on. It is smooth over the waves, really stable, and just relaxing—giving no pressure to do much of anything, let alone anything extraordinary. That is my impression.
But, I have the option of kicking the throttle up on that big ole' motor making that party-barge scurry along giving a little more excitement. It has more wind in the hair, more frill, filling that need-for-speed!
The 8 Hypers can do that—bobble along and give a nice relaxing ride or kick back and make the miles click by.
I continued my run of a planned six miles and kept the pace up as it started. I recently tweaked a knee and have been nursing it, so I really thought I needed to behave.
But, I went ahead and left the throttle open for one of my better (faster) runs in a while. My legs adjusted quickly to the build, and I (re)discovered some of the qualities that I had missed since the Nite Owls retired—thank you!
The run just felt good—right, pleasant (that's a word I have not used to describe a run in a while!). I laced them up the following day for a second run. This route had some decent hills and sharp turns.
My legs were a little stiff from the day before but quickly settled in seeming to pick up where they left off the day prior. I had no hot-spots, rubs, or issues on this 9-miler. They are officially broken in and on the team!
I like to keep some heavier-built shoes in the rotation for after those runs where my legs and feet take a beating. I really believe these will give that relaxing ride without a lot of extra baggage.
But, I would not have a second thought on lacing them up for the longer hauls just the same as the short runs.
The sole is not noticeable on the 8 Hyper like some (GOrun 7's). As mentioned, there seems to be a bit of a build-up in the midfoot though not awkward.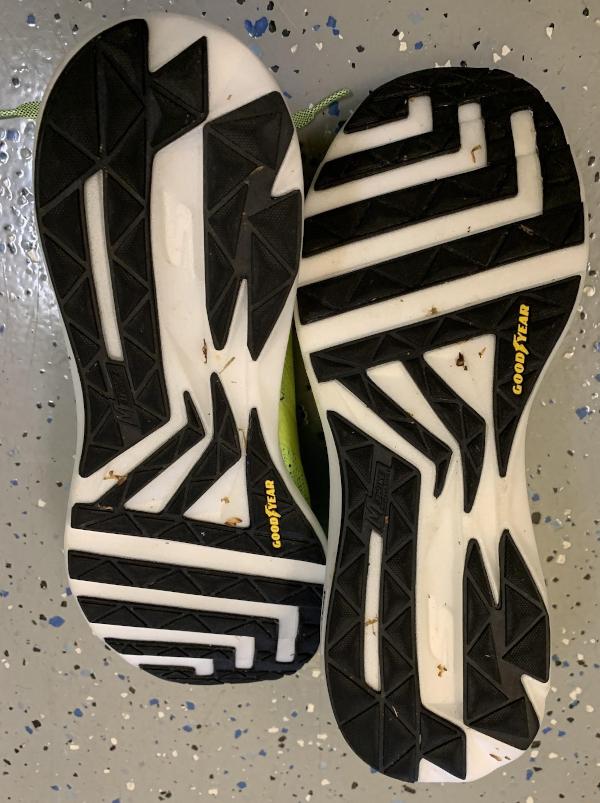 The pavement was wet in areas both runs, and I did slip just a little. It could be that the "Goodyears" on the bottom are simply really hard rubber.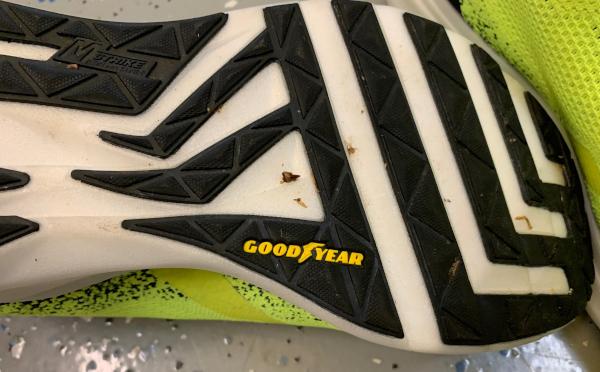 I had no issues of slipping too much though I did notice—perhaps I was intentionally testing as it was their first couple times out. I am not going to fault them here just noting.
On the top side of things, the uppers seem to have plenty of ventilation. The tongue is a rubber-like material that forms well around the top of the foot.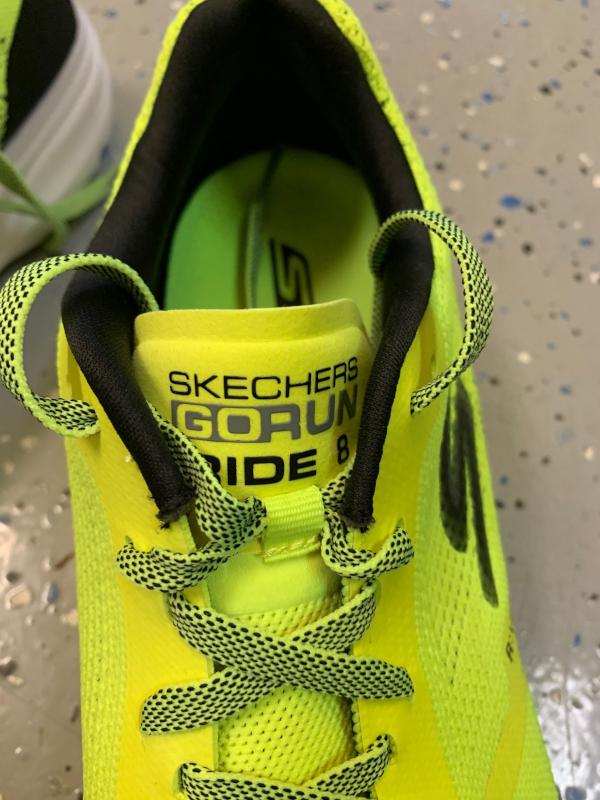 Skechers have decent weight insoles that don't overdo in any department. I have had issues with shoes being a bit too narrow though these seem to give ample room in the toe box.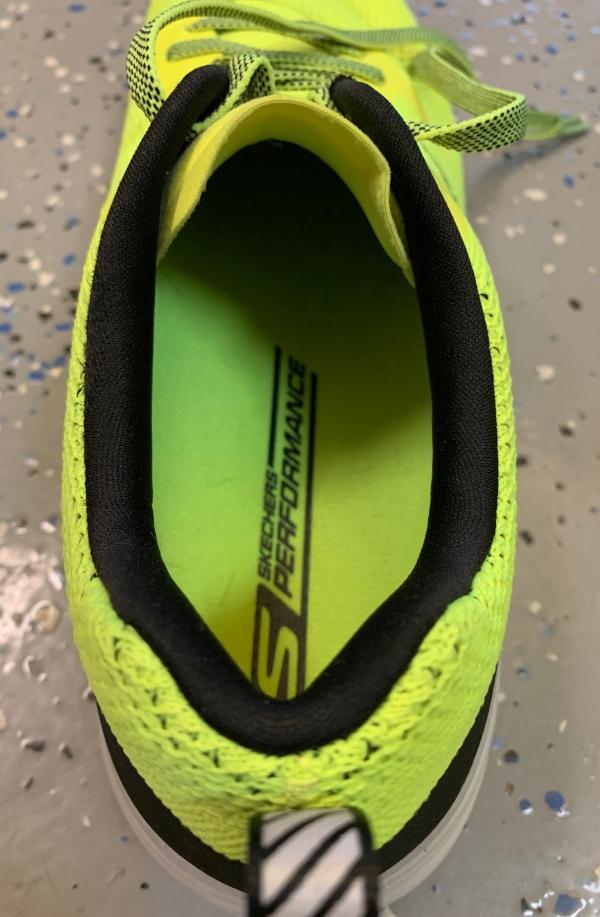 I had no sensation from the back of the shoe with no rubbing or movement in the heel area. So, to me, these are well rounded.
I wish I didn't spend so much time looking for that perfect shoe. I think I could be very happy with this one and future generations. I am glad I went back after a not so great experience with my 7's.
I think (it turns out) that there are some major differences in Skechers shoes though their names seem very, very similar.
The Skechers GOrun Ride 8 Hyper is a good lightweight trainer great for higher miles but can hold its own in a sprint just the same. I can bobble around and relax or hit the gas and fly, again and again.
It took 8 iterations of the GOrun Ride at countless videos until I finally decided it is time to get a Skechers and jump on the hype train of the HyperBurst midsole material.
It is not even that easy to get your hands on the newest Skechers models in Germany since not even the official Skechers Europe store offers them. However, here we go with a review for Skechers' daily trainer - the GOrun Ride 8 Hyper!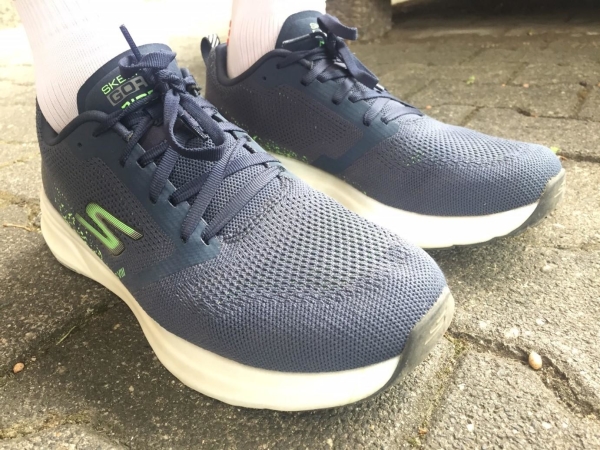 Specs
Specs are a bit controversial - I did not measure myself but Running Warehouse claims:
Stack height: 30 mm heel / 24 mm forefoot (6 mm drop) vs. Skechers (33 mm heel / 27 mm forefoot)
Weight: 286 g / 10.09 oz in EU 44 / US 10.5
Note on EU/US sizing: Normally I wear a 44 2/3 or 44.5 in my shoes which transitions to 10.5 US, the Skechers Go Run Ride 8 Hyper.
However, is a 44 EU and a 10.5 US, which can be a bit confusing. For instance, Altra and Hoka sizing for my shoes are 44.5 EU = 10.5 US, Skechers and Reebok are 44 EU = 10.5 US.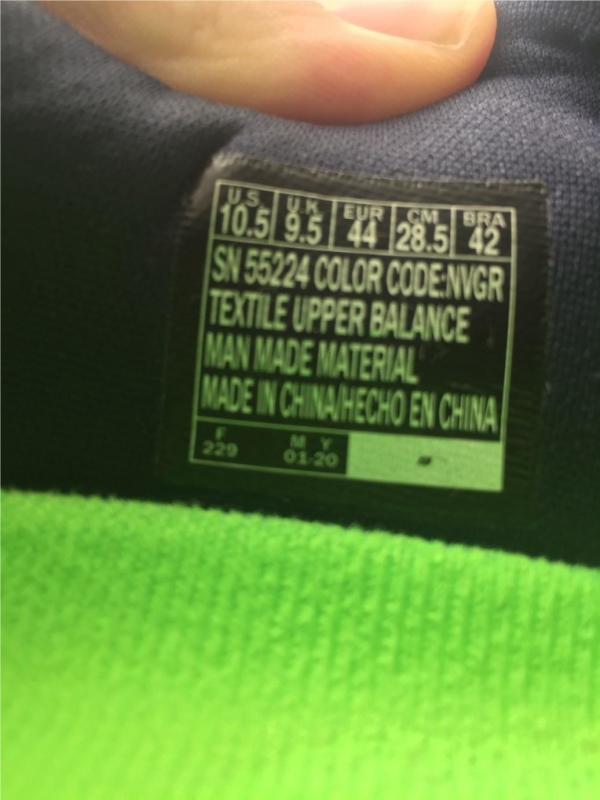 First impressions
The step-in feel of the GOrun Ride 8 was incredible. The fit is true to size (stick with the US size to avoid mistakes) and spot-on.
My feet felt well-secured without any rubbing or hidden sews/stitches to cause problems.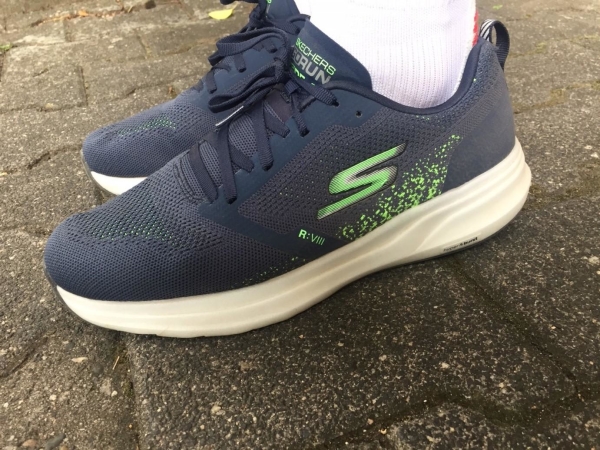 The padding in the shoe does not look like much but they feel very comfortable and offer the right balance between well-secured-snug and roomy-comfy for longer efforts.
Aesthetically I think the shoe is fine. Nothing major to report here, just a solid design for a daily trainer.
The tongue is not really gusseted. But since the midfoot lockdown is pretty good, I had no issues with the tongue sliding from left to right during the run.
This is supported in the lacing system since the lace-tongue-attachment is high up, the tongue is prevented from shifting.
In fact, the lockdown is that good, I did not even need to tie the laces with the additional hole up top. Leading to just the right length of laces, not too long or too short, just how they should be.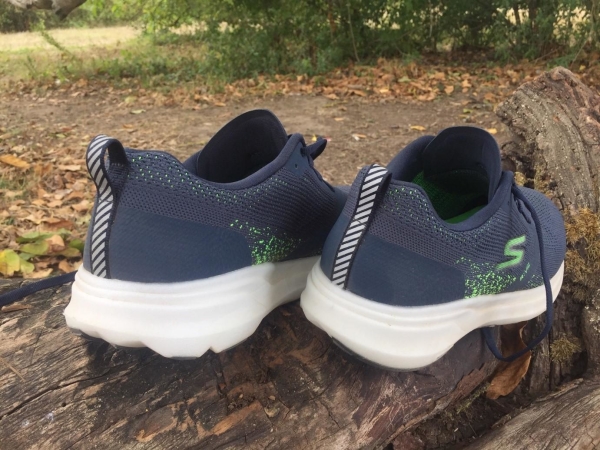 The upper
It is an engineered knit upper which is comparably thick, adding to the comfort of the shoe and allowing to accommodate more foot types. The upper is a little stretchy and there are no unnecessary overlays.
However, breathability is kind of limited, which is often the case with knitted uppers. At the heel is a nice pull tab.
Overall, they did not overthink the upper, which is a good thing. It is straightforward without any negative surprises.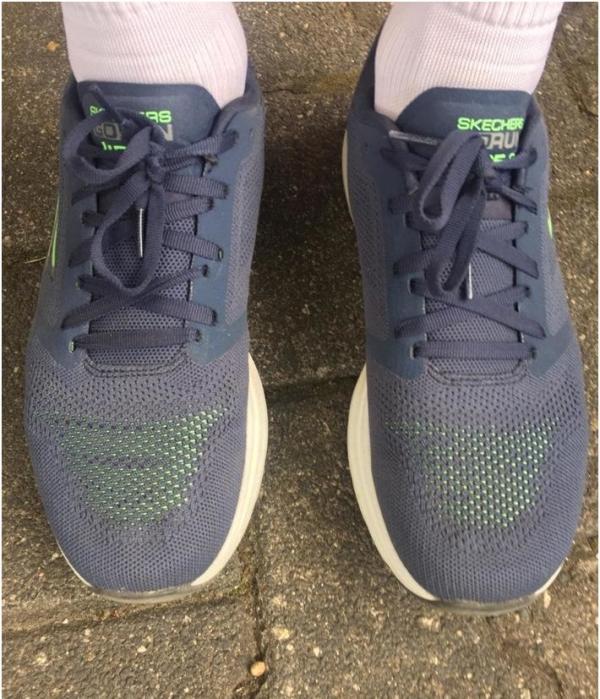 The outsole
Since this version, Skechers uses Goodyear rubber, which is supposed to increase traction and durability. The rubber is placed systematically with the intention to provide more flexibility through the gait cycle.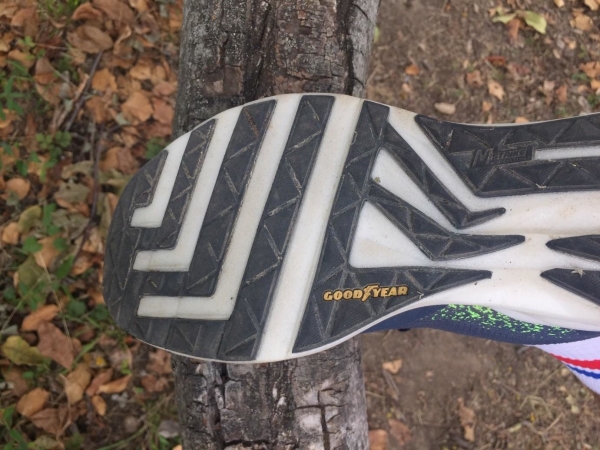 So far, the outsole is holding up well, and wear and tear are minimal and only visible at the lateral side - rearfoot.
Maybe durability is not as good as with a full rubber outsole, but I guess it will hold up long enough to enjoy the shoe several hundred kilometers.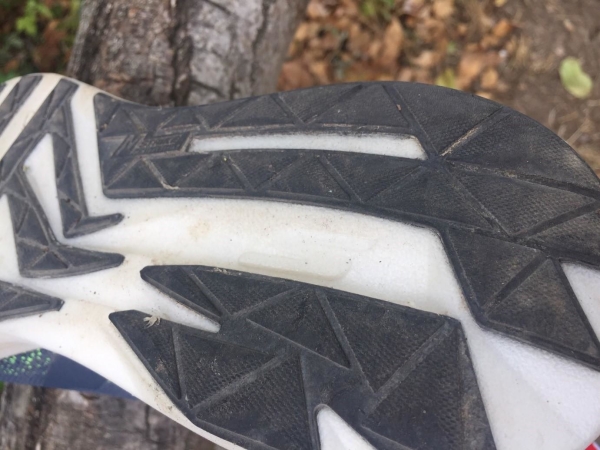 The midsole
Here comes the star of the shoe. The midsole technology Skechers is using is a real gem.
Hyper Burst is not like the typical EVA slab you know from other running shoes. Instead, the midsole foam is created using a highly critical process.
Meaning the EVA is expanded with CO2 and Nitrogen, which leads to a lightweight yet cushioned bouncy feeling. If you never felt Hyper Burst before, it kind of reminds me of the soft Hoka cushioning, just with a little bit more pop.
So far, I really enjoyed the Hyper Burst midsole. Additionally, it really is the feature that brought me to Skechers, and I still was surprised just how good it finally felt underfoot.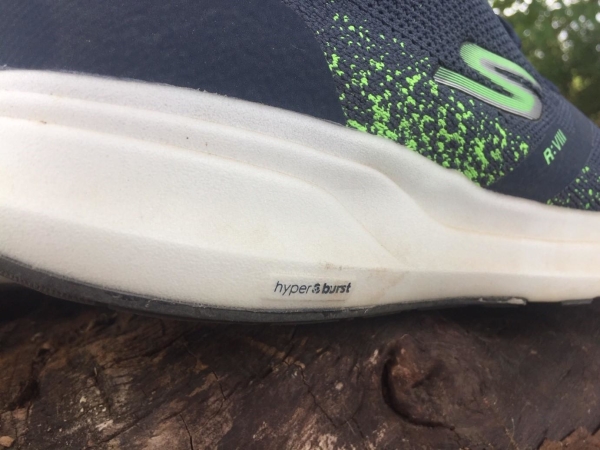 Performance
At the end of the (running) day, it all comes down to the ride of the shoe and its performance on the road (or trails). No matter what technology you put in, the whole shoe should be balanced to create a comprehensive enjoyable running experience.
What can I say? Skechers really put together an incredible shoe. The upper and cushioning is comfortable, yet well secured.
The traction and durability of the outsole are great. And the midsole is a wonderful balance of bouncy cushioning with just the right amount of responsiveness without feeling sloppy or mushy.
The ride really reminded me a lot of Hoka One One shoes. The cushioning, the M-Strike, the bounciness; it all fits well together.
For the ride, I think the shoe performs best in easy to medium effort runs. I also used it for fartlek sessions, but they feel most at home if you are just cruising along without stressing and pressuring yourself too much.
Running just feels easy and comfortable in these shoes. I really am pleasantly surprised by this shoe and its technology and Skechers as a brand to put out high-quality running shoes along with all the other shoes of the company.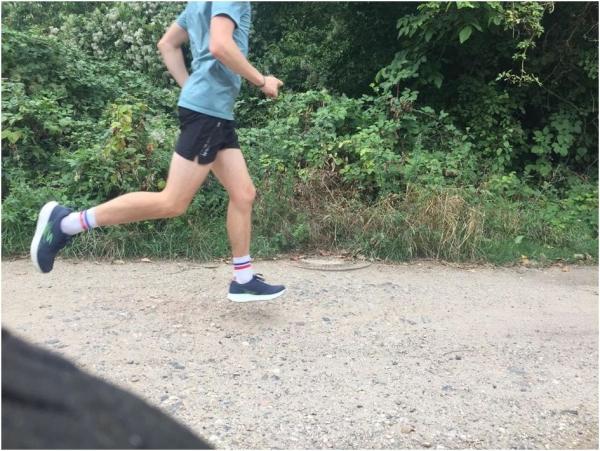 Dislikes
I am really struggling to find something to report here. I think the only issue I am having with this shoe is the breathability of the upper.
Moreover, I did not test these shoes in the rain, but I would expect them to soak water like a sponge and maybe traction will decrease. So maybe this is the only downside.
On the contrary, I like the comfy upper - so I think you can not have everything in just a single shoe and to be honest, most of us prefer good weather anyway!
Final thoughts
Skechers is now officially on my radar and I bet this will not be my last pair of Hyper Burst shoes I purchased.
For me, this shoe is a wonderful, well balanced daily trainer. Besides, I think for people who only use 1 pair of shoes, this could be it. You can take them for long runs, easy runs, and up-tempo workouts.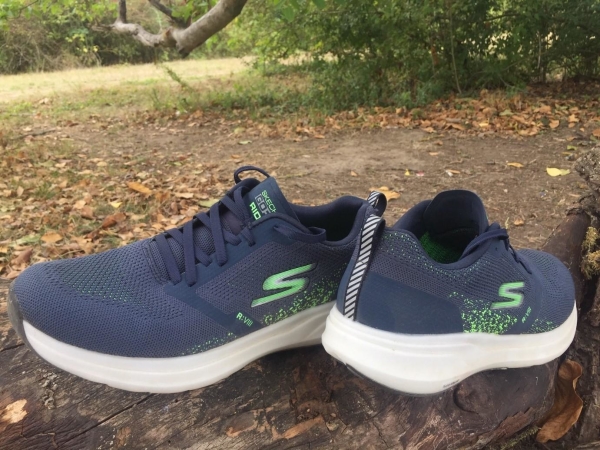 They are lightweight, well-cushioned, yet responsive. They just offer the whole package and all that for a more than reasonable price.
If you still doubt Skechers, let me assure you, Hyper Burst is one of the top foams out there. So, if you can find them - grab a pair and jump on the Hype-Train!
Updates to Skechers GOrun Ride 8 Hyper
The Skechers GOrun Ride 8 Hyper, a road running shoe, is strategically designed for those who have neutral foot mechanisms. The shoe utilizes the upgraded knit upper. Skechers structured it in this way to provide better comfort in the forefoot area. It is also updated to deliver a lockdown fit in the midfoot area.
It features the lighter midsole called the HYPER BURST. This material is described to be bouncier when compared to its predecessor. With the use of this midsole technology, the shoe becomes more durable and responsive. With this upgrade, users can expect to be more efficient in tackling fast and slow short and long-distance runs.
The running shoe makes use of the Goodyear tire in the outsole area. The primary goal of which is to provide the right amount of grip needed in starting and finishing the running activity.
Size and fit
The shoe offers a customized and adaptable fit with the utilization of the stretchable knit upper. Along with the knit coverage is the asymmetrical gusseted tongue that promotes a more secure and lockdown fit.
Outsole
Goodyear rubber is integrated into the Skechers GOrun Ride 8 Hyper. This material aims to increase the durability of the platform. It also provides the right amount of underfoot grip, which is essential in a smoother heel-to-toe transition. The GOrun Ride 8 Hyper is one of few shoes that use a unique outsole material; another is the Saucony Peregrine 8 that uses their PWRTRAC outsole.
Midsole
Utilized in crafting the running shoe is the HYPER BURST cushioning. This midsole foam is described as an ultra-light cushioning system. The primary focus of this is to deliver a more responsive ride without compromising the amount of protection it provides to the foot. The "Super Critical" process used in making the midsole utilizes a resilient and lightweight material that adds to the durability and responsiveness of the shoe. 
Along with the HYPER BURST midsole is the M-Strike technology. This detail of the shoe is essential in promoting a more efficient midfoot stride. As a result, the user's running mechanics are improved. 
Upper
Used in making the running footwear is the breathable engineered two-toned knit upper. This stretchable material is focused on adapting to the natural movements of the foot. 
The reflective pull tab is integrated into the shoe. Skechers added this feature for easier on and off. 
With the utilization of the asymmetrical gusseted tongue, a snugger and more comfortable fit along the midfoot area is delivered.
The shoe uses the removable insole. This component of the Skechers GOrun Ride 8 Hyper encourages a customized fit. This is significant in preventing possible shoe removal during the run.
Integrated into the running shoe is a lace-up front. Along with this is the nearly weightless reinforced eyelets. This feature of the shoe adds to a more secure fit.
Rankings
How Skechers GOrun Ride 8 Hyper ranks compared to all other shoes
Popularity
The current trend of Skechers GOrun Ride 8 Hyper.