The Salomon X Ultra 3 is an excellent shoe for any short to medium hikes on technical terrains. It provides great stability and ample protection for the feet. It has superb traction on all surfaces and does not disappoint even on wet surfaces. It is reliably robust, as, after 400 km, it barely has any sign of use. However, it is not for the long-distance hikes in my opinion, as it does not have enough cushioning and provides way too much ground feel, which can be annoying to people with more sensitive feet.
Pros
Great stability
Protective
Traction
Very durable
Quicklace
Cons
A bit (too) warm
Not enough padding on a harder surface
Too much ground feel
Salomon X Ultra 3 review
I have always been a big fan of Salomon shoes for hiking, and the Salomon X Ultra 3 did not disappoint either.
Even though I do have somewhat mixed feelings regarding the midsole, this shoe has been my go-to shoe for short to medium day hikes in the Alps for the past two years in all weather conditions due to its versatility and reliability.
My review will be based on about 400 km hiking in it with a lot of elevation gain and loss.
Who should buy the X Ultra 3
Salomon X Ultra 3 is a day-hike shoe meant for more technical trails for any level of hikers. Due to the durable Contagrip outsole, it can be used on asphalt or pebbled roads.
But, I would not recommend doing so because it does not have enough cushioning for longer hikes on harder surfaces.
Fit and construction
I am 180 cm high and 70 kg, and my normal shoe size is 42-42.5. I purchased a size 42 from this shoe, and it fits my feet perfectly.
My feet tend to suffer from hot spots and develop blisters relatively easily. This shoe is sadly no exception.
I account this to the fact that the upper mesh is very dense to make it water-repellent. As a result, on hotter days, the shoe does not ventilate sufficiently.
On the positive side, the shoe stands out with its stability and protective features:
Just above the midsole, it has a thin but strong "chassis" that envelops the feet and provides lateral stability. This works very well, in my opinion.
In the middle of the shoe, from the midsole to the top, the "Sensifit" construction provides excellent stability and protection. It envelops the feet nicely when the shoe is tied and gives a very nice and snug fit.
The toe area has a protective cap against kicking into rocks or roots, needless to mention how crucial this is for a hiking shoe.
Use and durability of X Ultra 3
I performed the following activities in the Salomon X Ultra 3:
100 km in 24h endurance hike (on mainly flat hard surfaces)
1 x 40 km hike with 2000 m elevation gain/loss on a very technical trail (Zugspitze in Germany)
Many < 30 km long hikes with < 1500 m elevation gain/loss on technical trails
The following picture shows the outsole of the shoe after 400 km. I believe it looks pretty much as when they were new (except for the dirt, sorry about that), perhaps a small decrease in lug height.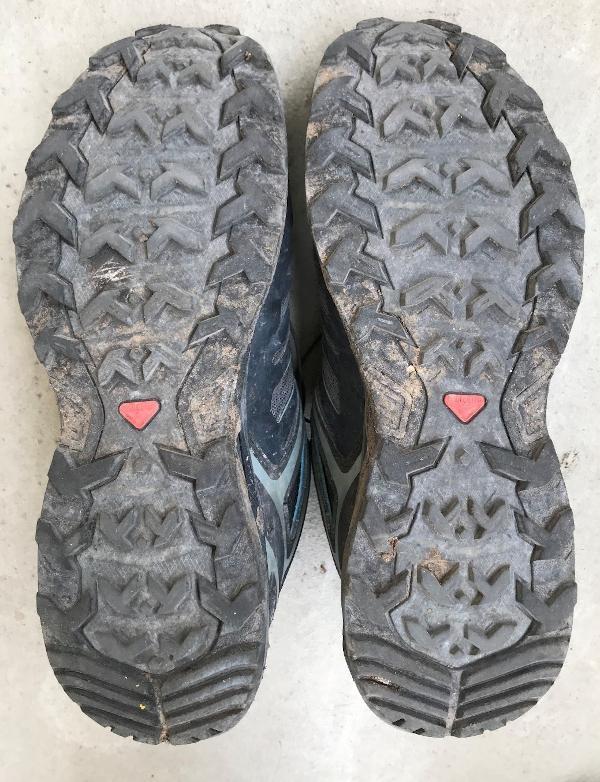 Trail shoes are generally hardwearing. I put nearly 1000 km in my previous Salomon hiking shoe before the treads were consumed. So, I am certain that this shoe will also go a lot longer than this meager 400 km.
It might be worthy to note, though, that Salomon shoes usually provide a ground feel. For a long time, I was really annoyed that my feet got sensitive after 15 km, and I started to feel every tiny piece of rock under my feet.
It turns out that this design feature is intentional. Regardless, it might not be a good thing for everyone.
The upper has no sign of wear here either. This is no surprise as it's made of synthetic materials that are very durable.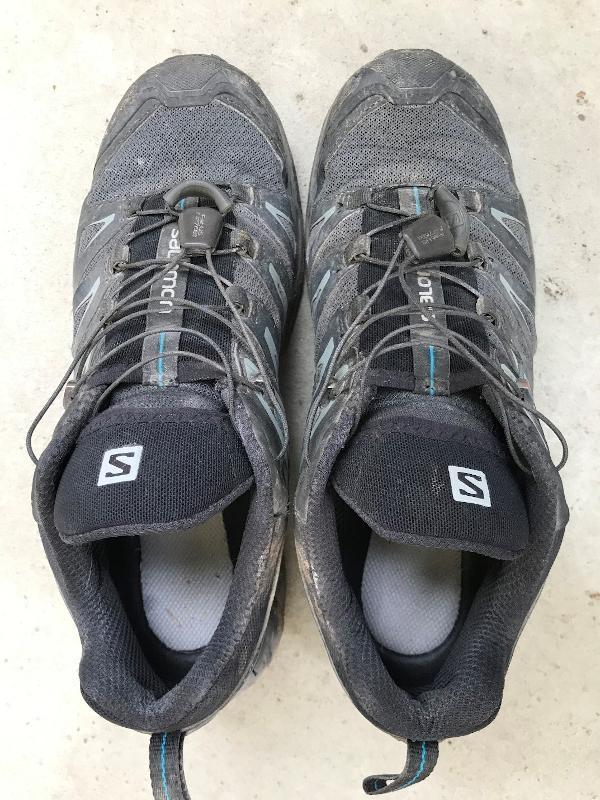 It uses the typical Quicklace system of Salomon, which allows very fast and secure locking. I personally really like it for three reasons:
It is much faster to take the shoes on and off.
It is more secure than normal laces because it never loosens.
With the laces tucked away in the designed pocket, the shoe looks sleek.
Finally, the midsole, where my main issues with the shoe are. Salomon is using an EVA foam for attenuation, and a removable Ortholite insole for further padding.
I find this combination not enough in case of longer hikes. On my first 100 km hike, I went through hell because the lack of attenuation completely utterly destroyed the bottom of my feet.
It felt like I was walking on broken eggshells, i.e. my body did not want to take any more steps due to the pain that was coming up with them.
I eventually had to stop my suffering after 80 km, even though my muscles were not yet exhausted, my feet couldn't take the pain anymore.
Surely enough, I was a newbie to long-distance endurance events at that time, but the name "Ultra" gave me the idea that the shoe would work well with ultra-distances.
I also had countless blisters, but one might say that blisters might be expected on such a long hike anyway.