Verdict from 6 experts and +100 user reviews
9 reasons to buy
Numerous users, which include a seasoned footwear reviewer, were completely mesmerized by this hiking shoe's grip performance—especially on smooth surfaces.
According to many wearers, the Salomon X Ultra 3 epitomizes comfort, and an expert blogger couldn't agree more.
Based on a handful of reviews, this hiking shoe delivers when it comes to durability.
For some hikers, the X Ultra 3 has an impressive level of ground stability.
This Salomon footwear received great remarks from a couple of users for its true-to-size fit.
Shoe critics (one of them a YouTube vlogger) simply couldn't deny the exceptional lightness of the third Salomon X Ultra.
The shoe's toe box space is satisfyingly roomy, according to a small number of hikers.
A couple of expert reviewers commended the X Ultra 3's highly protective toe cap.
After using the shoe for a considerable amount of time, one professional gear tester reported that he didn't get any blisters at all.
1 reasons not to buy
Despite the convenience offered by the shoe's quick lacing system, a hiking footwear pundit quickly wrote it off as very counterproductive. He said his last trip saw him retightening the laces (cords) almost half of the time.
Bottom line
Salomon yet again sets the bar high for its competitors with this shoe. A hiker from their X-Ultra collection, it is a scene-stealing piece largely thanks to its overwhelming amounts of comfort and lightness. It is well loved for its durability, and the same can be said of its relentless surface traction. Were it not for a reputable reviewer lambasting its speed laces for forcing him to reconfigure them one too many times, this shoe would've qualified for sheer perfection. Overall, the third generation X Ultra hits the mark with its noteworthy set of features.
Tip: see the best hiking shoes.
Our reviews
I have always been a big fan of Salomon shoes for hiking, and the Salomon X Ultra 3 did not disappoint either.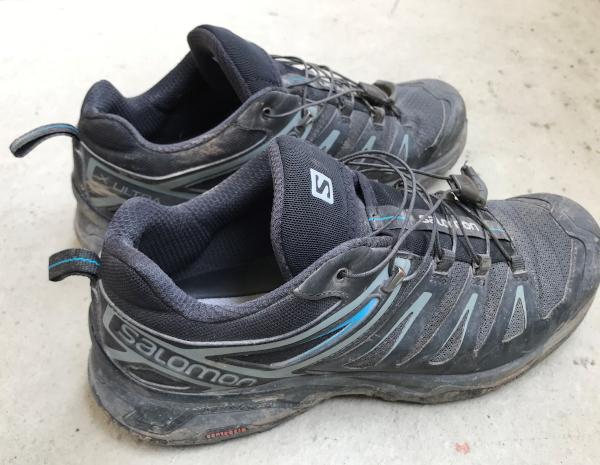 Even though I do have somewhat mixed feelings regarding the midsole, this shoe has been my go-to shoe for short to medium day hikes in the Alps for the past two years in all weather conditions due to its versatility and reliability.
My review will be based on about 400 km hiking in it with a lot of elevation gain and loss.
For what use would I recommend this shoe?
Salomon X Ultra 3 is a day-hike shoe meant for more technical trails for any level of hikers. Due to the durable Contagrip outsole, it can be used on asphalt or pebbled road.
But, I would not recommend doing so because it does not have enough cushioning for longer hikes on harder surfaces.
Fit and construction
I am 180 cm high and 70 kg, and my normal shoe size is 42-42.5. I purchased a size 42 from this shoe, and it fits my feet perfectly.
My feet tend to suffer from hot spots and develop blisters relatively easily. This shoe is sadly no exception.
I account this to the fact that the upper mesh is very dense to make it water repellent. As a result, on hotter days, the shoe does not ventilate sufficiently.
On the positive side, the shoe stands out with its stability and protective features:
Just above the midsole, it has a thin but strong "chassis" that envelops the feet and provides lateral stability. This works very well, in my opinion.
In the middle of the shoe, from the midsole to the top, the "Sensifit" construction provides excellent stability and protection. It envelops the feet nicely when the shoe is tied and gives a very nice and snug fit.
The toe area has a protective cap against kicking into rocks or roots, needless to mention how crucial this is for a hiking shoe.
Use and durability
I performed the following activities in the Salomon X Ultra 3:
100 km in 24h endurance hike (on mainly flat hard surfaces)
1 x 40 km hike with 2000 m elevation gain/loss on a very technical trail (Zugspitze in Germany)
Many < 30 km long hikes with < 1500 m elevation gain/loss on technical trails
The following picture shows the outsole of the shoe after 400 km. I believe it looks pretty much as when they were new (except for the dirt, sorry about that), perhaps a small decrease in lug height.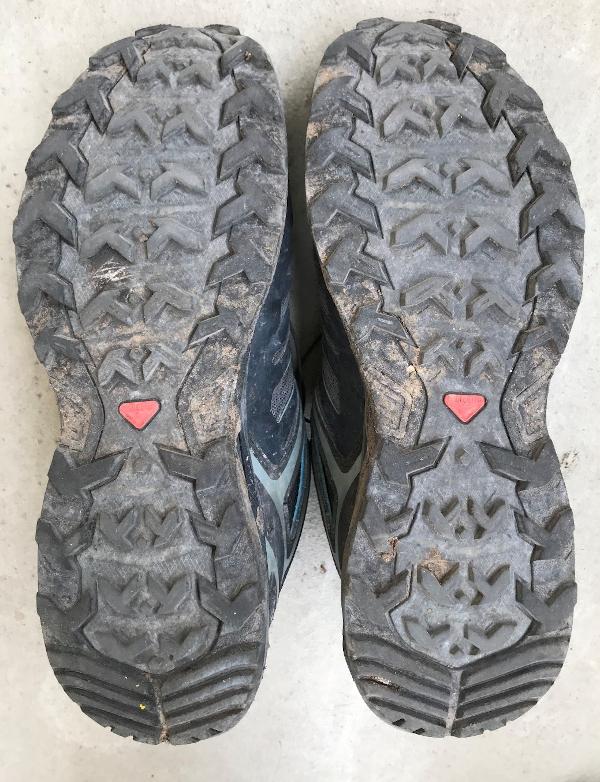 Trail shoes are really designed to last. I put nearly 1000 km in my previous Salomon hiking shoe before the threads were consumed. So, I am certain that this shoe will also go a lot longer than this meager 400 km.
It might be worthy to note, though, that Salomon tends to make shoes that provide ground feel. For a long time, I was really annoyed that my feet got sensitive after 15 km, and I started to feel every tiny piece of rock under my feet.
It turns out, this is a design feature, which Salomon aims to have. Regardless, it might not be a good thing for everyone.
The upper has no sign of wear here either. This is no surprise as it's made of synthetic materials that are very durable.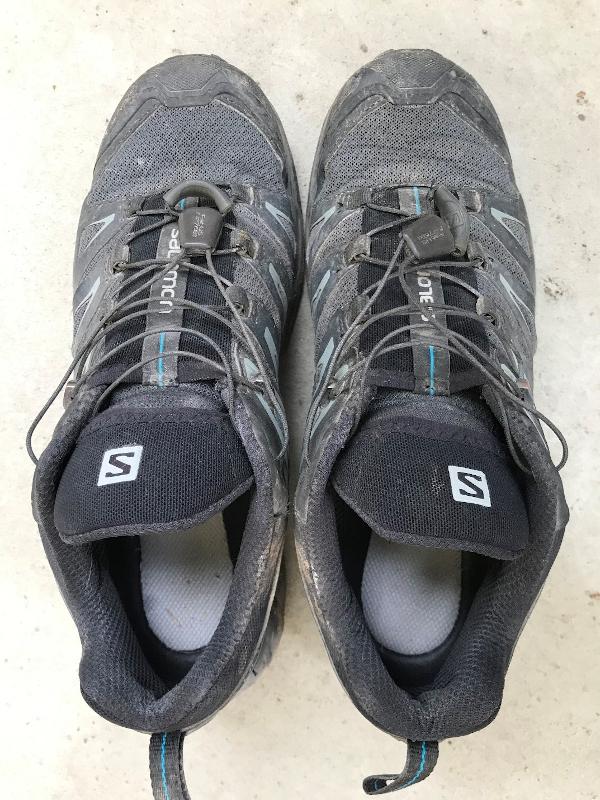 It uses the typical Quicklace system of Salomon, which allows very fast and secure locking. I personally really like it for three reasons:
It is much faster to take the shoes on and off.
It is more secure than normal laces because it never loosens.
With the laces tucked away in the designed pocket, the shoe looks sleek.
Finally, the midsole, where my main issues with the shoe are. Salomon is using an EVA foam for attenuation, and a removable Ortholite insole for further padding.
I find this combination not enough in case of longer hikes. On my first 100 km hike, I went through hell because of the lack of attenuation completely utterly destroyed the bottom of my feet.
It felt like I am walking on broken eggshells, i.e. my body did not want to take any more step due to the pain that was coming up with them.
I eventually had to stop my suffering after 80 km, even though my muscles were not yet exhausted, but my feet couldn't take the pain anymore.
Surely enough, I was a newbie to long-distance endurance events at that time, but the name "Ultra" gave me the idea that the shoe will work well with ultra-distances.
I also had countless blisters, but one might say that blisters might be expected on such a long hike anyways.
Summary
Salomon X Ultra 3 is an excellent shoe for any short to medium hikes on technical terrains. It provides great stability and ample protection for the feet.
It has superb traction on all surfaces and does not disappoint even on wet surfaces. It is built to last, as after 400 km, it barely has any sign of use.
However, it is not for the long-distance hikes in my opinion, as it does not have enough cushioning and provides way too much ground feel, which can be annoying to people with more sensitive feet.
Furthermore, it is somewhat warm (especially the GTX version with Gore-Tex membrane). And, for those more sensitive to blisters, this shoe might not be the best choice.
Pros
Great stability, protection, and traction on all kinds of surfaces
Highly durable, great build quality, this shoe is built to last
Cons
A bit (too) warm, which may result in hotspots and blisters
Not enough padding on a harder surface
Ground feel might not be for everyone
Good to know
The Salomon X Ultra 3 bathes in the glory of its predecessor—the X Ultra 2—for possessing the features that made its older sibling great but with some welcome improvements. It is still a lightweight hiker thanks to its synthetic mesh upper. However, its stitched-on overlay covers slightly more upper area than the previous version. The engineers also found a way to make this shoe about 30 g lighter (a pair) than the X Ultra 2.
Lacing up with the X Ultra 3 is as speedy as before since it keeps the same Quicklace closure system that the second generation X Ultra had. This time, however, it features an additional pair of eyelets right at the collar line.
When it comes to cushioning, the shoe is given an EVA midsole. This cushy, shock-absorbing component is imbued with Salomon's Advanced Chassis—a brace that maximizes mobility and makes every step responsive.
Salomon's own outsole technology, the Contagrip, makes a triumphant return in the X Ultra 3. While its surface retains the multi-directional lugs that graced the outsole of the X Ultra 2, its heel part is now engineered with Descent Control technology—a feature the previous model lacked. As its name suggests, this technology gives wearers more control and secure footing while going down slippery slopes.
The Salomon X Ultra 3 is a hiking shoe catering to both male and female outdoor enthusiasts. Custom fit is primarily provided by the Quickfit lacing system. Its fifth and top-most pair of eyelets gives wearers extra lockdown security. Also, this proprietary closure system works in conjunction with yet another Salomon-owned tech called the Sensifit. This technology is embodied in the shoe's overlay which grips the upper as more lace pressure is applied.
Contagrip, Salomon's in-house outsole technology, supplies the X Ultra 3 with its much-needed traction. This outsole, which is a mixture of several compounds, is engineered to have zonal densities. The outer edges of the outsole are engineered to have a higher density to withstand wear and tear. The central zone of both the heel and forefoot zones, on the other hand, have a lower-density makeup for enhanced traction and flexibility.
Scattered across this grippy layer are aggressive lugs shaped like caltrops. The spiky architecture of these lugs bites into various surfaces, whether uneven or level. The Descent Control feature found on the outsole's heel is comprised of gill-like ridges. Positioned and lined up at opposing angles, these ridges grant better overall maneuverability, particularly during descents.
The outsole also extends to the shoe's toe box. This inconspicuous extension both reinforces the front end of the X Ultra 3 and guards against forefoot injuries.
Serving as the wearer's primary source of cushioning and stability is the shoe's injected EVA midsole. EVA or ethylene-vinyl acetate as the base material for this component gives the Salomon X Ultra 3 a kind of midsole that can bear considerable weight and withstand rugged use. Its tapered construction—a chunky heel transitioning to a slender forefoot zone—also allows for smoother foot rolls and toe offs.
Built into the shoe's midsole, specifically at the heel section, is the Salomon Advanced Chassis. This additional component doubles down on what the midsole is there for, and thus contributing to the X Ultra 3's overall stability, rebound, and shock absorption. It also gives users control when performing twisting maneuvers.
For extra underfoot comfort and support, the engineers gave this hiking shoe an Ortholite sockliner. Its cushiness is brought forth by a certain Ortholite foam while its supportive heel borders are made of EVA. Its resilient build is designed to endure stress and not wear thin over time.
With its mesh upper made of synthetic textile, the Salomon X Ultra 3 underscores lightness and breathability. It is layered with a stitched-on, synthetic coverage (overlay) for extra support and abrasion protection. The tongue and the contoured ankle collar of the shoe are padded for plush comfort. The back of the collar also has a pull tab for a speedy on and off.
Over at the shoe's toe box is a rubberized layer which, along with the encroaching front tip of the outsole, protects hikers from bumpy hazards. A similar protective coverage is also seen at the base of the shoe's heel.
Officially called Quicklace, the closure system of the X Ultra 3 uses sturdy cords for laces. They criss-cross through a combination of synthetic lace loops and plated eyelets and are secured using a clip mechanism made of a material resembling hard plastic. The remainder of the cords may also be tucked inside the shoe's lace garage—a compartment akin to a stretchy pouch that is stitched onto the upper part of the tongue.
Salomon's X Ultra 3 is also offered in a waterproof, Gore-Tex (GTX) variant.
Rankings
How Salomon X Ultra 3 ranks compared to all other shoes
Popularity
The current trend of Salomon X Ultra 3.