The Salomon X Ultra 3 GTX is the baseline for what should be expected of hiking shoes. Lightweight, waterproof, excellent grip, what's not to love? Sure it runs a bit warm, but I prefer warm and dry to wet and cold anyway.
Pros
Excellent grip
Really comfortable
Great ankle support for longer hikes
They feel lightweight
A LOT of traction
Waterproofing works
Perfect for day hiking
Ground feel
Durable
Cons
Breathability could be better
Lacing needs to be more adjustable
Salomon X Ultra 3 GTX review and lab test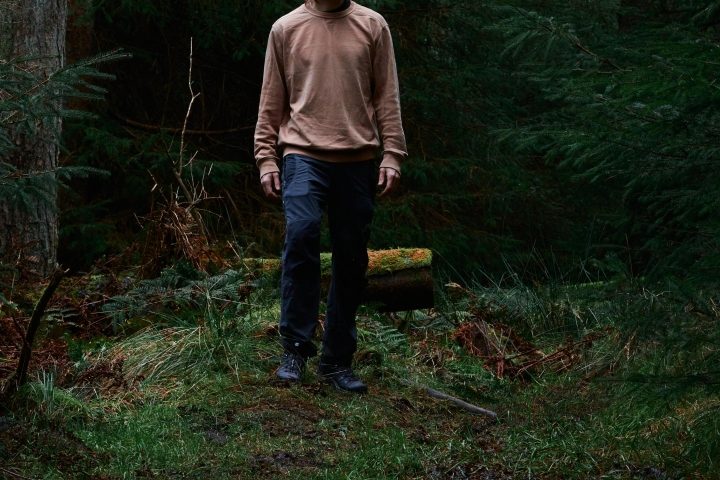 The 3rd edition of Salomon's X Ultra line of hiking shoes has kept a lot of features from previous versions, with a couple of noticeable differences. For a more lightweight and breathable version, the Salomon X Ultra 3 is another excellent option, just missing the waterproofing.
Who the hiking shoe is for
The Salomon X Ultra 3 GTX is a perfect shoe for day hiking and even multi-day hiking if you're confident. With a lightweight construction, excellent support, and solid traction this hiking shoe feels like a boot.
Who the Salomon X Ultra 3 GTX is not for
There's probably a better option out there for you if:
You need something really breathable, the newer Salomon X Ultra 4
You want something similar in performance yet with the regular lacing - then have a look at the Merrell Moab 3 GTX.
The Salomon X Ultra 3 GTX is a reasonable weight
If you're considering jumping into hiking shoes rather than hiking boots then you're in luck. The energy you save on a lighter pair of shoes is amazing (those ounces add up when you're taken tens of thousands of steps in a day!).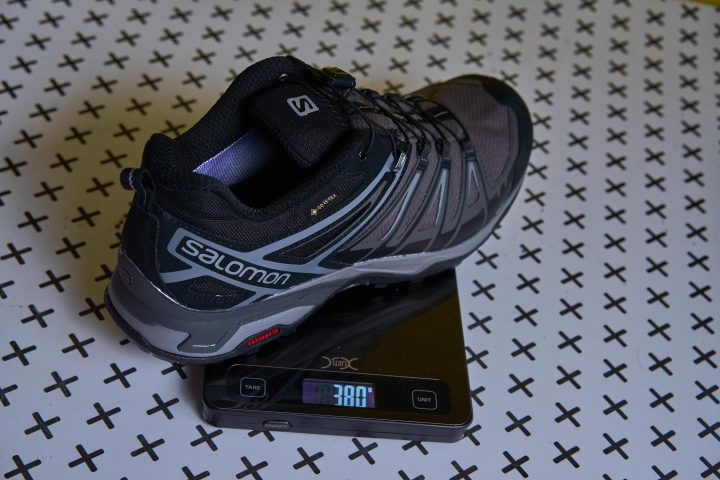 The Salomon X Ultra 3 GTX weighs in at 13.4oz (380g) in US Men's 10. This is pretty average for hiking shoes, but much lighter than boots.
A comfortable, controlled midsole
The Salomon X Ultra 3 GTX has a fantastic midsole, made of dual-density material. One softer foam and harder plastic.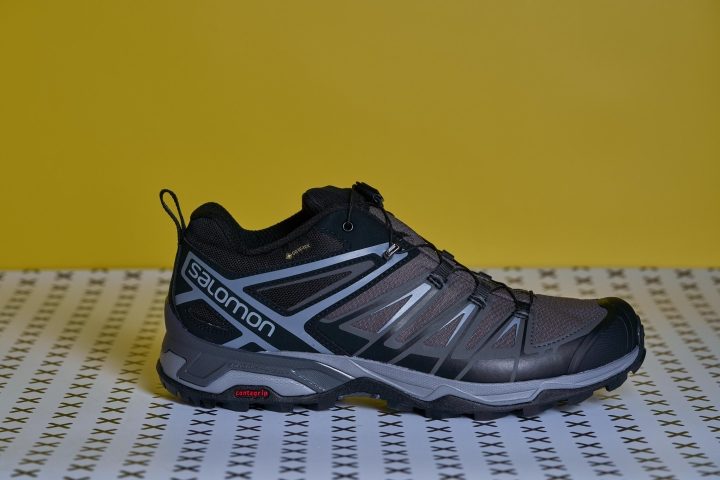 Firstly, the foam has a durometer (hardness) of 47.7HA, which is far softer than our average lab-tested hiking shoe (56.06HA). This makes for a comfortable, soft platform paired with the 7.1mm thick insole.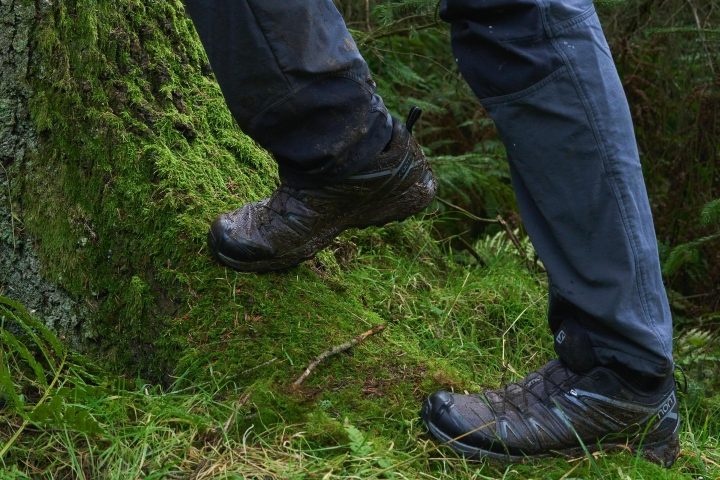 With a stack height of 19mm in the heel and 8mm in the forefoot, there's not actually that much padding underfoot, which is ideal for men. I always prefer ground feel over plushness, but if that's something you look for, maybe this isn't for you.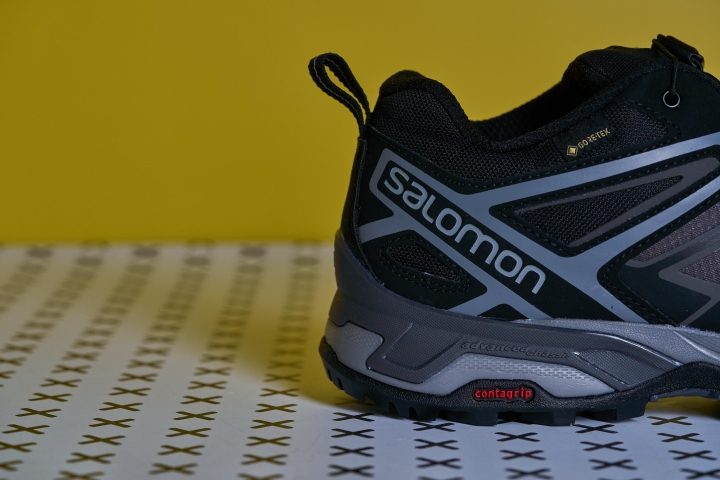 The X Ultra 3 GTX is more supportive than your normal shoe
The harder plastic of the midsole is Salomon's "Advanced Chassis" which essentially locks and heel into the shoe by connecting the lacing to a wrap-around, skeleton-like plastic.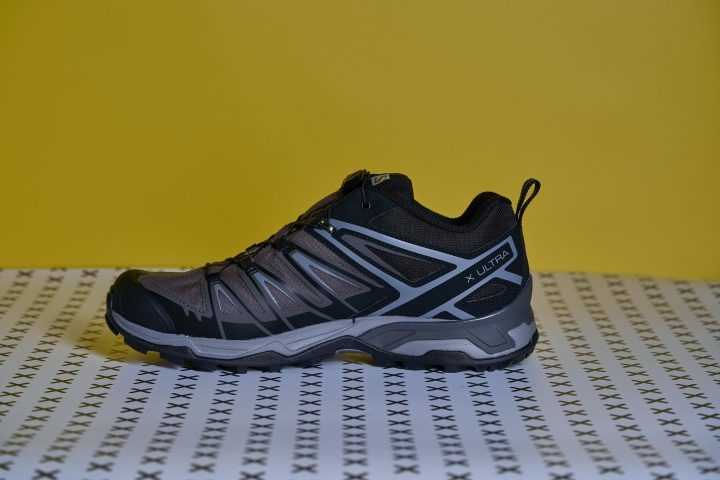 In practice, there was definitely a noticeable level of control through the ankle. This is the main reason I would still recommend these for longer hikes and you're less likely to roll your ankle thanks to this.
Salomon lacing that works well if it works for you
As I said above, the Advanced Chassis on the X Ultra 3 is excellent for support, but only if it works well with the lacing system.
I get along with the lacing on the Salomon's really well, but I have pretty normal width feet.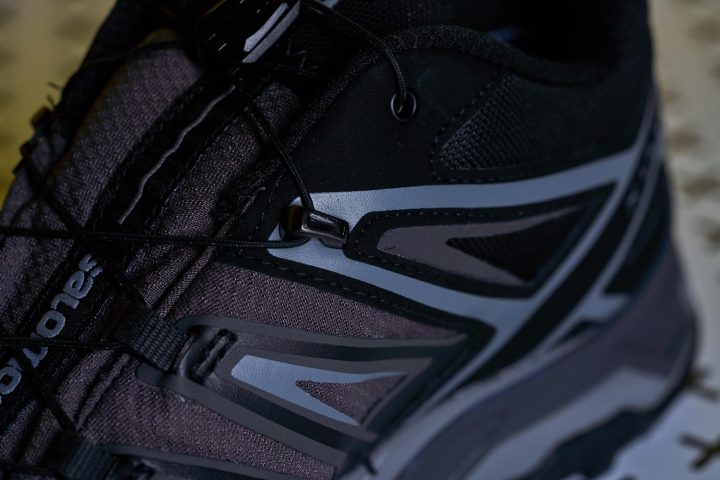 I know many users with wider feet often struggle with the quick lace system because there's no way to adjust certain parts of the shoe. For example, if you have a particularly wide midfoot, you can't loosen that part of the shoe whilst keeping the rest tight.
Very few of Salomon's hiking shoes offer normal lacing, but the X Ultra 4 Mid Gore-Tex and the Outline Prism Gore-Tex do if you want the same shoe with more ankle support or another lightweight hiking shoe.
Consistent grip
I'm incredibly impressed with Salomon's outsoles, their Contragrip tech works really well across their trail running and hiking shoes. The X Ultra 3 GTX has a rubber molded outsole that has an overall thickness of 8.85mm so it's plenty durable.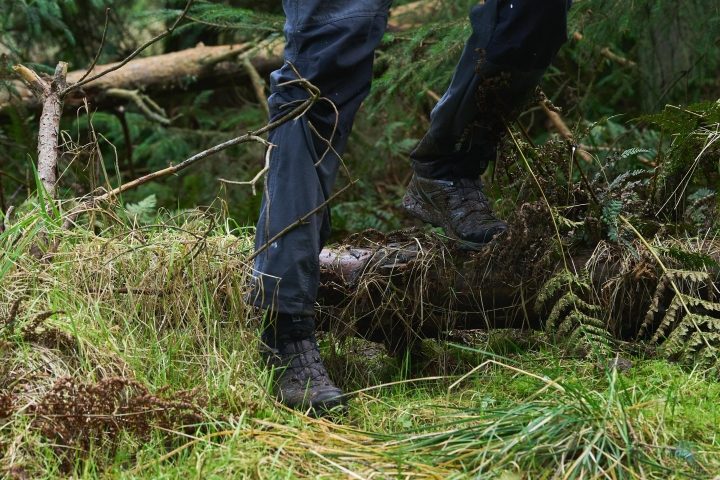 The Salomon X Ultra 3 GTX is so different. With 48 lugs at 5.83mm deep across the bottom of the sole, there's a lot of traction there.
I will say, 48 lugs is a pretty large amount of lugs, with mud likely to get caked in between in particularly bad conditions.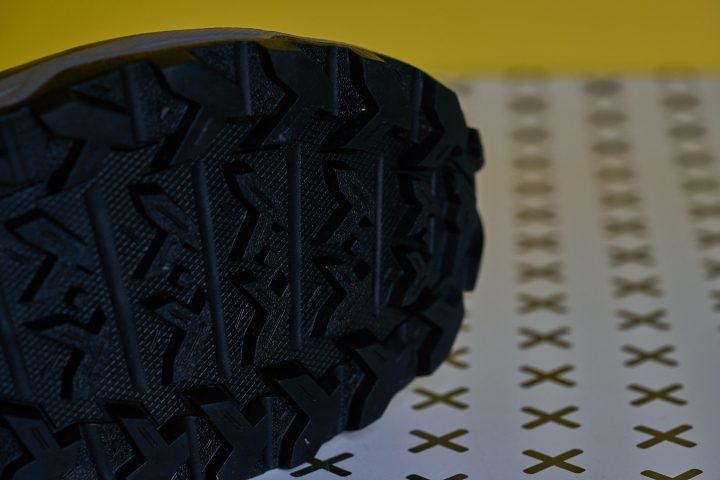 Salomon has added extra mini lugs to fill some space, but maybe for wetter ground, you may want to find something with fewer lugs.
Ample cushioning in the Salomon X Ultra 3 GTX
It's probably the reason that the X Ultra 3 GTX isn't as lightweight as other trail shoes, but these have a lot of padding. I've not really seen a trail shoe with so much cushioning in it.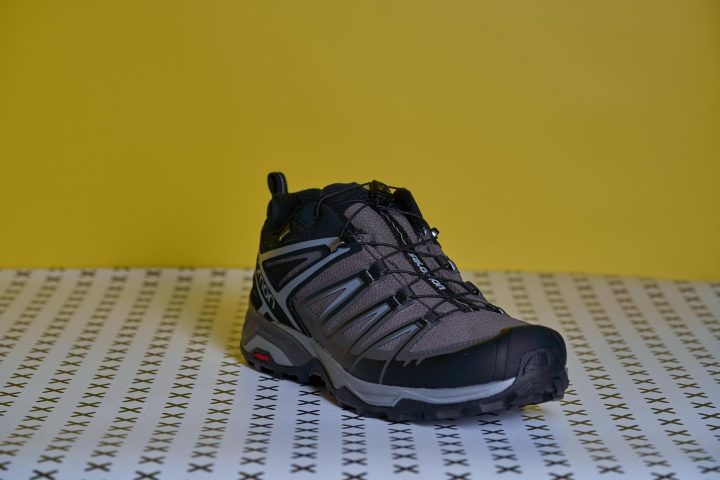 The tongue is 20.71 mm thick, you read that right, that's a number unseen since the days of Reebok Pumps and it makes for a really comfy shoe. The ankle collar is also 15.3mm thick, another huge number. All that makes for a comfy yet warm shoe. Not a complaint from me in Scotland, but it's definitely something you'll want to consider when hiking closer to the equator.
Gore-Tex is excellent (if you want it)
There's a reason most trail shoe and boot companies offer a gore-tex version and a base model. It's not for everyone. As I said, I live in Scotland and the rain is just something we live with. In a few situations, I love a pair of Gore-Tex running or hiking shoes.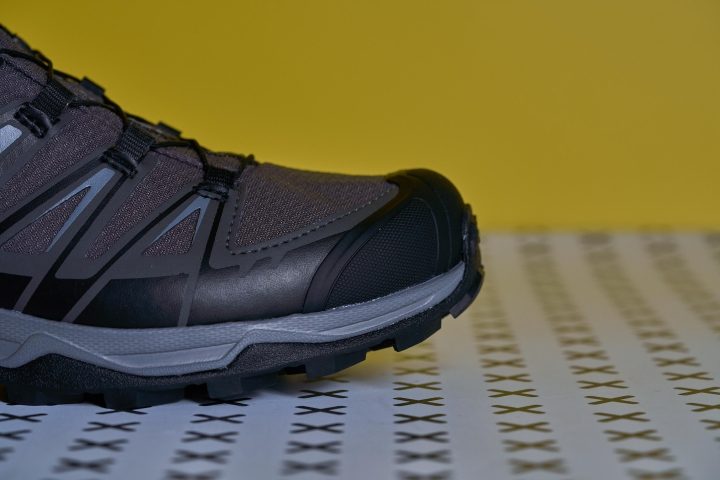 Not having to worry about shallow puddles and mud ruining my socks and giving me damp feet for my trips is great. The membrane works incredibly well to keep water out of the shoe. But there's a caveat; Gore-Tex is heavier (sometimes only slightly) and less breathable. Now the Salomon X Ultra 3 GTX is already pretty warm so I'm not sure what difference the Gore-Tex makes, but I do often prefer going without the waterproofing.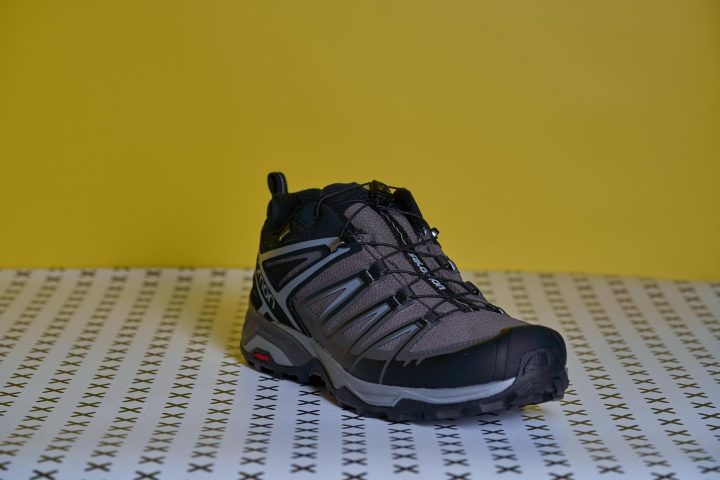 My main reason is that water has a funny way of getting into your shoe over time anyway (see canyons, riverbeds, climate change). Either through wet grass and bushes, deeper puddles or just consistent rain, more often than not you're still going to get wet feet and if your shoes aren't breathable then you're keeping wet feet.
Conclusion
The Salomon X Ultra 3 GTX is an excellent hiking shoe, I'd put it as an industry leader and probably a better all-rounder than the newer X Ultra 4 GTX. My favorite part of the shoe is the insanely good grip that helps you feel secure throughout any hike. Moreover, the well-thought-out midsole with Salomon's advanced chassis helps you stay comfortable and safe.
I'd love there to be a bit more thought to breathability and weight, but these are small things in comparison to what this shoe gets right.
Complete lab-specs overview
Salomon X Ultra 3 GTX
Whole shoe

Weight (g)

380

Drop (mm)

11

Flexibility of the shoe (N)

39.5

Flexibility of the shoe (Freezer 20 min) (N)

45.8

Flexibility of the shoe (% of change)

16.1

Lace slip test with the knot (N)

NA

Longitudinal flexibility (1-5 scale, 5 being the stiffest)

4.0

Torsional flexibility (1-5 scale, 5 being the stiffest)

4.0

Upper

Thickness - Tongue (mm)

20.7

Width Upper - Forefoot (mm)

102.7

Width Upper - Heel (mm)

77.6

Lace Stretch (1-5 scale, 5 being the most stretchy)

2.0

Flexibility of the heel counter (1-5 scale, 5 being the stiffest)
4.0
Thickness of Heel Counter (mm)
15.3
Toe Guard
Yes
Durometer Toe Guard (Room temperature) (HA)
87.5
Tongue: gusset type
Full
Heel: pull tab

None

Midsole

Width Midsole - Forefoot (mm)

103.2

Width Midsole - Heel (mm)

84.3

Stack - Forefoot with insole (mm)

8

Stack - Heel with insole (mm)

19

Durometer Midsole Heel (Room temperature) (HA)

47.7

Outsole

Outsole thickness (Heel) (mm)

9.9

Lugs Depth (mm)

5.83

Lugs (Amount)
48
Durometer Outsole Heel (Room temperature) (HC)

85.5

Insole
Insole Heel Thickness (mm)

7.1

Insole: removable

Yes