Overall ranking lists
Reebok categories
What does Reebok have to do with purchasing the perfect sneaker for the buyer?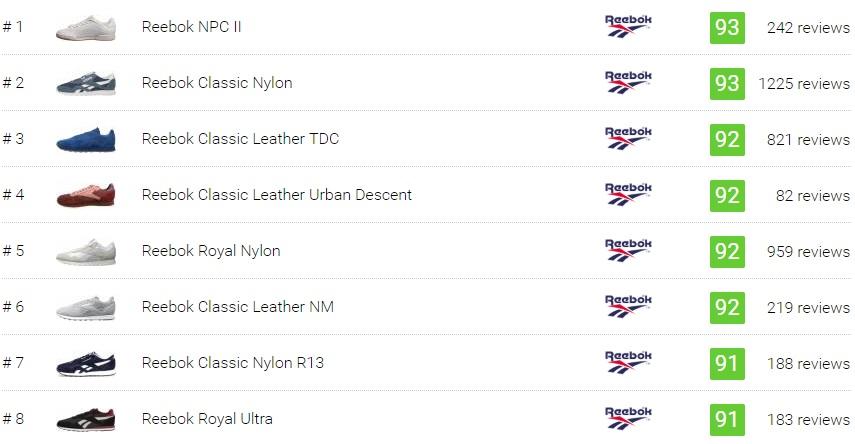 Before you close this page and switch to Google for a quick search to look for Reebok sneakers, please, hear us out. Some people might not be fully informed about the prestigious glory days of Reebok and its full transformation from sportswear into a cross training and healthy lifestyle advocate.
And if you already know what's in it for you with this Reebok nitty-gritty then you're free to click that small "x" button on top. Otherwise, let's start.
To help you understand what the Reebok fuss is all about, we've broken down all the information in several plot points for a precise explanation of the brand. A proficient guide to a full understanding of what Reebok represents can be found below.
For starters, the perfect question would be: What do Reebok sneakers generally look like?
The cut of Reebok lifestyle shoes
As the forefathers of recent sneakers begin to take shape and populate the world of everyday wear, core structures of shoes were conceptualized years before the outbreak of sneakerhead fandom. Providing the right balance of support, cushioning, style, and versatility contribute to the key elements of crafting an adequate sneaker template.
Classifying Reebok sneakers would be easiest if they were broken down into three profiles-- low top, mid top, and high top. Like most global footwear brands, Reebok sneakers also possess the three cuts in their various shoe lines. With that being said, only one question surfaces into mind: What does that have to do with one's sneaker preference?
A lot, actually.
Deducing the preference for foot apparel into low, mid, and high cuts usually coincide with the activities that dominate a user's regular routines. Below are detailed explanations for each Reebok sneaker profile:
Low top Reebok sneakers
A majority of Reebok sneaker models were constructed in a low top form. If the collar is below the ankle, it generally qualifies as a low top. Low top Reebok sneakers provide maximum versatility and allow a flexible stance for certain activities that require agile tasks.
Mid top Reebok sneakers
Mid-top Reebok sneakers have collars that lie between the lengths of the low-tops and the high-tops. The mid-cut provides a subtle sense of support while still administering a wide range of maneuvering. Reebok sneakers in this form often end up with the word Mid in its title.
The origin of Reebok mid-top sneakers dates back to the first release of the Reebok Workout Mid in the mid-1980s. Although the Workout was also available in a low top, the mid-top edition features ample ankle support necessary for cross training.
Some of the Reebok sneakers in mid tops are Pump Omni Lite, Workout Mid, Answer IV Stepover, Workout Mid Strap and much more.
High top Reebok sneakers
High tops consist of a heel shank that thoroughly covers the ankle and provides more enhanced support and stability. The pioneer for this cut in the Reebok sneaker line is the Reebok Freestyle which was made available exclusively for women. A counterpart for men was released a year after and was named Ex-O-Fit.
The inspiration behind Reebok Classic shoes
The basis and structure of current Reebok sneakers can be attributed to its prime days during the 80s up to the 90s. Though some models and designs are fresh and out of the box new, most of them were derived from previous models.As with other prominent brands, Reebok sneaker brands were initially created purposely for different sports. Subsequently, these models evolved into vintage-inspired apparel in the latter years.
Running-inspired
Reebok started out as a fitness-centered footwear company back in the 80s. They would obviously include running into its line-up of lifestyle wear.
Running-inspired Reebok sneakers are lightweight but durable and usually comes in low top forms.
They usually emphasize a streamlined design for mobility but with some editions as exceptions.
The Reebok Classic, that was revamped countless times, was initially introduced as a running shoe.
Shoes enlisted in this category include the Classic Nylon, Classic Leather, Furylite, DMX Run 10 and many more.
Tennis-inspired
The original tennis silhouettes of Reebok came out during the 80s. Its success as fashion wear would later be admired in the following years.
Tennis-inspired Reebok sneakers exhibit a low profile and have minimal display. This type of design follows the strict tennis dress code back in the day.
The noticeable feature of tennis inspired Reeboks is its flat-to-the-ground sole. The increased surface area grants sufficient grip and traction.
Examples of these are the Reebok Club C 85, Reebok Smash, NPC II and so on.
Basketball-inspired
As with other global shoe giants of the present day, footwear and sports apparel companies started out by diversifying their line-up from running to different sports that eventually led to basketball.
Reebok basketball-inspired sneakers generally have excellent traction and ample support.
Durability is key with this line of sneakers as it holds the player's footwear from extensive maneuvers.
Some iterations of this category contain the coveted Pump technology to add foot security during court action.
Some of the samples of Reebok sneakers that are basketball inspired are the Pump Omni Lite, Answer IV Stepover, Royal BB4500 Hi and many more.
Training-inspired
Reebok continued to flourish their advocacy as an active lifestyle footwear provider to this day and the many years to come.
Current Reebok sneakers for training continued to honor the design of the Classics by re-releasing them in different colorways.
The Reebok Workout, introduced to the public in 1986, revolutionizes physical fitness support with its patented H-strap.
Training-inspired Reebok sneakers are usually lightweight and feature a good amount of cushioning.
Overlays and lateral reinforcements are also included to provide ample stability and support.
The fit of Reebok casual sneakers
Reading up to this point implies that you've already been hooked up with these Reebok shenanigans and stopping now would be pointless. Now that you've had a good grasp of the overall image and structure of Reebok sneakers, I think the next question would be: How do these Reeboks fit?
There are a lot of factors that contribute to the perfect sneaker's fit. From materials utilized, to the conformity of the wearer's foot, there is really a lot to consider.
Although not always, different shoe brands follow different sizing when it comes to sneakers. Sometimes the same shoe line has variances among its model's fit due to changes in the design and materials utilized.
Doing a quick browse on user reviews aids to determine the right fit for the prospect shoe. Recommendations for going up or down a size usually help but bear in mind that not all feet are created the same way.
Users with wider feet tend to purchase a half-size or full-size larger depending on the shoe construction. Official Reebok sites contain a size chart and a guide to obtain the perfect fit. Reebok sneakers cater to all sizes of feet from men's sneakers to women's sneakers. Sometimes, the same model for men and women are also made available in kid's sizes. Reebok men's sneakers often range from 5 to 13 with half sizes, while Reebok women's sneakers are offered from 4 to 11 also with half sizes.
Most often, Reebok sneakers were assembled with standard medium widths: D for men and B for women. On rare cases, shoes of the same edition are constructed with wide widths like the Reebok Princess (D women's width), Reebok Club MEMT (4E men's width), and the Reebok Royal BB4500X-Wide 4E.
The cost of Reebok sneakers
Given the style and the fit of Reebok sneakers, only one important question remains: How much does a Reebok sneaker typically cost?
For first-time searchers of the Reebok brand, its price ranges expansively from $40 kid's kicks to extravagantly collaborated pumps that range around $180. To narrow down the different options of what to choose, you must first consider the information stated above like the design and the shape.
Reebok sneakers in the Classics line-up usually range between $60 to $120 which is priced according to the materials used and the infused technology. The more the features a Reebok sneaker possess, the pricier it gets.
The height of the collar has been consistently used as a standard reference point for the price. The higher the ankle cover, the more expensive the sneaker gets. In Reebok sneaker brands, a high cut basketball silhouette costs 70 to 100 dollars more than the casual footwear. The same pricing concept is also observable with Reebok lifestyle brands that have an extended collar.
In 2011, Reebok established its Royal Flag franchise that focuses on a different set of footwear brands that are competitively priced. The Reebok Royal Flag's mission is to provide the market with quick access to its stylish products that are constructed of high quality but are cheaper.
Aside from the technology and materials used, Reebok sneakers that have collaborations with artists, celebrities, and athletes have shoe brands that are priced way above the average pay grade. These types are usually released in limited editions which makes these sneakers more expensive when resold. One sample is the Bait x ('x' means a collaboration with) Reebok Instapump Fury Ted 2 which was available in super limited pairs retailing at $170.
The popular icons
Now that the image, price, and fit of a Reebok sneaker is taken care of, here is a list of 10 iconic Reebok silhouettes to further familiarize you with what Reebok offers.
Reebok Classic Leather.
Probably the most collaborated, nay, the most diverse Reebok sneaker silhouette ever created. Though there are exceptional runner-ups to this timeless model, no other Reebok sneaker has bested its myriad of colorways and designs.
First introduced to the general public in 1983, the Reebok Classic Leather was purposely created as a running shoe. It was a heralding follow-up to the aerobic sneaker success of the Freestyle and Ex-O-Fit.
Its unisex style garnered a platoon of liking from sneakerheads in the 80s to the present. The sleek image that it bears also became adequate for different clothing options from smart dress clothes to everyday casual wear.
Originally assembled with garment leather, a rather new material for a Reebok sneaker in the 80s. It was also the first time to use that material in a running shoe. The glove leather boasts a soft and smooth feel that is malleable enough to be altered into a multitude of designs.
Other leather materials like suede and Nubuck were also incorporated into the Reebok Classic Leather. In other cases, these two are utilized as accents of design.
The primary technologies that surround the Reebok Classic are the BiDensity Shock Protection System which is partnered with air vents. The former administers stability and shock absorption while the latter provides breathability.
The all-purpose image of the Reebok Classic Leather amassed almost infinite iterations and colorways coinciding different collaborations.
Though it gained its success as a low-top sneaker, few recent versions of the Reebok Classics come in mid-tops.
To minimize your task of jumping back and forth in-between tabs, here is a list of some popular Reebok Classic Leathers:
Reebok Classic Leather Ripple Low
Reebok Classic Leather Urban Descent
Reebok Classic Leather TDC
Reebok Newport Classic.
When talking about prim silhouettes, the Reebok Newport Classic tops the list. Thanks to the strict dress codes of vintage tennis, the Reebok sneaker stripped its elements of style into one pristine and sleek image of beauty.
The Reebok Newport Classic follows the same idea behind the Adidas Stan Smith, Puma G Vilas, Gucci Tennis shoes, and Diadora Borg Elite.
Released in the mid-80s, the Reebok Newport Classic or NPC was Reebok's answer to the growing aficionado trend for tennis shoes during the era.
The court classic Reebok sneaker primes itself with its minimalist form. It was originally released in a full white colorway and a two-part cupsole

(

later discussed below) that also displays a basic white hue.
The NPC accumulated a vast following throughout the years as it evolved into a fashionable option for casual wear.
Spontaneous releases of Reebok sneakers inspired by tennis succeeded the Newport Classic as evident with the Reebok Revenge Plus. The Revenge Plus was soon to be called another brand name with the word Champion ringing in it.
Some recent NPC's to storm the market are the NPC II, Reebok NPC II NE, NPC UK Leather, and many more.
Reebok Club C 85.
Now that the topic of tennis sneakers are laid down at the table, it is best to move forward with the most remodeled court-inspired Reebok sneaker: the Reebok Club C 85. The Club C edition worked its way not only to the tennis arenas but also to Reebok loyalists' hearts.
The Reebok Club C or Club Champion, as Reebok would have wanted to name it, was originally titled as Reebok Revenge Plus before simplifying and re-branding it to the brand it was prevalent today. The Club Champion was first released in 1985 and has surpassed the courts and immediately jumped its way into the streets.
In the recent times, Reebok included the number 85 to the Club C to give honor to the iconic silhouette's establishment year

(

1985).
It is initially composed of durable leather on its upper and is complemented by a cozy terry towel lining for wicking moisture while providing a cloud-like feel.
Soles of Reebok Club C's are usually made of durable cupsoles that are filled with EVA midsoles. The stitching on some iterations which holds the sole in place adds support and longevity.
Hailed as the first runner-up, the Reebok Club C 85 is one of the top redesigned Reebok Sneakers due to its down-to-earth and easy-looking appearance. It also received numerous collaborations like the Reebok Classic Leather.
Listed below are the most popular Reebok Club C 85 models:
Reebok Club C 85 SO
Reebok Club C 85 LST
Reebok Club C 85 SG
Reebok Club C 85 TG
Reebok Club C 85 Vintage
Reebok Instapump Fury.
An icon of futuristic and radical design, the Instapump Fury was the pinnacle brand that stretched Reebok sneaker designs in polarizing views of the aesthetic spectrum. But seriously, who would wear such a hideous pair of trainers? Celebrities and fashion icons, of course.
The Reebok Instapump Fury was initially conceptualized as a Reebok sneaker that has all the top Reebok technologies present in the early 90s. It served as a showpiece of innovative design.
Its system of enclosure consists of the Pump tech. Its heel cushioning is provided by the Hexalite midsole

(

explained below). The GraphLite Carbon Fiber shank in the midfoot adds stability and a smooth stride from heel to toe which also separates the forefoot from the heel and makes it lightweight.
The Instapump was co-designed and sketched by Steve Smith. Not that much coveted as it seems right? Wrong. He actually was the core designer of the prestigious New Balance silhouettes like 574, 996, 997, and 1500 which are models that brought NB into the sneaker limelight.
The exoskeleton-ish structure of the upper was Paul Litchfield's idea. He was one of the Senior Developers of Reebok's Innovation kitchen in the dawn of the 90s.
The Instapump Fury was also one of the key footwear that contains no laces and only a Pump mechanism for securing the foot's fit.
The eccentric Reebok sneaker was released in 1994 in tints of yellow, red, black, and white. But before that, Reebok's marketing department wanted laid-back colors for the Fury like gray or blue. After surveying which colorways were preferred, the vivid yellow model outnumbered the subdued ones by 65 to 35.
Its futuristic design landed its place in the Design Museum in London.
Although consumers had negative feedbacks regarding its outrageous design, bad publicity was still publicity. Thus, the Instapump Fury's fame surpassed the less far-out brands.
Artists like Steven Tyler

(

vocalist of Aerosmith) was captured wearing neon Instapump Furys during their performance in the MTV Music Awards in 1994. Jackie Chan was also seen sporting the kicks in the 90s as a promoter of the brand which was brought back in 2015.
Reebok Workout.
As the name clearly states, the Reebok Workout is a trainer for the fit body or for someone who is still working his or her way out of it. No pun intended.
Released in 1984 as a descendant of the Freestyle, the Workout was designed by Edward Lussier and his team to be built for multi-purpose fitness activities. The stylish Reebok sneaker can also be worn in different sports.
Its lightweight but supportive form provides stability and cushioning. The patented H-strap

(

also by Lussier) at the laces which wraps the front of the ankle helps with cross training. But nowadays, as the Reebok sneaker becomes a staple casual wear, the straps are disregarded to give a more relaxed look.
The Workout was one of the top Reebok sneakers that were consistently re-released in different collaborations and designs. Its popular construction in the 80s was composed of garment leather upper in white hues with a gum rubber outsole.
During the 90s, the hype for the Reebok Workout faded, and Reebok's answer to it was to release a newer version of it called the Reebok Workout Plus. Variations in the design were made, but the essence of fitness footwear remained intact.
Due to its flat conformity and sleek style, the sneaker gained popularity with skaters. A vulcanized sole upgrade of the shoe was spearheaded by Palace Skateboards in 2013.
The mid top version of the Workout was popularized in the 90s as

"

Souljas" which was evident with the songs of the late rapper Soulja Slim. It was believed that he spread the coinage with its consistent use in his music. Souljas On My Feet was a paramount gesture of honor for a certain shoe albeit a Reebok sneaker.
Reebok DMX Run.
Hailed as the most comfortable running shoe in 1997, the DMX Run 10 was the pioneer for the DMX cushioning technology. As futuristic as this Reebok sneaker might get, a commercial ad featuring small workers with pointy noses running between both ends of the sole even made it stranger.
The sneaker contains hollow balance pods at its bottom that contains air. The science behind its cushioning is that the air would be transferred from the heel to the ball

(

front part of the feet) and vice-versa to provide a sort of stability.
The carbon rubber outsole provides grip and traction for the Reebok sneaker.
Its uppers are composed of a combination of nylon and mesh with suede accents. It also contains ballistic mudguards for trail runs.
Although intended for running, the track-inspired Reebok sneaker was non-flexible and has a slightly heavier weight compared to other running shoes. It was also slightly breathable.
What it lacks in flexibility and weight, it compensates with comfort and cushioning. After decades, the Reebok sneaker for running remained as one of the most appreciated silhouettes of coziness.
Hip-hop artist and producer Swizz Beatz acquired a collaboration with Reebok featuring the DMX Run. The Swizz Beatz x Disruptive Kind x Reebok DMX Run was a trifecta partnership that showcases contemporary vogue.
Reebok S. Carter.
Run DMC started the craze for footwear companies collaborating with musicians with their stunt involving the Adidas Superstar. It took Reebok a quarter of a century to realize that its time for a single artist to have their own personally named Reebok sneaker. With Jay-Z as the inaugural persona for this trend, Reebok did not disappoint.
Shawn Corey Carter A.K.A. Jay-Z was one of the successful artists during the early stretches of the 2000s. It was inevitable that Reebok coincides with the artist and create a Reebok sneaker line in 2003. The name of the sneaker: Reebok S. Carter.
Michael Jackson was one of the first artists that received his own line of sneakers

(

L.A. Gear), but it was Jay-Z that followed the footsteps of Michael Jordan with his name in a shoe.
In April 18, 2003, the S. Carter was released to the public priced at $100 and in less than a week, the Reebok sneaker sold more than 10,000 pairs.
The sneaker boasts a tennis-inspired design mostly in plain white with subtle colored accents along the outlines. Laces can also be replaced with different colors of red and other tints.
In 2004, Reebok introduced the mid-top version of the sneaker. Several colorways were also released.
A retro of the sneaker was featured in 2008 including Kanye West. Colorways of the S. Carter x Kanye West collab include patent leather and suede uppers with vivid colors. The College Dropout-era bear logo can be seen at the heel. A limited number of fifty pairs were released. The sneaker was so limited that resell prices skyrocket at $10,000 a pair.
Reebok Freestyle.
In the world of stereotypical conquest, humanity has always set a blurry line between gender standards. Then came the Reebok Freestyle, which prompted equilibrium in the footwear realm in the 80s.
The Reebok Freestyle was an exclusive female shoe initially designed for looking classy in the gym.
It was primarily released to the public in 1982 and was prized as Paul Fireman's

(

Reebok's CEO) baby-boomer sneaker. Men would drop their jaws in envy for a time as the sneaker sales of Reebok progressed aggressively. Total sales of the Freestyle even accounted for more than half the sales of all Reebok sneakers in 1984.
It was the first time for gym wear to feature garment leather for its uppers and surprisingly, the soft leather detail works superbly when talking about style. The Freestyle's style was also proper for leisure walks on the streets, which grabbed the attention of many.
The 49.99 before taxes price gave the shoe its famous nickname of the 5411.
A fitness expert named Jane Fonda, another iconic addendum to the Reebok aerobic line-up, was seen wearing the Freestyle in her video workouts.
The Freestyle was also the reason behind the Reebok sneaker sales increase from around 1 million to a billion dollars in just five years.
Different sneaker cuts were released for the Freestyle including a high top that has velcro straps for support and enclosure. This detailing was even mentioned in T-Pain's song stating

"

them baggy sweat pants and the Reeboks with the straps."
Numerous celebrities are seen flaunting the Freestyle since the 80s. A few memorable instances include Mick Jagger while renegading with David Bowie in their music video of Dancing in the Streets from 1985. Zendaya, before her big movie break in 2018, was also sporting the Reebok sneaker in her music video of Dig Down Deeper in 2011.
Reebok Ex-O-Fit.
The last piece to complete the Franchise 5 of Reebok is the Ex-O-Fit. Who'd ever would have thought that a beautiful body can also be etched on a testosterone filled framework? Well, Ex-O-Fit did.
The Ex-O-Fit was the male counterpart of the Freestyle and was released a year after the latter's introduction to the world.
It was simultaneously presented along with the Reebok Classic in 1983, and the trio

(

including Freestyle) rocked the aerobic phenomenon by storm.
The same with Freestyle, the Ex-O-Fit was constructed using soft-glove leather. The high top version, titled Ex-O-Fit Hi, also includes a velcro strap.
Different variations were created for the Ex-O-Fit including suede and other materials for its upper. It was also one of the Reebok sneakers that received a myriad of collaborations.
American rapper and entrepreneur Rick Ross was also captured sporting the sneakers.
Reebok Pump.
Before 1989, pumping probably means filling gas tanks or pumping blood for medical terms. But when it comes to shoes, only one thing blows up into mind: the Reebok Pump.
The Pump was the first Reebok sneaker, nay, the first shoe to include a different type of interactive contraption for snugging.
Similar technology was produced with Reebok's nemesis, Nike. The shoe was branded as the Nike Air Pressure. Its received ridiculous sales and was easily overthrown by the Pump's success.
Several Pump versions were released subsequently like the Reebok Twilight Zone, Reebok Omni Zone, SXT Pump and much more followed.
Another contributor to the Pump's fame was to be blamed to Dee Brown. During the

'

91 Slam Dunk Competition, Dee Brown consistently pumped his Omni Lites before each dunk. After winning the tournament, he also gathered Reebok's interest and produced a model for him.
The construction of Reebok Classic sneakers
In general, factors affecting the price of a Reebok sneaker can be attributed to the technology infused in the model, the materials for quality, and collaborations with several icons and retailers.
Technological Update
It is an obvious fact that tackling the concept of technology would certainly correlate to the performance a sneaker would bare. But enhancements for the feet does not only rely solely on upholding a wearer's fulfillment of physical progress, but it also improves the everyday wear as well. Reebok sneakers are not a stranger to those innovations, and some coveted technologies are listed below.
1. The Pump
When speaking of Reebok's technological breakthrough, the first thing that would come to mind would be the Reebok Pump. Its unparalleled design and modernization had surpassed all interactive shoe mechanisms up to the present day.
How does the Reebok Pump work? The phenomenon behind the pump involves an air bladder that wraps around the ankle, a manual pump that is strategically positioned at the tongue, and an air vent that releases the compressed air. As the pump contraption is pressed, air is injected into the bladder to achieve a customized and adequate fit.
The idea of pumping air into a Reebok sneaker came from Fireman's referral of their newly owned company called Ellesse which manufactured ski boots with an inflatable apparatus.
Reebok marketed the freshly invented Pumps with a slogan that states: "No two feet are alike. Not even your own."
The Reebok Pump had been revamped into many basketball silhouettes during the late 80s and 90s and even introduced athletes like Dominique Wilkins, Dee Brown, Shaquille O'Neal, and Allen Iverson.
The pioneer for a running footwear that has been infused with the Pump Tech was the Instapump Fury. Its radical design gained polarizing views from the public but due to its talk-of-the-town image, the sneaker model flourished from a running silhouette into a collectible.
Since then, while maintaining the classic designs, the Pump has been utilized into Reebok shoe categories from athletics to casual lifestyle footwear.
2. DMX or Dynamic motion X/Dynamax
Continuing to improve their cushioning, Reebok launched the DMX system in 1997 that was included in the DMX Run 10.
The concept behind the initial release of the DMX cushioning is that an air chamber is strategically placed across the outsole that tends to increases airflow while providing maximum stability.
When the DMX Run 10 was released in 1997, it was hailed as

"

the most comfortable running shoe of all time."
More DMX tech advancements were later introduced to grant different types of cushioning which are:
DMX Foam

-

A foam formulation that is more durable than standard foam midsoles. It provides a long-lasting cushioned feel.
DMX Shear

-

This DMX cushioning focuses on the heel. The process involves slowing the heel strike to enhance the distribution of force vertically and horizontally which decreases stress.
DMX Ride

-

It provides additional support which absorbs shock.
DMX Max

-

Cushioning of this type consists of two air pods that allow the trapped air to travel back and forth for maximum comfort and cushioning.
3. Memory Tech or MEMT
Among the many innovations in Reebok sneakers is the Memory Tech which consists of a revolutionary foam insert. Reebok developed a patented Memory Tech foam which acts as the first line of cushioning against the feet that provides supreme comfort.
The process behind its contemporary nature is that the foam conforms to the wearer's feet as they continue to use the shoe. As the insole shapes accordingly to the unique structure of the foot, weight is evenly distributed throughout the entire footbed.
Take great caution whenever using sneakers with memory foam during winter as the cold temperature tends to freeze it solid. Reebok sneakers advertise this tech with the statement: "Make an impression." Supporting phrases like "comfort for the extra mile" and "comfort to press on" were purposely indicated for walking or running and training exercises, respectively.
4. Ultraknit or ULTK
The Reebok Ultraknit aligns with the eco-friendly trend of the recent years bearing a similar woven construction of Nike's Flyknit and the Primeknit of Adidas.
The sock-lined and seamless image of the Ultraknit were digitally knitted in one piece using dense weaves that keep the shape in place. It also allows the colors to pop distinctly due to the nature of the knit process.
Manufacturing the knit is environmentally friendly because the precise lengths to be used in one piece is already calculated and leaves no by-products.
The first Reebok sneaker model that features the Ultraknit upper was the Reebok Zoku Runner. It was initially released in the first quarter of 2017.
Other advantages of the Ultraknit include a lightweight feel, highly breathable, very flexible upper, plus it conforms well to the user's foot build.
5. Hexalite
Whoever would have thought that one of the most stable forms to be used in sneaker cushioning can be found inside a bee's house? So, what is Reebok Hexalite?
The Hexalite tech was adopted by Reebok from honeycombs, which was also utilized in NASA's space suits.
The science behind its cushioning is that impact is absorbed and spreads out across the footbed. Researchers found out that the honeycomb design absorbs 23% more energy because it dissipates the impact in a larger area as compared to regular midsoles.
The hexagonal shape maintains its light weight while administering a stable and durable form.
The honeycombs are supported by a thermoplastic urethane

(

a durable material that resembles rubber) which adds support and enhances the performance.
Hexalite was first seen with Michael Chang's signature shoes called the Court Victory Pump and was since incorporated in other models.
The Reebok Instapump Fury features a Hexalite midsole along with other prestigious technologies.
Materials of Reebok sneakers
It is imperative to discuss the materials employed in a Reebok sneaker especially when considering comfort, performance, and price. Comfort and quality always come first when choosing adequate footwear as it is intended to be worn on an everyday basis. Different materials possess different traits thus understanding the pros and cons of each element is a must. Below are some of the usual components in a Reebok sneaker.
Upper
The upper is the material that wraps the top part of the foot from the toe up to the ankle heel. It also contains the system of enclosure which is found in almost all of the sneakers along with the tongue (a flap of material that is found under the enclosure).
Leather
Prized as the oldest component of footwear, leather in shoes was believed to be invented between 1800 to 1100 BC. As the centuries unfold, more industrial uses for the leather unravel. Suede and Nubuck are materials that are classified under leather but the points below focus on Reebok's coining of leather in their sneakers.
Leather is durable and holds strong with consistent usage. Its durability comes at a price of not being flexible. Although certain leather nowadays can be soft and buttery, most leather-constructed sneakers hold the shoe in shape.
Traditionally, leather is created from cowhide, but numerous types had surfaced including other sources of animal hides and of course, synthetic leather.
Allergic reactions with tanning substances might manifest while using leather sneakers but there are seldom instances that Reebok sneakers do not contain a fabric lining.
Sneakers that are assembled with leather are generally easier to clean usually with just wiping with a damp cloth. Some have subtle hints of waterproofing.
Although sturdy, some issues referring to leather might include creasing when being constantly folded.
The sturdiness and convenience that a leather sneaker bears concurs with its price, which compared to other upper materials are more expensive. The more premium or unsanded the leather is, the costly it gets.
Suede
Suede is frequently utilized as accents for design typically as patches or overlays in a sneaker. In several cases, suede is being used in Reebok sneakers as the basic upper material. Some iterations of Reebok sneakers contain dominant suede uppers.
Suede is a durable and sleek form of sneaker material that aids in keeping the shoe in shape when used as an overlay. Although it is also wear-resistant, it is less resilient than leather.
Due to its porous nature, suede materials easily acquire dirt and moisture. Liquid decreases its quality and is notoriously known as suede's mortal enemy.
Through time, the dye that suede was colored with might fade away which leads to slightly decreasing the aesthetic value of the sneaker.
Also, this material is relatively hard to maintain, and the fibers tend to disorient in time. Brushing with soft bristles from time to time help retain its robust image.
Suede also comes from animals. It is the inner layer of animal skin that is sanded to obtain a smooth and clean product.
Nubuck
Nubuck is almost the same as suede, just on a different part of the raw product. Reebok sneakers feature Nubuck as a tonal upper and most of the times as an overlay.
Nubuck is the top grain or the part of the animal hide that is sanded to obtain that smooth-fibered material. Because it is the outside part of raw leather, this type of leather is more durable compared to suede.
The outer part of a hide is thicker and stronger rendering Nubuck more expensive due to its process. Its fibers are also finer, giving it a gorgeous appeal.
The process of Nubuck is more intricate than suede, therefore, is more expensive. Nubuck boasts a higher quality and tears resistance as compared to its counterpart.
Sharp scratches are to be avoided while wearing sneakers with Nubuck as it tends to imprint a mark permanently.
Textile
Textiles are fabrics that are composed of thread that is woven in an infinite number of patterns to be utilized as a lining (the inside of the shoe where the foot's skin meets the shoe) or for the exterior of a sneaker. The Reebok Classic Nylon is one edition in the Classics line that contains textile materials.
Numerous textile materials dominate the market including nylon, cotton, wool, polyester, polypropylene, lycra, rayon and many more.
Due to the multiples differences of each textile material, it would be an arduous task to enumerate every single benefit and con. Citing the common ground where most textile materials relate would be much plausible.
Textile promotes flexibility of movement and has a fair amount of breathability as compared to leather uppers.
Its is generally lightweight and conforms to the foot's actions. Creasing is not an option for these types as the fabric quickly reverts to its shape.
The drawback of having a textile wrapped sneaker is that it accumulates dirt which is hard to clean along the grooves. The gaps in-between the threads sometimes allow water to penetrate depending on the density of the weave.
Midsole
Midsoles are the piece of material that is sandwiched between the lowest part of the upper and the outer sole. It supplies cushioning with every stride and comfort while absorbing the impact that the foot encounters.
EVA or Ethylene Vinyl Acetate
The most commonly used sandwich material for Reebok sneakers is EVA. The foam compound can be found in almost all of the Classics models except with the ones with more advanced midsole technologies.
EVA is composed of the copolymers of vinyl acetate and ethylene. The fusion produces a somewhat rubber-like compound. Different processes are involved in making EVA.
Die-cutting. EVA sheets are pressed with sharp midsole molds that cut the material. To maximize efficiency, several molds can be placed across the EVA sheet to produce the cuts simultaneously.
Injection molding. This process involves a very hot liquidated EVA combined with an emulsifying agent which is injected into a mold. The mixed substance expands, and when the molds are opened, the compound pops out. The size of the EVA reverts to its original after it was cooled.
Compression molding. A block of EVA is placed firmly in a mold which will undergo a compression process by heat pressing. As the material is pressured and heated, it fills the space of the metal mold.
EVA is softer and more comfortable as compared to other shoe midsoles. Its foaming process also improves its lightweight characteristics. Considered to be eco-friendly, EVA utilizes nature-friendly substances that when degraded are not harmful to the environment.
The downside for having EVA built sneakers is that through time, the air trapped inside the foam escape and degrade its cushioning quality. It also tends to deteriorate in very cold weather.
Outsole
The outsole is technically the part of the sneaker that touches the ground. It provides traction and grip to prevent slippage and also allows support and stability. Virtually, all Reebok sneakers contain grooves that are etched at the outsole.
Rubber
Whether its high-abrasion or Textured rubber, this material is the main component that provides traction and grip. Outsourced from natural means, rubber is unparalleled when it comes to function.
Rubber is usually molded as a continuous flap that extends from the toe to the heel which then glued into the midsole. In some cases, patches of rubber are positioned under the toe and at the heel to address grip on those areas.
There are different classes of rubber depending on its quality as a raw material. After processing, these rubbers would again be sorted into different categories either for a prerequisite material for another technology or is crafted to add protection and stability.
Cupsole
Although also considered as a midsole, the cupsole is the outer layer of the sneaker that hugs the whole footwear from under the foot to the sides. The one-piece material below the foot have extended sides which resembles a cup, thus called a "cup sole."
Cupsoles are usually harnessed from rubber or polyurethane

(

PU) which both are easily molded materials.
The high sidewalls of the cupsole provide all-around protection from the heel to the toe. It also showcases a low profiled sneaker.
The cupsole's construction is more durable as compared to other outsoles, but what it caters with longevity, it lacks with comfort. Reebok sneakers with cupsoles tend to be uncomfortable at first, but with a good amount of breaking-in, the sole would conform to the feet.
EVA and other materials are filled into the gaps to add structure to the cupsole before it was stitched or glued in place.
The Reebok Club C 85 is usually constructed with a cupsole with visible fine stitching.
Vulcanized Sole
Technically, vulcanization is the process to create a rubber material ergo its not basically an outsole. To be more specific, it is the last part of the sneaker assembly that fuses the outsole to the upper.
For so many years, vulcanizing rubber involves sulfur mixed with natural rubber and is heated to produce a stronger and durable ingredient. The end product is also more elastic and resilient than the original rubber.
A foxing tape

(

a strip of rubber) is glued along the perimeter of the outsole to provide the finishing touches and protection.
Vulcanized soles are more flexible and soft than cupsoles and are most commonly praised for its short break-in period.
The drawback of its flat image is that it has less cushioning and heel support.
Sneakers which are vulcanized are less expensive than other constructions and are simpler to make.
Reebok in collaboration with Palace released a vulcanized version of the Reebok Workout.
3D Ultralite Outsole
Reebok developed a technology that mixes rubber, EVA, and other compounds to produce a lighter and more responsive sole. It is usually partnered with accents of high-abrasion rubber at strategic points for traction.
A blend of EVA, rubber, and other materials are injected into a mold to produce a calculated and uniform compound. Different proportions of these components are mixed to meet specific activities of Reebok sneakers.
3D Ultralite soles are 10-20% lighter as compared to conventional sole materials.
In some models, the 3D Ultralite sole functions as the midsole and outsole all rolled into one.
Gum Soles
Gum soled sneakers are usually seen in indoor hard court sports. Through time, its classy color and appeal attracted a cult following in the sneaker fashion realm.
To acquire gum soles, raw rubber is primarily heat treated to create a durable but sticky substance. After the mixture had settled and solidified, the material is now the so-called natural gum rubber.
Though the extraction of original gum rubber involves the latex substance from rubber trees, most of the gum soles found in the market are made from polybutadiene. Polybutadiene is a synthetic substance from processing oil.
Gum rubber has exceptional traction, but this gives forth an increase in friction with the floor or ground. The constant rubbing against the surface decreases the traction through time thus deeming the sneaker vulnerable to slippage.
Reebok lifestyle sneakers collaborations
Merriam-Webster defines the meaning of collaborate by: "to cooperate with an agency or instrumentality with which one is not immediately connected." In the footwear industry, it makes perfect sense.
In the sneaker kingdom, the Converse Chuck Taylor All Star would be the most unsurpassed collaboration in the history of humankind. Decades had passed before shoe companies started enlisting athlete allies to boost their popularity.
Reebok did fairly when talking about collaborating with certain icons throughout its more than a century-wide operation. Different aspects of these collaborations include athletes, retailers, celebrities, fashion designers, and musicians. There are many more unstated Reebok sneaker collabs, but we'll focus more on these five.
Athletes
It is fairly impossible to think that a superstar athlete wouldn't get his own Reebok sneaker. Listed below are athletes that contributed to Reebok's glory.
Allen Iverson. Probably one of the first athletes that come to mind when talking about Reebok sneakers is Allen Iverson. In his rookie debut, Reebok released his first shoe called the Reebok Question in 1996. During his sophomore year, Reebok followed up with the Answer series which gave birth to the Reebok Answer IV.
Shaquille O'Neal. During his introduction to the NBA franchise, Shaq was one of the big men that has his own line of shoes. His first shoe, the Shaq Attaq, became a pivotal model for all succeeding Shaq sneakers. Another famous model that fans love is the Shaqnosis.
Dominique Wilkins. Wilkins was the endorser for the Reebok Pump back in the later part of the eighties up to the early 90s. He ended his commercial with the subliminal slogan of

"

pump up and air out." The Pump Twilight Zone was his signature Reebok sneaker.
Shawn Kemp. Great players were sure to be drafted with their signature shoe line. This is observable with Reebok including Shawn Kemp into their collaboration list. Kemp's most famous Reebok sneaker would probably be the Kamikaze II with its radical zigzag lines attracting anyone who glances at the shoe.
Venus Williams. Williams was 20 years old when she received a formidable offer from Reebok. A staggering $40 million in 5 years was what Reebok bestowed upon her in 2000. Along with other sports apparel, Reebok gave Williams her own tennis shoe named the Reebok Venus Trainer.
JJ Watt. Basketball superstars are not the only ones that deserve Reebok sneaker lines but NFL pros as well. Signed with Reebok in 2015, JJ Watt advertises the Zpump Fusion while doing a 5-foot-1 jump. The Reebok JJ II is a brand in his sneaker line that can be flashed from the gym to the streets.
Ronda Rousey. Along with JJ Watt, Rousey was signed up as a Reebok sneaker promoter as well. She and Watt were lined up to advertise the Zpump Fusion sneaker that has a pump tech on the side panel. Aside from shoes, Rousey also has her own line up of sports apparel. Her UFC legacy landed her tight cooperation with Reebok.
Celebrities kicking it with the Reebok Classics
Of course, celebrities are the models for fashion whether they walk on the streets or strut the catwalk. It only took a heartbeat before Reebok sneakers wrapped the feet of this star-studded cast.
Nina Dobrev. From being the girl-next-door type to fighting vampires, Dobrev became a fitness enthusiast that was even supported by Reebok. In the Reebok x Les Mills Fall collection, variations of Reebok sneaker classics like the Classic Leather in full-toned black are featured. She also promotes an edition of the pioneer aerobic sneaker titled the Freestyle Hi Muted.
Teyana Taylor. Taylor started off as a recording artist but crept her way to the fashion and movie world. Her beliefs coincide with Reebok. Thus, a sponsorship occurred between the two. Teyana can be seen sporting a Color Bomb Pack of the Freestyle Hi that have available colorways like Mineral Mist and Pink Craze.
Victoria Beckham. Announcing that she will have a collaboration with Reebok in 2018, VB was happy that the footwear giant matches her aspirations with the Be More Human campaign. She was seen wearing white Reebok sneakers that belong to the Club C line near the end of 2017.
Gigi Hadid. Spearheading the

#PerfectNever

campaign, Gigi Hadid was one of the famous stars that stirred a noise in the footwear industry. She was first seen sporting white Reebok sneakers with gum rubber soles. Another crowd favorite was when she wore metallic silver Reebok Harman Run sneakers during the Rangers game in NYC.
Fashion designers spotted wearing Reebok sneakers
Celebrity stars are not the only ones who deserve credit for their style but fashion designers as well. Besides, they are the ones that bring contemporary clothing concepts to the table.
Melody Ehsani. The law-influenced, self-made designer achieved her reputable role as an all-around fashion machine in different aspects of clothing wear. But with her diverse experience and love for the ball sport, she found her liking with Reebok. Redesigning notable Reebok sneakers like the Reebok Question Mid, Pump Omni Lite, Classic Leather and many more others puts her on the A-list for Reebok sneaker watch-outs.
Jonathan Simkhai. The Council of Fashion Designer of America decided to crown their CFDA Vogue Fashion Fund to Simkhai in 2015. This gift catapulted his brand into the fashion limelight. Reebok gave him the opportunity to remodel the classic Freestyle Hi and Simkhai marvelously obliged. The eight colorways of the Reebok sneaker includes powder pink leather, white leather, black leather, midnight blue leather, ecru crochet, ecru denim, blue seersucker, and indigo denim.
Vetements. The French word for clothing seems too straightforward when discussing fashion, but the Vetements design collective sure does prove a point. Vetements is ubiquitously known for their bizarre takes on Reebok sneakers especially the Instapump Fury. One testament to this freaky design was the Vetements x Reebok Genetically Modified Pump Sneaker that was exclusively distributed by 10 Corso Como Seoul.
Reebok casual shoes retailers
Reebok sneakers would not reach consumer's feet without the medium called retailers. As the growing population of sneakerhead phenomenon increased, stores most likely shifted to different approaches for selling.
BAIT. When Eric Cheng started the retail store in California, it was initially the physical store for the online shop called PickYourShoes.com. BAIT has been responsible for producing eye-catching Reebok sneakers. Some of the Reebok sneakers that they released include BAIT x Stranger Things x Ghost Busters x Reebok Ex-O-Fit. Wow, that was a mouthful.
size?. Known in the sneaker domain as a prolific collaborator, size? had probably tapped all global sportswear companies for years. The UK-based retail franchise had produced numerous Classics Reebok sneakers including iteration of the Workout Plus. The size? x Reebok Revenge has matching details that differentiate it from the standard Club C.
BAPE. From soda brands to hip-hop artists, the Japanese-hailed clothing brand had revolutionary design ideas. BAPE can be seen collaborating with numerous sneaker companies and would obviously include Reebok sneakers to their line-up. A glow-in-the-dark iteration of the 1994 Reebok sneaker was seen with the BAPE x mita Sneakers x Reebok Instapump Fury.
FACE Stockholm. The Swedish make up retailer ventured in footwear with Reebok sneaker revamps of the Classics like Instapump Fury and Classic Leather. A unique edition of the

'

92 Reebok sneaker was featured in the Reebok x Face Stockholm Bolton collaboration.
Musicians known for their Reeboks
Artists shape the world with their music and are highly-idolized by many. Fans copying their apparel would probably be the most likely thing to happen as their talent resonates in their mind and soul. No better way to dress the soul up than with nice kicks, that's for sure.
Kendrick Lamar. The multi-Grammy Awardee brings forth a message of unity by collaborating with Reebok. His passion for equality was delivered thoroughly through his Reebok sneakers featuring red and blue colors which are hues represented by Compton gangs. The limited edition release include the Reebok Classic Leather Kendrick Lamar Deconstructed, Reebok x Kendrick Lamar Classic Leather Lux, Kendrick Lamar x Reebok Ventilator are among the few.
Alicia Keys. The Girl on Fire singer would probably imply that her shoes are fire

(

a colloquial term for cool and awesome). Keys' inclination to Reebok sneakers started when she was young and was cemented by her husband's

(

Swizz Beatz) association with the footwear producer. In 2012, she had an exclusive opportunity to design her own line of Reebok sneakers like the Classic Nylon, Freestyle, and Freestyle Hi Dubble Bubble models. Iterations featuring tribal elements and purple tones are predominant with the singer's Reebok sneaker line.
Swizz Beatz. From classic basketball to running-inspired Reebok sneakers, Swizz's hands-on direction with Reebok produced even more iconic versions of already coveted models. The collaboration's release of the Reebok Kamikaze in 2011 made way for other revamps. Other Reebok sneakers that were given Swizz Beatz's blessing are the Reebok Shaq Attaq Swizz Beatz and a brightly colored Swizz Beatz x Disruptive Kind x Reebok Run DMX 10.
Future. The fusion of Reebok sneakers and Future's own apparel line

(

Freebandz) introduced the Reebok x Future

"

Freebandz" capsule in 2016. Redesigns of the Classics include the Reebok Instapump Fury Overbranded which flairs a huge vector logo in a white tonal upper. A year after that, Reebok released a shoe that combines two silhouettes of the past in the brand coined as Furykaze.
Ariana Grande. If 113 million Instagram followers in 2017 ain't enough for an artist to be enlisted as a Reebok sneaker ambassador, then there surely is something wrong with the universe. The Grammy-awarded pop star shook the footwear industry with her collaboration with Reebok. Her insights strongly coincide with the

"

Be More Human" campaign as she believes in the human potential to push boundaries. During her one year stay with Reebok, Grande has been promoting Reebok sneaker Classics like the Club C and Classic Leather and many other apparel options.
The FAQS
After that exhausting run-through on Reebok fundamentals, we're sure that many questions are running inside your head. Found below are the top questions involving Reebok that circulate the internet.
How do Reebok Classics fit?
First off, Reebok Classics is a rather ambiguous term because Reebok utilizes it as a category and as running-inspired sneaker label.
Reebok sneakers in the Classics category are mostly produced in standard sizing albeit would cater the right fit for normal-sized feet. Reebok sneakers which resemble slip-ons tend to be narrow to add snug and keep the foot in place. One brand of these iterations includes the Pump mechanism to add a customizable fit as visible with the Instapump Fury.
Basketball-inspired kicks are initially intended to support on-court play. Thus more materials are included in its assembly. More materials tend to lead to a tighter feel. But that's what laces and Pumps are for.
Materials like leather tend to limit the movement of the feet inside the sneaker as compared to textile or mesh. Reebok Workout Plus conforms narrow when compared to the Furylite although the latter's entrance is tight.
Reebok Classic Leather, as mentioned by most users, fits true to its size. This is in contrast with the Classic Nylon which would tend to run small on several occasions. Recent retros of the two do not include the highly-appreciated wide varieties which were ideal for consumers before.
What is a Reebok Classic?
A Reebok Classic is a running-inspired Reebok sneaker that was first released in 1983. It was originally constructed with garment leather, a soft form of leather. Nowadays, the Classic has been utilized as everyday casual wear due to its good aesthetic appeal.
Where to buy Reebok Classics?
Reebok sneakers in the Classics line can be most likely found in Reebok outlets in malls near you. They usually exhibit Reebok Classic Leathers in a limited variety of colorways. But to have access on sneaker designs you really desire, official Reebok sites display a vast collection of their sneakers with their corresponding size availability.
Other online retailers like Amazon, 6pm, Zappos, Footlocker, and many others often contain colorways that are already out-of-stock in the official Reebok site.
How do I know if my Reebok sneakers are original or fake?
At first glance, some fake Reeboks might seem authentic until you look at its stitching and branding. Original Reebok sneakers have labels on the box that match that on the sneaker's tongue. Also check if these tongue labels on each shoes match and if not, then they are fake.
The overall construction of the shoe should be clean and consistent. Stitching should not have misaligned threads and the logo should have a distinct and precise print.
When compared with the originals, a fake Reebok sneaker would possess a stiffer sole. Comparing the placing of the logos at the exterior of the shoe with pictures online also aid in determining if it's fake.
Are Reebok Classics good running shoes?
Reebok Classics are probably at its prime as a running silhouette back in the 80s. The Classics are equipped with BiDensity Shock Protection System and strategic air vents which add comfort and performance.
When it comes to running long miles, these Reebok sneakers would hold up fairly. The physical ability of a runner might not be enhanced with these shoes and modern technological updates in running kicks offer better protection.
Are Reebok sneakers the same as Reebok Classics?
Yes, they are basically the same. The term sneakers and Classics are technically interchangeable in Reebok's case.
Are Reebok Classics back in fashion?
By scouring the internet, one might witness the spontaneity of articles stating that Reebok Classics might be one of the fashion trends that would outshine Stan Smith and the likes. Probable cause for this upbringing may be blamed for the successful enlisting of world-renowned icons like Gigi Hadid, Ariana Grande and many more.
How do I take care of my Reebok sneakers?
Cleaning the Reebok sneaker immediately after it acquired dirt and mud is a must especially with white colored shoes. Leather constructed Reeboks can be maintained easily by just wiping. Leaving untreated may cause the dirt to scatter and induce yellowing.
Take note that the foamier the EVA midsole gets, the harder it is to clean. Toothpaste is an effective cleaning agent for soles.
To thoroughly clean the lining, stuff the sneaker inside a loot bag and put it in the wash. After washing, avoid direct heat like radiators and dry the sneakers naturally. Stacking used papers or newspapers inside the sneaker helps wick the moisture faster.
Consistent folding of the sneaker is the main cause of its disruption ergo it is a good idea to alternate between pairs.
Where are Reebok sneakers made?
Adidas, who owns Reebok sneakers, have factory locations in Argentina, Brazil, Cambodia, China, India, Indonesia, Italy, Korea, Myanmar, Portugal, and Vietnam. However, a new concept of shoe-making was housed in the U.S. called the Reebok Liquid Factory.
Where is Reebok's headquarters?
Since 1979, Reebok International Ltd. has had their headquarters in Canton, Massachusetts until it was decided to be moved as announced in 2016. The new HQ is now found in 25 Drydock Ave, Suite 110E, Boston, Massachusetts.
The Acronyms
Ever wondered what the last two or three letters from Reebok sneakers mean? Well, we've compiled a list of all the definitions and their Reebok sneaker counterparts here. Check out this astonishing glossary that we gruesomely acquired.
AFF - Affiliates (Publish x Reebok Furylite Chukka AFF)
ALR - Attentive Lover (Classic Leather ALR)
AR - Amber Rose (Freestyle Hi Vibram AR)
ATR - Above the Rim (ATR The Pump)
BI - Black Ice (GL 6000 BI)
C - Champion (Reebok Club C)
CL - Classic (CL Nylon Arch)
CLN - Clean (Royal Complete CLN)
CLS:HX - Standing For Class: Hexalite (CLS:HX Advanced Runner)
CTE - Celebrate The Elements (Classic Leather CTE)
DMX - Dynamic Motion X/ Dynamax (DMX Run 10)
EB - Elevated Basics (Classic Leather EB)
EBK - Elevated Basics Knit (Classic Leather EBK)
EH - Enhanced Hold (Work Leelap EH)
ELM - Elemental or Elemental Pack (Club C 85 ELM)
EWT - HVT - Eco World Tour - Horween Vege Tan (Workout Plus EWT – HVT)
FBT - Few Better Things (Freestyle Hi FBT)
G - Grunge (Club C 85 G)
GTX - Gore-Tex Technology (Sawcut 4.0 GTX)
HMG - Homage (Club C 85 HMG)
HS - Hemisphere Pack (Classic Nylon HS)
IC - Iconic Taping (Club C 85 IT)
IR - Iridescent Reflective (Classic Leather IR)
IS - Iridescent Surface (Zoku Runner Ultraknit IS)
JF - Jacquard Fade (Furylite JF)
JJ - refers to JJ Watt (JJ II)
KE - Knit Exploration (Zoku Runner Ultraknit KE)
LL - Low Leather (Royal Complete 2LL)
LST - Leather Suede Trainer (Club C 85 LST)
LUX - Luxury (Reebok x Kendrick Lamar Classic Leather Lux )
ME - Melody Ehsani (Reebok x Melody Ehsani Freestyle Lo)
MEMT - Memory Tech (Club MEMT)
MH - Magic Hour (Classic Nylon MH)
MO - Multicolor Outsole (Classic Leather MO)
MSP - Munchies or Munchies Pack (Classic Leather MSP)
MT - Microweb Technology (Yourflex Train 9.0 MT)
NBK - Nubuck (Classic Leather Nude NBK)
NP - Neon Pops (Club C 85 NP)
NPC - Newport Classic (NPC II)
OMN - Old Meets New (Classic Leather OMN)
Perf - Perforated (Club C 85 Perf)
PG - Perforated Gum (Classic Leather PG)
R12 - Acronym identifying release year (2012) (Classic Leather R12)
RS - Rock Solid (Trailgrip RS 5.0 GTX)
RTW - Ride the Wave (Classic Leather RTW)
SE - Seasonal Elevated (Club Workout SE)
SG - Seasonal Gum (Classic Leather SG)
SM - Speckled Midsole (Classic Leather Ripple SM)
SO - Supreme Overbranding (Club C 85 SO)
SPT - Speckled/Splattered Midsole (Run Supreme SPT 2.0)
SS - Speckled Suede (Club C 85 SS)
TC - Tiger Camo (Classic Leather TC)
THOF - Tennis Hall of Fame (Revenge THOF)
TRC - Terrace Culture (Revenge Plus TRC)
TW - Time Warped (Instapump Fury OG TW)
TWD - Tweed Winter Delight (Classic Leather Mid TWD)
TXT - Textile (Furylite AFF TXT)
UE - Urban Explorer (Classic Leather UE)
ULTK - Ultraknit (Plus Runner ULTK)
WP - Wheat Pack (Classic Leather Ripple WP)
W&W - Weathered and Washed (Classic Leather W&W)
15 best Reebok sneakers
Reebok Classic Leather Altered
Reebok Royal Nylon
Reebok Aztrek
Reebok Classic Nylon
Reebok DMX Run 10
Reebok Classic Leather Pastels
Reebok InstaPump Fury OG
Reebok Classic Leather
Reebok Classic Leather Gum
Reebok Workout Plus
Reebok Royal EC Ride
Reebok Ex-O-Fit Hi
Reebok Classic Leather MU
Reebok Classic Leather EBK
Reebok Classic Leather SG
This shoe has recently been added to RunRepeat. There are still not enough reviews for us to assign it a
CoreScore
.
CoreScore
A score from 1 to 100 that summarizes opinions from users and experts. The average CoreScore is 78.
More...